In this post I'll be sharing a few sugar free Jello desserts that are delicious!
These desserts made with Jell-O gelatin or pudding are also diabetic friendly and perfect for anyone watching their sugar intake.
I know that y'all love simple recipes just as much as I do and it is so easy to whip up a delicious dessert with a box of Jell-O. With a few extra simple ingredients like a block of cream cheese or cottage cheese, heavy whipping cream or a can of whipped cream and some fresh fruit make many possible easy recipes.
Just a handful of ingredients and you'll have that sweet tooth attack under control with a great sugar-free dessert.
Once you consider all of the Jello flavors that are available these days you'll never run out of tasty options.
Before we get to our list of recipes, let us begin with a very basic sugar free Jello dessert.
Sugar Free Jell-O Dessert Recipes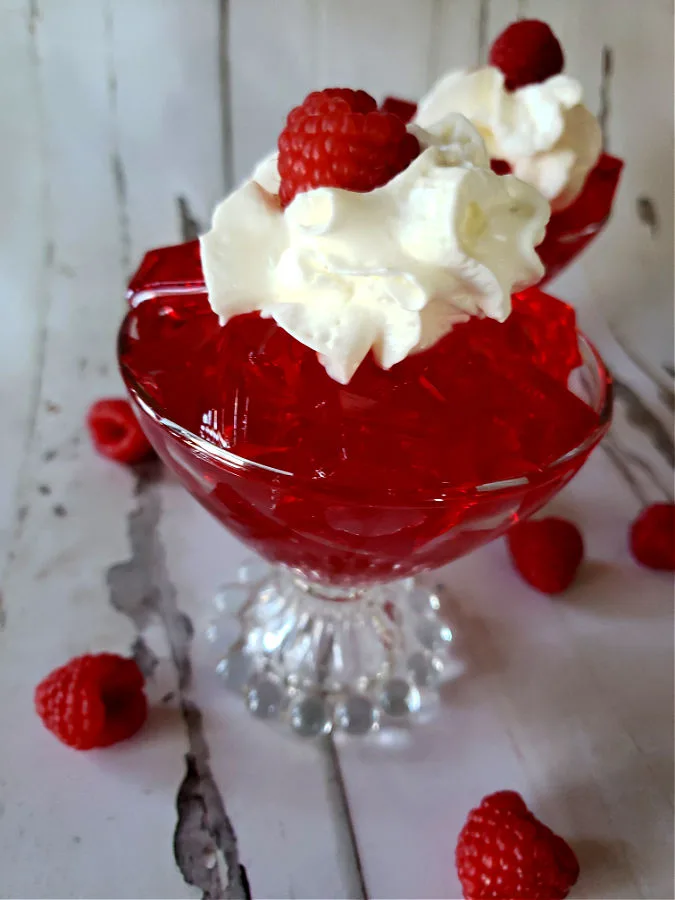 Do you remember when Ryan's steakhouse and Quincy's steakhouse were so popular? It seemed like folks from all of the churches in town headed to one of those restaurants to eat after services.
We would walk through the order line and order our meal and Daddy would let us pick whatever dessert we wanted.
I always went for that big ole piece of chocolate cake that was too big for me to even eat, but I sure did love it.
My sibling always chose the glass jar of Jell-O cubes topped with whipped cream. I didn't much care for Jello back then and I sure wasn't going to pick that over chocolate cake.
Well, fast-forward a few decades and now I don't mind Jell-O at all. It is delicious! So, I thought for the first of the sugar free Jello desserts that I'll be sharing in this post, that the first one would be a classic.
Easy Sugar Free Dessert Options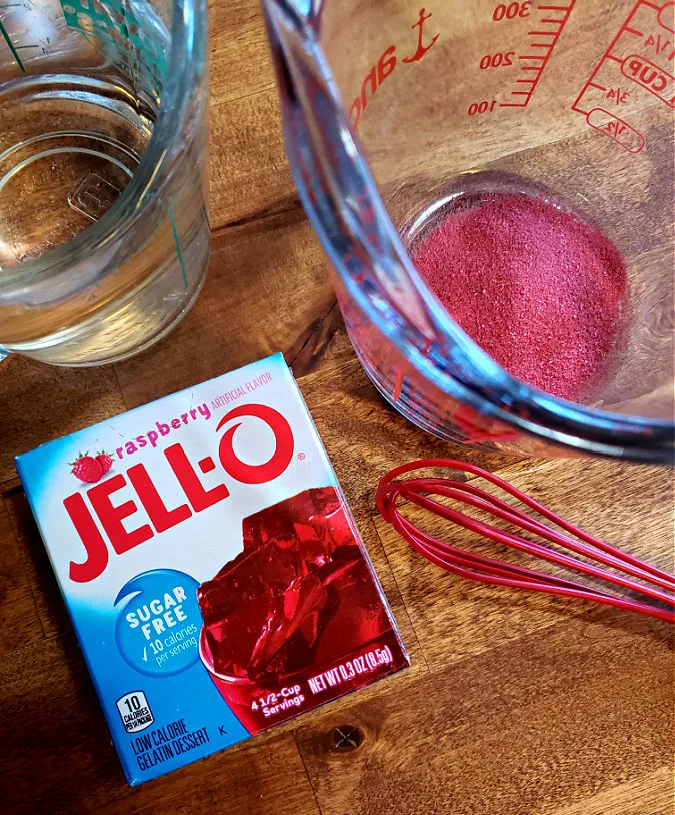 To make a simple gelatin dessert, you will need:
Jell-O Gelatin – any flavor Jello powder that you choose, sugar free or not. I went with the sugar-free raspberry for this low calorie gelatin dessert.
Water – you will need one cup of boiling water and one cup of cold water to prepare the gelatin mixture if using the 0.3 ounce box of Jello, which makes four half cup servings.
That is all it takes to make the Jello mixture. Combine the gelatin powder with the boiling water in a small bowl until it is dissolved. You can just use a hand whisk, no electric mixer is necessary.
Once the flavored gelatin has dissolved, then add the cold water and stir. The package of sugar-free Jello mixture can now be poured into a mold, bowl, popsicle mold or into a small sheet pan like I'm using.
Simple Delicious Dessert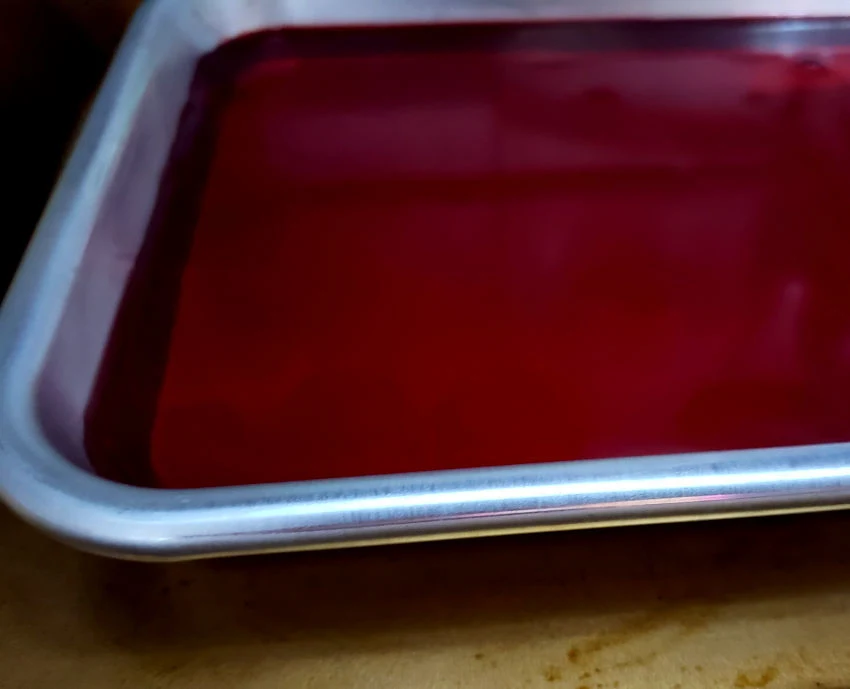 I went with the small sheet pan because I wanted to cut the congealed raspberry gelatin into cubes for serving. For the best results, chill the Jell-O in the refrigerator for at least four hours or until firm.
Optional Ingredients
Whipped Cream – I used refrigerated canned whipped cream topping or you can make your own with heavy cream or just use a dollop of Cool Whip.
Fresh Berries – since this was a raspberry flavored gelatin, I finished the dessert with a garnish of fresh raspberries. Any fruit that you enjoy would work just as well.
That is all it takes to make one of the easiest sugar free Jello recipes and I think that it looks lovely and tastes delicious. I would gladly serve this to company too.
In case you're wondering about the sugar free Jello ingredients, I wanted to mention that there are artificial sweeteners instead of added sugar.
The sugar substitute are diabetic friendly. The sweetener substitute is considered a keto sweetener if used in moderation to stay within the allowed net carbs of your diet plan.
Sugar Free Jello Desserts – 12 Great Recipes
I know that you'll love the easy sugar free Jello with fruit as much as I do. Now for the good news! I have a few more sugar free dessert recipes using Jell-O gelatin or Jell-O pudding mixes that you'll also love.
These desserts that I'm sharing from friends also take just a handful of ingredients to make some delicious desserts to enjoy.
Sugar Free Jello Desserts
Delicious sugar free Jello desserts that are simple to make with so many possible flavors that are diabetic friend, low calorie and great for anyone watching their sugar intake.
What to serve with Jello desserts?
Fruit and Berries – fresh raspberries, mandarin orange slices, fresh strawberries, blueberries or pineapple chunks are all delicious options.
Whipped Cream – easily made by using an electric mixer and mixing heavy cream to stiff peaks or prepared toppings of your choosing.
Sliced Melon – cantaloupe, watermelon, and honeydew would be delicious with a side of gelatin.
Popular Recipes
Check out the Latest Recipes
Sugar Free Jello Desserts
Thank you so much for stopping by! I am so glad that you did. I hope that you enjoy these wonderful dessert options and will be trying one of the recipes you've discovered very soon.
Be sure to subscribe to my email list while you are here. Subscribers receive a weekly newsletter delivered straight to your inbox with the latest recipes and news here on the blog so that you never miss a thing.
Meet Julia
Author of Julia's Simply Southern
Hey Y'all! I'm Julia, the cook and writer behind the recipes here at Julia's Simply Southern. I began my website so that I could share easy to follow recipes that anyone can use to put a home cooked meal on the dinner table. Thanks so much for stopping by!
Follow me on Facebook | Twitter | Instagram | Pinterest | YouTube