In this post I will be sharing a delicious Italian Sausage and Peppers Recipe.
Last week, Mr. J suggested that we have sausage and peppers and I thought that was a great idea since it had been a while.
He asked if I had ever shared it here on the blog….ummm, no I haven't. "Why not" he asked. I supposed I hadn't really thought about it but I should share it.
Y'all might remember from my cheesy garlic bread post that hubs used to work at an Italian restaurant way back when. He said that sausage and peppers was always very popular.
For good reason too, because it is delicious and simple to make. The Italian sausage and peppers can be served as they are or on a sandwich, which is my favorite way to enjoy this meal.
Sausage and Peppers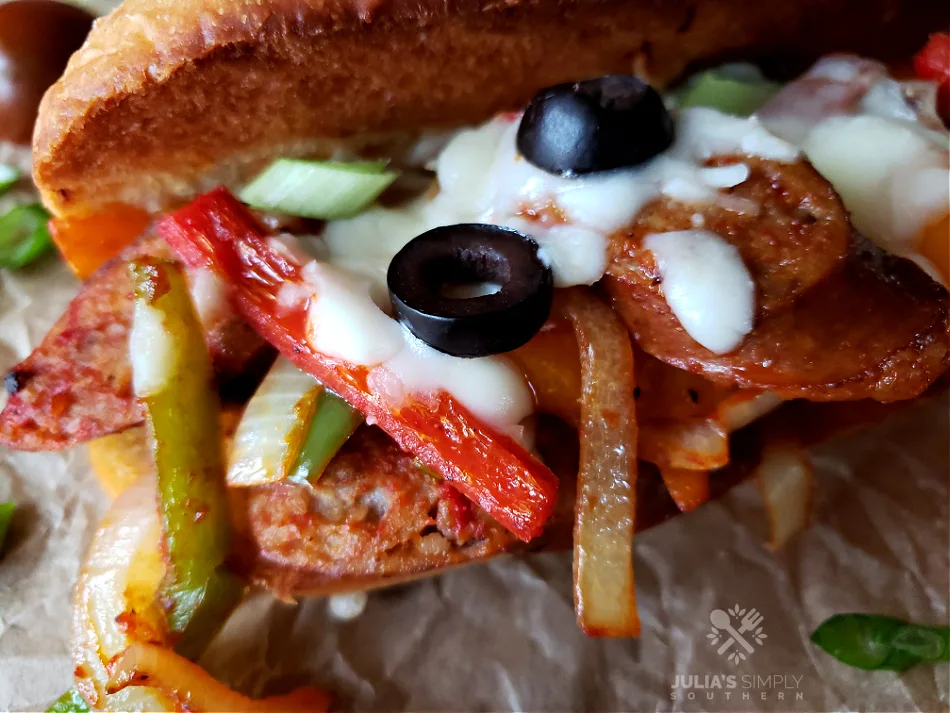 We love our sausage and peppers sandwich with cheese and a couple of sliced black olives added. It is so good y'all!
It is almost like eating a pizza sandwich. So wonderful and flavorful with the perfect amount of a glazed tomato flavor in each bite.
Doesn't it look amazing!
Sausage Peppers and Onions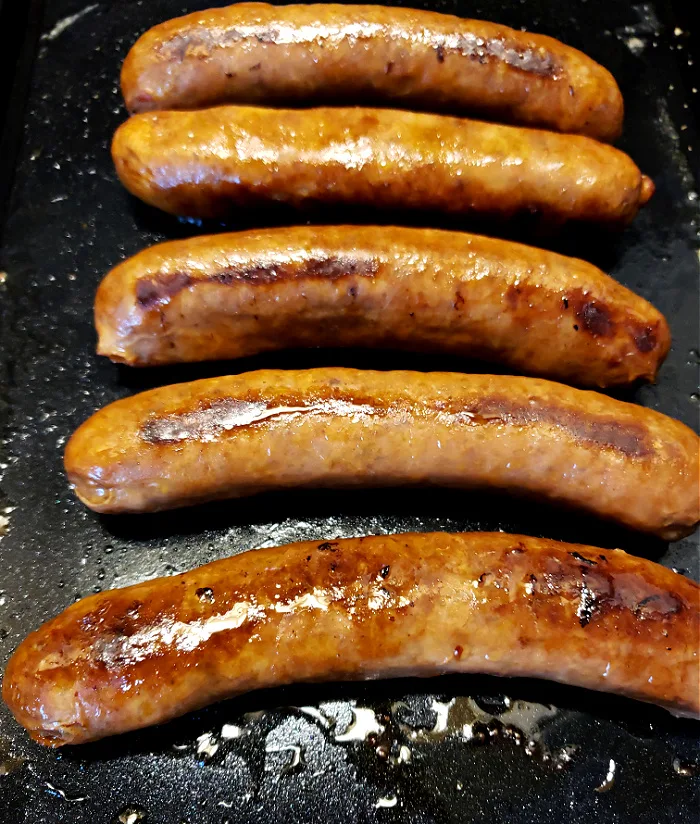 The sausage and peppers can be prepared in a large skillet or just use a stove top griddle like I am.
Before I start cooking the sausages, I throw a little butter on the griddle and toast the buns then set those aside so I can make everything else.
Next, brown the Italian Sausages turning often as they cook, then remove from the griddle (or your skillet) and set those aside.
Sausage and Peppers Sandwich with Cheese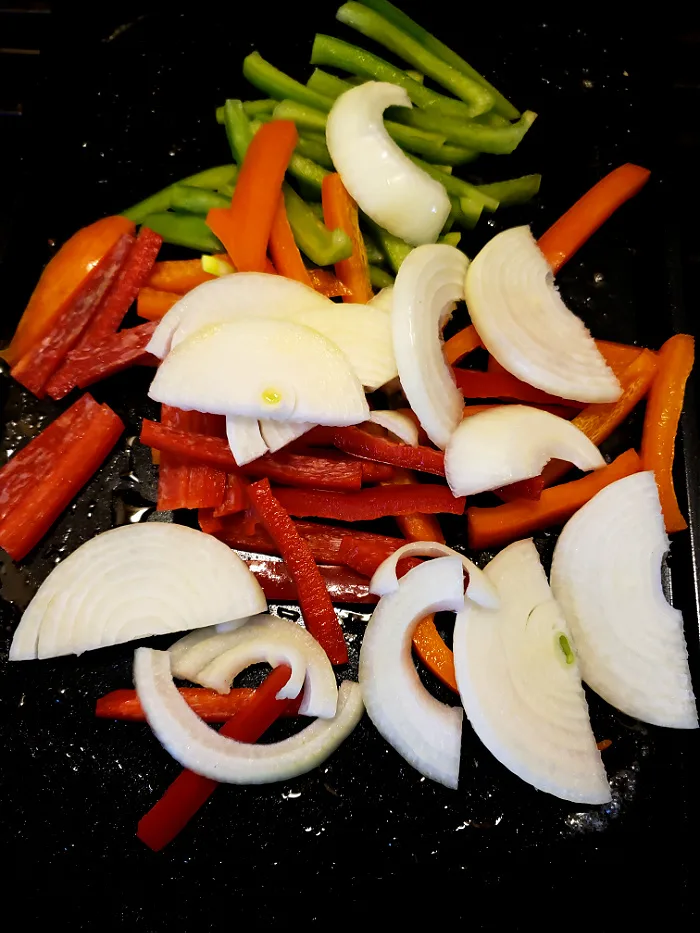 I love making our meals visually appealing and if I have the opportunity to add some color then I'm gonna do it.
So I used a trio of colored sweet bell peppers and some sliced yellow onion that went onto the griddle to sauté until softened.
If you want to just use one color of pepper because that is what you have then that will work out perfectly well and be delicious too.
Since there is a lot of flavor happening in those Italian sausages, I only add a pinch of salt and pepper to the veggies as they cook and that is really all you need.
How to Cook Sausage and Peppers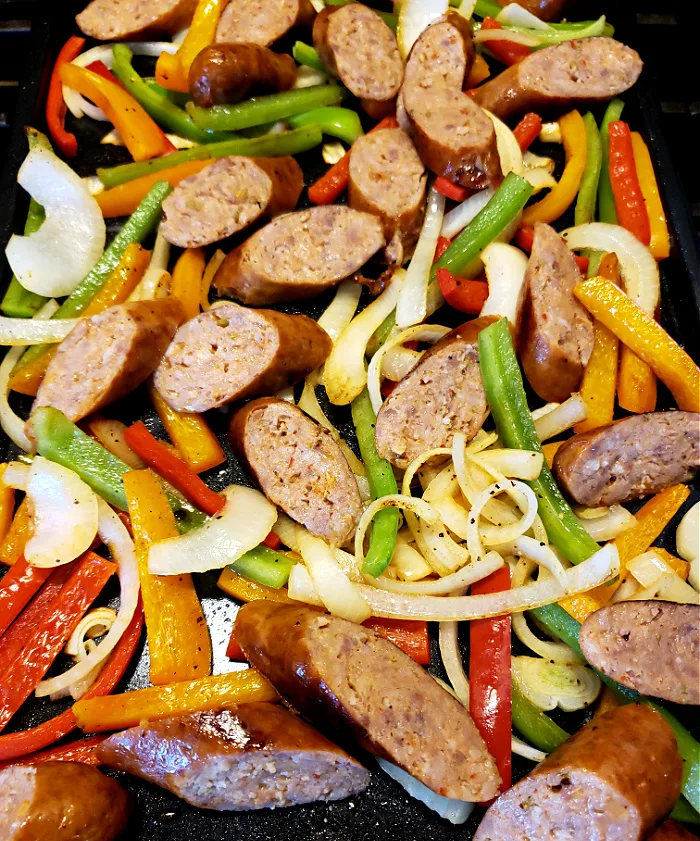 Once the sausages have cooled enough to handle, I slice them up on the bias (oh so fancy -har har).
Add the sausage back to the griddle with the veggies and turn everything a few times until the sausages are heated through.
Italian Sausage and Peppers Sub Sandwiches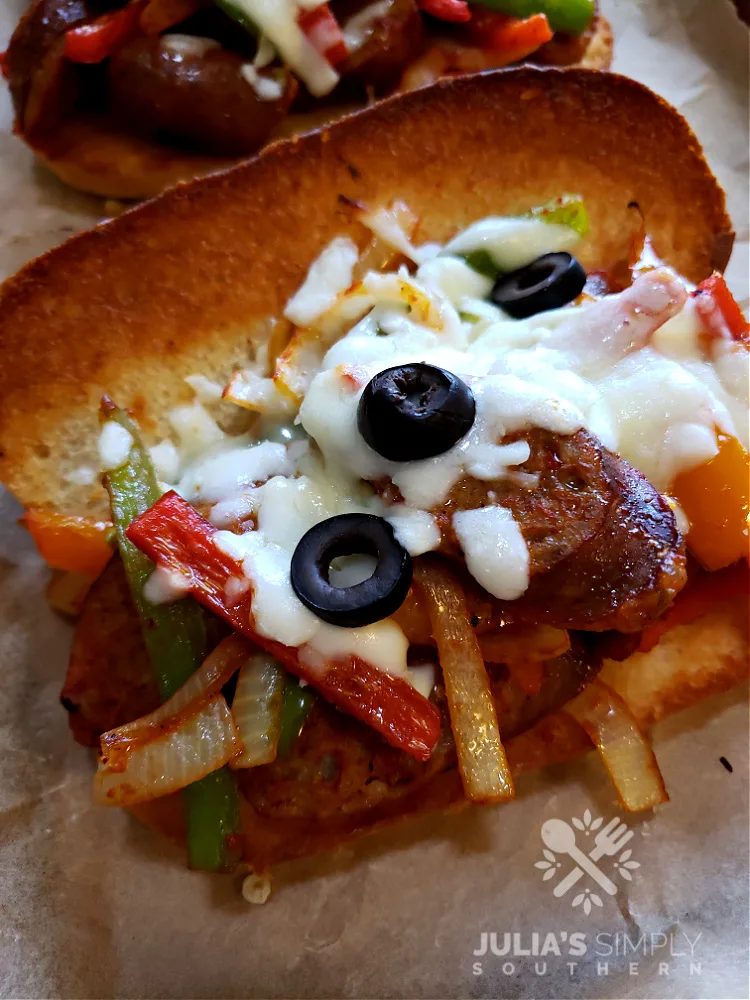 Transfer all of that goodness from the griddle into a mixing bowl and toss with a little bit of tomato paste.
It doesn't need a lot, just enough to very lightly glaze everything.
Assembling the Italian sausage, peppers and onions sandwich is easy peasy. Just add a generous helping of the mixture to your toasted buns, top with some shredded mozzarella (if you want cheese) and a few sliced black olives (completely optional) then place the sandwiches in the oven.
The Italian style sub sandwiches just need a couple of minutes in the oven so the cheese melts.
Italian Sausage and Peppers Recipe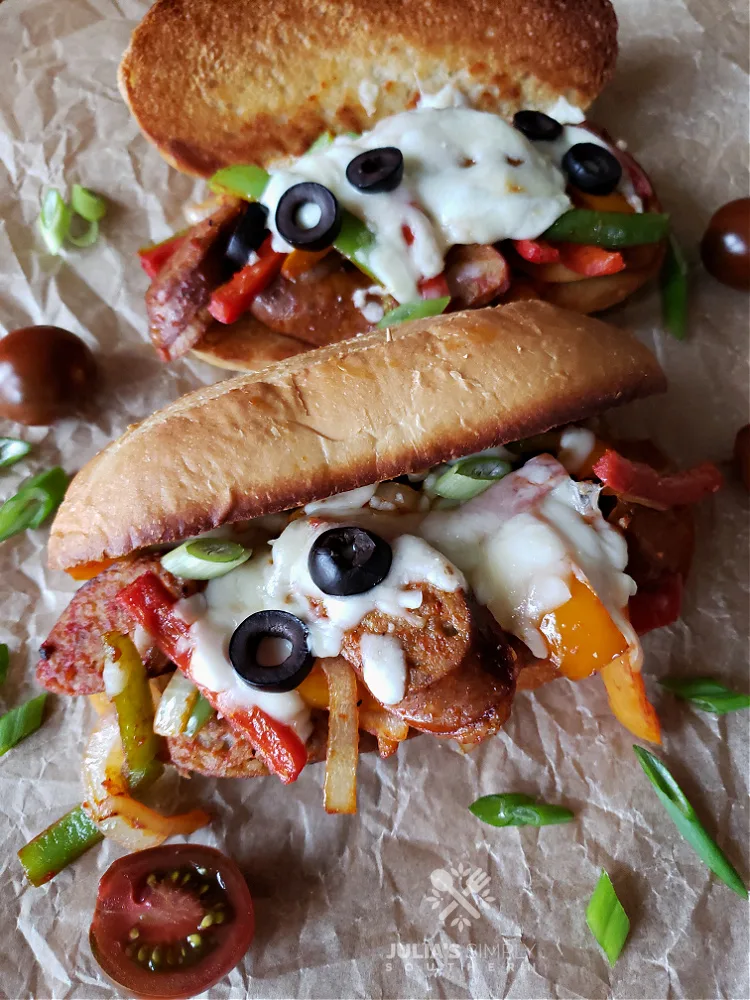 Wowee y'all! Doesn't that look incredible delicious? It's an amazing simple meal that your whole family will love.
Below you will find a printable recipe card with all of the details.
Yield: 6 Sandwiches
Italian Sausage and Peppers Recipe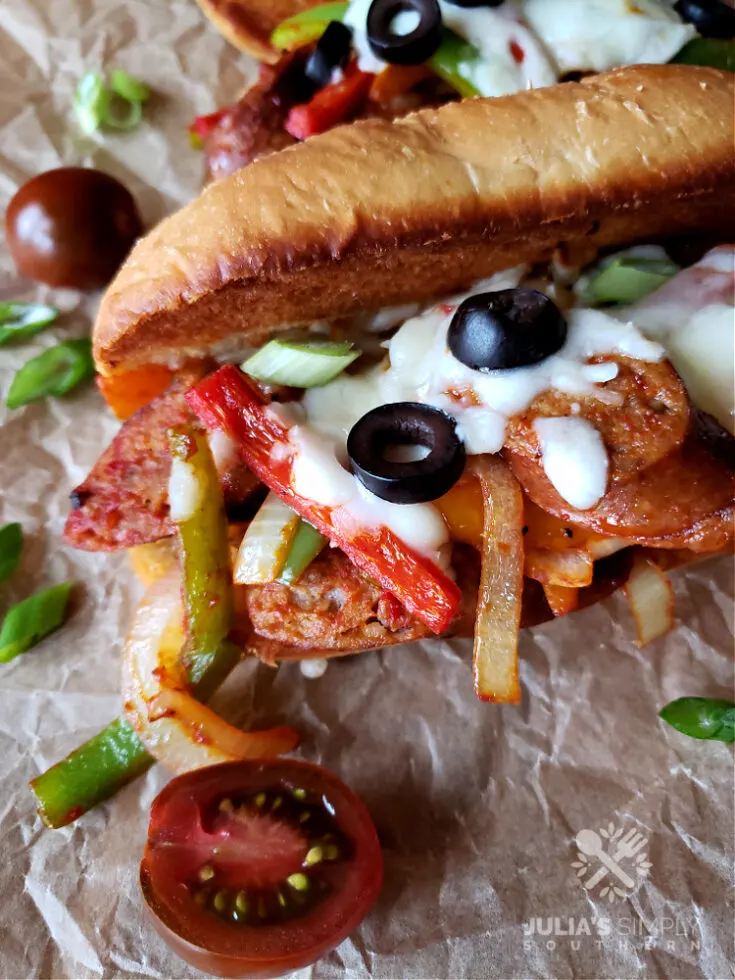 Delicious Italian sausage, peppers and onion sandwiches with cheese is a simple fix favorite meal.
Ingredients
6 Sub Rolls
14 oz. Italian Sausages (or up to a pound. The brand I had came 5 to a pack)
3 Sweet Bell Peppers, sliced
1 Onion, peeled and sliced
2 tbsp. Tomato Paste
1 c Shredded Italian Blend Cheese or Mozzarella
2 tbsp. Sliced Black Olives (optional)
Other
1 tbsp. Butter, for toasting the buns
Pinch of Salt and Pepper, to season the veggies
Instructions
Preheat oven to 350°F and heat up the stove top griddle, or skillet, over medium.
Add some butter to the griddle and lay the sliced sub rolls down to toast; set aside.
Place the sausages on the griddle; cook until browned, about 5 minutes, turning often. Remove and set aside until cool to handle.
Next, add the peppers and onions to the griddle. Sauté and turn occasionally until softened. Season with a pinch of salt and cracked black pepper.
Slice the sausage and return to the griddle with the vegetables until heated through then transfer everything to a mixing bowl. Add tomato paste to the sausage and peppers and stir to glaze everything.
Place sausage and pepper mixture on toasted buns, top with cheese and a few sliced black olives (if using) then place into a hot oven for about 10 minutes until the cheese is melted.
Serve immediately.
Recommended Products
As an Amazon Associate and member of other affiliate programs, I earn from qualifying purchases.
Nutrition Information:
Yield:
6
Serving Size:
1
Amount Per Serving:
Calories:

885
Total Fat:

71g
Saturated Fat:

25g
Trans Fat:

1g
Unsaturated Fat:

44g
Cholesterol:

135mg
Sodium:

369mg
Carbohydrates:

86g
Fiber:

5g
Sugar:

14g
Protein:

74g
What to serve with sausage and peppers sandwich? The sandwich itself is very filling but could also be served with chips or a side salad.
If you prefer to enjoy the sausage and peppers as a meal and not a sandwich, the mixture can be served over rice or with pasta.
What else can you do with sweet Italian sausage? Italian sausage can be cooked on pizza, added to soups and in pasta dishes.
Can I add additional topping to my sausage and peppers sandwich? Create your sandwich to suit your taste. It is classically served as it but feel free to add lettuce and tomato is you like and dress with any additional condiments, such as mayonnaise or hot sauce, if you prefer.
You Might Also Enjoy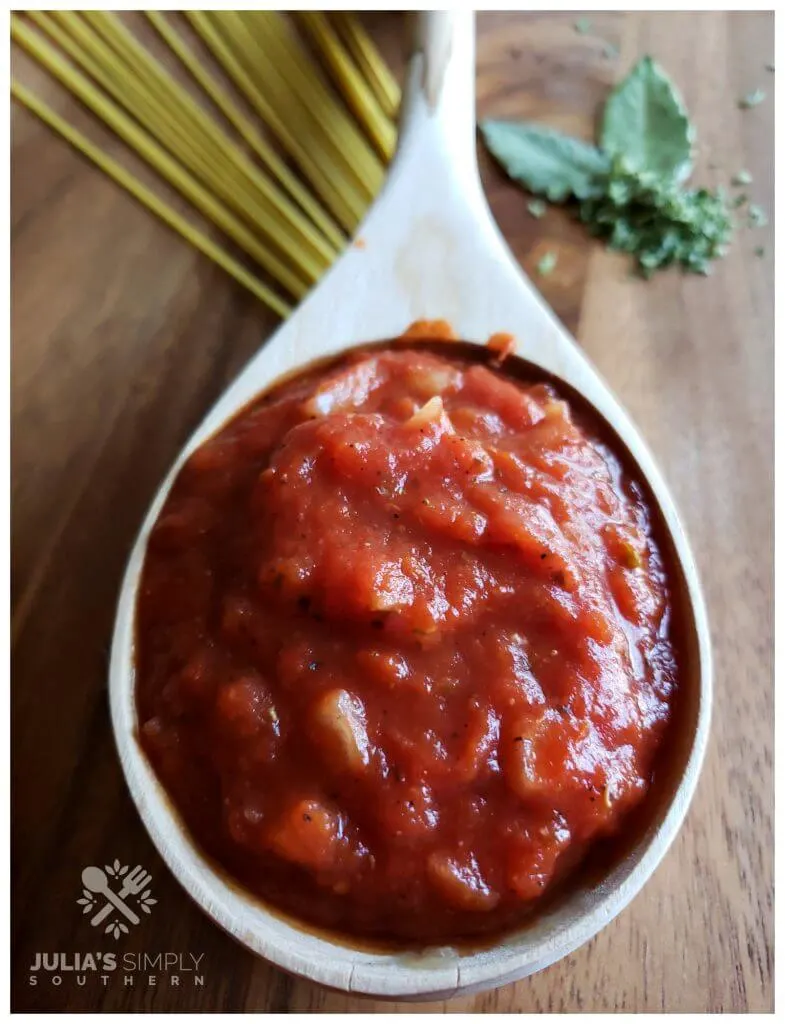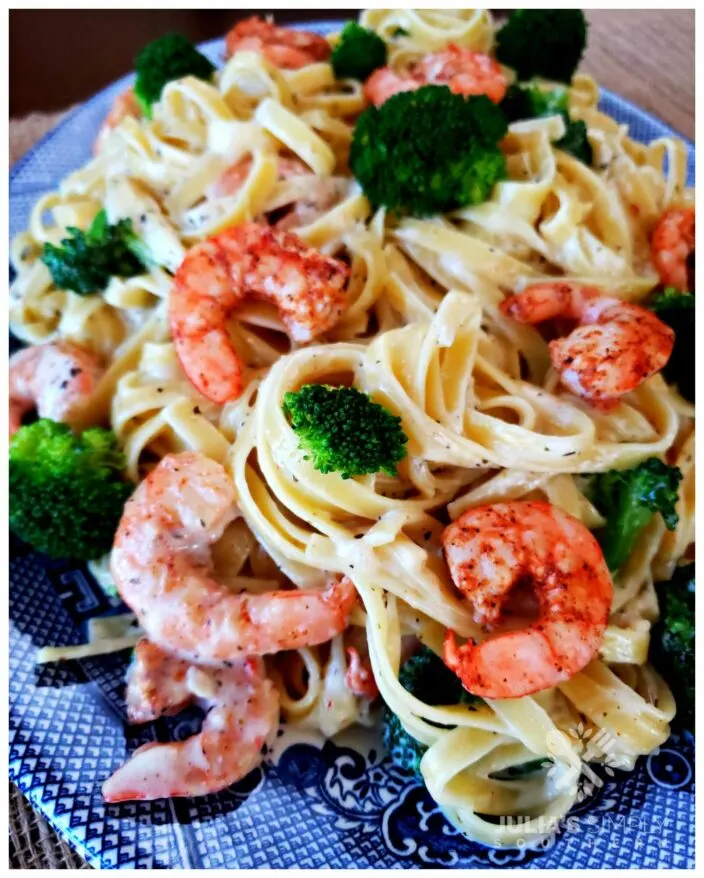 Italian Sausage and Peppers Recipe
Thank you for stopping by! I'm so happy that you did. I know that you will love this delicious recipe and how easy it is to prepare.
Home cooked meals never have to be complicated.
Be sure to subscribe to my email list while you are here. As a subscriber I'll deliver a weekly newsletter to your inbox so that you never miss the latest recipes and news here on the blog.
Until next time, happy cooking Y'all!
Meet Julia
Author of Julia's Simply Southern
Hey Y'all! I'm Julia, the cook and writer behind the recipes here at Julia's Simply Southern. I began my website so that I could share easy to follow recipes that anyone can use to put a home cooked meal on the dinner table. Thanks so much for stopping by!
Follow me on Facebook | Twitter | Instagram | Pinterest | YouTube