Y'all, I am sharing how to make Perfect Potato Skins! These twice baked potato skins have crispy skins and are so good.
Yesterday something happened that sent my stress level through the roof. SIGH! My husband noticed a plumbing issue. UGH!
Ordinarily, this shouldn't have been so stressful but we already have our main bathroom nearly out of commission while a remodel is going on. I won't bore you with details but let's just say – contractor issues.
During my stress venting to my cool as a cucumber husband, I asked what he would like for his game day meal. His response was potato skins. Sounded great, so we made a quick trip to the grocery store so I could pick up a few potatoes and fresh chives.
Unbeknownst to me at the time, my clever husband had just found a way to calm and soothe me.
I headed into the kitchen to cook. My happy place! It takes my mind off of things and I had something to focus on….making him the best potato skins.
He asked me if I had shared potato skins on the blog with you all and I said no. I said perhaps that I would sometime in the future. He planted another seed. I grabbed my notebook to jot things down and took photos so here I am sharing how to make these delicious potato skins.
I confessed as he was enjoying the potato skins that it has calmed me completely to be in the kitchen preparing food. He kindly responded that he knew it would.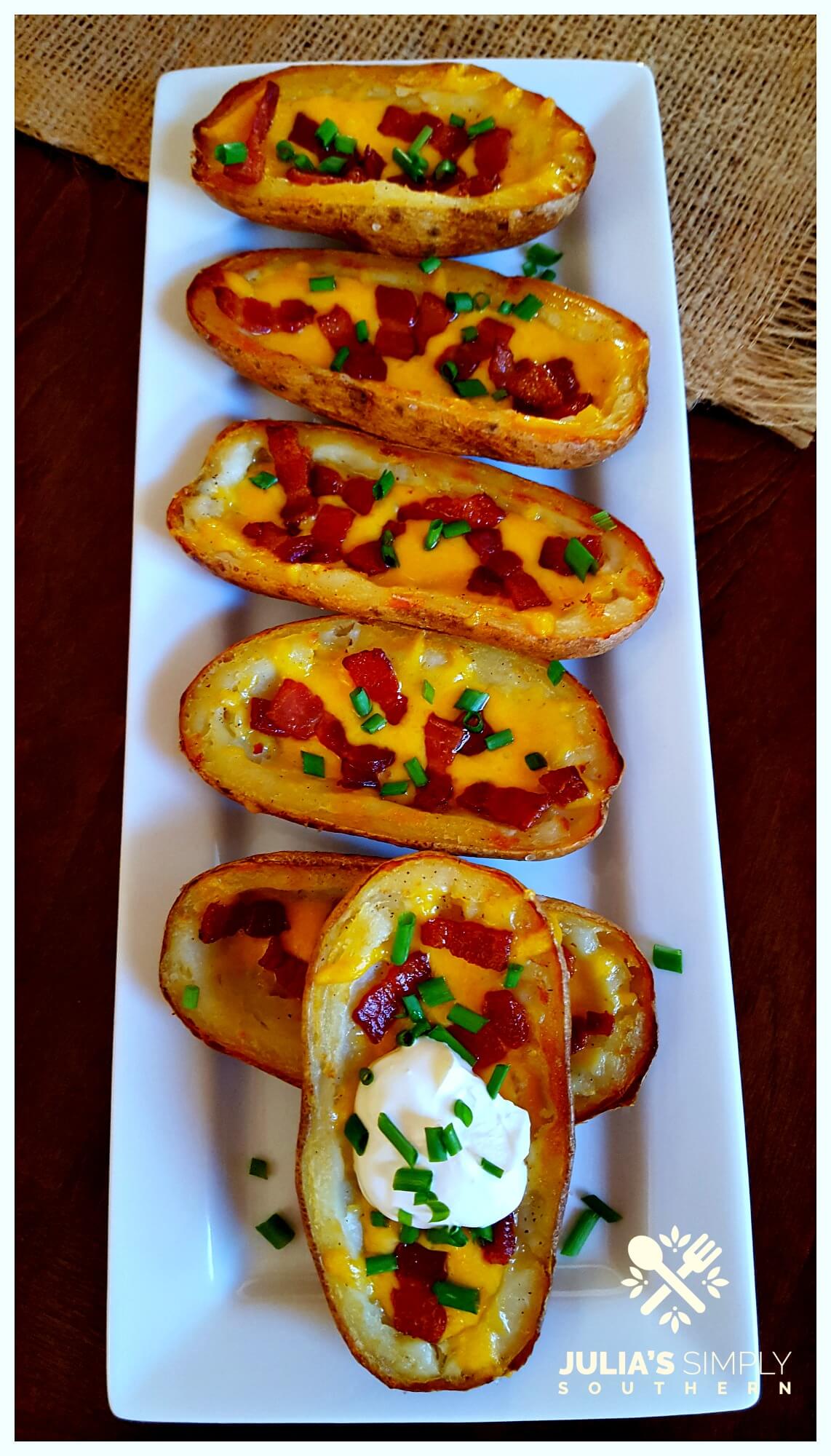 How Do You Make Potato Skins Crispy?
I think a lot of restaurants throw potato skins into a deep fryer. I do not! That's where the twice baked potato method comes into play. The flesh of the potato is still nice and fluffy.
After we returned from the store, I washed the potatoes and put them on a small baking sheet and put them into a preheated 425°F oven. The potatoes baked for 1 hour then I removed them from the oven and allowed them to cool for 1 hour.
While the potatoes were baking, I cut up a few slices of bacon and cooked it in a skillet until nice and crispy to use to top the potato skins later.
You'll find the full printable recipe at the end of the post. Don't forget to share and pin the post to help me get the word out to others who might enjoy this recipe too.
Once the potatoes had cooled enough to handle, I cut each potato in half, then removed the potato pulp leaving 1/4″ edge. I keep the potato pulp that I remove to use for another dish.
Next, I lined the baking sheet with foil and preheated the oven to 350°F. Brush the potato skins, inside and out, with vegetable oil and place flesh side down on the lined baking sheet.
Pop them back into the oven and bake for 25 minutes. The skins are now nice and crispy and the edges have a nice brown edge on the potato.
Potato Skins Fillings
Turn the potato skins over and season with salt and pepper. Fill the potato skins with grated cheddar cheese and cooked bacon then return to the oven for 10 minutes, or until the cheese is melted.
Remove the potato skins and top with a dollop of sour cream and fresh chives. You might consider having a mini potato skins bar with other toppings to choose from such as Pickled jalapeno slices, hot sauce, green onions or salsa.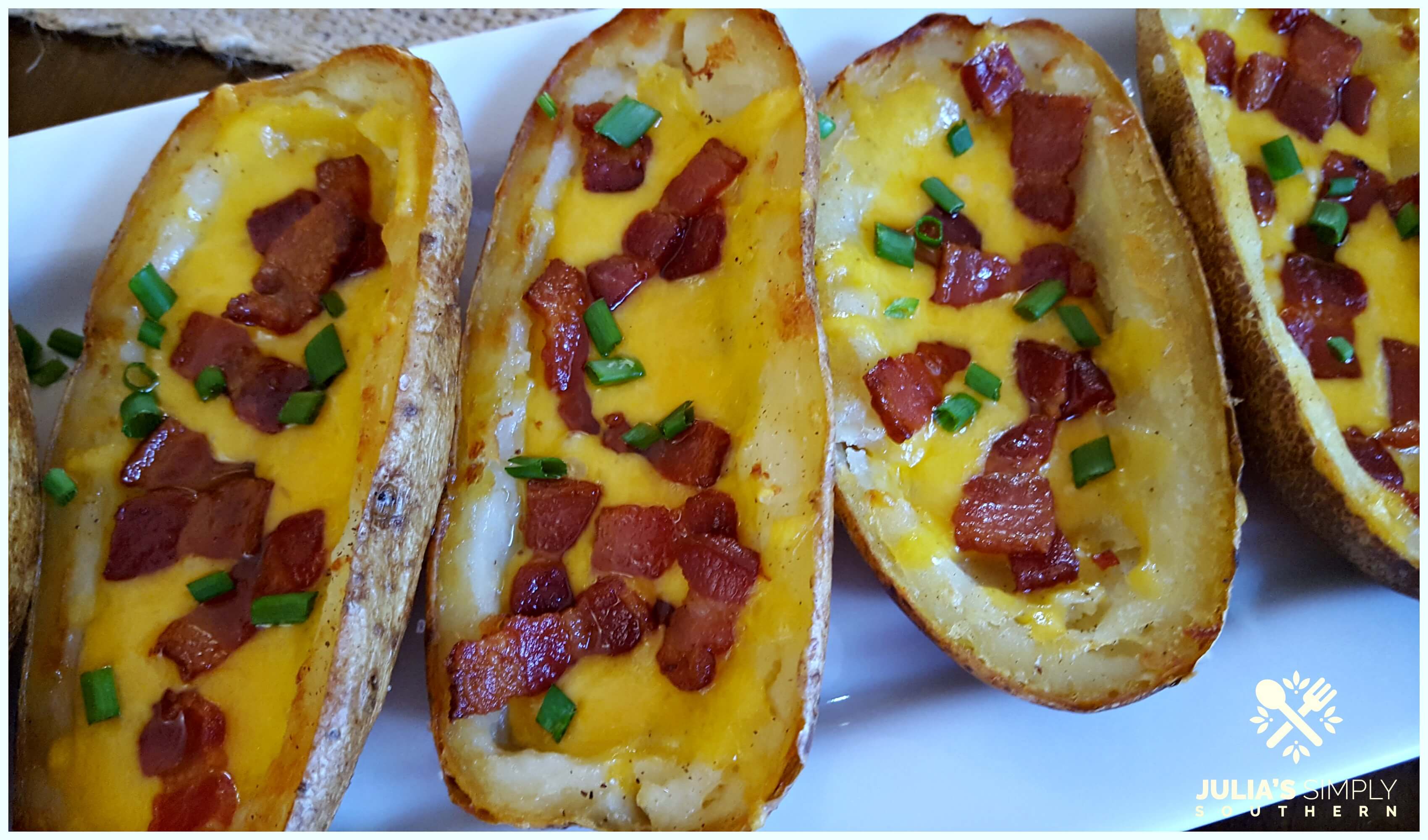 Other game day recipes you might enjoy: Baked Chicken Wings, Fried Green Beans or Simple Queso Dip.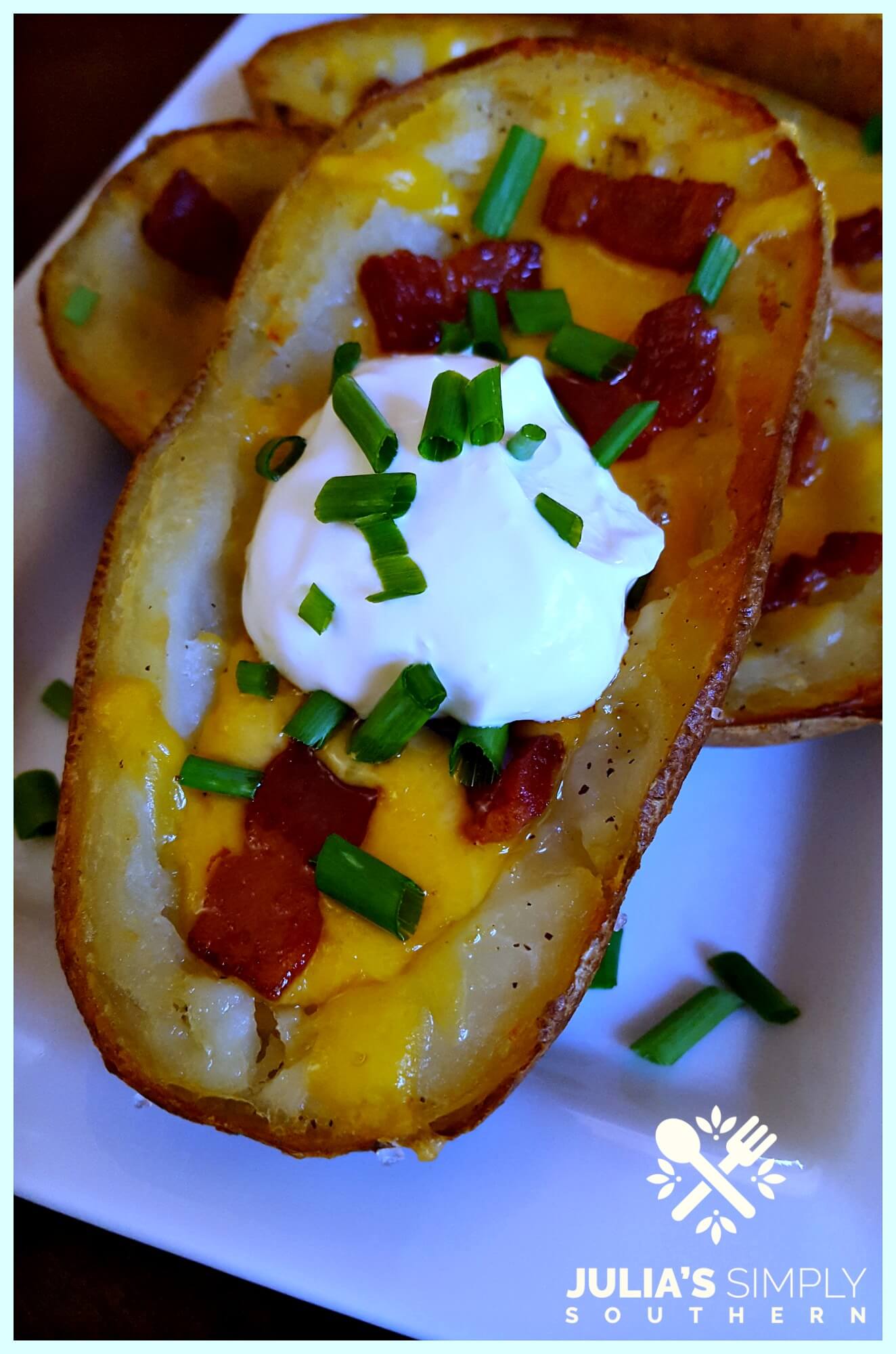 Let's make this Perfect Potato Skins Recipe!
Yield: 6 Servings
Perfect Potato Skins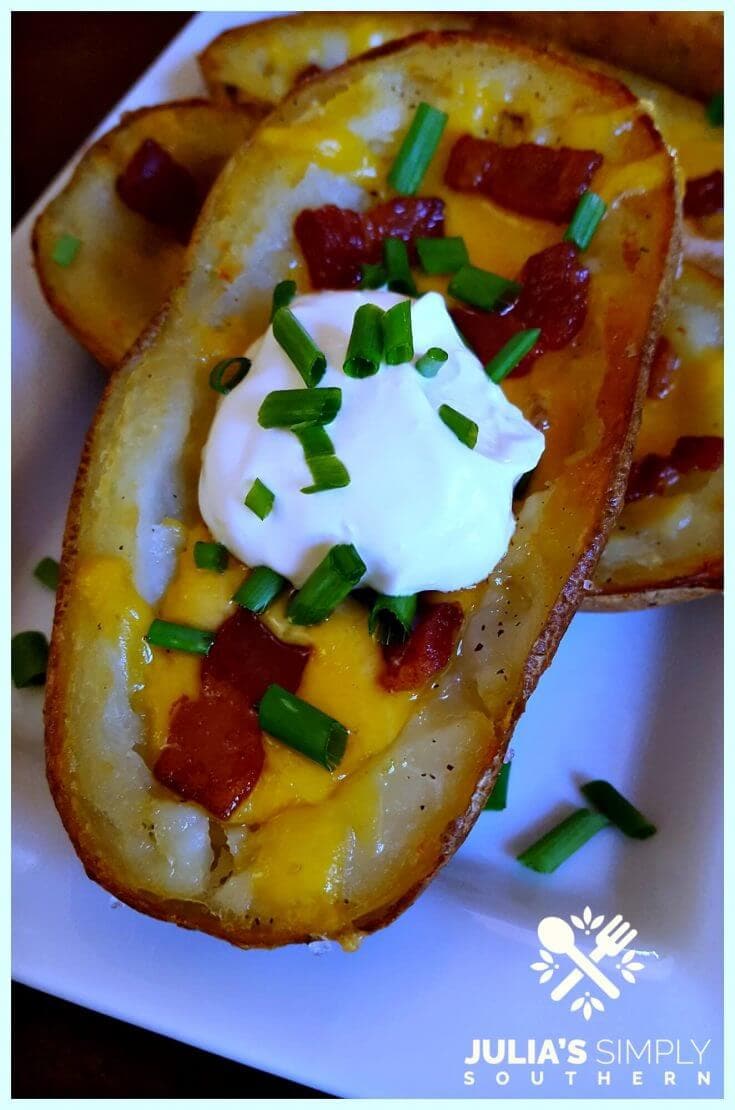 Perfect crispy twice baked potato skins, the must have appetizer on game night
Cook Time
1 hour
25 minutes
Total Time
2 hours
35 minutes
Ingredients
3 Medium Russet Potatoes
3 Strips of Thick Sliced Bacon
1 c Cheddar Cheese, grated
3 tbs Vegetable Oil
Salt & Pepper, to taste
2 tbs Fresh Chopped Chives
Sour Cream
(Other toppings you may like: pickled jalapenos, salsa, green onions or hot sauce)
Instructions
Preheat oven to 425°F (218°C)
Wash the potato well and place on a baking sheet.
Place into the oven and bake for 1 hour. Test for doneness by gently squeezing the potatoes.
Remove the baked potatoes from the oven and allow to cool for 1 hour.
Cut up the bacon slices and cook in a skillet until crispy. Remove the cooked bacon pieces from the skillet, draining of bacon fat, and place in a ramekin until ready to use.
Preheat oven to 350°F (176°C)
Cut the baked potatoes in half and remove the pulp leaving 1/4" boarder. I use a spoon for this and store the removed potato pulp for another use.
Next, line a baking sheet with foil.
Next, brush each potato skin, flesh and skin side with vegetable oil.
Place flesh side down on the baking sheet. Bake the potato skins for 25 minutes.
Remove the potato skins from the oven and turn over then season with salt and pepper.
Fill the potato skins with grated cheddar and cooked bacon pieces then return to the oven for about 10 minutes or until the cheese is melted.
Remove the potato skins and top as desired, with a dollop of sour cream and fresh chives or other toppings of your choice.
Nutrition Information:
Yield:
6
Serving Size:
1
Amount Per Serving:
Calories:

233
Total Fat:

14g
Saturated Fat:

5g
Trans Fat:

0g
Unsaturated Fat:

9g
Cholesterol:

22mg
Sodium:

217mg
Carbohydrates:

19g
Fiber:

2g
Sugar:

1g
Protein:

7g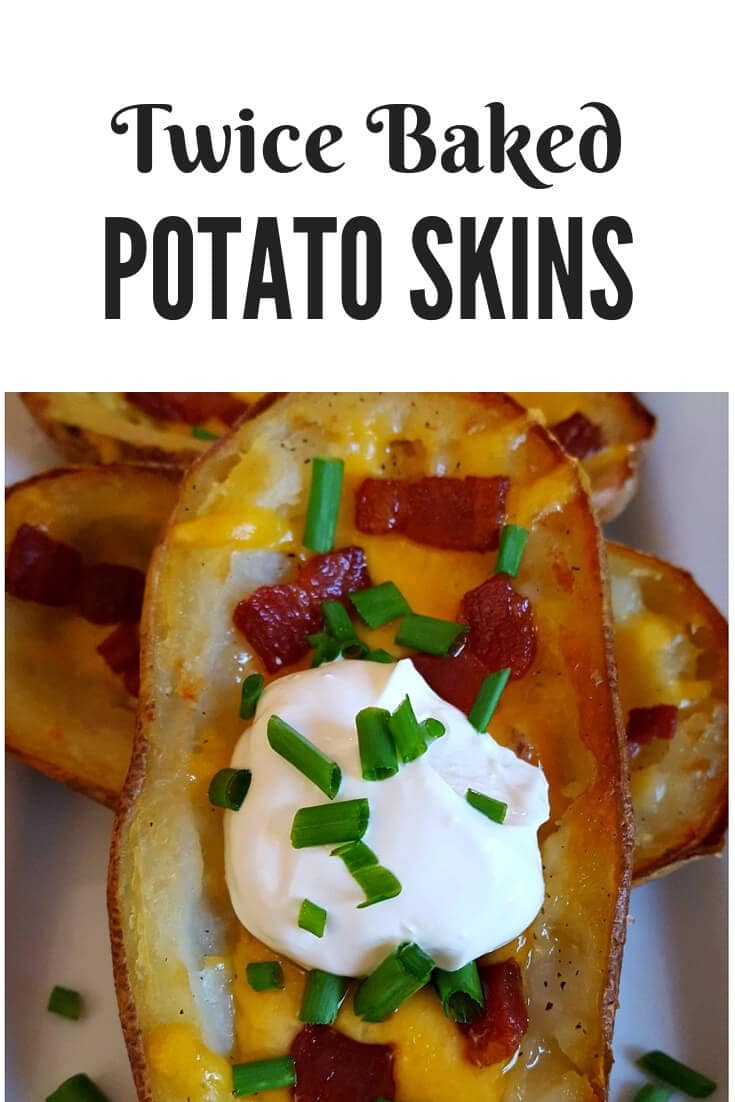 See this recipe shared at: Weekend Potluck and Meal Plan Monday
Thank you so much for stopping by! I am so glad that you did.
Be sure to subscribe to my email list while you are here. Email subscribers receive a newsletter each week with the latest recipes and news here on the blog so that you never miss a thing.
Until next time, Love and Happy Cooking, Friend!
Meet Julia
Author of Julia's Simply Southern
Hey Y'all! I'm Julia, the cook and writer behind the recipes here at Julia's Simply Southern. I began my website so that I could share easy to follow recipes that anyone can use to put a home cooked meal on the dinner table. Thanks so much for stopping by!
Follow me on Facebook | Twitter | Instagram | Pinterest | YouTube