In this post I'll be sharing the recipe for Jalapeno Popper Chicken Breast. It is so good y'all!
If you're searching for easy chicken breast recipes made with just a few ingredients then you've come to the right place.
This Jalapeno Chicken Breast is so flavorful and not too spicy at all. The cooked bacon, cheese and pickled jalapenos add the perfect finishing touch to these boneless skinless chicken breasts.
Jalapeno popper chicken breasts will be ready in about 15 minutes making it perfect for your busiest days. Just serve along with a side or two and you've got yourself an easy family favorite meal.
Jalapeno Popper Chicken Recipe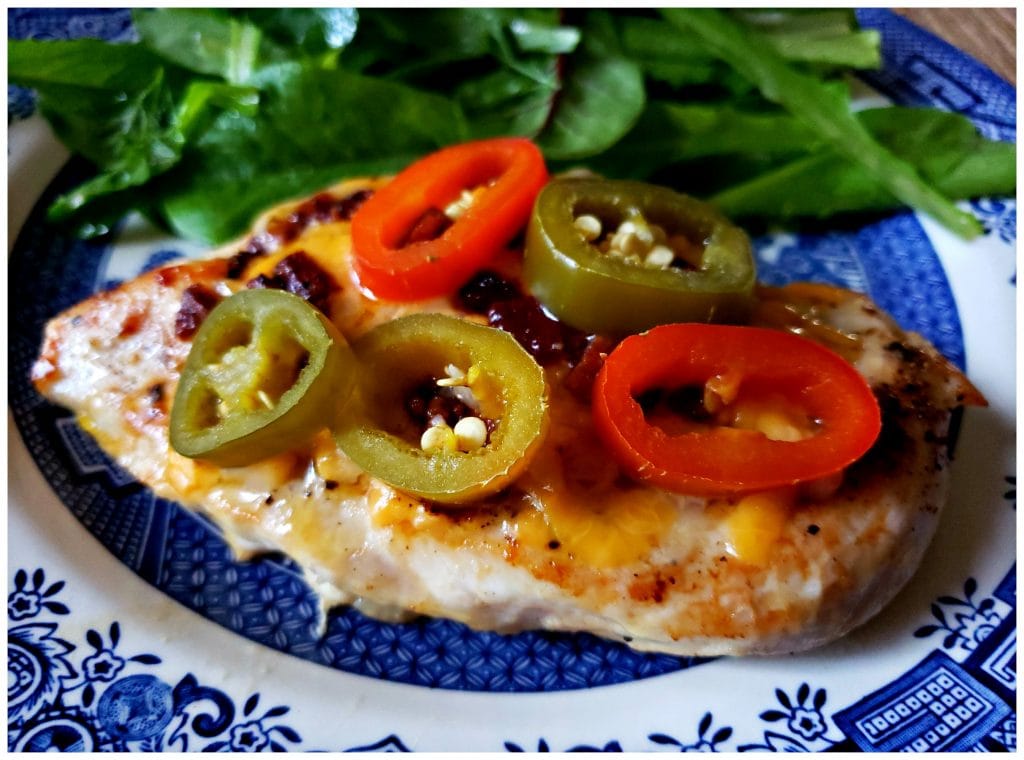 This mouthwatering chicken dinner takes just 4 simple ingredients. Plus a little salt and pepper for seasoning.
You don't even have to go through the trouble of stuffing the chicken. Just layer the finishing ingredients on top of a seared chicken breast then pop it into the oven to finish cooking.
Simple Chicken Breast Recipes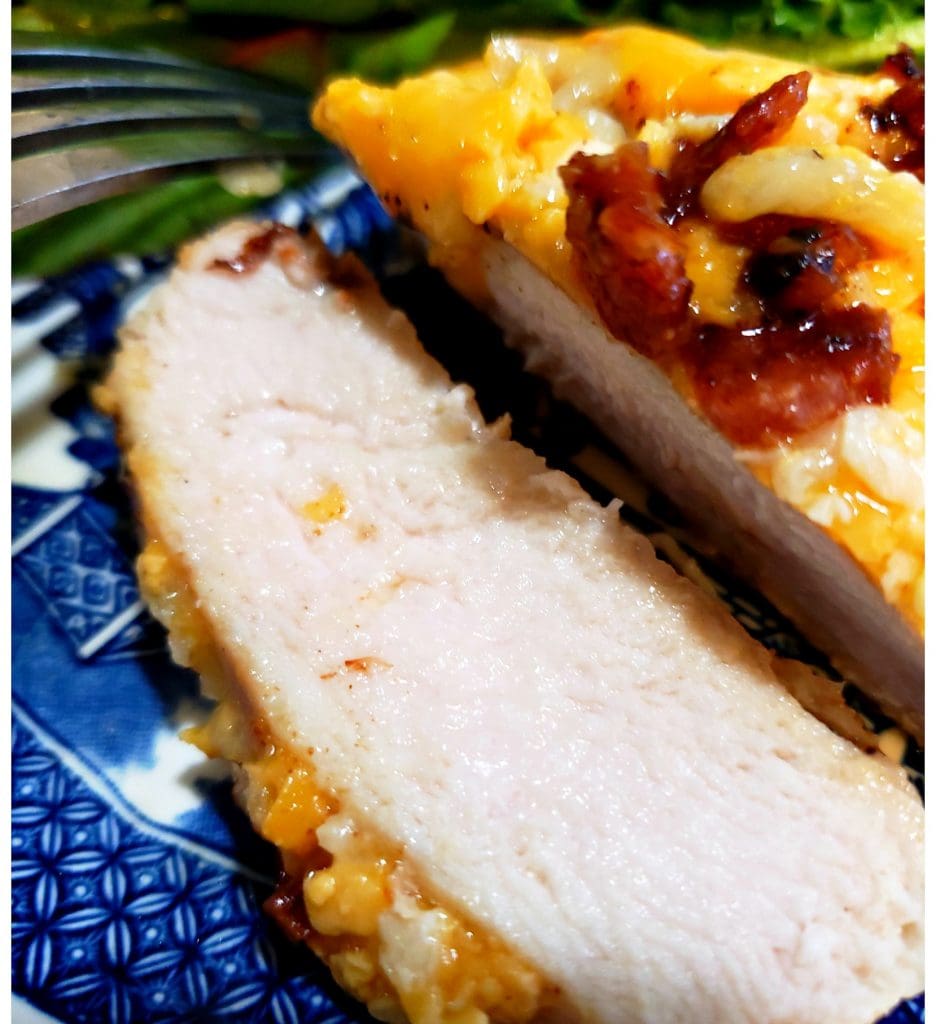 Check out how juicy that chicken is! YUM! The chicken breast is perfectly cooked then allowed to rest for 5 minutes before serving.
Jalapeno Popper Chicken Breast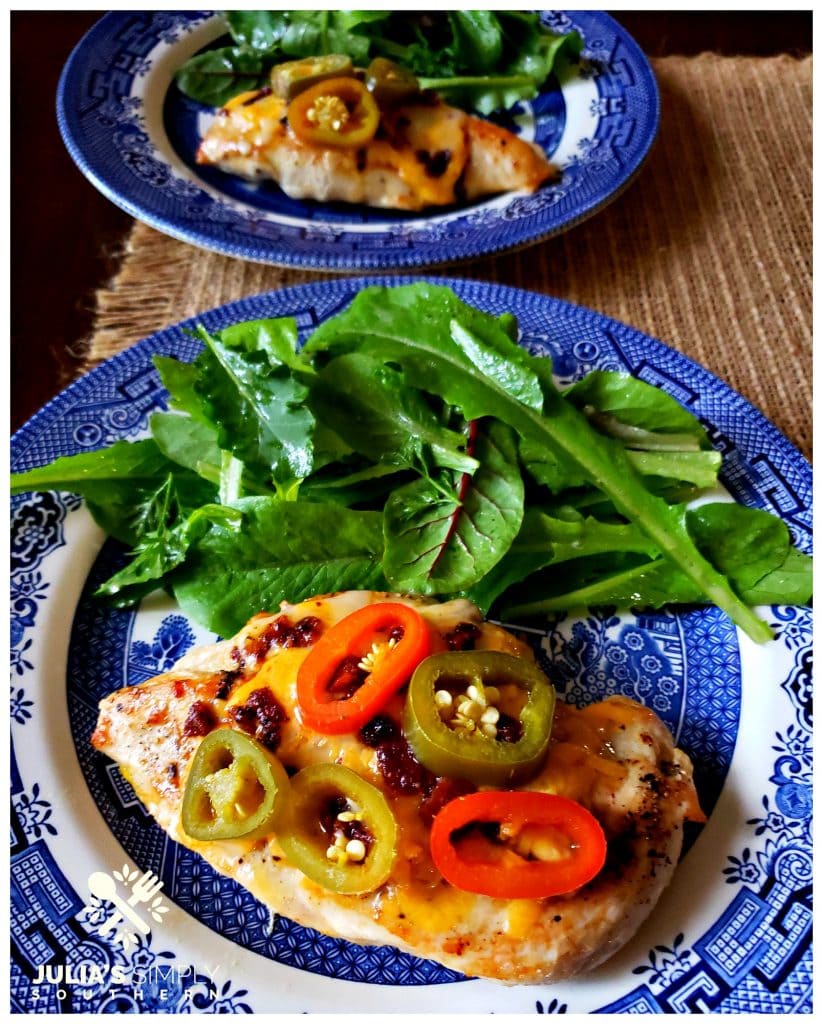 Y'all, I got to share with you how proud that I am of that little side salad on the plate with this jalapeno popper chicken. I grew that lettuce!
I'm so stinking proud of my little vegetable garden this year and this is the first time that I've grown a winter garden.
We've been enjoying lots of fresh salads with our meals and I'm totally okay with that.
Easy Chicken Breast Recipes Few Ingredients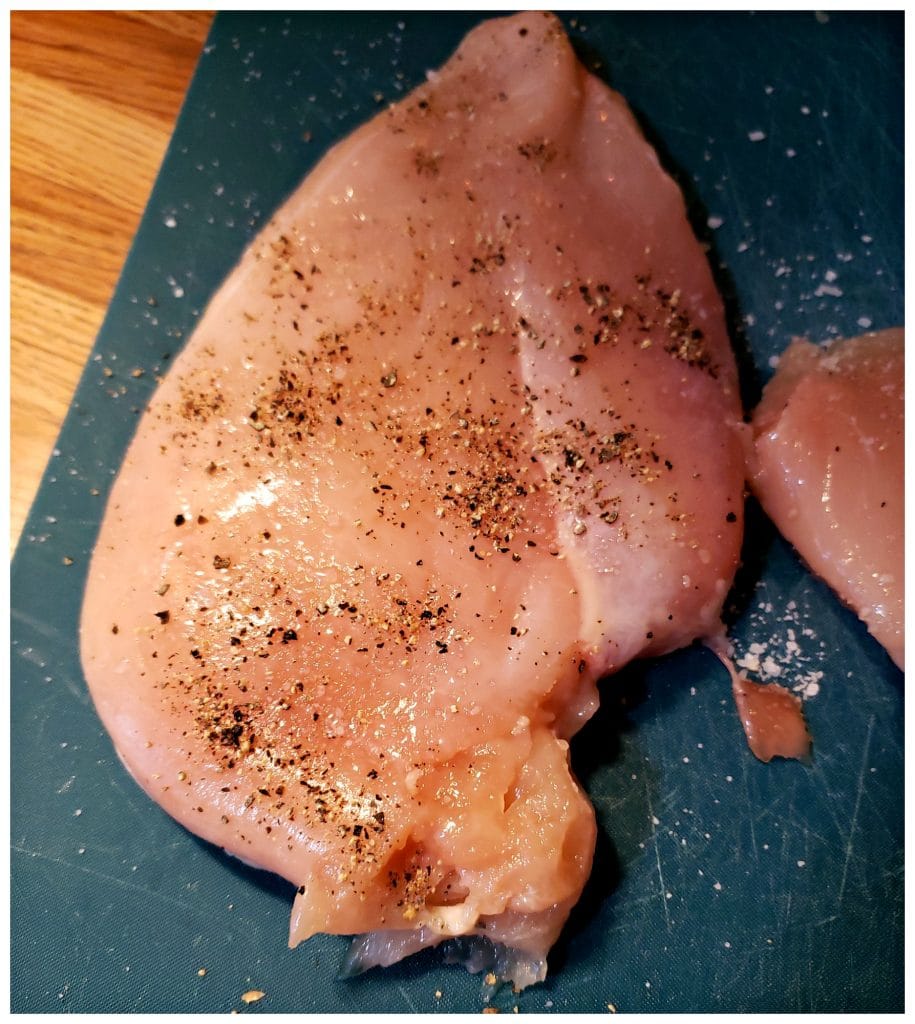 Did you know that you can make a super delicious chicken breast with nothing more than a good seasoning with kosher salt and fresh cracked pepper?
Seriously, it is delicious. Some folks think that you need to add all sorts of this and that to make something good. Not true at all. Delicious food doesn't have to be complicated at all.
That simple seasoned chicken breast is how this recipe starts…well after you pound them out thin and even before cooking.
Just grab your rolling pin and cover the chicken breasts with plastic wrap and take out any pinned up frustrations and pound that chicken.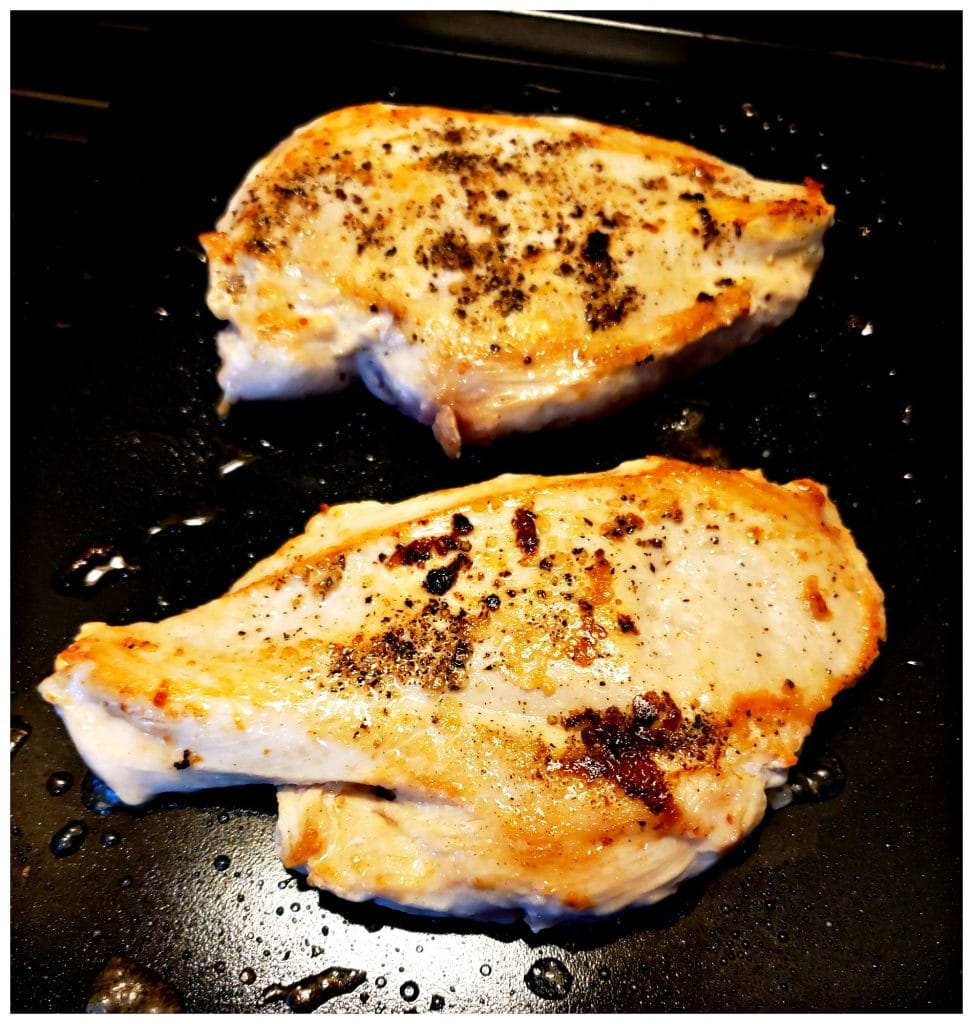 The boneless skinless chicken breast can be seared in a hot skillet or on your stove top griddle. I'm using my griddle here which I've really enjoyed cooking on lately.
Make sure that your cooking surface is really hot before adding the chicken to get a good sear on each side.
Taking the time to pound the breast meat to an even thickness ensures that it all cooks the same, which doesn't take that long.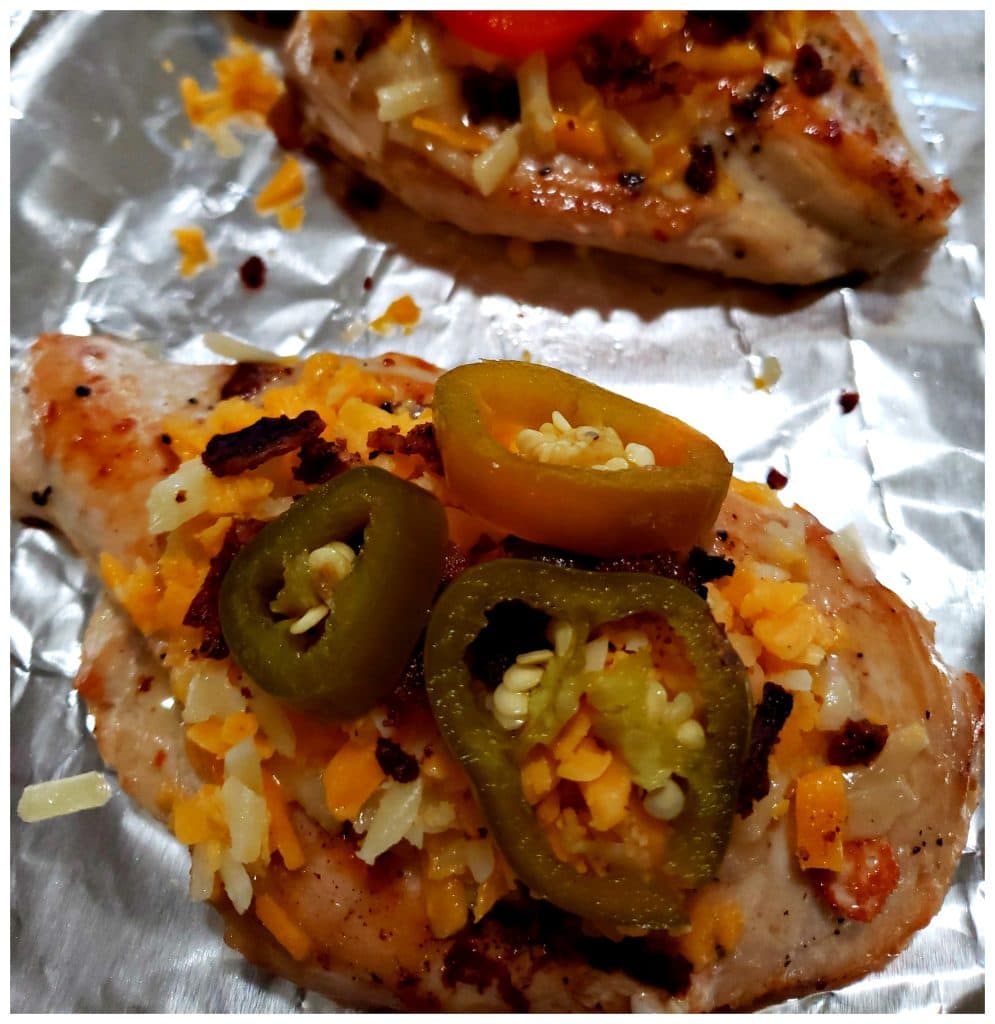 Transfer the chicken to a lined sheet pan and top with the cheese, bacon and pickled jalapeno slices.
The jalapeno chicken breasts will then go into a preheated oven for a few short minutes until it is hot and bubbly and the cheese is melted.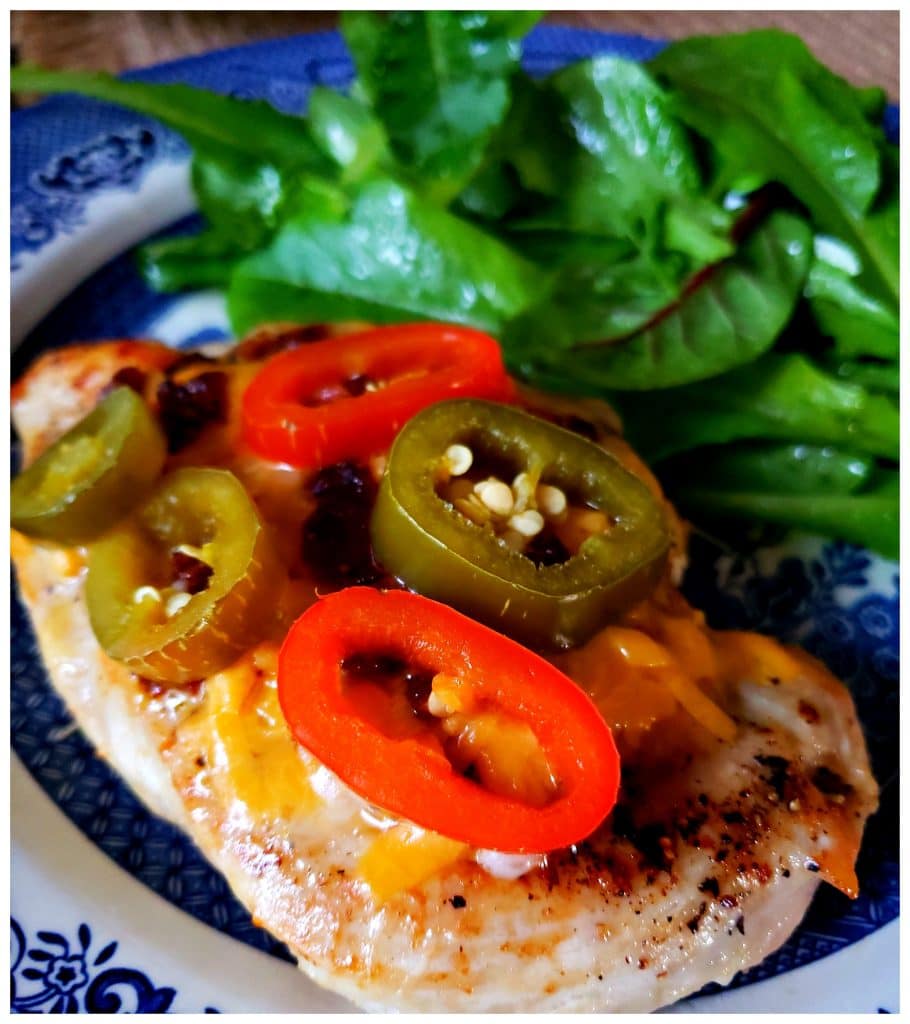 What are your favorite sides with chicken? We have a few favorite sides that we enjoy with our chicken dinner.
It really depends on how the chicken is prepared as to which side dish that we choose.
For this jalapeno popper chicken breast; a salad, steamed vegetable or roasted asparagus would be perfect.
Yield: 2 Cooked Chicken Breasts
Jalapeno Popper Chicken Breast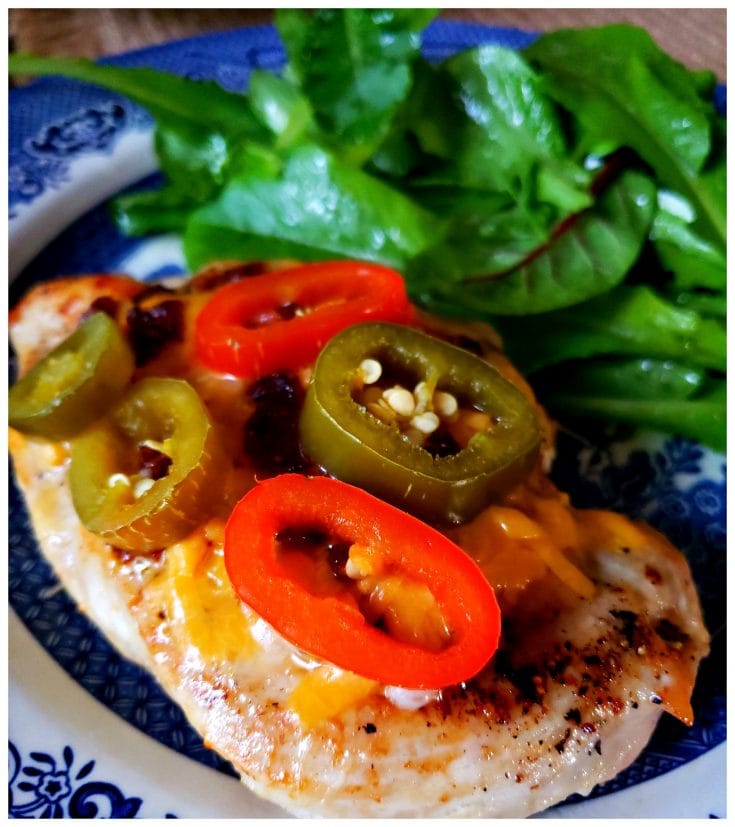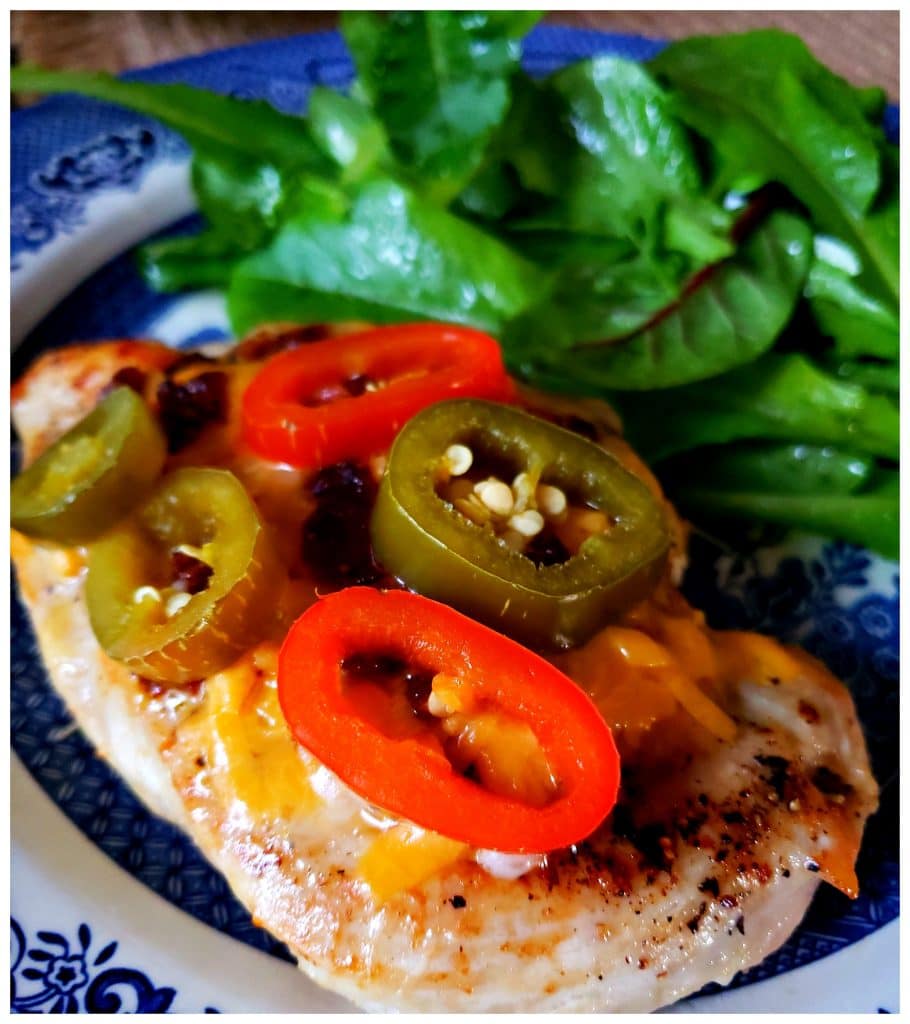 A delicious simple chicken breast recipe made with just a few simple ingredients. This easy jalapeno popper chicken breast recipe is delicious and ready in just minutes.
Additional Time
5 minutes
Ingredients
2 Boneless Skinless Chicken Breasts
10 Pickled Jalapeno Slices
1 Slice of Cooked Bacon, crumbled
1/2 c Sharp Cheddar Cheese, grated
Instructions
Preheat oven to 350°F as well as heat a skillet or stove top griddle until hot.
Cover the chicken breast with plastic wrap on a cutting board and pound to an even thickness. Season each side of the chicken breast with a liberal pinch of kosher salt and cracked black pepper.
Transfer the chicken breasts to the hot griddle or skillet, cooking 4 minutes per side (see notes).
Transfer the seared chicken breasts to a lined sheet pan; top with shredded cheese, chopped bacon and pickled jalapeno slices. Place into the oven to bake about 3 minutes, or until the cheese is melted.
Allow the chicken to rest for 5 minutes before serving.
Notes
Pounding the chicken breast to even thickness ensures even cooking. Cooked chicken breast should have an internal temperature of 165°F. Adjust cooking time if needed for larger chicken breasts.
Recipe can easily be doubled for family meals.
Allowing cooked chicken to rest before slices allows the juices to redistribute and ensures delicious juicy chicken.
Use a teaspoon of cooking oil, if needed, to coat cooking surface before searing the chicken breasts.
Recommended Products
As an Amazon Associate and member of other affiliate programs, I earn from qualifying purchases.
Nutrition Information:
Yield:
2
Serving Size:
1
Amount Per Serving:
Calories:

369
Total Fat:

17g
Saturated Fat:

7g
Trans Fat:

0g
Unsaturated Fat:

7g
Cholesterol:

136mg
Sodium:

208mg
Carbohydrates:

6g
Fiber:

3g
Sugar:

2g
Protein:

47g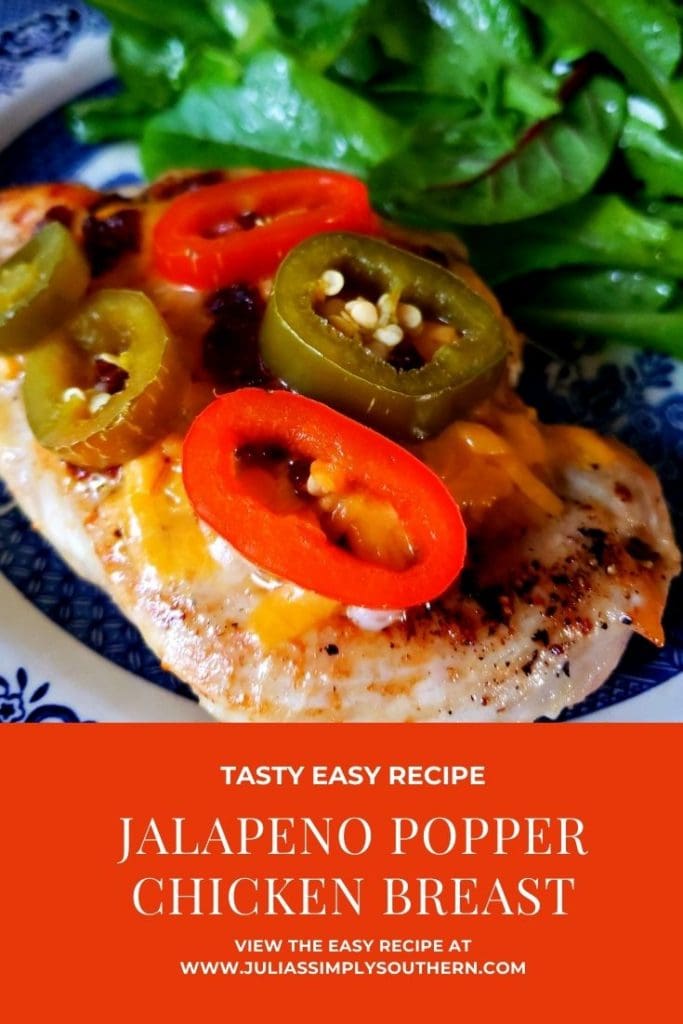 You Might Also Enjoy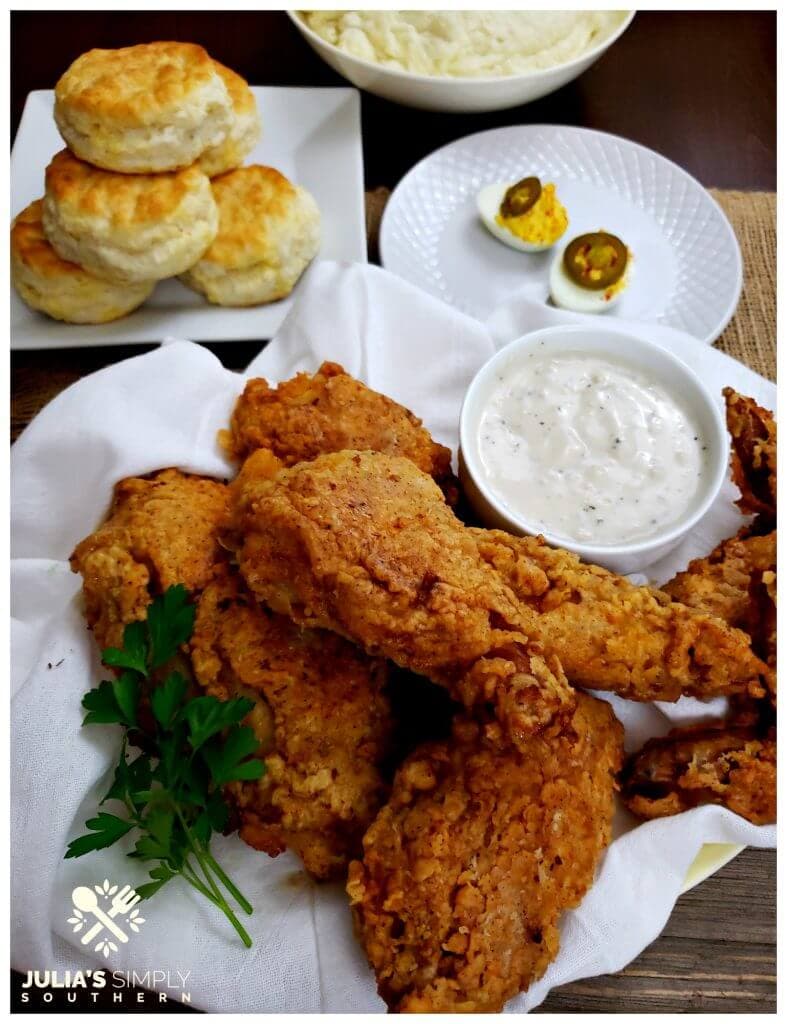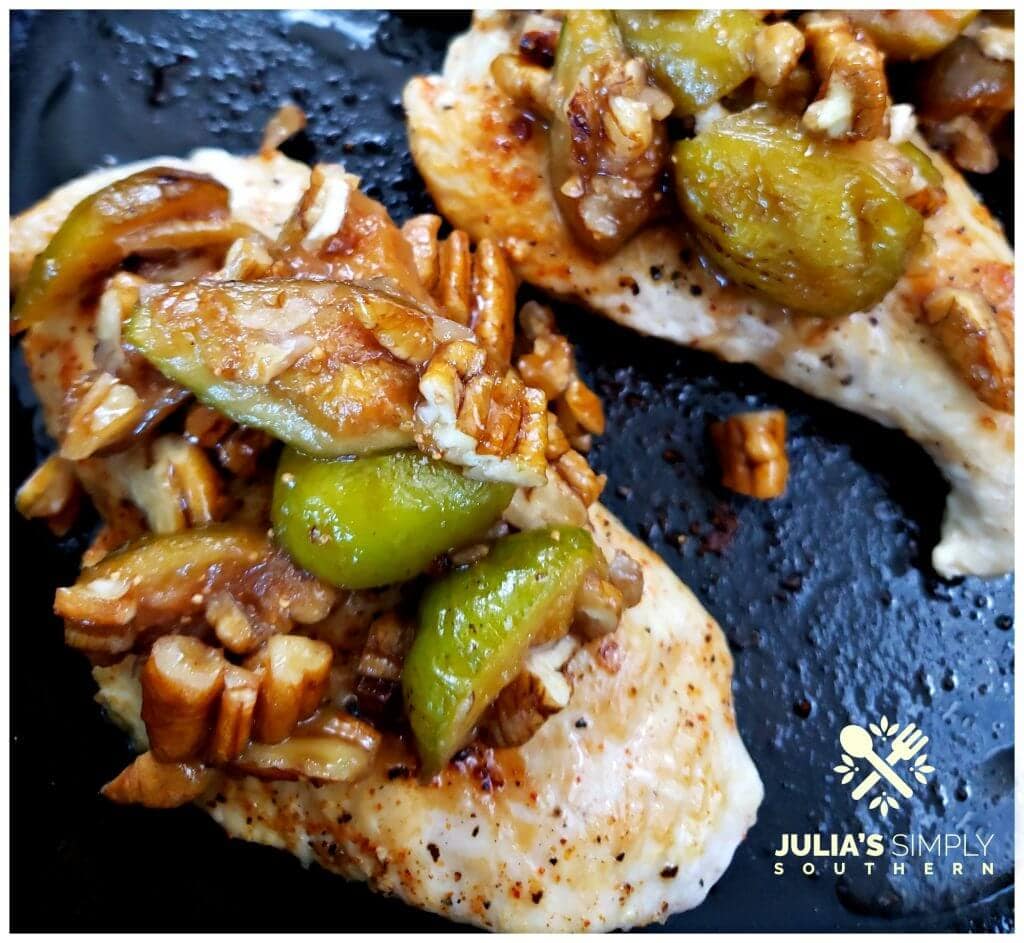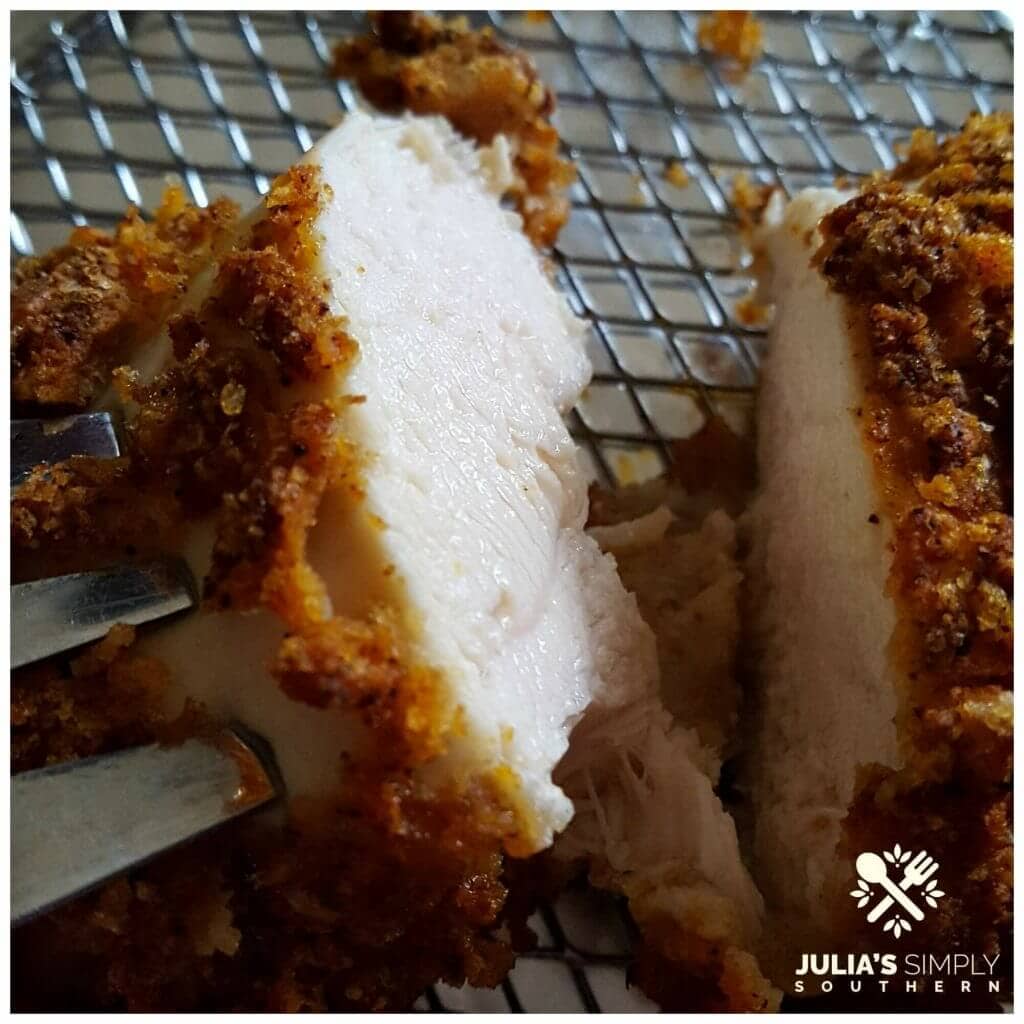 Check out this recipe for Tuscan Stuffed Chicken from Spicy Southern Kitchen.
Thank you so much for stopping by! I am so glad that you did and I know that you'll enjoy this jalapeno popper chicken breasts just as much as we do. It's a great quick fix meal!
Be sure to subscribe to my email list so that you never miss my latest recipes. I'll send you a weekly newsletter to keep you informed of what's happening here on the blog.
The Jalapeno Popper Chicken recipe has been shared at Weekend Potluck.
Meet Julia
Author of Julia's Simply Southern
Hey Y'all! I'm Julia, the cook and writer behind the recipes here at Julia's Simply Southern. I began my website so that I could share easy to follow recipes that anyone can use to put a home cooked meal on the dinner table. Thanks so much for stopping by!
Follow me on Facebook | Twitter | Instagram | Pinterest | YouTube