In this post I'll be sharing the recipe for Hamburger Steaks with Onions, Peppers, and Mushrooms.
I don't know about you friend, but we had hamburger steaks a lot growing up. Ground beef has always been a favorite ingredient for family meals because it can be used to create a variety of budget friendly meals.
With food prices rising so fast, I am sure that myself along with you, are looking for ways to keep our grocery budgets under control.
We still enjoy hamburger steaks occasionally. Sometimes with simple seasonings and the tasty sautéed onions, bell peppers and mushrooms. Other times smothered in gravy. We love hamburger steaks in country gravy, mushroom gravy or onion gravy. They're all delicious!
Some folks prefer hamburger steaks without gravy so that is what this hamburger steak recipe is all about.
If mama didn't make gravy we would drown the hamburger steak in Worcestershire Sauce, A1 steak sauce, or ketchup.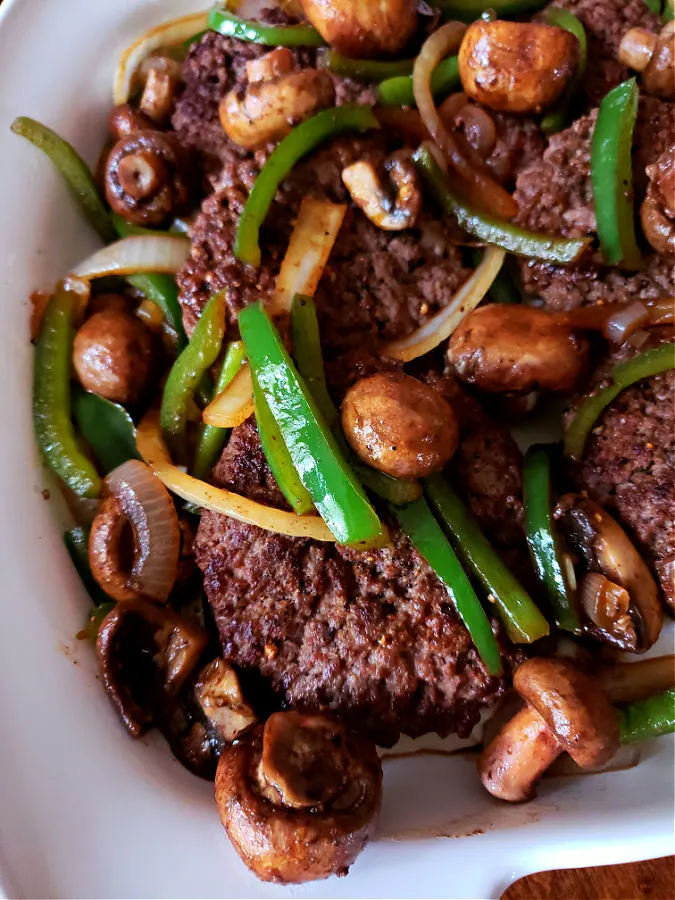 Doesn't that look delicious? It's amazing how good some hamburger patties can make a great meal.
Y'all, I try to stick with just the recipe in my post, but I have to share a funny story with you. Years ago, my sister in law and I were having lunch. It was one of those kind of places that you go for a burger.
I ordered a cheeseburger and when it was time for her to order, she ordered a hamburger steak on a bun. Y'all, I busted out laughing! I couldn't help myself. In fact, I still laugh out loud every time I think about that lunch order.
My sister in law went on to say to our server that she ordered that because the ground beef was better for the hamburger steaks than burgers. It ended up that those hamburger patties were the same ole thing.
That's not the only hilarious lunch story with her that I could share, but I'll save those for another time.
Easy Hamburger Steak Recipe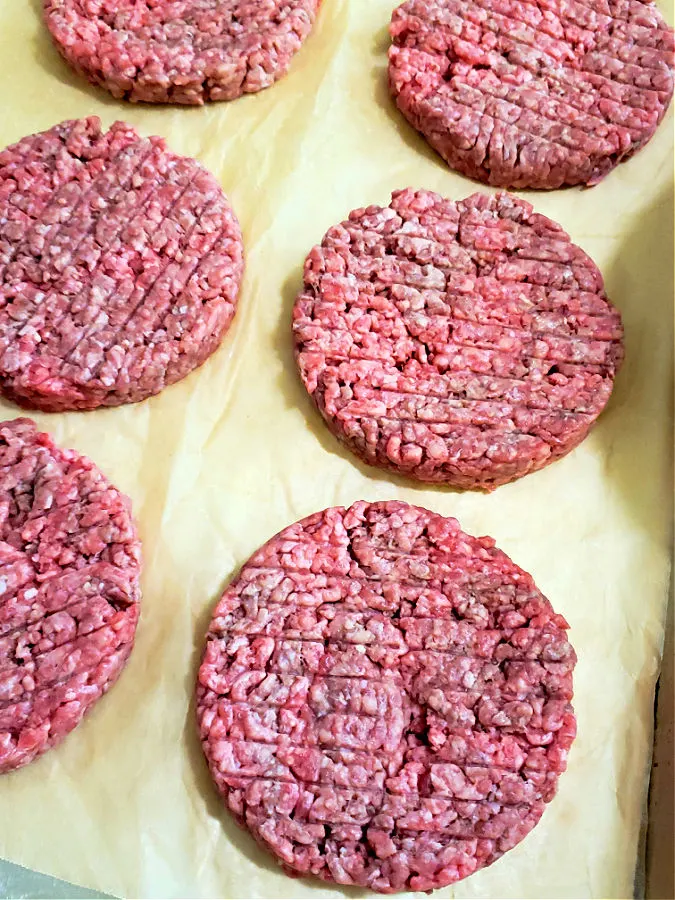 Here's what you'll need to make these hamburger steaks with onions, peppers and mushrooms:
Ground Beef Patties – I prefer to make my own patties and weigh out the ground beef on my food scale to make 1/3 pound patties then use a plastic burger patty maker to keep them all uniform, so that they cook evenly.
Seasonings – Kosher Salt, Cracked Black Pepper, Garlic Powder, Onion Powder and a few dashes of McCormick Chili Powder. I'll add the amounts that I use in the recipe card, but of course adjust seasonings to suit your own taste.
Sliced Onions – I like to use a sweet onion, preferable Vidalia, when they are in season.
Sliced Bell Peppers – I used a green pepper because that seems to be the classic go to for hamburger steaks, but any color of bell pepper will work just fine.
Mushrooms – hubs loves mushrooms so I use a lot of them. Baby Bella or white button mushrooms will work fine. I seem to prefer the Baby Bella, also called cremini, and leave the small ones whole. If you have larger mushrooms then give them a rough chop or slice.
Depending on whether you are using a lean ground beef or an 80/20 mix, like ground chuck, you may need a little cooking oil.
As you can see, this is a recipe of simple ingredients to create a cost friendly hearty meal.
Hamburger Steak Recipe No Gravy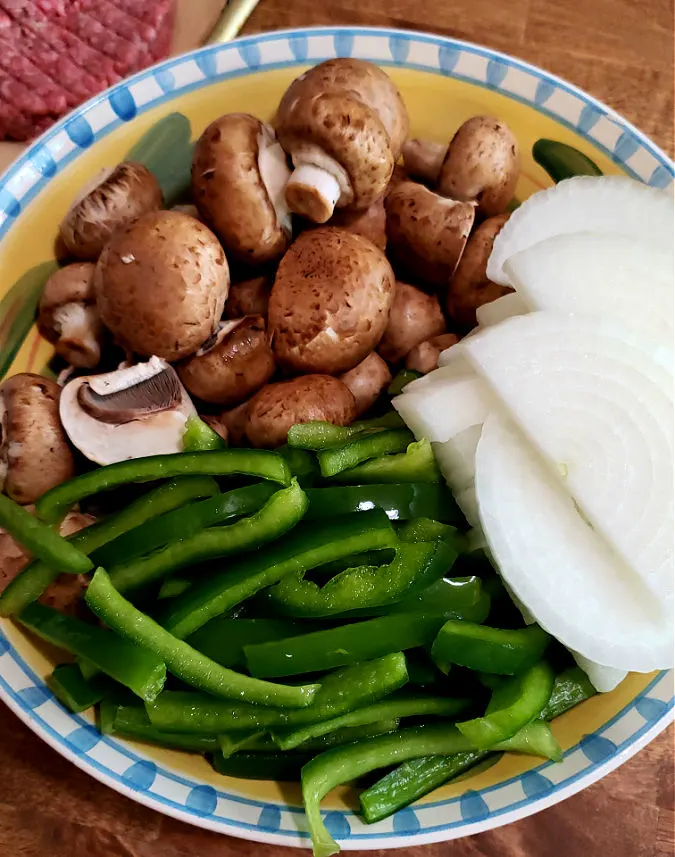 Prepping some the day before makes this easy recipe meal even easier. The day before I clean the mushrooms and slice up the peppers and refrigerate them. Onions are best sliced fresh.
I also form the ground beef patties and place them on a parchment lined sheet pan then cover them with plastic wrap and refrigerate until needed. Add the seasonings just before cooking.
The Secret to Good Hamburger Steaks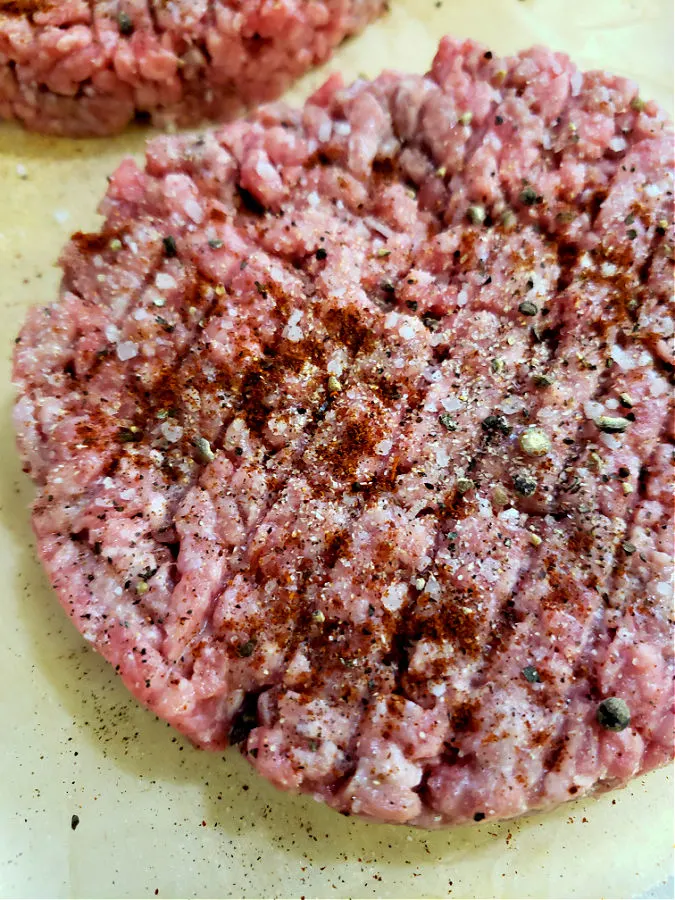 To make the best hamburger steaks, you must season the meat well. See how I've seasoned those patties?
There's no need to go mixing seasonings into the meat then forming the patties either. Seasoning the outside of both sides gets the job done and puts the flavor where you want it.
That's a tip that I picked up years ago from none other than Martha Stewart. She was right too! The only time to go mixing stuff up is if you're making meatloaf or Salisbury steak.
A lot of folks swear that a hamburger steak, or chopped steak, is nothing more than the meat and seasonings. If you go adding stuff like bread crumbs, eggs and other stuff that you're making something else.
Stove Top Juicy Hamburger Steaks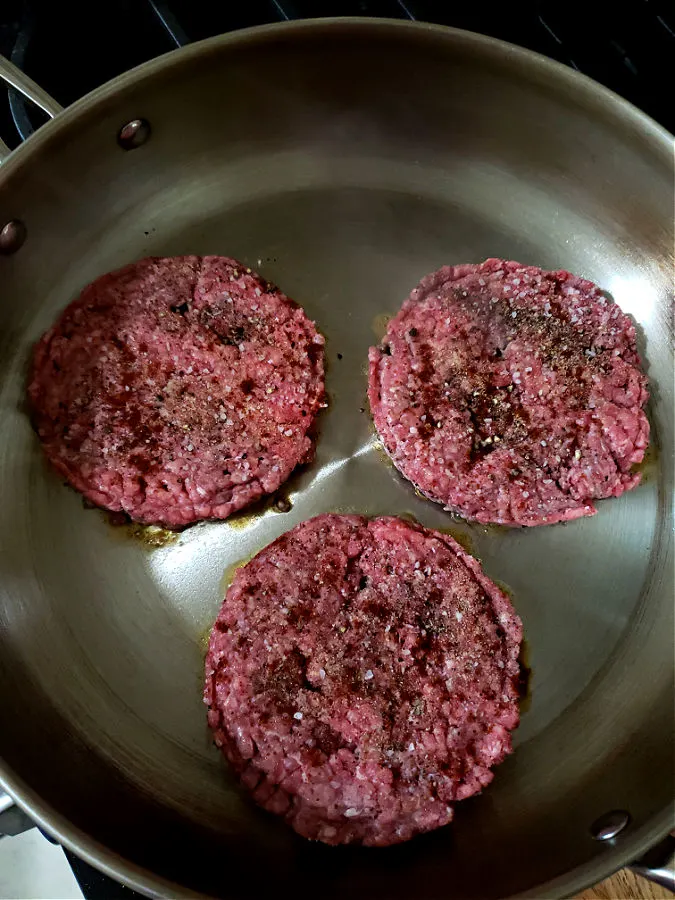 How to make hamburger steak on the stove top?
Place a large skillet over medium-high heat and get it nice and hot. Since I'm using ground chuck, which has more fat and flavor, I added just a teaspoon of oil and brushed it over the bottom of my pan. The meat will release quite a bit of fat so a bunch of oil is not necessary.
Place hamburger steaks into the hot skillet. Cook in batches so that you don't over-crowd the pan. Reduce to medium heat and cook the meat until the brown is at least halfway up from the bottom before flipping.
How to Make Hamburger Steak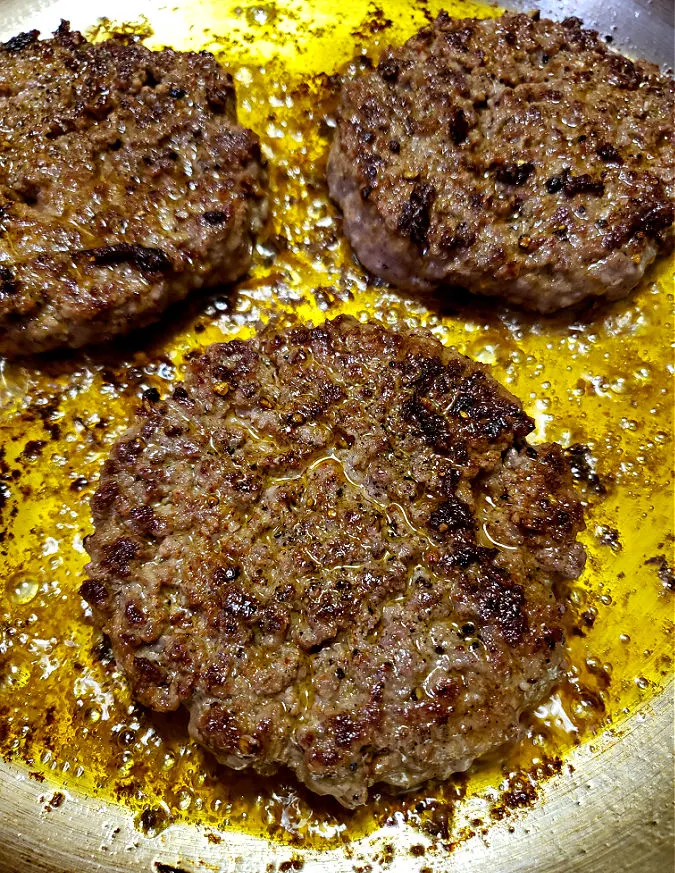 After you flip the beef patties, finish cooking until they are cooked through. I cook ground beef well. If you prefer yours another way then you can adjust your cooking times as needed.
Transfer the juicy hamburger steaks to a plate and set aside. Remove most of the fat released from the meat during cooking leaving a couple of tablespoons.
Simple Family Meal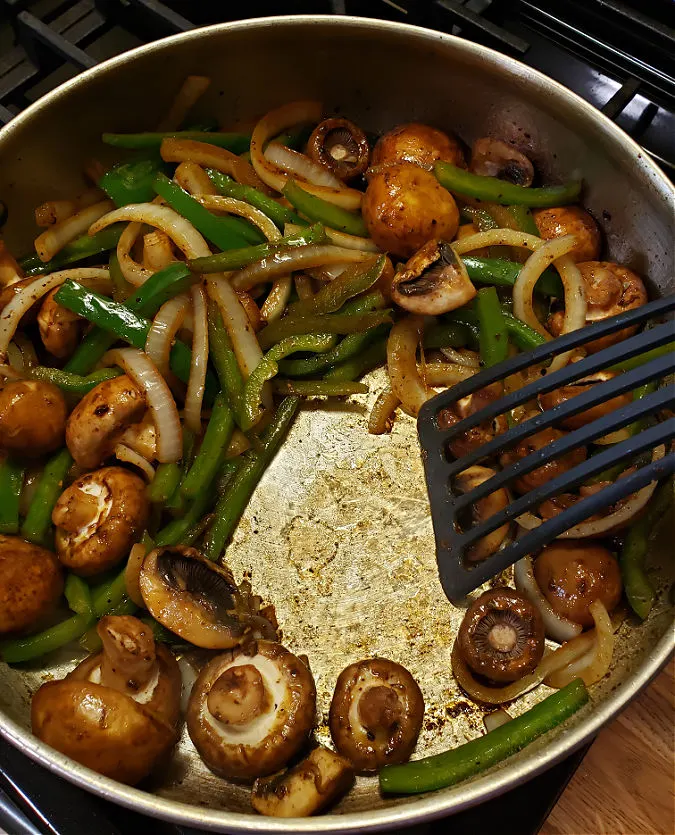 The next step is to sauté the mushrooms, bell pepper and onions in the pan drippings. Once the vegetables begin to release liquid, use that opportunity to use your spatula to gently scape those yummy bits from the bottom of the pan.
If needed, you can add a tablespoon of water, beef broth or chicken broth to release the brown bits from the pan.
Season the vegetables with a pinch of kosher salt and cracked black pepper and sauté until desired tenderness.
Once the veggies are the way that you want them, push them aside and transfer the hamburger steak patties back to the pan for a minute to heat through.
Hamburger Steaks with Onions Peppers and Mushrooms Recipe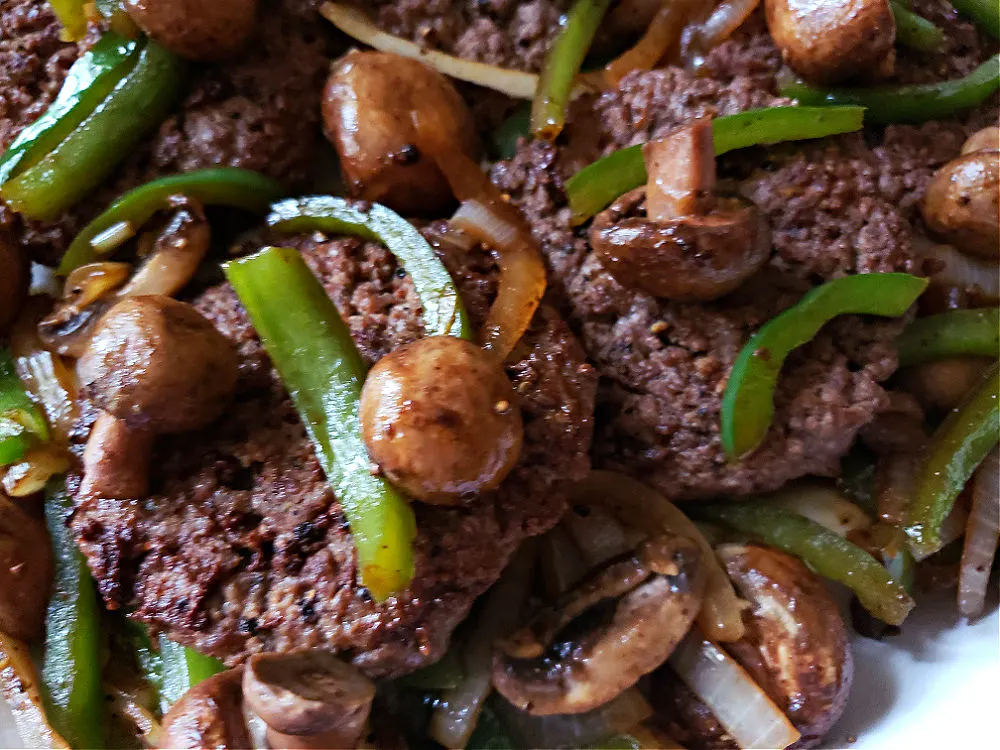 What to serve with hamburger steaks?
To make this the ultimate comfort food meal, serve the hamburger steaks with other comfort foods and sides that you enjoy.
Hamburger steaks can be served with french fries, mashed potatoes, cooked white rice, green beans, corn, mac and cheese or anything you might like. The sautéed veggies also count as one of your sides.
The whole family will love these delicious hamburger steaks!
Printable Recipe Card for Hamburger Steaks with Onions Peppers and Mushrooms
Yield: 6 Hamburger Steaks
Hamburger Steaks with Onions Peppers and Mushrooms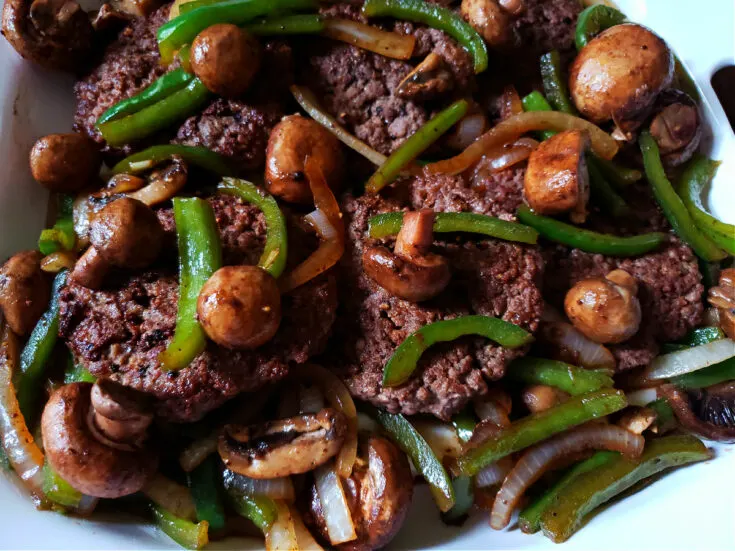 You'll love these delicious hamburger steaks with onions, peppers and mushrooms. This is the best hamburger steak recipe without gravy to enjoy with your favorite sides for a meal the whole family will love. These juicy hamburger steaks are budget friendly too.
Ingredients
2 pounds Ground Beef ( I used ground chuck, weighed out into six 1/3 pound patties)
2 Large Green Bell Peppers, sliced into strips
1 Large Sweet Onion, sliced
1 pound Mushrooms (I used baby bella)
1½ teaspoon Kosher salt, divided, or to taste
1½ teaspoon Cracked Black Pepper, divided, or to taste
¼ teaspoon Garlic Powder
½ teaspoon Onion Powder
¼ Chili Powder, McCormick
1 teaspoon Cooking Oil, or more if needed if using lean beef
Instructions
Weighing the beef and forming uniform patties ensures even cooking. Once ingredients are prepped, heat a large skillet over medium-high heat.
Season the hamburger steaks on both sides using a teaspoon of salt, a teaspoon of pepper along with the garlic powder, onion powder, and chili powder.
Cook the hamburger steaks in a single layer, not over-crowding. Place the ground beef patties into the hot skillet, reduce heat to medium and cook until the browning reaches half way up the bottom of the patty (about 4 minutes).
Carefully flip the hamburger steaks and cook about 4 minutes on the other side until cooked through. Transfer the hamburger patties to a plate and set aside.
Next, remove the excess oil from the pan leaving about 2 tablespoons, then add the sliced bell peppers, sliced onions, and mushrooms. Season the vegetables with the remaining salt and pepper and sauté until tender, about 10 minutes. As the juices release from the vegetables, gently scrape the bottom of your pan to release the brown bits to add more flavor to the vegetables.
Next, transfer the vegetables to a plate or push aside and return the hamburger steaks to the hot skillet to warm through, 1 to 2 minutes.
Serve the hamburger steaks smothered in the peppers, onions and mushrooms along with your favorite sides (see post for suggestions)
Recommended Products
As an Amazon Associate and member of other affiliate programs, I earn from qualifying purchases.
Nutrition Information:
Yield:
6
Serving Size:
1
Amount Per Serving:
Calories:

503
Total Fat:

29g
Saturated Fat:

11g
Trans Fat:

1g
Unsaturated Fat:

14g
Cholesterol:

147mg
Sodium:

475mg
Carbohydrates:

11g
Fiber:

3g
Sugar:

6g
Protein:

47g
Popular Recipes on the Blog
Check out the Latest Posts
Thank you for stopping by! I am so glad that you did. I know that you'll think this is one of the best hamburger steak recipes that you've ever tasted. Cooking delicious meals that you'll love never has to be complicated.
Be sure to subscribe to my email list while you are here. Subscribers receive a weekly newsletter with all of the latest recipes and news here on the blog so that you never miss a thing.
Until next time, love and happy cooking!
Meet Julia
Author of Julia's Simply Southern
Hey Y'all! I'm Julia, the cook and writer behind the recipes here at Julia's Simply Southern. I began my website so that I could share easy to follow recipes that anyone can use to put a home cooked meal on the dinner table. Thanks so much for stopping by!
Follow me on Facebook | Twitter | Instagram | Pinterest | YouTube