In this post I'll be sharing an easy Homemade Country White Gravy Recipe.
In the South, we love our homemade gravies. Folks even jokingly refer to it as a beverage in my neck of the woods. I would imagine though that people love gravy no matter where they call home. I mean, what's not to love, right?
What is country white gravy? Country gravy is the delicious white gravy that is usually well seasoned with black pepper.
If you've ever visited a Cracker Barrel then you've seen this gravy on their menu referred to as sawmill gravy. We won't get into all of the debates on what sawmill gravy is in this post because there are plenty of opinions on the matter.
What to serve with white gravy? Country gravy is delicious served over hot biscuits, served over mashed potatoes, with pork chops, traditional Southern fried chicken or country fried steak. You can even use gravy as a dipping sauce for chicken tenders.
I don't know about you, but I'll take gravy over honey mustard any day! My husband, Sparky, even smothers french fries or hash browns with this delicious gravy.
Southern White Gravy Recipe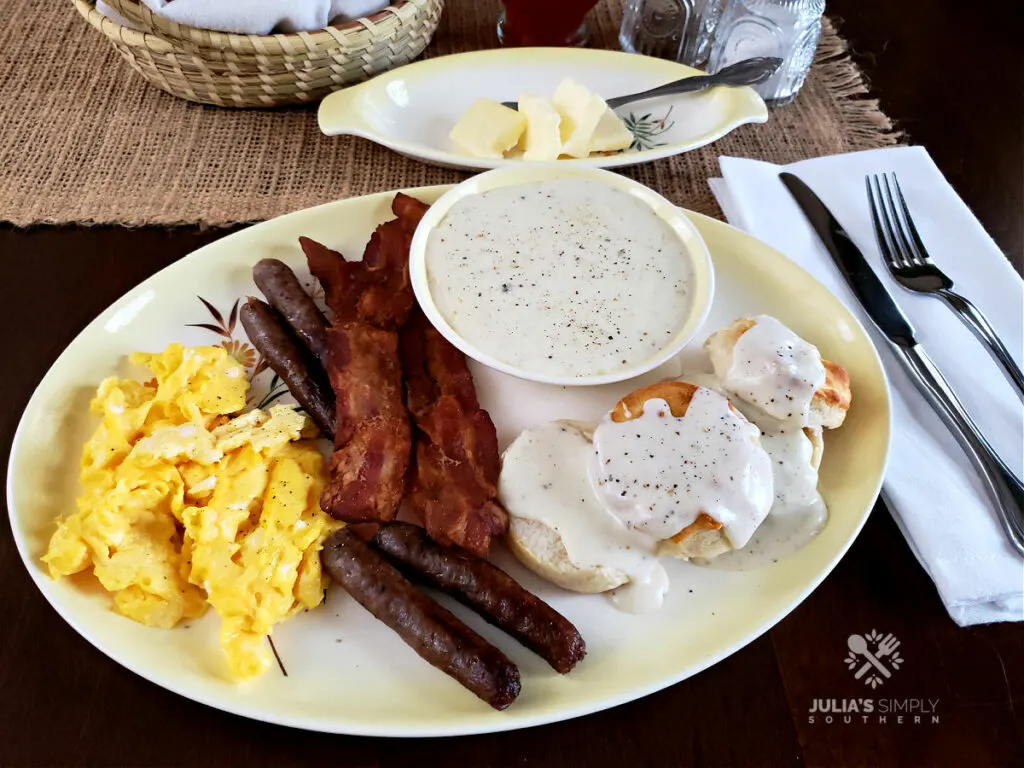 Doesn't that look amazing, my Friend? Oh. My. Word. I sure do love a good Southern style breakfast. It is pure comfort food in my book. Fluffy scrambled eggs (or sometimes over medium cooked in bacon fat), crispy bacon, breakfast sausage links and a fresh biscuit covered in country gravy.
I cook breakfast at our house every morning but we usually have a bigger breakfast as a treat on Sunday mornings.
Now, when most folks say country gravy, THAT is the gravy (see photo above) that they are referring to. It is white and has lots of pepper. Is it always white? Well, no.
Country gravy, sometimes referred to as milk gravy where I come from, can also be a brown color. It all depends on how it is prepared.
An easy white gravy recipe starts with a simple roux. If you're making the gravy just by itself, then it is easier to keep that white color.
If you're making gravy in a hot pan after cooking meat then it is likely that your flour is going to brown a bit more and you'll end up with a creamy country brown gravy. No matter what, it will be a delicious gravy.
The flavor can vary depending on what fat or type of meat drippings that you choose for your gravy.
Here are two examples of how a classic country gravy recipe can vary depending on type of fat/meat dripping, temperature of the pan and how quickly the flour in the roux browns.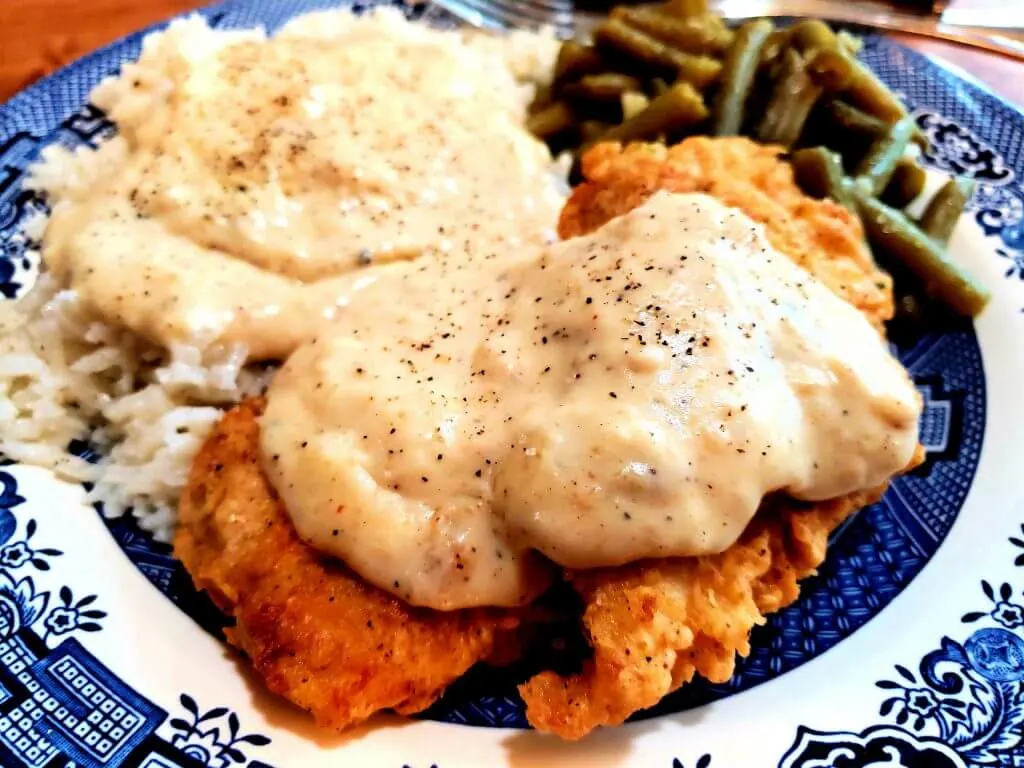 The chicken fried steak photo is from back in my second year after starting my website. Please forgive my photography skills back then. I've tried hard to improve in the years since, but you get the idea I'm getting at with the variation in color of the gravy.
Country Gravy Ingredients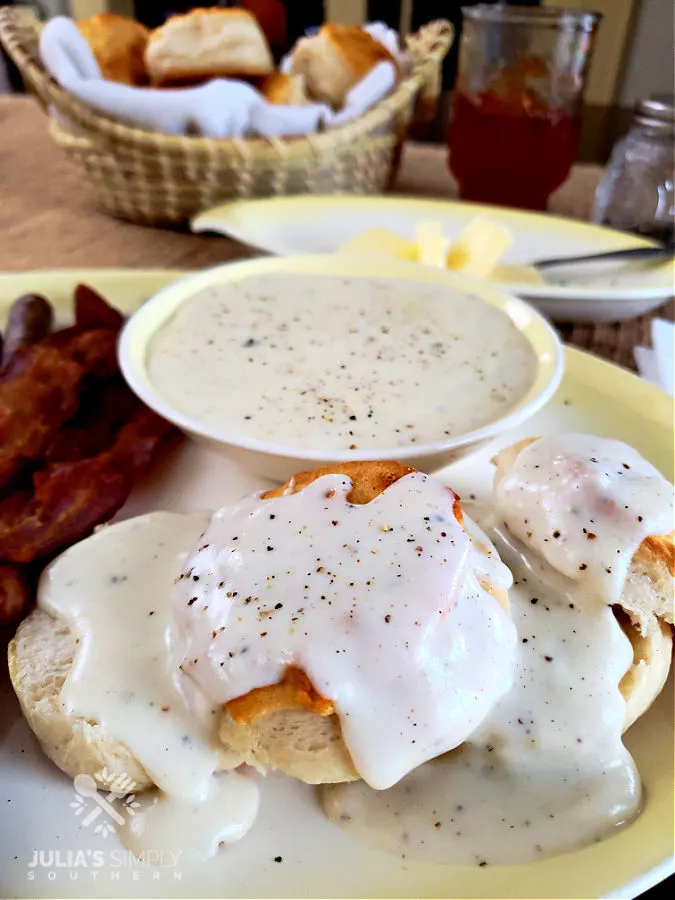 Here's what you'll need to make this easy white gravy recipe:
Fat – I used butter. Other fat options that you can use are bacon grease, vegetable oil, pan drippings or sausage grease. I find that sausage sometimes doesn't give off enough grease and you may have to add a little cooking oil to it for making gravy. The butter helps keep this Southern white gravy, white, like most people expect.
Technically, you could use olive oil if you really wanted to but I don't like gravy made with olive oil. The flavor of the olive oil is too pungent for my tastes in a gravy.
Flour – I use all purpose flour for making gravy, but in this instance, it doesn't matter if you use all purpose or self-rising. Just use whichever you have on hand.
Since I am often asked what brand of flour I prefer, I will share that I keep White Lily all purpose flour and White Lily unbleached self-rising flour on hand at all times.
Whole Milk – I like using the whole milk for this creamy gravy.
Salt and Ground Black Pepper – a bit of salt and go a little bit heavy on the pepper. That is all that I use to season my homemade white country gravy but you feel free to add other seasonings if you feel inclined to do so. You're the one eating it after all so you want to make your taste buds happy.
So that's it, three main simple ingredients with a bit of salt and pepper to make this Homemade Country White Gravy Recipe. An easy recipe, but a rich gravy that is so delicious.
How to make Country Gravy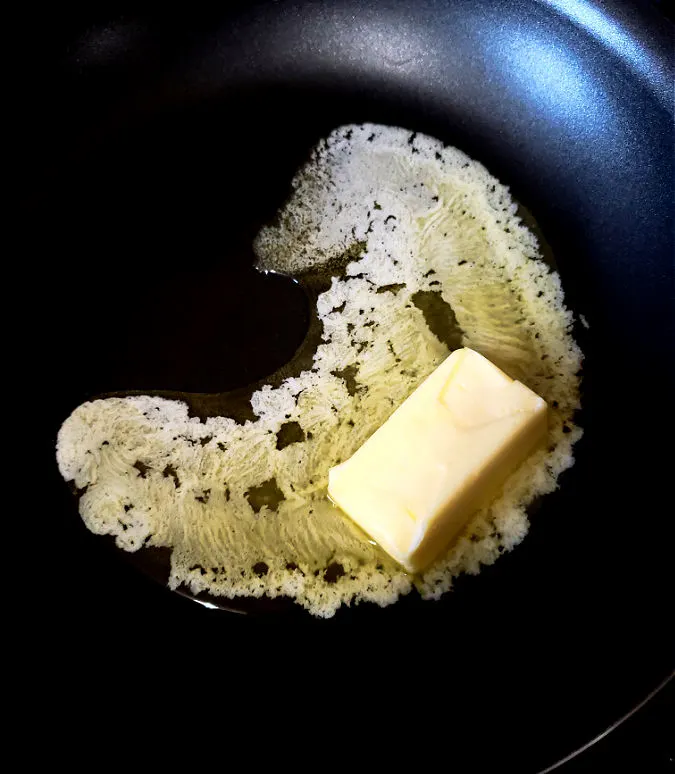 To make your homemade country white gravy, begin by warming a large skillet or sauce pan over medium heat. Next, place the butter in the hot pan and melt butter completely.
You'll want to keep an eye on the pan because butter can burn or turn brown and that is not what you want for a white pepper gravy.
Southern Country Gravy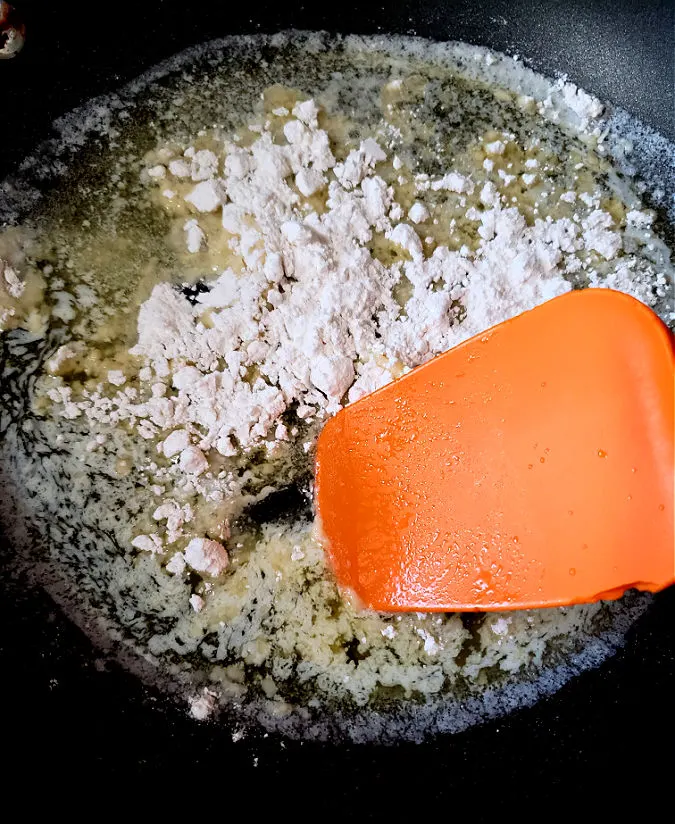 The next step is to add the flour to the melted butter. I like to use a spatula or wooden spoon at this point to combine the flour into the butter and press out any clumps of flour that you notice. This will help ensure a delicious white gravy that is free of lumps.
White Gravy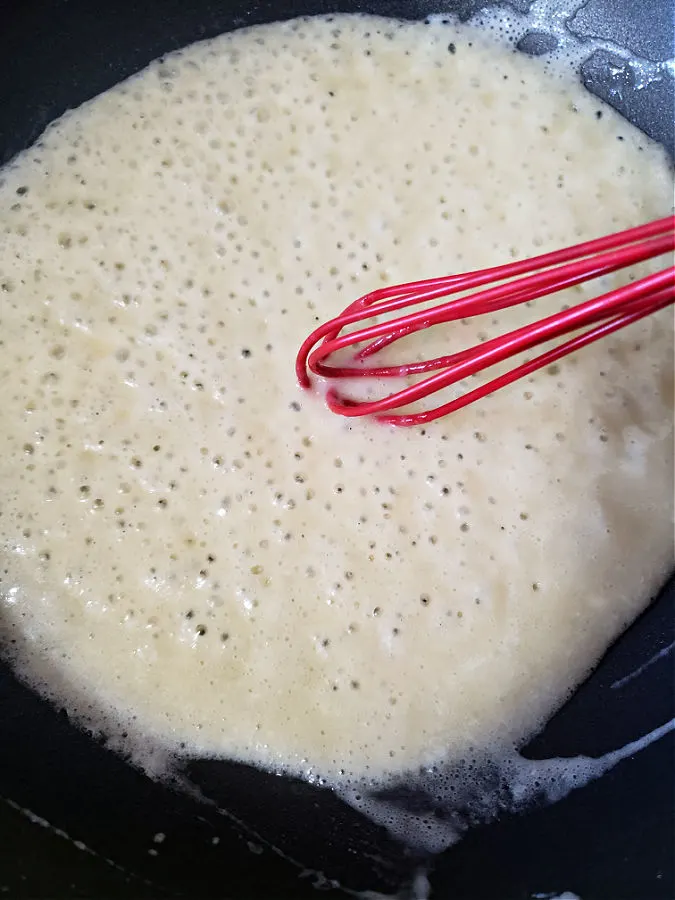 Once the flour mixture is smooth, I change over to a small whisk for the rest of the process in making this homemade gravy.
Allow the flour mixture, also known as a roux, to cook for three to four minutes. That is an important step in preparing a pan gravy to get rid of the raw flour taste.
Homemade White Gravy Recipe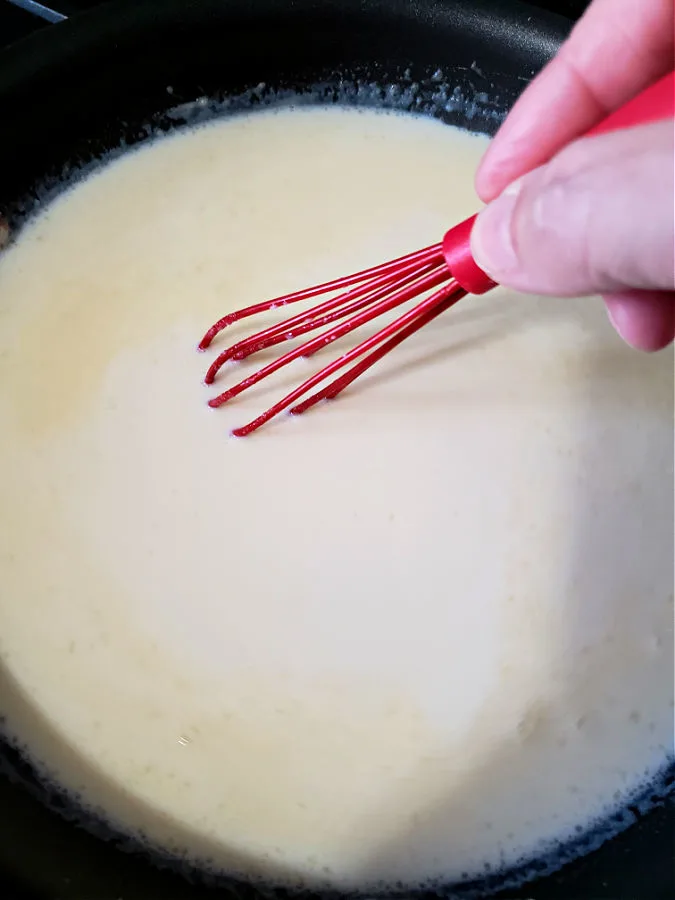 Now that we've cooked that raw flour taste our of our roux to ensure the best flavor for the gravy, slow whisk in some of the milk…just a bit of it, maybe half a cup.
Keep whisking until it is smooth and well combined with the flour mixture. Slowly add the remaining milk into the pan, while whisking, to keep it smooth until well combined.
If this is your first time making homemade gravy, you'll notice that it is very runny and not thick at all. That is how it is supposed to be at this point. The gravy thickens as it cooks.
Tip for making white gravy: if the gravy gets too thick, add a little more liquid. If the gravy needs to thicken more, just allow it to keep cooking.
White Pepper Gravy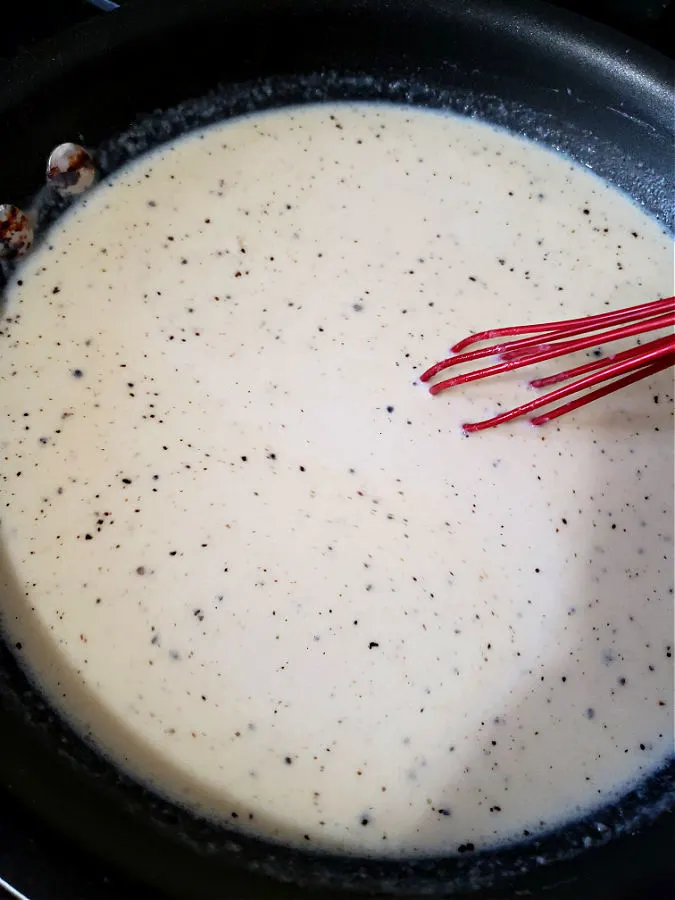 Season your gravy mixture with salt and plenty of black pepper, whisk to combine, and allow it to simmer. As the gravy simmers continue to whisk until thickened. This takes a few minutes so just be patient.
Use a tasting spoon to sample the gravy and adjust the seasonings if needed.
Once the country white gravy has thickened, remove the pan from the heat and carefully transfer the gravy to a gravy boat, serving bowl or a measuring cup for serving.
How thick should the gravy be? Well, that is a matter of personal preference. I remember, Nanny, liked her gravy pretty thick. Mama preferred making gravy not so thick.
I'll take it either way but you do want it thick enough to be called a gravy so it should coat a spoon well.
Biscuits and Gravy without Sausage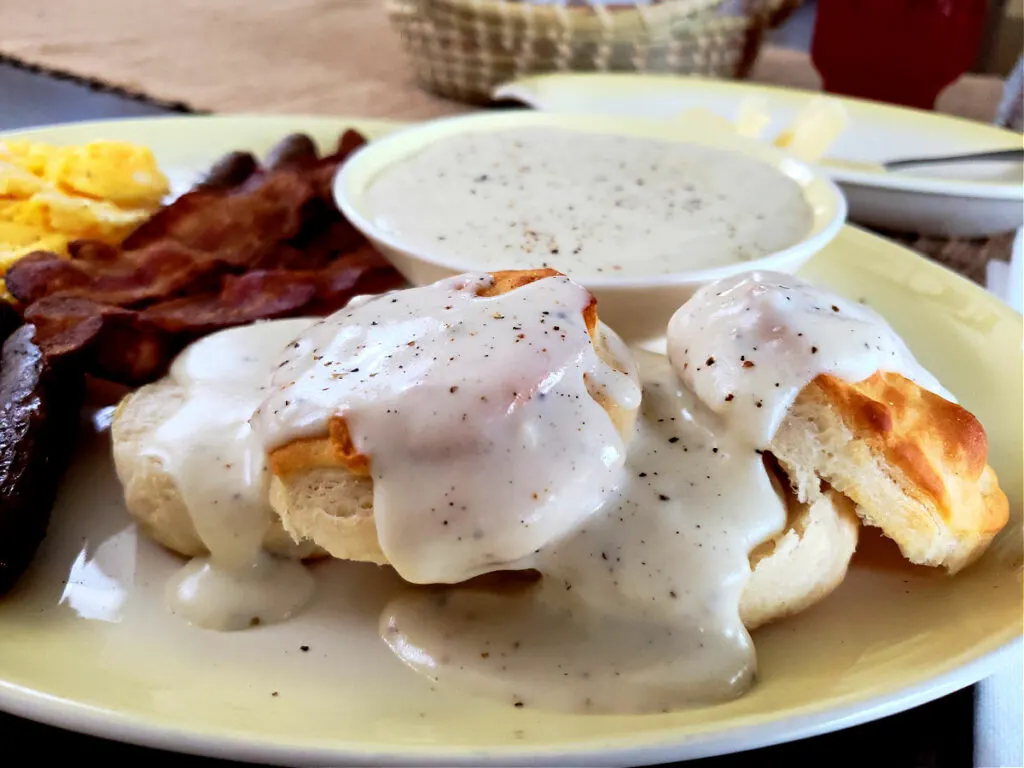 Enjoy your perfect country gravy for any meal of the day. Who's hungry for some fresh baked biscuits and gravy right about now?
Can gravy be made ahead? Yes, white gravy can be made ahead of time and stored in the refrigerator for three to four days in an airtight container.
Can gravy be frozen? Yes, gravy can be frozen up to four months. and re-heated slowly when needed.
Country White Gravy Recipe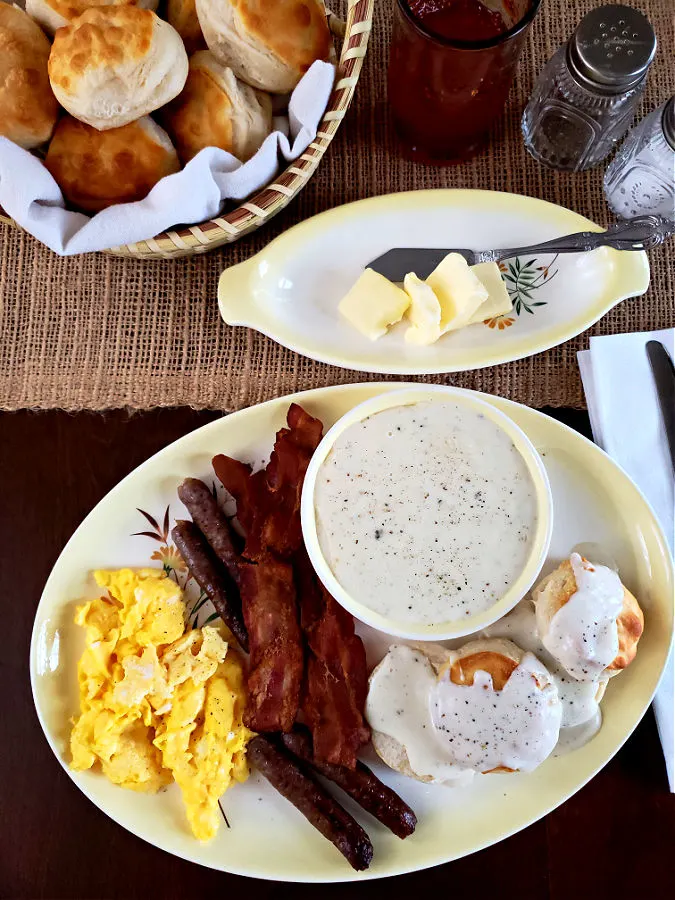 Printable Recipe Card
Below you will find the printable recipe card with ingredients and details for making this Homemade Country White Gravy Recipe to add to your collection of great Southern recipes.
Yield: 2 cups
Homemade Country White Gravy Recipe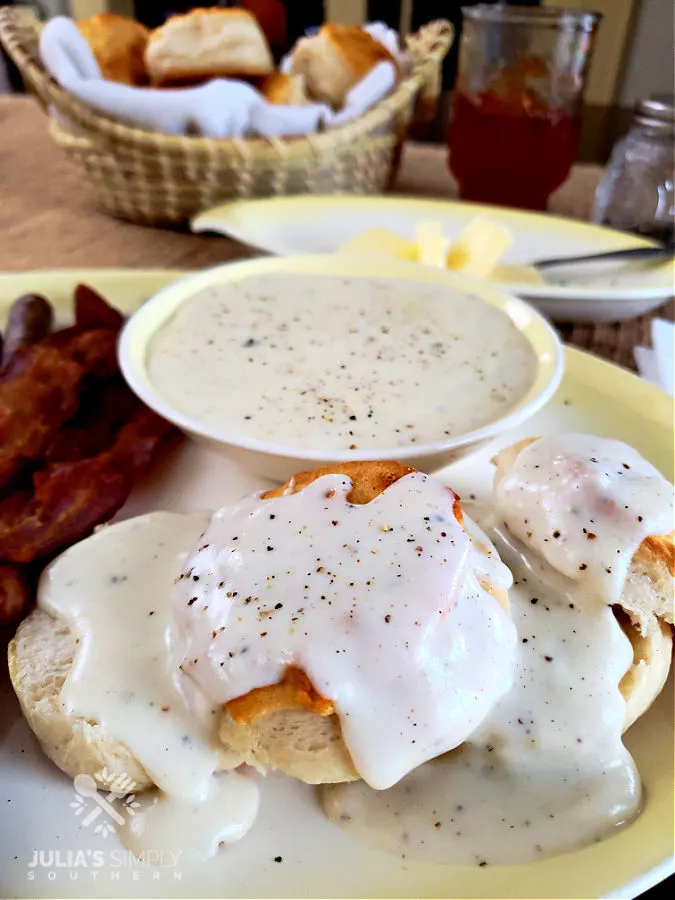 An easy country white gravy recipe with plenty of ground black pepper to enjoy for any meal of the day. It is delicious with homemade biscuits, fried chicken, pork chops and more.
Ingredients
4 tablespoons Butter
¼ cup All Purpose Flour
2 cups Whole Milk
Salt and Ground Black Pepper, to taste (I used ½ of salt and about a teaspoon of fresh ground black pepper)
Instructions
Melt the butter in a skillet or sauce pan over medium heat.
Next, add the flour to the melted butter. Using a spatula; combine the flour and butter together and use the back of the spatula to press out any clumps of flour.
Next, use a small whisk to whisk the flour mixture (roux) so that it is smooth and cook for 3 to 4 minutes to get rid of the raw flour taste.
Slowly add about a half cup of the milk to the flour mixture while whisking to keep the gravy mixture smooth. Continue to whisk in the remaining milk.
Season the gravy, bring to a simmer and cook for 8 to 10 more minutes until thickened; whisking as it cooks.
Once the gravy has thickened to your liking; remove the pan from the heat and carefully transfer the gravy to a serving dish or gravy boat.
Serve hot.
Notes
Please see full post for other options for making white country gravy.
Recommended Products
As an Amazon Associate and member of other affiliate programs, I earn from qualifying purchases.
Nutrition Information:
Yield:
8
Serving Size:
1/4 cup
Amount Per Serving:
Calories:

103
Total Fat:

8g
Saturated Fat:

5g
Trans Fat:

0g
Unsaturated Fat:

2g
Cholesterol:

21mg
Sodium:

145mg
Carbohydrates:

6g
Fiber:

0g
Sugar:

3g
Protein:

2g
Latest Recipes
Homemade Country White Gravy Recipe
Thank you so much for stopping by! I am so happy that you did. I know that you will enjoy this classic American gravy with many meals just as we do. Classic Southern food makes my heart and my belly happy.
Be sure to subscribe to my email list while you are here. Subscribers receive a weekly newsletter from me with the latest recipes and news here on the blog so that you never miss a thing.
Until next time, Friend, love and happy cooking!
Meet Julia
Author of Julia's Simply Southern
Hey Y'all! I'm Julia, the cook and writer behind the recipes here at Julia's Simply Southern. I began my website so that I could share easy to follow recipes that anyone can use to put a home cooked meal on the dinner table. Thanks so much for stopping by!
Follow me on Facebook | Twitter | Instagram | Pinterest | YouTube