In this post I will be sharing a delicious Turkey Bacon Breakfast Sandwich with Egg White and Cheese. This is one of those quick breakfasts that you will love to start your day off right.
Well, Y'all, I hope y'all are ready for a breakfast that is gonna make your taste buds do a little happy dance!
We are talking about my Turkey Bacon breakfast sandwiches. The turkey bacon is cooked up nice and crispy in your air fryer then assembled on the sandwich with baked egg whites and gooey, melty cheese. They are so good, Y'all!
If there's one thing I love to do in the morning, it's whipping up a hearty homemade breakfast that'll put a smile on your face! I've said it before and I'll say it again…breakfast is my favorite meal of the day.
This tasty breakfast sandwich is a surefire way to kickstart your day with a hearty, delicious meal that's ready in no time.
So, grab yourself a cup of coffee and pull up a chair, because we're gonna whip up some tasty turkey bacon sandwiches that are sure to rival anything you can get at your local coffee house.
My Homemade version of Starbucks Turkey Bacon Sandwich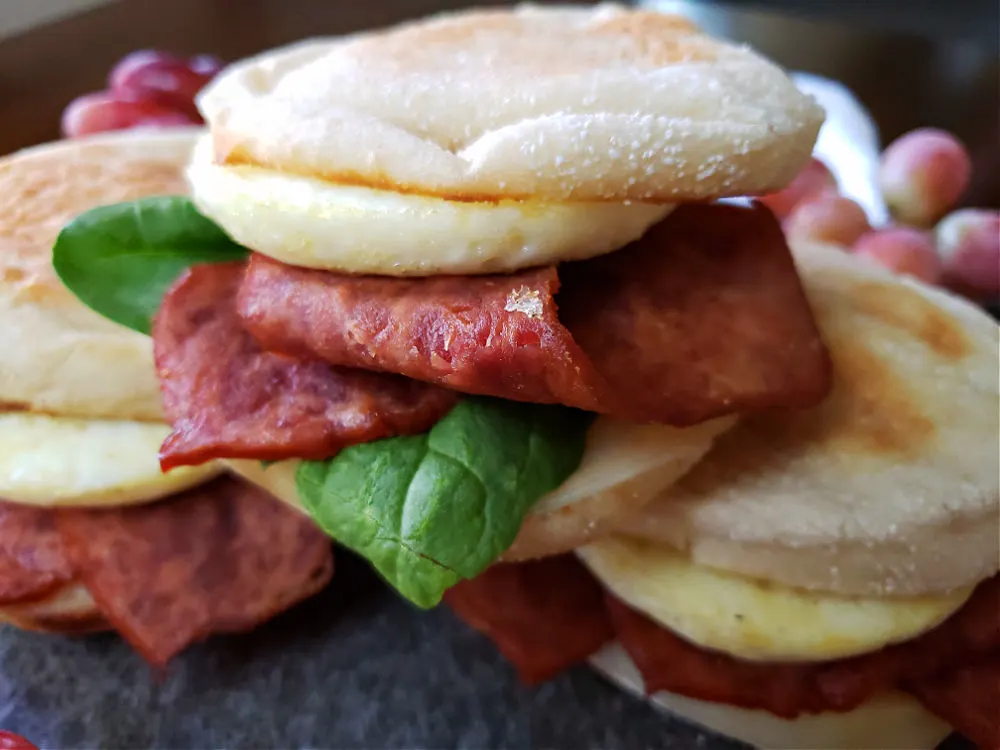 Now, I know some of y'all are giving me the side eye and wondering what on earth has come over me to have me whipping up turkey bacon anything. Of course, pork has always been an important staple in the South.
There is no denying it, friend, I love my pork bacon and I love pork sausage. Sometimes, however, we have to incorporate other things into our diet. Maybe because the doctor is after us, some folks don't even eat pork, and others just prefer something that seems a bit healthier. Perhaps it is your new year resolution to eat a bit healthier and this might be a good option for you.
Whatever the reason, Y'all, I can promise ya that if I think these are good then they are. Absolutely delicious!
Oh, and just to clear the air, I am also team whole egg! We love eggs and buy fresh local farm eggs. You can't get better, but I really do enjoy just the egg whites in this sandwich. So, if you are on the fence as to whether or not you might like this type of breakfast, try it! You might be surprised at how good it is.
Healthy Breakfast Sandwich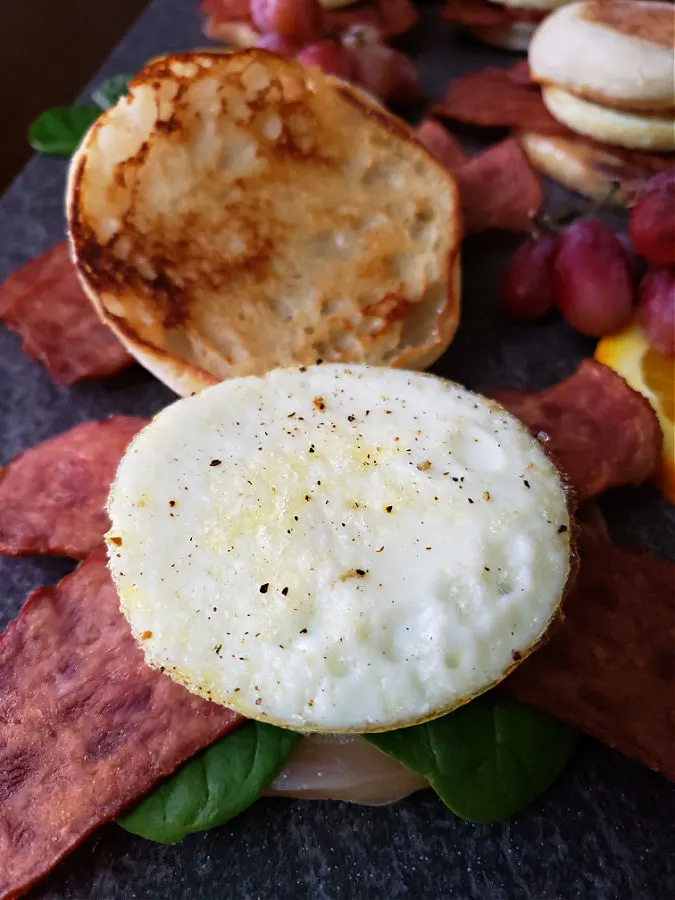 What to serve with turkey bacon breakfast sandwiches?
Breakfast sandwiches are hearty on their own, but if you like a bit of variety then you can certainly serve them up with sides. Here are a few tasty options to consider:
Feel free to mix and match these side dishes based on your preferences and the occasion. Whether you want to keep it light and healthy or indulge in some Southern comfort, there's a side that'll suit your turkey bacon sandwiches just right!
Here Is What You Will Need to Make Them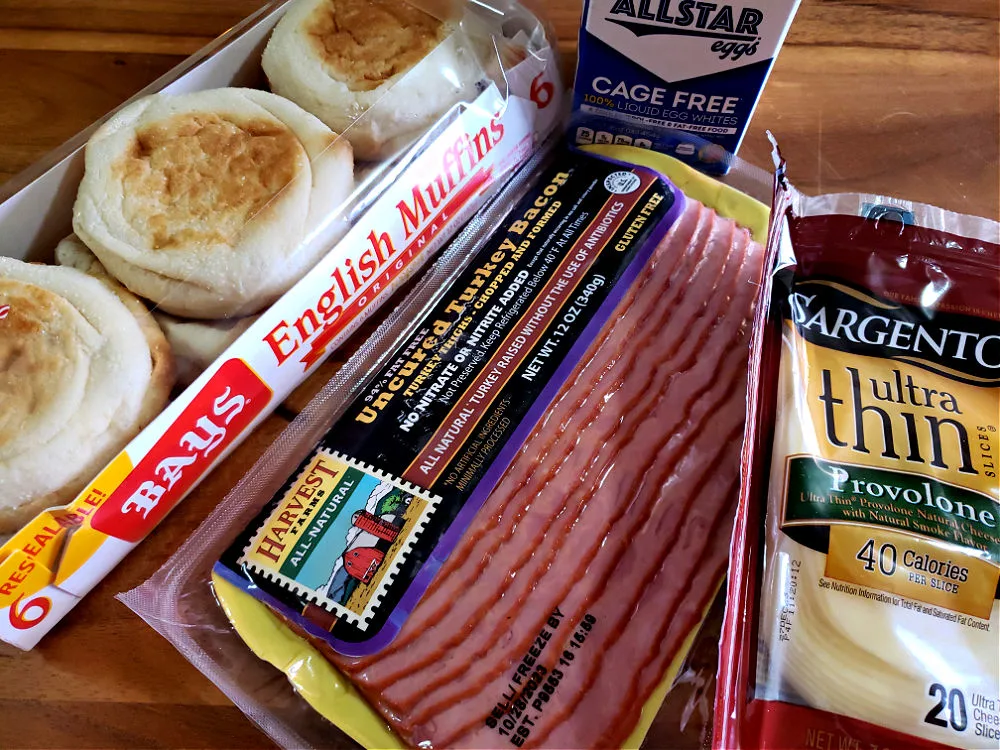 Here are the simple ingredients that you'll need to make the best turkey bacon egg white sandwich:
English Muffins: we really love English muffin breakfast sandwiches. They just seem the perfect size for the morning meal. Use regular or whole wheat to suit your preference. You could certainly make your breakfast sandwich with bread if you prefer.
Liquid Egg Whites: eggs whites are what you typically find on this type of sandwich at local coffee shops, but you can use whole eggs if your want to. Your sandwich, so make it how you like it.
Cheese: I used slices of Provolone for these sandwiches. Other great options for cheese would be white American, low fat white cheddar, swiss cheese, or other favorite cheeses you may have on hand.
Turkey Bacon: I prefer to use uncured breakfast meats. Enjoy as many slices as you want, but I plan two per sandwich.
Optional Ingredients and Additional Toppings
I chose to add a few leaves of baby spinach and a pinch of cracked black pepper to my sandwich, which was really delicious.
You may like a bit of mayonnaise or some type of aioli spread, lettuce, peppery arugula, tomato slices, red onion, or avocado slices on your sandwich. The possibilities are up to your and your sandwich cravings.
Griddle Toasted English Muffins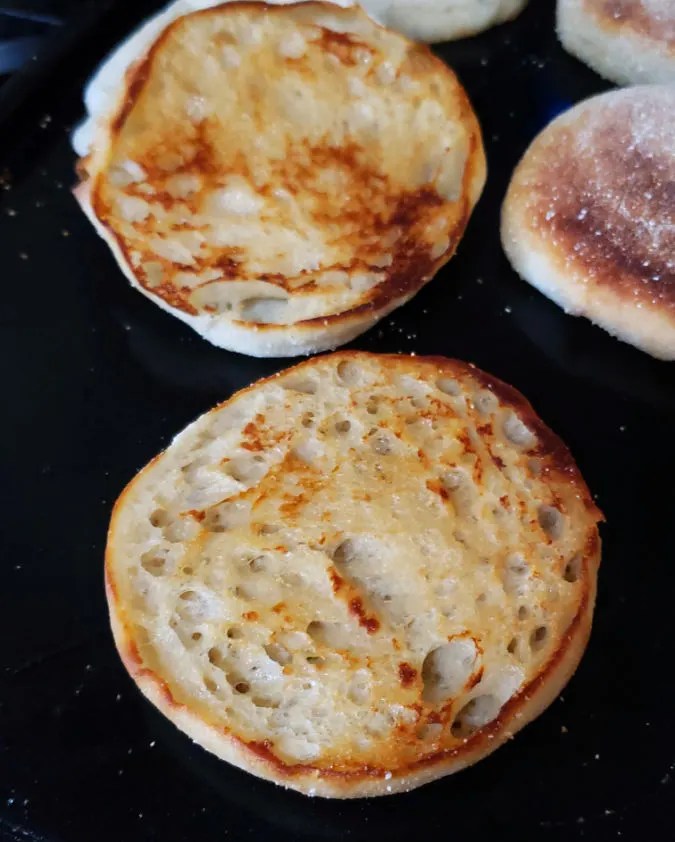 First things first, grab yourself some English muffins and get them toasting. The favorite way that I like to toast the muffins is on a hot griddle over medium heat with a little sizzling butter. I think that makes them wonderful!
You can also toast them up nicely in your toaster oven or using a countertop toaster.
Using the griddle, I find that I can get more toasted at a time, so it is a bit of a time-saver for me.
You want 'em nice and toasty, with a little bit of crunch. Once they're ready, transfer the tops to your assembly area, and flip the bottom over to get the cheese all melty.
Place a slice of cheese on each bottom section and it will take just a minute or two to melt just the right amount for this easy breakfast.
Air Fryer Turkey Bacon Breakfast Sandwich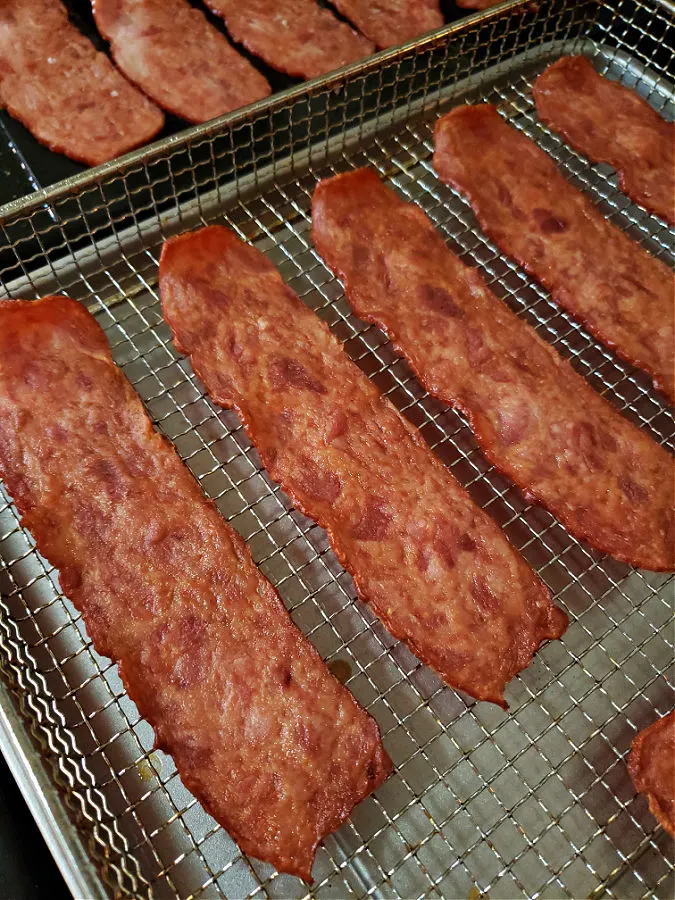 How to cook Turkey Bacon?
Next up, it's time to get that turkey bacon sizzling!
Y'all, if you want crispy turkey bacon like I do, then the easiest way and the best way is to cook it up in your air fryer.
Cooking bacon in the air fryer, y'all, is a game-changer! It's quick, easy, and you get that crispy, golden goodness without all the mess and splatter.
I love turkey bacon occasionally because it's leaner than regular bacon, but it's still got that crispy, smoky goodness that we all crave.
Cooking turkey bacon on a hot griddle is also a great way to get it crispier than other methods, but I still think the best results come from air frying it.
Place the turkey bacon slices in a single layer (You can overlap them slightly, but don't stack them on top of each other) in your air fryer tray or basket. Give them a really light mist of cooking spray. I like duck spray.
Then it is into the air fryer to cook up until nice and crispy. The cook time may vary according to the model of appliance you have. I find the twelve to fifteen minute range to be perfect in my Cuisinart air fryer oven.
I do turn the turkey bacon slices halfway through cooking as well. This step helps to make sure both sides get that delicious crunch.
When it is done, transfer the slices to a paper towel lined plate to allow any excess grease to drain away.
Turkey Bacon Sandwich Recipe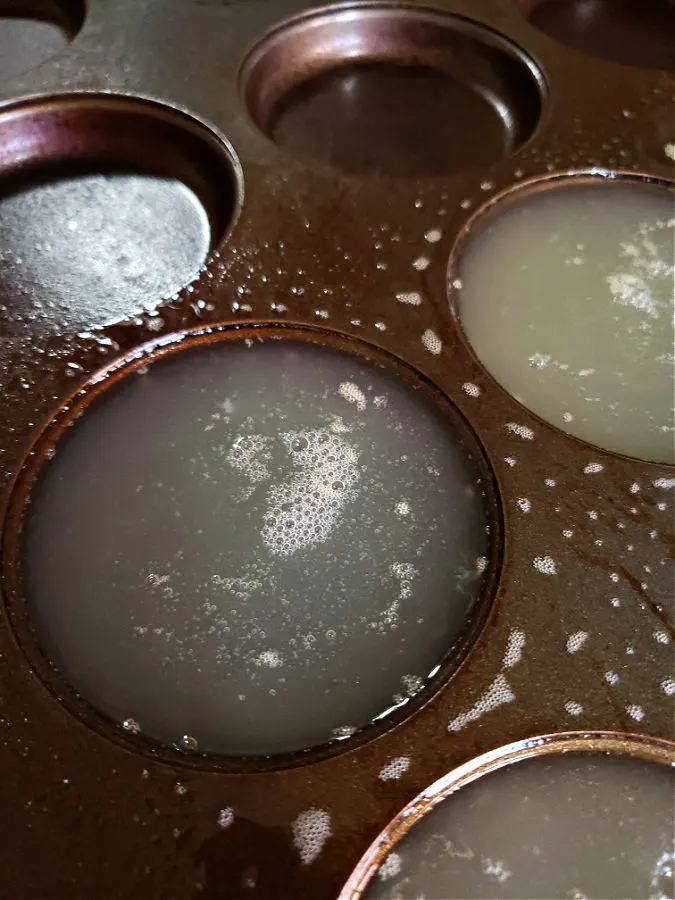 The next step is to get those egg whites cooking. Before we do, I should probably mention to those who may be newer to cooking a meal like this, is that all of these things can be cooking at the same time.
So, for the egg whites, spray some nonstick cooking spray into the slots of a muffin top pan (it is my favorite pan for this and delivers those copycat eggs from Mickey D that fit perfect on a muffin sandwich).
Fill the sprayed sections with the egg whites. If you like you can add just a little bit of water to the empty spaces so your pan doesn't burn. Completely optional.
If you feel that you will have more of a steady hand by placing the muffin top pan on a baking sheet to transfer in and out of the oven, then please do.
The egg whites go into a pre-heated oven to bake until done. So easy, Y'all!
Breakfast Sandwich with Baked Egg White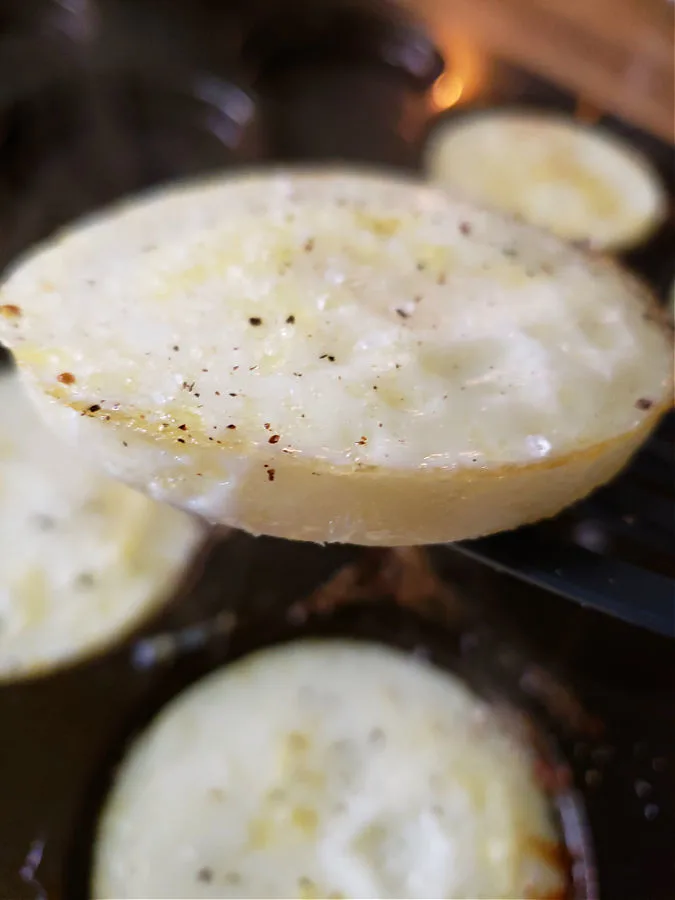 Alright, friend, you've got your crispy air fryer uncured turkey bacon, your perfectly toasted English muffins with melty cheese, and your baked egg whites ready to go to assemble the sandwiches.
Take the bottom cheesy half of the muffin and top it with any optional toppings the place a slice or two of the turkey bacon on, then the cooked egg and top with the toasted muffin top.
It is time to enjoy your delicious breakfast sandwich and it only took around 15 minutes to create this delicious morning meal.
English Muffin Sandwiches with Air Fryer Turkey, Baked Egg White, and Provolone Cheese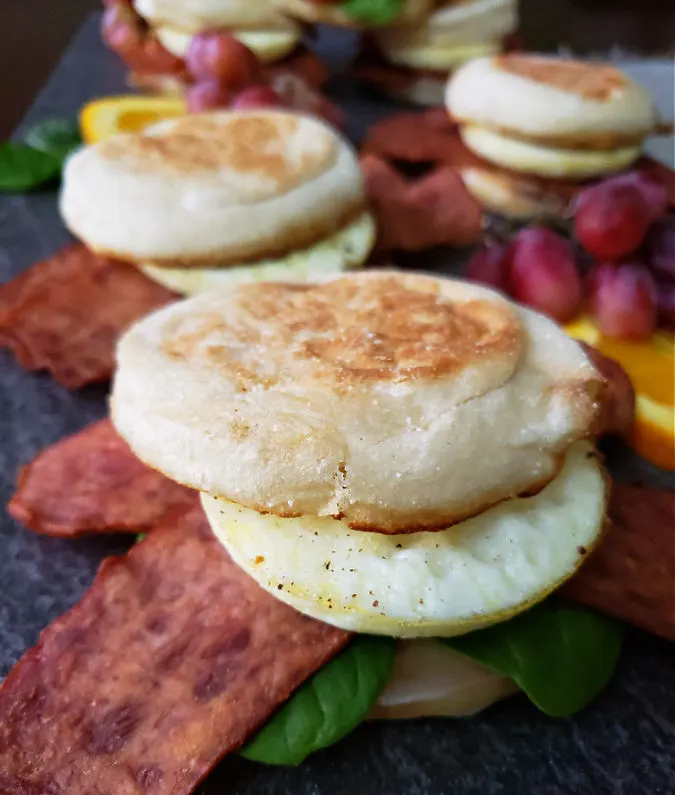 I don't know about y'all, but I can't resist that ooey-gooey cheese, the smoky turkey bacon, and that perfectly cooked egg white all nestled between those toasty English muffins.
It's comfort food at its finest, and it's the perfect way to start your day with a big ole smile.
Turkey Bacon Egg and Cheese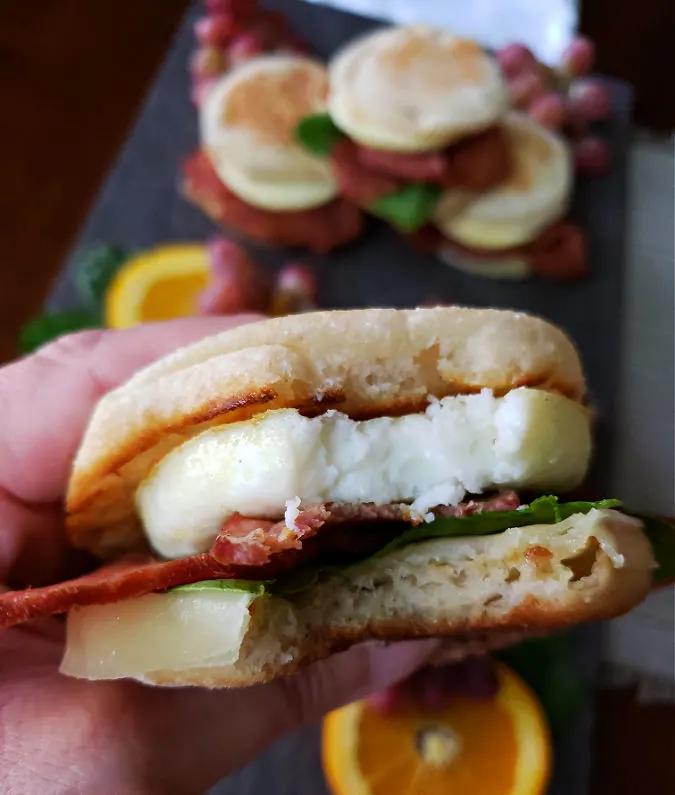 When you take a bit of this sandwich, you will agree that this is a delicious breakfast! Making your own breakfast sandwiches always makes them all the more better.
If you like to meal prep, you can make extra for another time. Just wrap the extra sandwiches individually with plastic wrap, place them in an airtight container or food storage bag, then freeze until needed. You can reheat them by wrapping in foil and heating in the oven, or wrap in paper towels to re-heat in the microwave.
Printable Recipe Card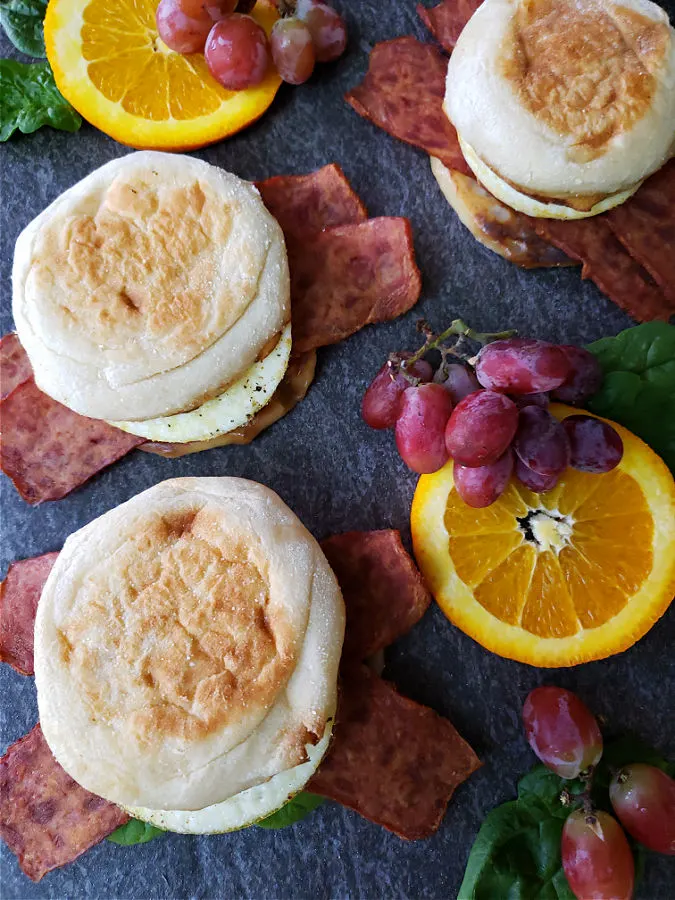 So there you have it, my easy homemade English muffin breakfast sandwich with crispy turkey bacon, egg white, and cheese. It's a down-home, no-fuss breakfast that'll have you hollering "y'all come back now, ya hear?"
Below is the printable recipe card with the details to make your own. Enjoy, my friends!
Yield: 6 Sandwiches
Easy Turkey Bacon Sandwich Recipe with Egg Whites and Provolone Cheese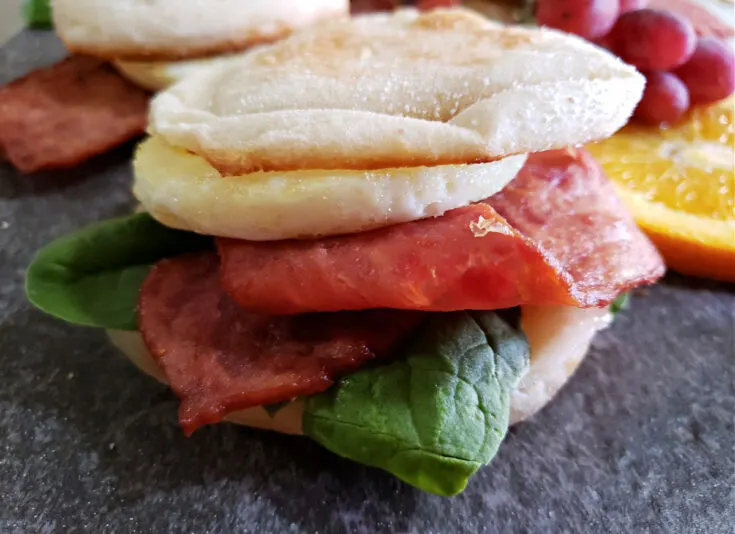 Start your day with a delicious turkey bacon breakfast sandwich! Crispy turkey bacon cooked in the air fryer, fluffy baked egg whites, and melty provolone cheese all nestled between toasted English muffins or your choice of bread. It's a savory, satisfying way to kickstart your morning! These homemade breakfast sandwiches are amazingly delicious on their own or with a favorite breakfast side.
Ingredients
6 English Muffins (Plain Original, Sourdough, Whole Wheat Multi-Grain, or Brioche)
6 Cooked Egg Whites
6 Slices of Provolone Cheese
12 Slices of Turkey Bacon, uncured
Cooking Spray
Instructions
Preheat your oven to 350°F (176°C)
Preheat a griddle then add a pat of butter and melt over griddle surface. Place English muffins on the hot griddle to toast. Toast in batches if needed. When toasted as desired, transfer the top portion of the muffins to a work area, flip the bottom section over and place a slice of cheese on the bottom half then toast another minute to melt cheese.
Spray six sections of a muffin top pan with cooking spray then fill with liquid egg whites. Place into the hot oven to bake 15 minutes. Season cooked egg whites with salt and pepper, if desired.
While everything else is cooking, add a single layer of turkey bacon in the air fryer basket tray. Lightly spray with cooking spray or duck fat spray. Place into the air fryer, set at 400°F (204°C) and air fryer cook 12-15 minutes, flipping halfway through cooking.
Assemble sandwiches by adding any additional toppings or condiments (see full post for suggestions), a couple of slices of crispy air fried turkey bacon, egg white then top with the top toasted English muffin section and enjoy.
Notes
Turkey bacon, egg white, and cheese English muffin breakfast sandwiches can be enjoyed on their own or with your favorite breakfast style sides. See the full post for additional toppings and serving options.
Breakfast sandwiches can be made in the quantity needed, or make extra to freeze for other meals.
These delicious lower fat breakfast sandwiches can be made with regular bread if desired.
Recommended Products
As an Amazon Associate and member of other affiliate programs, I earn from qualifying purchases.
Nutrition Information:
Yield:
6
Serving Size:
1 sandwich
Amount Per Serving:
Calories:

309
Total Fat:

13g
Saturated Fat:

6g
Trans Fat:

0g
Unsaturated Fat:

6g
Cholesterol:

44mg
Sodium:

892mg
Carbohydrates:

28g
Fiber:

2g
Sugar:

1g
Protein:

20g
The Latest Posts
Popular Recipes on the Blog
Turkey Bacon Breakfast Sandwich with Egg White and Cheese
In closing, y'all, I hope you've enjoyed cooking up these delicious turkey bacon sandwiches with me today. I know that you'll want to add this recipe to your collection of favorite turkey bacon sandwich ideas.
Remember that a bacon egg cheese sandwich can be with turkey bacon too, Y'all! Gobble it up!
Breakfast should be a joyful experience, and these sandwiches are all about flavor and simplicity.
So, gather your loved ones around the table, share some good stories, and savor each bite. Whether it's a leisurely weekend brunch or a quick weekday breakfast, these sandwiches are sure to start your day with a smile.
Be sure to subscribe to my email before you go so you never miss the latest recipes and news here on the blog. Subscribers receive a weekly e-newsletter with all of the delicious news.
Until next time, keep cooking with love and sharing the warmth of good food with those who mean the most.
Meet Julia
Author of Julia's Simply Southern
Hey Y'all! I'm Julia, the cook and writer behind the recipes here at Julia's Simply Southern. I began my website so that I could share easy to follow recipes that anyone can use to put a home cooked meal on the dinner table. Thanks so much for stopping by!
Follow me on Facebook | Twitter | Instagram | Pinterest | YouTube