This is a simple dinner to make during the busy week. It's something different to mix things up from the regular hamburger steak and gravy. Buttered Noodles, mmmmmm, I don't know anyone who doesn't love that.
This is a great combo bringing two favorites together. It's almost like making sausage gravy but using hamburger meat instead.
When traveling sometimes even though you enjoy trying different local food, you also look for something that is a comforting reminder of home. I remember this while visiting my sister in-law in Las Vegas a few years ago.
We went out for breakfast attempting to find something with the beloved southern flair we both love. This one little place we found was great. We ordered biscuits and gravy.
When it came it was a bit different. Still delicious, just different. They made their gravy for the biscuits using ground beef rather than sausage like we were used to. That kind of gave me the idea for this recipe.
Ingredients:
1 to 1 1/2 lbs Ground Beef
1 Onion, diced
1 tbs Vegetable Oil
1 1/4 tsp Salt
1 tsp Black Pepper
1/2 tsp Onion Powder
1/3 c Flour, all purpose
2 c Milk
1 c Water
1 pkg Egg Noodles
4 tbs Butter
Water for boiling pasta and salt to add to water
In a large skillet over medium high heat, add 1 tbs vegetable oil to coat bottom of skillet. Add hamburger, salt, pepper, and onion powder. Break up the meat as it cooks.
Hamburger Gravy
When the hamburger is about halfway browned, add the diced onion. In a large measuring cup add milk and 1 cup of water, set aside until ready to use for the gravy.
Ground Beef Gravy
As the hamburger and onion finish cooking it's a good time to start the pasta.
In a large pot, add 5-6 cups of water and salt the water. Once the water comes to a boil add the pasta and cook for 10 minutes.
Move the hamburger and onion to the side of the skillet and add the flour to the bottom of the skillet and combine with fat drippings. Allow the flour to cook for a minute or two. Add the milk/water to the skillet and stir into the flour to combine.
Add the hamburger and onion back into the skillet and combine with gravy. Stir occasionally until thickened. Once the gravy thickens remove skillet from heat and set aside until ready to serve.
The pasta should be about done by the time you're finished with the gravy. Pour cooked pasta into a colander. Drain well. Add 4 tablespoons of butter to the pot you cooked the pasta in. Return pasta to the pot and toss with butter to coat.
Plate by serving a helping of buttered noodles and top with the beef gravy. Dinner is served.
Country Beef Gravy and Noodles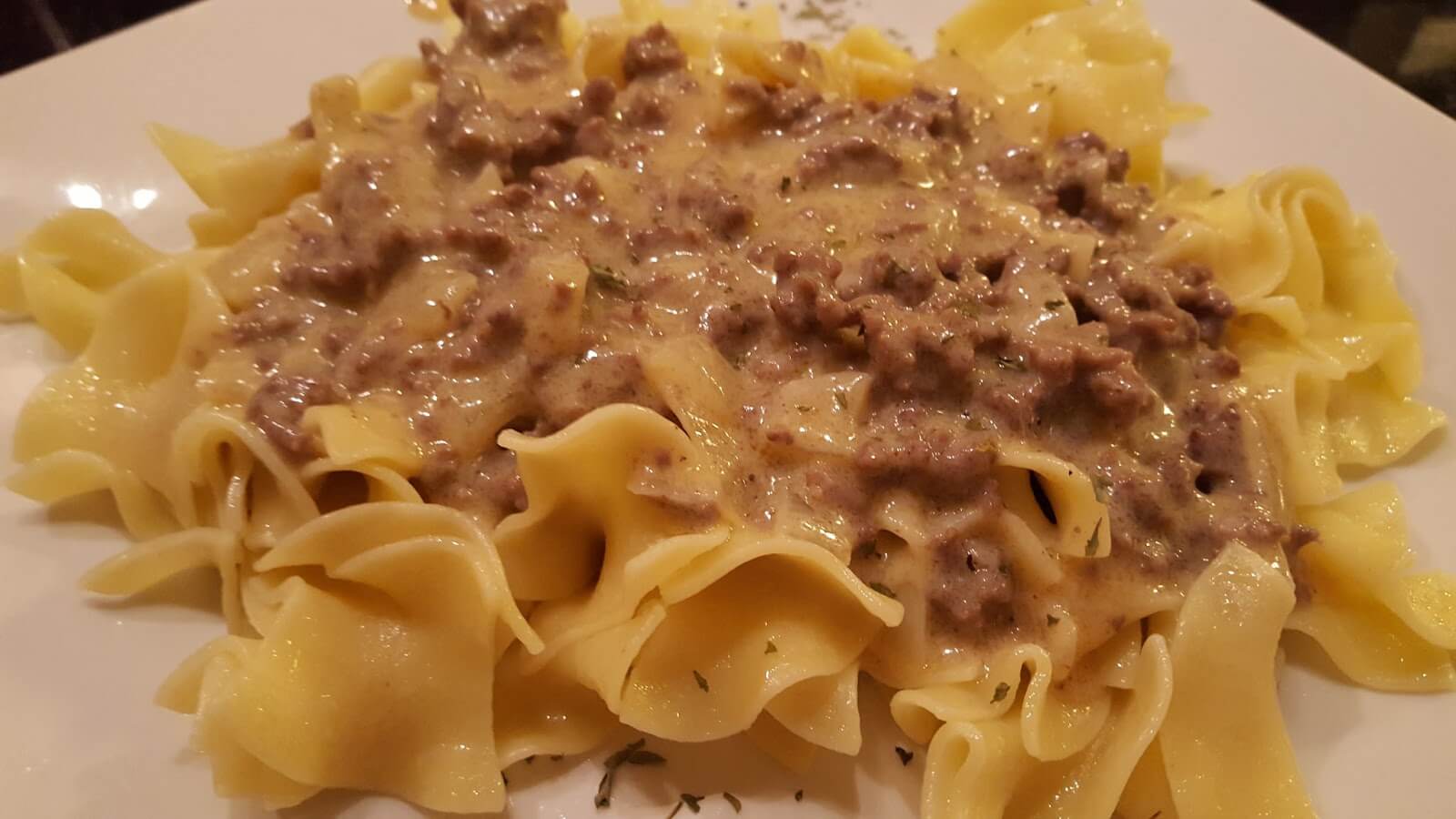 Country Beef Gravy & Buttered Noodles
Ingredients
1 to 1 1/2 lbs Ground Beef
1 Onion, diced
1 tbs Vegetable Oil
1 1/4 tsp Salt
1 tsp Black Pepper
1/2 tsp Onion Powder
1/3 c Flour, all purpose
2 c Milk
1 c Water
1 pkg Egg Noodles
4 tbs Butter
Water for boiling pasta and salt to add to water
Nutrition Information:
Yield:
6
Amount Per Serving:
Calories:

541
Total Fat:

32g
Saturated Fat:

14g
Trans Fat:

1g
Unsaturated Fat:

14g
Cholesterol:

136mg
Sodium:

795mg
Carbohydrates:

24g
Fiber:

1g
Sugar:

1g
Protein:

37g