Creamed chipped beef and Toast or S.O.S. is a recipe originating in our nation's military. It became popular outside the military as those who had served craved the dish once home and considered a comfort food by many.
Although not all former servicemen remembered it with fondness considering how much they had to eat the very economical meal. Those original recipe variations could have been as much as 3 times a day for those away on ships having to ration food.
Officially called creamed chipped beef, it is also more commonly referred to as S.O.S. (excuse the language…shit on a shingle) and remains a popular dish today.
This popular military dish of sos gravy may have been prepared differently depending on which branch of the military it was being served. The navy found the dried beef essential because a canned meat was shelf stable.
The army cooks might used ground beef instead mixed with the creamy white gravy since they had easier access to fresh supplies.
There are some who also consider sausage gravy to be called creamed chipped beef. Anyways, from mess halls to home cooks, let's talk about how to make the best creamed chipped beef.
How to make Chipped Beef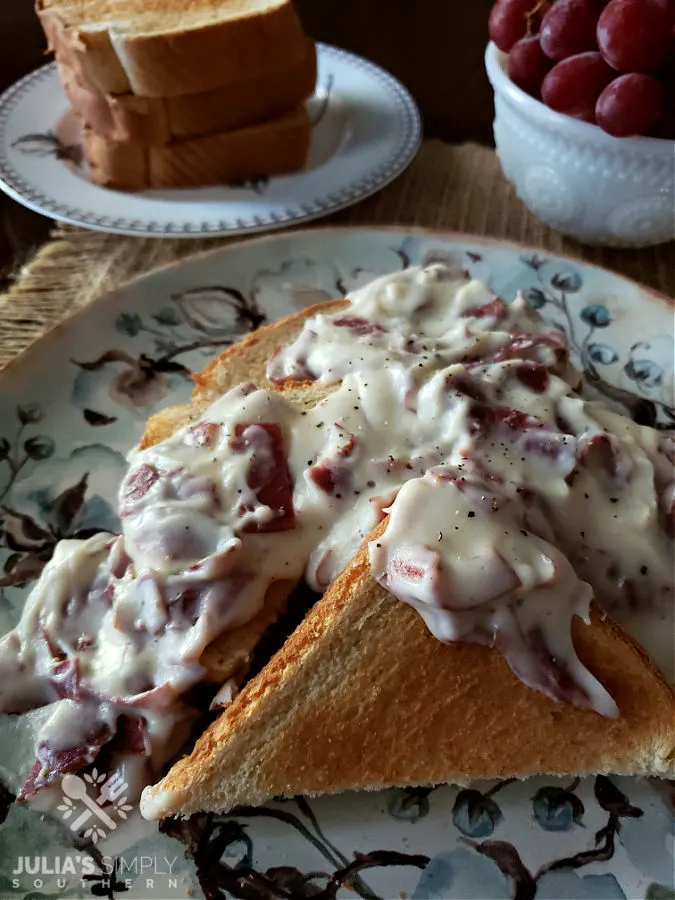 What is creamed chipped beef made of? Here's what you'll need:
4 tablespoons of Butter (half a stick)
1/3 cup of Flour (all purpose flour)
3 cups of Whole Milk
Cracked Black Pepper, to taste
Dried Beef, sliced
Toasted Texas Toast Bread Slices ( regular white bread slices or biscuits or mashed potatoes)
I get a lot of questions asking if you can use Buddig beef (like you get in the refrigerated deli section) and of course the answer is yes, if that is what you want to use.
I like to use the class dried beef that comes in the little glass jar that you find in the canned meats section of your local grocery store.
Optional ingredients from comments that I've received that you might like: mushrooms, peas, a dash of Worcestershire sauce, garlic powder, onion powder, cayenne pepper, or whatever you might like to add for an easy meal.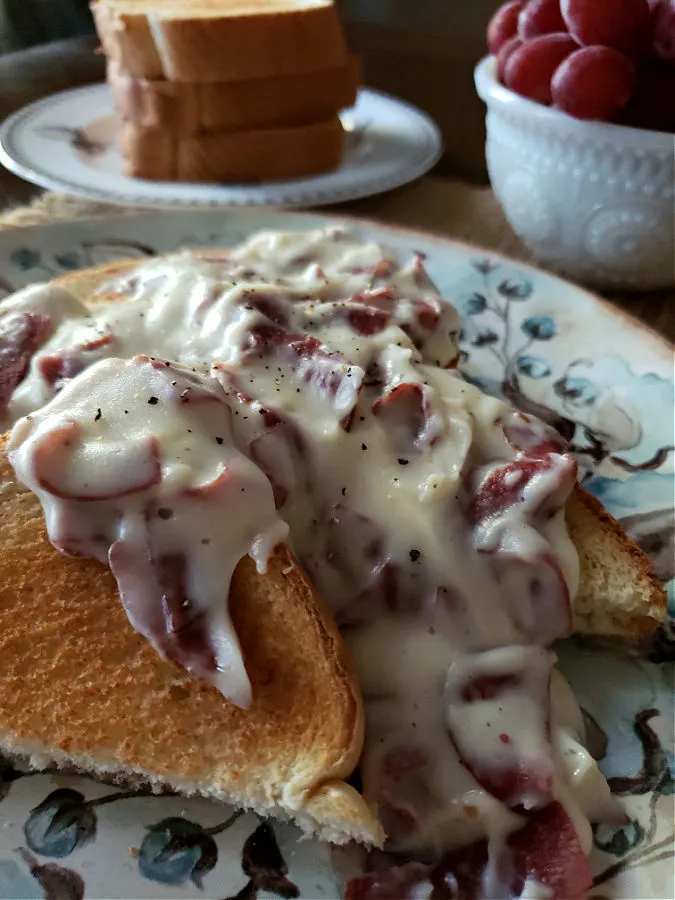 Favorite Comfort Foods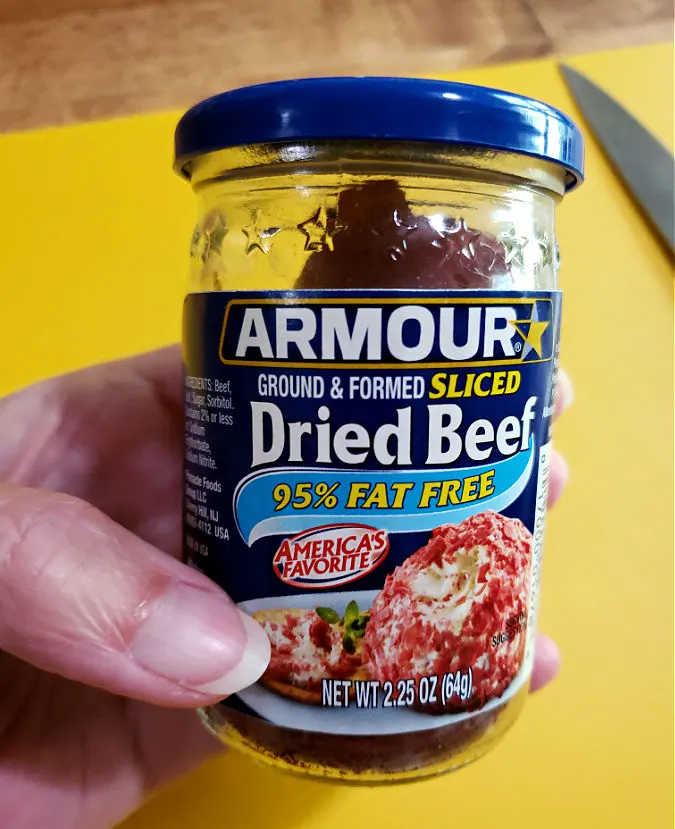 Chipped Beef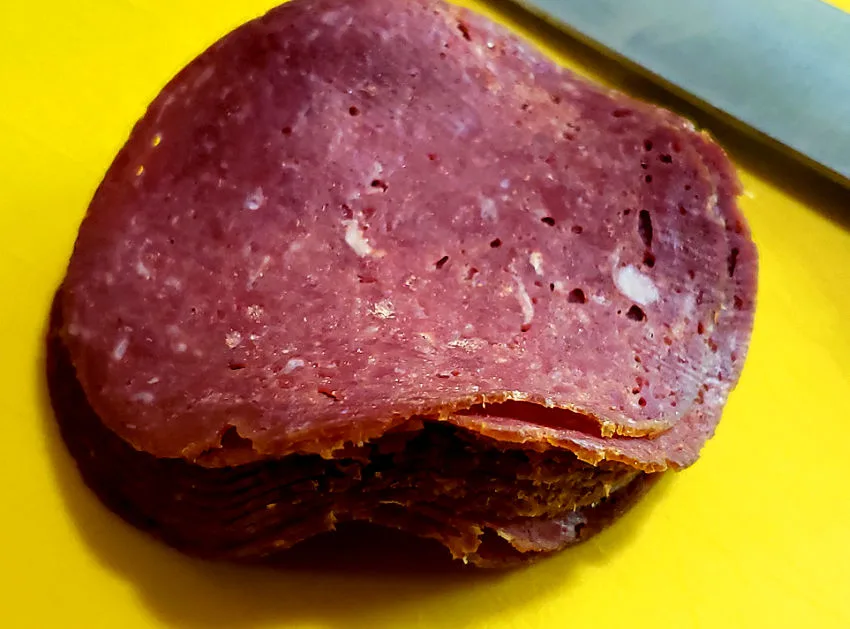 The dried beef slices are small rounds before chopping into smaller pieces. Some folks like to soak the slices in warm water prior to chopping to remove some of the excess salt.
Personally, I do not soak the beef and think it adds the required salt needed for the creamy white gravy so no additional salt is need in the recipe.
If you decide to soak it, use a paper towel to blot dry before slicing.
Creamy Beef Gravy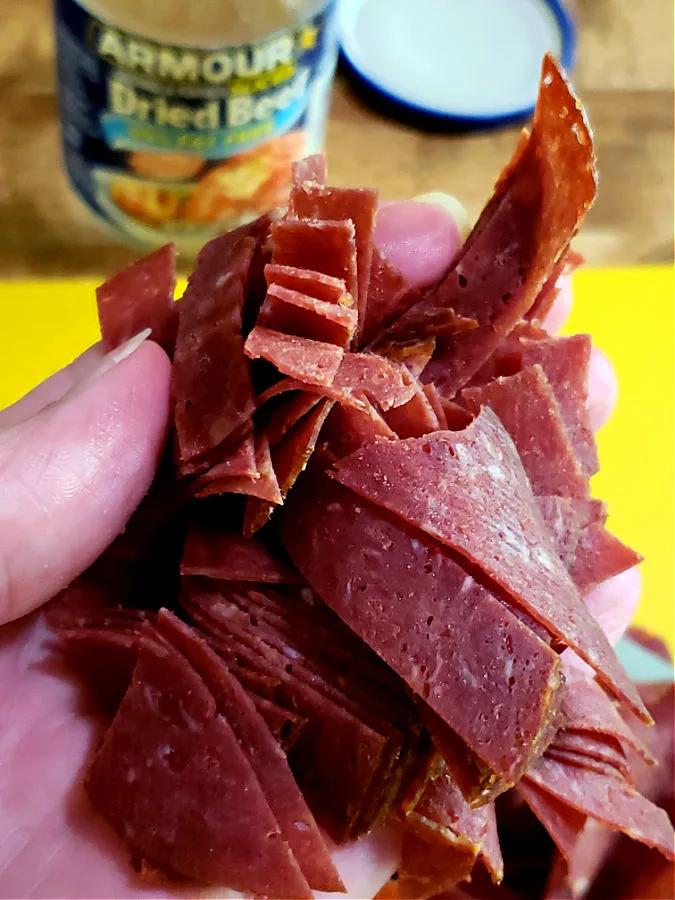 Give the dried beef a rough chop into bite sized small pieces or thin slices and set aside until needed for the cream sauce.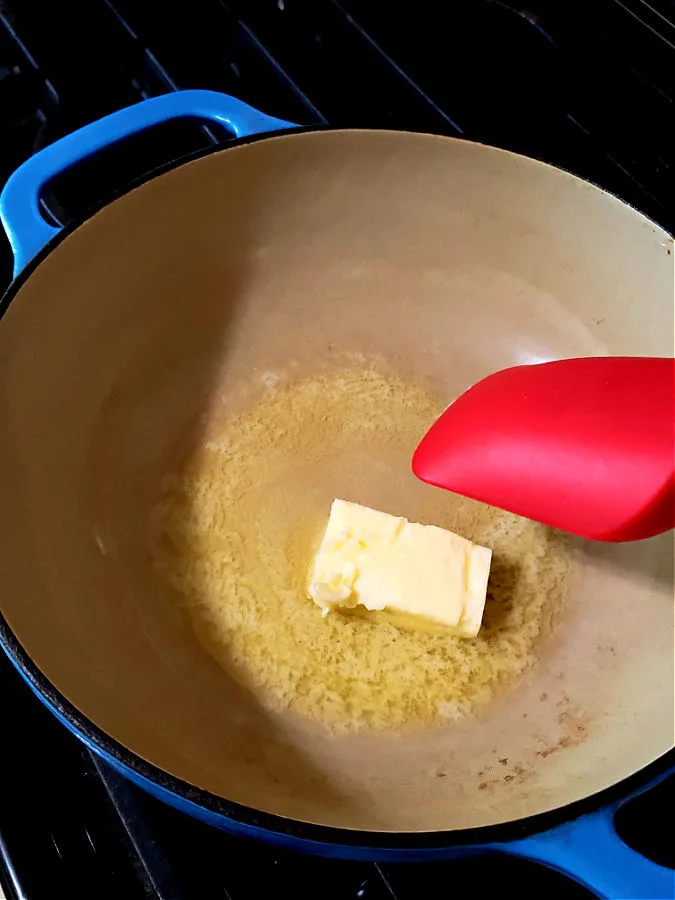 Heat a large skillet or medium saucepan over medium heat and add the butter to the pan to melt butter.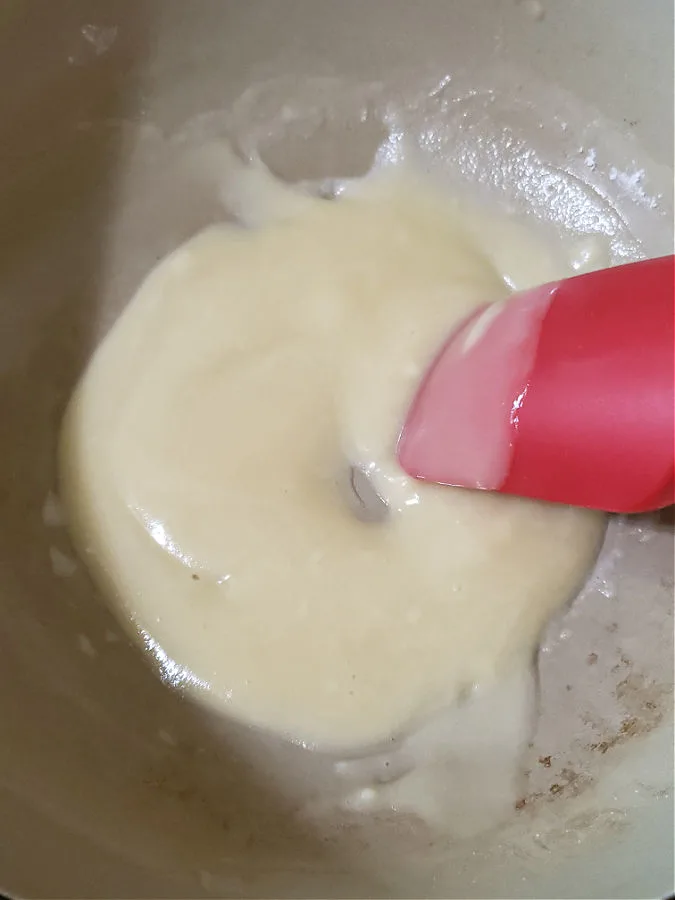 When the butter is melted and begins to bubble, add the flour and mix to combine. This makes a
roux
. Raise the cooking heat to medium-high heat and simmer the roux for two to three minutes to cook away the raw flour taste.
Be sure to incorporate the flour well into the melted butter so that there aren't any lumps in your creamy white sauce for your creamed beef gravy.
Dried Beef Gravy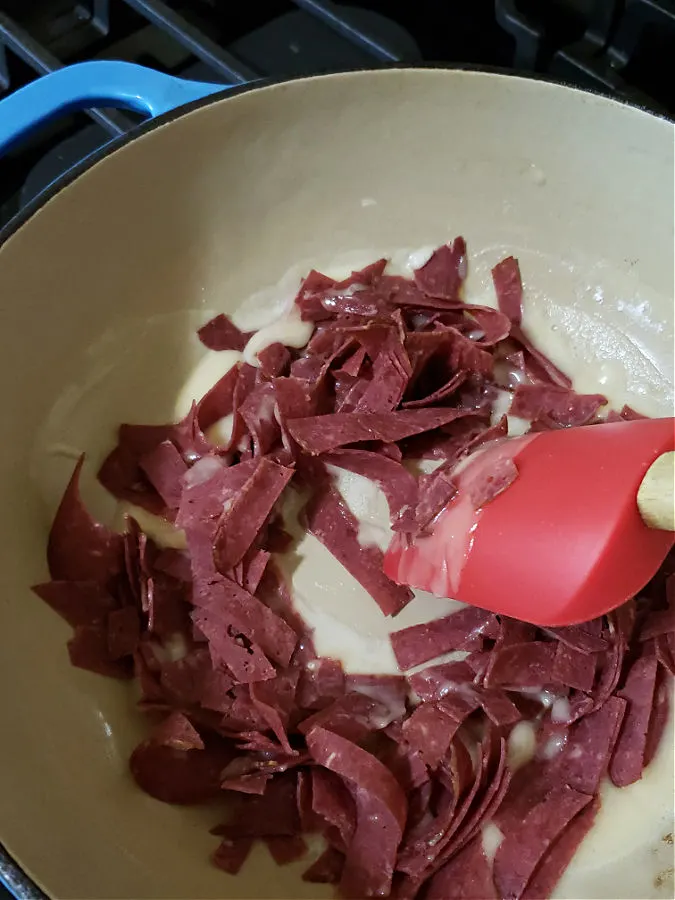 Next, add the milk and stir or whisk to combine. This makes a white sauce known as
Béchamel
. Continue to stir the creamy white gravy until it begins to bubble slightly and thickens.
Add the cracked black pepper, however much you like, and the chipped beef to the white sauce and simmer three to five minutes more, stirring constantly, until thickened and the beef is heated through. The creamy sauce is ready to serve.
SOS Gravy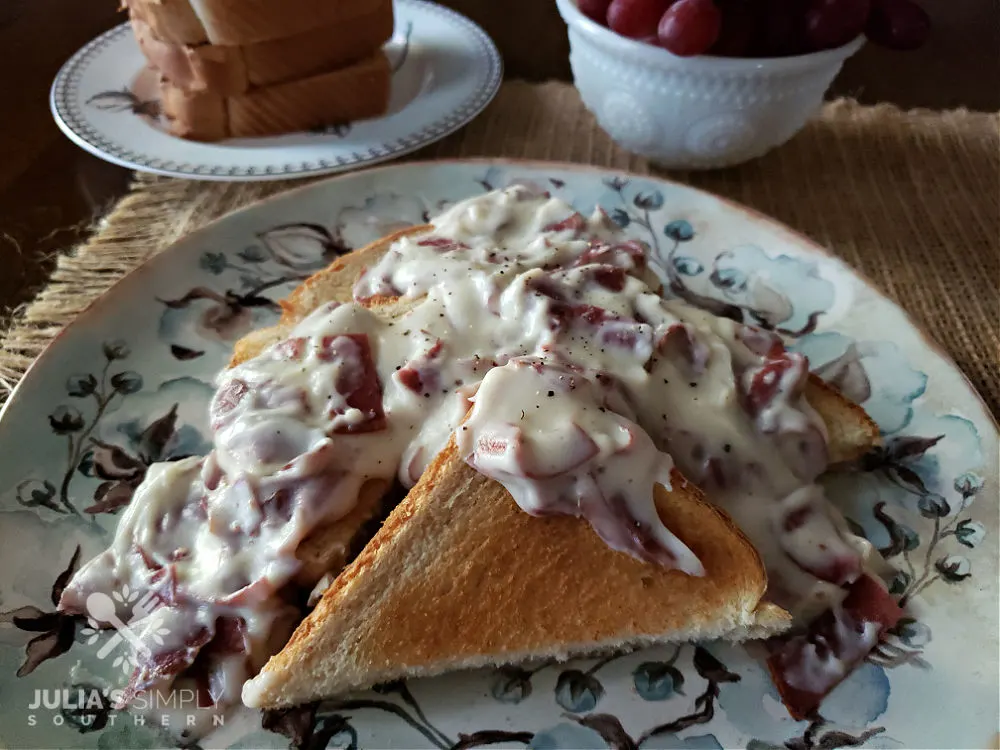 Serve the creamy beef gravy over toasted bread (the shingles). I like to use slices of Texas Toast, which really makes this a hearty meal. If preferred, serve your creamed chipped beef gravy over mashed potatoes, biscuits, noodles or hashbrowns (hash browns).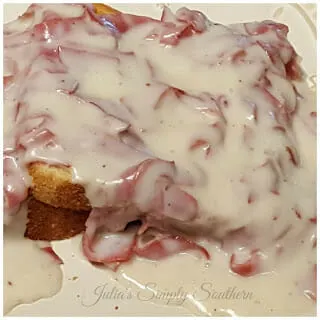 Above is one of the original photos when I first published this post. I decided to give it a makeover and had a new photoshoot to get better pictures to share in this recipe that is so loved by many.
Creamed Chipped Beef with Dried Beef
Where do you buy dried beef? Dried beef can typically be found at your local grocery store in small glass jars where you find other canned meats.
Cooks Note: No salt was added to the recipe because the dried beef contains enough salt to flavor the dish.
Let's make a batch of Creamed Chipped Beef & Toast – S.O.S.
Yield: 6 Servings
Creamed Chipped Beef & Toast - S.O.S.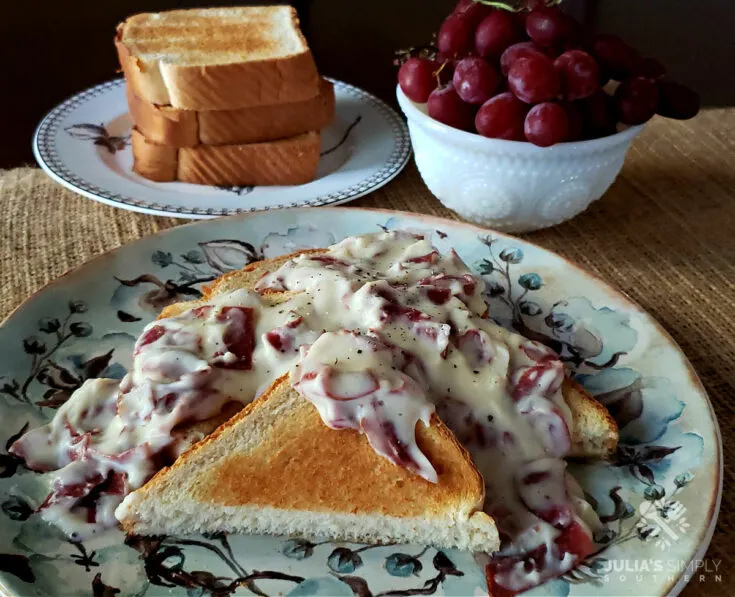 Classic creamed chipped beef and toast is a hearty gravy made with dried beef. It is often referred to as SOS. This vintage recipe may be served over toast, biscuits, potatoes and sometimes pasta.
Ingredients
4 tablespoons Butter
1/3 cup All Purpose Flour
3 cups Whole Milk
Cracked Black Pepper, to taste
4.5 ounce Dried Beef, sliced
Toasted Texas Toast Bread Slices
Instructions
Heat a skillet over medium heat. Add the butter.
When the butter is melted and begins to bubble add the flour and mix to combine.
Simmer the roux for 2-3 minutes to cook away the raw flour taste.
Next, add the milk and stir or whisk to combine.
Add cracked black pepper and the chipped beef to the white sauce and simmer 3-5 minutes, stirring constantly, until thickened.
Serve over toasted bread (shingles) , biscuits, or hashbrowns.
Recommended Products
As an Amazon Associate and member of other affiliate programs, I earn from qualifying purchases.
Nutrition Information:
Yield:
6
Amount Per Serving:
Calories:

237
Total Fat:

13g
Saturated Fat:

8g
Trans Fat:

0g
Unsaturated Fat:

4g
Cholesterol:

49mg
Sodium:

768mg
Carbohydrates:

17g
Fiber:

1g
Sugar:

7g
Protein:

12g
Q & A with Tips for making Creamed Chipped Beef and Toast
What to serve with creamed chipped beef and toast? The creamed chipped beef is usually served on toasted bread as a meal. You could also serve it along with fresh fruit, fruit salad, bacon, sausage, or eggs prepared to your liking.
How long does creamed chipped beef last in the refrigerator? Up to 4 days or you can freeze the meat gravy to re-heat another time.
Why is dried beef so expensive? I'm not really sure but I've heard from many that the cost is much higher than it used to be. I would think that might have something to do with the way that it is cured. The cost of dried beef is also why some folks opt for using hamburger, which is cheaper, and humbly nicknamed "poor man's chipped beef".
Be sure to serve the creamed chipped beef while it is hot and delicious. You can still find this old timey meal at favorite breakfasts places in South Carolina beach towns. This has always been one of the best recipes to fill hungry tummies on a tight grocery budget.
Other variations that have been shared with me for making chipped beef gravy:
Some use cream of mushroom rather than making a white sauce from scratch
Other meats that folks use also include chopped bologna, ground poultry (chicken or turkey), venison and Vienna sausages.
See it at: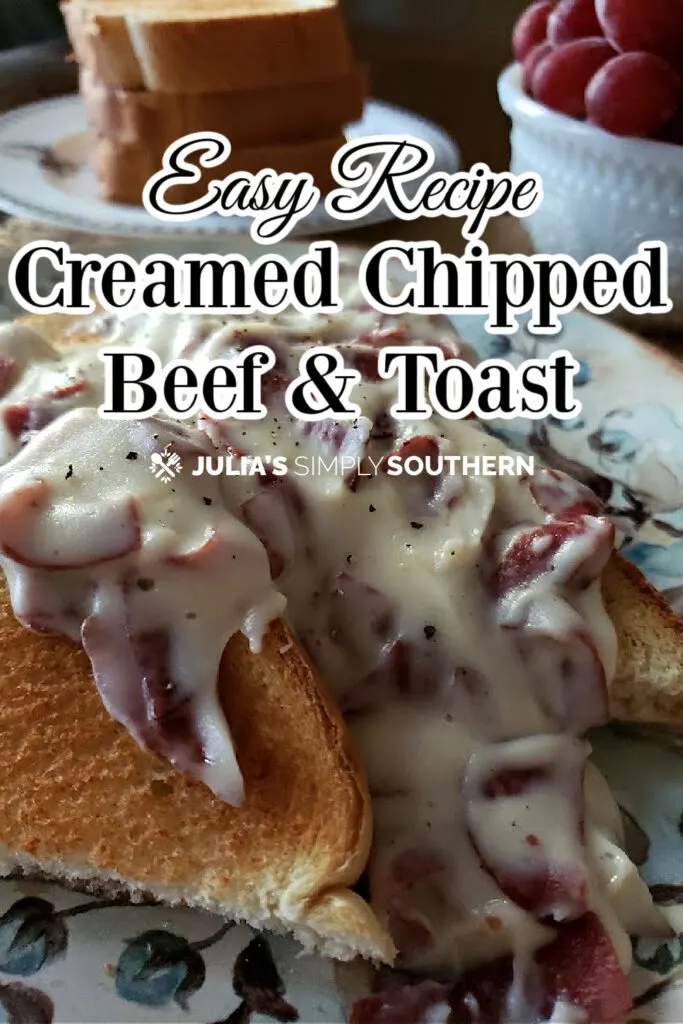 Check out the Latest Recipes
Popular Recipes on the Blog
Thank you so much for stopping by! I am so happy that you did. I hope that you make a batch of this nostalgic creamy beef gravy soon to enjoy as a delicious meal. It was one of my late mother in laws favorite meals for an easy supper.
Be sure to subscribe to my email list while you are here so that you never miss the latest recipes and news here on the blog. I send out a weekly newsletter to keep you up to date.
Until next time, Friend, love and happy cooking!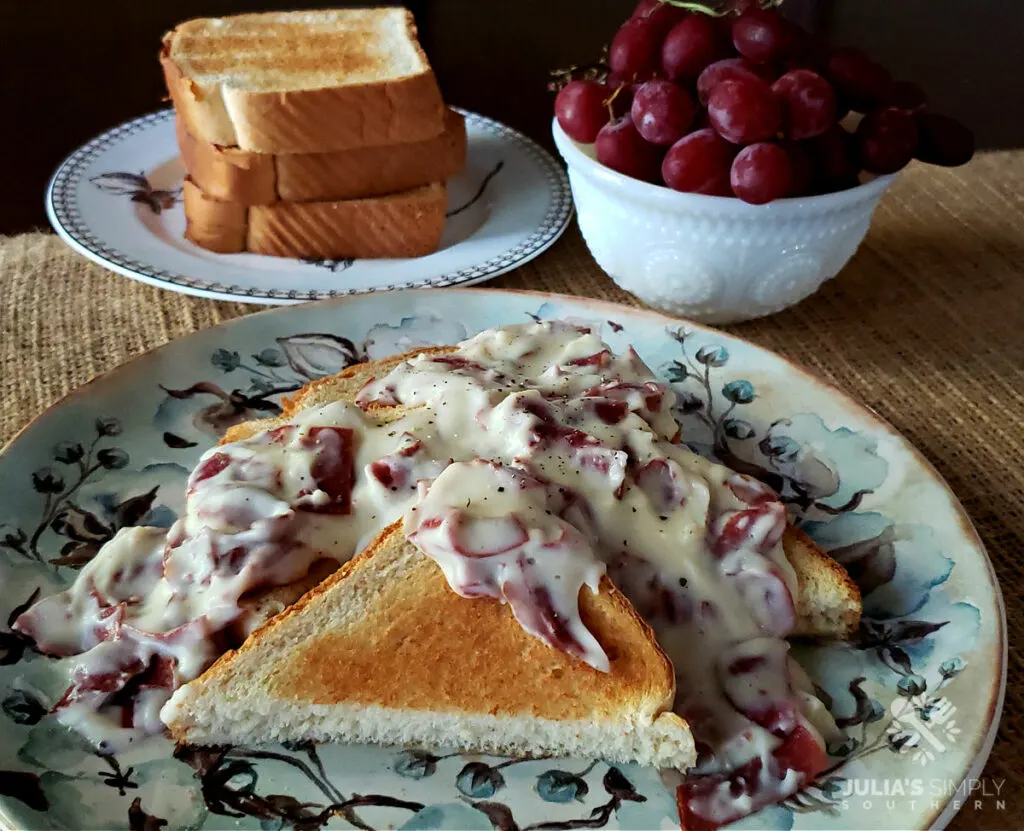 Meet Julia
Author of Julia's Simply Southern
Hey Y'all! I'm Julia, the cook and writer behind the recipes here at Julia's Simply Southern. I began my website so that I could share easy to follow recipes that anyone can use to put a home cooked meal on the dinner table. Thanks so much for stopping by!
Follow me on Facebook | Twitter | Instagram | Pinterest | YouTube