In this post I'll be sharing an Easy Air Fryer Hot Dogs Recipe.
Y'all, I have got to tell you that I love cooking hot dogs in the air fryer! It is my new favorite way to prepare them, if we aren't outdoors grilling, of course.
There are many ways to prepare hot dog wieners and I've done most of them. We like them boiled or pan fried. The pan frying method is what I used to do before trying them in the air fryer.
I fell in love with the air fryer method! This is coming from someone who considers herself to be more of a traditional cook.
Not only was the preparation of cooking the wieners in the air fryer super easy, but the taste was amazing! Who knew that it would make such a difference in flavor? It really does though!
So, if it is not grilling weather, or you just don't like to grill, then the air fryer is the best way to make the best hot dogs to enjoy with your favorite toppings.
Can you make hot dogs in an air fryer?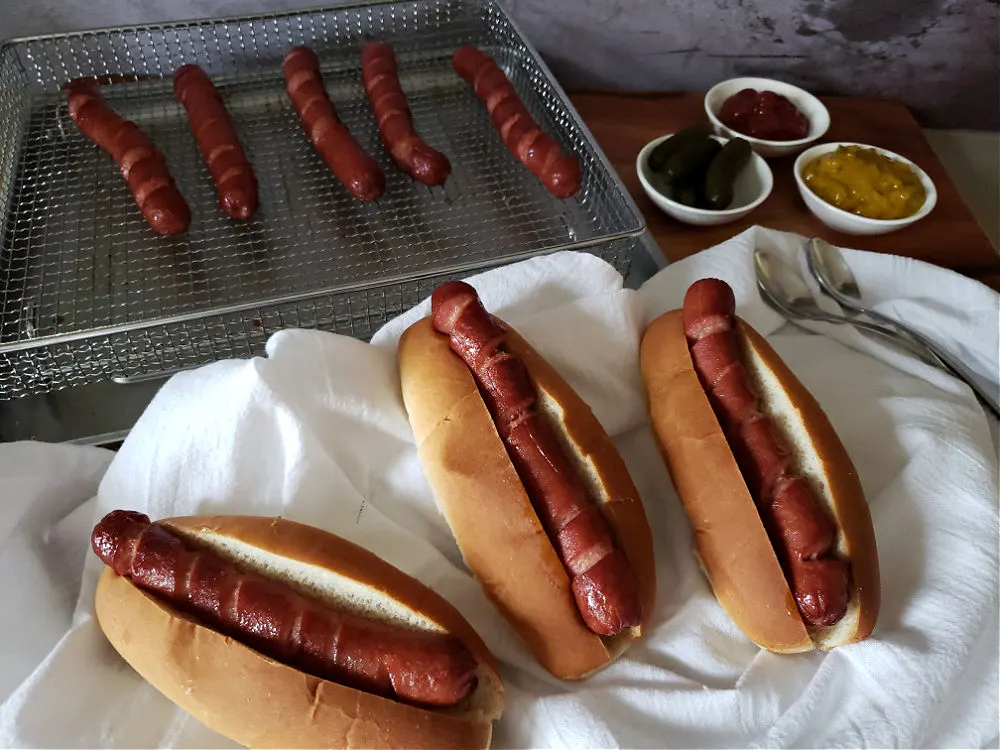 Preparing your hot dogs in an air fryer oven is the easy way to make crispy hot dogs that taste just like they came off of the grill.
This was a game changer in my books, and the wieners can be thawed or frozen, and cook in just minutes for delicious juicy hot dogs that everyone will love!
Hot Dogs in Air Fryer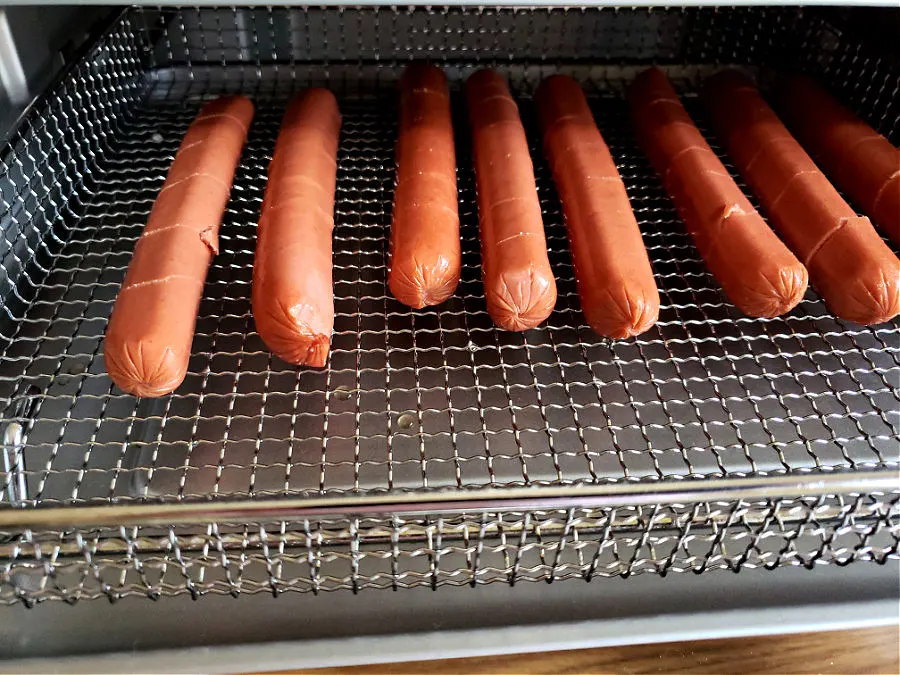 Okay, foodie friends, let's make these easy air fryer hot dogs. Begin with your favorite brand of hot dogs.
There are so many options for hot dog wieners these days – the classic pork mix, all beef hot dogs, cured and uncured, Kosher (Hebrew National), and countless others.
We tend to favor either the Nathan's brand most of the time. Occasionally, we go for the Boar's head un-cured.
We love a good hot dog and I don't think you can go wrong with your choice of fresh hot dog weenies.
It is totally optional, but I do a light scoring around the hot dog. I think it adds a bit more of those crispy skin bits that taste so good.
Arrange the hot dogs in air fryer oven, slide tray or air fryer basket, in a single layer. I don't think that it is necessary to spray or add oil because the wieners release quite a bit on their own and won't stick.
Basic Air Fryer Hot Dogs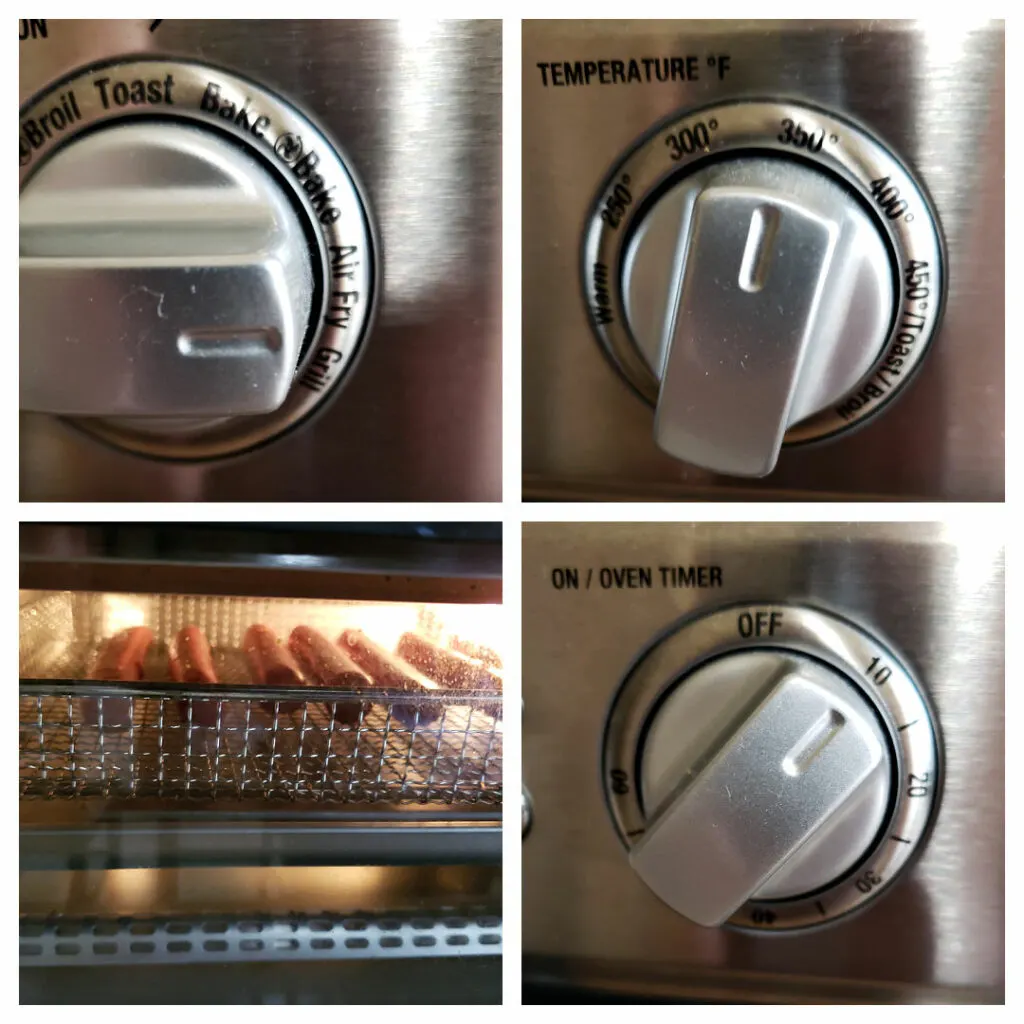 Tips for making the best air fryer hot dogs
I use a Cuisinart tray style air fryer/multi cooker, which I love. The slide tray air fryer model is my preferred, but I know that a lot of you enjoy the basket-style air fryer (like Ninja Foodi).
I'll drop my Amazon associate affiliate links in the recipe card in case you're interested to see the model that I use.
Either type will work wonderfully for cooking delicious hot dogs. For my model, I set it to the air fry cook setting then set the temperature to 350° Fahrenheit.
To be perfectly honest, I never baked weenies in my oven. The smaller air fryer size is supposed to be more energy efficient for cooking, and I would agree with that. The air fryer makes the perfect hot dog without heating up the entire kitchen.
How long to cook hot dogs in air fryer? The cook time for preparing the best air fryer hot dogs is ten minutes. The air fryer method delivers a perfectly cooked hot dog in that amount of cooking time, with the perfect amount of crispiness that is just like a grilled hot dog.
Air fryer hot dogs frozen will cook in about the same amount of time as a fresh hot dog. If you feel that starting with frozen needs extra time then an additional 2 to 3 extra minutes should be sufficient.
What to Serve with Air Fryer Hot Dogs?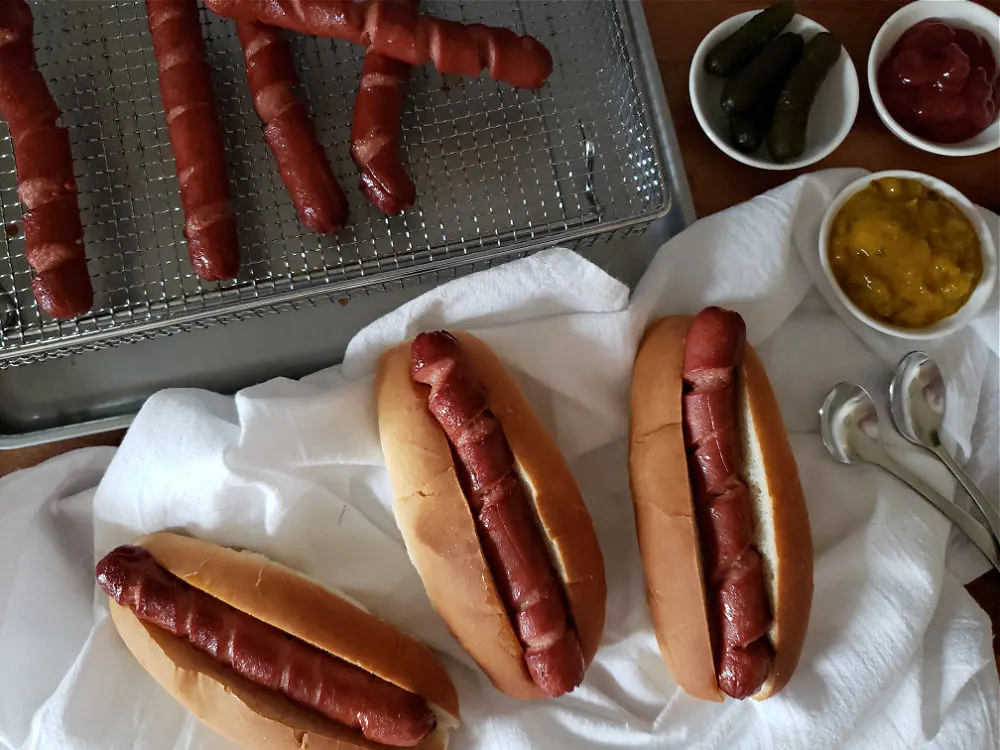 Let's begin with Favorite Toppings for hot dogs…
Oh, and you'll need hot dog buns, of course. Bonus if it is a toasted bun, which is the easiest way to add more flavor to your hot dog. If you're doing the low carb thing, or trying a lower calorie diet, then you can skip the bun.
Here are some popular favorite hot dog toppings for you to build your favorite ultimate way A.F. dogs.
Sauerkraut
Dijon Mustard
Ketchup
BBQ Sauce
Pickle Relish
And other favorite condiments that you might enjoy on a hot dog.
Side Dishes to serve with Air Fryer Hot Dogs
I must mention some great options for sides to enjoy with this delicious meal. Here are my faves…
Potato Chips
French Fries
Creamy Coleslaw on the side
Baked Beans
Air Fryer Potato Wedges
Macaroni and Cheese
Easy Air Fryer Hot Dogs Recipe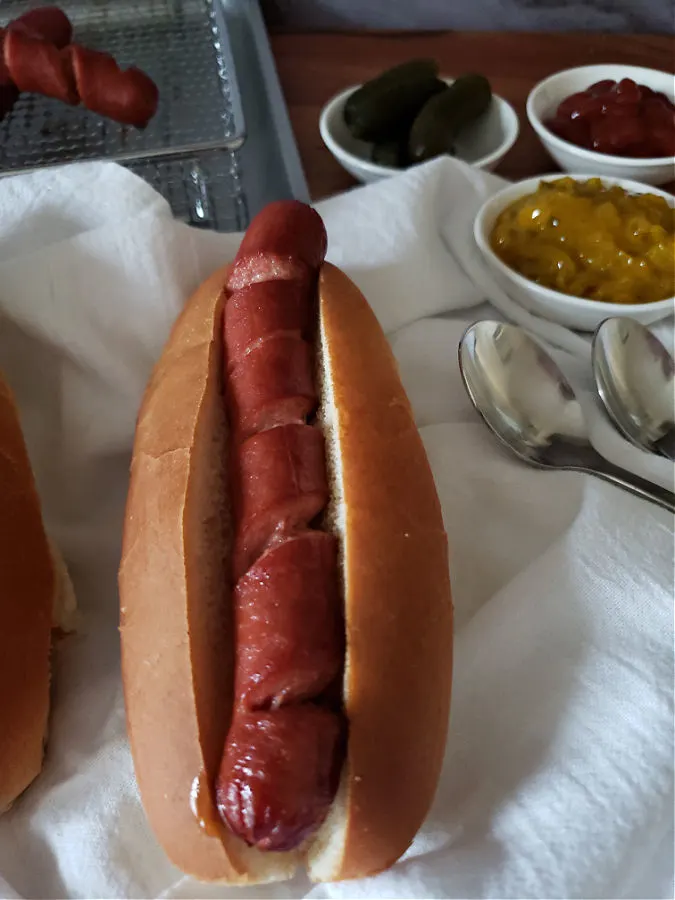 Are air fryer hot dogs good? Absolutely delicious! Go ahead and add this to your collection of favorite easy recipes for air frying.
If you happen to have leftover cooked hot dogs, store them in an airtight container or food storage bag, in the refrigerator. The leftover hot dogs can be enjoyed cold or re-heated for an easy meal.
Below you will find the printable recipe card for the air fryer hot dogs recipe. Well, perhaps more a cooking method.
Yield: 8 Hot Dogs
Easy Air Fryer Hot Dogs Recipe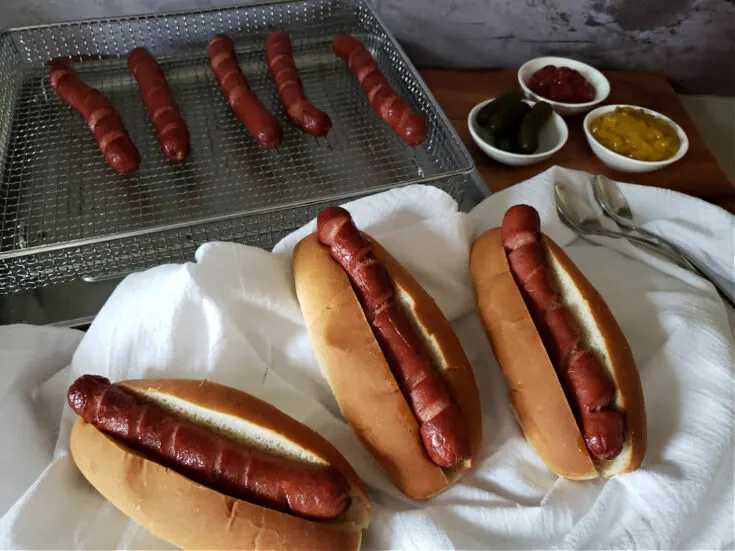 Prepare the best hot dogs in your air fryer. It is quick and easy and the crispy hot dogs are perfect served in hot dog buns with your favorite toppings and side dishes. This is great for easy weeknight meals and a family favorite.
Ingredients
8 Hot Dog Wieners (I used Nathan's brand)
8 Hot Dog Buns (and your favorite toppings)
Instructions
Score the hot dog wieners with a sharp knife, if desired. This step is optional.
Place the hot dogs in the air fryer tray or basket in a single layer.
Set to the air fry cook setting then set the temperature to 350°F (177°C).
Cook 8-10 minutes, depending on desired doneness.
Serve the cooked hot dogs in toasted hot dog buns with your favorite hot dog toppings and sides (see post for options).
Notes
The cooking time for air fryer hot dogs should be about the same for thawed wieners or frozen. If using frozen wieners and you feel they need a little more time then cook an additional 2 to 3 minutes.
Favorite hot dog toppings include: hot dog chili, mustard, ketchup, mayonnaise, pickle relish, sauerkraut, chow chow relish, pickled jalapenos, and diced onions.
See the post for side dish options to serve with air fryer hot dogs, such as potato salad, coleslaw, chips, and french fries.
Store leftover cooked hot dogs in an airtight container in the refrigerator.
Recommended Products
As an Amazon Associate and member of other affiliate programs, I earn from qualifying purchases.
Nutrition Information:
Yield:
4
Serving Size:
2 Hot Dogs
Amount Per Serving:
Calories:

649
Total Fat:

37g
Saturated Fat:

14g
Trans Fat:

0g
Unsaturated Fat:

18g
Cholesterol:

68mg
Sodium:

1493mg
Carbohydrates:

55g
Fiber:

2g
Sugar:

8g
Protein:

24g
Popular Recipes
New Recipes and Latest Posts
Thank you so much for stopping by! I am so glad that you did. This is my new favorite way to cook hot dog wieners and I know that you'll love it too. It makes preparing a weeknight meal so simple.
Be sure to subscribe to my newsletter while you are here. Email subscribers receive a weekly email, from yours truly, with all of the latest recipes and news here on the blog, so that you never miss a thing.
Until next time, Love and Happy Cooking!
Meet Julia
Author of Julia's Simply Southern
Hey Y'all! I'm Julia, the cook and writer behind the recipes here at Julia's Simply Southern. I began my website so that I could share easy to follow recipes that anyone can use to put a home cooked meal on the dinner table. Thanks so much for stopping by!
Follow me on Facebook | Twitter | Instagram | Pinterest | YouTube