In this post I'll be sharing a delicious Sticky Garlic Pork Chops Recipe made with just a few ingredients.
Y'all, these pork chops are so delicious and so easy to prepare. You're gonna love this tasty recipe.
My inspiration for this recipe came when my husband showed me a video of Chef John, a YouTube sensation, and a pork chops recipe that he was preparing. I'm now a hug fan of Chef John!
After seeing the video I prepared a pork chop recipe that was similar and it turned out delicious and knew that I'd have to make it again to share with y'all.
The flavor of the sticky pork chops are wonderful.
Asian Marinated Pork Chops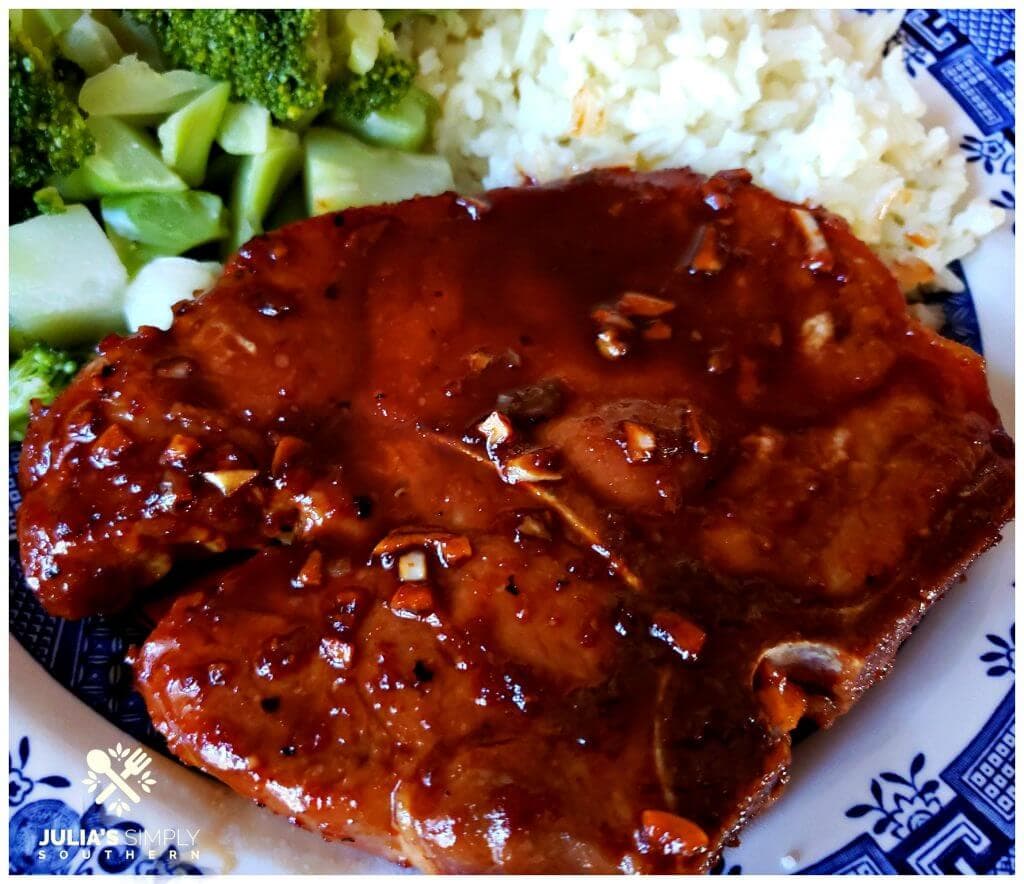 "I like pork chops and country ham, creamed potatoes, stuff like that. Redeye gravy. It comes from ham, bacon, stuff like that. It's the grease that you fry it in. I eat a lot of Jell-O. Fruit Jell-O."

~Elvis Presley
I used bone in pork chops for this recipe because bones always lend more flavor but boneless will work fine too.
The delicious Asian style marinade infuses the pork chops with so much flavor and also becomes the tasty sauce for your meal.
Fluffy cooked rice and broccoli made the perfect sides to this pork chop dinner.
Did I mention that this recipe is perfect for two people…or four? Yep, it is!
Soy Sauce Pork Chops Marinade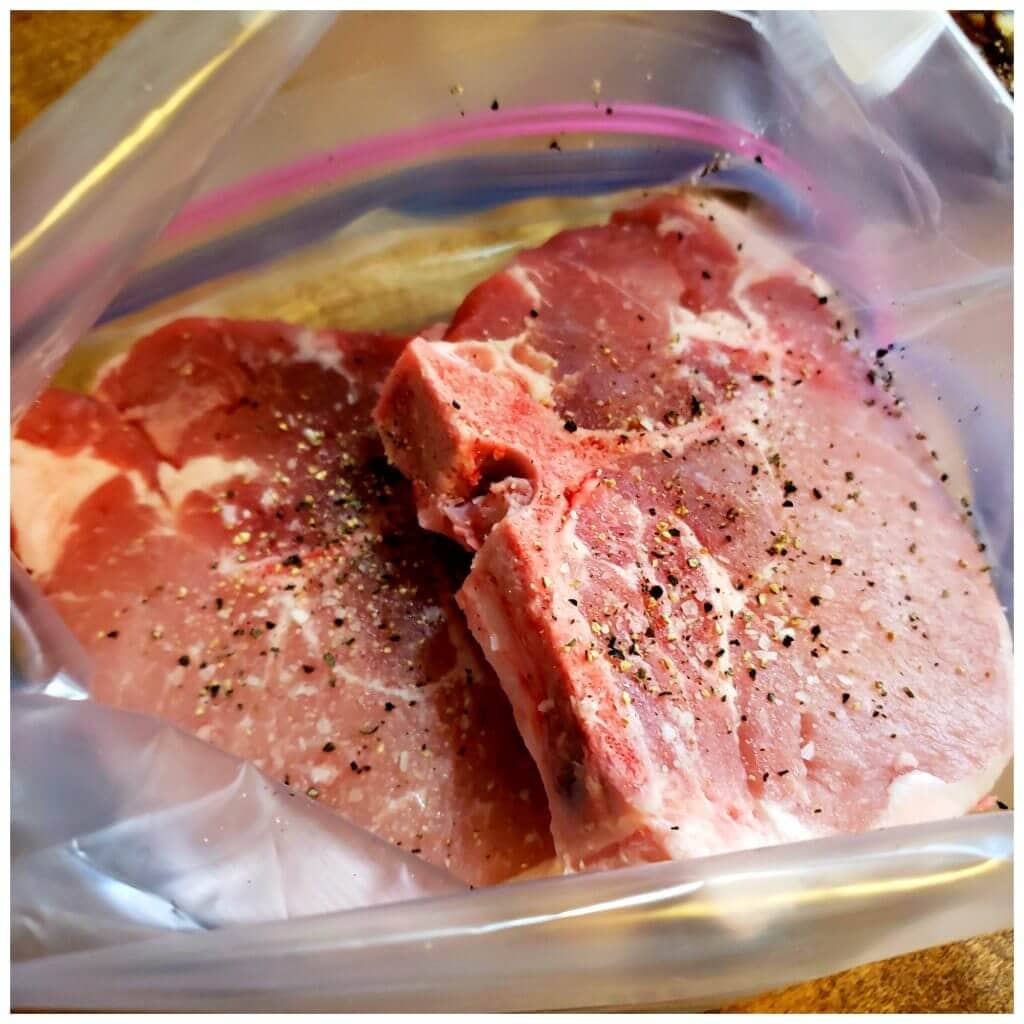 Start your amazing sticky pork chops recipe by placing the pork chops in a food storage bag or dish. Season with a pinch of salt and pepper.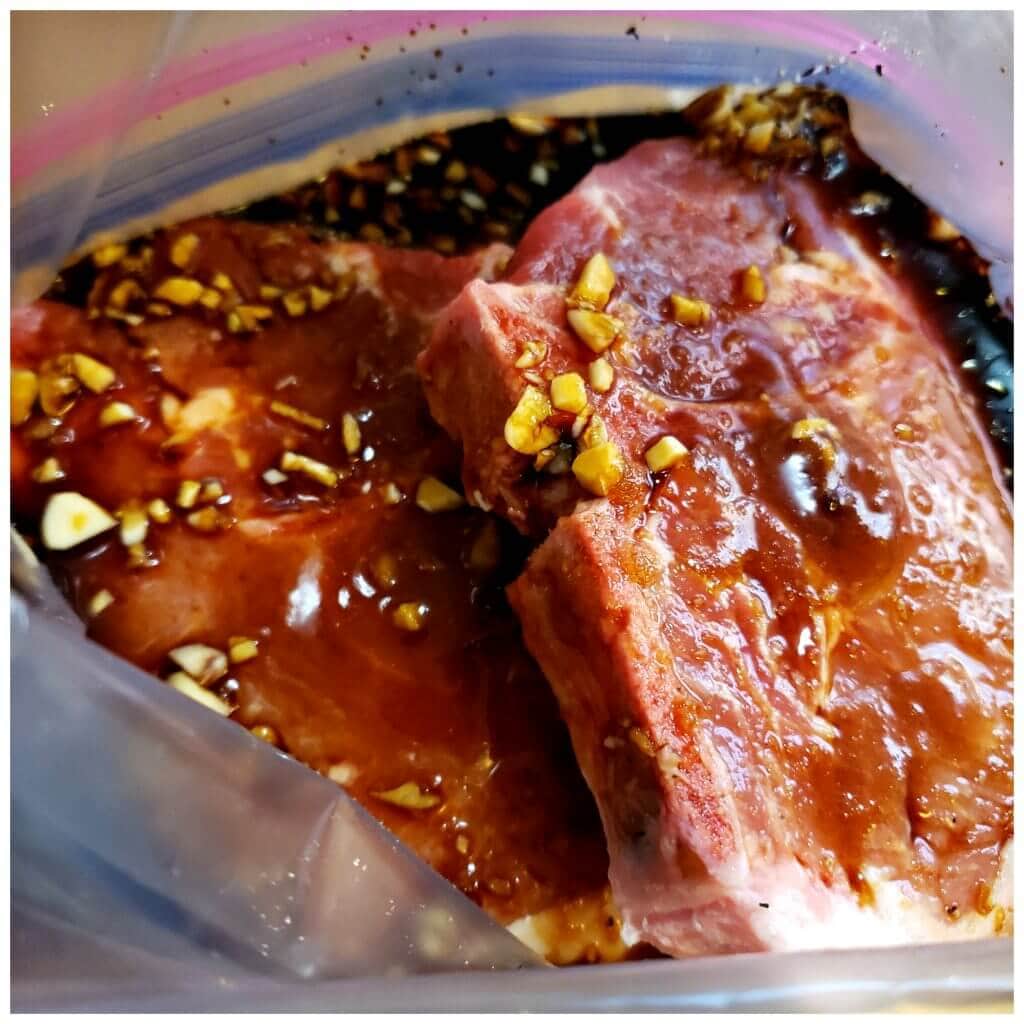 The sticky garlic marinade is the real star of the show and couldn't be easier to prepare.
This marinade is a handy recipe to keep on hand because it could also be used with chicken or shrimp.
The marinade is made with soy sauce, a little ginger paste, brown sugar and a few cloves of minced garlic.
Just mix it up in a small bowl or a measuring cup (which is what I used) and pour it over the pork chops. Seal the bag and let them hand out for a bit.
Sticky Garlic Pork Chops Recipe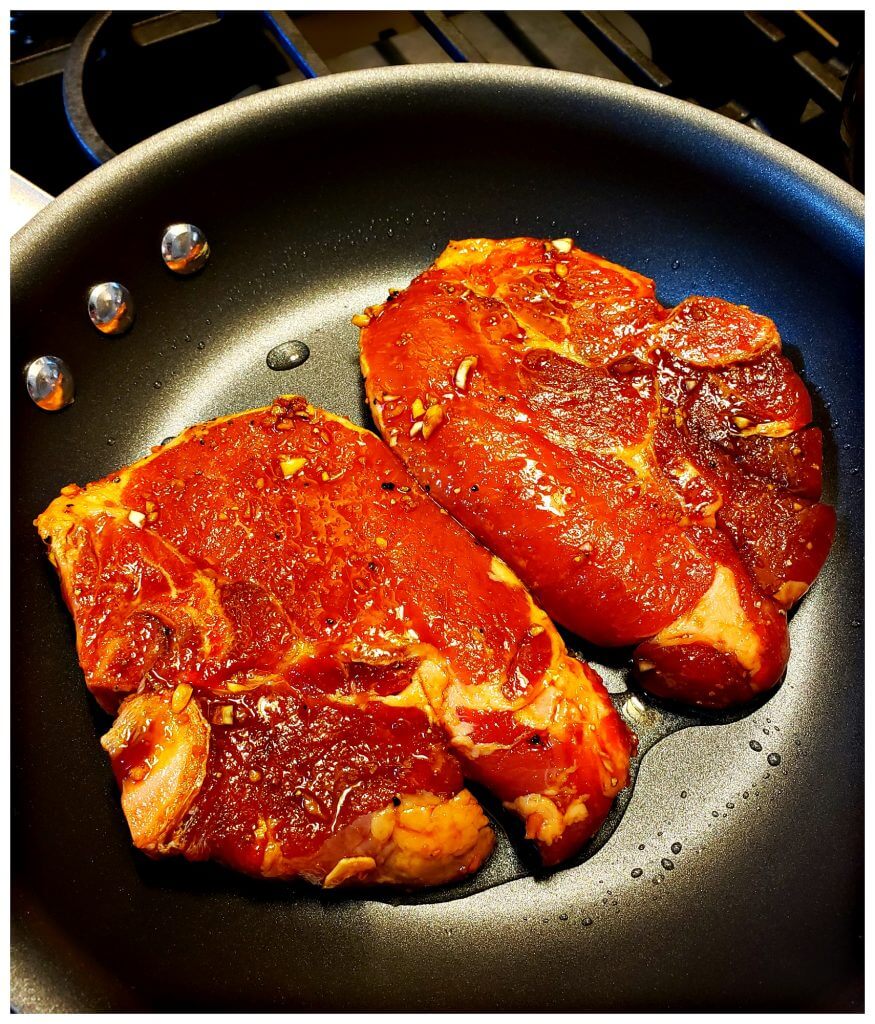 Don't those pork chops look gorgeous from the marinade? They are ready to sauté in a hot skillet.
A teaspoon of coconut oil or whatever cooking oil you have on hand will be plenty for the skillet.
I don't recommend olive oil however because it has a strong flavor that may not go well with the Asian flavors of this recipe.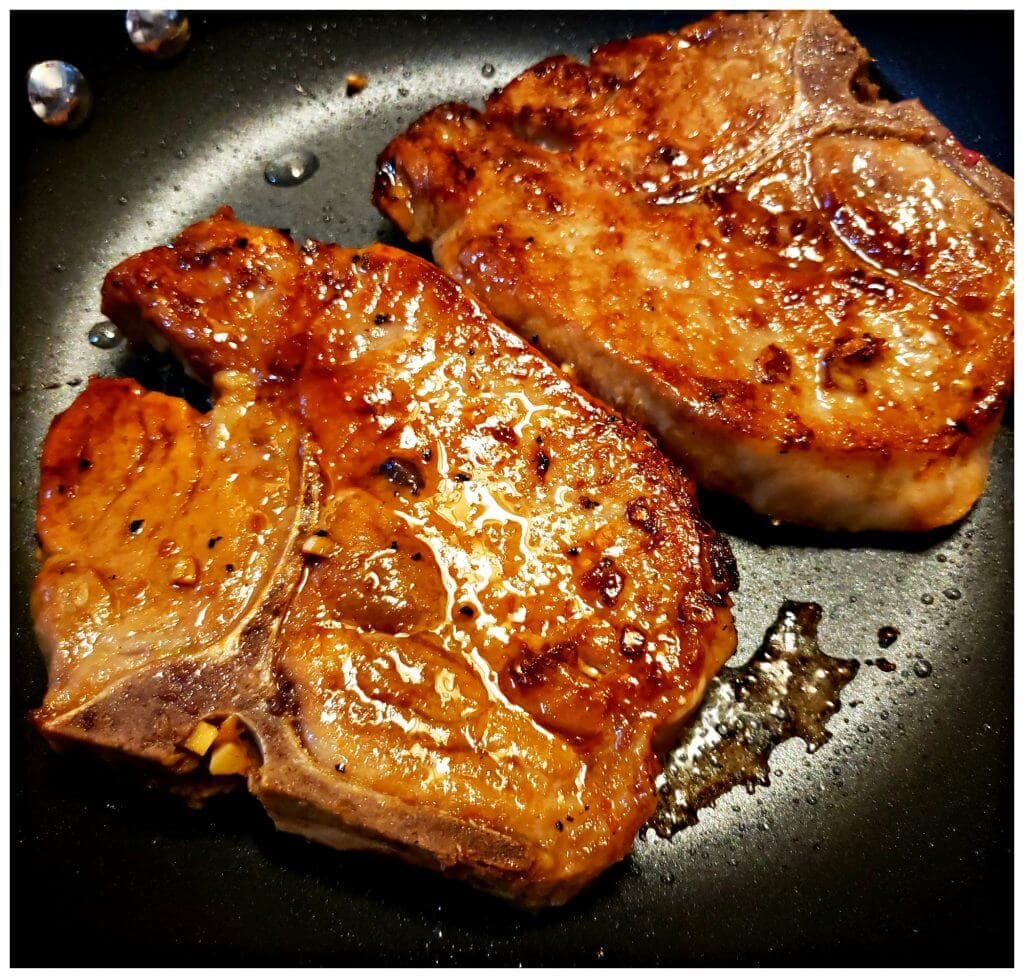 Sear the pork chops on each side, about 4 minutes per side. If you have really thick chops then you may need another minute or two.
How to cook pork chops without drying them out? Pork chops are so lean that they can easily become dry if over cooked.
I use my tongs, or use your finger if you can get a better feel, and press on the pork chop. It will feel firm when it is done.
Today's safe food standards only require that pork be cooked to an internal temperature of 145°F.
There is one rule to follow with all meats. Allow it to rest a few minutes before slicing into it.
The juices will redistribute and you'll have a much better meal.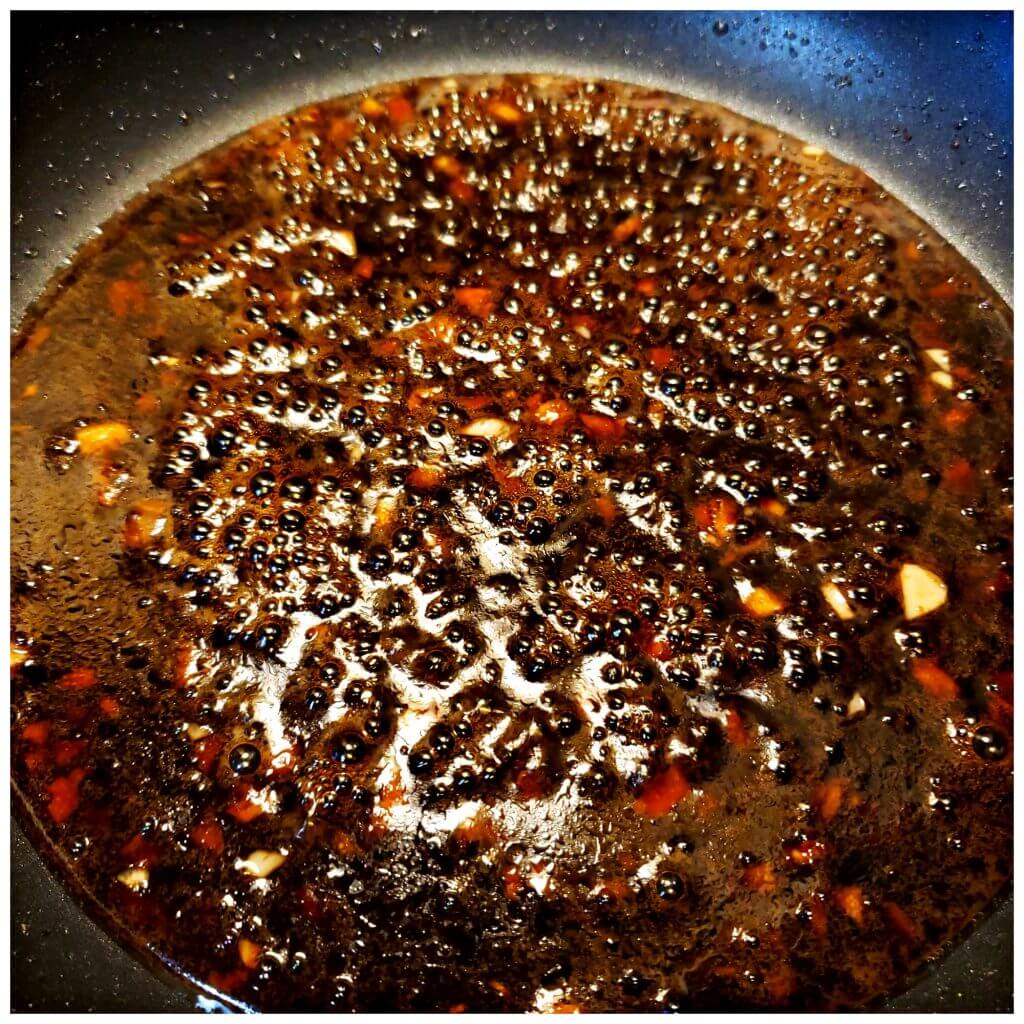 "I'm hungry now, Julia, and want to eat." Yeah, I get it. I used to not follow the rest rule and served up plenty of pork and chicken that you needed a few glasses of water to wash down.
These days, I always let the meat rest and we always enjoy our supper.
Remove the pork chops from the skillet and set them aside. Transfer the remaining marinade into the skillet and simmer to reduce.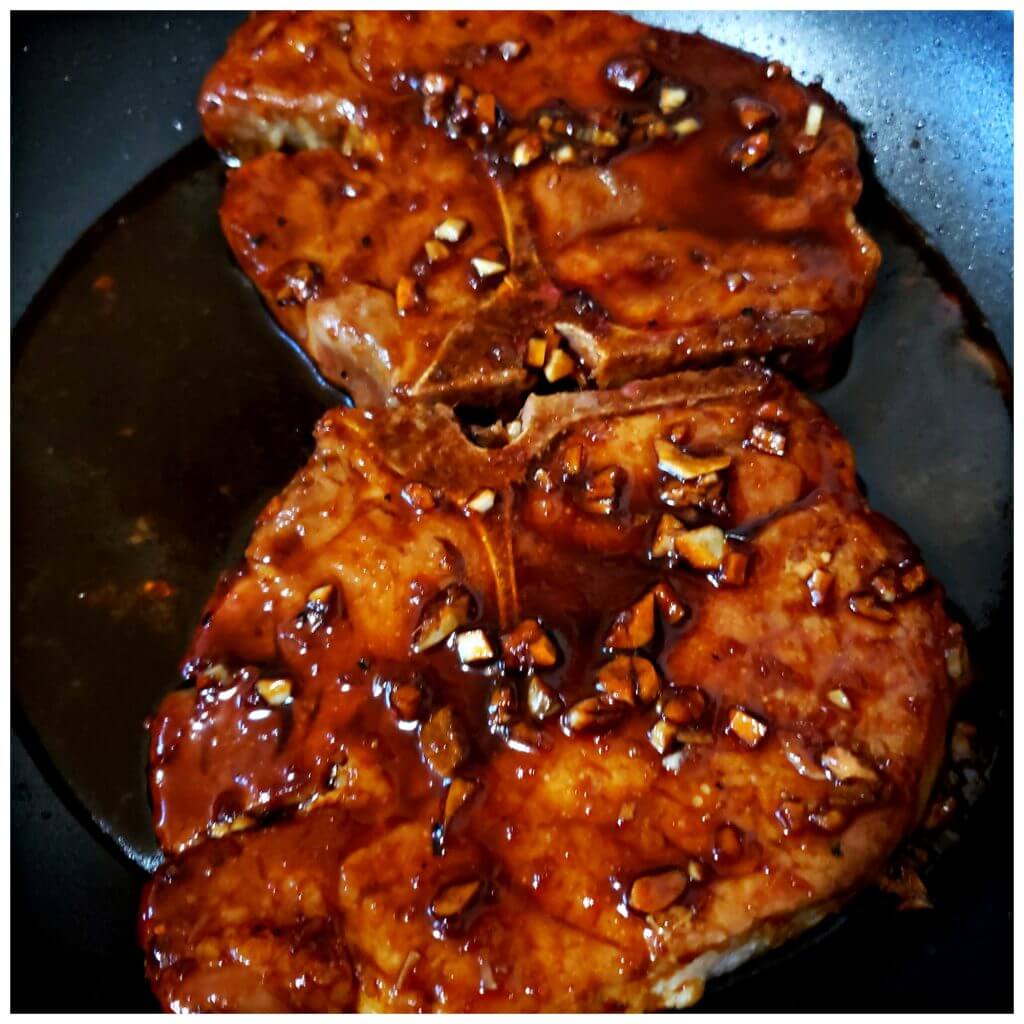 Once the marinade, which smells Ah-Mazing, has reduced then return to the pork chops back to the skillet to heat through.
Spoon some of that marinade over them while they heat up.
This will only take a minute or two then transfer the pork chops to a platter or your dinner plates and allow them to rest.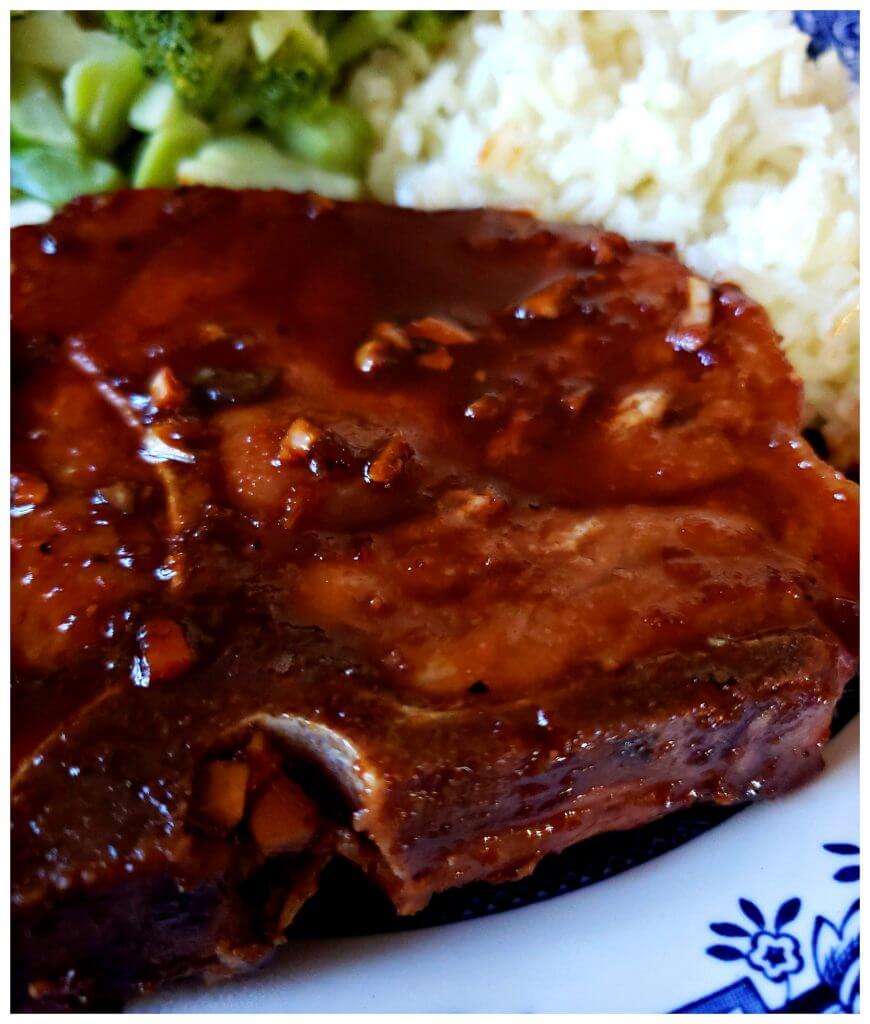 Be sure to top the sticky garlic pork chops with a bit of your pan sauce. Don't they look delicious?
These pork chops taste as good as they look. So juicy!
Sticky Garlic Pork Chops Recipe
Yield: 2 Pork Chops
Sticky Garlic Pork Chops Recipe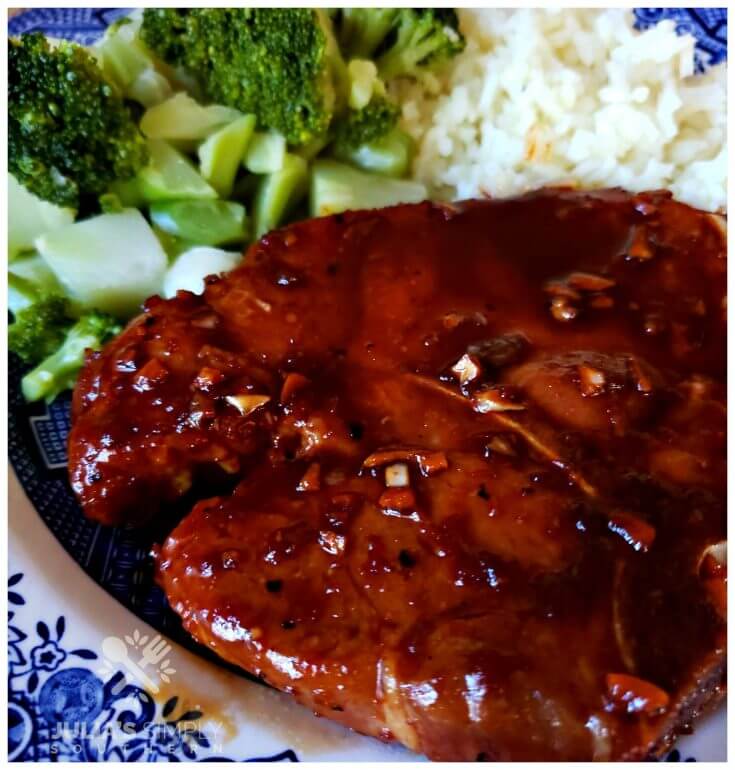 Delicious sticky garlic pork chops made with just a few simple ingredients that are marinated then cooked to perfection.
Additional Time
5 minutes
Total Time
1 hour
20 minutes
Ingredients
Marinade
1/2 c Soy Sauce
1/2 tbsp. Ginger Paste
2 tbsp. Brown Sugar, packed
4 Cloves of Garlic, minced
Pork
2 Bone In Pork Chops
Kosher Salt and Cracked Black Pepper, to taste
1 tsp Coconut Oil, for sautéing
Instructions
Prepare the marinade by combining all of the ingredients together and set aside.
Place the pork chops in a food storage bag or small dish then season with a pinch of salt and pepper. Pour the marinade over the pork chops, seal the bag and allow to marinate for 1 hour.
Cooking the Sticky Garlic Pork Chops
Heat a skillet over medium high. Once hot add the coconut oil.
Remove the pork chops from the marinade removing any excess marinade before cooking. Reserve the leftover marinade in the cooking bag to use for a sauce later.
Transfer the pork chops to the skillet and sauté on each side, about 4 minutes per side. (Adjust cooking time for really thick cut pork chops)
Transfer the cooked pork chops to a plate and add the reserved marinade to the skillet.
Bring the marinade to a simmer and reduce until thickened (about 6 minutes).
Return the pork chops to the skillet and cook about 2 minutes more until heated through.
Transfer the pork chops to a serving platter or dinner plates and allow to rest for 5 minutes. Be sure to put a little of the pan sauce on top of each pork chop.
Serve with your favorite sides.

Notes
Tips for cooking the sticky garlic pork chops recipe: marinate, don't over cook and allow the meat to rest before serving. That's it!
Recommended Products
As an Amazon Associate and member of other affiliate programs, I earn from qualifying purchases.
Nutrition Information:
Yield:
2
Serving Size:
1
Amount Per Serving:
Calories:

351
Total Fat:

21g
Saturated Fat:

8g
Trans Fat:

0g
Unsaturated Fat:

10g
Cholesterol:

72mg
Sodium:

386mg
Carbohydrates:

19g
Fiber:

2g
Sugar:

11g
Protein:

46g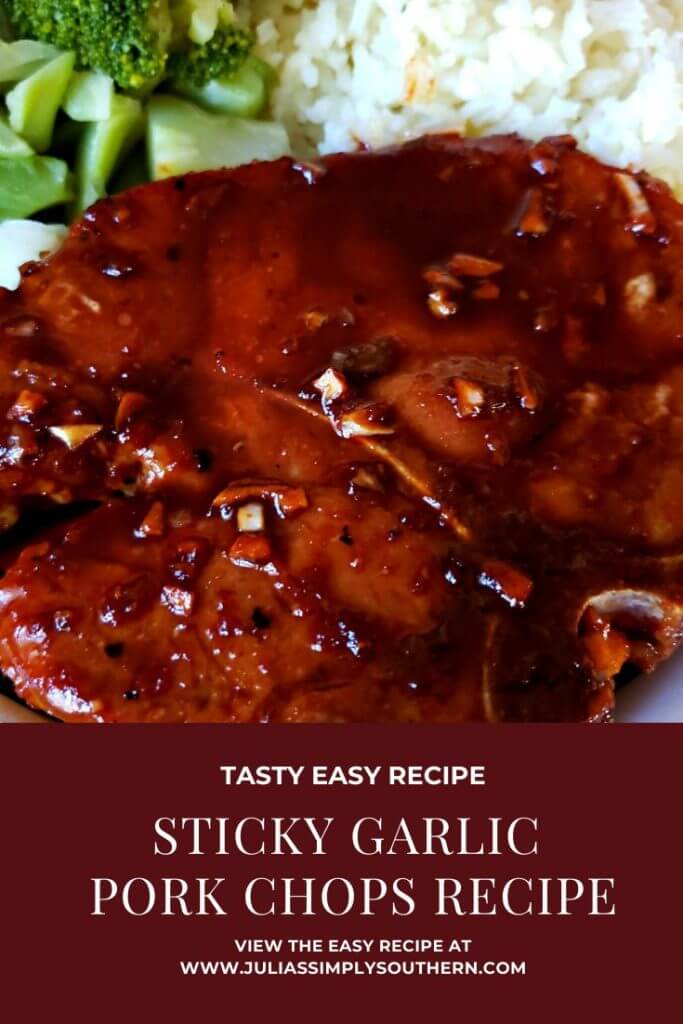 You Might Also Enjoy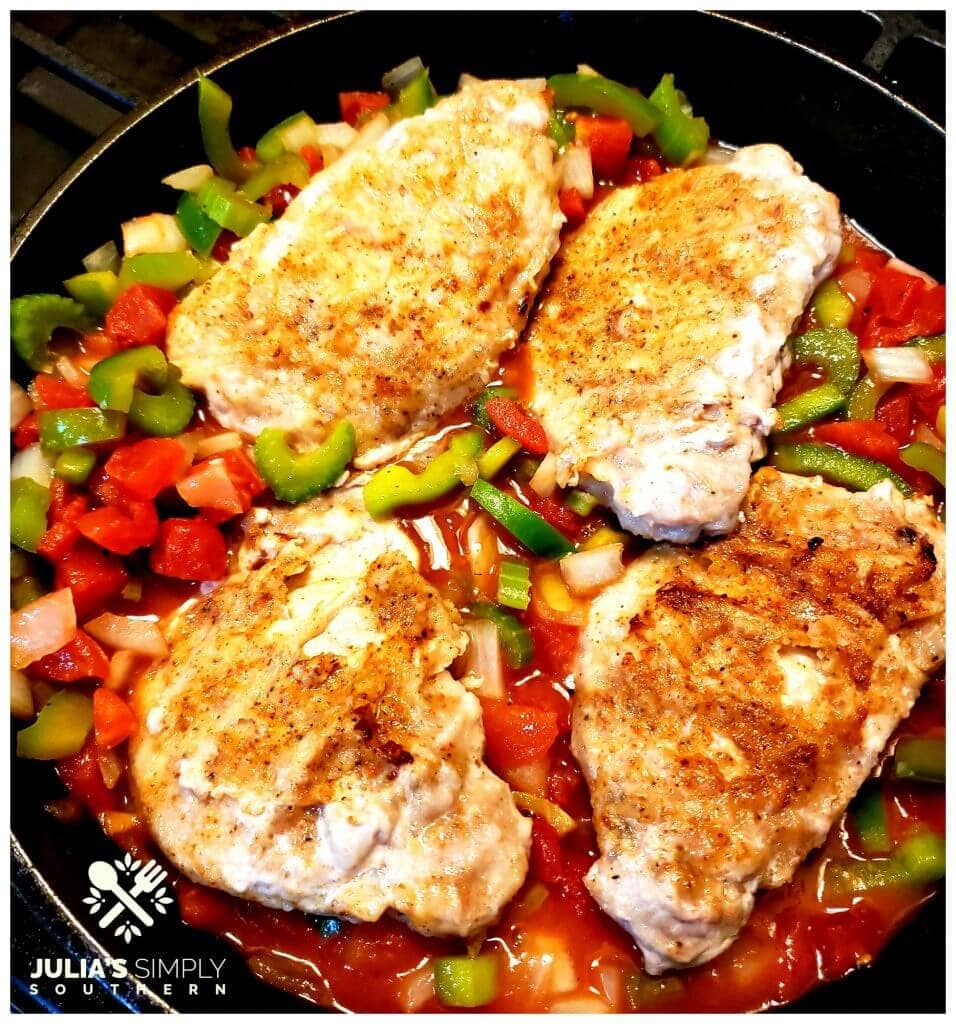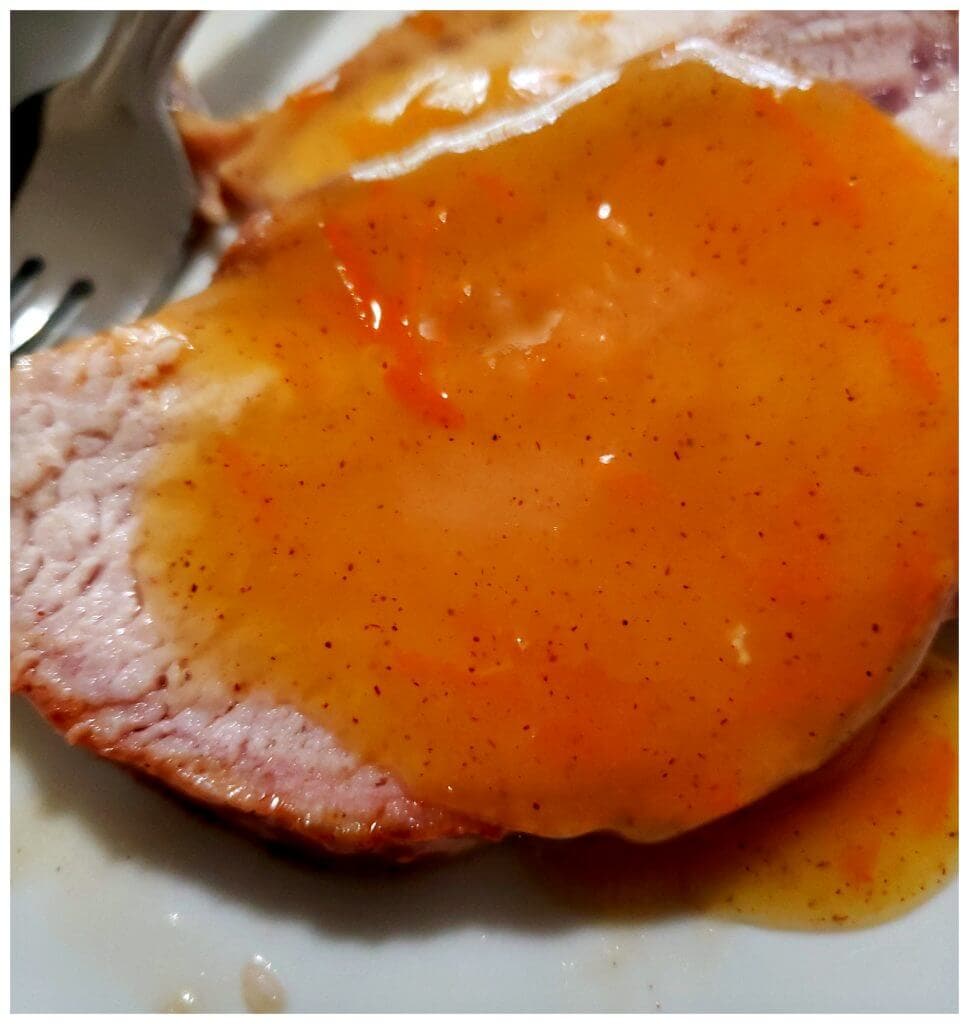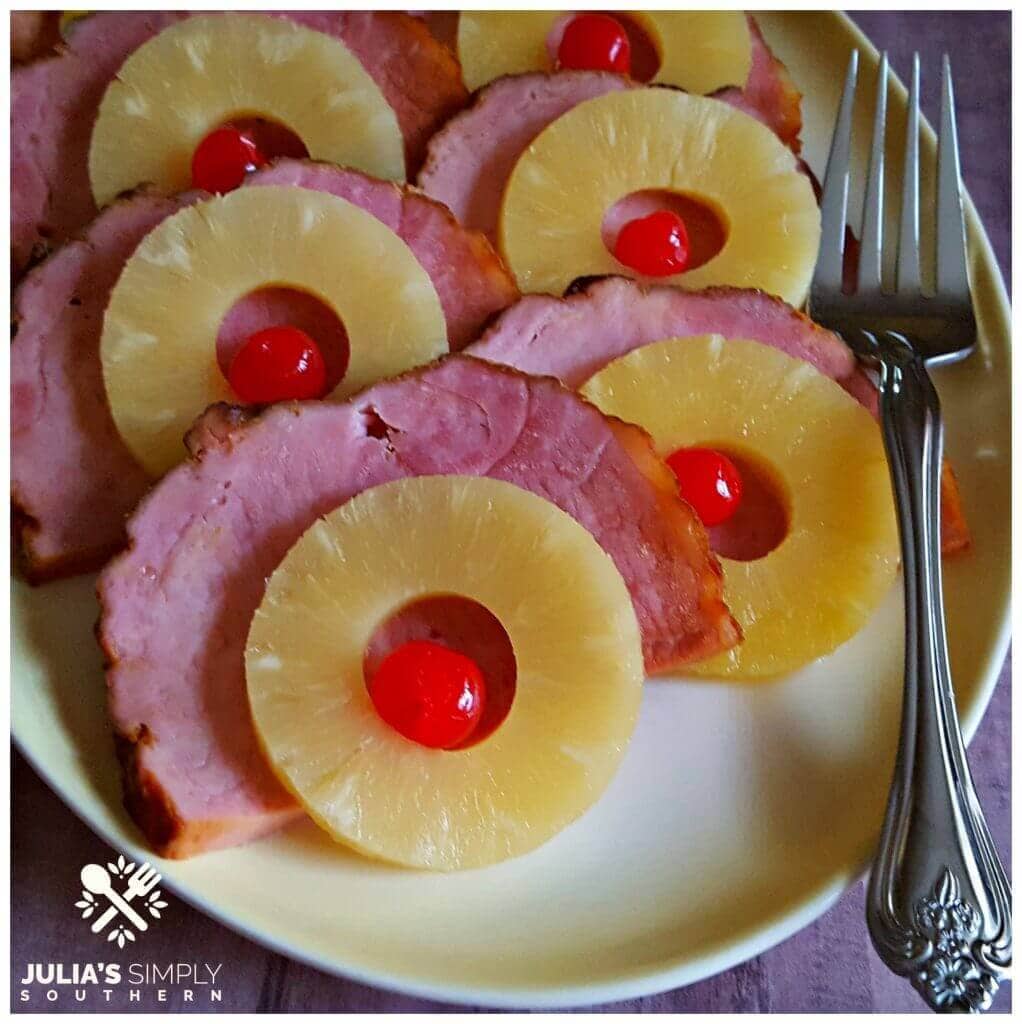 Thanks so much for stopping by! I'm so happy that you did. I know that you'll love this delicious recipe just as much as we do.
Be sure to subscribe to my email list so that you never miss my latest recipes and news here on the blog. I'll send you a weekly newsletter to keep you up to date.
You can also follow me on Facebook, Twitter, Instagram and Pinterest. Come be social y'all! I'll see you there.
Meet Julia
Author of Julia's Simply Southern
Hey Y'all! I'm Julia, the cook and writer behind the recipes here at Julia's Simply Southern. I began my website so that I could share easy to follow recipes that anyone can use to put a home cooked meal on the dinner table. Thanks so much for stopping by!
Follow me on Facebook | Twitter | Instagram | Pinterest | YouTube