In this post I am sharing an easy recipe for Homemade Sloppy Joes. This sloppy joe sauce is amazing y'all and you'll never want to buy another can of sauce at the store.
Seriously, y'all are gonna love these homemade sloppy Joes! The loose meat mixture is so flavorful and delicious. I know that this will become a favorite in your family dinner rotation.
I grew up with my mother making sloppy Joes with a can of Manwich and I just never thought it was that good. Fast forward several years to after I am married and cooking for my family and I decide to give that canned sauce a try. Meh! I still wasn't impressed with it at all.
Sloppy Joes are a popular meal though and eating them is fun and delicious. So, what do you do when you don't like the store bought stuff? Make your own homemade version of course. Best of all, it is so easy and tastes a whole lot better.
Why you'll love this homemade sloppy Joe recipe? It's an easy dinner made with ingredients that you know your family will enjoy and the flavor is out of this world.
Best Sloppy Joes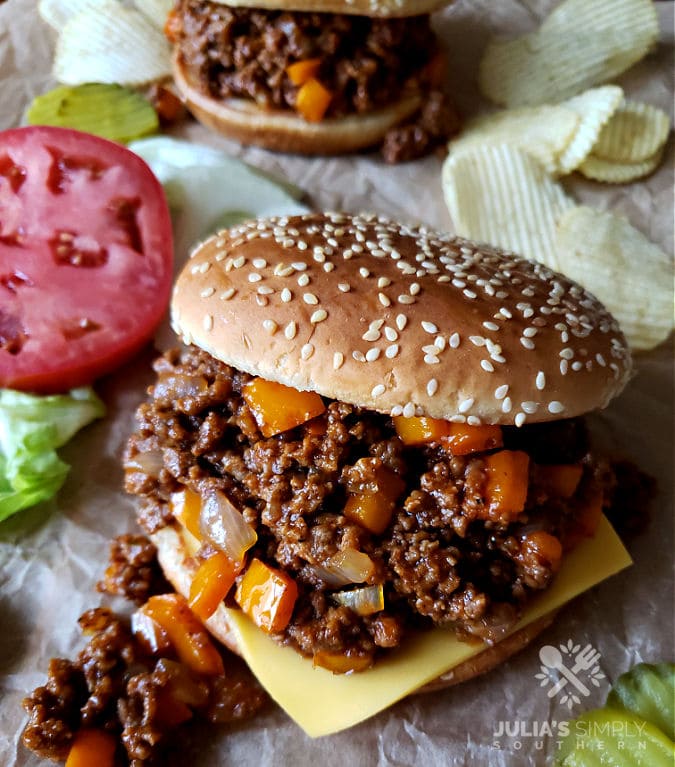 What is a Sloppy Joe? I think that most of us have probably had a sloppy Joe at some point in our life. It's a loose meat sandwich, usually made with minced ground beef, in a sweet and savory sauce. The meat sauce is served on hamburger buns.
These days ground pork, ground chicken or ground turkey are also popular options if you prefer them over beef.
Who invented Sloppy Joes? As the story goes, a cook named Joe who worked in a café in Sioux City Iowa during the 1930's gets the credit. He added tomato sauce to the loose meat sandwich mixture that the café served and the Sloppy Joes were born. Thanks Joe!
Loose Meat Sandwiches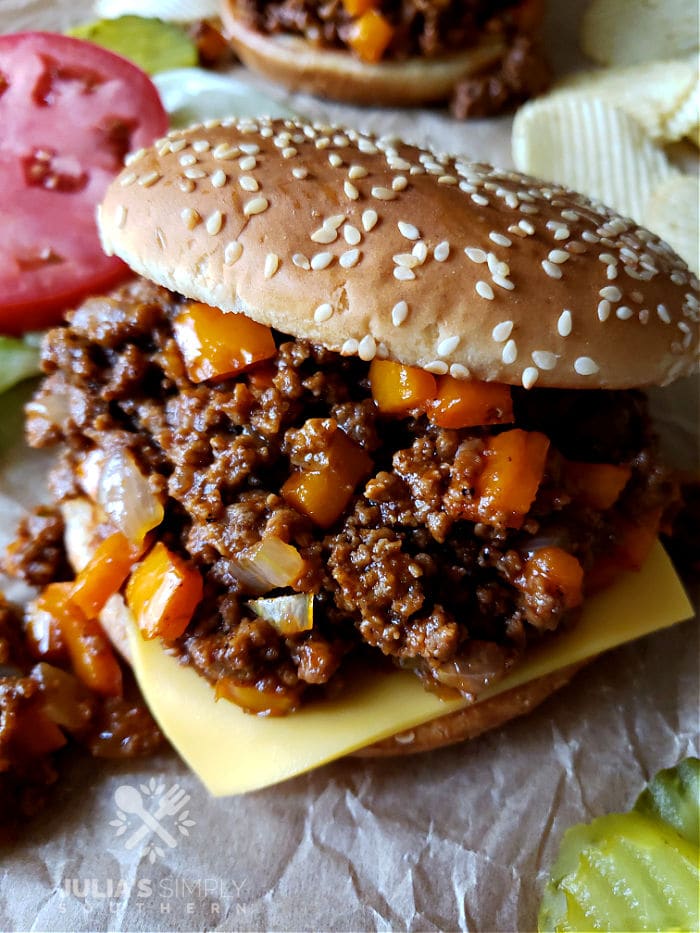 You may have noticed the orange bell peppers in my sloppy Joe meat mixture and maybe even thought they were carrots.
Green bell peppers are what you'd typically find used but when I was shopping for ingredients the green peppers were all wrinkly and soft. Ugh! There was no way I was gonna pay good money for some old wrinkled green bell peppers.
The orange ones were beautiful so that is what I chose. It really doesn't matter what color of bell pepper you pick though. They will all work just fine in this recipe.
What to Put In Sloppy Joes?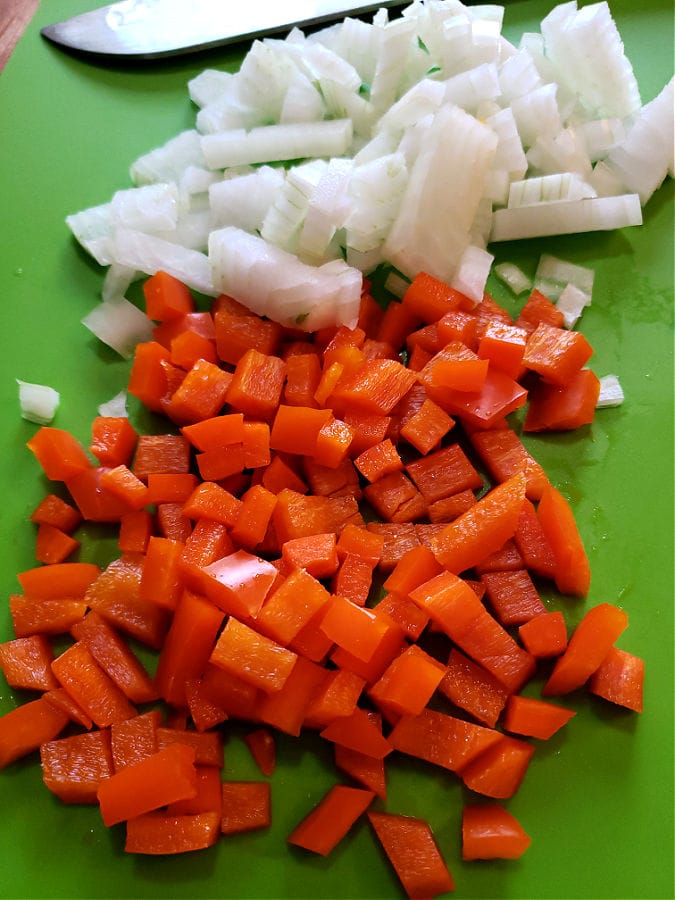 What do you need to make homemade Sloppy Joes?
Ground Beef – the loose minced meat is the foundation of this popular sandwich and budget friendly too.
Bell Pepper – bell peppers add delicious flavor to meals and work well in this recipe. If you don't care for cooked bell peppers then just leave them out.
Onion – onions add a lot of flavor to the sloppy Joe meat filling. Onions are a staple for flavor in a majority of recipes and I recommend keeping some on hand at all times for meal preparation. If you truly don't like onion or you have a child that will have a melt down if they catch glimpse of it in the meat sauce then just leave it out.
Seasonings – kosher salt, black pepper, onion powder, chili powder and garlic powder all play a part in creating the most flavorful meat filling for your sandwiches.
Brown Sugar – adds the delicious sweet balance to the sloppy Joe sauce.
Sauces – ketchup, tomato paste, Worcestershire sauce, prepared yellow mustard and bold steak sauce all add flavor and give the meat mixture the creamy sauce that acts as a glue to sort of hold the loose meat together (to a certain point anyways.
Sloppy Joes are supposed to be sloppy after all so have plenty of napkins close by when you enjoy this tasty meal.
You'll also need hamburger buns to serve the sloppy Joe meat sauce on as well as any toppings or condiments that you might enjoy on your sloppy Joe sandwich.
Toppings for Sloppy Joes
Hubs grew up eating sloppy Joes with a little mayonnaise and a slice of cheese so that is how we tend to do it now. You can also dress up your sloppy loose meat sandwich with other toppings that you enjoy. Almost like dressing a burger.
Topping Ideas
Lettuce
Tomato
Sliced Onion
Pickles
Cheese
Mayonnaise
Mustard
Ketchup
How to Cook Ground Beef for Sloppy Joes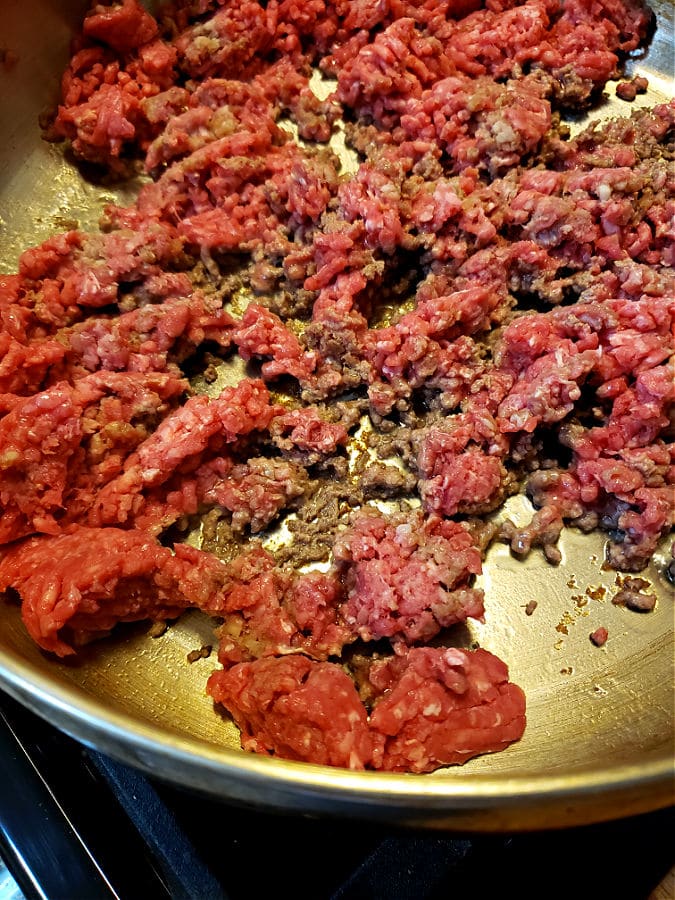 I prefer to use ground Chuck, which is an 80/20 ground beef blend. The fat adds flavor to the meat and keeps it from being dry after cooking.
Add the ground beef to a hot large skillet and break it apart while stirring until it is browned and cooked through.
A Family Meal that Everyone will Love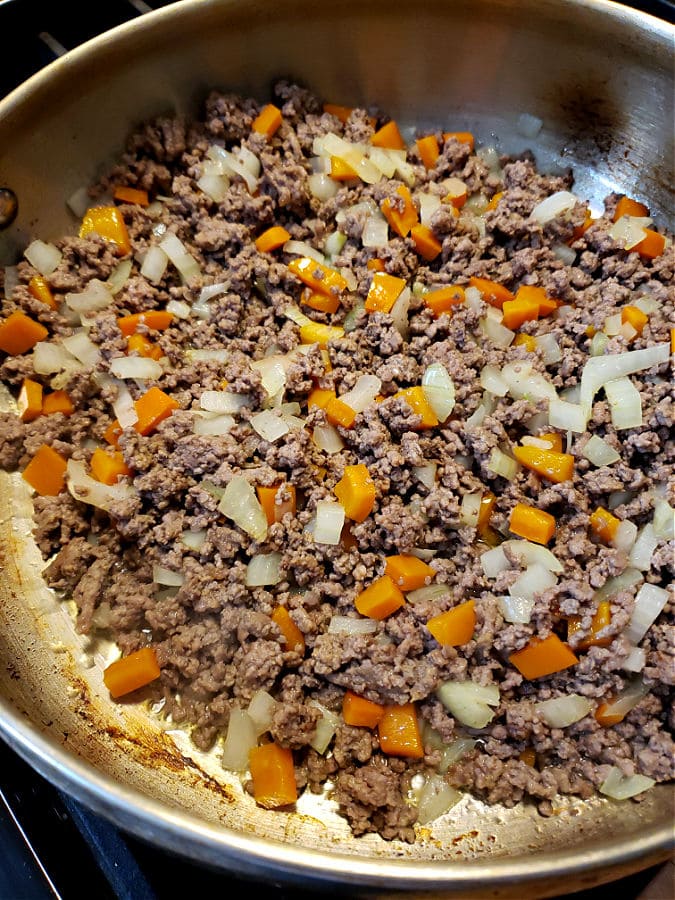 Next, after the ground beef has cooked until no longer pink add the diced bell pepper and onion. Stir to combine everything together and sauté until the peppers and onions are tender.
If you like a slight crunch to your vegetables then it will not take long. If you prefer very tender veggies then cook it a little bit longer until they are just how you like them.
Sloppy Joe Recipe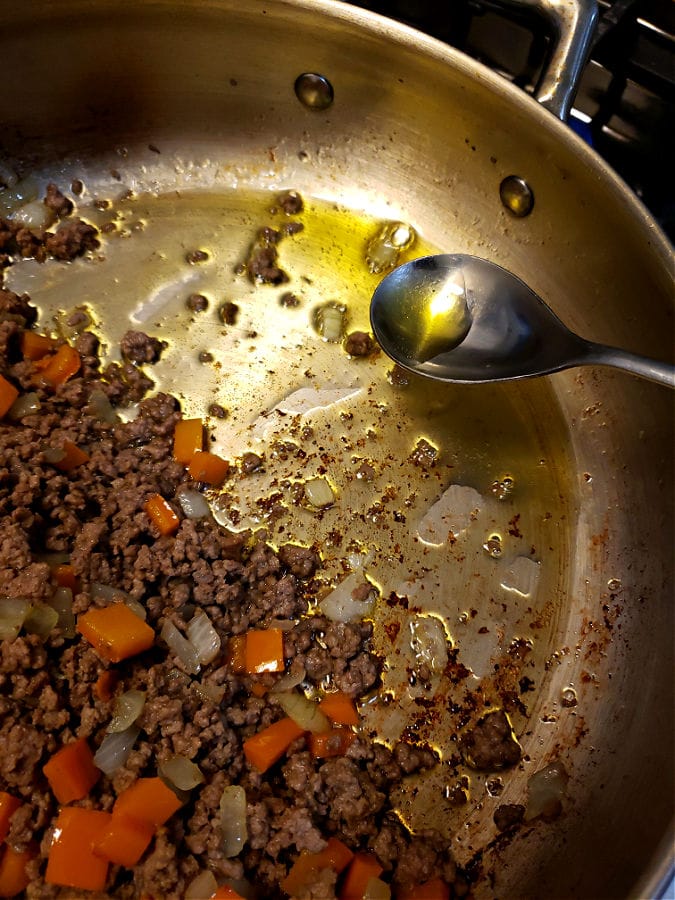 The beef will render off some fat during cooking and you will want to remove that excess grease from your pan before adding the remaining ingredients.
There are fat separator tools that can be used for this task but I find it easy just to use a spoon to remove the grease from the pan.
Tip for disposing of cooking grease: Keep a glass pickle jar with a lid close by to add pan grease that you want to discard. Keep it handy until the jar is full then discard with your household trash.
Sloppy Joe Sauce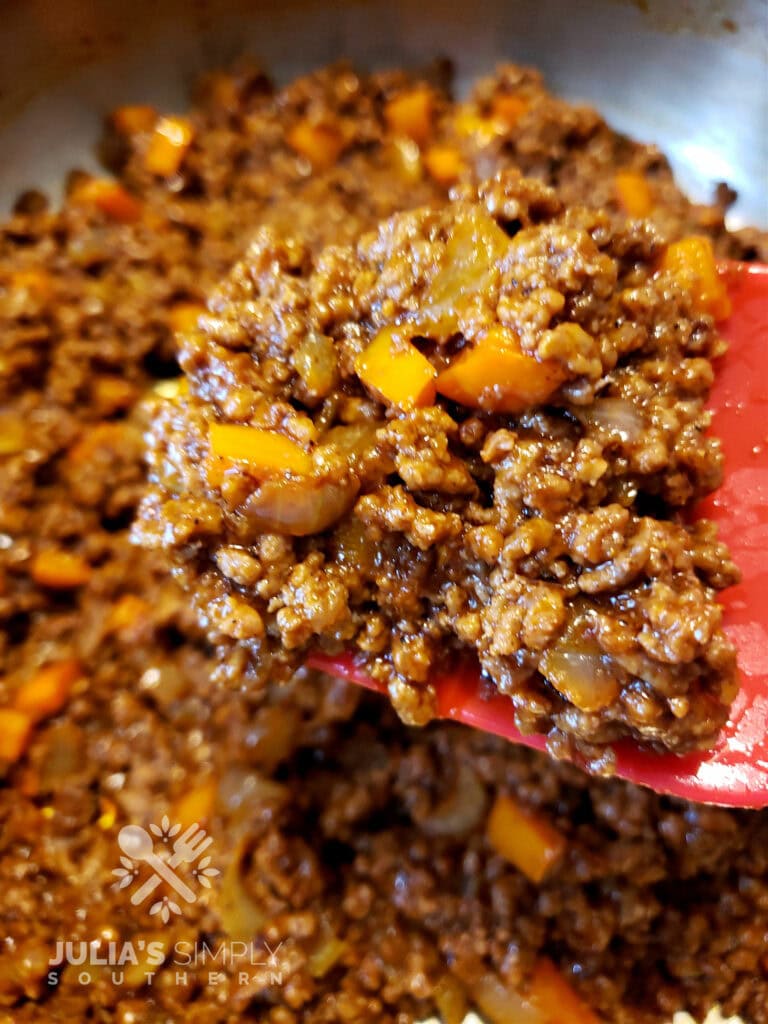 Things are about to get real good y'all! It's time to season and sauce this meat mixture up now for the best sloppy Joes that you ever put in your mouth.
Go ahead and add the seasonings and brown sugar to the skillet and stir to combine everything together. Next, add the remaining ingredients and stir to combine. Allow to simmer for another minute or two until the sloppy meat mixture has thickened and looks creamy.
To serve it up just add some of your delicious homemade sloppy Joe sauce to a hamburger bun and enjoy. To make your sloppy Joes even more special, toast the buns.
Below you will find a printable recipe card with all of the details.
Best Sloppy Joes Ever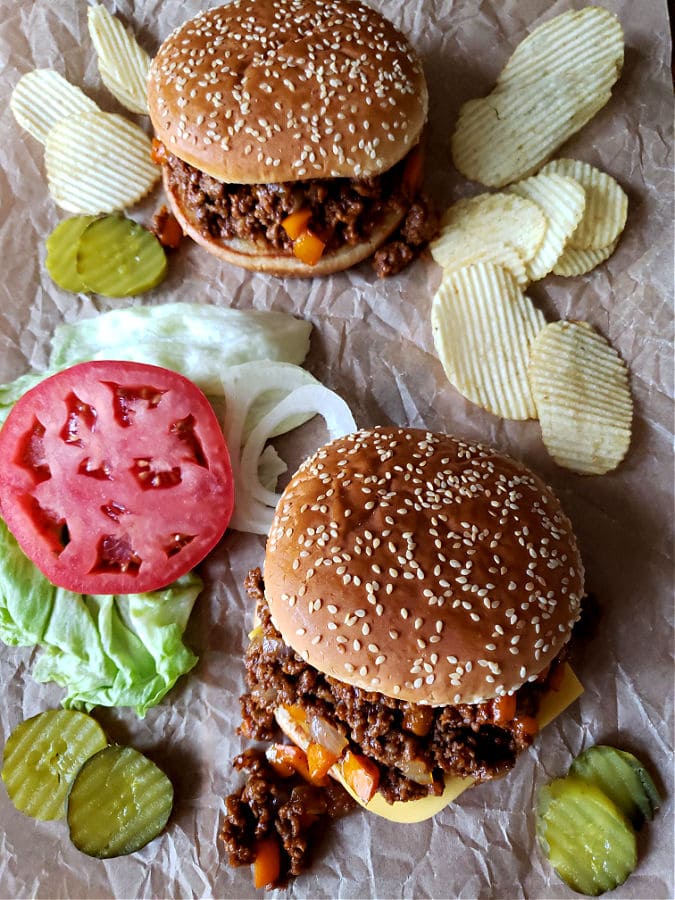 Yield: 1.5 pound of meat sauce
Homemade Sloppy Joes Recipe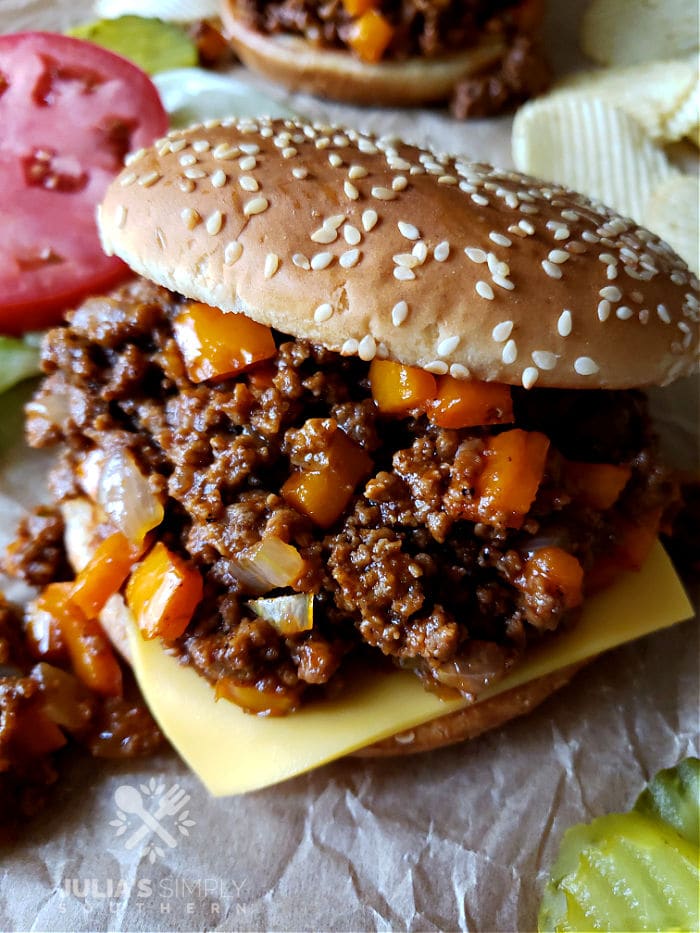 There's nothing like the amazing sweet and savory flavor of homemade sloppy Joe sauce on hamburger buns for the best loose meat sandwiches ever. Your family will love this easy meal.
Ingredients
Homemade Sloppy Joe Sauce
1½ pounds of Ground Beef (80/20 blend)
1 Yellow Onion, peeled and diced
1 Bell Pepper, diced
1½ teaspoon of Kosher Salt
1 teaspoon of Ground Black Pepper
1 teaspoon of Onion Powder
1 teaspoon of Chile Powder (I use the McCormick brand)
½ teaspoon Garlic Powder
2 tablespoons of Brown Sugar (light or dark)
¾ cup of Ketchup
2 tablespoons of Tomato Paste
1 tablespoon of Worcestershire Sauce (see notes)
½ tablespoon of Yellow Mustard
½ tablespoon of Bold Steak Sauce (I used Lea & Perrins)
Other
Hamburger Buns
Favorite Toppings and Condiments (optional)
Sliced Cheese (optional)
Instructions
Begin by adding the ground beef to a hot skillet over medium heat and crumble to mince and break apart while stirring to brown and cook until there is no more pink.
Next, add the diced bell pepper and onion and continue to sauté until the vegetables are tender as desired.
Remove the grease that rendered from the meat cooking and discard.
Next, add the seasonings (salt, pepper, onion powder, chili powder, garlic powder) and brown sugar and stir to combine with the meat mixture then add the sauces (ketchup, tomato paste, Worcestershire, mustard and bold steak sauce); stir to combine and bring to a simmer.
Portion the loose meat mixture onto hamburger buns and serve.
Notes
Make sloppy Joes even more delicious by toasting the buns.
Some folks are more sensitive to the bold taste of Worcestershire. If you fall under that category then just use less for your recipe.
Recommended Products
As an Amazon Associate and member of other affiliate programs, I earn from qualifying purchases.
Nutrition Information:
Yield:
6
Serving Size:
1
Amount Per Serving:
Calories:

416
Total Fat:

22g
Saturated Fat:

8g
Trans Fat:

1g
Unsaturated Fat:

10g
Cholesterol:

104mg
Sodium:

766mg
Carbohydrates:

22g
Fiber:

1g
Sugar:

13g
Protein:

33g
What to Serve with Sloppy Joes?
Potato Chips – chips are always a great option to serve with most sandwiches
Potato Salad – tater salad is a classic favorite and perfect to serve alongside your homemade sloppy Joes.
Marinated Cucumber Salad – a great make ahead side that is served cold from the refrigerator.
Crunchy Broccoli Salad – a delicious side with broccoli, grapes and pecans in a sweet tangy dressing.
French Fries – another favorite side to serve with sandwiches that most people enjoy.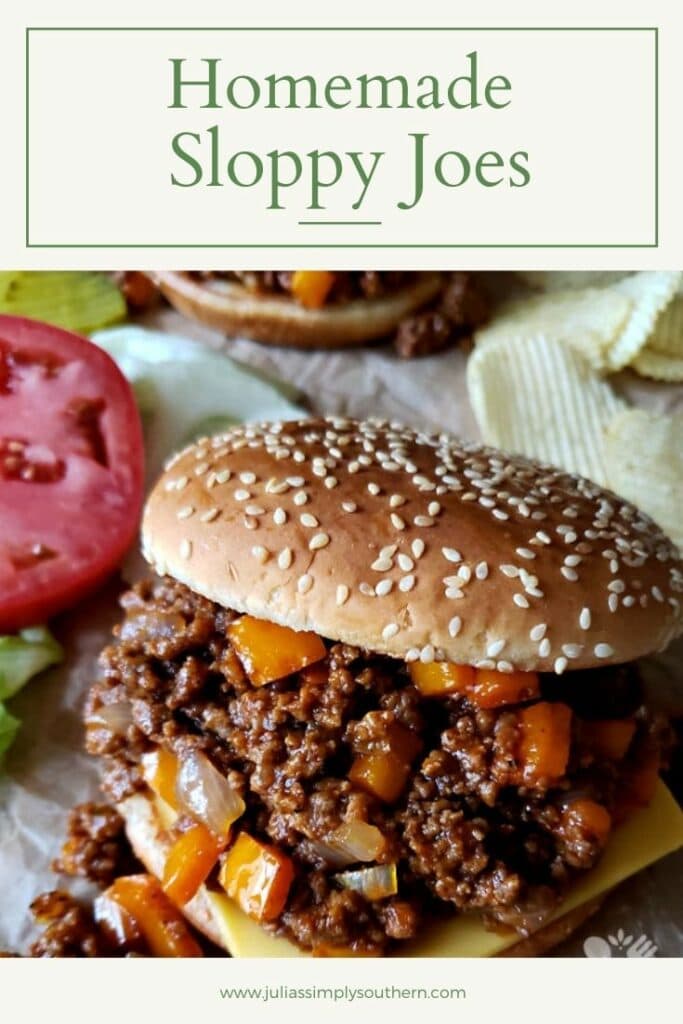 Check out the Latest Sides on the Blog
If you love beefy sandwiches then you might also enjoy this Pepper Jack Steak Sandwiches Recipe from my friend Norine's Nest.
The Latest Recipes in case you missed them
Thank you so much for stopping by! I am so glad that you did. I know that you'll love this homemade sloppy Joe recipe just as much as we do.
Be sure to subscribe to my email list while you are here. Subscribers receive a weekly newsletter from me delivered straight to your inbox with the latest recipes and news here on the blog so that you never miss a thing. You can also join me and follow along on my social media channels.
Meet Julia
Author of Julia's Simply Southern
Hey Y'all! I'm Julia, the cook and writer behind the recipes here at Julia's Simply Southern. I began my website so that I could share easy to follow recipes that anyone can use to put a home cooked meal on the dinner table. Thanks so much for stopping by!
Follow me on Facebook | Twitter | Instagram | Pinterest | YouTube