In this post I'll be sharing an easy and flavorful Canned Green Beans Recipe.
What to do with canned green beans? Well, the answer is simple. Cook them up just like granny did! Stewing green beans with some good seasoning meat will add so much flavor to green beans that come out of a can.
Granny used to say that we were "doctoring them up". I make them just like she used to and everybody loves these tasty green beans.
Mr. J. LOVES green beans! It is seriously the most requested side at our house. I don't mind one bit either because this canned green beans recipe is so easy.
He almost always orders green beans when we eat out and is always disappointed that they don't taste like the way that I make them. In case you are wondering, I do laugh every time he orders them at a restaurant because I know the outcome.
You would expect a restaurant that serves up Southern style food to make good green beans but most of the time it tastes like they just dumped it out of the can and warmed it up. That is not how it is done!
Once you get the hang of making them the right way, you will never turn back. They turn out delicious every time!
Southern Style Green Beans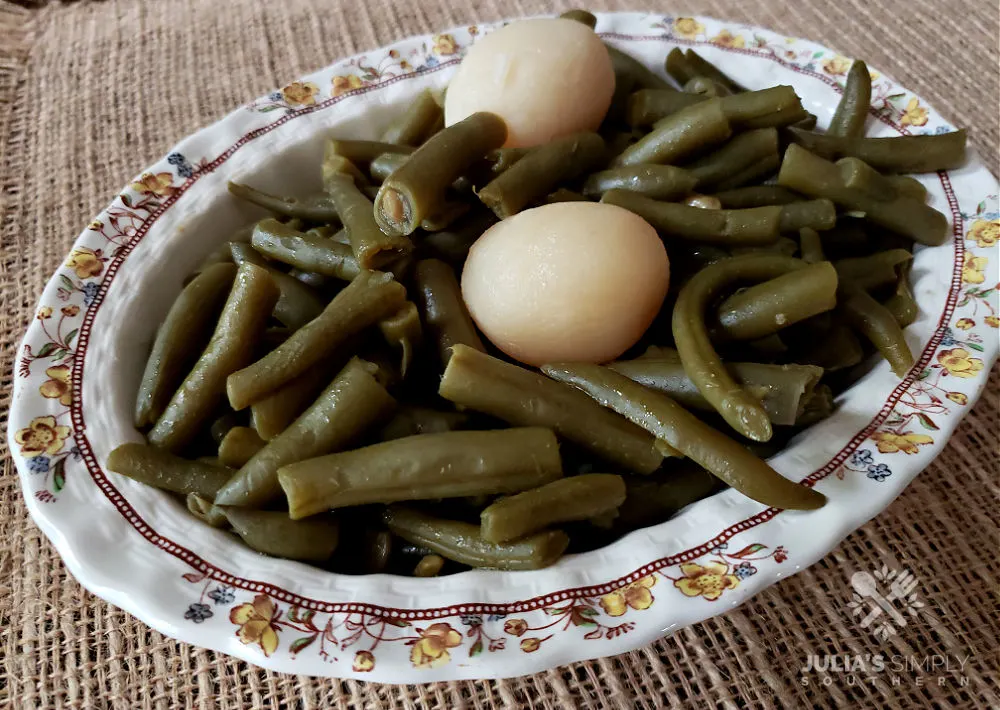 There is nothing like good ole Southern green beans as a side to a down home cooked meal. Sometimes I like to add in a can of the small whole potatoes and make it a two for one side.
You can bet that if I'm serving up fried chicken, country style steak or a holiday feast that green beans will be on our dinner menu.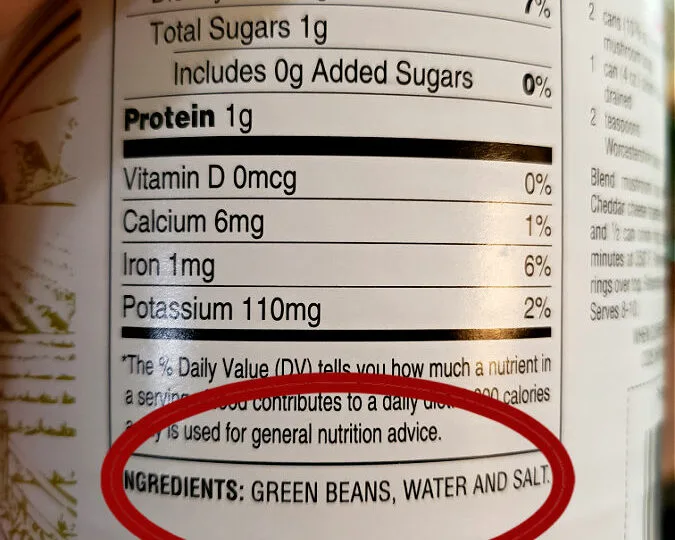 Why use canned green beans?
Are canned green beans okay to eat? Well, depending on the brand that you choose, they are canned with just the green beans, water and salt. Besides the convenience factor, that is why I don't have a problem with store bought green beans.
They are canned just like I would can green beans from my own garden with the water and salt. I appreciate that there are no extra ingredients like flavor protectors and stuff in a can of green beans.
A lot of folks wonder if canned green beans are healthy due to the salt content when canning. The salt is essential is food preservation and you'll give the beans a good rinse anyways.
Green Beans with Potatoes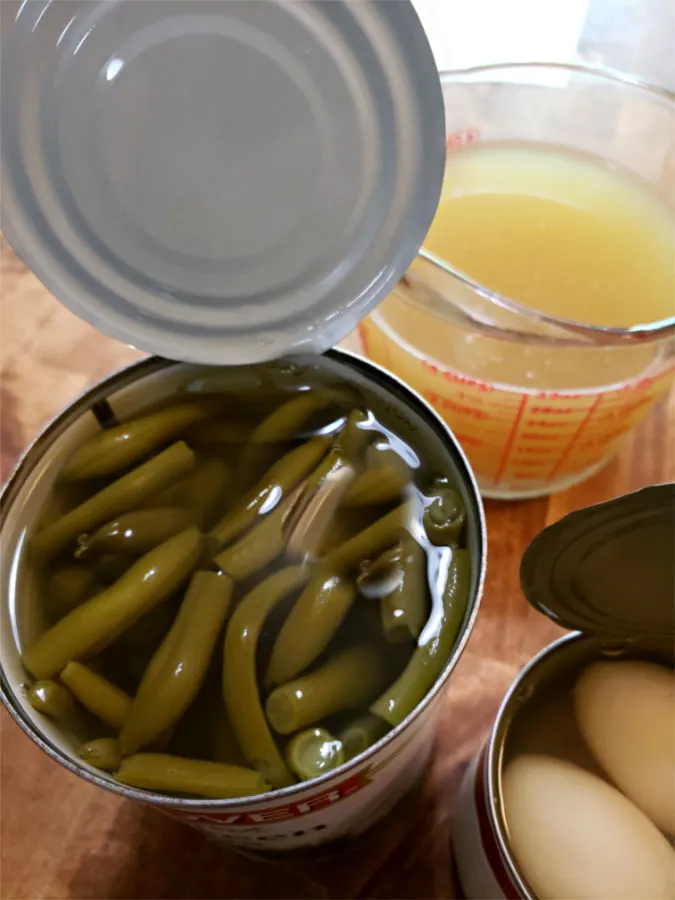 My favorite brand of choice for green beans is Hanover. Particularly the Blue Lake cut green beans. The can is lined with a food grade epoxy that prevents corrosion and protects flavor. You can easily find Hanover green beans at your local grocery store, Wal Mart or online at Amazon.
I really cannot tell you if it is really by my own choice to use this brand or if it is just instilled in my soul from all of the Southern cooks in my family that will only use this particular brand.
How to Make Canned Green Beans Taste Better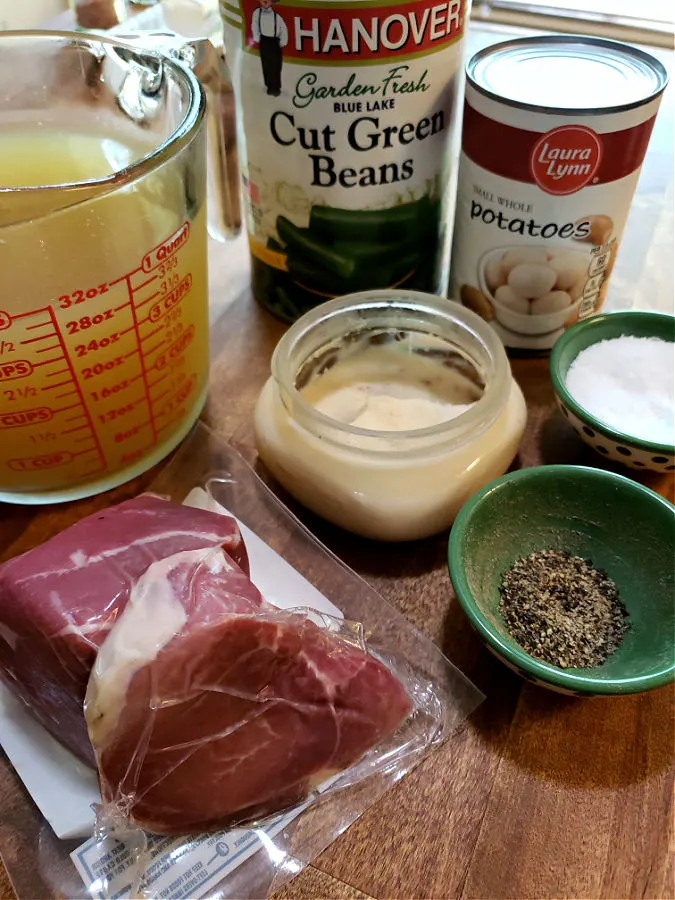 Let's talk about what you will need to make the best green beans ever!
Canned Green Beans – use a good quality canned bean and pay attention to the ingredients listed on the can and go with an all natural selection. No one is paying me to say so but I do recommend the Hanover garden fresh Blue Lake cut green beans.
Chicken Stock – stock is a wonderful opportunity to add additional flavor to recipes.
Seasoning Meat – is usually pork used to season, or add flavor, to recipes. I prefer using country ham seasoning chunks for cooking. A ham bone or bacon are also great options. A lot of folks also enjoy the flavor that a smoked turkey leg adds to savory recipes.
Bacon Grease – a little bacon grease adds additional flavor to canned green beans and is a staple in savory Southern dishes.
Garlic – adds flavor to the beans and broth.
Seasonings – salt, pepper and a little onion powder are my go to for green beans.
Potatoes – a can of small whole potatoes make a great addition to green beans but are completely optional.
Best Canned Green Beans Recipe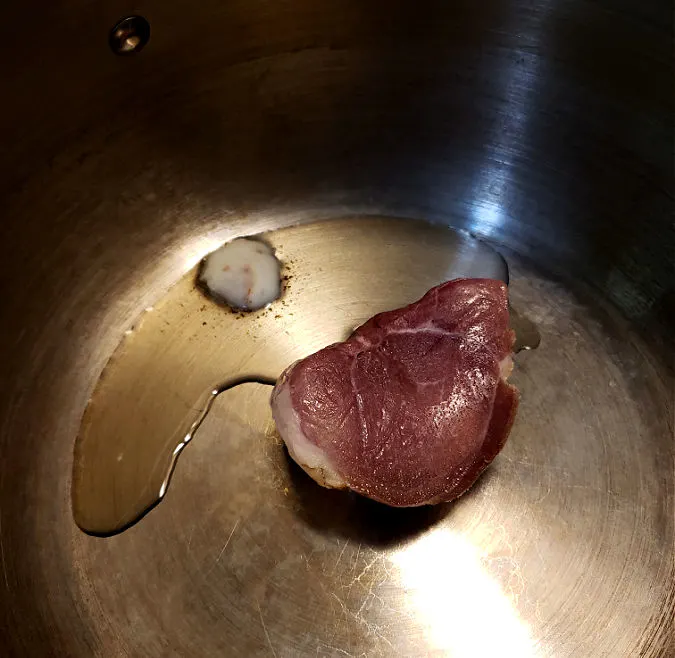 Begin by adding a little bacon grease to a stock pot or Dutch oven and heat over medium. Throw in the seasoning meat and allow it to start infusing flavor as well.
Once it is sizzling good then you'll know it is ready for the rest of the ingredients.
Easy and Flavorful Canned Green Beans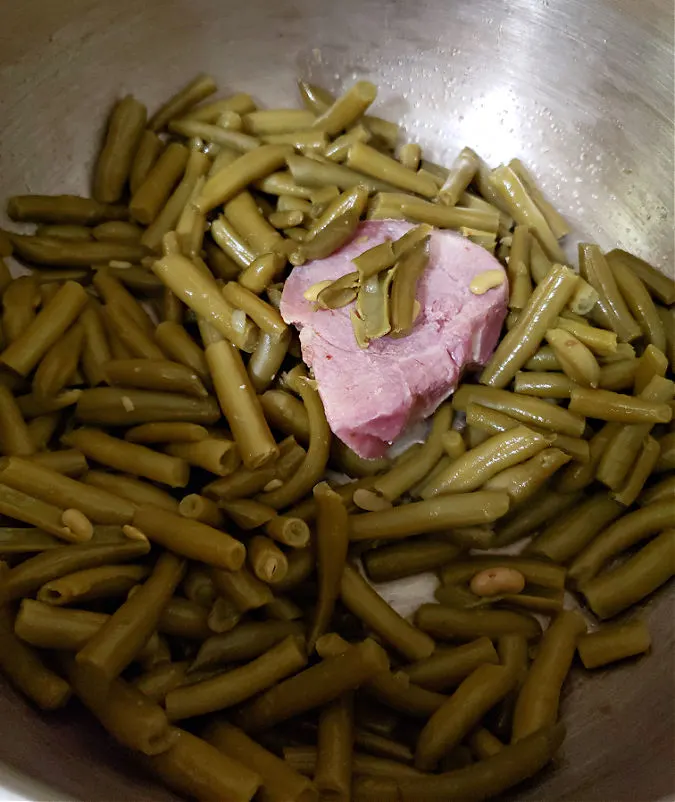 Next, be sure to drain the canned juices from the beans and fill with water and drain twice to rinse the beans then add them to the pot.
Give everything a stir to coat those beans with that flavorful bacon grease then add the chicken stock and seasonings. Stir to combine then cover and bring to a rolling boil.
Once the green beans are boiling, reduce the heat to a medium low setting and allow them to simmer. Green beans need to simmer at least two hours but I strongly believe that four hours is even better.
You may have heard old fashioned Southern style green beans referred to as "cooked to death" green beans and the long stewing process is why. We have lots of funny Southern sayings in the South to describe almost anything.
Green beans are a hardy vegetable however and holds up really well to the longer cooking times and you'll be rewarded with an amazing side dish for your meal.
Soul Food Green Beans and Potatoes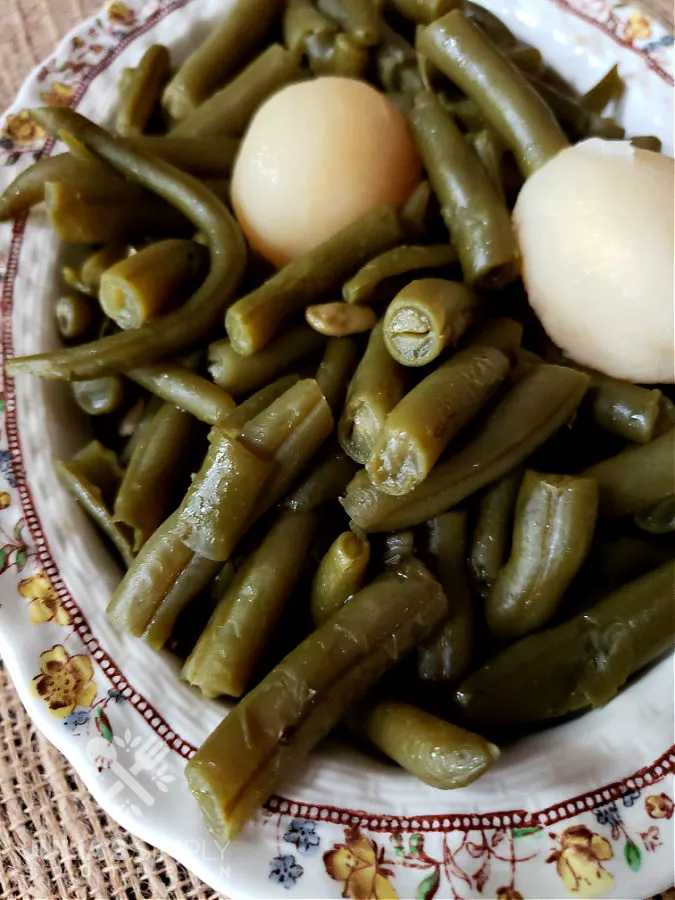 If you decide to add the small whole potatoes, wait until the last hour of cooking to add them to the beans.
How do canned green beans cooked Southern style taste? Delicious and savory! The beans are full of flavor and tender.
To serve the green beans, use a slotted spoon to remove the beans and potatoes from the cooking liquid and transfer to a serving bowl. Don't discard the cooking liquid! Set it aside to add to any leftover green beans that you might have before placing in the refrigerator.
To reheat leftover green beans, gently simmer on the stove top in the rich cooking liquid until hot.
Canned Green Beans Recipe
Yield: 1 Vegetable Side Dish
Canned Green Beans Recipe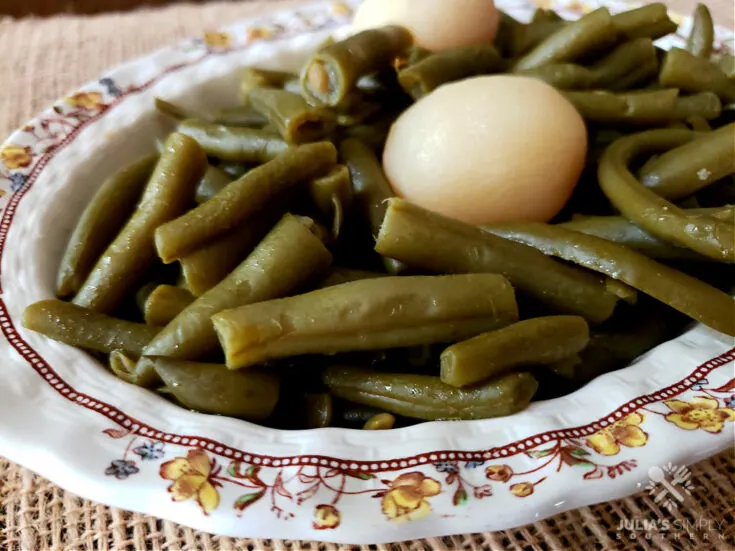 Canned green beans recipe that are cooked up long and slow Southern style with rich savory flavor make an amazing side dish for family meals.
Total Time
4 hours
5 minutes
Ingredients
½ tablespoon Bacon Grease
1 Country Ham Seasoning Chunk (or cooking bits)
38 ounce can Blue Lake Cut Green Beans, drained and rinsed (Hanover brand preferred)
15 ounce can Small Whole Potatoes, drained and rinsed
4 cups Chicken Stock (or 32 oz. carton)
2 cups of Water, if needed so beans are covered in liquid
1 teaspoon Kosher Salt
½ teaspoon Cracked Black Pepper
1 Clove of Garlic, peeled and left whole
½ teaspoon Onion Powder
Instructions
Melt the bacon fat in a stock pot over medium heat.
Next, add the seasoning meat and allow to sizzle a couple of minutes in the bacon grease.
Next, add the drained and rinsed green beans to the pot and stir to coat in the bacon fat then add the stock and enough water, if needed, so that the beans are just covered with liquid.
The next step is to season so add the whole peeled garlic clover, salt, pepper and onion powder and stir to combine.
Cover the pot with a lid and bring to a boil; reduce heat to medium low and simmer for 4 hours (or at least a minimum of 2 hours but longer is better).
If using the small whole potatoes, add them to the beans during the last hour of cooking.
When ready, transfer the green beans and potatoes to a serving dish and serve hot.
Recommended Products
As an Amazon Associate and member of other affiliate programs, I earn from qualifying purchases.
Nutrition Information:
Yield:
8
Serving Size:
1/2 cup
Amount Per Serving:
Calories:

169
Total Fat:

4g
Saturated Fat:

1g
Trans Fat:

0g
Unsaturated Fat:

2g
Cholesterol:

15mg
Sodium:

657mg
Carbohydrates:

26g
Fiber:

6g
Sugar:

10g
Protein:

11g
Crock Pot canned green beans recipe: if you would prefer to use a slow cooker then pre-heat your Crock Pot on the high setting then follow the regular recipe instructions. Once all of the ingredients are added reduce the heat to low and cover. Green beans in the slow cooker will take around 8 hours on the low setting.
Instant Pot Canned Green Beans Recipe: If you prefer to cook the green beans in your Instant Pot or pressure cooker, follow any manufacturer directions as needed and melt the bacon fat, then add the seasoning meat and remaining ingredients. Pressure cook for 10 minutes then natural release a few minutes before releasing pressure. Follow all safety guidelines when using a pressure cooker.
What to do with canned green beans? If you're looking for other ways to use canned green beans, they may be rinsed and used straight from the can as an ingredients in salads, like a classic 3 Bean Salad, or a topper on a garden salad.
Fresh Green Beans Recipe: If you have a few fresh green beans from the garden, they can be combined with canned green beans for cooking or make an entire batch using fresh by following the same recipe instructions after prepping the fresh beans.
Try Simple Skillet Green Beans from Healthy Seasonal Recipes
A Walk Down Memory Lane
Some of my best childhood memories are sitting on the front porch with grandparents, aunts and uncles and stringing beans. Everyone grew their own food back then and there was just as much joy sitting around and talking while prepping as there was enjoying the meals.
Canned French Green Beans Recipe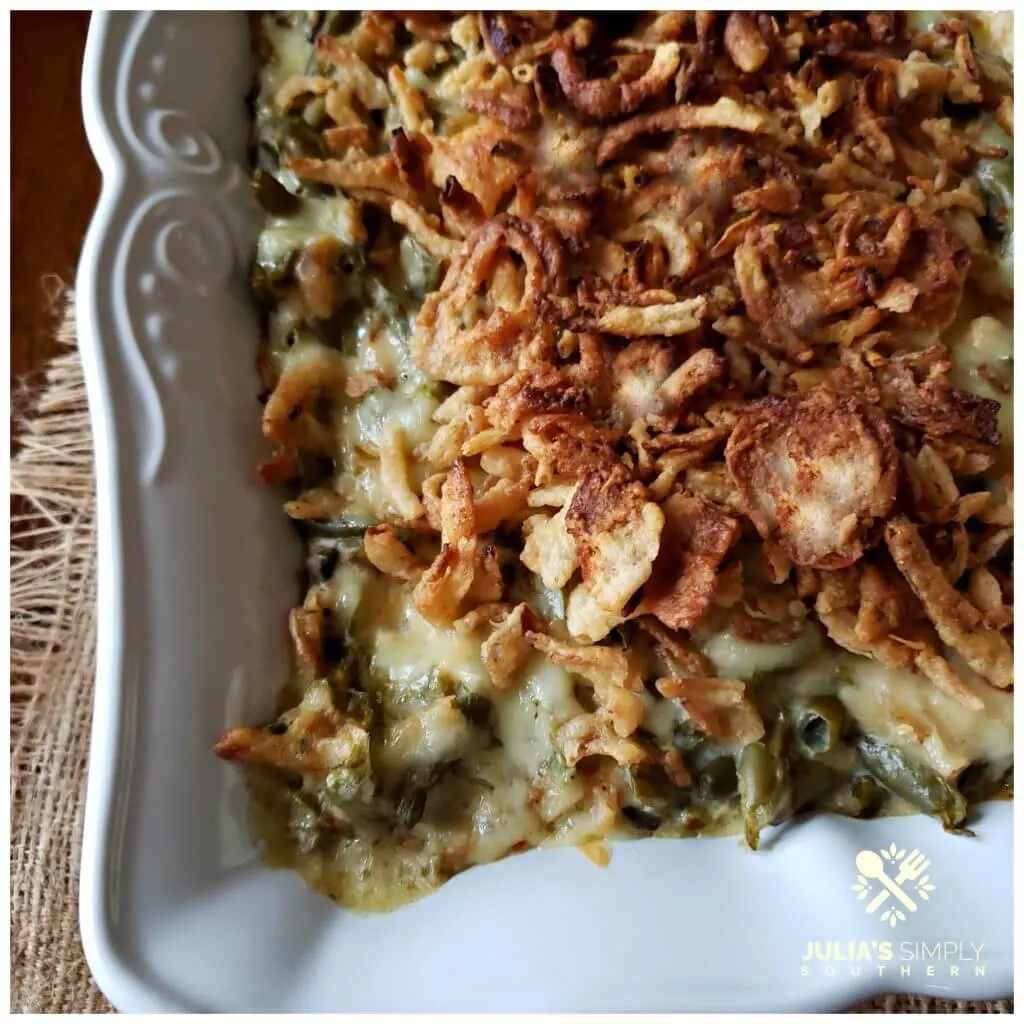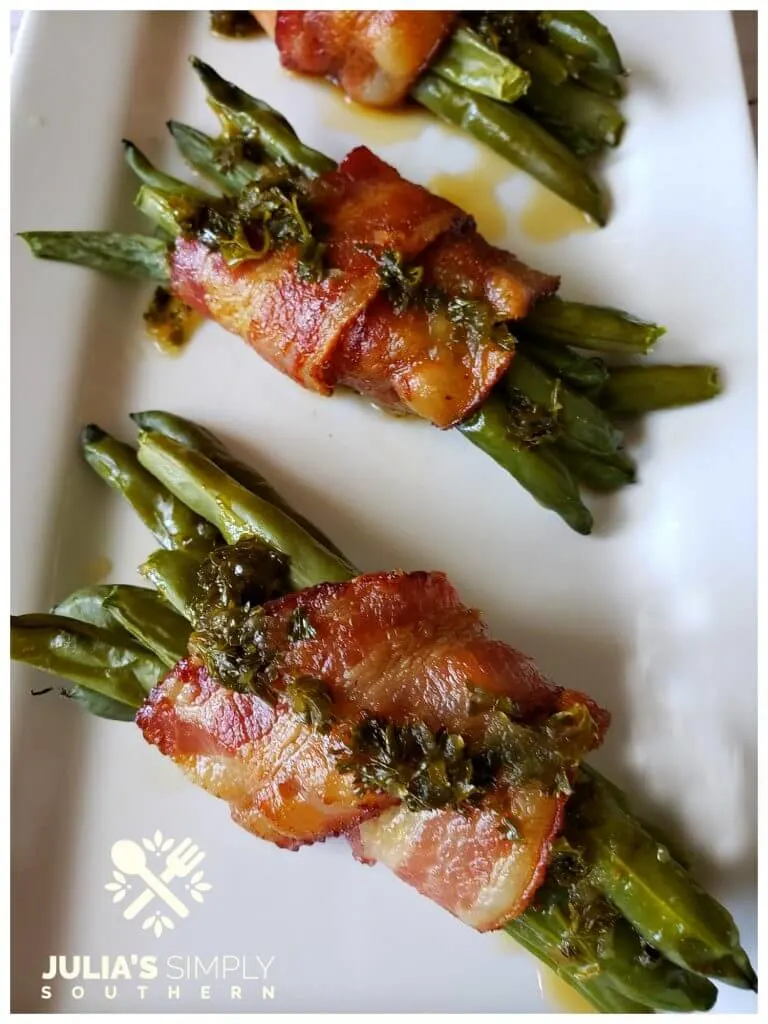 Check out the Latest Recipes
Thank you so much for stopping by! I am so glad that you did. I hope that you enjoy a side of delicious green beans with your meal soon.
Be sure to subscribe to my email list while you are here. Subscribers receive a weekly newsletter from me with the latest recipes and news here on the blog so that you never miss a thing.
Meet Julia
Author of Julia's Simply Southern
Hey Y'all! I'm Julia, the cook and writer behind the recipes here at Julia's Simply Southern. I began my website so that I could share easy to follow recipes that anyone can use to put a home cooked meal on the dinner table. Thanks so much for stopping by!
Follow me on Facebook | Twitter | Instagram | Pinterest | YouTube