In this post I'll be sharing some tasty Dinner Ideas with Canned Chicken and easy recipes to help you put a delicious meal on the table.
Hey y'all! Welcome to my kitchen, where we're fixing to whip up some delicious dinner ideas with canned chicken!
Now, I know some folks might turn up their noses at the idea of using canned chicken (my husband might be one of them), but let me tell you, it's a real time-saver and a pantry staple that can save the day when hunger strikes!
From creamy casseroles to zesty salads and everything in between, I've got some mouthwatering recipes that'll make your taste buds happy and your belly full.
So, grab that can opener and get ready to experience some scrumptious dinner-time comfort in every bite! Let's get cookin', y'all!
Easy Canned Chicken Recipes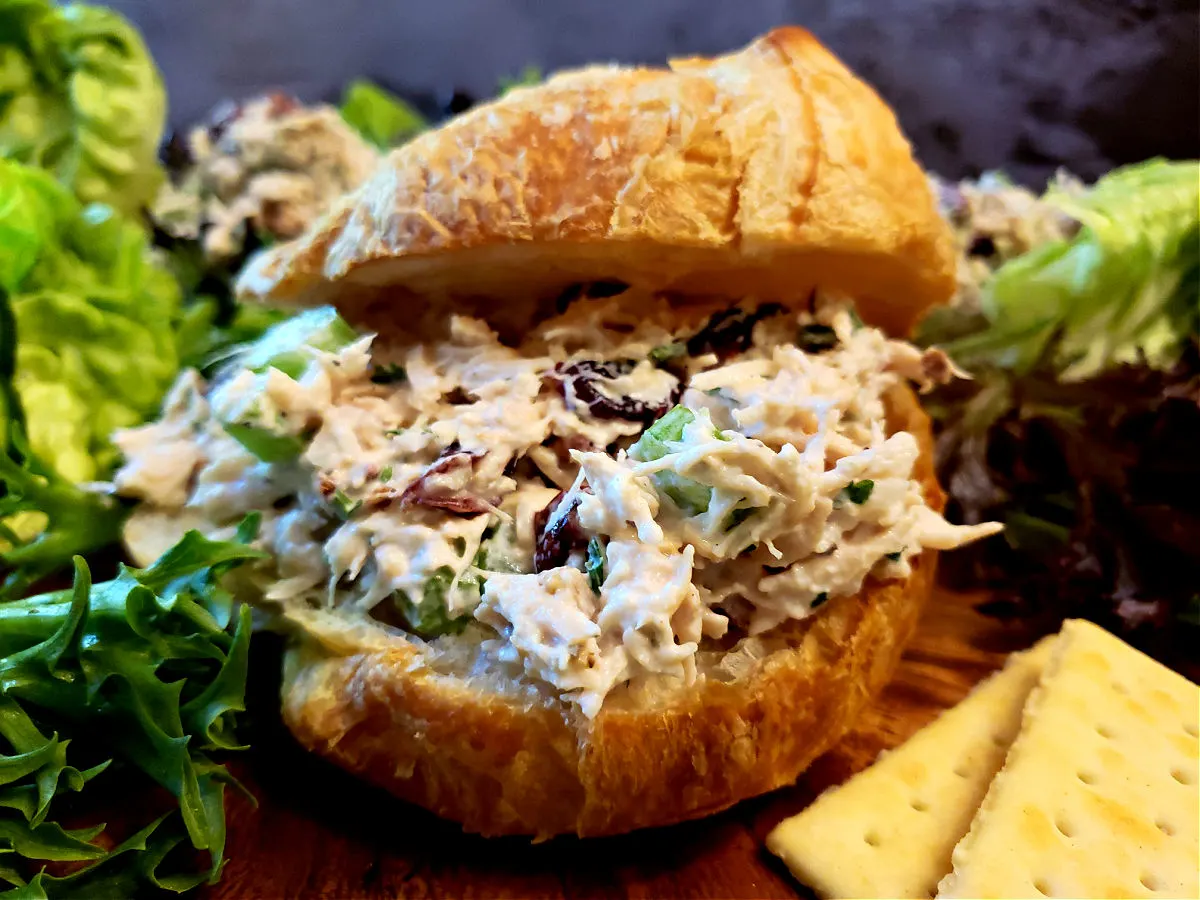 Probably one of the most obvious quick meal ideas would be to make up a batch of creamy chicken salad using canned chicken.
My simple recipe uses just a few ingredients to make up a delicious meal when serving the chicken salad as a sandwich spread, with crackers, or on a salad.
It's a great idea to keep some shelf stable pantry staples on hand. That not only means vegetables, but canned meats also. There are so many wonderful dishes to be made with canned chicken.
A few ideas off the top of my head using canned chicken include: buffalo chicken dip, chicken noodle soup, ranch chicken cheese dip, salsa ranch chicken wrap, avocado chicken salad, chicken pot pie casserole, chicken tacos, or warm the canned chicken in some gravy and serve over cornbread dressing.
Delicious Dinner Ideas using Canned Chicken Breast
So, you might be wondering what you can have with all of these wonderful dishes that are made with canned chicken.
What to Serve with Canned Chicken Dinner Recipes?
When serving canned chicken dinner recipes, you'll want some tasty and complementary side dishes to complete the meal. Here are a few ideas to pair with your canned chicken creations:
Southern-Style Cornbread: A classic choice that goes perfectly with many canned chicken dishes, especially if you're making comfort food like chicken pot pie or chicken casserole. You can even using that cornbread and transform it into cornbread dressing for a taste of the holidays.
Garden Salad: A refreshing and healthy option to balance out the meal. Toss together some fresh greens, cherry tomatoes, cucumber slices, and homemade buttermilk ranch dressing.
Coleslaw: The crunchy and tangy nature of coleslaw can add a nice contrast to heartier canned chicken recipes.
Fruit Salad: A refreshing and sweet side dish that complements the savory flavors of canned chicken. Use seasonal fruits for the best taste.
Garlic Mashed Potatoes: Creamy mashed potatoes are a great side for almost any chicken dish. The garlic adds a flavorful twist that complements the chicken well.
To name a few more: steamed veggies, macaroni and cheese, rice pilaf or cooked white rice with gravy, or corn on the cob.
Feel free to mix and match these sides based on your preferences and the specific canned chicken recipe you're preparing.
With these accompaniments, your canned chicken dinner will be a complete and satisfying meal for everyone to enjoy!
More Recipes made with Canned Chicken for an Easy Dinner
Dinner Ideas with Canned Chicken
A delicious list of easy dinner ideas with canned chicken. Canned chicken is a wonderful shelf stable pantry staple to keep on hand, just as you would canned tuna. Canned chicken can be used in many wonderful recipes to help you put a delicious meal on the dinner table.
Popular Recipes on the Blog
The Latest Recipe Posts
Thank you so much for stopping by! I am so glad that you did!
In conclusion, using canned chicken for easy meals is a game-changer in the kitchen!
It opens up a world of quick and convenient possibilities without sacrificing flavor. From weeknight dinners to impromptu gatherings, canned chicken proves to be a reliable pantry staple, saving both time and effort.
So, next time you find yourself in a pinch, don't hesitate to reach for that trusty can. With a dash of creativity and a sprinkle of love, you can create scrumptious dishes that will leave everyone asking for seconds.
Don't forget to add a few cans of canned chicken to your cart the next time you're shopping at your local grocery store, Walmart, or Costco!
Before you go, be sure to subscribe to my email. Email subsribers receive a weekly e-newsletter from yours truly with all of the latest recipes and news here on the blog. It is delivered straight to your inbox so that you never miss a thing.
Happy cooking and may your canned chicken adventures be filled with deliciousness and joy!
Meet Julia
Author of Julia's Simply Southern
Hey Y'all! I'm Julia, the cook and writer behind the recipes here at Julia's Simply Southern. I began my website so that I could share easy to follow recipes that anyone can use to put a home cooked meal on the dinner table. Thanks so much for stopping by!
Follow me on Facebook | Twitter | Instagram | Pinterest | YouTube