In this recipe I'm sharing how to make Southwest Chicken Stuffed Poblano Peppers.

Summer is one of my favorite times of the year because that means fresh produce in abundance at our local farmer's markets.
Each week it thrills me to find good deals on locally grown food to prepare for my family or to preserve for the months ahead.
On one of my market trips I saw the most beautiful baskets of poblano peppers. The basket I chose had seven large poblanos in it for just two bucks. So I bought it having no idea what on earth I would do with these peppers.
It wasn't long before inspiration hit me and I knew exactly what I would make…stuffed peppers. Not the traditional stuffed peppers though, a Southwest Chicken stuffing.
I was excited to prepare this meal because it would be the first time I've worked with poblano peppers and I could also incorporate some of the fresh corn I'd cut off of the cob and froze just the week before.
Best Stuffed Poblano Peppers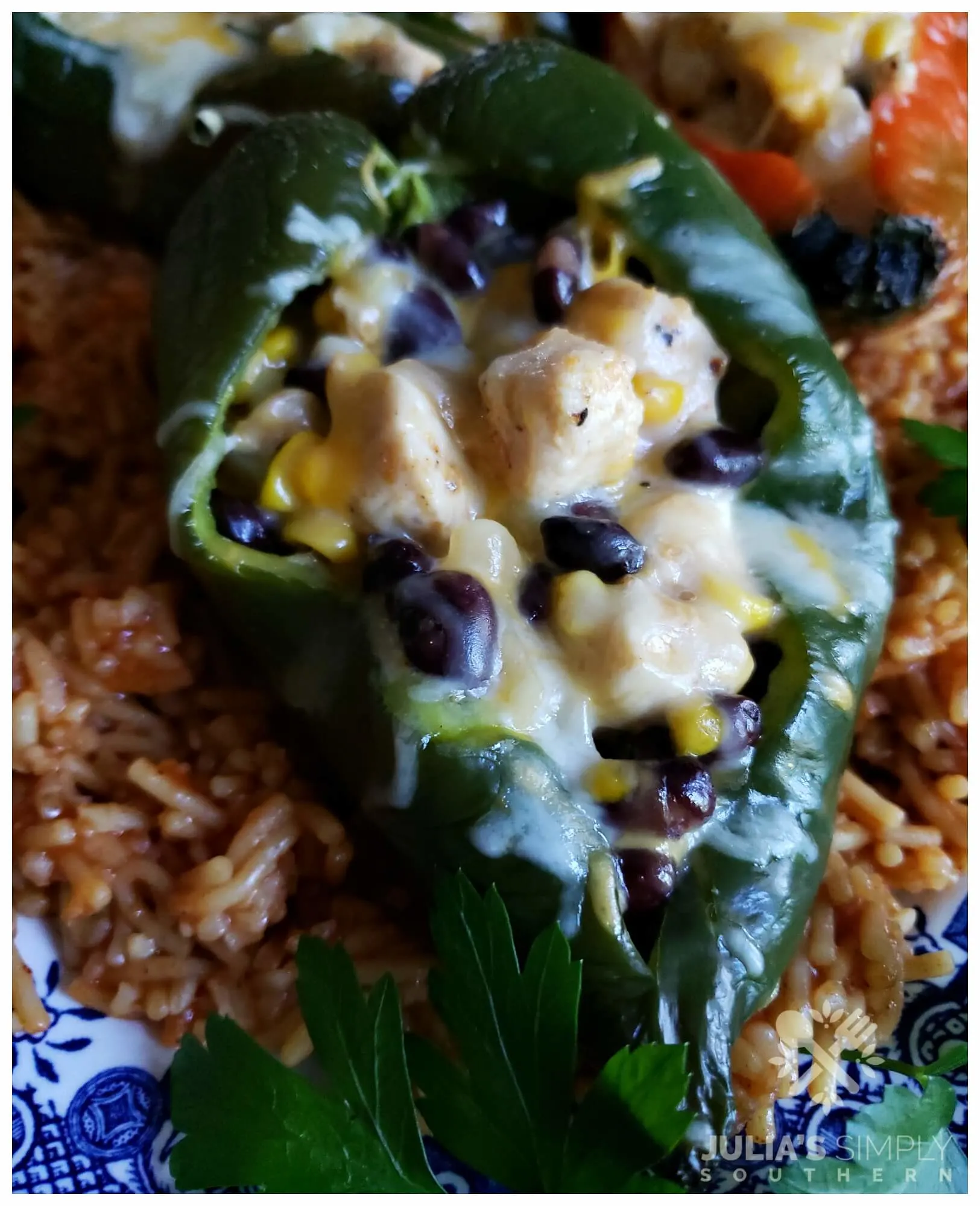 Are poblano peppers hot? Poblano peppers are mildly spicy and delicious. I've had hot sauce that packed a hotter punch. A jalapeno pepper is rated about five times hotter. This mild chili pepper is rated between 1000-1500 on the Scoville scale.
Poblano peppers are considered to be family friendly but I think I would be hesitant before giving one to a small child. The mild heat would be no issue for older children.
Mexican Chicken Poblano Recipe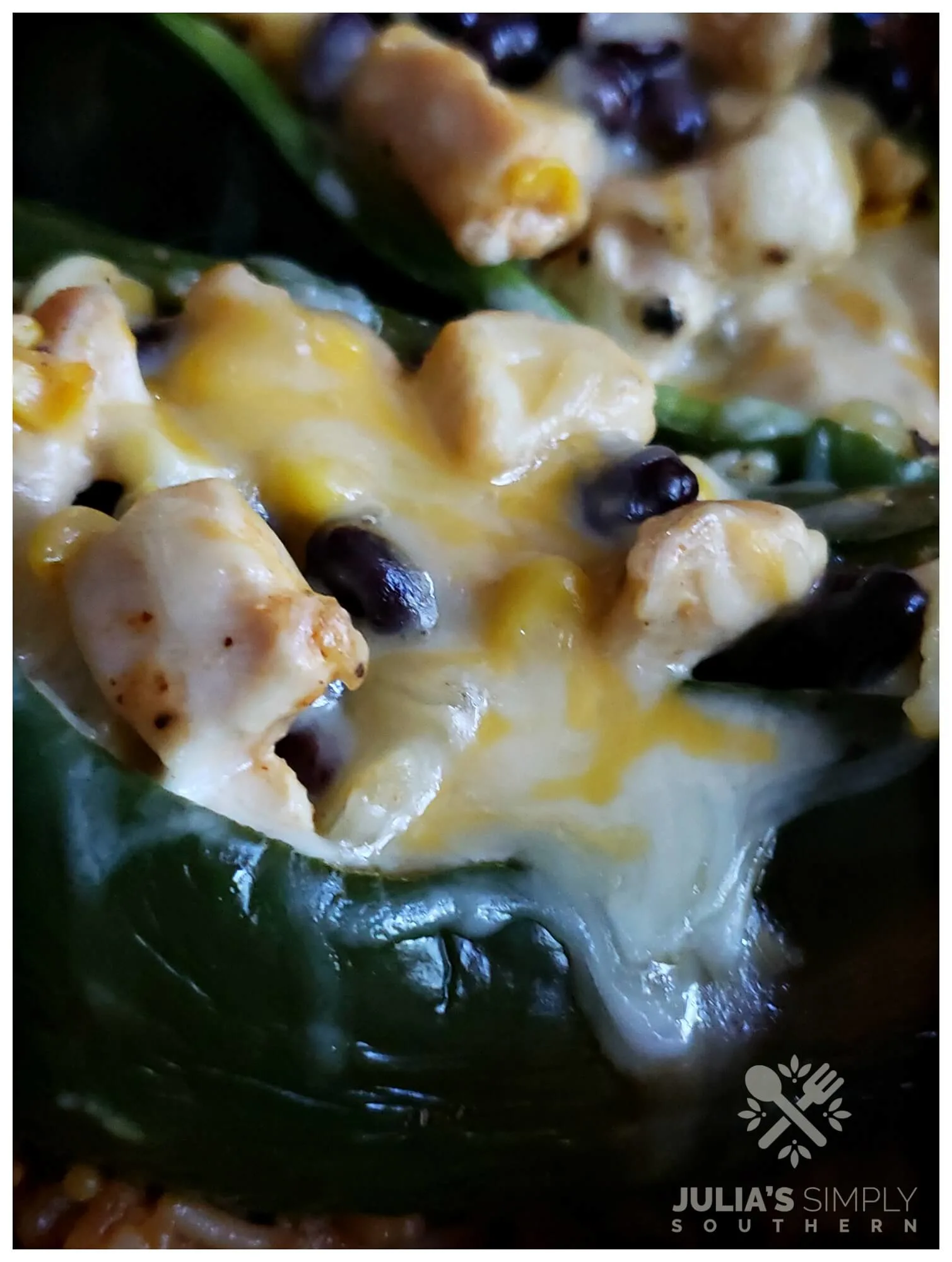 Are poblano peppers good raw? Poblanos are edible raw but best when cooked. They're perfect for all types of recipes, such as these Southwest stuffed peppers or chili relleno.
Do poblano peppers have another name? Dried poblano peppers are known as ancho peppers.
Chicken and Cheese Stuffed with Spanish Rice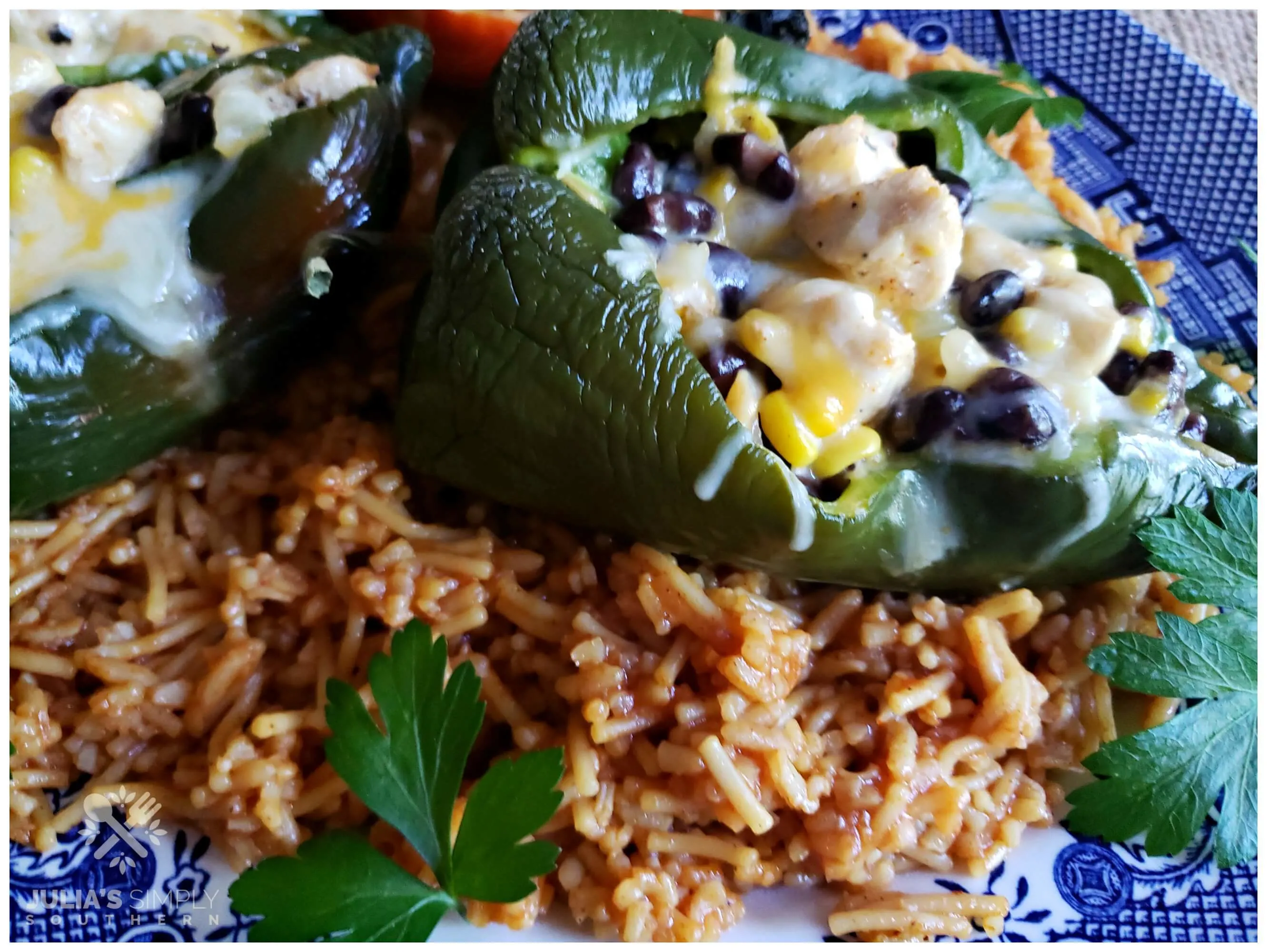 What do I serve with stuffed poblano peppers? I like serving these amazing stuffed peppers on a bed of red Spanish rice. Re-fried beans on the side would also be delicious.
Are poblano peppers good for you? In fact they are! Poblano peppers are low in calories and high in vitamin A. You could make this meal low carb by skipping the bed of rice.
Oven Baked Stuffed Poblano Peppers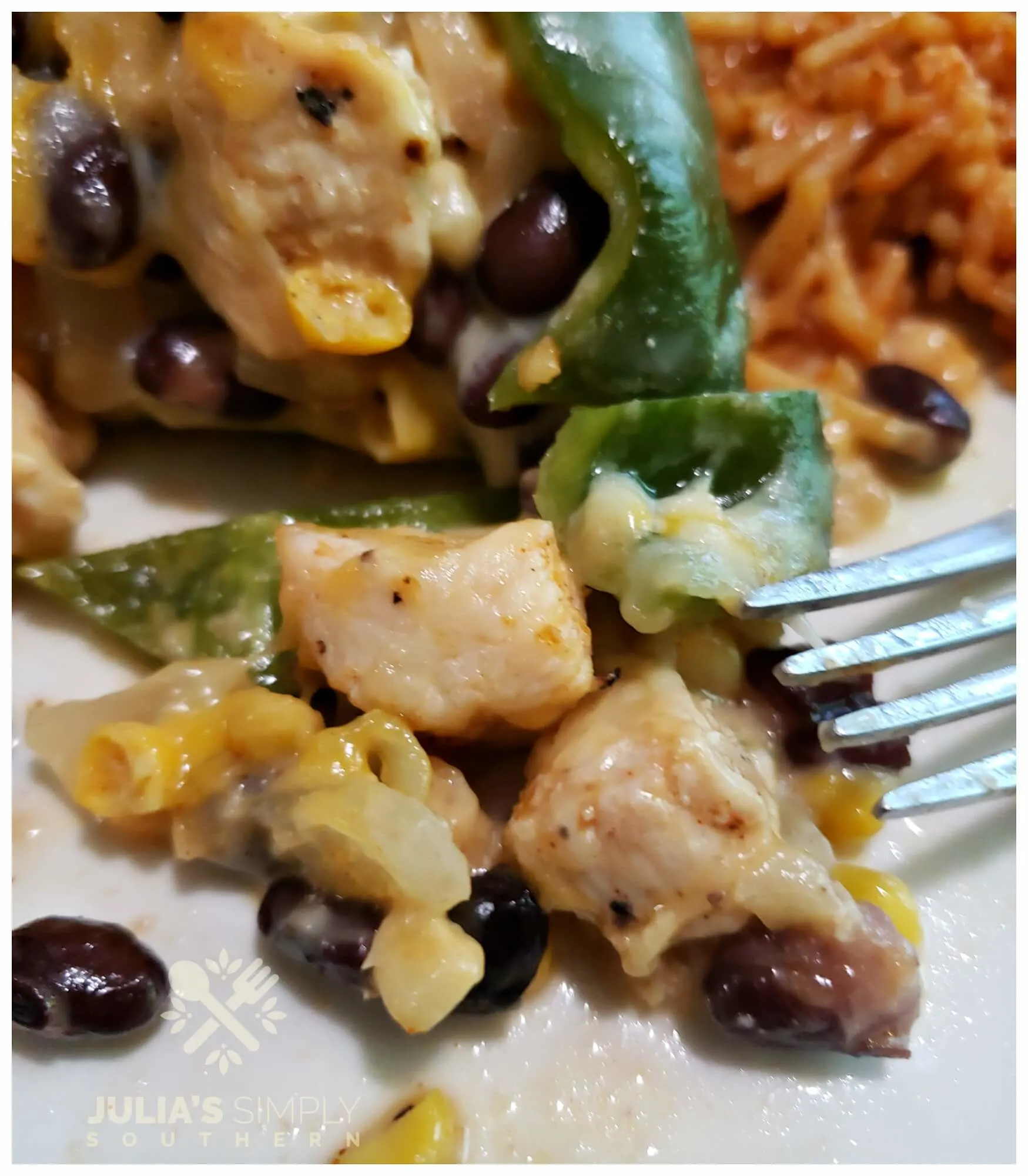 Variation Suggestion: Try it with beef instead of chicken.
Can you substitute poblano for bell peppers? Bell peppers have a zero level of spiciness. You could easily substitute with poblanos but they will be slightly more spicy.
Where did poblano peppers come from? Poblano peppers come from Mexico originally and you will see these peppers as an ingredient in a lot of Mexican cuisine.
Easy Stuffed Poblano Peppers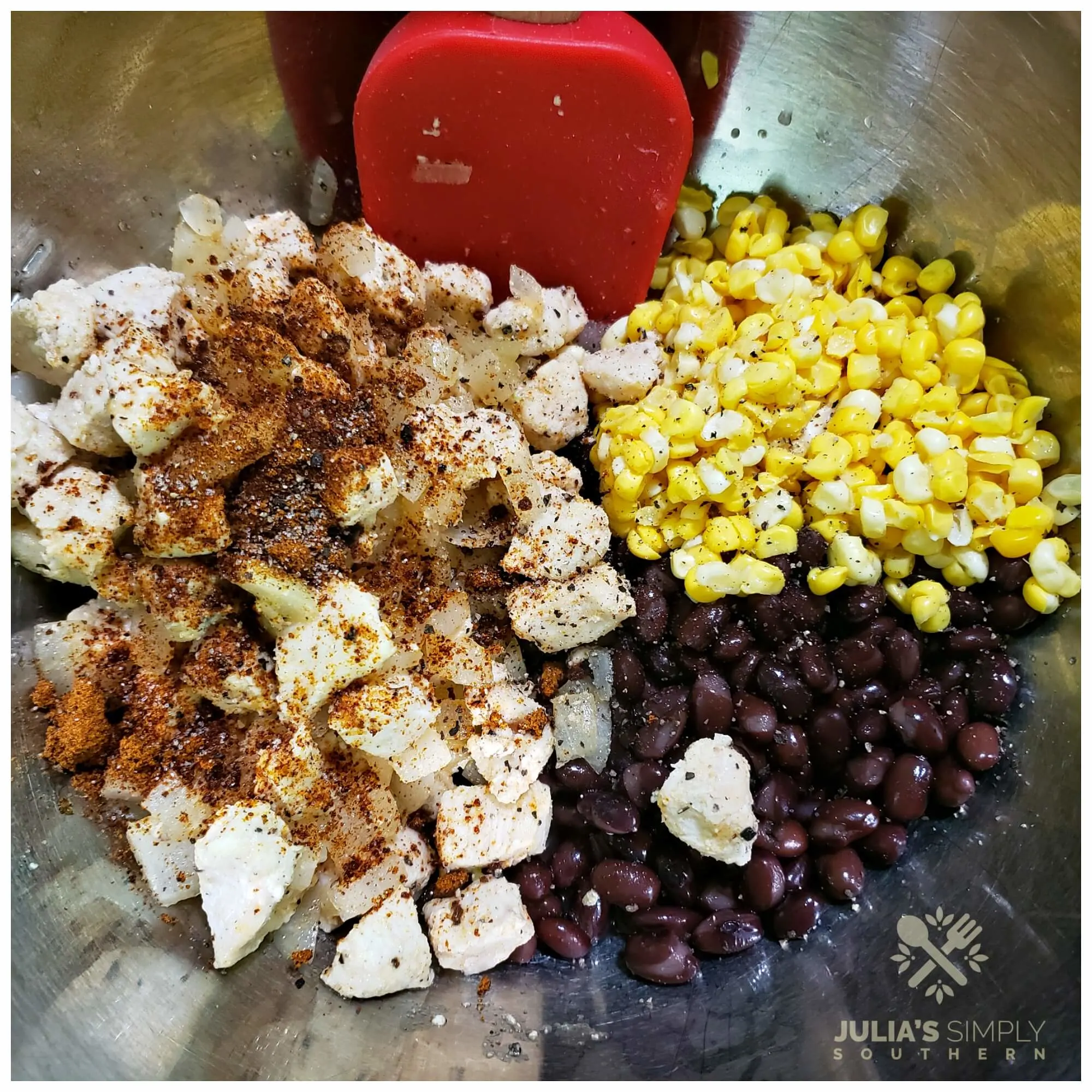 The prep work to make stuff poblano peppers is as simple as sauteing some cut up chicken and diced onion then combining it with the rest of the stuffing mixture and adding a bit of seasoning.
The stuffed poblano peppers will then bake for forty five minutes. Don't forget to top the stuffed peppers with plenty of cheese.
The entire meal is done and on the table in less than an hour. I just used a package of Spanish rice to prepare and that took about seven minutes while the peppers baked.
Southwest Chicken Stuffed Poblano Peppers
Yield: 4 Stuffed Peppers
Southwest Chicken Stuffed Poblano Peppers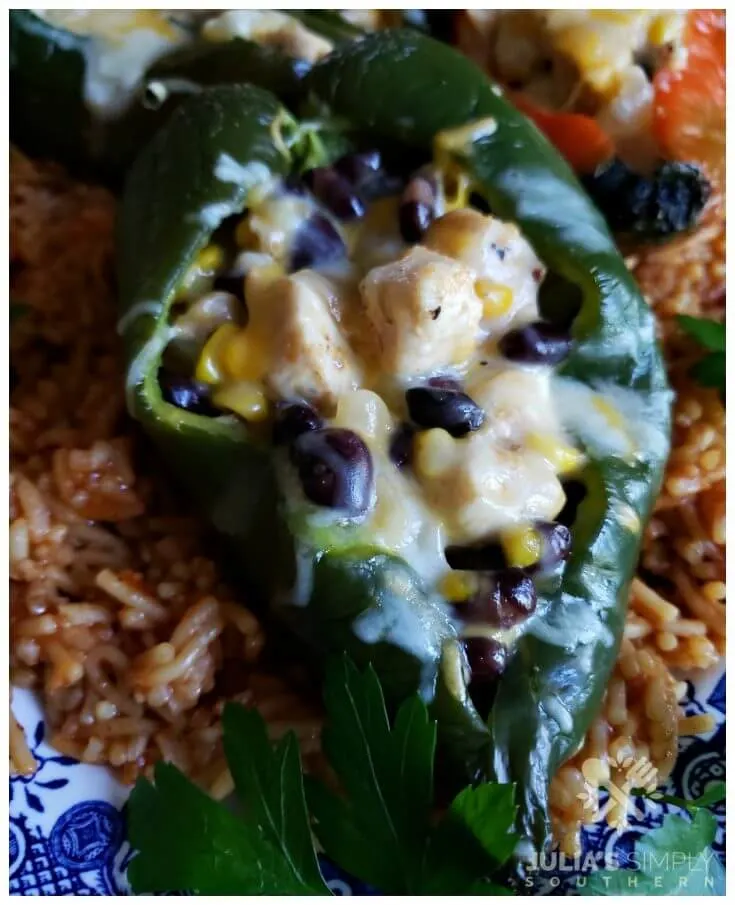 Delicious Southwestern style stuffed poblano peppers with chicken and cheese.
Ingredients
4-6 Poblano Peppers
1 lb Chicken, diced and cooked
1 small onion, diced and sauteed
15 oz Black Beans, rinsed and drained well
1/2-1 c Corn Kernels, cut off the cob
1/2 tbs Taco Seasoning
Salt and Cracked Black Pepper, to taste
1.5 c Shredded Mexican Cheese Blend, divided
Spanish Rice, optional to serve on the side
Instructions
Preheat oven to 350°F (176°C).
Cube the chicken and cook with the diced onion in a small skillet over medium heat. This takes about 8 minutes.
Lightly spray a cooking dish with cooking spray.
Cut a slit in each poblano pepper and use a spoon to remove the seeds and ribs. Place the peppers in the baking dish and set aside.
In a mixing bowl, combine the chicken, onion, black beans and corn.
Season with salt, pepper and taco seasoning.
Add about a cup of the shredded cheese and combine.
Stuff each pepper with the chicken mixture and place in the baking dish.
Top each stuffed pepper with more of the shredded cheese.
Lightly cover the top of the dish with foil and bake 45 minutes.
Nutrition Information:
Yield:
6
Serving Size:
1
Amount Per Serving:
Calories:

428
Total Fat:

20g
Saturated Fat:

8g
Trans Fat:

0g
Unsaturated Fat:

10g
Cholesterol:

98mg
Sodium:

402mg
Carbohydrates:

31g
Fiber:

8g
Sugar:

3g
Protein:

33g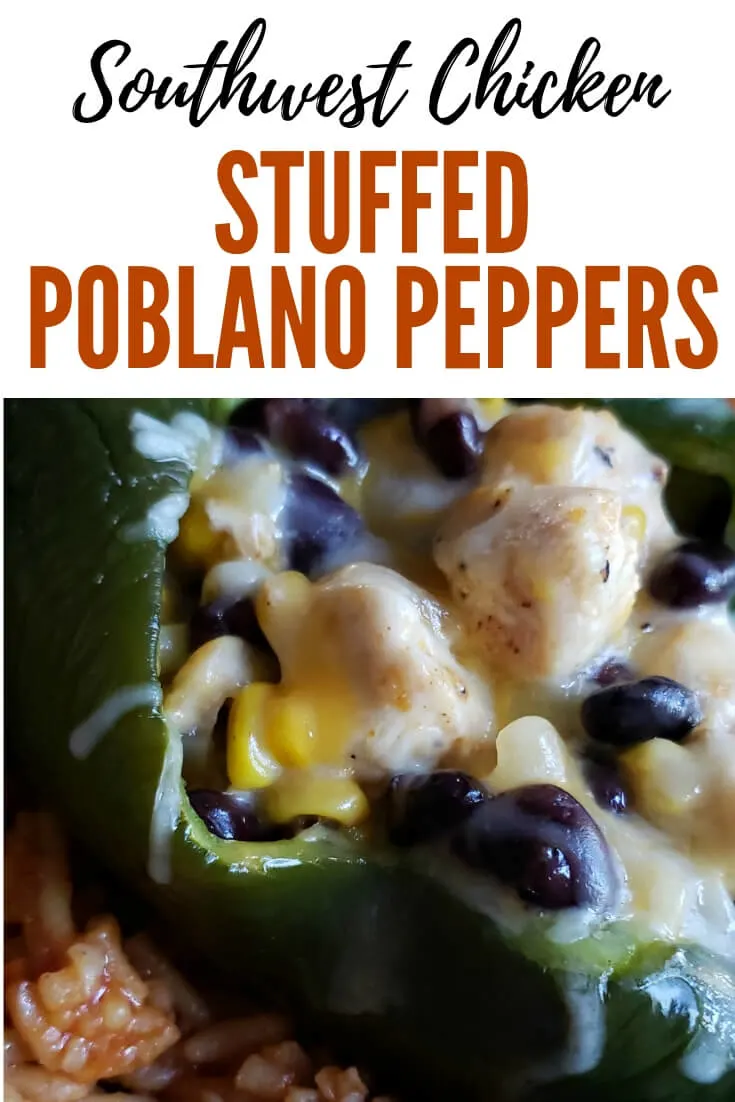 Thanks for stopping by! While you're here, sign up for our email newsletter and follow us on
Facebook, Pinterest and Instagram.
You can also see this recipe and more at these delicious "food parties": Meal Plan Monday and Weekend Potluck.
Meet Julia
Author of Julia's Simply Southern
Hey Y'all! I'm Julia, the cook and writer behind the recipes here at Julia's Simply Southern. I began my website so that I could share easy to follow recipes that anyone can use to put a home cooked meal on the dinner table. Thanks so much for stopping by!
Follow me on Facebook | Twitter | Instagram | Pinterest | YouTube