In this post I'll be sharing the best crispy Air Fryer Fish Sandwich Deluxe Recipe with a spicy homemade tartar sauce. It is out of this world delicious!
Now that we've gotten past Easter, a lot of the fast food places will be dropping their special menu item fish sandwiches until next year.
Not to worry, because I am going to share with you how to make the most delicious crispy fish sandwiches at home that will rival, if not beat, any restaurant.
Y'all, I have to confess that I became a little bit obsessed with the fish sandwiches this spring. On YouTube, I began seeing reviews of fish sandwiches from different restaurants and I felt like I just had to try some of them myself.
I tried the fish sandwiches from Arby's, Culvers and Popeyes. I didn't have the classic filet-o-fish from McDonalds because I've been eating them my whole life and we all know it is delicious.
The fish sandwich that I loved best was the Popeyes fish sandwich, the classic flounder. It was so good!
Knowing that the special menu sandwiches wouldn't be around long inspired me to create a homemade version that can be enjoyed anytime that you find yourself craving a delicious fish sandwich.
The Perfect Fish Sandwiches at Home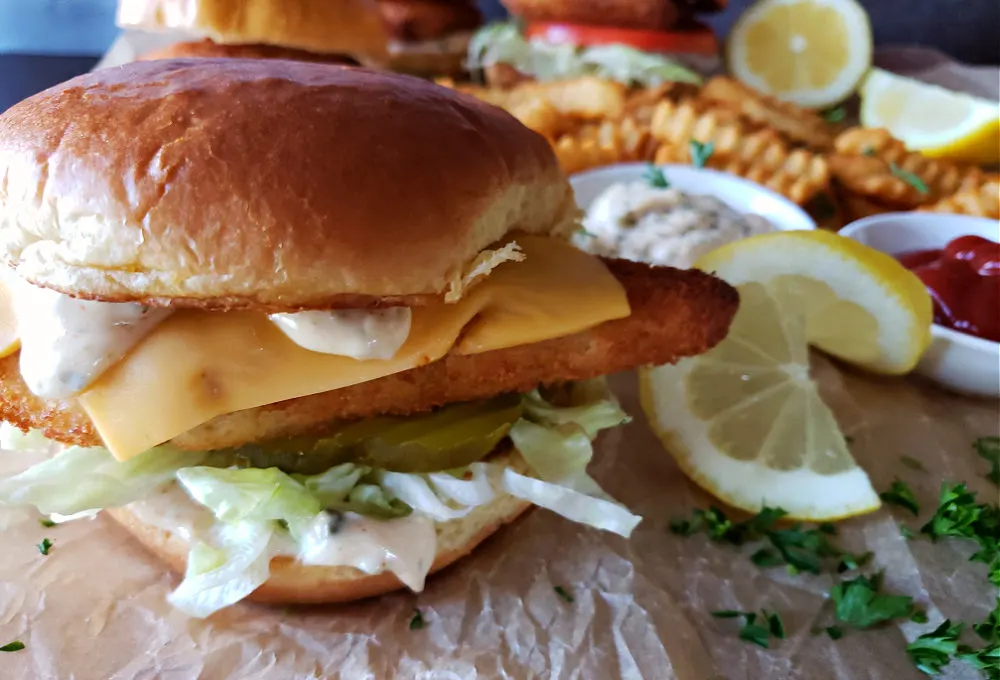 With just a few simple steps, you can create amazing fish sandwiches that everyone will love. Here's what you'll need to make your own tasty sandwiches.
Brioche Buns – I love the flavor of the brioche but any hamburger style sandwich bun will work.
Frozen Fish Filets – my favorite is the Gorton's Cod, wild caught with crunchy panko breadcrumbs.
Homemade Tartar Sauce – truly homemade is the very best and I like to make it the day before because it really is so much better the next day after all of those flavors have mingled.
Cheese – I went with classic American Cheese because that is what you're usually going to get from a restaurant.
Toppings – Lettuce, tomato slices, dill pickles, sliced red onion or other toppings that you might enjoy. Tangy coleslaw would also be a delicious option.
We love these sandwiches with my homemade tangy tartar sauce but a remoulade sauce would also be delicious. You may also like to add a shake of salt and black pepper to your sandwich.
What type of fish works best for Air Fryer Fish Sandwiches?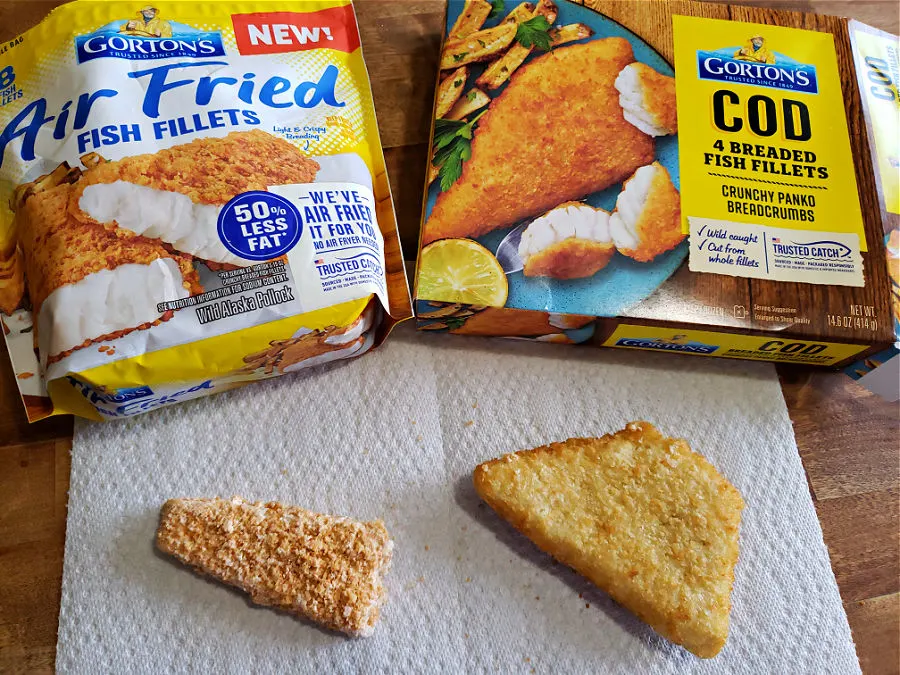 You can use any frozen breaded fish fillets that you like but I had to do a little taste test. The Gorton's Air Fried fish filets were a new product. Most of their product line is pretty good.
I did a comparison with the cod, which are my personal favorite. Hubs and I both agreed that we didn't care for the new air fried product at all. Sorry Gorton's. Plus, the air fried product was much smaller and you'll need more than one piece of fish to make a sandwich.
We will stick with our panko cod fillet for fish sandwiches. They are perfectly crispy and delicious!
Oh, by the way, you might like to know that you can also find a square fish filet product that looks just like the classic filet-o-fish. If I'm not mistaken, I think they are labeled fish sandwich fillets.
Whatever kind of fish fillet that you choose, as long as it is a mild white fish, will be delicious on your homemade sandwich.
Can I use Fresh Fish?
For my family I find that the frozen breaded fish fillets are perfect for sandwiches but you can use fresh fish if you prefer.
Frying fresh fish is a chore, and I don't do it unless we have guests. The cooking oil smells fishy and can only be used once. To keep it simple I like the frozen breaded so that they can be cooked up quick, easy and without a mess in my air fryer.
Crunchy Shredded Lettuce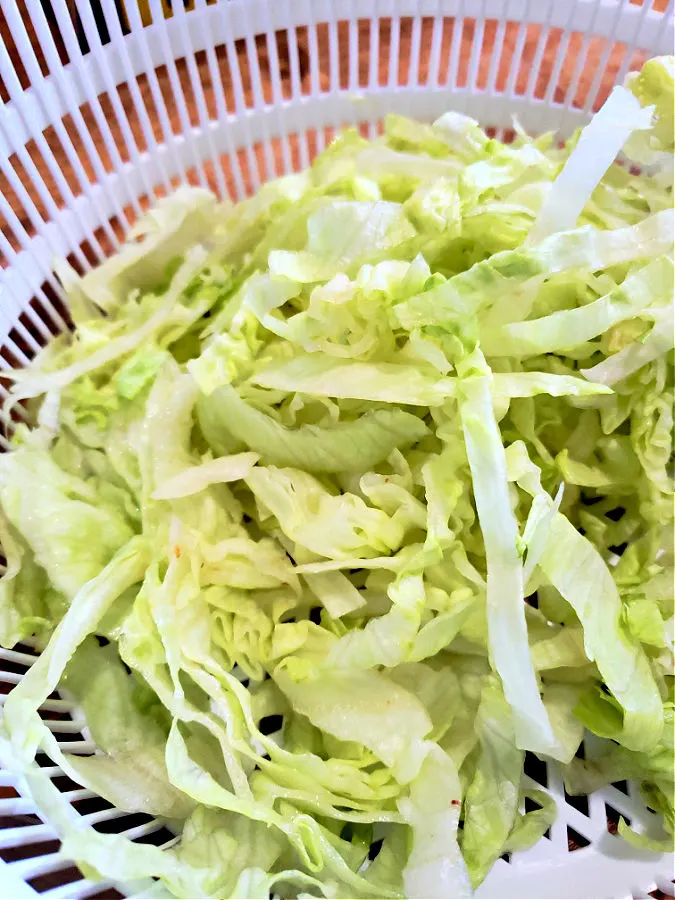 The extra loving steps that you put into making your sandwiches will make them the very best. Shredded lettuce is my favorite for a fish sandwich.
Take the time to slice up the lettuce and give it a rinse then spin in your salad spinner and chill. The lettuce will be so crispy and delicious.
Take time to Toast the Buns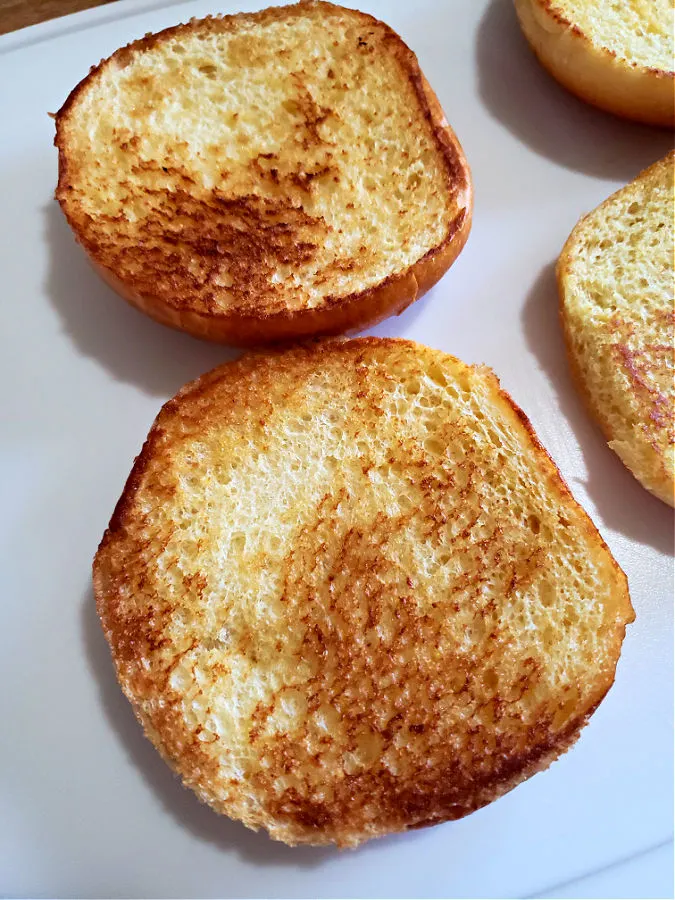 Toasted buns make any sandwich or burger so much better! Restaurants usually toast or steam the buns. I think that toasting adds another layer of flavor that you might not expect would have such an impact.
It really does make such a difference, so toast those buns. It only takes a couple of minutes and is as easy as place the buns down in a hot skillet or on a griddle for a minute or two.
Frozen Breaded Fish Filets in the Air Fryer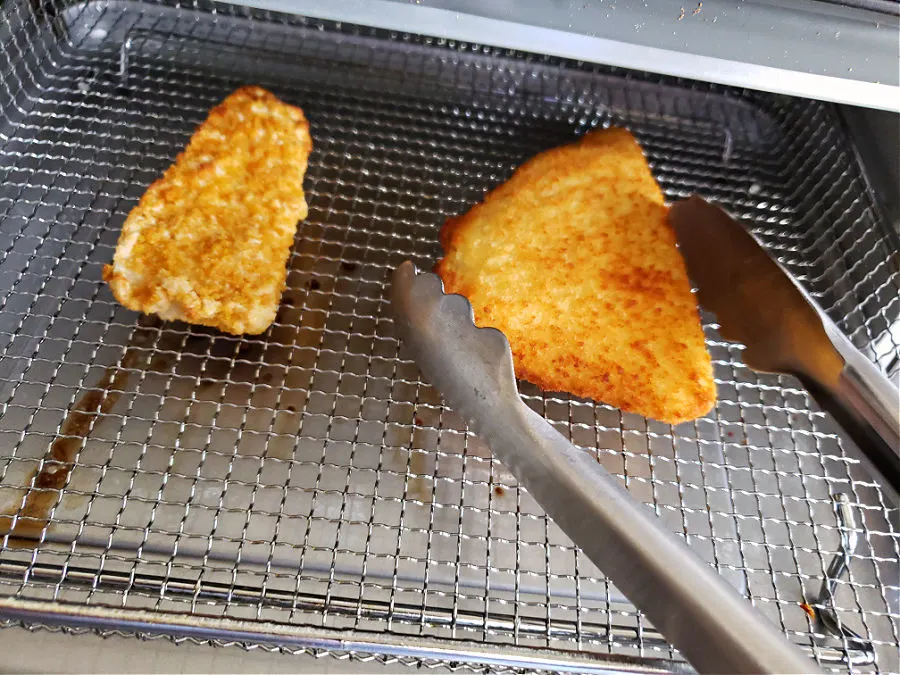 Preparing the frozen fish fillets in the air fryer is so simple. Begin by using cooking spray and lightly spray the air fryer basket or rack, depending on your air fryer model.
I also like to very lightly spray each side of the fish then place the fillets into the air fryer cooking trays.
Set the air fryer cooking temperature to 400 degrees Fahrenheit. Set the cook timer for nine minutes. After nine minutes, carefully turn the fillets, then cook for nine additional minutes…so a total of 18 minutes.
The internal temperature of the fish fillets should be 145 degrees Fahrenheit. Depending on your air fryer model, adjustments to cooking time may be necessary.
I've found the 8-10 minutes range per side to be perfect with my Cuisinart air fryer, toaster, and oven model. I'll leave my affiliate links in the recipe card if you're interested to see the model that I use.
Deluxe Fish Sandwich with Cheese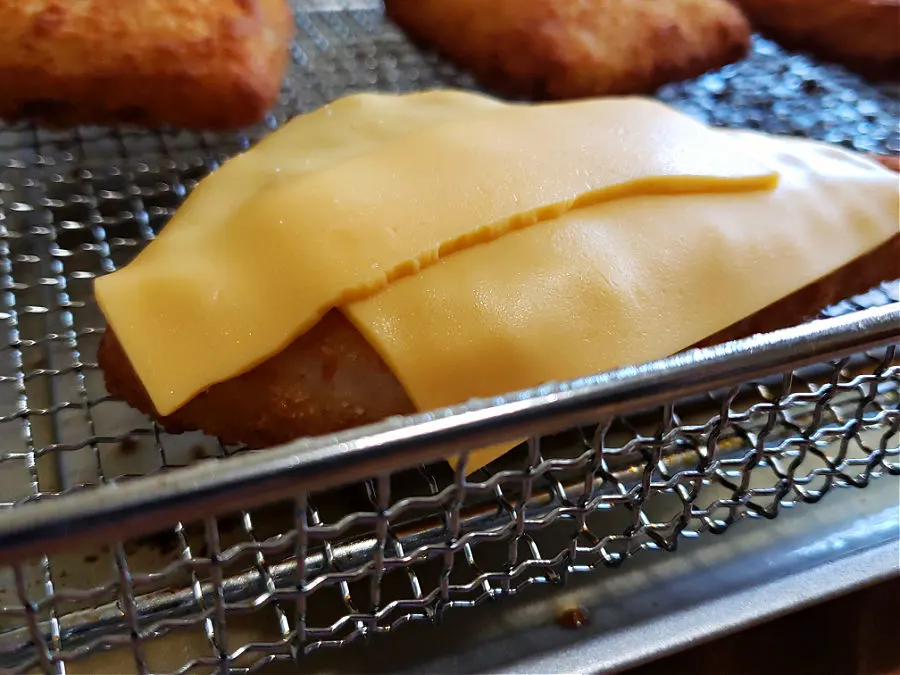 Once your fish fillets are golden brown cooking in that hot air, remove the tray from the air fryer and allow the fish to rest and cool for a few minutes.
If you like cheese on your fish sandwich like I do then to ahead and place a slice on the fish while it cools so it can become a little bit melty. I love melted cheese on everything!
Favorite Toppings to Assemble the Fish Sandwich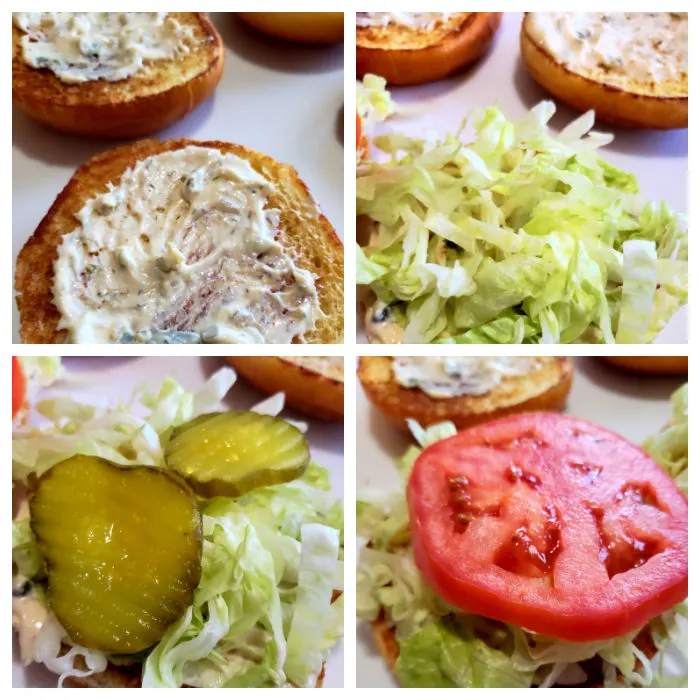 Now, let's assemble our amazing deluxe fish sandwiches! Begin by adding a bit of spicy tartar sauce to the top and bottom bun. If you don't care for tartar sauce then just use your favorite mayonnaise.
Next, on the bottom bun, add a layer of the shredded lettuce, pickle slices and a slice of tomato…or whatever topping you choose.
The Best Fish Sandwiches – Restaurant Copycat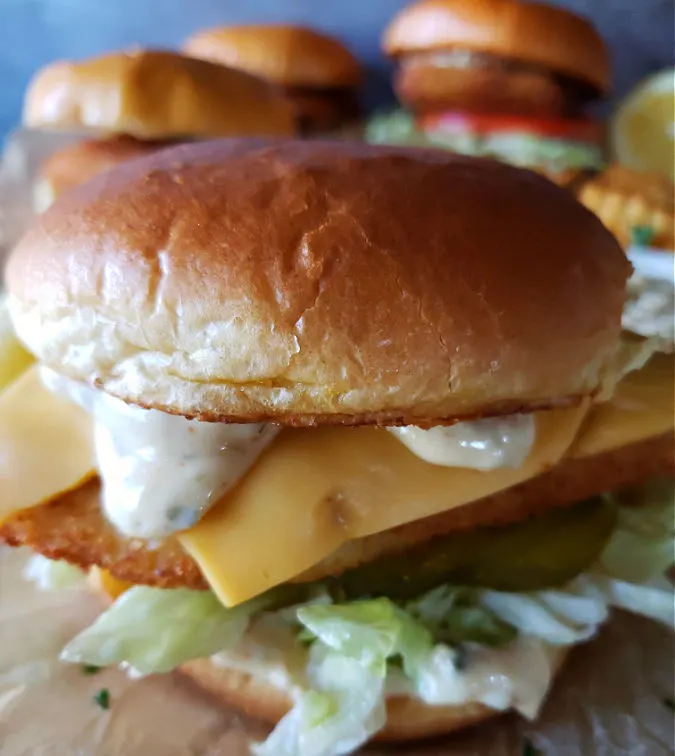 The next step is to add the crispy filet of fish and the top bun! Wowzers! Doesn't that look amazing? I can promise you that they taste just as amazing as they look.
The BEST Fish Sandwich with Homemade Tartar Sauce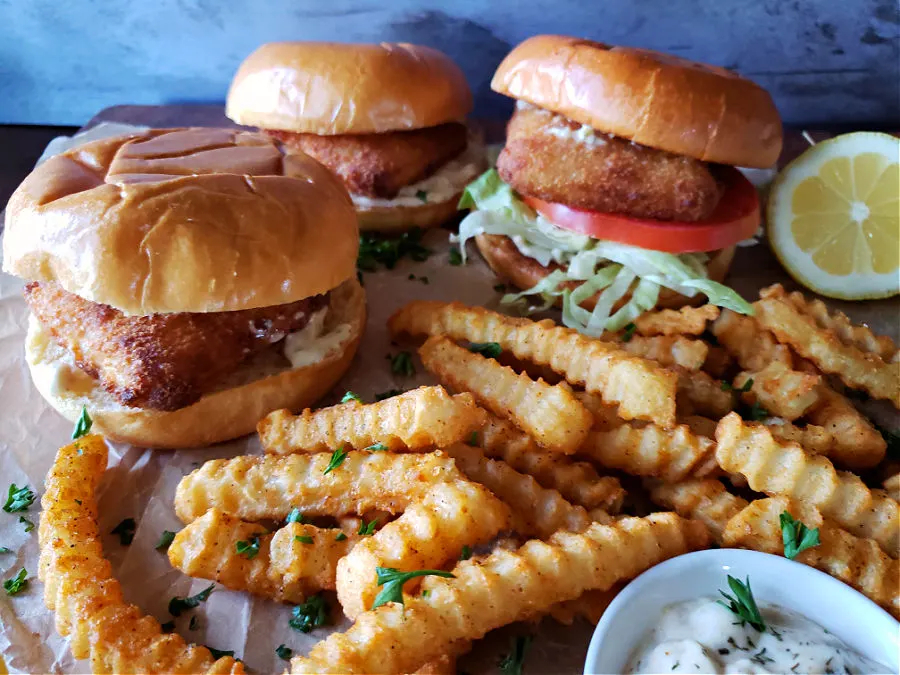 Serve a bit of extra tartar sauce on the side to dip your french fries in. So yummy!
You'll Love this Easy Recipe for Weeknight Meals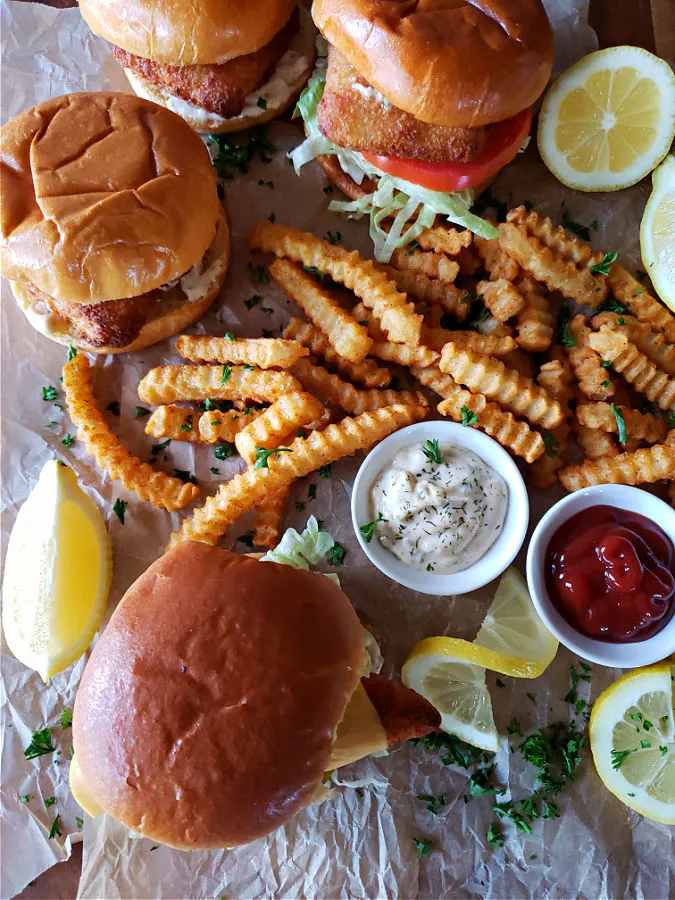 What to serve with air fryer fish sandwiches? These sandwiches are delicious with a side of french fries, coleslaw, lemon wedges, hush puppies, potato chips, or baked beans. My husband seems to love pork 'n beans with fish.
A squeeze of lemon juice over the fish can add a zest of fresh flavor if you like.
Fish Sandwiches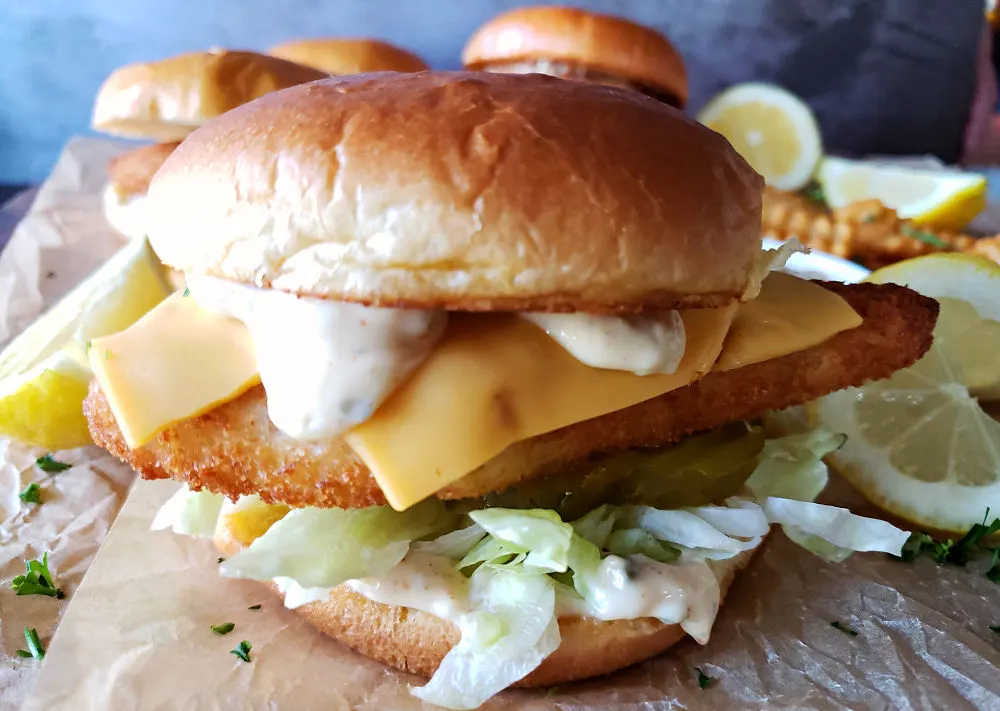 Making your own homemade fish sandwiches using your air fryer is a game changer. If you are looking for a delicious fish sandwich then it doesn't get any better than the one that you make yourself.
This fish sandwich recipe will become a favorite for you and your family just as it is for mine. Go ahead and file this under "delicious air fryer recipes".
To switch things up, try the crispy air fryer fish in tacos. It is another great quick meal idea.
Air Fryer Fish Sandwich Deluxe Recipe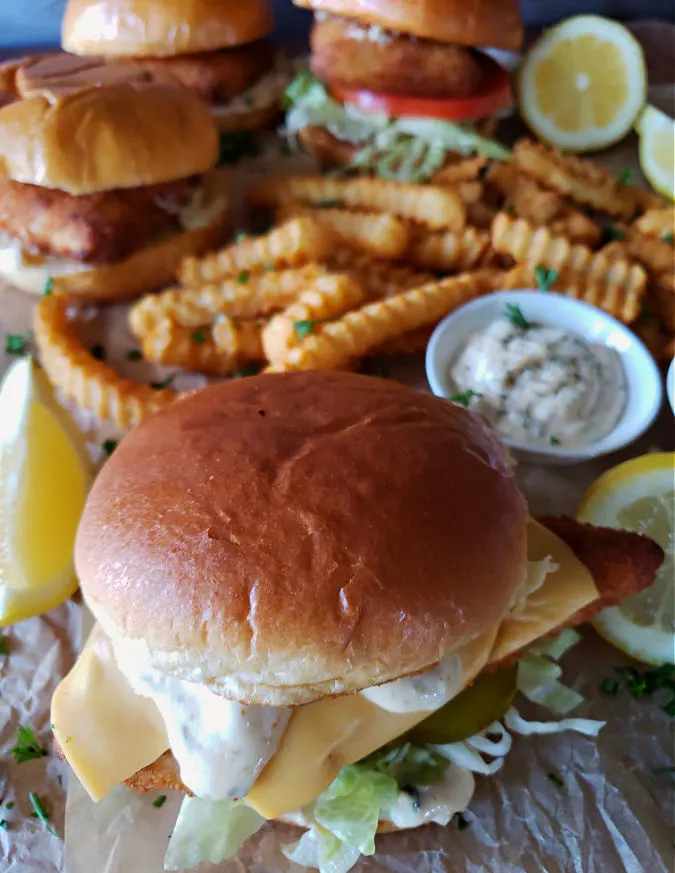 Below you will find the printable recipe card for the deluxe fish sandwich with air fried fillets.
Yield: 4 Sandwiches
Air Fryer Fish Sandwich Deluxe Recipe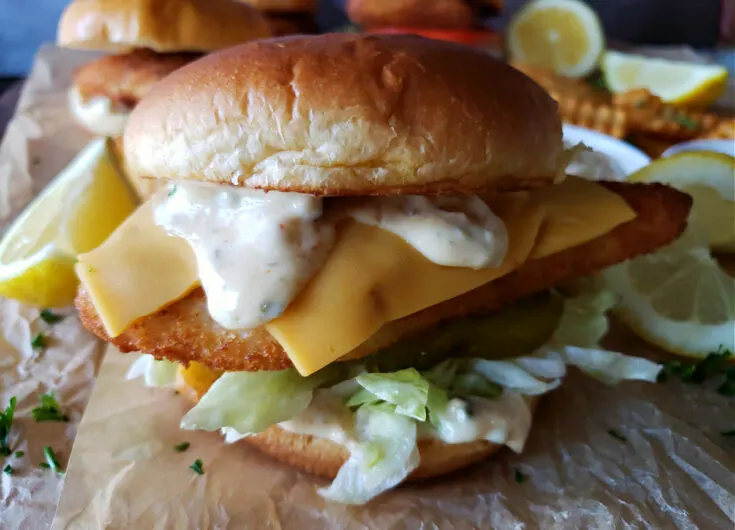 Delicious fish sandwiches made with mild white fish prepared in your air fryer served on toasted buns with homemade tartar sauce and favorite toppings. Enjoy these better than restaurant style fish sandwiches with french fries, coleslaw and other favorite sides.
Ingredients
4 Brioche Hamburger Buns, toasted
4 Frozen Breaded Fish Fillets (we like the Gorton's wild caught cod)
4 Teaspoons Homemade Tartar Sauce (see notes)
4 Slices Kraft Deluxe American Cheese
Toppings: Shredded Lettuce, Pickles Slices, Tomato Slices or other favorite toppings you enjoy.
Instructions
Toast the buns on a griddle or in a pan then set aside until needed.
Lightly spray the air fryer basket with cooking spray. Lightly spray each side of the fish fillets then place them into the air fryer basket.
Set the air fryer cooking temperature to 400°F (204°C), cook 9 minutes, carefully flip the fish fillets using tongs, then cook 9 minutes more or until golden brown.
Remove the fish from the air fryer and allow to rest and cool for 5 minutes. Place a slice of cheese over each filet while it cools.
Next, assemble the sandwiches by adding some of the tartar sauce to the top and bottom of the toasted buns. On the bottom bun, add some of the shredded lettuce, dill pickle slices, a slice of tomato or other toppings then add the fish and top bun.
Serve with your favorite sides like french fries, coleslaw, hush puppies, potato salad, baked beans, a side salad, or tater tots.
Notes
Zesty Homemade Tartar Sauce
1/2 cup Mayonnaise
1 teaspoon Lemon Juice
1/2 tablespoon of Sweet Pickle Relish
1 teaspoon Caper, chopped
1/2 teaspoon Dijon Mustard
Salt and Pepper, to taste
1/2 teaspoon Hot Sauce
Dash of Old Bay Seasoning, optional
Dash of Cayenne Pepper, or to taste
Combine all ingredients in a small mixing bowl, cover and refrigerate overnight or a minimum of 4 hours. Flavors are better once the tartar sauce ingredients mingle together for a bit.
Recommended Products
As an Amazon Associate and member of other affiliate programs, I earn from qualifying purchases.
Nutrition Information:
Yield:
4
Serving Size:
1 sandwich
Amount Per Serving:
Calories:

741
Total Fat:

38g
Saturated Fat:

14g
Trans Fat:

1g
Unsaturated Fat:

20g
Cholesterol:

186mg
Sodium:

1638mg
Carbohydrates:

66g
Fiber:

3g
Sugar:

9g
Protein:

34g
Popular on the blog
In case you missed the latest posts
Thank you so much for stopping by! I am so glad that you did. I know you are gonna love these delicious fish sandwiches. Who has to wait to the fast food places to feature them during spring when you can make your own at home?
Your homemade sandwich will be so much better too! Y'all enjoy this wonderful recipe and let me know what you think when you prepare them in your kitchen.
Before you go, be sure to subscribe to my email list. Subscribers receive a weekly e-newsletter with all of the latest recipes and news here on the blog so that you never miss a thing.
Meet Julia
Author of Julia's Simply Southern
Hey Y'all! I'm Julia, the cook and writer behind the recipes here at Julia's Simply Southern. I began my website so that I could share easy to follow recipes that anyone can use to put a home cooked meal on the dinner table. Thanks so much for stopping by!
Follow me on Facebook | Twitter | Instagram | Pinterest | YouTube