In this post I'll be sharing how to make Easy Grilled Broccoli Foil Packets with Lemon.
If you love broccoli as much as we do then you'll love this super easy method for cooking it on the grill. You could use a grill basket or grill pan if you prefer to get a bit of char on your veggies but I prefer foil packs so the small pieces of broccoli don't fall between the grill grates.
Veggie packets on the grill are wonderful and since you're cooking outdoors why not make the sides there too. Foil packs are also great for an easy camping meal.
This broccoli recipe works on the gas grill, like I made it, or charcoal grill or over an open fire grill when glamping (camping with air conditioning).
Preparing the broccoli foil packs out on the grill also means that I get to stay a part of the "party" (okay, not really a party but where everybody else is) and not be secluded in the kitchen. It's summer and I wanna be outdoors too!
Foil packs can also be prepped ahead so that they are ready to go when you're ready to cook. That makes a meal so easy. I like easy! Do you like easy?
Grilled Broccoli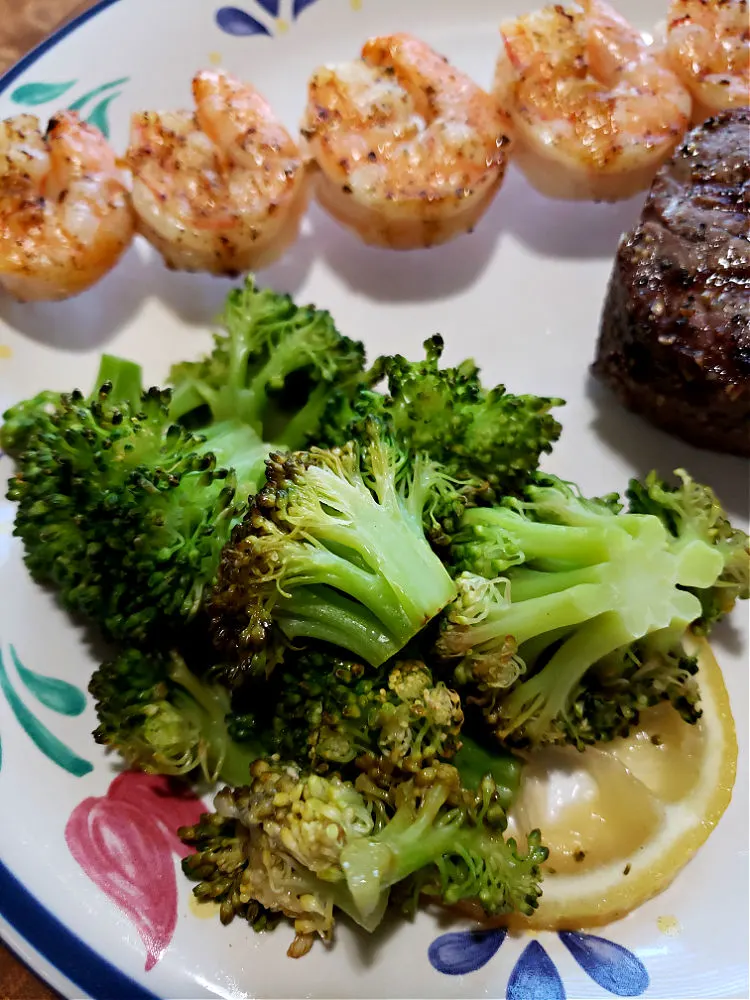 Doesn't that look delicious? The lemon slices release their lemon juice in the foil pack and it gives the broccoli that nice burst of citrus flavor. It tastes so fresh for summer meals.
Besides the dose of vitamin c from the lemon, the broccoli also has vitamin c, is a good source of fiber and other vitamins and minerals. So, it is good for you!
On this particular evening we were grilling up some shrimp skewers and steaks to enjoy with our grilled broccoli side and it was so delicious.
What to serve with grilled broccoli foil packs?
Grilled Shrimp – simple skewered shrimp seasoned the way that you like it. We enjoy Creole seasoning or blackening seasoning. Old Bay is a great choice too.
Steak – I don't know anyone who doesn't enjoy a steak cooked perfectly on the grill.
Chicken – a great protein choice for grilling and goes with almost anything you'd like to serve with it. Boneless chicken breast are popular for the grill or use a whole chicken cut into pieces.
Pork – pork chops, ribs or pork roast are delicious on the grill served with broccoli.
Or just enjoy an array of grilled veggies on kabobs served with your delicious lemony broccoli.
Broccoli Foil Packs
What do I need to make the recipe? It's super simple, here's what you'll need.
Fresh broccoli – cut into large broccoli florets if you prefer or smaller pieces. The broccoli will be tender after cooking but I prefer to keep it in the "bite size" range.
Lemon – I enjoy having fresh lemon slices but if you don't have any on hand, use lemon juice. The lemon adds a fresh burst of flavor to the broccoli. If you like fresh lemon but don't care for the slices cooking in your broccoli packet, just cut the lemon wedges and give them a squeeze over the contents of the individual foil packets before sealing them up. Be sure to keep a couple of lemon wedges to enjoy with your shrimp if you're having surf and turf.
Ghee or Olive Oil – you'll want to use a fat that can stand up to the medium-high heat of the grill. I chose to use ghee because who doesn't enjoy buttery flavor. Ghee is basically clarified butter where the milk solids have been removed and is shelf stable.
Kosher Salt – for seasoning.
For me, the best part of this recipe is keeping it simple but you can certainly add to it if you'd like to. Other seasonings such as garlic salt, black pepper, garlic powder, onion powder, Italian seasoning or red pepper flakes all work well with broccoli.
Aromatics and herbs are also great alternatives for different ways to enjoy the broccoli packets. Garlic cloves, minced garlic, fresh parsley or thyme would all be delicious choices too.
Cheese is also a delicious and popular option for grilling broccoli and you could include Parmesan cheese or cheddar cheese with your broccoli packs.
Go with any flavor combination that you and your family enjoy most.
Grilled Lemon Broccoli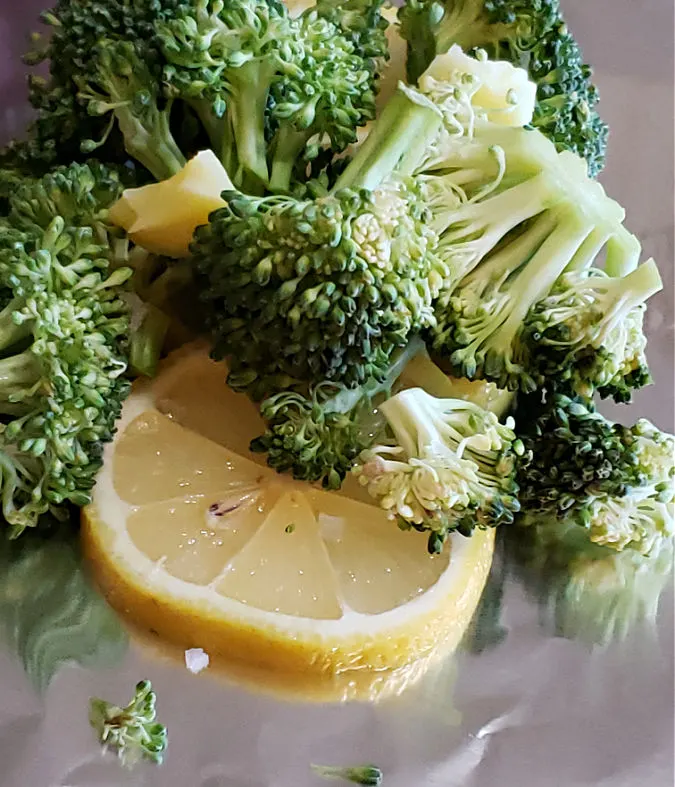 Earlier in the day I prepped my broccoli by cutting it up into florets and placing it into a colander to rinse then placed the colander into a large bowl to drain all of the water away.
The next step was to assemble the foil packets. I recommend a heavy duty foil that can hold up to being handled with tongs without tearing.
Take a sheet of aluminum foil, or tin foil as it is also referred to, for each packet needed and place on your work surface.
Next, add the lemon slices first then a layer of broccoli and a small pat of the ghee. If you're using another type of fat or oil, just drizzle a bit over the broccoli. Season with salt or your seasonings of choice. If you're using additional ingredients, go ahead and place those on top.
Fold half of the aluminum foil over the contents and line it up with the corners on the other side. Next, do a double top fold the seal the remaining edges by making small folds around all of the open edges around the sides of the foil.
Foil recipes are great for the grill and so easy. Other veggies could be used or a combo of meat, potatoes and other veggies. Did I mention how easy clean up is?
I place everything going out to the grill on a baking sheet for easy transport in and out of the house so that I'm not making multiple trips.
How to Grill Broccoli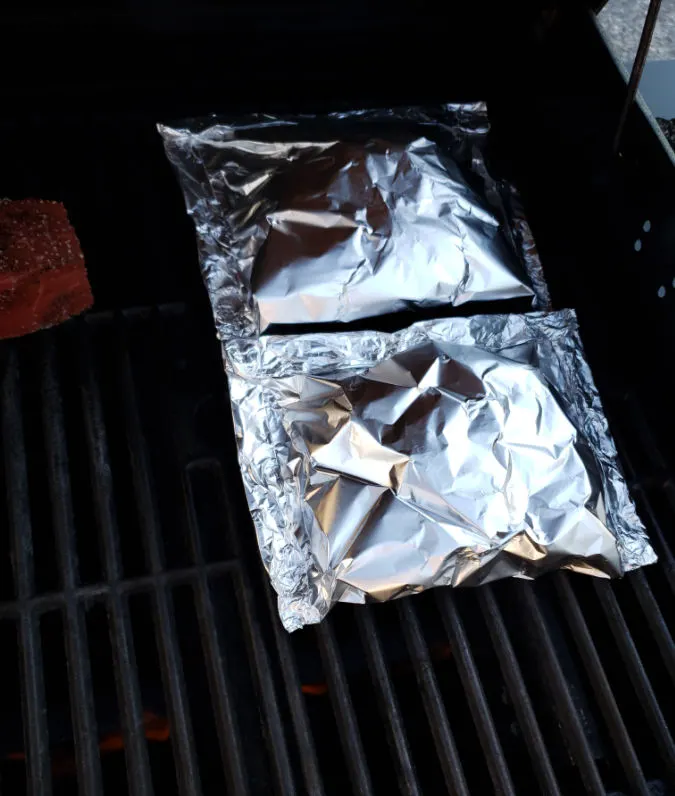 When you're ready to do your cooking, place the packets on the grill over medium heat. Leave a bit of room between the veggie packs and whatever else you're cooking so everything gets good heat circulation on the grill.
The grilled broccoli packs only take a few minutes so depending on what else you're cooking add them to the grill when needed.
This meal was super fast so everything went on the grill at the same time and supper was ready in less than 15 minutes.
Easy Broccoli Side Dish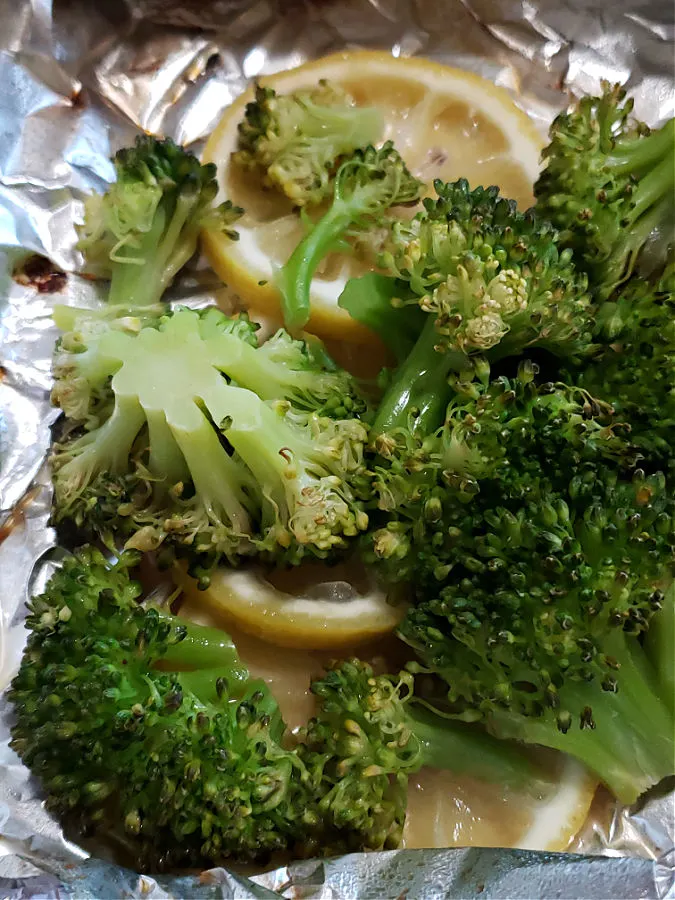 When we were ready to eat, I used a knife to get a little poke to the center of the foil pack so that I could open the foil. Carefully open the packets, the steam can burn. Once opened, the contents were transferred to the dinner plates.
Questions about Broccoli
Is broccoli healthier raw? Broccoli can be cooked or eaten raw. It is believed to be healthier raw if that is your decision maker for how you'd like to eat it.
Are broccoli flowers edible? Yep, they sure are, and nutritious too. I grew broccoli in my fall/winter garden last season and when the temps got warm it began to flower. I was happy to know that the flowers were edible.
Are broccoli leaves edible? Yes, they are.
Are broccoli stems edible? Yes, the entire broccoli plant is edible. I was fascinated with broccoli as a child and loved eating it because it looked like little trees. The stems can also be grated to make broccoli slaw.
Easy Grilled Broccoli Foil Packets with Lemon
Below you will find the printable recipe card for the simple broccoli foil packets.
Yield: 2 Servings
Easy Grilled Broccoli Foil Packets with Lemon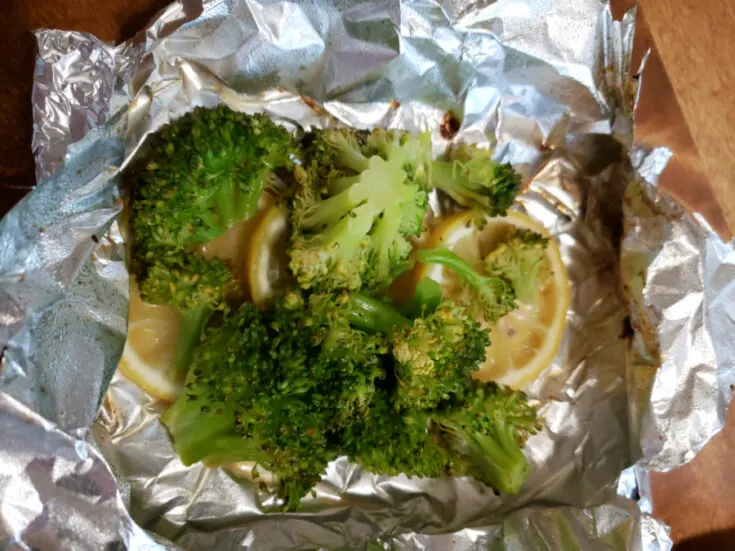 Delicious tender broccoli prepared on the grill in foil packets with lemon for a burst of fresh flavor. This is a wonderful side for many of your summer grilled meals.
Ingredients
2½ cups of Fresh Broccoli, trimmed
1 Lemon, sliced
2 teaspoons of Ghee (or olive oil)
Pinch of Kosher Salt
Other
Heavy Duty Aluminum Foil - for grilling
Instructions
Prepare the broccoli by washing and draining excess water then trim into bite sized pieces as desired.
Next, lay out a sheet for each individual foil packet needed. Place a lemon slice on the foil then a portion of the broccoli along with a teaspoon of ghee (or oil if using) and season with Kosher salt. (See full post for variations of seasonings and other ingredient options)
Fold the aluminum foil over so that the corners match up to the other side. Use small double folds around the open edges to seal. Packets may be made ahead of time until needed for cooking.
Place the broccoli foil packets on the grill over medium heat and cook 10 minutes.
Carefully open packets, being careful of the hot steam, and serve.
Notes
Recipe may be doubled for more servings if needed.
Nutrition Information:
Yield:
2
Serving Size:
1
Amount Per Serving:
Calories:

118
Total Fat:

5g
Saturated Fat:

3g
Trans Fat:

0g
Unsaturated Fat:

2g
Cholesterol:

11mg
Sodium:

120mg
Carbohydrates:

18g
Fiber:

8g
Sugar:

4g
Protein:

5g
See the Latest Side Dish Recipes
Easy Grilled Broccoli Foil Packets with Lemon
Thank you so much for stopping by! I am so glad that you did!
Be sure to subscribe to my email list while you are here. Subscribers receive a weekly newsletter via email with the latest recipes and news here on the blog so that you never miss a thing.
Until next time, love and happy cooking, Friend!
Meet Julia
Author of Julia's Simply Southern
Hey Y'all! I'm Julia, the cook and writer behind the recipes here at Julia's Simply Southern. I began my website so that I could share easy to follow recipes that anyone can use to put a home cooked meal on the dinner table. Thanks so much for stopping by!
Follow me on Facebook | Twitter | Instagram | Pinterest | YouTube