In this post I'll be sharing a quick and Easy Mayonnaise Biscuits Recipe. The best part about these homemade biscuits is that anyone can make them. Guaranteed!
Y'all, I have a confession to make (in case I haven't done so in a previous post) to let y'all know that I love carbs. I try to control myself but bread is my weakness. It is just so good!
Mayonnaise biscuits are no exception and are a wonderful simple bread to enjoy with meals. The recipe calls for just three basic ingredients that you probably already have on hand.
So grab your mixing bowls and let's talk about these mayonnaise biscuits a minute y'all.
Old Fashioned Mayonnaise Rolls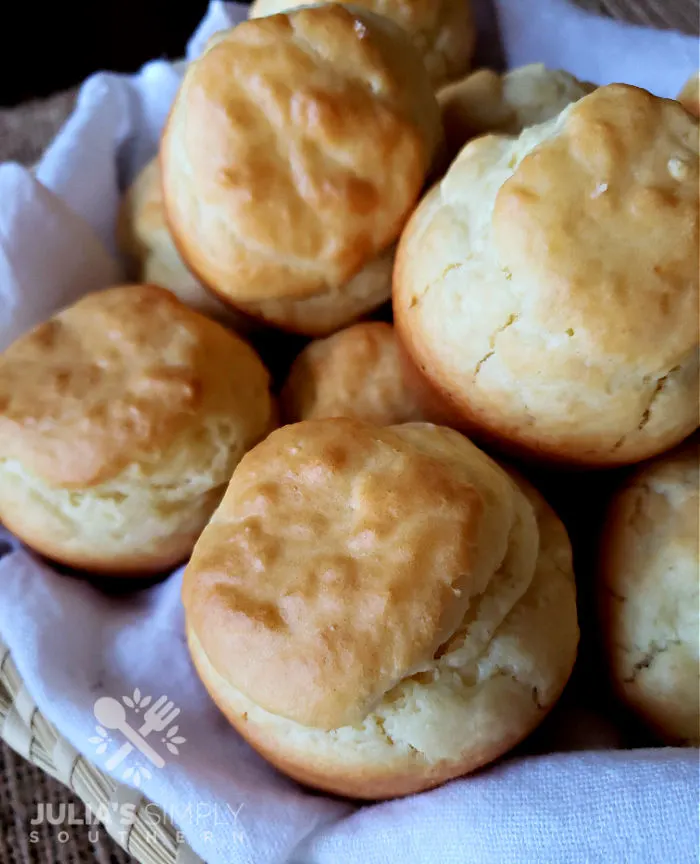 What are mayonnaise biscuits?
As you may have guessed, these tender biscuits have mayonnaise in the dough mix which replaces the butter or shortening that you might use otherwise.
Mayonnaise biscuits are often referred to as a Southern tradition and others refer to them as Amish. Truth is, I'm not sure which is right but I know I've always seen cooks in the South making all types of biscuits, including mayo biscuits.
You may have also heard of these called by other names too. Some folks call them easy rolls and others call them muffins. I suppose, in a way, that all of those names are correct and that will make more sense when you see the dough and how they are prepared for baking.
I grew up knowing these as mayonnaise biscuits so that is what I will always call them. They'll be delicious no matter what you decide to call them.
Mayonnaise Biscuit Muffins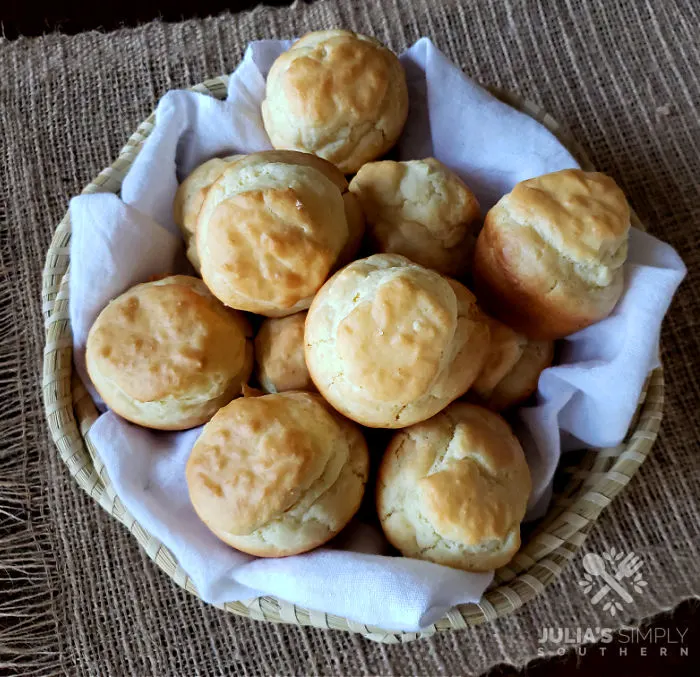 What do mayonnaise biscuits taste like?
They don't taste like mayonnaise in case you're wondering. You can tell that it is a biscuit type of bread from the texture but they are light and tender and absolutely delicious.
Like many of you I found myself wondering when people began making mayonnaise biscuits. Anyone know? I searched and couldn't really find an answer. If I had to guess I would think that maybe these are another one of those beloved recipes that has been around since the great depression era.
Mayonnaise has always been an important staple for use as a condiment, for baking to replace eggs or oil (or butter in the case of these biscuits), to make dressings and so much more.
As with any other biscuit recipe, no matter which type, everyone has their own variation of it. I'm sharing the recipe and method that I was taught and it's fail-proof. Seriously, you could let your kids who enjoy helping out in the kitchen make these mayonnaise biscuits.
If you've tried other biscuit recipes and haven't had much success with it then this is the recipe for you.
How to Make Mayonnaise Biscuits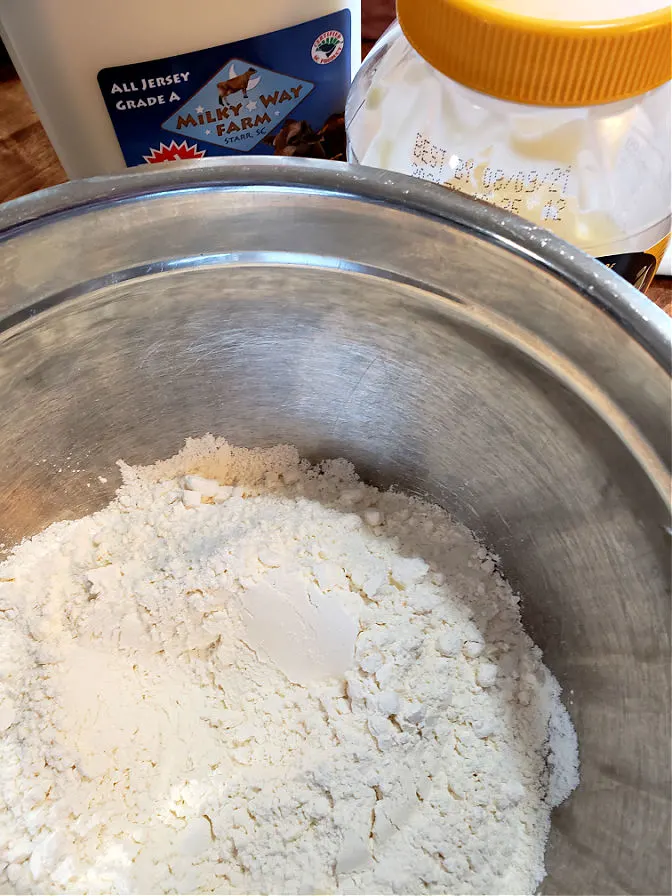 What do I need to make the mayonnaise biscuits recipe?
Self Rising Flour – I use White Lily unbleached self rising flour when making this recipe. In the South we like to make biscuits with soft winter wheat made flour. The self rising flour has all of the leavening agents already added in with the flour so it just makes things easier.
That being said, I have an entire cupboard full of all types of flour since I enjoy cooking so if you're wondering if you can use all purpose flour to make these old fashioned mayonnaise rolls, the answer is yes but you'll need to add salt and baking powder.
Whole Milk – or sweet milk as it was referred to when I was growing up keeps the flavor of these biscuits mild and brings the dry ingredients together. I suppose that you could use buttermilk if your prefer but I've always known these particular biscuits to be made with regular milk.
Mayonnaise – the mayonnaise replaces the fat in your biscuit dough so that they stay moist, tender and light while baking. I use Duke's mayonnaise but your preferred mayonnaise will work just fine. If you're one of the folks who prefer using Miracle Whip salad dressing like mayonnaise, please do not use it for making these biscuits. A real mayonnaise is the best choice for this recipe.
Mayonnaise Biscuits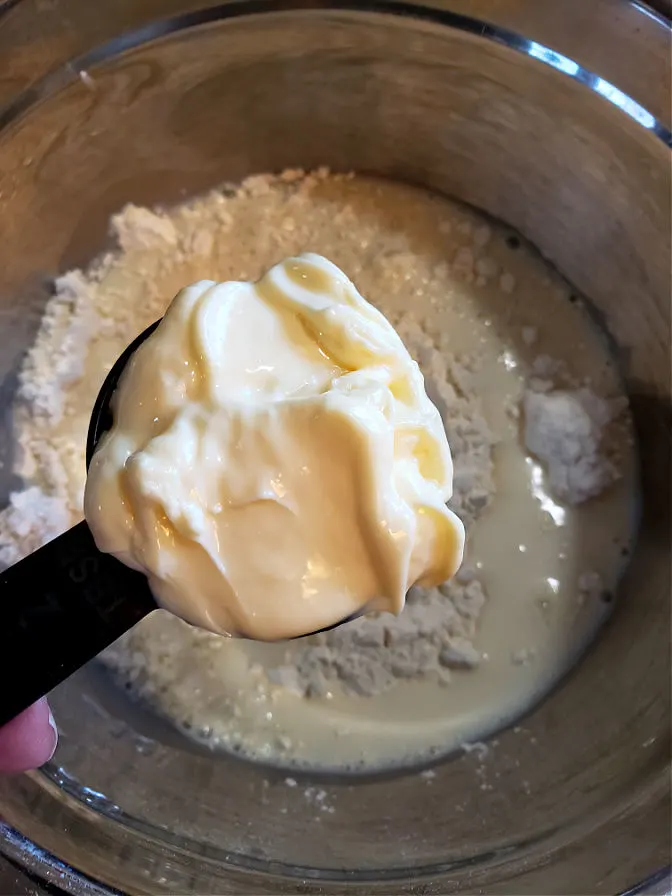 To make the dough, and I use that term loosely for this recipe, add all of your ingredients to a mixing bowl. The measuring spoon in the photo above is for two tablespoons. I use that with a heaping amount of mayo so in actuality it's more likely three tablespoons.
Once you've added all of your ingredients to the mixing bowl, just combine everything together.
Quick and Easy Bread for Meals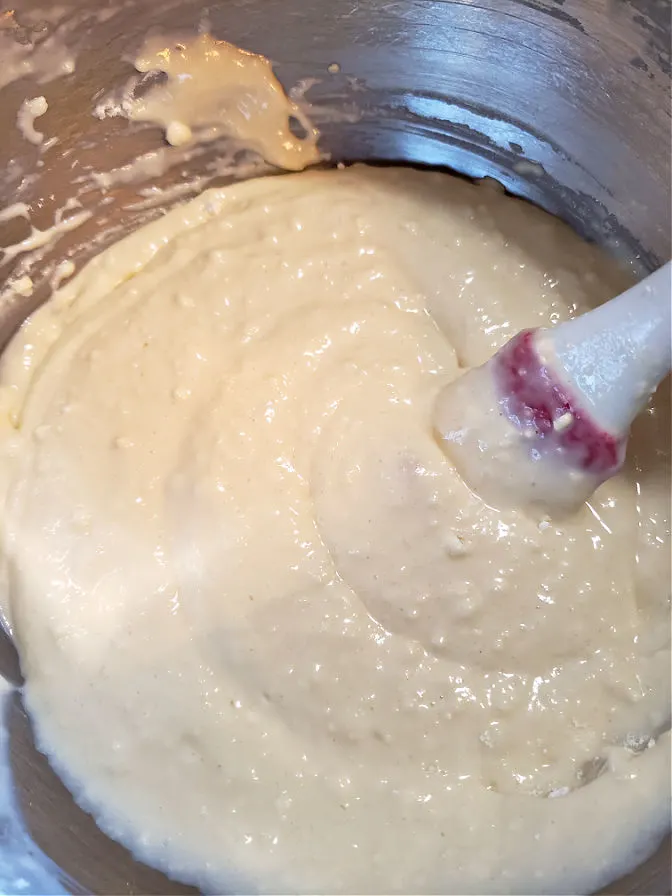 Why you'll love this recipe?
It is so easy to make – just mixing the ingredients up with a few stirs of a spatula or whisk.
There's no rolling biscuit dough – just scoop it out and drop it in a muffin tin.
The biscuits are delicious! – you'll love them!
Now you can probably see why the term dough seems a bit odd for the mayonnaise biscuits recipe because it is so loose that it is more like batter. That is how it is supposed to be.
As I mentioned before, everyone has their own way to make recipes and they are all just fine but I'm sharing how I've always known these homemade super easy biscuits to be made.
There is no rolling of the dough here. I think for obvious reasons (with that wet loose dough) but I'm gonna tell y'all that I've seen people try to do it and some just prefer doing that but you'll need to add so much extra dang flour to work with this loose batter. To each their own as the old saying goes.
I think for anyone who may not be accustomed to baking biscuits would find trying to roll these out to be one of the most frustrating things ever. There is no way that I'd try rolling this out.
Quick Mayonnaise Biscuits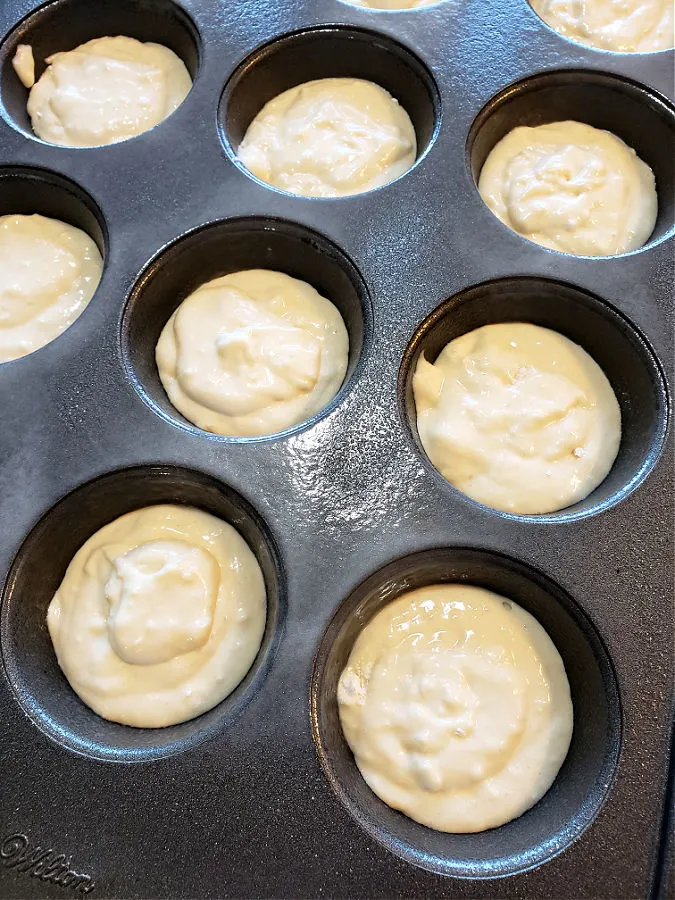 Just like with drop biscuits, you just need a scoop and to scoop equal portions of the mayo biscuit batter into the sections of a greased muffin tin (cupcake pan).
That's really it y'all – mix, scoop and plop into the muffin tin then bake.
Anyone can make these Mayonnaise Biscuits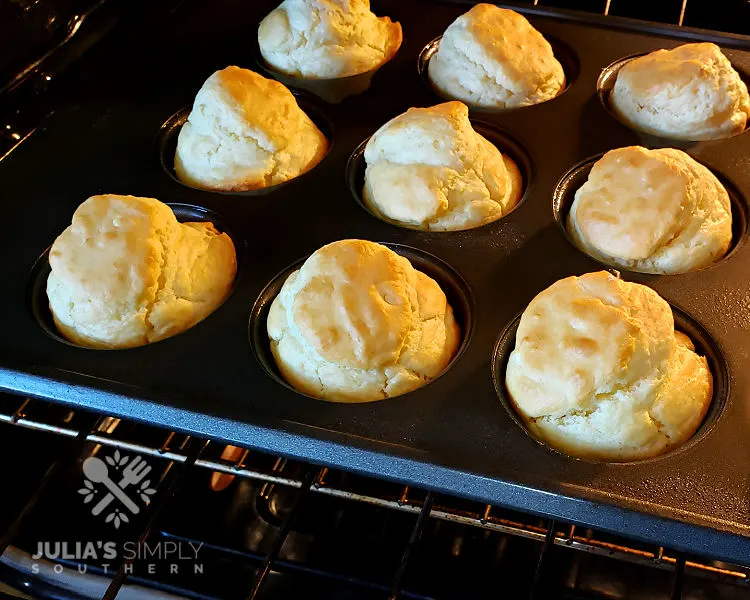 As they bake you'll notice that they rise up, sort of like a rustic pop over. The shape is quite different than that of traditional biscuits which is why I think many call them rolls.
Those who refer to these biscuits as muffins, well that's because of how they are baked…in a muffin tin.
If you're searching for a super easy way to make a biscuit or a side of bread without much effort then you've found it. You could probably whip these up faster than you could bust open a can of store bought biscuits and these will taste a whole lot better.
No Yeast Quick Bread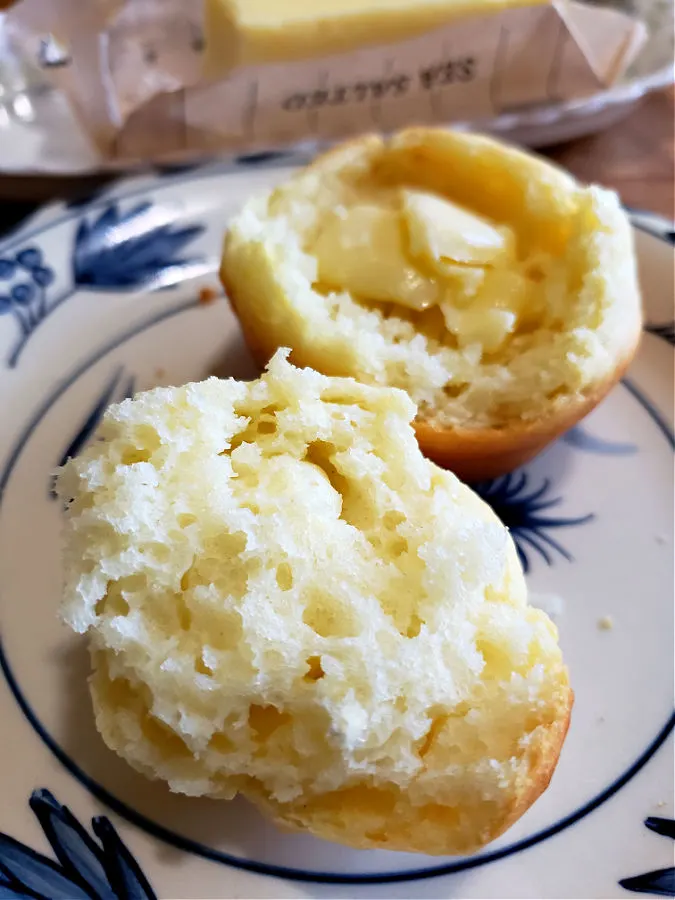 Check out the wonderful texture of the fresh baked mayonnaise biscuit. It's wonderful, light and airy. I couldn't resist pulling the top off of one and slathering on some softened butter to melt while the biscuit was still hot.
Mmm mmm mmm y'all, it is so good! Like a lot of the traditional foods that we have always known in our lives, biscuits are a happy memory. A familiar comfort that soothes the soul.
I can remember papa using his biscuit to push food around the plate and onto his fork then sopping up any goodness left on the plate so nothing was left behind. That memory always makes me smile.
Recipe for Mayonnaise Biscuits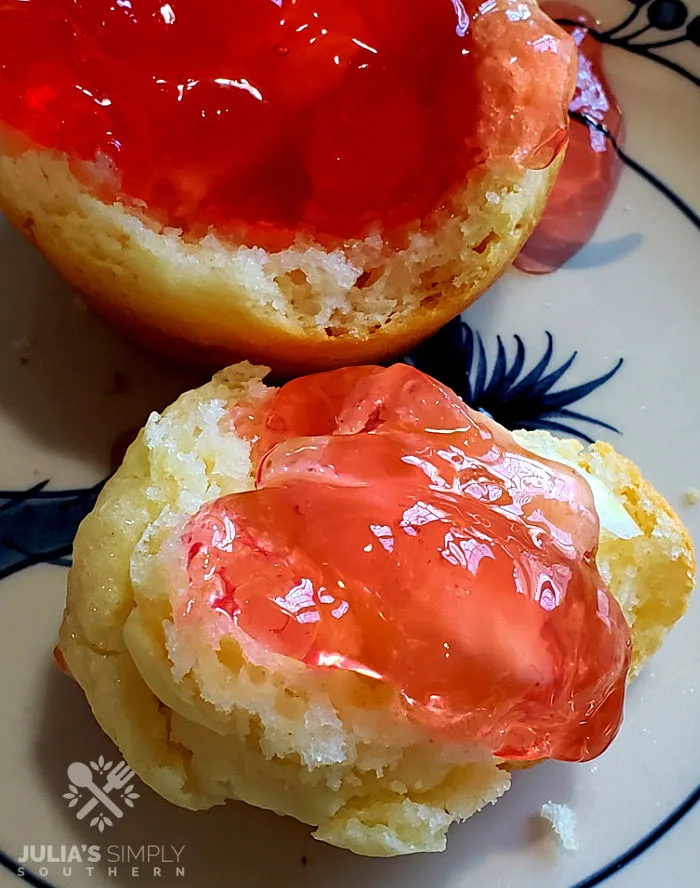 Well y'all, one little biscuit just wasn't enough! Hubs and I both had one buttered then we split another one and this time we enjoyed it with some muscadine jelly that I put up last summer.
Oh my word! It was so good too. We did control ourselves and didn't have anymore until supper time. I promise! It wasn't easy though.
When to serve mayonnaise biscuits? Quick and easy mayo biscuits are perfect for any meal of the day.
Printable Recipe Card
Yield: 1 Dozen
Easy Mayonnaise Biscuits Recipe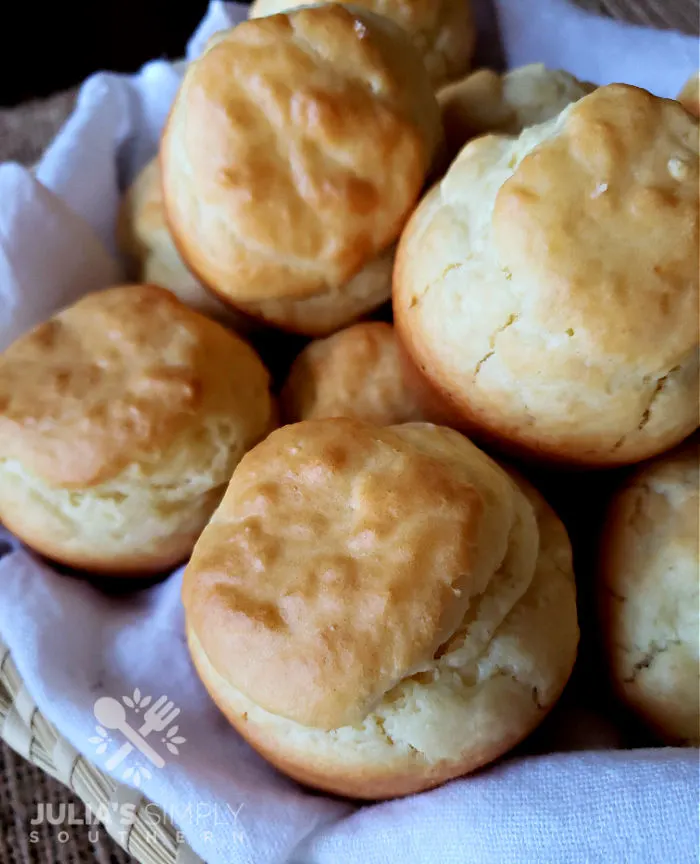 Mayonnaise biscuits are a quick, easy and delicious homemade bread option perfect for any meal of the day. These tender biscuits are also referred to as rolls or muffins.
Ingredients
2 cups Self Rising Flour
1 cup Whole Milk
2 tablespoons Mayonnaise (heaping)
Instructions
Preheat oven to 400°F (200°C).
Add the flour, milk and mayonnaise to a mixing bowl and stir until well combined. The dough will be very loose and wet like a batter.
Grease a muffin tin with cooking spray then fill each section about halfway with the biscuit dough.
Bake 20 minutes, or until golden brown.
Recommended Products
As an Amazon Associate and member of other affiliate programs, I earn from qualifying purchases.
Nutrition Information:
Yield:
12
Serving Size:
1
Amount Per Serving:
Calories:

102
Total Fat:

3g
Saturated Fat:

1g
Trans Fat:

0g
Unsaturated Fat:

2g
Cholesterol:

3mg
Sodium:

272mg
Carbohydrates:

16g
Fiber:

1g
Sugar:

1g
Protein:

3g
Where do I get the ingredients to make mayonnaise biscuits? You should easily find everything that you need at your local food store or wherever you order your food supplies.
See the Latest Bread Recipes on the Blog
Thank you so much for stopping by! I'm so glad that you did! I know that you'll love these delicious mayonnaise biscuits as well as all of my easy biscuit recipes here on the blog.
While you are here, be sure to subscribe to my email list. As a subscriber I'll send you a weekly newsletter delivered straight to your inbox with the latest recipes and news here on the blog so that you never miss a thing.
Meet Julia
Author of Julia's Simply Southern
Hey Y'all! I'm Julia, the cook and writer behind the recipes here at Julia's Simply Southern. I began my website so that I could share easy to follow recipes that anyone can use to put a home cooked meal on the dinner table. Thanks so much for stopping by!
Follow me on Facebook | Twitter | Instagram | Pinterest | YouTube