Find out how to make a delicious Roasted Pumpkin Soup in this post.
You see pumpkin soup but this soup is also loaded with vegetables. A perfect soup for fall! Soup is so comforting when the days have a chill in the air.
I think a lot of folks only associate pumpkin being spiced up with cinnamon, ginger and nutmeg before being baked up into pies or bread….or just being carved into jack-o-lanterns.
There can also be a savory side to pumpkin and since it is a squash, it makes delicious savory meals. Cooking with pumpkin during the fall when they're plentiful is also a great way to skip the canned stuff. I have nothing against canned pumpkin but why not use fresh when you can.
I'll be honest though, the pumpkin itself is rather bland. It can easily be added to dishes you may not expect and never detected. It does add extra vitamins that only veggies can deliver. Your standard pie pumpkin (sugar pumpkins) are loaded with vitamin A.
My fresh pumpkin soup recipe includes my favorite aromatic vegetables that deliver the additional flavors this soup needs. It's delicious! The soup is naturally creamy, so save the cream for garnish and to add an extra richness!
Healthy Pumpkin Soup Recipe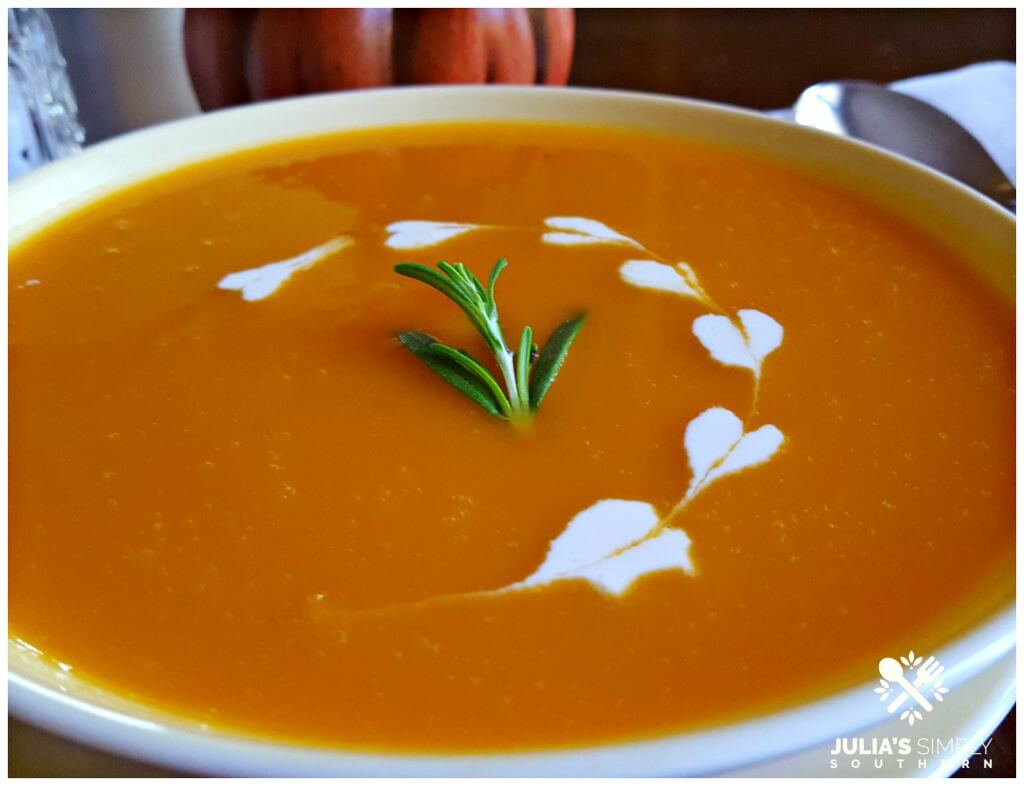 Why is it called Roasted Pumpkin Soup? The pumpkin must be roasted to remove the pulp because peeling that tough outer pumpkin shell is just impossible and possibly a little dangerous. By first roasting the pumpkin the outer shell can easily peeled away with your fingers or just use a spoon to scoop out the pulp.
Since this soup has no cream in it, it freezes well. Just portion out in plastic freezer containers, label and freeze for easy meals.
Easy Winter Squash Soup Recipe
Before we make our delicious pumpkin soup, we need to bake those pumpkins. This is the basic method for baking pie pumpkins, even if you're just saving the puree for pies or baking.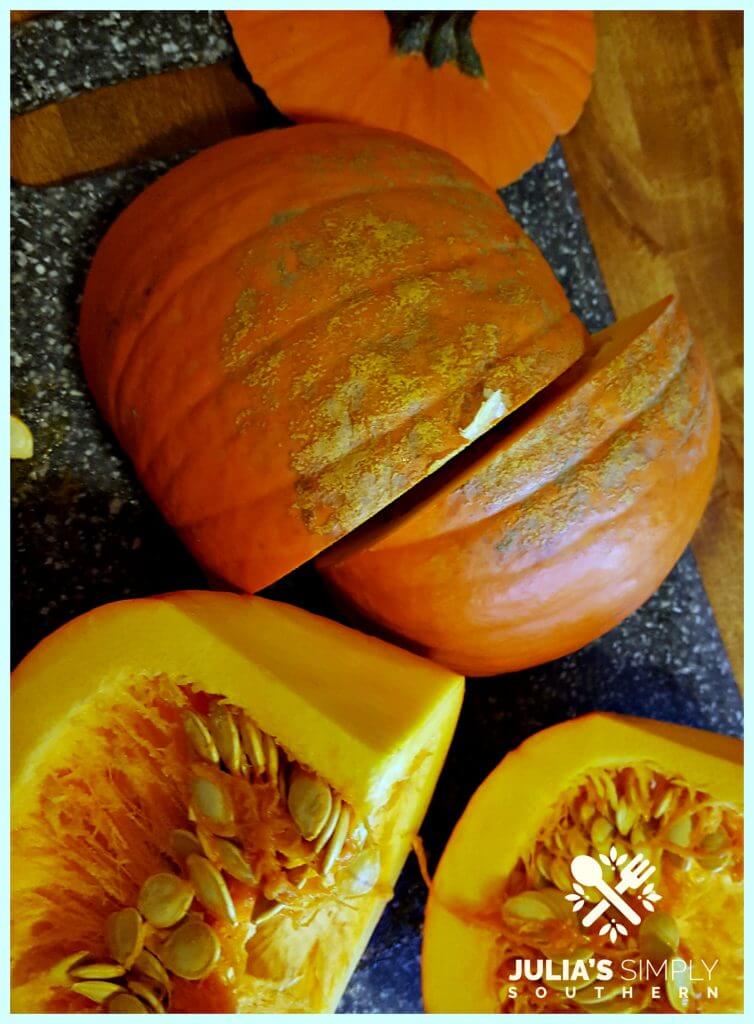 Carefully remove the stem piece then slice the pumpkin in half and then again into quarters. Scoop out the seeds and stringy pulp. You can even use your fingers to peel the pumpkin skin away from the pulp, just be sure to give the pulp a rough chop before adding to the soup later.
Save the seeds for another use.
Bake the pumpkins in a 350°F oven for one hour. Allow the pumpkins to cool enough to safely handle and remove the cooked pulp and set aside until ready to use.
Creamy Pumpkin Soup
Full printable recipe card at the end of this post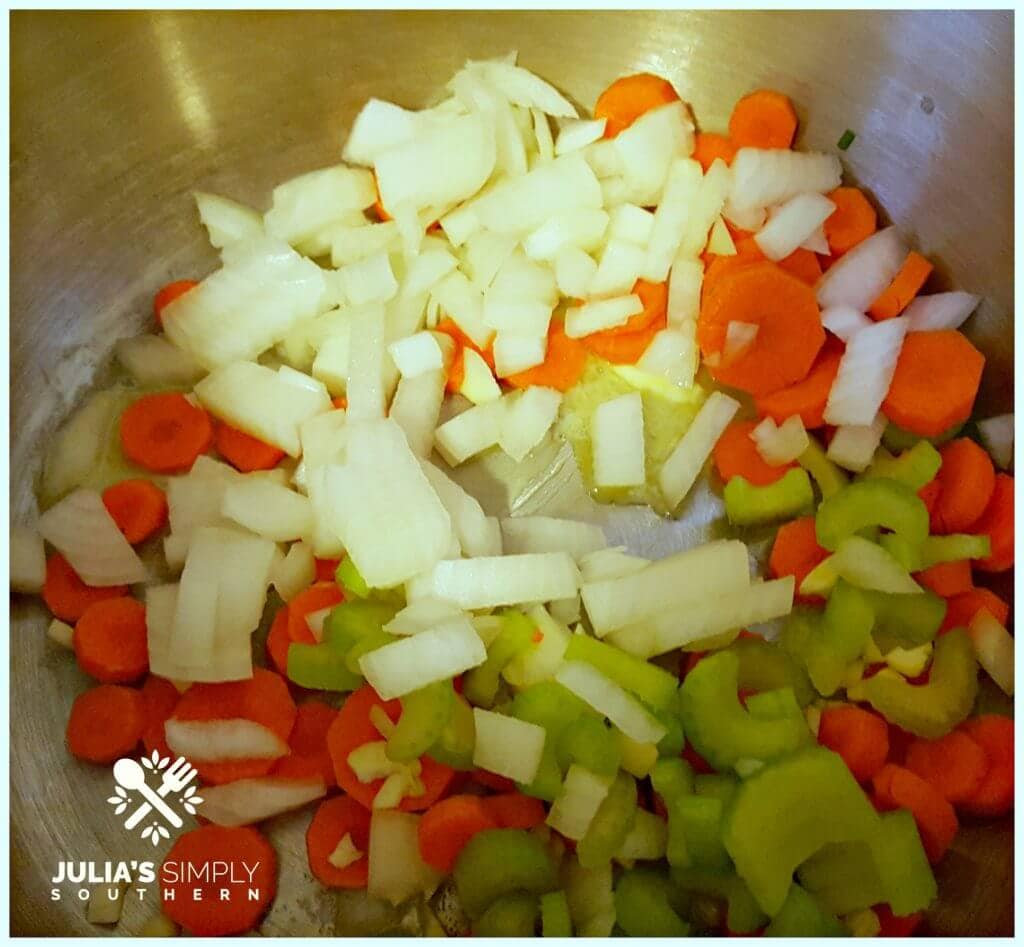 Step 1: Heat a dutch oven or soup pot over medium heat. Add the butter to the pot then add the onion, carrots, celery and garlic and saute for 5 minutes.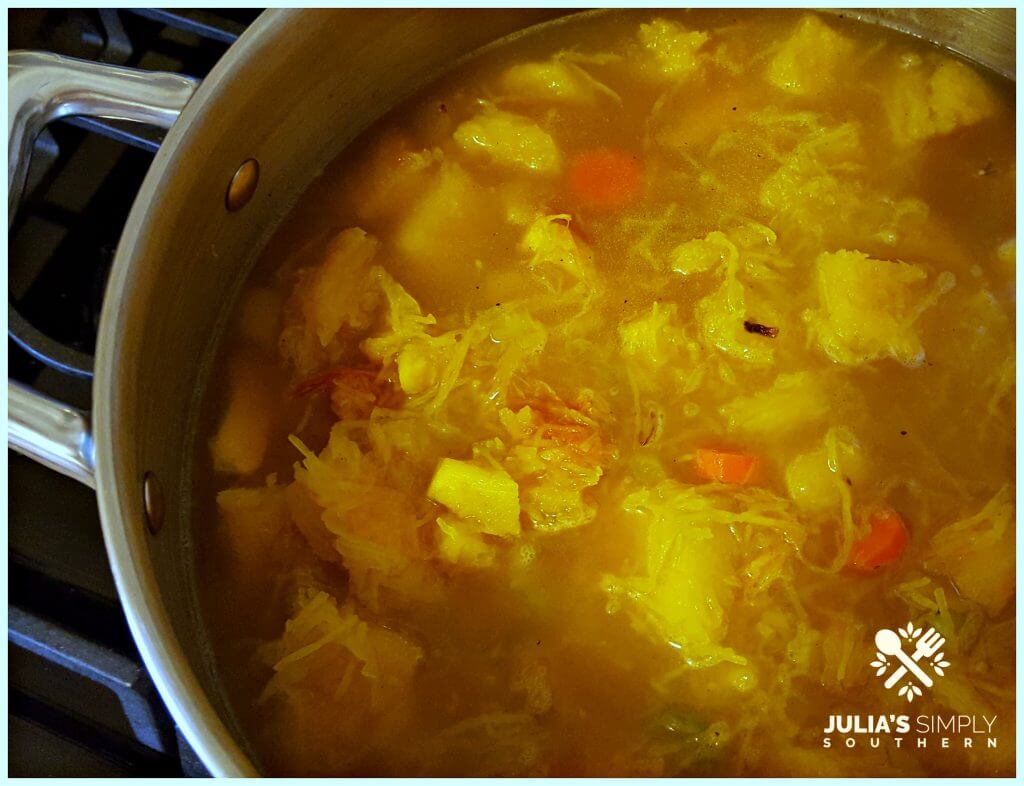 Step 2: Next, add the baked pumpkin and the chicken stock. The soup is not looking too pretty at this stage but that's normal, no need to worry. Notice that the cooked pumpkin flesh looks kind of stringy? When making puree or this soup, that will get blended away until it's perfectly smooth.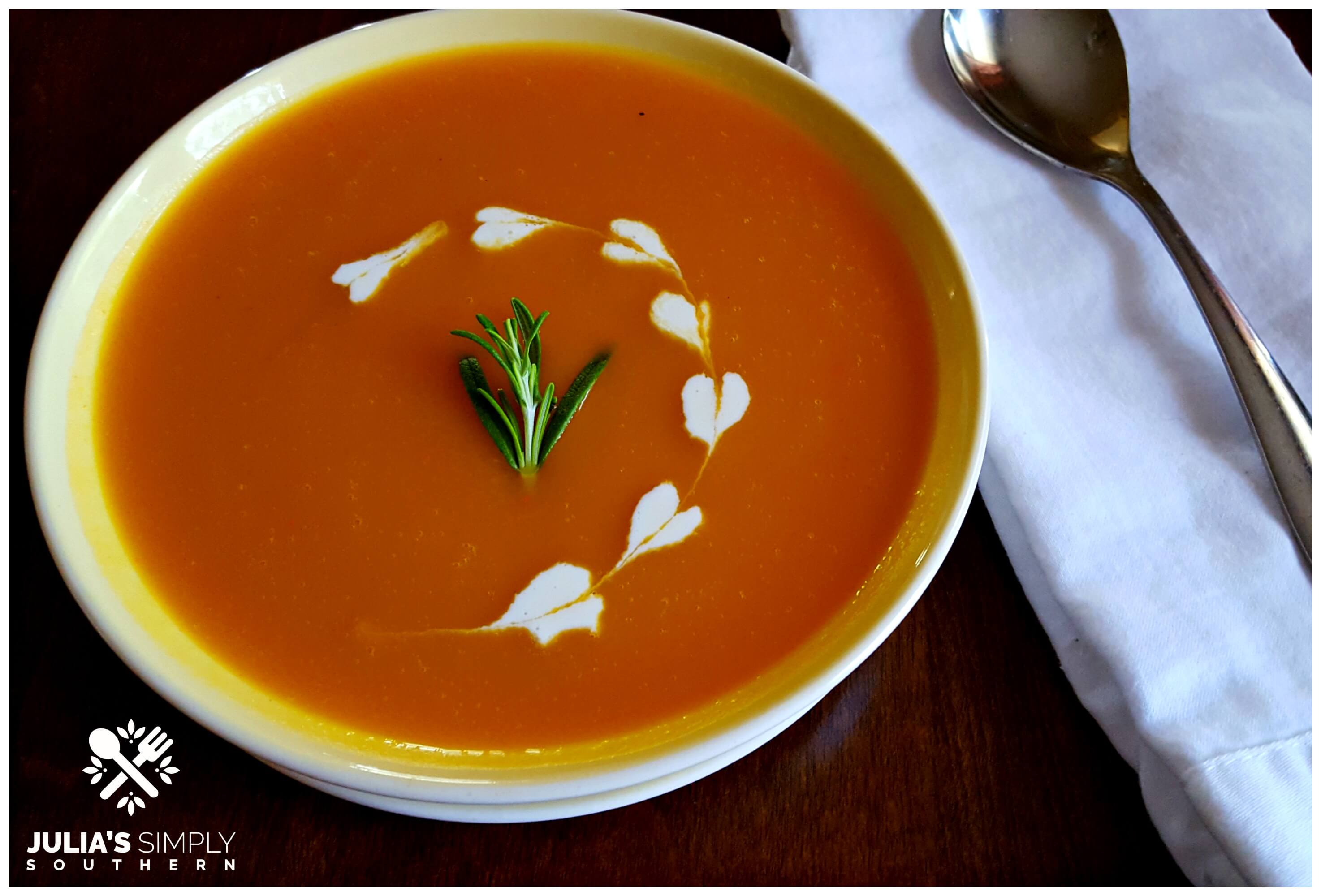 Step 3: Cover and bring the pumpkin soup to a boil then reduce the heat to just a simmer. Allow the soup to simmer for one hour. Finally, using an immersion blender, blend the soup until smooth. If you do not have an immersion blender, allow the soup to cool down and then use add the soup to a blender in batches and blend until smooth.
Serve with a drizzle of heavy cream on top, if desired. If you'd like to make cream hearts on your soup as I've done, pour a little heavy cream in a big spoon, then add a drop of the cream on the soup where ever you'd like them. Use a toothpick to run through the center of each cream dot and you'll end of with a heart like shape. Pretty!
I learned to make the heart shapes watching someone decorate cookies. It's fascinating, for me anyways, the different techniques used to add those special little touches.
More pumpkin recipes you may enjoy: Pumpkin Cornbread Muffins, Easy Pumpkin Alfredo Sauce, or Pumpkin Pepper Jack Macaroni and Cheese
Roasted Fresh Pumpkin Soup
Yield: 12 cups
Roasted Pumpkin Soup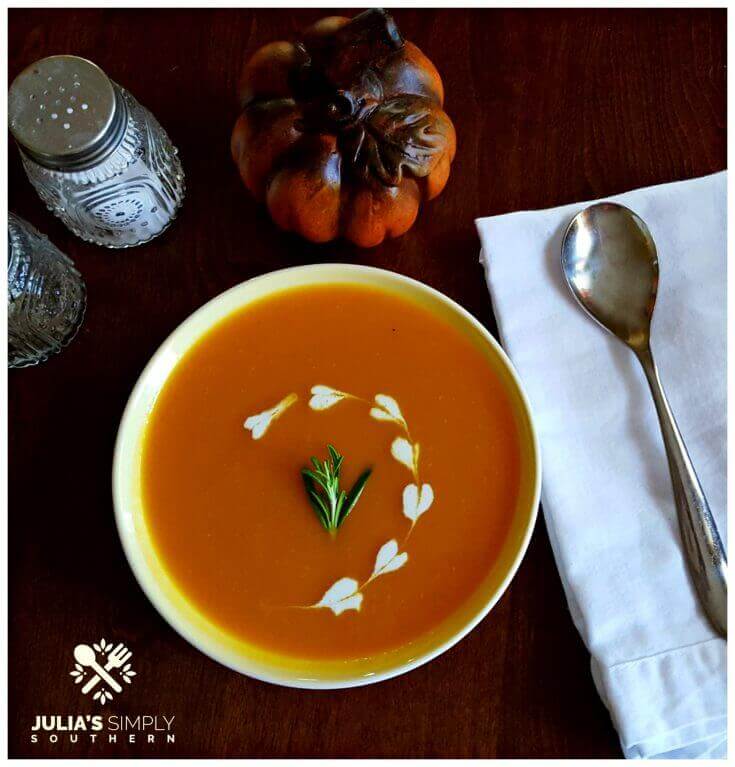 Delicious fresh roasted pumpkin soup blended with cooked aromatic vegetables is the perfect nutritious fall meal.
Prep Time
1 hour
15 minutes
Additional Time
5 minutes
Total Time
2 hours
20 minutes
Ingredients
2 Pie Pumpkins (4 c Fresh Roasted Pumpkin)
1 Yellow Onion, diced
3 Carrots, peeled and sliced (about 1 cup)
1 Stalk of Celery, sliced (about 1/2 cup)
2 Cloves of Garlic, minced
8 c Chicken Stock
1.5 tsp Salt, or to taste
1/4 tsp White Ground Pepper
1/2 tsp Dried Thyme (or 1 tbs Fresh Thyme)
heavy cream, for garnish if desired
Instructions
If you do not have fresh pumpkin puree in your freezer, begin by preparing the pumpkins for baking.
Preheat oven to 350° F
Using a knife, carefully remove the stem piece from each pumpkin.
Next, cut each pumpkin into four pieces then use a spoon to clean out the seeds and stringy pulp. The seeds may be cleaned and saved to use another time.
Place each pumpkin quarter on a foil lined baking sheet and bake for 1 hour.
Allow the pumpkin to cool enough for handling. You can use your fingers to peel away the pumpkin shell skin or use a spoon to remove the cooked pumpkin and set aside until ready to use.
Heat a dutch oven or soup pot over medium
Add the butter and melt
Next, add the diced onion, sliced carrot, sliced celery and minced garlic to the pot and saute for 5 minutes.
Next, add the chicken stock and roasted pumpkin
Season with salt and pepper and add the thyme
Cover the pot and bring the soup to a boil.
Reduce the heat so the soup is simmering and cook for 1 hour.
Remove from heat and use an immersion blender to carefully blend the soup until smooth.
Serve hot with a teaspoon drizzle of heavy cream if desired.
Notes
Pumpkin puree can be made in advance and frozen to be used later in recipes and baked goods to save time.
Roasted Pumpkin Soup may be frozen in plastic containers for easy meals.
Nutrition Information:
Yield:
12
Serving Size:
1 cup
Amount Per Serving:
Calories:

177
Total Fat:

13.5g
Saturated Fat:

3.1g
Cholesterol:

0mg
Sodium:

827mg
Carbohydrates:

4.5g
Fiber:

0.5g
Sugar:

2.4g
Protein:

8.8g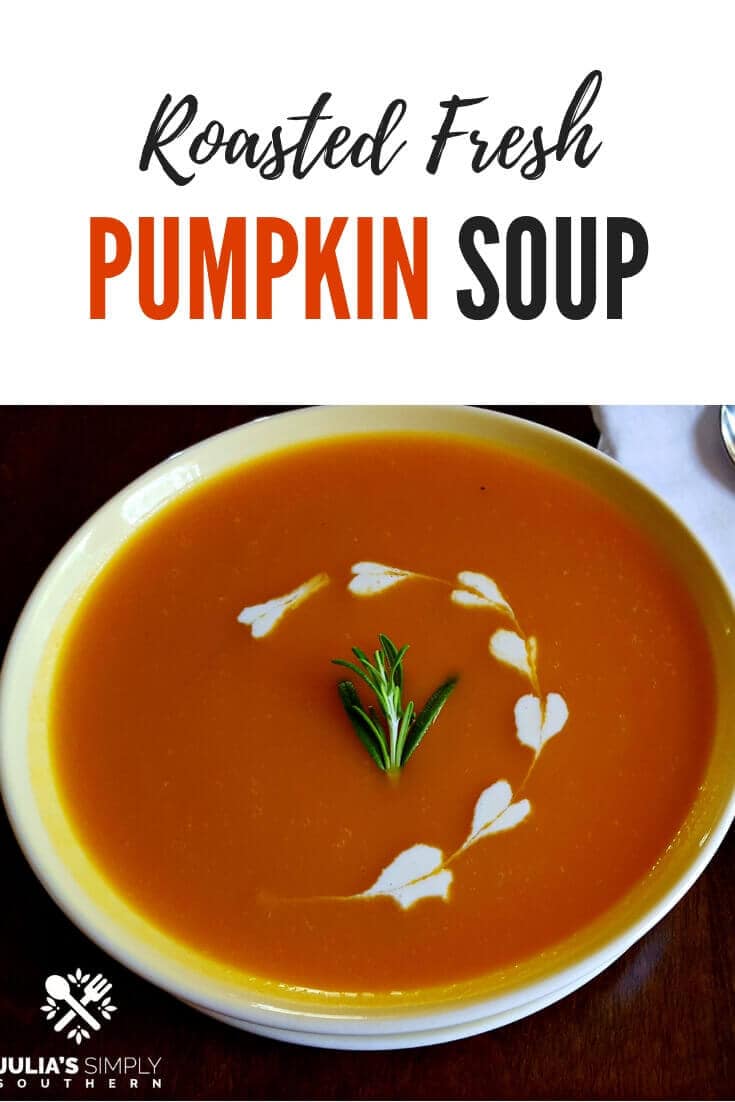 See this recipe at the Weekend Potluck and Meal Plan Monday
Latest Recipes
You Might Also Enjoy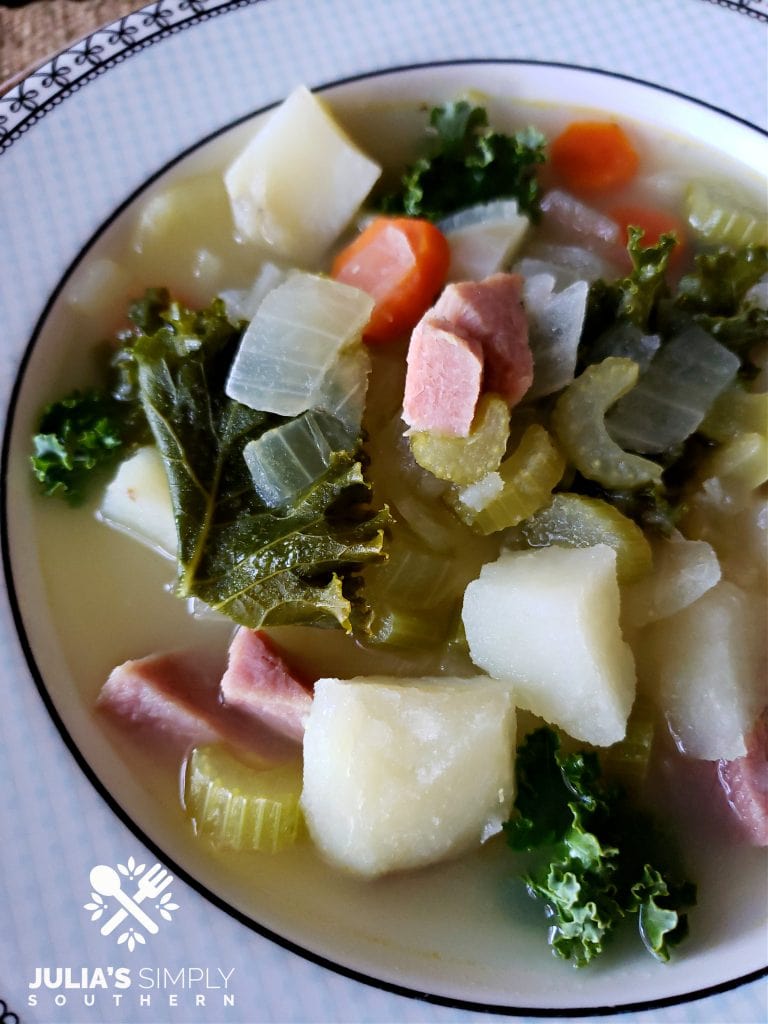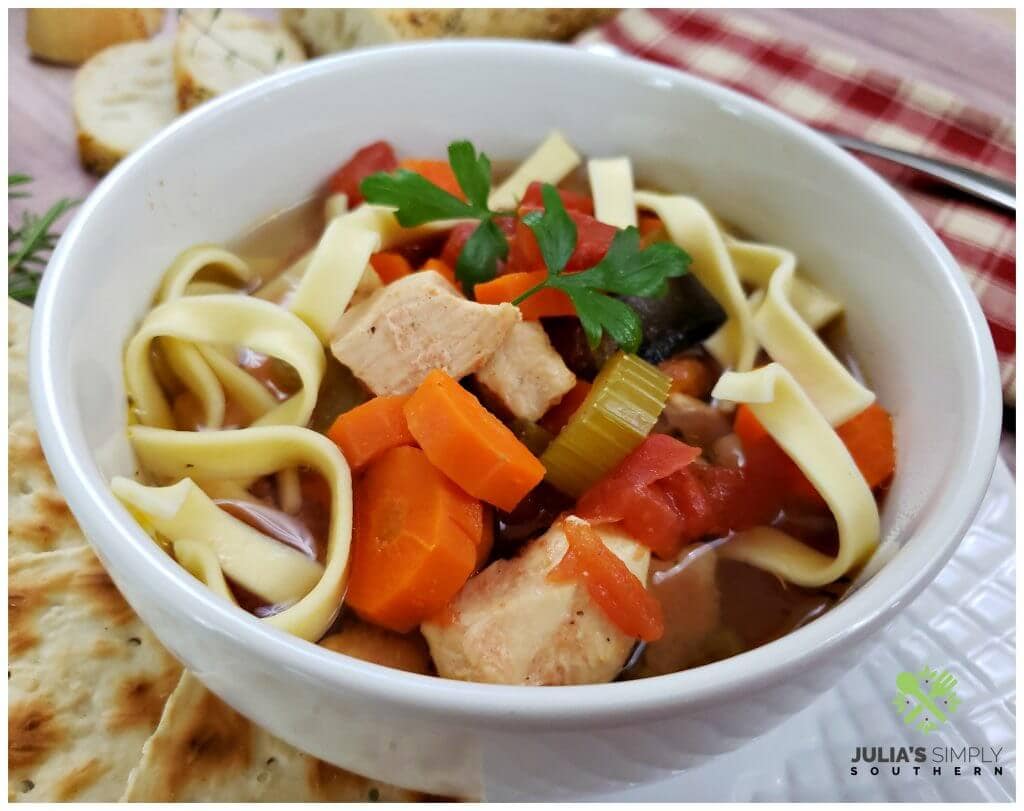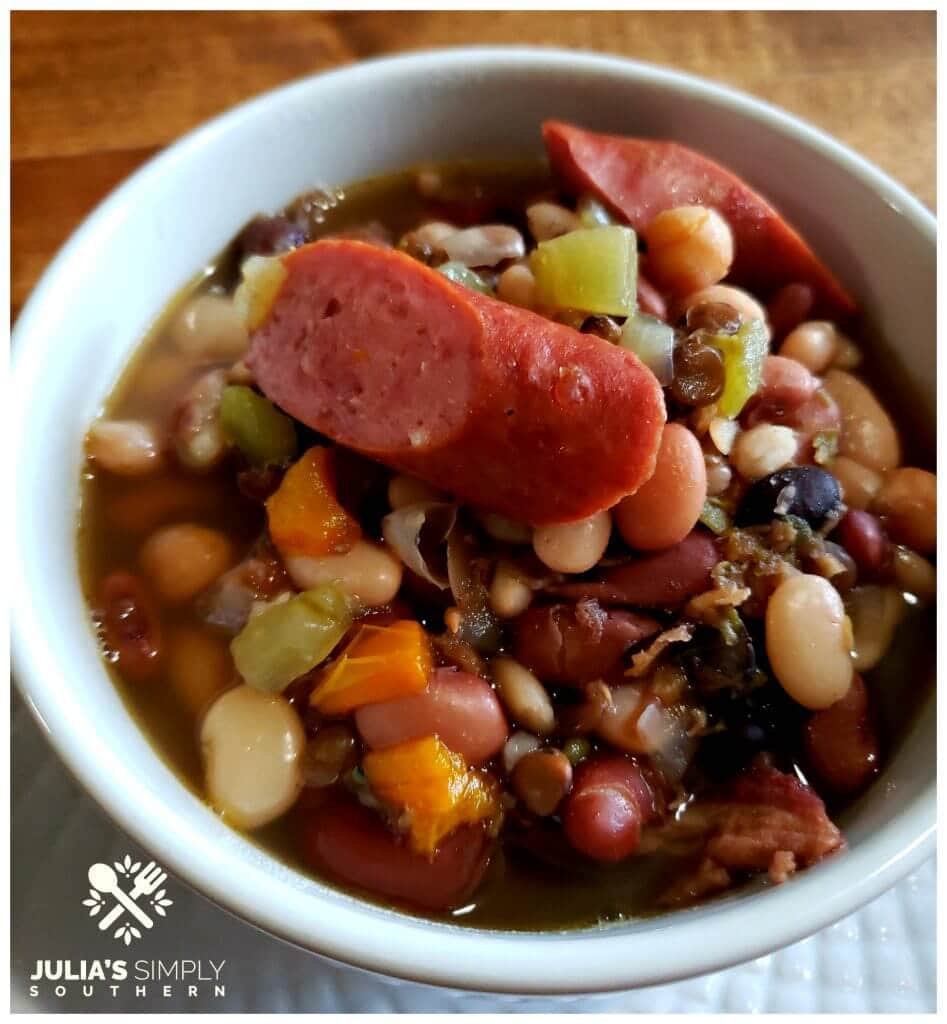 Meet Julia
Author of Julia's Simply Southern
Hey Y'all! I'm Julia, the cook and writer behind the recipes here at Julia's Simply Southern. I began my website so that I could share easy to follow recipes that anyone can use to put a home cooked meal on the dinner table. Thanks so much for stopping by!
Follow me on Facebook | Twitter | Instagram | Pinterest | YouTube