In this post I'll be sharing a Simple Old Fashioned Bologna Salad Recipe.
Some of y'all have been asking me for a bologna salad recipe for a while now and I am happy to be checking that one off of my list today. This is a simple old-fashioned bologna salad that is great as a sandwich spread or with crackers.
You'll often hear baloney salad called "ham salad", and that is how it is believed that the recipe originated, as a cheap way to make ham salad with bologna instead.
For decades family cooks have been pulling out the table top meat grinder or food processor to make a batch of bologna salad using ring bologna meat or hot dogs or a combination of the two.
This budget friendly copycat ham salad recipe would be spread on white bread, sometimes with a slice of cheese or a bit of lettuce for lunches. Nothing fussy or fancy. but you wouldn't go hungry.
Bologna Salad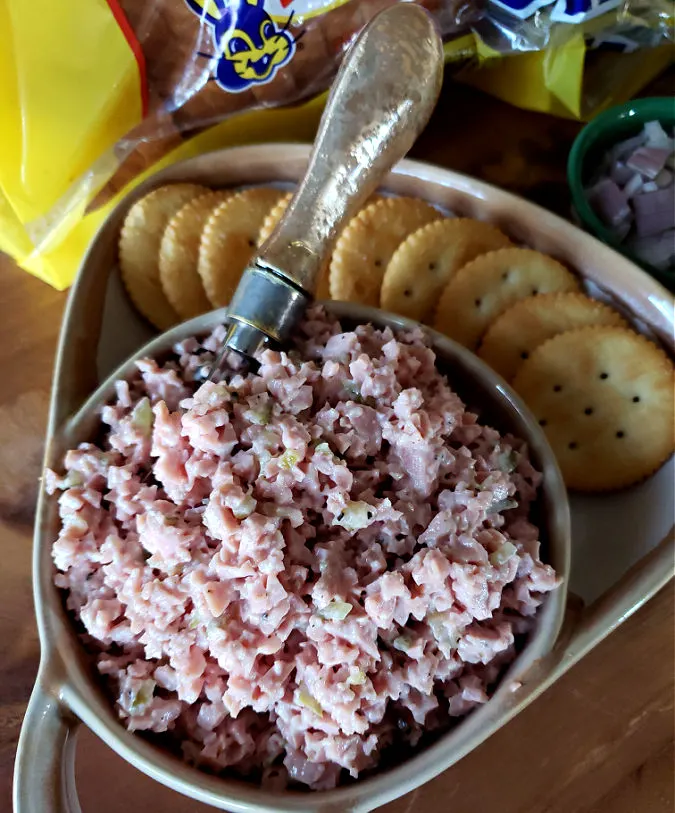 Y'all, I have seen folks get into arguments over how baloney salad is supposed to be made. Oh my stars! If someone's family recipe is different from your own, that is okay.
I am going to share the basic recipe for making a perfectly delicious batch of this classic favorite with humble ingredients.
Poor Man's Ham Salad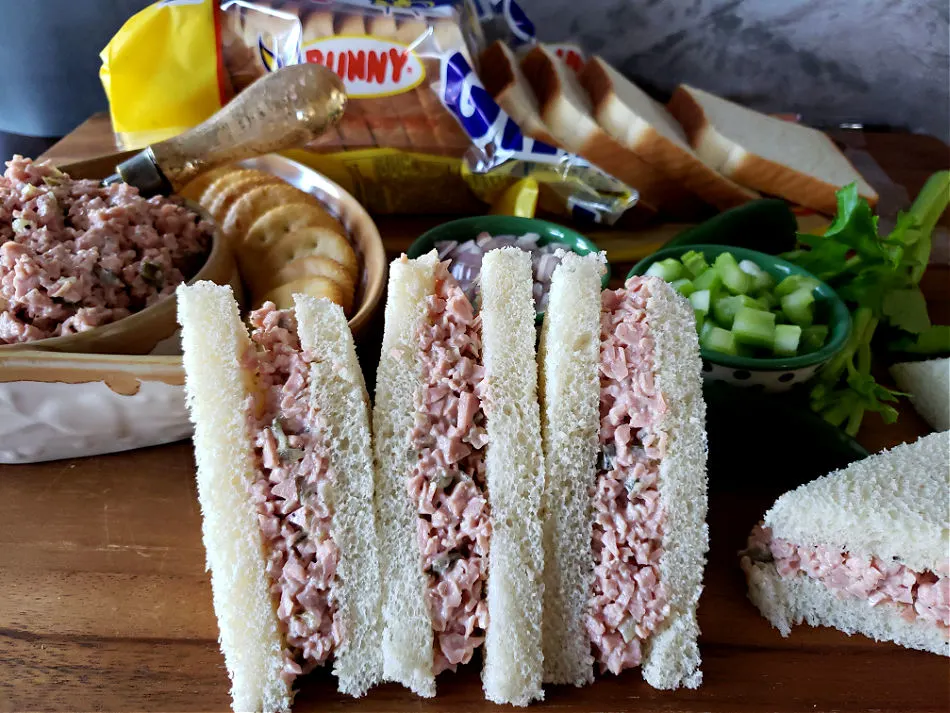 Old fashioned bologna salad is called by many different names. I mentioned it being referred to as ham salad but it is also known by deviled ham salad, poor man's ham salad, monkey meat (ugh, who came up with that one?), and simply….meat salad.
I don't recall Mama ever making baloney salad but Nanny did. Of course, back then I was a picky little eater and wanted nothing to do with it. If I was gonna eat baloney at all then I wanted a fried bologna sandwich instead.
Bologna Salad Ingredients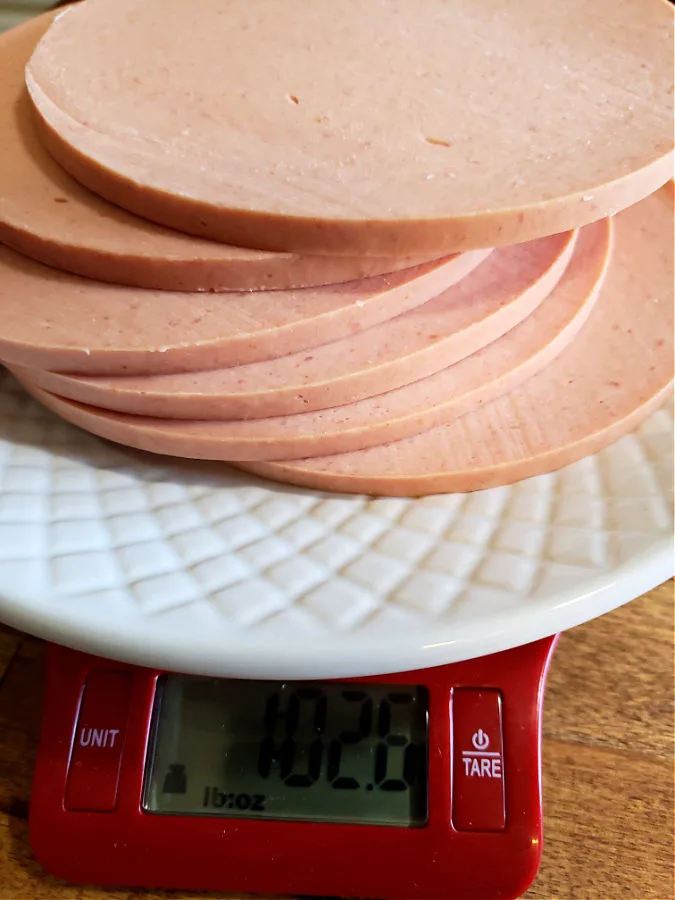 Here's what you'll need to make my simple old fashioned bologna salad recipe:
Bologna – use your favorite bologna for this recipe. I picked up some from the deli meat counter. You'll need about a pound and mine was just over but that's okay. Since it was going to be chopped up, I asked it to be sliced really thick.
If you have a few hot dog wieners that you need to use up then throw them in too.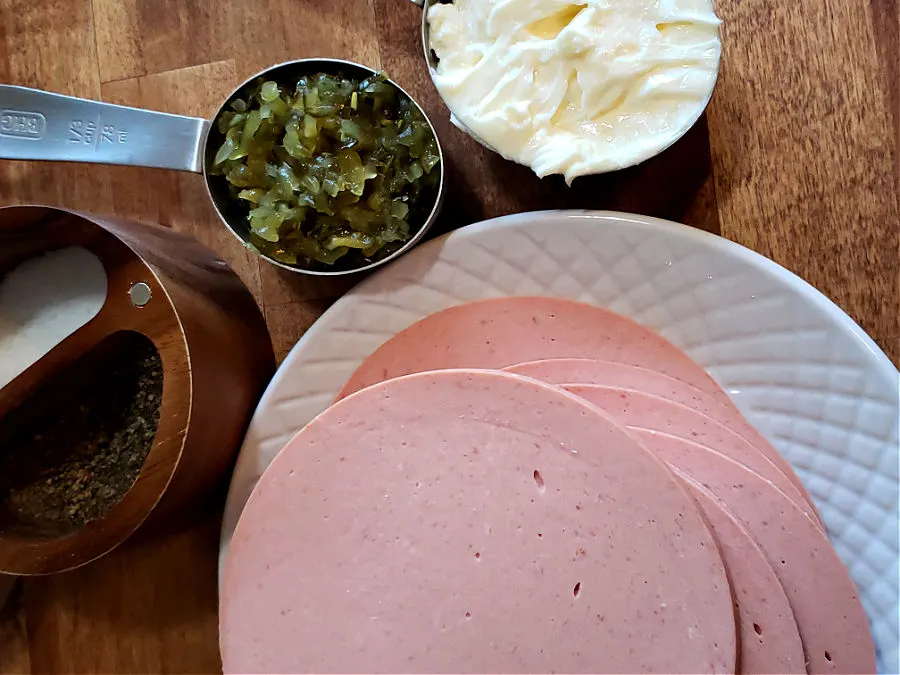 you'll also need:
Pickle Relish: it seems to be that most folks enjoy sweet relish in baloney salad, so if you like sweet pickles use that. Others prefer dill pickles and if you fall to that category, use dill relish. Nanny used sweet pickle relish so that is what I used in the recipe.
Mayonnaise: is the binder for the meat spread. I prefer a real mayonnaise, like Duke's mayo, because that is what I was raised on. If you prefer the salad dressing, Miracle Whip, then use that.
Seasonings: I keep it simple with just a bit of salt and pepper, to taste. If you want to use other seasonings, such as garlic powder or onion powder then add them to suit your taste.
Bologna can be a salty meat depending on the brand that you purchase. I mix my bologna mixture with some ground black pepper, then give it a taste to see if it needs salt. A bit of fresh black pepper always adds a nice kick of spice to most recipes. The Boar's Head deli bologna that I used wasn't very salty, to our taste buds anyway, so I did add a little bit.
Those are the basic essentials for making a batch of tasty bologna salad for great sandwiches.
Optional Ingredients for Baloney Salad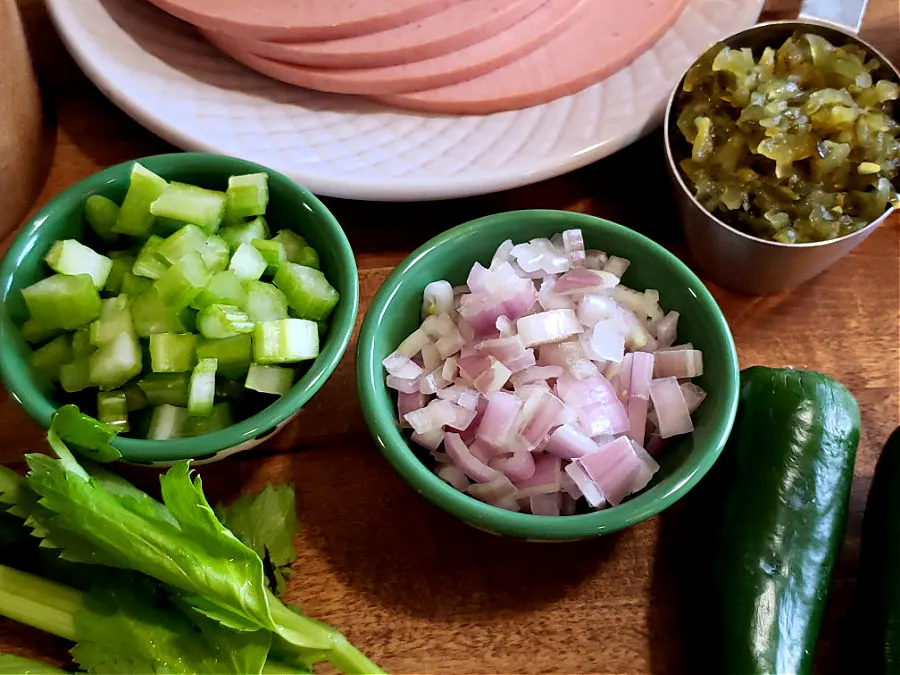 There are a few delicious options that folks also enjoy in bologna salad if they have them on hand.
Diced Celery – adds crunch, texture and additional flavor. Celery is also popular in many salad recipes.
Diced Onion – adds flavor and texture.
Cheese – a lot of folks enjoy their bologna salad with cheese. Grated cheddar cheese or American cheese are popular options.
Peppers – for added flavor, crunch and texture. Diced sweet green pepper, diced jalapenos, diced banana peppers and drained diced pimento peppers are all great options.
Boiled Eggs – diced hard boiled eggs make the salad heartier and add texture. We seem to like putting boiled eggs in lots of things here in the South. You can add diced boiled egg, with or without egg yolks, to suit your taste.
Yellow Mustard – it's a popular addition for many to add about a tablespoon or so of mustard to their baloney salad recipe.
If you like to add anything else to your baloney salad, leave me a comment and let me know what you like to add.
Even with the optional ingredients you still end up with a simple ingredient list that you can find at your local grocery store or Walmart.
How to make Bologna Salad?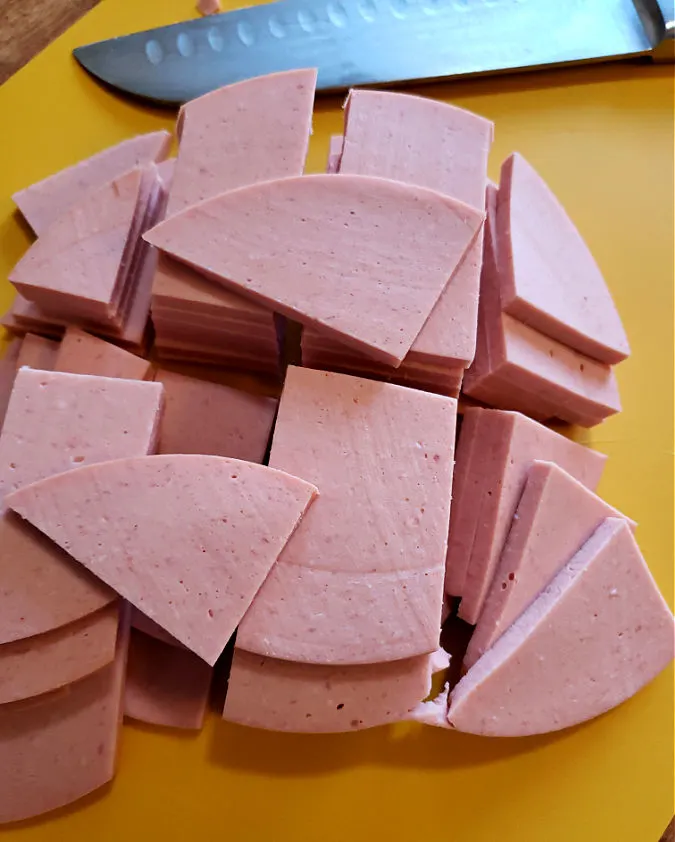 I like to make this meat salad using my food processor but you don't need one to prepare it. If you don't have a food processor or meat grinder then you can just use a knife to dice the sliced bologna into small pieces.
Hand chopping takes a little bit longer but the salad will be equally delicious.
Simple Old Fashioned Bologna Salad Recipe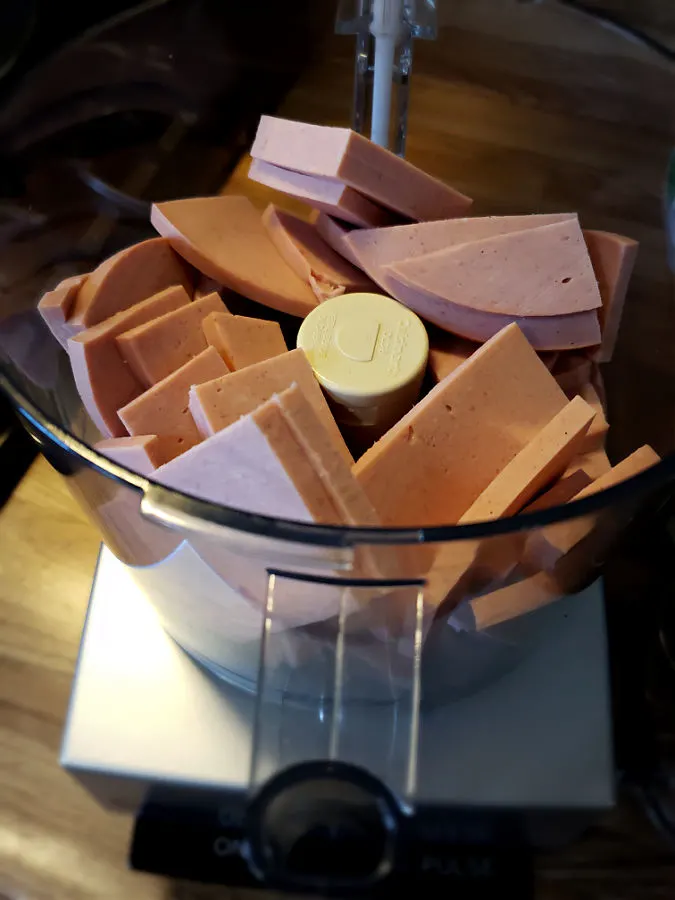 Since my baloney is going into the processor with the blade attachment, I just give it a rough chop into large pieces then add it to the processor.
Once all of the meat is in the food processor, place the locking lid on and pulse a few times.
Bologna Ham Salad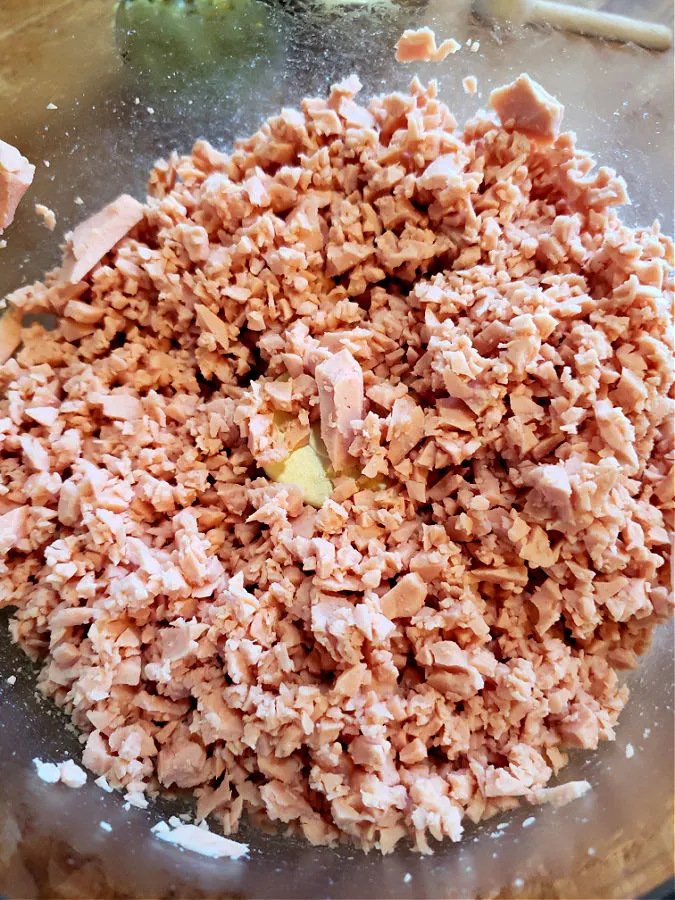 You can pulse the bologna meat until you get the desired consistency that you enjoy. A few quick pulses should do the trick.
Be very careful of the sharp blade and remove it so that you can get all of the meat out of the processor bowl.
I pulse three or four times because I like to leave it slightly chunky. To me, this is more visually appealing, but that is my personal preference. You'll notice a couple of bigger pieces but that is okay.
You may like to pulse a bit more for a creamier spread consistency.
Best Baloney Salad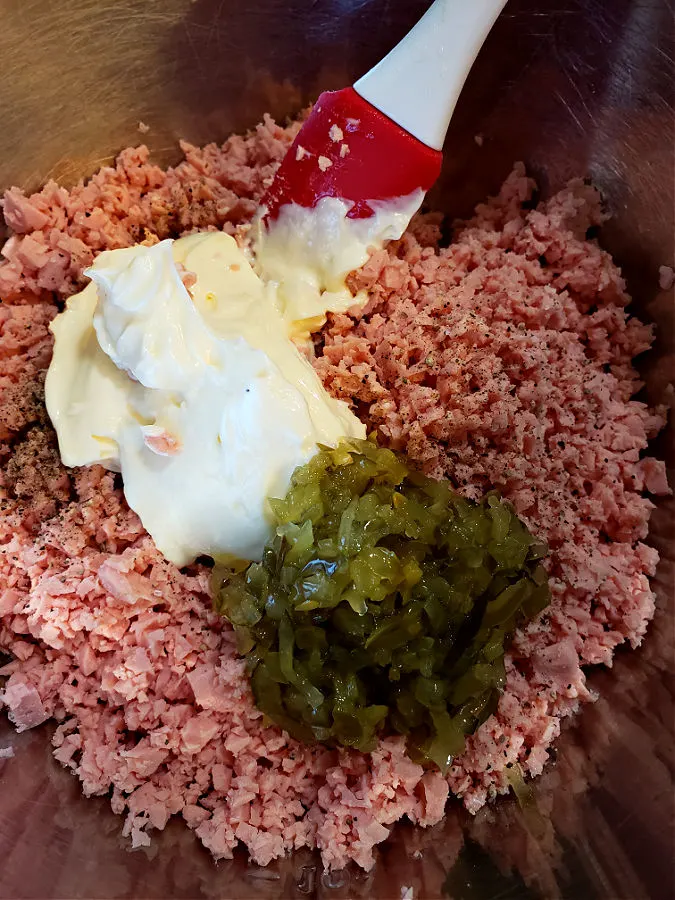 Next, transfer the chopped meat to a large bowl to mix bologna with the rest of the ingredients that you're using in your baloney salad.
I just use a spatula to stir it up until everything is well combined.
Bologna Salad Sandwich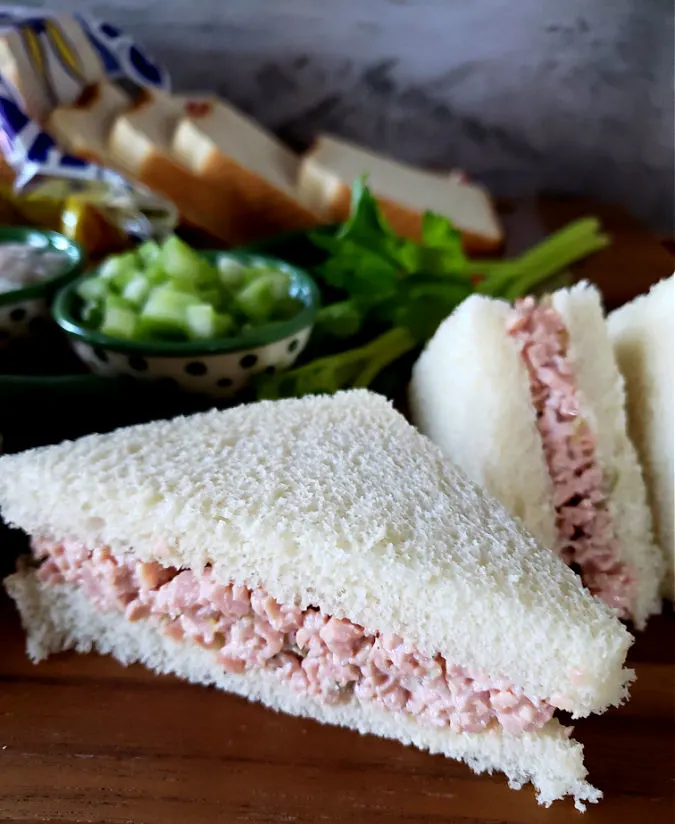 Why you'll love this recipe:
Prep time is minimal and it takes only minutes to make this sandwich spread.
The recipe calls for simple ingredients.
Preparing old fashioned bologna salad really stretches a pound of baloney. You might be surprised how much spread this makes. It seems to make the meat amount increase so it goes for more meals.
Finally, this delicious classic recipe is a favorite for many folks for many generations. A delicious bologna salad sandwiches recipe is great to have on hand for budget friendly meals.
Bologna Salad Recipe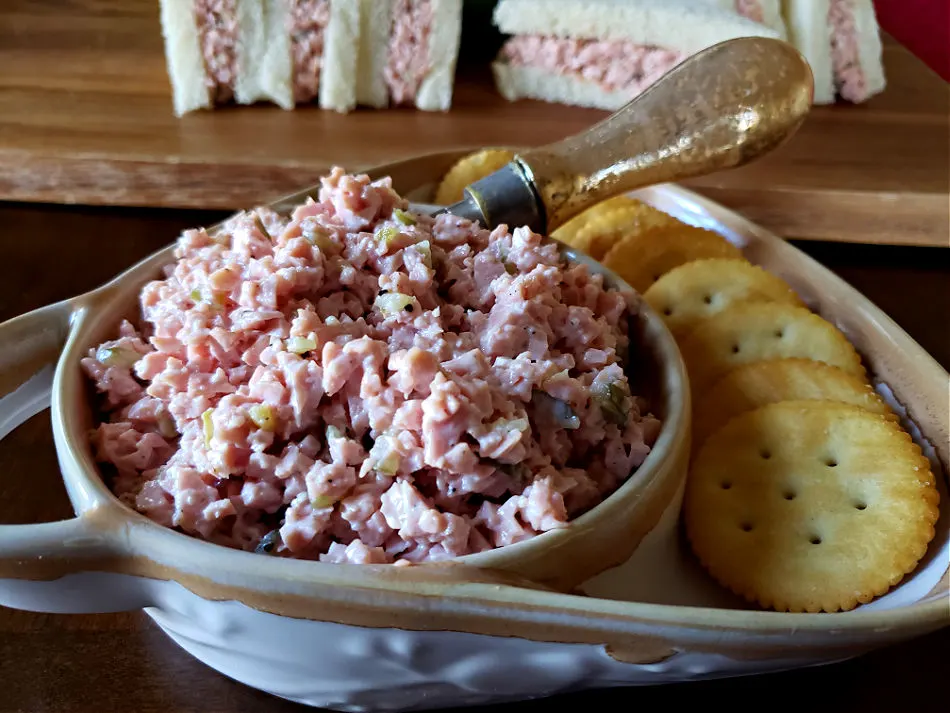 In case you're wondering…
How long is bologna salad good for in the fridge? Assuming that your ingredients are fresh and not near their expiration dates then your baloney salad will last five to seven days, covered and refrigerated.
Can bologna salad be frozen? Unfortunately no. Mayonnaise separates when frozen and makes things a mess so freezing isn't an option. The bologna meat itself may be frozen to use at a later time for preparing the meat salad.
How to serve old fashioned bologna salad? This spread is delicious served on fresh soft white sandwich bread, homemade bread, with Ritz crackers or saltine crackers.
Enjoy the bologna salad sandwiches with potato chips, celery and carrot sticks, potato salad, pasta salad, fresh fruit or other cold salad sides that you enjoy.
To make yourself a delicious baloney salad sandwich, add the desired amount of meat spread to one side of the bread, add any toppings you might like (such as lettuce, sliced cheese, or tomato slices) then place another slice of bread on top and enjoy.
If you're like me then you prefer that your sandwiches be cut diagonally before eating. That just seems to make it all the better.
Printable Recipe Card
Yield: 1 Pound
Old Fashioned Bologna Salad Recipe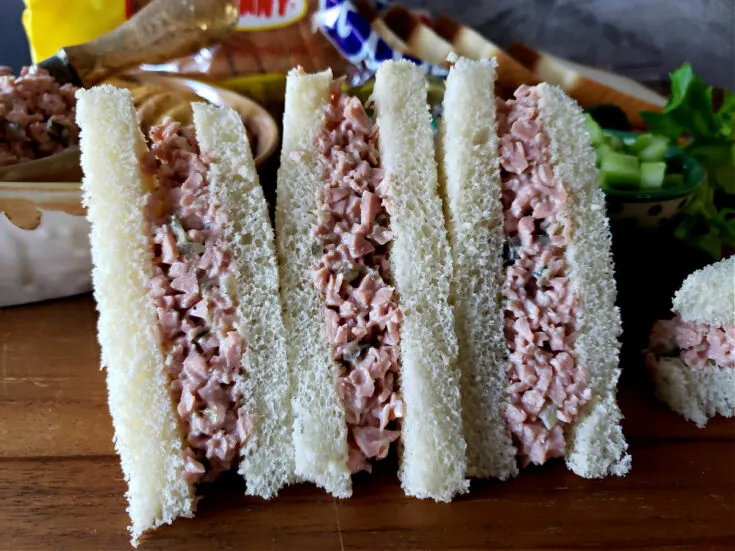 Old-fashioned bologna salad (also known as poor man's ham salad recipe) just like granny made with simple ingredients. Enjoy this tasty meat spread on sandwiches or crackers.
Ingredients
1 pound Bologna
⅓ cup Sweet Pickle Relish (may use dill relish if preferred)
½ cup Real Mayonnaise (may use Miracle Whip if desired)
Salt and Ground Black Pepper, to taste
Instructions
Begin by rough chopping the bologna meat and adding it to a food processor with the blade attachment. (See Notes)
Next, place the locking lid on the food processor and pulse 3 to 4 times (about 30 seconds) or until desired consistency. Carefully transfer the bologna to a mixing bowl.
Add the remaining ingredients to the chopped bologna and use a spatula to stir until well combined.
Serve the bologna salad spread on sliced bread for sandwiches or enjoy with crackers.
Notes
Optional ingredients for bologna salad that you may enjoy: celery, onion, mustard, hard boiled eggs and cheese.
Some folks prefer to grind the bologna with a hand crank meat grinder, although the baloney salad can be prepared entirely by hand.
Store bologna salad, covered well, in the refrigerator.
Recommended Products
As an Amazon Associate and member of other affiliate programs, I earn from qualifying purchases.
Nutrition Information:
Yield:
8
Serving Size:
1
Amount Per Serving:
Calories:

282
Total Fat:

24g
Saturated Fat:

7g
Trans Fat:

0g
Unsaturated Fat:

15g
Cholesterol:

40mg
Sodium:

786mg
Carbohydrates:

7g
Fiber:

0g
Sugar:

6g
Protein:

9g
Popular Recipes
The Latest Recipe Posts
Thank you so much for stopping by! I am so happy that you did. I know that you will enjoy this classic easy old-fashioned bologna salad recipe just as much as my family has for generations.
Be sure to subscribe to my email list while you are here. Subscribers receive a weekly newsletter with the latest recipes and news here on the blog delivered right to your inbox so that you never miss a thing.
Meet Julia
Author of Julia's Simply Southern
Hey Y'all! I'm Julia, the cook and writer behind the recipes here at Julia's Simply Southern. I began my website so that I could share easy to follow recipes that anyone can use to put a home cooked meal on the dinner table. Thanks so much for stopping by!
Follow me on Facebook | Twitter | Instagram | Pinterest | YouTube