In this post I'll be sharing a delicious Cranberry Bean and Sausage Soup Recipe.
Hey y'all, Julia here with a delicious recipe for cranberry bean and sausage soup that'll warm your soul and fill your belly with all kinds of goodness!
Now, when it comes to cooking up a pot of soup, I like to keep things simple and hearty. And that's exactly what you'll get with this recipe, which features tender cranberry beans, savory pasture raised breakfast sausage, and a medley of aromatic herbs and spices.
This bean soup is wonderful and budget friendly. Serve up a bowl with some cornbread muffins and enjoy!
If you're like me, you love a good pot of beans. I grew up where beans were sometimes the meal with a side of cornbread and maybe some chopped onion to sprinkle on top.
So, the next time you're in the mood for a comforting bowl of soup, give this cranberry bean and sausage soup a try. I guarantee it'll become a new favorite in your house!
What are Cranberry Beans?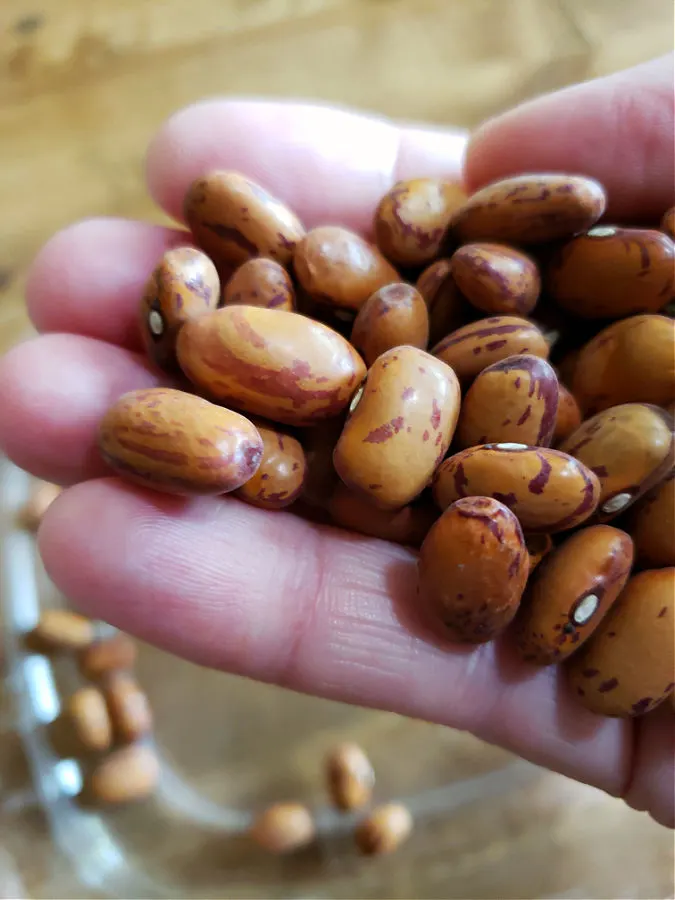 Cranberry beans, also known as borlotti beans, are a type of bean that is native to South America but is widely grown in Italy and other Mediterranean countries. They are medium to large in size and have a speckled pink and beige coloration, resembling the cranberry fruit, hence the name.
The dried red-speckled cranberry beans look sorta like pinto beans to me but still different. The pods of the fresh cranberry beans remind me of the shell of the purple hull pea.
Cranberry beans are often used in Mediterranean style cuisine, particularly in Italy, where they are a popular ingredient in soups, stews, salads, and pasta dishes.
They have a creamy texture and a slightly nutty flavor, making them a versatile ingredient in a variety of recipes.
In addition to their culinary uses, cranberry beans are also a good source of protein, fiber, and various vitamins and minerals. Beans are also a great budget friendly meal option.
Overall, cranberry beans are a delicious and nutritious food that can add flavor and texture to a variety of dishes.
Cranberry Bean Soup with Sausage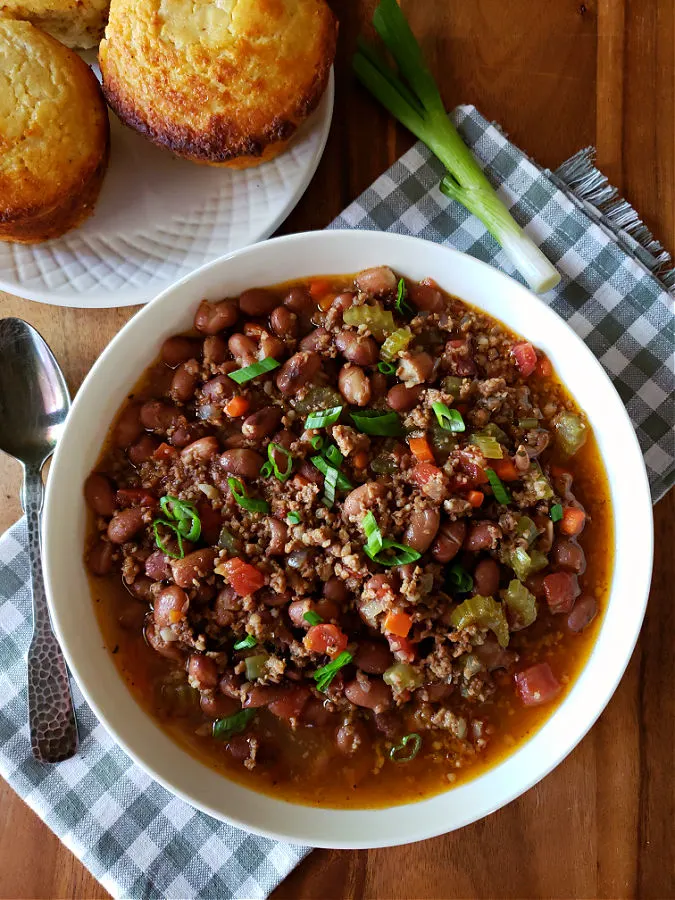 To get started, you'll need to soak your cranberry beans overnight in a big ol' pot of chicken stock or water. This will help soften them up and reduce their cooking time.
Before adding the liquid to soak your beans, you will need to sort through them to make sure nothing non-edible like a pebble or stem made its way into the package of beans.
But, have you ever wondered why we soak dry beans before we cook them? Let me tell you, it's all about making those little beans easier to digest and cooking them up faster.
Soaking helps to soften up the tough outer skin and gets rid of some of the complex sugars that can cause some folks to have a bit of tummy trouble.
And you know what else? Soaking can also help to reduce the cooking time, which means you can get those beans on the table even faster.
Soaking in stock can also help infuse more flavor. So don't skip the soak, y'all! It's the secret to a perfect pot of beans every time.
The next day, drain the beans and set them aside when you are ready to cook the cranberry bean soup.
How to make Cranberry Bean Soup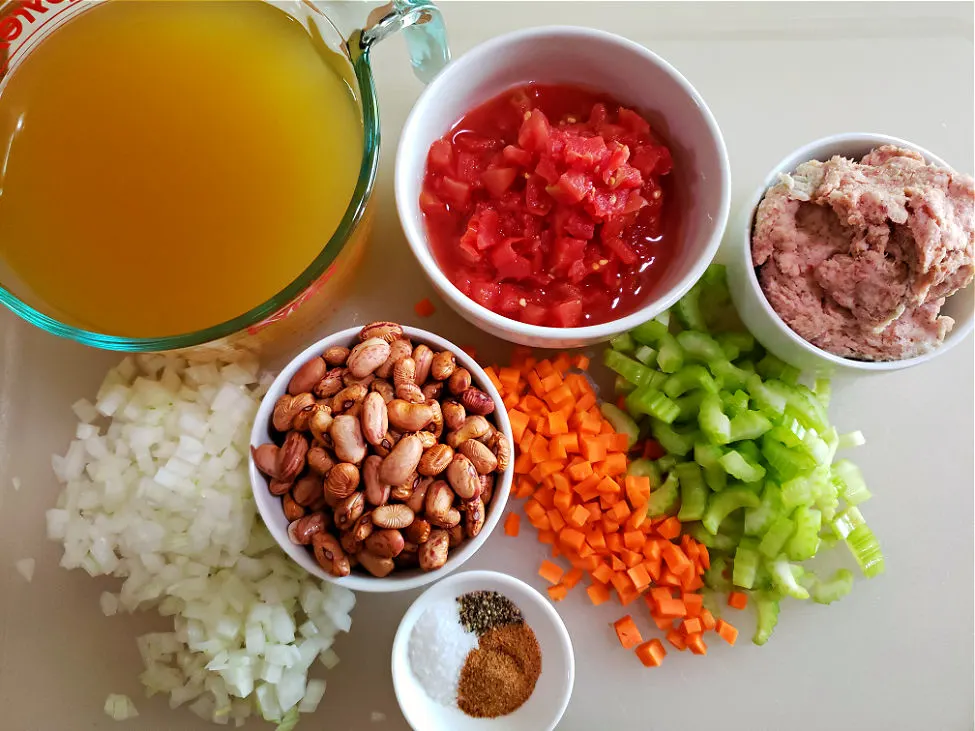 Here's what you'll need to make this delicious cranberry bean and sausage soup recipe…
Cranberry Beans – or just use dry beans that you have on hand that your family enjoys.
Chicken Stock – adds flavor to the beans during soaking and for the soup.
Celery – aromatic and adds flavor.
Onion – aromatic and adds flavor.
Carrots – aromatic and adds flavor with a hint of sweetness.
Minced Pork Sausage – we prefer using breakfast sausage but minced pork or a slicing sausage, such as Spanish chorizo, a gourmet chicken sausage, kielbasa, a smoked sausage, or boudin would also be delicious.
Rotel Tomatoes – I used the "original"
Water
Seasonings – salt, pepper, and Tony Chachere's Creole Seasoning. As with any recipe, feel free to add or adjust seasonings that your family enjoy. I do love the simplicity of this dish.
Can I use other types of dry beans for soup?
There are so many different kinds of dry beans out there, each with its own unique flavor and texture. Some of my favorites for soup include:
Black beans: These hearty beans are perfect for hearty soups like chili and black bean soup.
Kidney beans: These beans are a good all-purpose bean, and they work well in both savory and sweet dishes.
Pinto beans: These beans are a staple of Tex-Mex cuisine, and they're also great in soups and stews.
Cannellini beans: These white beans are creamy and mild, and they make a great base for soups like minestrone and pasta e fagioli.
Garbanzo beans: These beans are also known as chickpeas and are great in soups and salads.
Other beans to consider include: navy beans, great northern beans, dried kidney beans, white kidney beans or a bean mix.
No matter what kind of soup you're making, dry beans are a great way to add flavor and texture. So next time you're at the grocery store, be sure to pick up a bag of dry beans. Your soup will thank you!
Other Options:
A soup recipe is so versatile and can be a great way to use up ingredients that you have on hand or be adjusted as needed.
Aromatics are wonderful for any dish and a soup is no exception. Other aromatics to consider using like garlic, roasted cloves garlic, and bell pepper to make this dish your own.
Now I've kept this soup very simple with my seasonings but if you want to add some herbs then fell free to do so.
If you wanted to add a bit more nutritional ingredients to your soup then you could throw in some greens at the end – like spinach or kale.
Easy Cranberry Bean Sausage Soup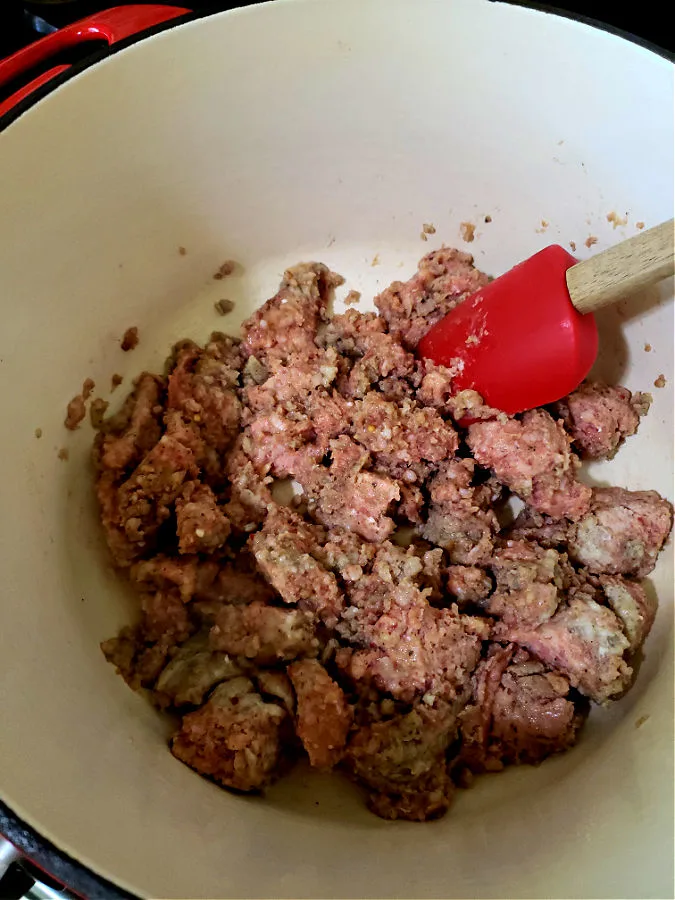 Now it's time to get cooking, Y'all! Start by browning up some spicy minced sausage in a big soup pot over medium-high heat. A large pot like a dutch oven works great for soup.
I like to use a bulk breakfast sausage, but you can use whatever kind you prefer. There are a couple of store brands that we enjoy but I mostly get our sausage from a local farm, it is pasture raised and so delicious.
Once the sausage is nice and golden brown, use your spoon to push it over to one side of the pot to make room for the veggies.
Depending on the amount of fat rendered, you have you may want to remove some of it so that your left with about two tablespoons fat. I use the rendered pork fat but you can remove all of the fat and add olive oil.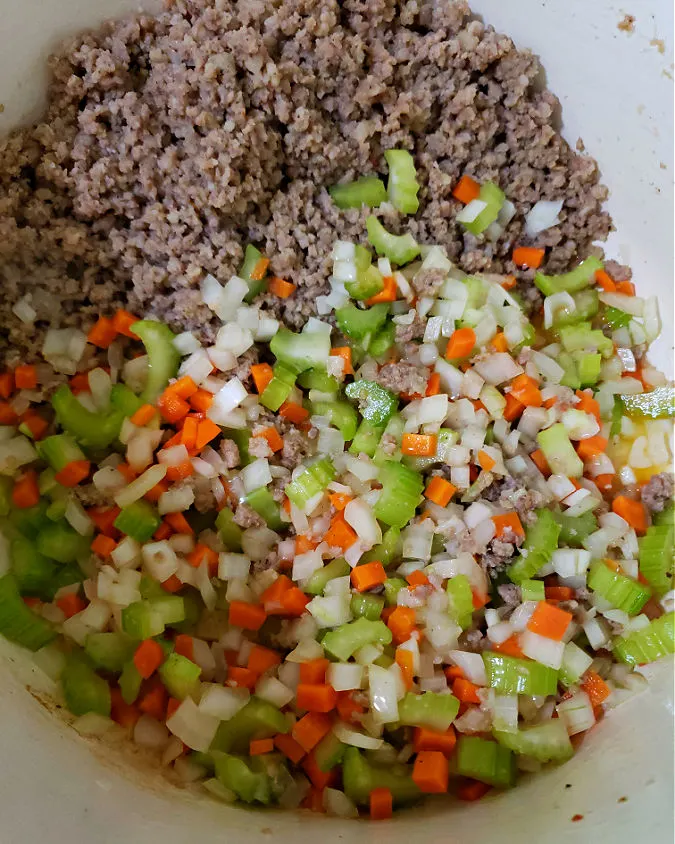 Next, add some chopped onions, carrots, and celery to the pot. Cook those veggies up until they begin to soften and the onions become translucent.
A Heartwarming Meal of Soup Beans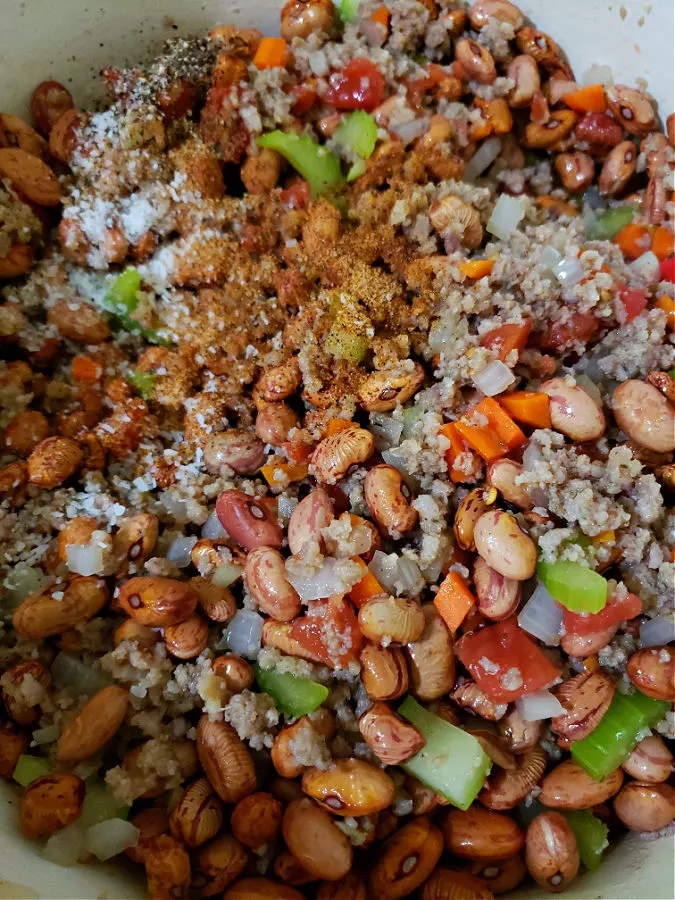 The next steps is to add your soaked cranberry beans to the pot along with some salt, ground black pepper, the Tony Chachere's Creole seasoning, and the Rotel tomatoes. This will give your soup a wonderful depth of flavor.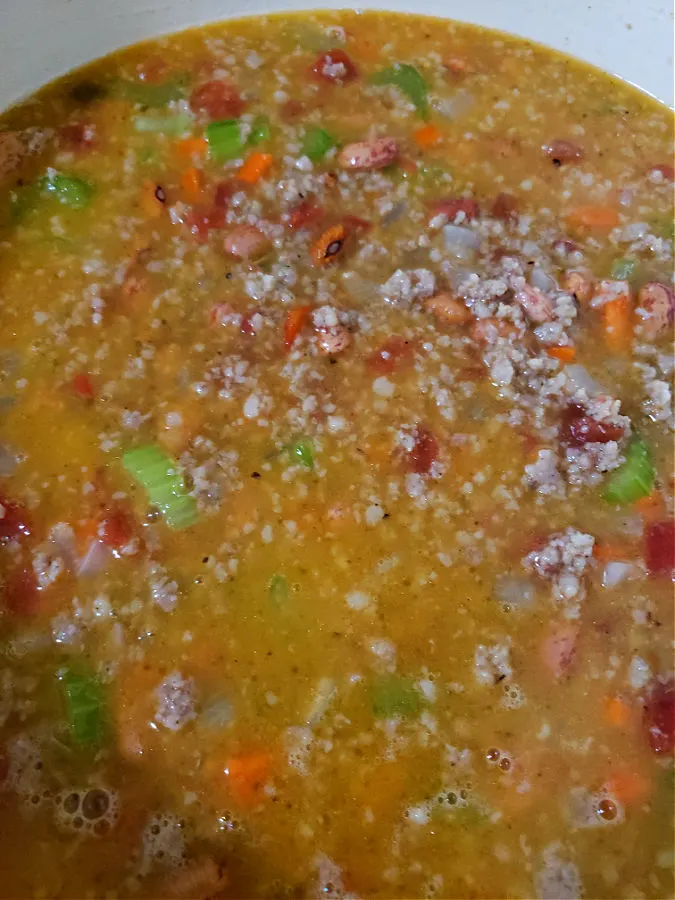 Cover the bean mixture with the remaining chicken stock and a few cups of water, just so that everything is covered with liquid. Bring the soup to a simmer over medium heat, then cover with a lid, and reduce the cooking temperature to a medium-low heat.
Allow the soup to simmer for a few hours until the beans are nice and tender and all of those wonderful flavors have mingled together.
Use a tasting spoon to taste the hot soup and adjust your seasonings if needed. The serve and enjoy!
Cranberry Bean and Sausage Soup Recipe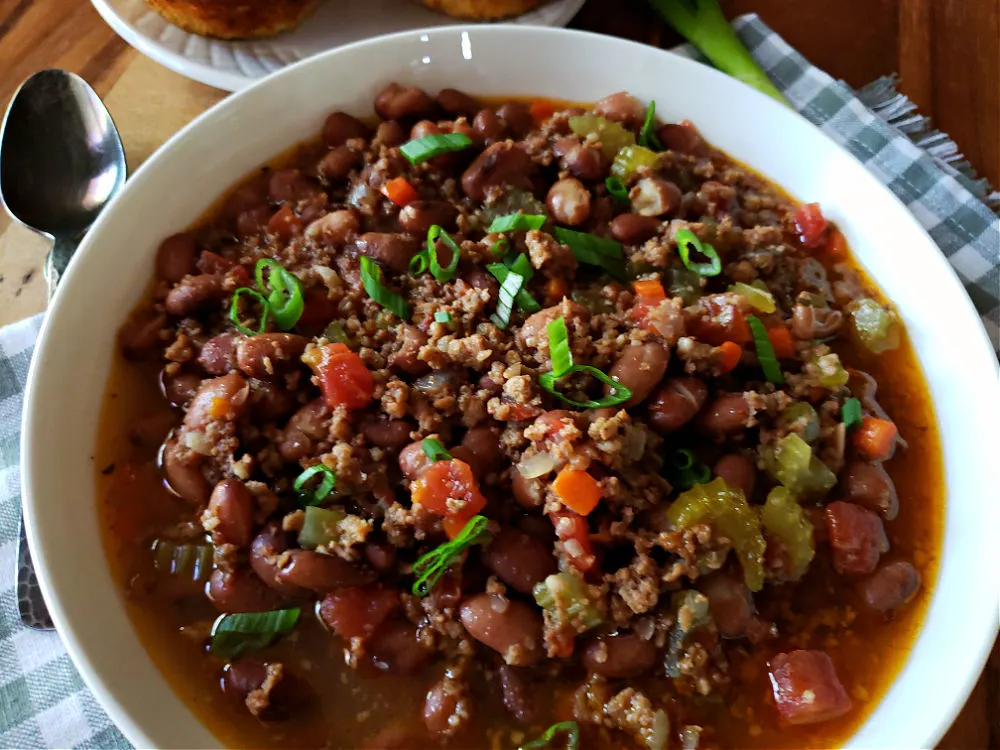 Doesn't that look so delicious? A simple, hearty, and delicious soup that'll warm you up from the inside out.
What to serve with cranberry bean and sausage soup? This soup is delicious served with cornbread muffins or crackers. We enjoy the soup as is but it would also be wonderful served over some cooked white rice.
A grilled cheese sandwich would also make a great addition to this hearty meal.
Add a dollop of sour cream, a bit of shredded cheese or sliced green onion if desired.
Below you will find the printable recipe card with all of the details to make this pot of soup in your kitchen.
Yield: 1 Pot of Soup
Cranberry Bean and Sausage Soup Recipe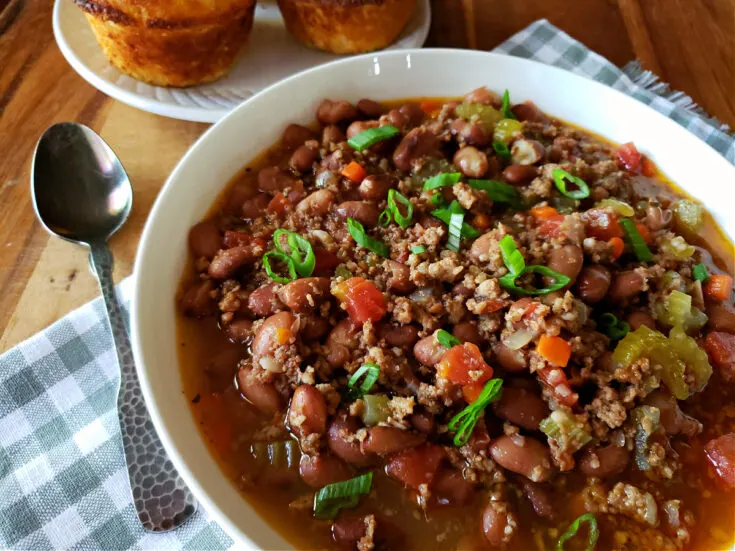 A delicious bean soup made with cranberry beans, minced sausage and aromatic veggies with the perfect blend of seasonings in a flavorful broth to tickle your taste buds. Enjoy this hearty soup with some cornbread muffins.
Total Time
3 hours
15 minutes
Ingredients
1 pound Dried Cranberry Beans
2 quarts Chicken Stock, divided
1 pound Bulk Pork Sausage, I used a breakfast sausage
1 cup Celery, diced (about 3 stalks)
1 Onion, diced
½ cup Carrot, peeled and diced (about 2 carrots)
10 ounce Rotel Tomatoes, I used original
1½ teaspoon Kosher Salt
½ Freshly Ground Black Pepper
1 teaspoon Creole Seasoning, I used Tony Chachere's brand
3 cups Water
Instructions
Sort beans and check for stems or pebbles. Rinse the beans and add to a bowl then cover with 1 quart of chicken stock. Cover and soak overnight in the refrigerator.
Drain the beans and set aside.
Heat a dutch oven or large pot over medium-high heat. Once the pot is hot, add the minced sausage and cook 6 to 7 minutes or until cooked through and browned.
Next, use a slotted spoon to push the sausage aside. Depending on the amount of fat rendered from the sausage, remove enough so that you're left with about 2 tablespoons fat.
The next step is to add the carrots, onion and celery. Sauté about 5 minutes until tender. Stir to combine with the cooked sausage.
Next, add the soaked beans, Rotel tomatoes, and seasonings along with the other quart of chicken stock and enough water so that everything is covered with liquid.
Bring the soup to a simmer, cover the pot with a lid and reduce the heat to medium-low. Simmer 3 to 4 hours until the beans are nice and tender. Taste the soup and adjust seasonings if needed.
Serve the cranberry beans soup with cornbread muffins, crackers or a sandwich and enjoy!
Notes
See full post for other options and suggestions for making a delicious pot of bean soup. This soup may also be served over cooked rice, if desired.
Refrigerate leftovers for up to 3 days.
Nutrition Information:
Yield:
12
Serving Size:
1
Amount Per Serving:
Calories:

341
Total Fat:

14g
Saturated Fat:

4g
Trans Fat:

0g
Unsaturated Fat:

8g
Cholesterol:

41mg
Sodium:

904mg
Carbohydrates:

45g
Fiber:

4g
Sugar:

33g
Protein:

13g
Popular Recipes on the Blog
In case you missed it
Thank you for stopping by!
Meet Julia
Author of Julia's Simply Southern
Hey Y'all! I'm Julia, the cook and writer behind the recipes here at Julia's Simply Southern. I began my website so that I could share easy to follow recipes that anyone can use to put a home cooked meal on the dinner table. Thanks so much for stopping by!
Follow me on Facebook | Twitter | Instagram | Pinterest | YouTube