In this post I am sharing this Easy Sour Cream Cheddar Cheese Biscuits Recipe! It takes just a few simple ingredients and a muffin pan to make these tangy homemade cheesy sour cream biscuits. So, you don't even need a biscuit cutter and no rolling dough necessary.
Y'all get ready to tantalize your taste buds with my mouthwatering Sour Cream Biscuits with cheddar cheese! They are absolutely scrumptious!
These delightful golden gems are a true Southern delight that'll have your whole family hollering for more. With just a handful of simple ingredients and a sprinkle of love, you'll whip up these fluffy, cheesy wonders that pair perfectly with any meal or even stand alone as a delectable snack.
So, grab that apron and preheat that oven – it's time to bring a little slice of Southern comfort straight to your kitchen!
The Best Sour Cream Biscuits with Cheddar Cheese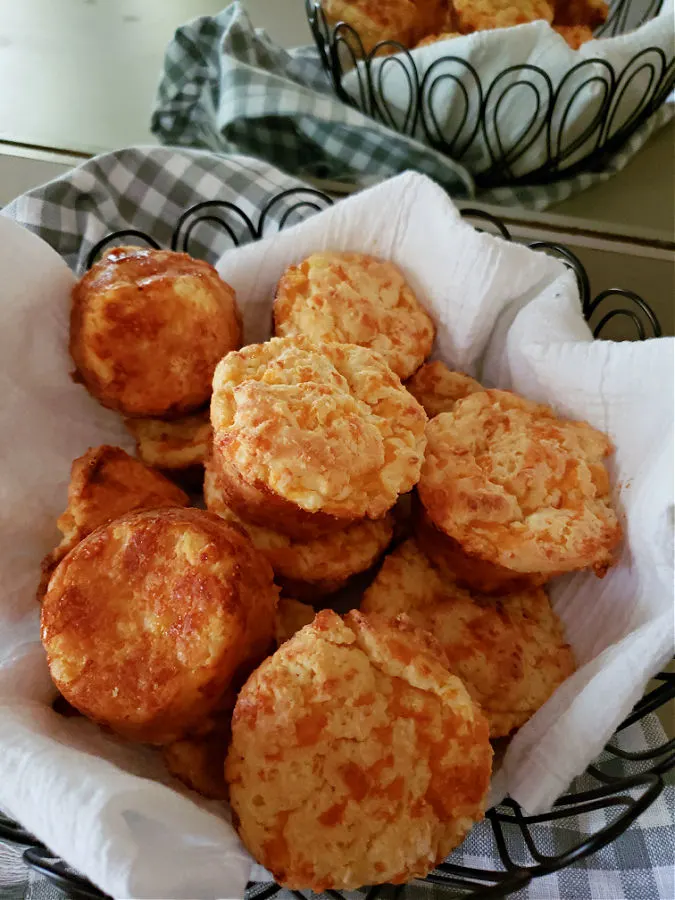 What do I need to make sour cream cheese biscuits?
Self Rising Flour – I love the White Lily unbleached self-rising flour for making the best biscuits. You will get a fluffy biscuits because all of your leavening agents are already in the flour.
If you don't keep self rising flour on hand in your pantry then you can certainly use your all purpose flour, but you will need to add a bit of salt and baking powder to the flour mixture dry ingredients.
Sour Cream – the sour cream adds such a wonderful tanginess. Use full-fat sour cream in your biscuit recipe. The texture of the biscuits remind me of a mayonnaise biscuit with the rich flavor of buttermilk biscuits with plenty of cheesiness in every bite.
Sharp Cheddar Cheese – freshly grated, of course, delivers the best cheesy flavor in these easy scratch made biscuits.
Melted Butter – that's right, no cold butter in this recipe. The melted butter will be divided and a little bit combined in to the biscuit dough and some of it used to brush the tops before baking. I keep a stick of butter at room temperature at all times and it melts super quick in the microwave.
Sour Cream and Cheddar Biscuits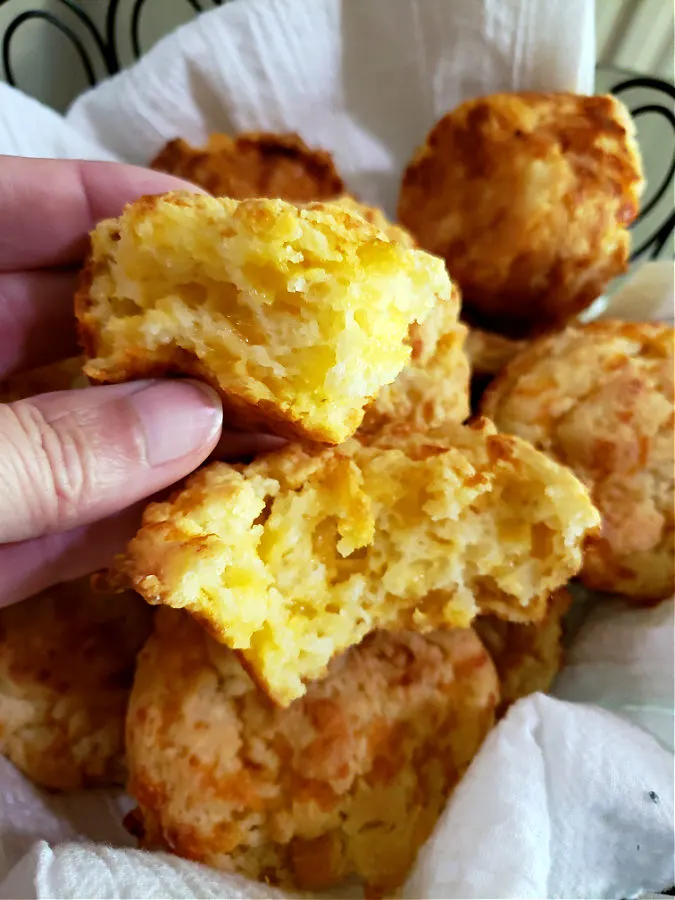 What to Serve with Sour Cream Cheddar Cheese Biscuits?
Oh, darlin', there are so many delicious options to serve alongside those scrumptious Sour Cream Cheddar Cheese Biscuits! Here are a few mouthwatering ideas:
Southern-style Fried Chicken: There's nothing quite like the perfect pairing of crispy, juicy fried chicken with warm, cheesy biscuits. It's a match made in Southern heaven!
Creamy Tomato Soup: Dip those biscuits into a velvety tomato soup for a comforting and satisfying combination that'll warm your soul.
BBQ Pulled Pork: Stack those biscuits high with tender, smoky pulled pork and a dollop of coleslaw for a savory and hearty sandwich experience.
Shrimp and Grits: Turn your meal into a Southern feast by serving those biscuits alongside creamy shrimp and grits, creating a delightful harmony of flavors.
Honey Butter: Elevate the biscuits with a generous slather of sweet and creamy honey butter for an indulgent treat. Plain softened butter is great too! In fact, I enjoyed one of these cheesy old fashioned sour cream biscuits with a smear of butter and it was wonderful.
Grilled Vegetables: Balance the richness of the biscuits with a side of colorful and flavorful grilled vegetables, like zucchini, bell peppers, and asparagus.
These tangy cheesy biscuits would also be amazing with brown butter sauce pasta or lasagna.
More Serving Ideas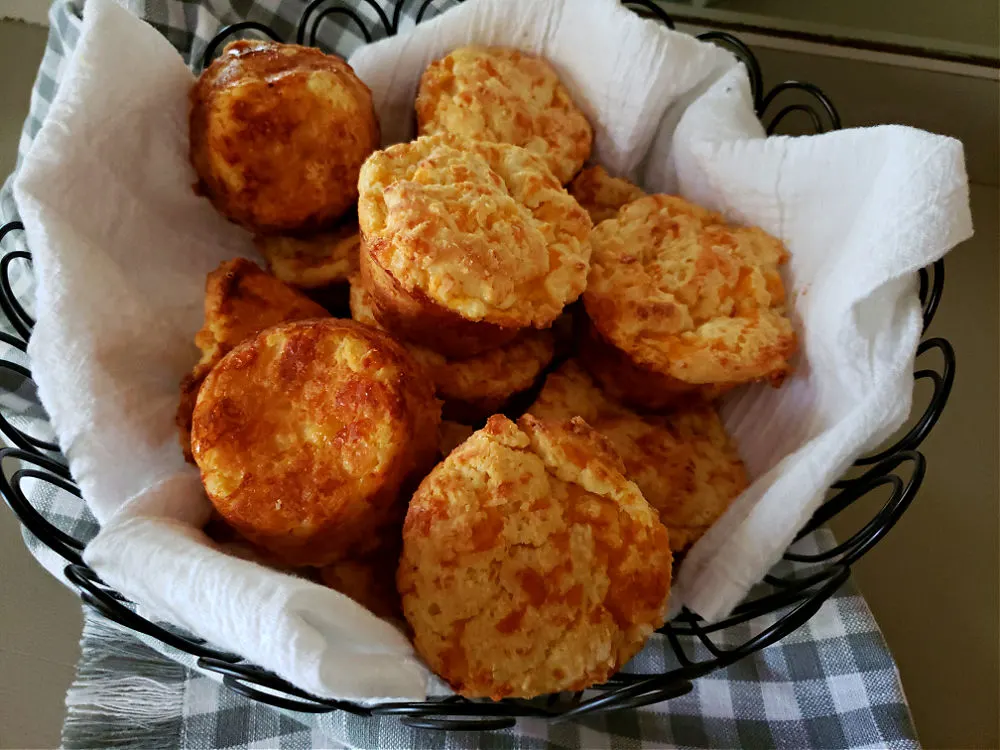 Collard Greens: Add some Southern greens to your plate, simmered with a hint of smoky bacon or ham, to complement the cheesy goodness.
Scrambled Eggs: Enjoy the biscuits with a hearty breakfast by pairing them with fluffy scrambled eggs and a side of crispy bacon or sausage. My friend, these sour cream cheese biscuits are great for any meal of the day!
Remember, the possibilities are endless, and you can get creative with your favorite dishes or family traditions. So, don't be shy, mix and match to create a memorable meal that'll have everyone asking for seconds!
You can't go wrong with a tasty fluffy biscuit!
How to make Sour Cream and Cheddar Biscuits?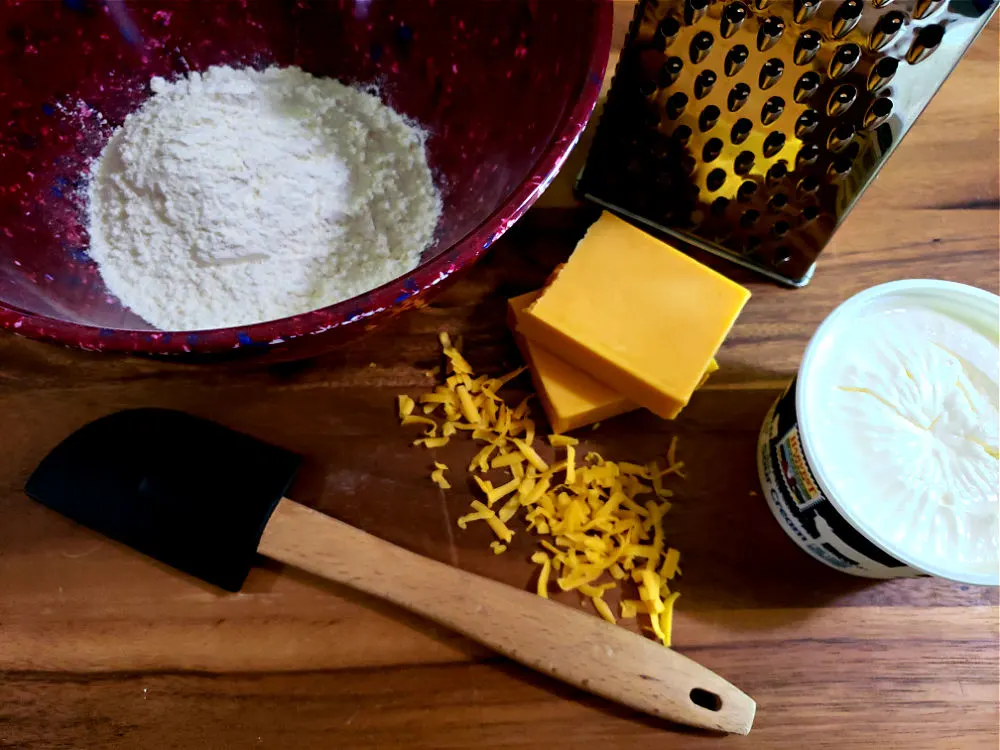 First, grab a large bowl and gather your ingredients together to make a batch of these tasty homemade biscuits.
Measure out the amount of flour needed and add it to your mixing bowl. Grab your favorite cheese grater and shred the cheese. I love my old fashioned box grater! It takes just one minute to shred a block of cheese.
Cheese Biscuits with Tangy Sour Cream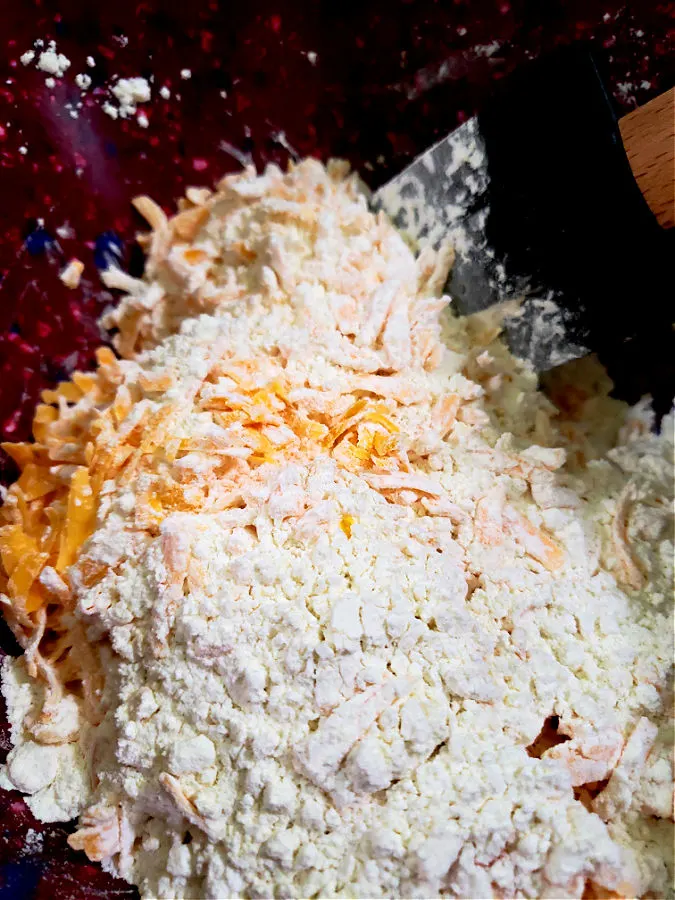 Next, add the freshly grated sharp cheddar cheese and give it a quick stir to mix with the flour.
The Best Homemade Biscuits are the ones baked in your own kitchen…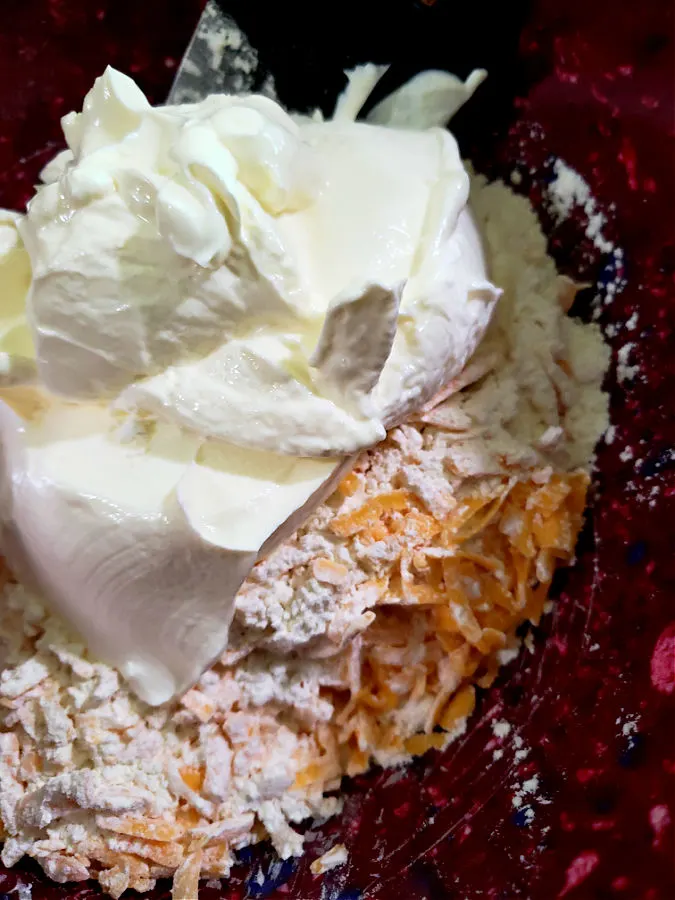 The next step is to combine the cheese and flour mixture with the sour cream. Y'all are gonna love the tangy flavor that the sour cream delivers in these sour cream cheese biscuits.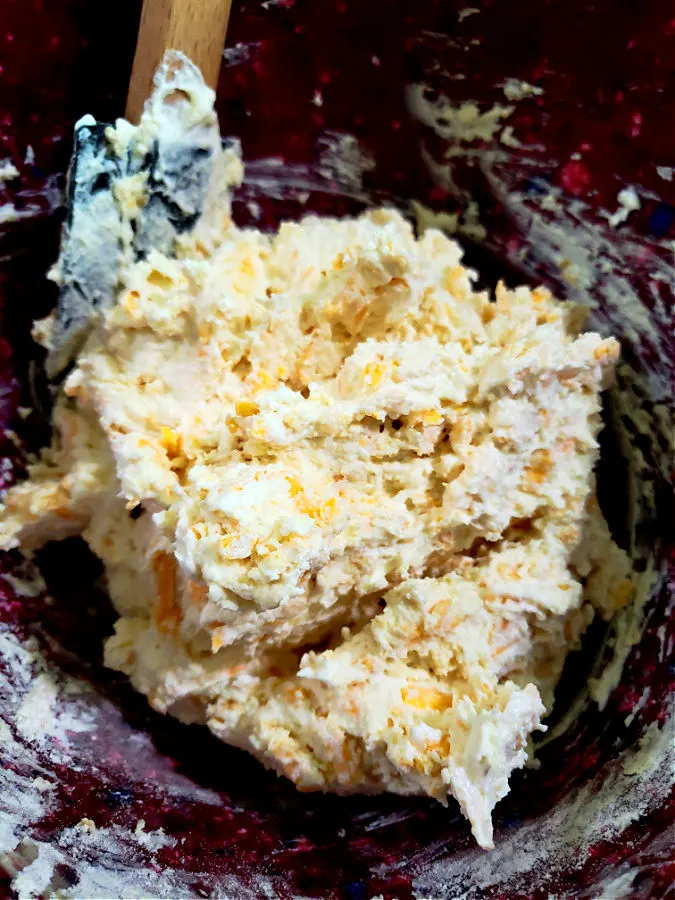 Use a spatula to mix the sour cream into the flour cheese mixture just enough to form the dough. Once your dough is combined, pour in some of the melted butter and give another quick stir and the dough is ready to transfer over into your muffin tin.
Easy Muffin Pan Sour Cream Cheese Biscuits
Lightly spray your favorite muffin tin with some cooking spray then use a cookie scoop, or a large spoon, to transfer the biscuit dough to each section of your baking pan.
The cookie scoop helps ensure even portions. I would like to mention that you can also roll out this dough and cut the biscuits with a cutter and bake on a baking sheet like traditional biscuits if you prefer.
You could also keep it easy and bake them like drop biscuits. I just like the simplicity of the muffin pan for this particular quick bread recipe. They sort of turn out like sour cream rolls with the texture of a biscuit.
More Butter for Rich Buttery Flavor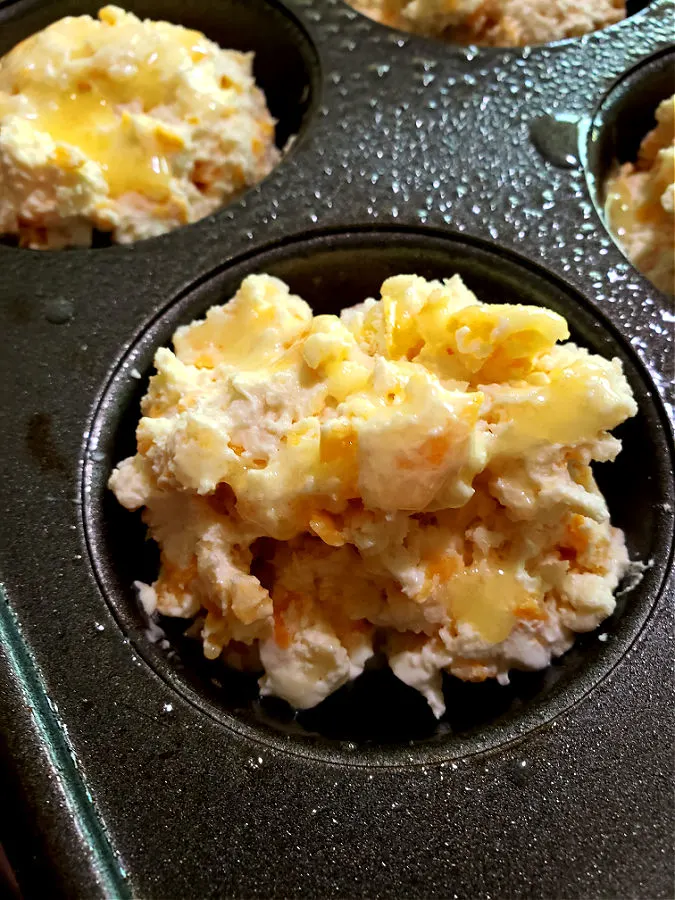 The final step before baking is to use a pastry brush and brush the tops of each biscuit with melted butter.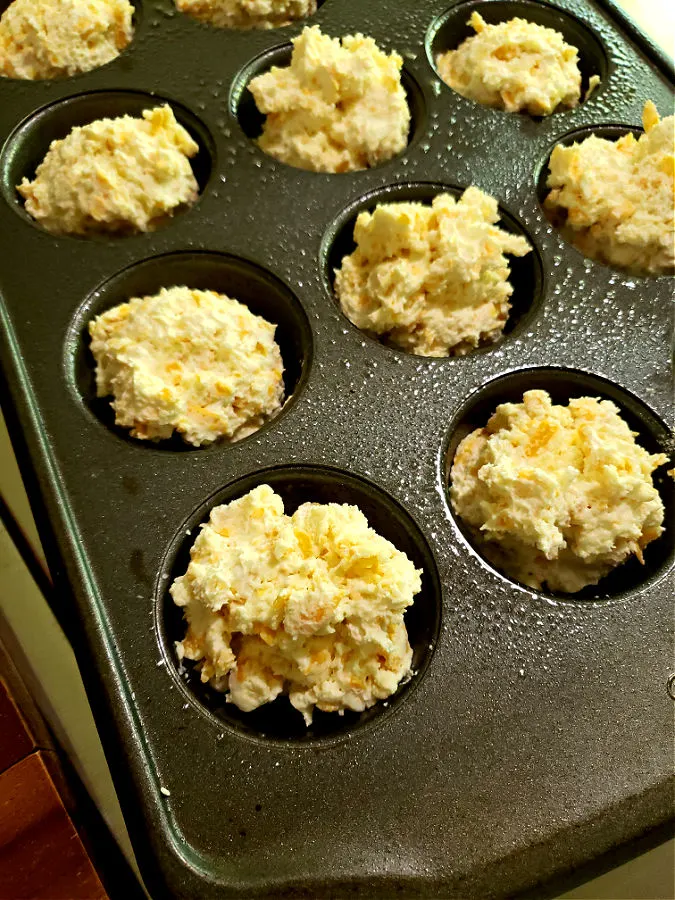 The sour cream cheddar biscuits are now ready to pop into your pre-heated oven to bake until golden brown and delicious.
This easy biscuit recipe might just be one of the easiest around.
Easy Sour Cream Cheese Biscuits Printable Recipe Card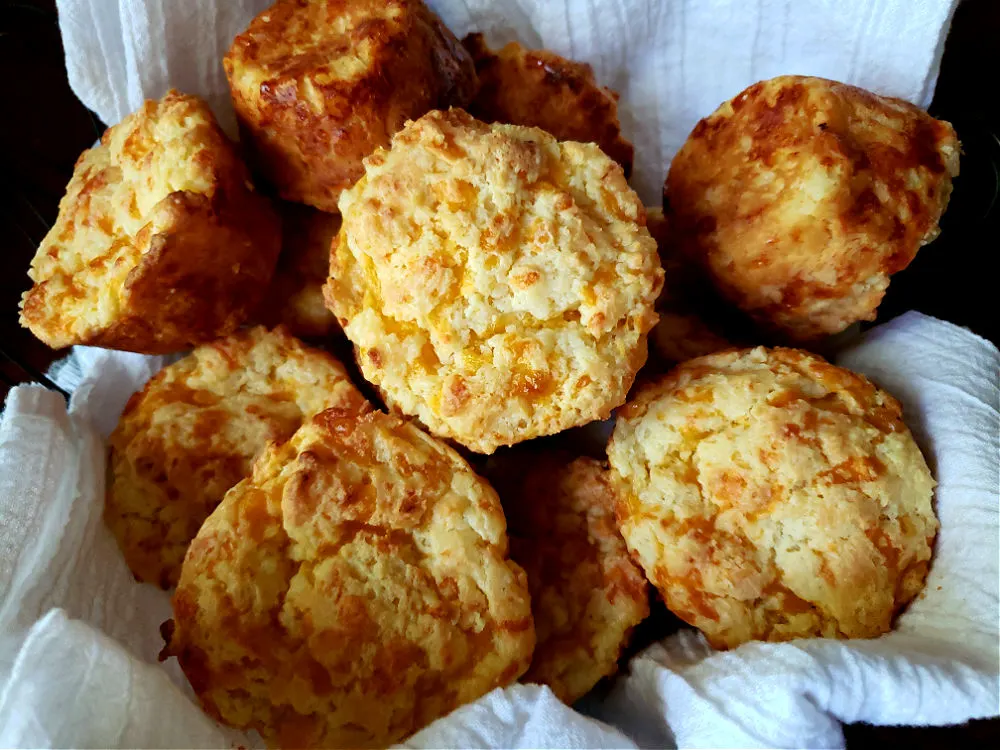 Below you will find the printable recipe card for making these scrumptious cheesy sour cream biscuits.
Yield: 1 Dozen
Homemade Sour Cream Biscuits Recipe with Cheddar Cheese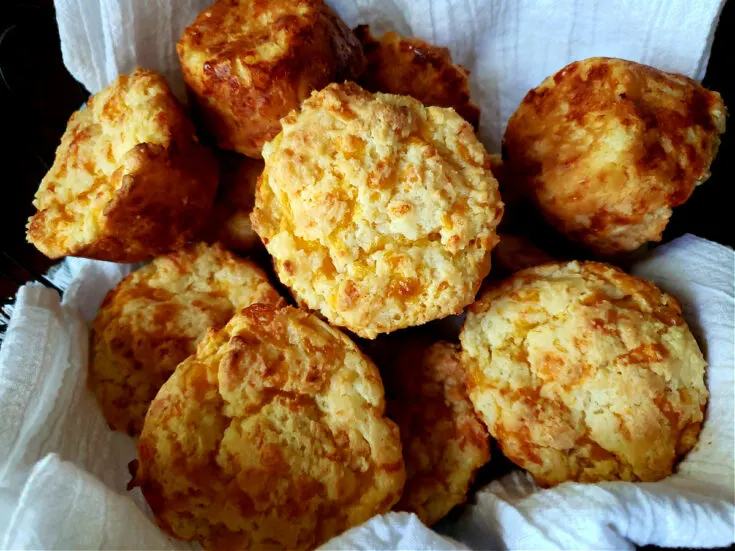 Indulge in the delightful harmony of flavors with our sour cream cheese biscuits. These biscuits are a marriage of tangy sour cream and rich cheddar cheese, resulting in a melt-in-your-mouth experience that's both tender and flaky. The creaminess of the sour cream and the sharpness of the cheese create a balance that's nothing short of extraordinary. Enjoy them warm from the oven, brushed with a touch of butter, for a truly irresistible treat that's perfect for any occasion.
Ingredients
2 cups Self-Rising Flour (I used White Lily, unbleached self rising flour)
8 ounce Sharp Cheddar Cheese, freshly grated
16 ounce Sour Cream
3 tablespoons Melted Butter, divided
Instructions
Preheat oven to 400°F (204°C)
Begin by adding the flour to a large mixing bowl.
Next, add the cheddar cheese; stir to combine.
Add the sour cream and use a spatula to combine with the flour and cheese mixture.
Next, add 2 tablespoons of melted butter to the biscuit dough and stir to combine.
Spray a muffin pan with cooking spray then use a cookie scoop to portion the biscuit dough into each section of the muffin pan.
Brush the tops of the biscuits with the remaining melted butter then bake 20-25 minutes, or until golden brown.
Notes
See full post for more options in preparing this recipe as well as serving suggestions.
Leftover sour cream cheese biscuits can be stored in an airtight container.
Recommended Products
As an Amazon Associate and member of other affiliate programs, I earn from qualifying purchases.
Nutrition Information:
Yield:
12
Serving Size:
1 Biscuit
Amount Per Serving:
Calories:

252
Total Fat:

17g
Saturated Fat:

9g
Trans Fat:

1g
Unsaturated Fat:

5g
Cholesterol:

49mg
Sodium:

405mg
Carbohydrates:

18g
Fiber:

1g
Sugar:

1g
Protein:

8g
If you happen to find yourself with a couple of leftover biscuits, just store them in an airtight container. You can enjoy them at room temperature or re-heat them if preferred.
Popular on the Blog
The Latest Recipes you may have missed…
In the end, my Easy Sour Cream Cheddar Cheese Biscuits are more than just a delightful treat; they're a taste of Southern hospitality that brings folks together around the table.
With each buttery, cheesy bite, you'll savor the comfort and love that goes into making these biscuits. Whether you're enjoying them as a side to your favorite meal or savoring them on their own, these biscuits will surely leave a lasting impression.
So, go ahead and share the joy of these biscuits with your loved ones, creating cherished moments and unforgettable flavors that will warm your heart for years to come. Be sure to add the recipe to your collection of new recipes that you love.
Thank you so much for stopping by! I am so happy that you did! Be sure to subscribe to my email list before you go. Subscribers receive a weekly-e-newsletter with all of the latest recipes and news, here on the blog, so that you never miss a thing.
Happy baking, y'all!
Meet Julia
Author of Julia's Simply Southern
Hey Y'all! I'm Julia, the cook and writer behind the recipes here at Julia's Simply Southern. I began my website so that I could share easy to follow recipes that anyone can use to put a home cooked meal on the dinner table. Thanks so much for stopping by!
Follow me on Facebook | Twitter | Instagram | Pinterest | YouTube