In this post I'll be sharing an Appalachian Tomato Corn Muffin Recipe. It is a delicious old timey recipe that has been forgotten somewhat. It is time for me to remind everyone of this tasty corn muffin recipe.
I was going through some of Granny's old recipes that have been handed down and came across this cornbread muffin that has tomatoes in it. Likely home grown tomatoes that were canned.
Folks can debate over whether cornbread should be savory or sweet. Well, that all depends on how your family makes it and what you like. It also depends on what it is being served with, in my opinion.
I've also seen social media debates where people say that sweet cornbread is northern cornbread and that is nonsense. There, I said it!
Southern food can vary from family to family and region to region so don't allow anyone to tell you different. A good Southern recipe is one made with love. The only cornbread something that sugar is not allowed in is cornbread dressing.
Typically, we enjoy a savory cornbread. That is how mama made it. These tender corn muffins are a sweet muffin though and it works beautifully with the addition of the tomatoes.
Old Fashioned Tomato Corn Muffins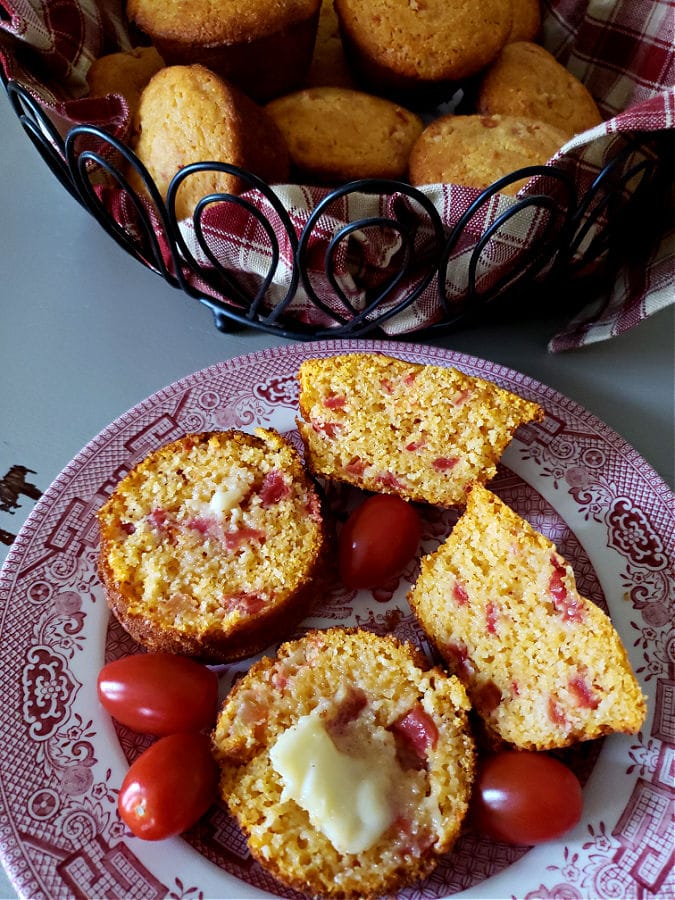 Friend, just look at how delicious those tomato corn muffins are! The soft melted butter spread over the muffins made it so wonderful. A drizzle of honey or maple syrup would also be good.
What to serve with Appalachian tomato corn muffins? The muffins are great as a snack on their own but make a tasty side dish to any meal really. I am particularly fond of having cornbread muffins with chili beans and soups.
Can't you just picture a basket of these muffins being served along with fried pork chops, chicken, soup beans or other savory main dish? It makes my mouth water just thinking about it.
Easy Corn Muffins Recipe with Tomatoes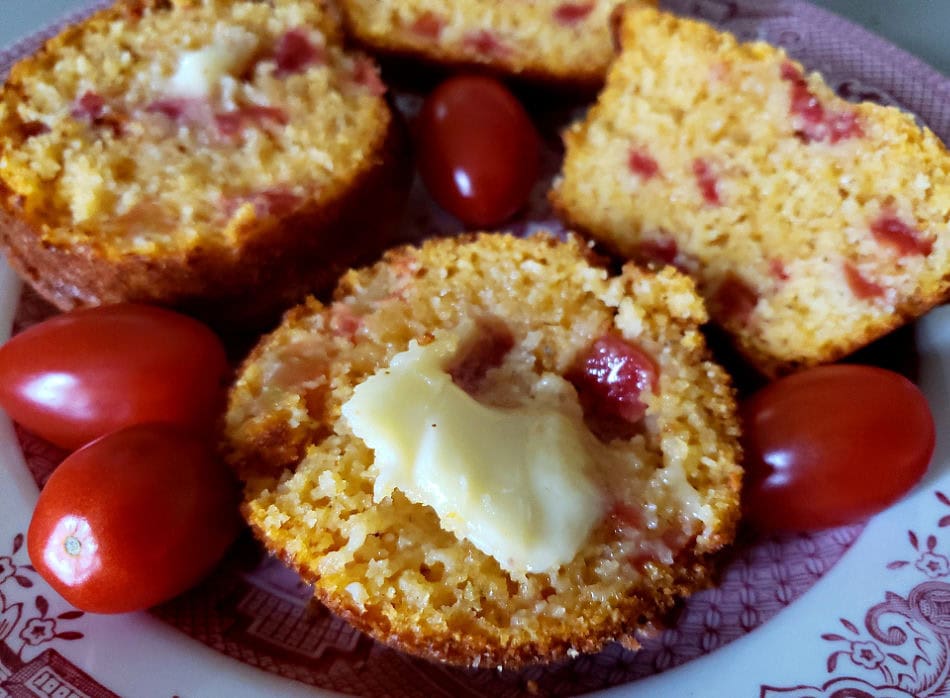 Y'all, that muffin would be so good slathered with some homemade pimento cheese! Don't you think so too? YUM!
Ingredients for Tomato Cornbread Muffins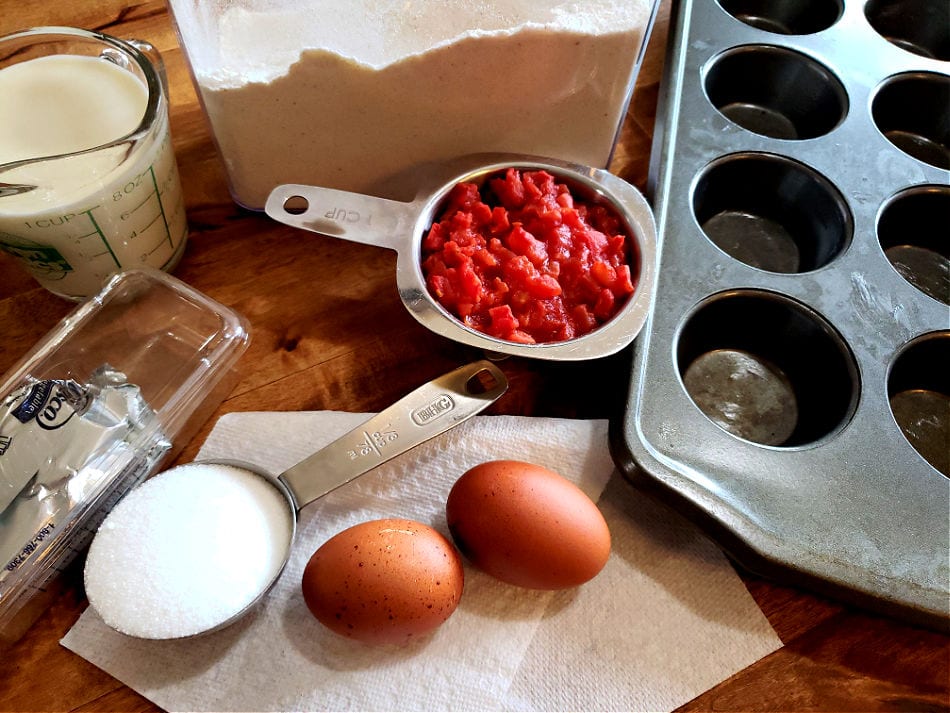 Here's what you'll need to make tomato corn muffins:
Vegetable Shortening – like Crisco will keep the muffins moist.
Sugar – for flavor and sweetness.
Eggs – helps to make the cornbread muffins fluffy and acts as a binder to hold everything together.
Whole Milk – referred to as sweet milk when I was growing up, helps to create the cornbread batter.
White Lily Cornbread Mix – Granny's recipe did not call for this but I simplified the recipe. This mix has cornmeal, flour and leavening agents in it.
If you don't have the White Lily cornbread mix, or prefer not to use that, then you can use one and a half cups of plain cornmeal (yellow cornmeal or white cornmeal), a half a cup of all purpose flour, a half teaspoon of salt and four teaspoons of baking powder instead.
Diced Tomatoes – canned petite diced tomatoes drained well of the juices.
You'll also need a little bit of something to grease your muffin pan. Butter, shortening or cooking spray will work fine. You could also use paper liners for baking if preferred.
Using a batter scoop will help filling the muffin tin easier if you have one handy and helps keep the portions fairly equal.
Optional Ingredients: If you would like to experiment with other flavors then you could add cooked bacon, cheese, sautéed red peppers or green peppers, cooked ground beef or cooked bulk pork sausage, diced red onion or diced jalapenos.
You could also experiment with seasonings, if you like, by adding fresh cracked pepper, onion powder, garlic powder or herbs to your corn muffin batter before baking.
How to make Tomato Corn Muffins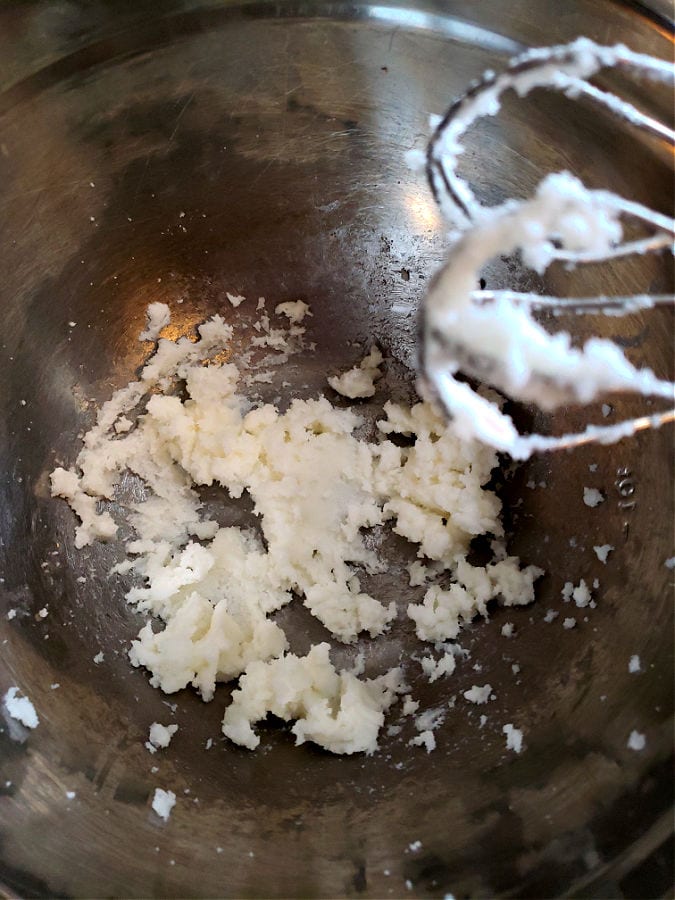 Start by adding the sugar and shortening to a large bowl and use an electric hand mixer to cream the two together.
Beat the sugar and shortening until fluffy. It will take a minute but it will come together.
Sweet Cornbread Muffins with Tomato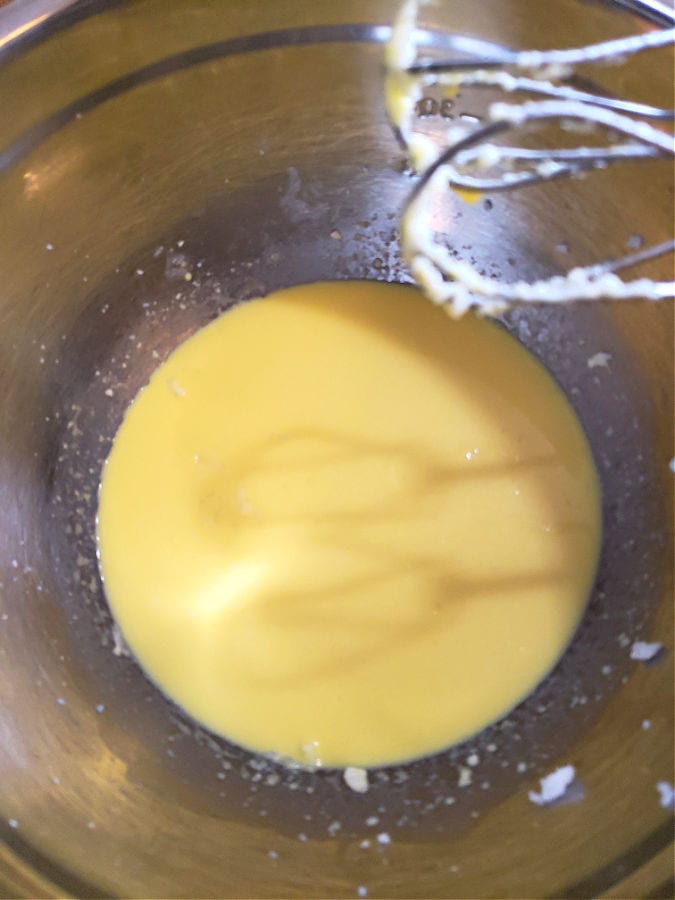 Next, add the beaten eggs and milk to the creamed sugar and use the hand mixer to combine.
Southern Cornbread Muffins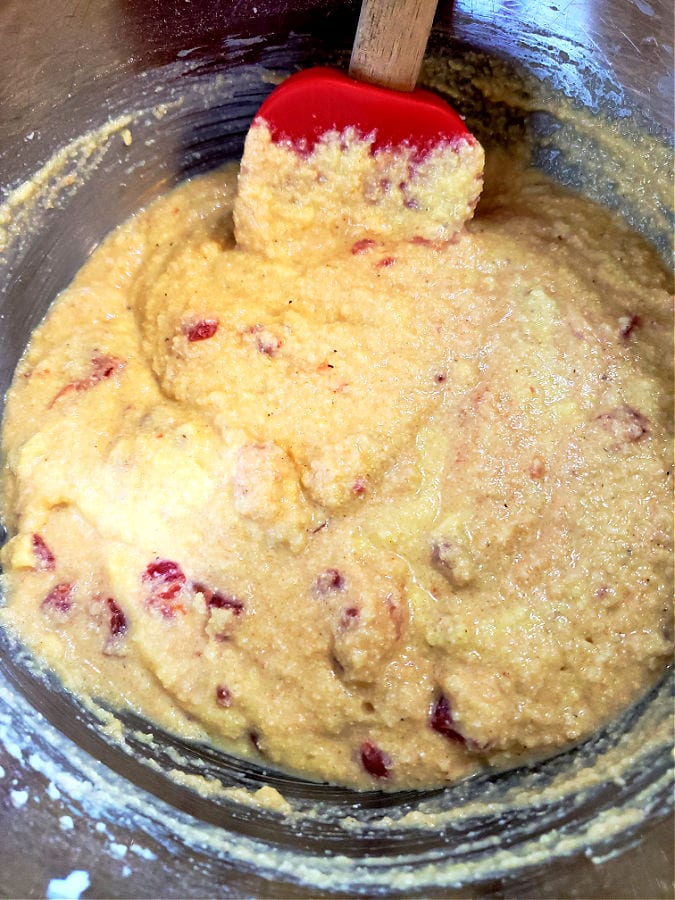 Then, add the dry ingredients. Mix everything together just enough to combine. Don't overmix the cornbread batter.
Finally, add the drained petite diced tomatoes to the wet ingredients and fold in with a spatula.
Scoop portions of the batter to fill the sections of your prepared muffin form pan (cupcake baking pan) and place into a hot oven to bake until golden brown.
Tips for making this vintage Southern Recipe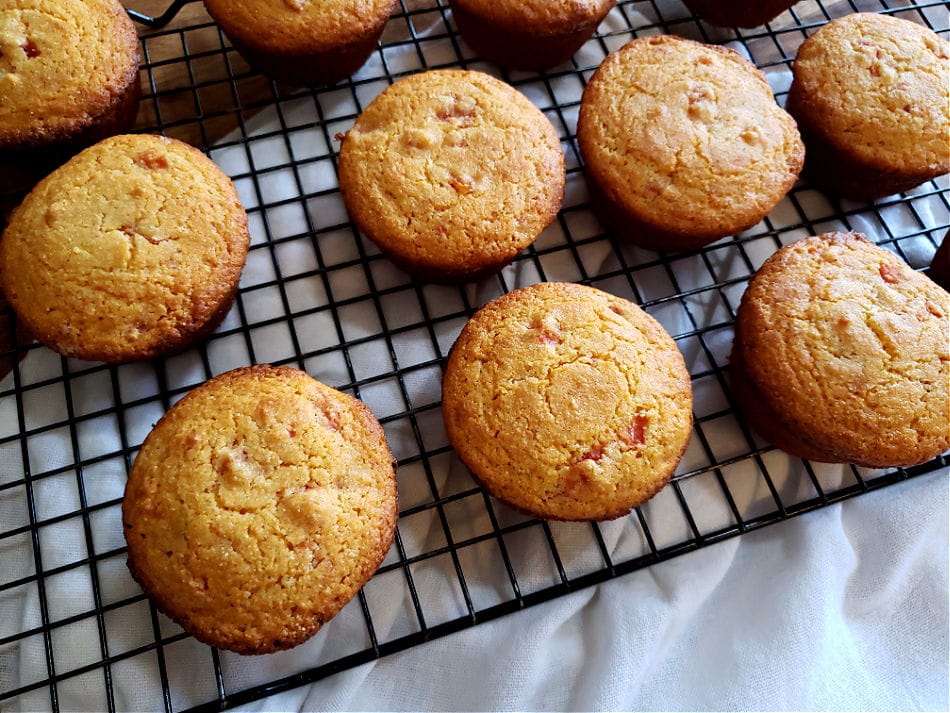 Simple tips for making the BEST cornbread muffins
Don't overmix the batter
Preheat your oven
Using a scoop to portion batter helps ensure even baking
If following a recipe for the first time, follow it as instructed before deciding if you'd like to alter the recipe. The next time, experiment to personalize the recipe to suit your tastes.
Store any leftover Appalachian tomato corn muffins in an airtight container, covered bread basket or plastic food storage bag to ensure freshness.
The muffins are great warm and may be gently re-heated in the oven. The corn muffins can also be wrapped in a paper towel and heated in the microwave.
Appalachian Tomato Corn Muffin Recipe Card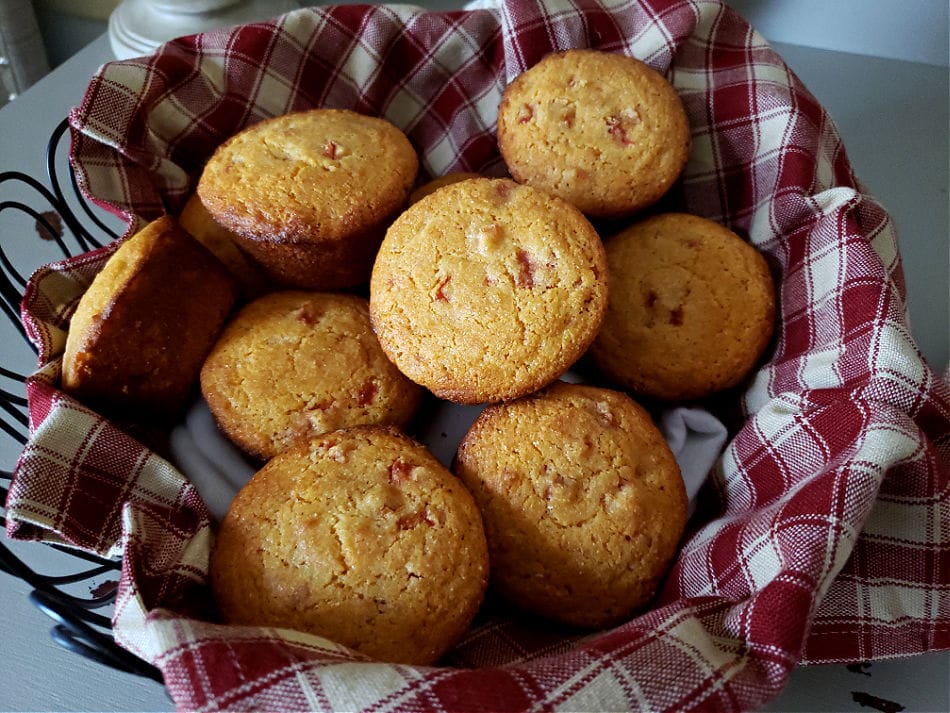 Here's a handy printable recipe card with all of the details for preparing this delicious Appalachian tomato corn muffins recipe.
Yield: 1 Dozen
Appalachian Tomato Corn Muffins Recipe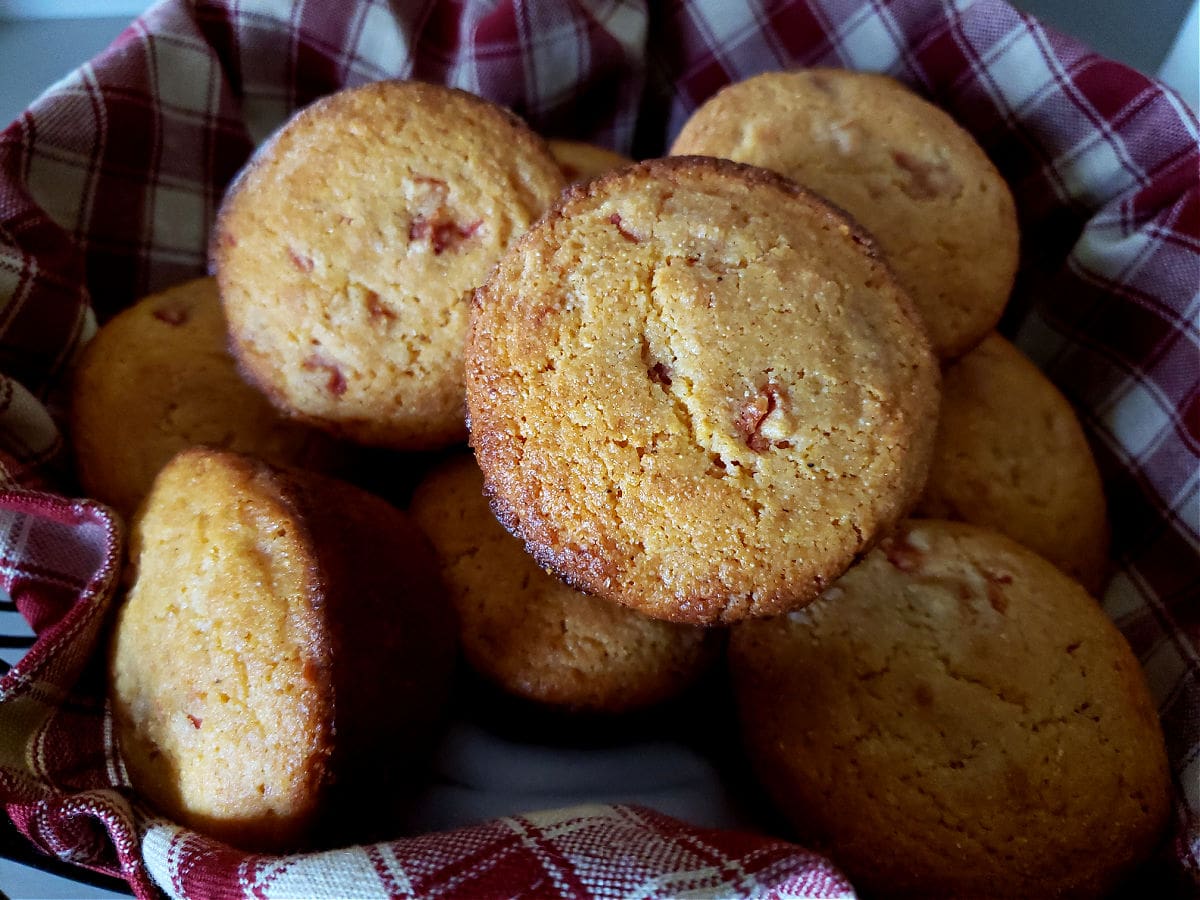 Granny's Appalachian Tomato Corn Muffins recipe for tender and delicious cornbread muffins with diced tomatoes. These tasty corn muffins are great as a snack or as a side of bread with meals.
Ingredients
⅓ cup Vegetable Shortening (like Crisco)
⅓ cup Granulated Sugar
2 Eggs, slightly beaten
1 cup Whole Milk
2 cups White Lily Cornmeal Mix (see notes for alternative)
1 cup Canned Petite Diced Tomatoes, well drained of juices
Instructions
Preheat oven to 425°F (218°C)
In a mixing bowl; cream together the shortening and sugar with an electric hand mixer until combined and fluffy. Add the beaten eggs and milk and mix a few seconds to incorporate with the sugar mixture.
Next, add the dry ingredients, cornbread mix, and mix just enough to combine with the wet ingredients. Do not over mix.
Fold in the diced tomatoes.
Prepare the muffin tin by greasing each section with a little softened butter, shortening or cooking spray.
Fill the greased muffin pan sections ⅔ full with the tomato corn muffin batter using a cookie scoop.
Bake 25 minutes or until golden brown.
Notes
In place of the White Lily Cornmeal Mix for cornbread: you can use 1.5 cups plain cornmeal, 1/2 cup all purpose flour, 1/2 teaspoon salt and 4 teaspoons baking powder.
Optional ingredient suggestions included in the main post.
Store tomato corn muffins in an airtight container, covered bread basket or plastic food storage bag.
Corn muffins may be re-heated in a warm oven or wrapped in a paper towel and heated in the microwave.
Serving suggestions also included in the main post for Appalachian tomato corn muffins, if needed.
Recommended Products
As an Amazon Associate and member of other affiliate programs, I earn from qualifying purchases.
Nutrition Information:
Yield:
12
Serving Size:
1
Amount Per Serving:
Calories:

184
Total Fat:

8g
Saturated Fat:

3g
Trans Fat:

0g
Unsaturated Fat:

4g
Cholesterol:

36mg
Sodium:

63mg
Carbohydrates:

25g
Fiber:

2g
Sugar:

10g
Protein:

4g
Popular Recipes
The Latest Recipe Posts
Thank you so much for stopping by! I am so glad that you did. You will love this old fashioned Appalachian tomato corn muffin recipe from Granny's recipe box.
While you are here, be sure to subscribe to my email list. Email subscribers receive a weekly newsletter delivered straight to your inbox with all of the latest recipes and news here on the blog so that you never miss a thing.
Meet Julia
Author of Julia's Simply Southern
Hey Y'all! I'm Julia, the cook and writer behind the recipes here at Julia's Simply Southern. I began my website so that I could share easy to follow recipes that anyone can use to put a home cooked meal on the dinner table. Thanks so much for stopping by!
Follow me on Facebook | Twitter | Instagram | Pinterest | YouTube