In this post I'll be sharing a delicious Asparagus Wrapped in Prosciutto recipe.
Are you a fan of asparagus recipes? Asparagus is one of our favorite vegetables at our house. We just love it! It is so delicious as a veggie side dish or as a classic appetizer depending on how it is served.
I have mentioned before in a previous post that my top favorite way to prepare asparagus is on the grill, but I really love it prepared any way you want to fix it.
The only exception for me is canned asparagus which I find to be nothing but mush. No thank you.
Those who enjoy vegetable gardening will enjoy this crop because it is perennial and produces year after year after planting. It does take three years for the crop to mature so patience is a must before you'll be rewarded with your first spring harvest of spears.
The over-abundant groundhog population in my area put an end to my attempts at growing vegetables. Sigh! I'm happy to support local businesses to get my delicious asparagus spears to enjoy though.
Roasted Asparagus Wrapped in Prosciutto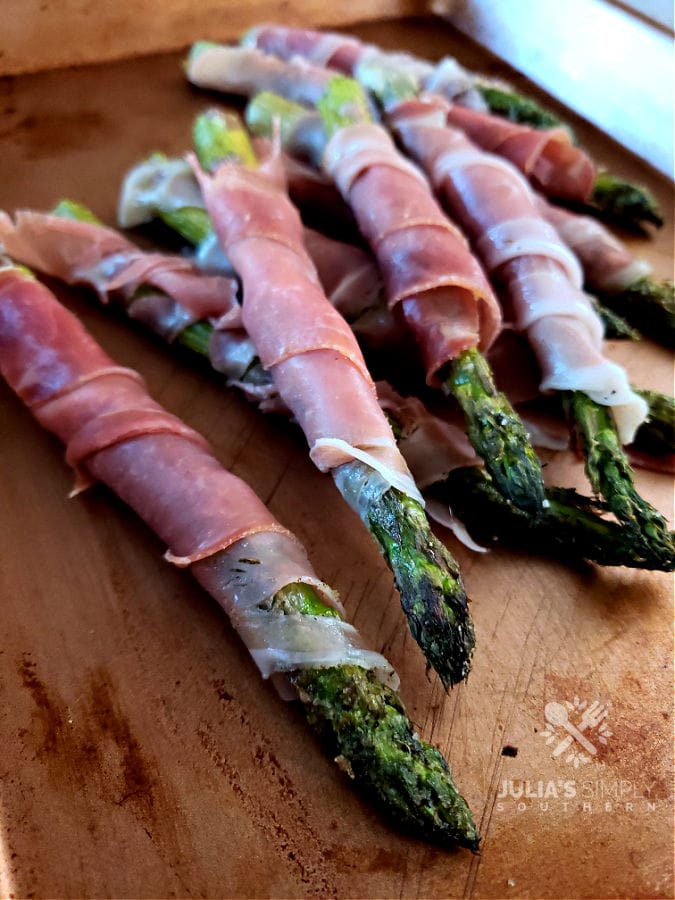 Doesn't that look so delicious, my friend? YUM! I could eat every one of them but I'll be nice and share. Every single bite of those wrapped spears tastes amazing!
We usually enjoy our asparagus side along with some type of meat but you can see how easily it could be an elegant appetizer too.
What to serve with asparagus? Grilled steak, chicken or pork are great with asparagus, as is seafood. Maybe throw in a perfectly cooked fluffy baked potato to make an even heartier meal.
Easy Asparagus Recipe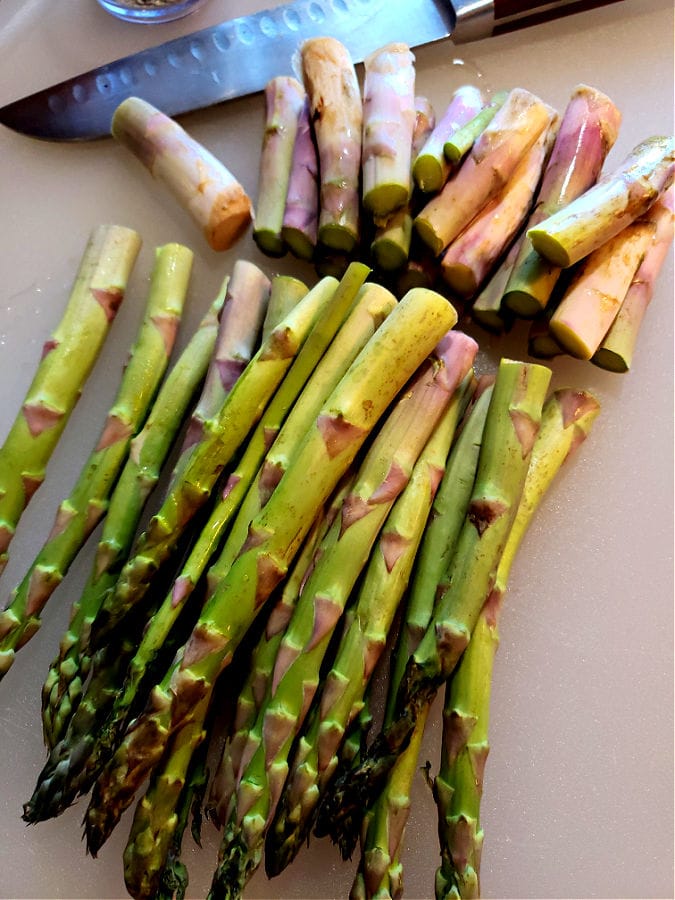 Let's get started on our amazing asparagus recipe. It's so simple and requires just a few easy steps.
First, wash the asparagus in cold water and make sure it is cleaned of any loose sand or dirt, then blog dry with paper towels.
I prefer thick spears of asparagus. The thick asparagus spears hold up really well for cooking. The thin asparagus spears are more fibrous and more chewy so the thicker spears make for more tender asparagus.
The next step is to trim away the woody end bottom of the spears. You can get an idea of where the to trim by holding up a spear of asparagus and bending it until it snaps toward the bottom.
I usually just go for it and trim off the bottom inch or two and that gets rid of the tough ends of asparagus. Some folks also like to take a vegetable peeler and peel the spears. I don't do that myself but you can if that is what you prefer.
How to Make Prosciutto Wrapped Asparagus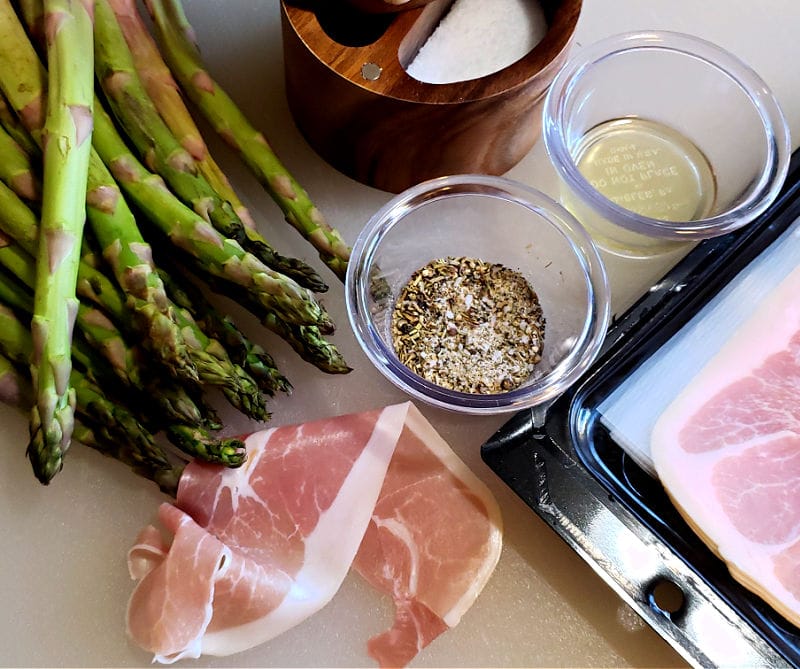 What you'll need to make prosciutto wrapped asparagus:
A Bunch of Asparagus – for the thicker spears this will be around a pound of trimmed asparagus.
Olive Oil – to coat the spears so the seasonings will adhere. You could also use vegetable oil or avocado oil if you like.
Seasonings – kosher salt, ground black pepper, garlic powder, onion powder and Italian Seasoning (crush the Italian seasoning to help release the flavor). Prep your seasoning mixture in a small bowl so that it is ready to go when you need it.
Don't over-do it on the salt and make sure you get the right amount of salt since the prosciutto is salty ( and more so depending on whether you cook it or not).
Optional, if you want to add more flavors, a squeeze of lemon juice and lemon zest are a great burst of freshness.
Prosciutto Slices – the wonderful Italian version of deli ham that is so delicious in a multitude of ways. Prosciutto is cured and does not need to be cooked but it can be if you like it that way. I don't cook it for this dish and I'll explain why later in the post.
Prepping Asparagus for the Oven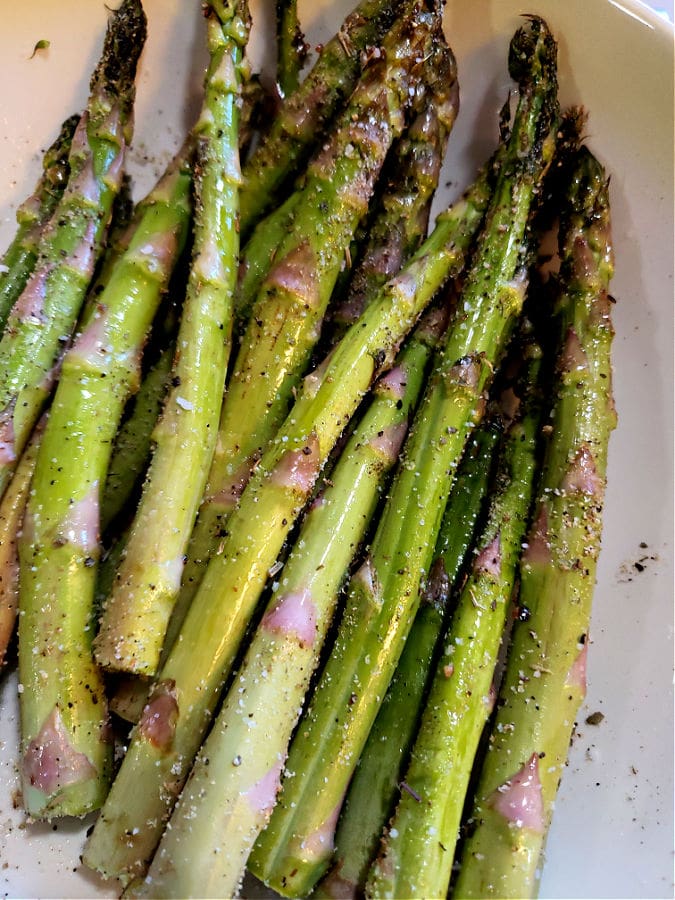 Next, preheat your oven. Line a baking sheet or baking dish with aluminum foil or parchment paper and set aside.
Place the fresh asparagus in a bowl and drizzle with the olive oil and add the seasoning blend. Use your fingers to gently massage the oil and seasonings over the spears.
Delicious Roasted Asparagus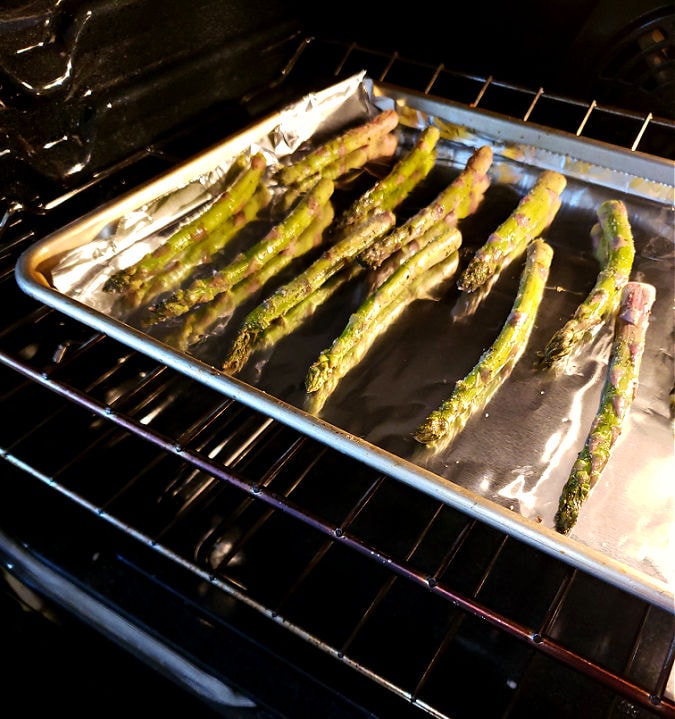 Once all of the spears are well coated, transfer them in a single layer to your prepared baking sheet. Place the sheet pan of seasoned asparagus into your oven to roast until tender, but so that it still has a bite to it.
I prefer not to bake asparagus on too high of a high temperature because the delicate tips of the asparagus can burn.
I'm sure that you might be wondering where the thin slices of prosciutto are. Well, I don't like cooking the prosciutto. You can if you want and I'm sharing that option further down, but I'll tell you why I prefer not to.
When the prosciutto is cooked, the saltiness seems to intensify. I find that the prosciutto wrapped asparagus is absolutely perfect when wrapping those thin slices of prosciutto around the asparagus after it has roasted.
We think that the flavor is better this way, but to each their own. You do it however you like best.
Recipe for Prosciutto Wrapped Asparagus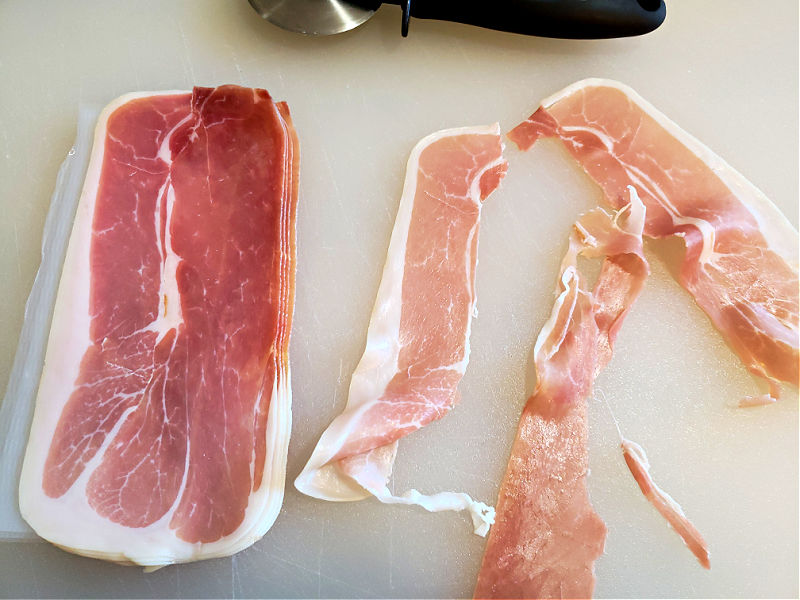 Since we will be wrapping each spear individually, I like to halve the prosciutto slices. This can be done with a pizza cutting wheel or just gently tear them in half.
Asparagus Wrapped in Prosciutto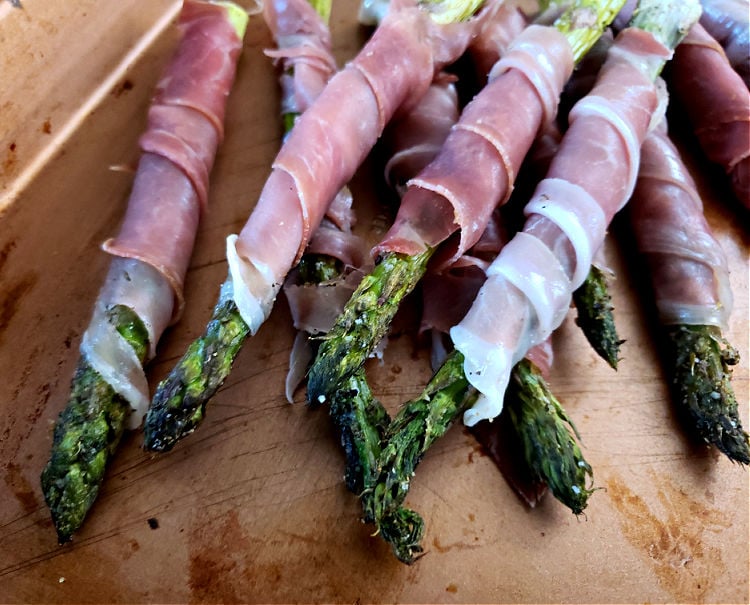 When the asparagus spears come out of the oven, carefully wrap them in the prosciutto and enjoy! Man oh man are they good like this.
Printable Recipe Card
Yield: 1 Pound of Wrapped Asparagus
Asparagus Wrapped in Prosciutto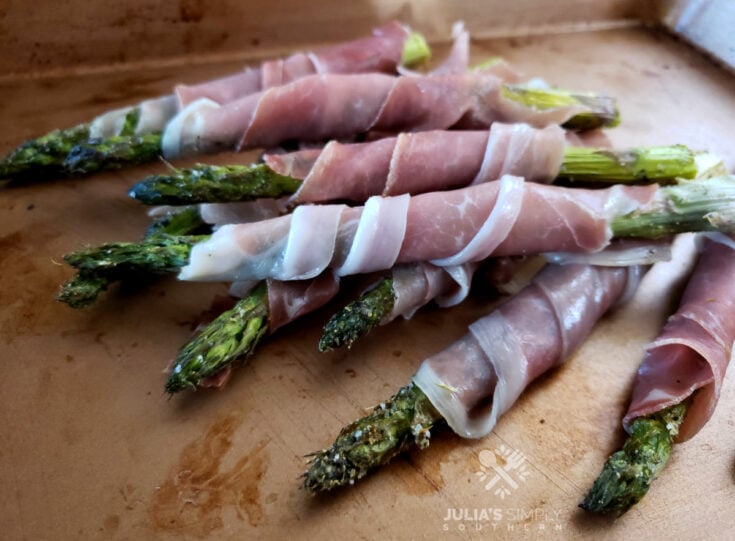 Fresh asparagus spears that are perfectly seasoned and roasted then wrapped in delicate slices of prosciutto to enjoy as a vegetable side dish or as an elegant appetizer.
Ingredients
1 Bunch of Thick Asparagus Spears (about one pound), washed and trimmed
½ tablespoon of Olive Oil
½ tablespoon Kosher Salt
½ tablespoon of Freshly Ground Black Pepper
¼ teaspoon Garlic Powder
¼ teaspoon Onion Powder
½ teaspoon Italian Seasoning, crushed between fingers
3 ounces Prosciutto, thinly sliced
Instructions
Preheat oven to 350°F (176°C)
Combine seasonings together in a small bowl and set aside. Line a baking sheet with aluminum foil or parchment paper and set aside.
Add the prepared asparagus spears to a bowl and drizzle with olive oil then sprinkle with the prepared seasoning blend. Use fingers to gently massage the spears to coat.
Transfer the spears of asparagus to the prepared baking sheet in a single layer. Place into the oven and roast for 20 minutes.
While the asparagus bakes, cut the prosciutto slices in half to form strips. Once the asparagus is out of the oven, wrap each spear in a strip of the prosciutto and place on a serving plate.
Notes
See post for bundle option cooking the prosciutto.
Prosciutto wrapped asparagus is great as a side or as an appetizer.
Recommended Products
As an Amazon Associate and member of other affiliate programs, I earn from qualifying purchases.
Nutrition Information:
Yield:
4
Serving Size:
2 wrapped spears
Amount Per Serving:
Calories:

64
Total Fat:

4g
Saturated Fat:

1g
Trans Fat:

0g
Unsaturated Fat:

2g
Cholesterol:

15mg
Sodium:

847mg
Carbohydrates:

2g
Fiber:

1g
Sugar:

0g
Protein:

6g
Crispy Prosciutto Option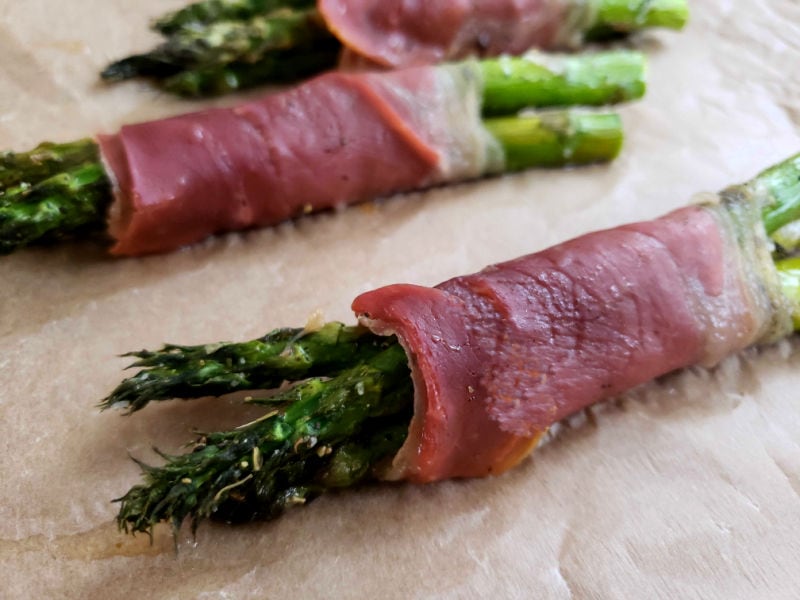 If you prefer crisp prosciutto then you can omit most of the salt from the seasoning blend and wrap the spears in bundles with a whole slice of prosciutto.
Bundle three or four spears together before wrapping and they'll be delicious with the intense flavor of the cooked prosciutto. The baking time will remain the same for this method.
Check out the Latest Recipes
Popular Recipes on the Blog
You Might Also Enjoy
Thank you so much for stopping by! I am so glad that you did. If you love asparagus as much as we do then I know you will love prosciutto wrapped asparagus.
Be sure to take a moment and subscribe to my email list while you're here. Subscribers receive a weekly newsletter via email with all of the latest recipes and news here on the blog so that you never miss a thing.
Until next time, love and happy cooking, friend!
Meet Julia
Author of Julia's Simply Southern
Hey Y'all! I'm Julia, the cook and writer behind the recipes here at Julia's Simply Southern. I began my website so that I could share easy to follow recipes that anyone can use to put a home cooked meal on the dinner table. Thanks so much for stopping by!
Follow me on Facebook | Twitter | Instagram | Pinterest | YouTube