In this post I'll be sharing a creamy Grape Salad Recipe with Pineapple. It is incredible!
Y'all are gonna love this delicious recipe. Grape salad has been on my list of recipes that I want to share on the blog for three years now, yet I am just getting around to sharing it.
It is likely that you may have enjoyed this crowd pleaser dessert salad already. It is quite popular and over the years I've seen many of my blogging friends share the recipe.
Grape salad is one of those dishes that us Southerners would have no problem categorizing as an easy side dish or a dessert.
This creamy grape salad recipe is special enough to serve during the holidays and is wonderful for sharing at potlucks, showers or graduation parties. So go ahead and add it to your next dinner menu with the whole family or gathering of friends. It will be the perfect addition to your delicious spread and is guaranteed to be a huge hit.
So, what lit the fire under my fanny to finally get this recipe on the blog? Well, it was after a lunch out with the hubs recently. Before that lunch I had enjoyed the typical grape salad that is so good but the one that I had at this particular restaurant was amazing.
A very simple addition of pineapple took the grape salad recipe over the top on the wonderful scale. I seriously was talking out loud after every bite saying "why is this so good". By the way….I always say that when I'm eating grape salad.
I knew right then and there that the grape salad with pineapple would be the version that I share with y'all because it is the best, in my humble opinion.
What is Grape Salad made of?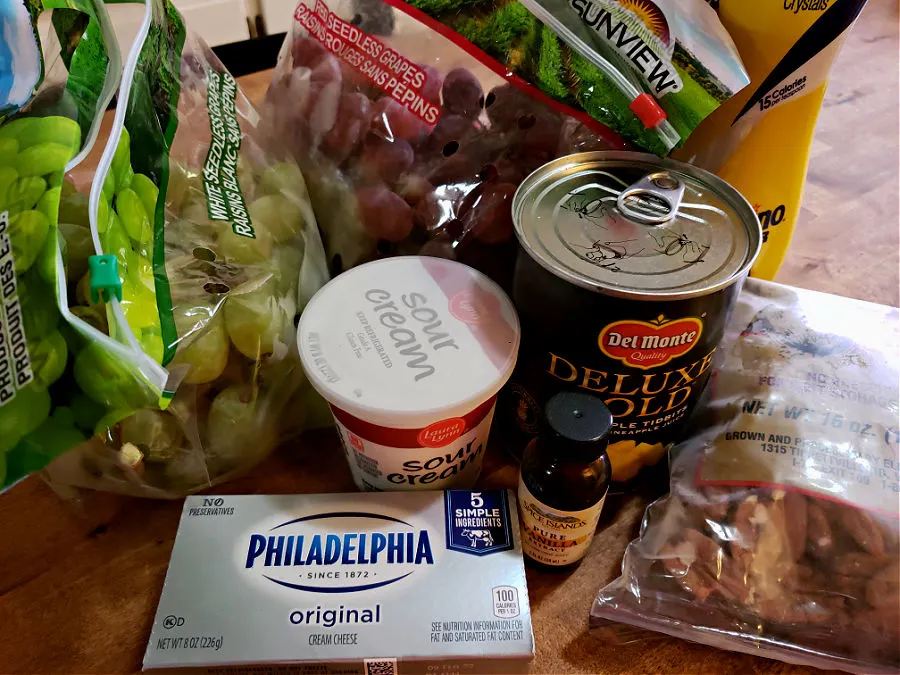 Why you will love this grape salad recipe? Because it is an easy recipe made with simple ingredients that can be made ahead of time and garnished just before serving.
The crisp grapes in a sweet cream cheese mixture with pineapple that gets topped with a sprinkle of brown sugar and chopped crunchy pecans is a great recipe. I'm grateful to whoever first thought to put it all together.
You can pick up everything that you need to make a grape salad at your local grocery store or wherever you buy food supplies.
You'll need:
Grapes – I like to use a variety of grapes that include seedless green grapes (or white grapes, which they technically are, but look green) and fresh red grapes. It takes a few pounds of grapes to make the recipe. Just use any type of grape that you prefer.
If you're feeding littles and concerned that the whole grapes might be a choking hazard then feel free to cut them in half.
Cream Cheese – softened to room temperature. If you forget to set your cream cheese out ahead of time then you can soften it by taking it out of the wrapper and placing it on a microwave-safe plate or bowl and microwave it for ten seconds.
Sour Cream – I use full fat sour cream.
Superfine Sugar – this white sugar has grains that are smaller than regular granulated sugar and great for salads so you don't get that grit from larger granules.
Vanilla Extract – adds great flavor to the creamy dressing.
Pineapple Tidbits – makes this creamy grape salad so special.
Brown Sugar – I used light brown sugar for garnish.
Chopped pecans – for garnish.
Southern Grape Salad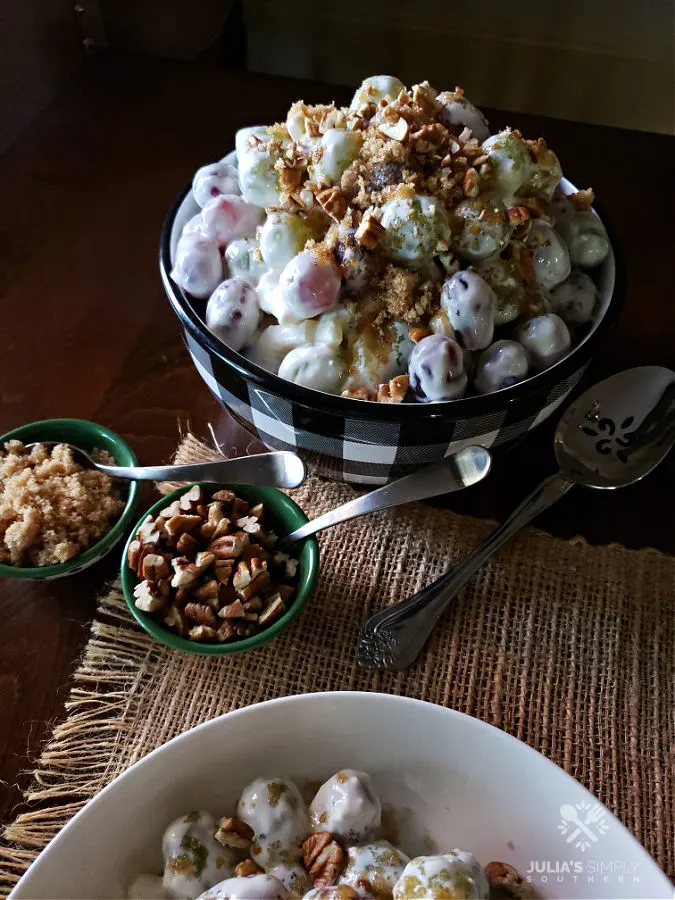 Doesn't that look amazing? Oh my word! It is fabulous!
Other options and alternative ingredients if you're looking for a healthier option or are on a restrictive diet: vanilla yogurt, plain Greek yogurt or a low fat sour cream are all great choices to try making the creamy dressing. You could also use toffee bits or walnuts for garnish if you prefer them to pecans. I also saw Paula Deen make a version recently and she included chopped apples which I'm sure is delicious too.
Just before serving the grape salad, add a small sprinkling of brown sugar to the top of the salad along with some of the chopped pecans. If you add these any sooner the brown sugar will dissolve and the pecans will soften.
Sparky walked in while I was sampling the grape salad and once again found me talking to myself say "why is this so good". I just can't help myself.
The next day I sent the leftovers to work with him in an airtight container to share and everyone loved it.
When I serve this salad, I do add some of the garnish but also like to set out a couple of small bowls with brown sugar and chopped pecans so folks can add a bit more to their serving if they want to.
Pineapple Grape Salad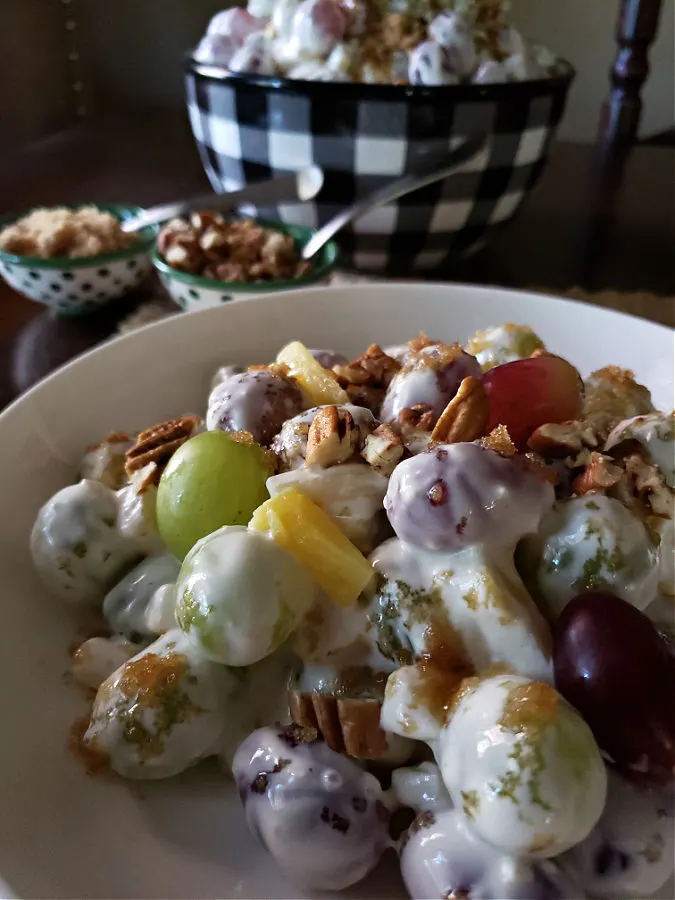 Just look at all of those amazing flavors my friend! YUM! It really is the perfect side dish for sharing with others to enjoy right along with you.
It is nice to have a grape recipe where the fresh grapes are the star of the show for something besides grape jelly.
How to make a Grape Salad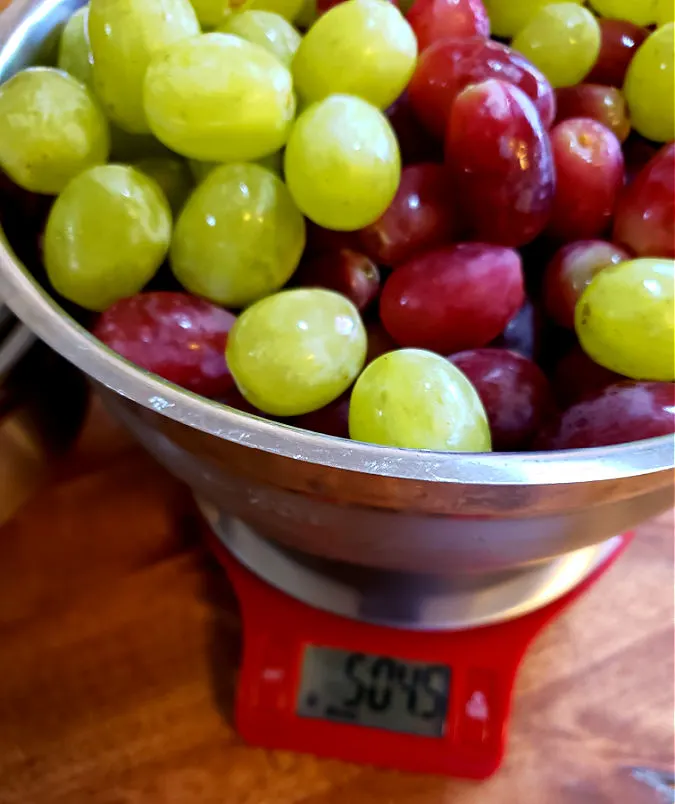 The first thing to making this easy dish is pulling all of the grapes from the stems. Check the grapes as you remove them to ensure that you only use juicy grapes that are still firm. Discard any that have softened if you encounter any.
After you've removed all of the grapes be sure to rinse them well and drain. I picked up two of the plastic bags like you typically find grapes in at the grocery store.
The weight didn't change much after the stems and bags were gone. The weight did fluctuate ever so slightly however after a few grapes went missing due to my snacking on them while making the recipe.
As long as you have between five to six pound of seedless grapes for the recipe you'll be just fine.
Creamy Grape Salad Recipe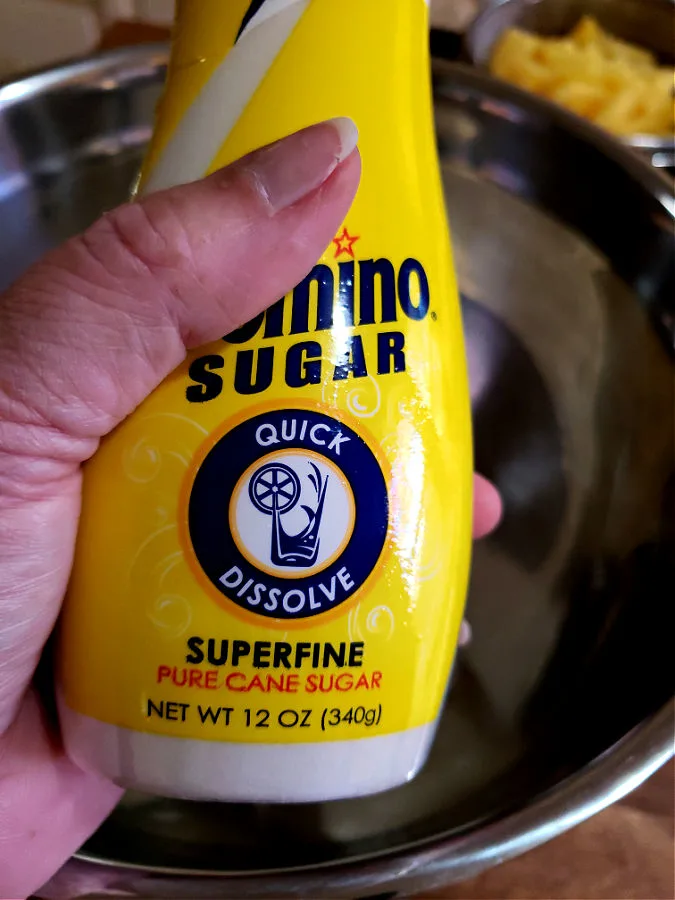 This is the super fine sugar that I used in the recipe. Super fine sugar is also called castor sugar. Ever try it? It's great for all of those recipes that have a sweetened dressing.
Mix the Sweet Creamy Vanilla Dressing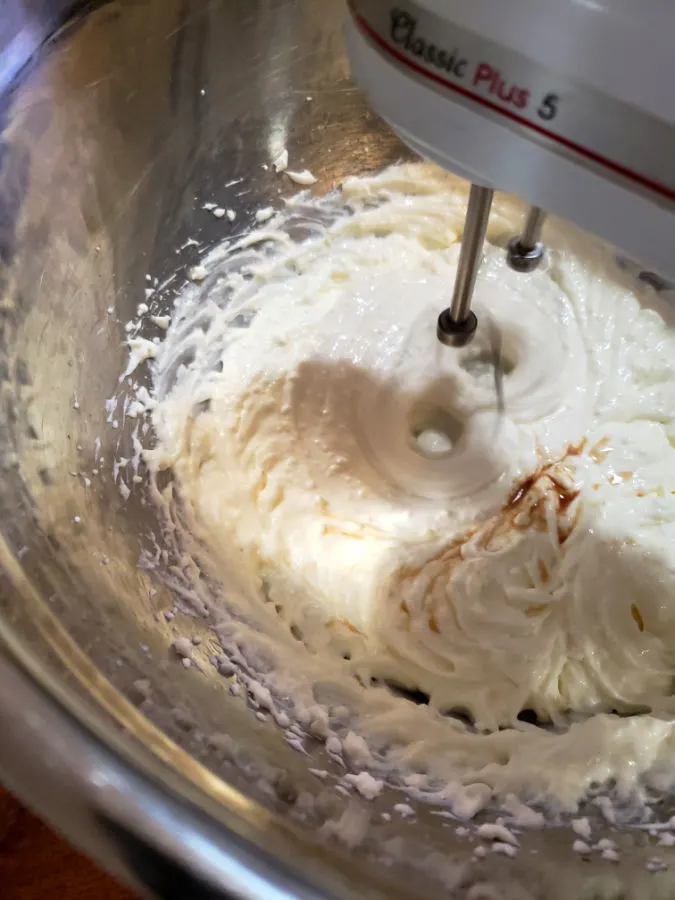 Okay, the first step is to make the dressing. Add the block of cream cheese to a large bowl then add the sour cream and granulated sugar.
Make sure to use a large mixing bowl because once you add everything else to the dressing you'll need the huge bowl to hold everything.
Use a hand mixer to combine until everything is combined and fluffy. Next, add the pure vanilla extract to the cream cheese mixture and mix until it is combined with your electric mixer.
Dessert Salad Side Dish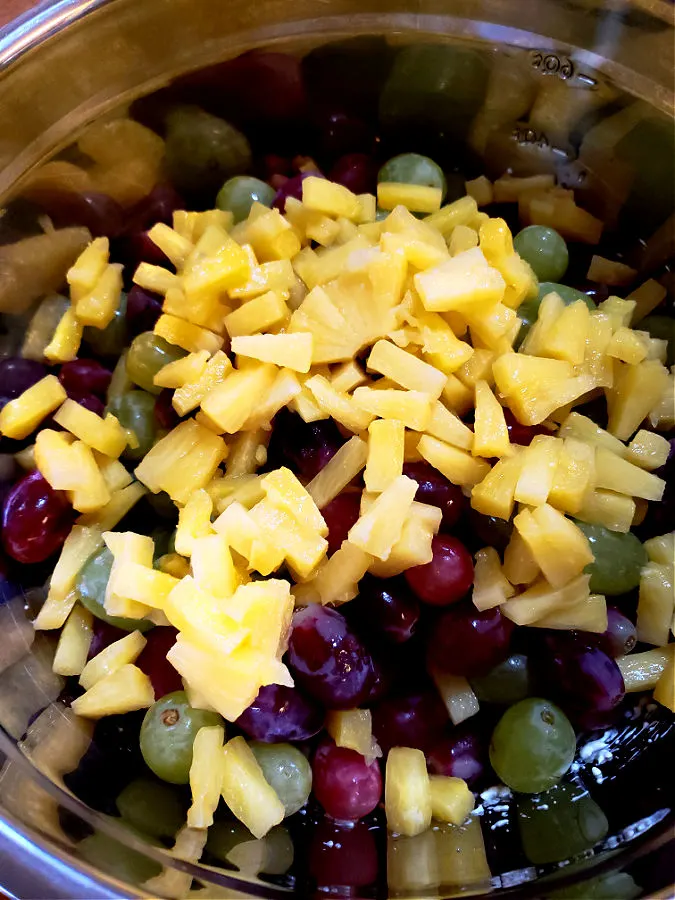 Transfer the washed grapes to the mixing bowl with the dressing and add the drained pineapple tidbits. I love all of the colors and think that helps make this a perfect dish for special occasions.
Grape Salad with Pecans and Brown Sugar Topping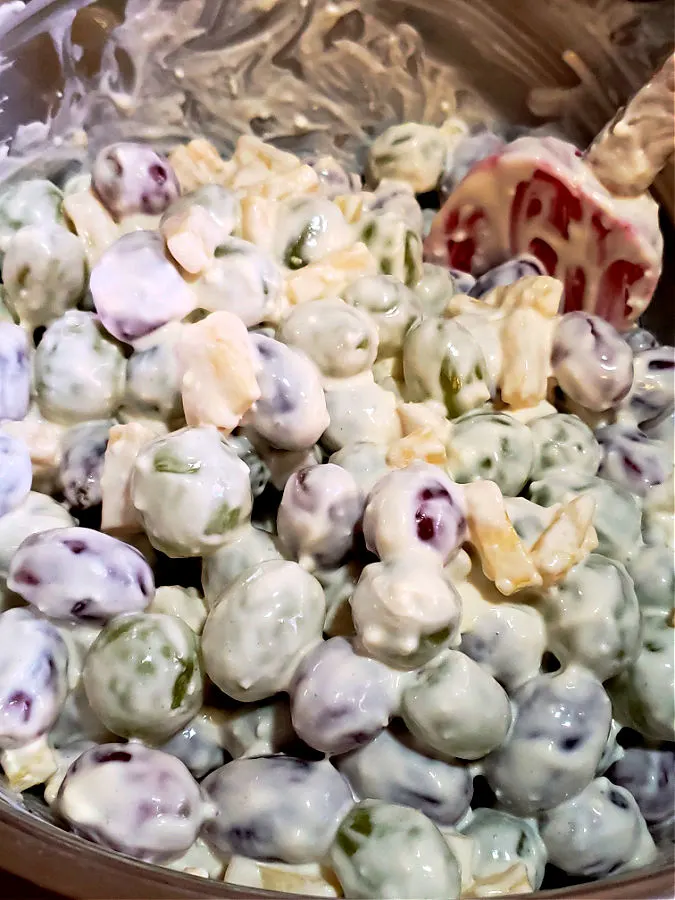 Use a spatula to gently turn the grapes and pineapple into the dressing until everything is coated well in that delicious creamy dressing.
Cover with plastic wrap and chill grape salad in the refrigerator until ready to serve.
Best Grape Salad Recipe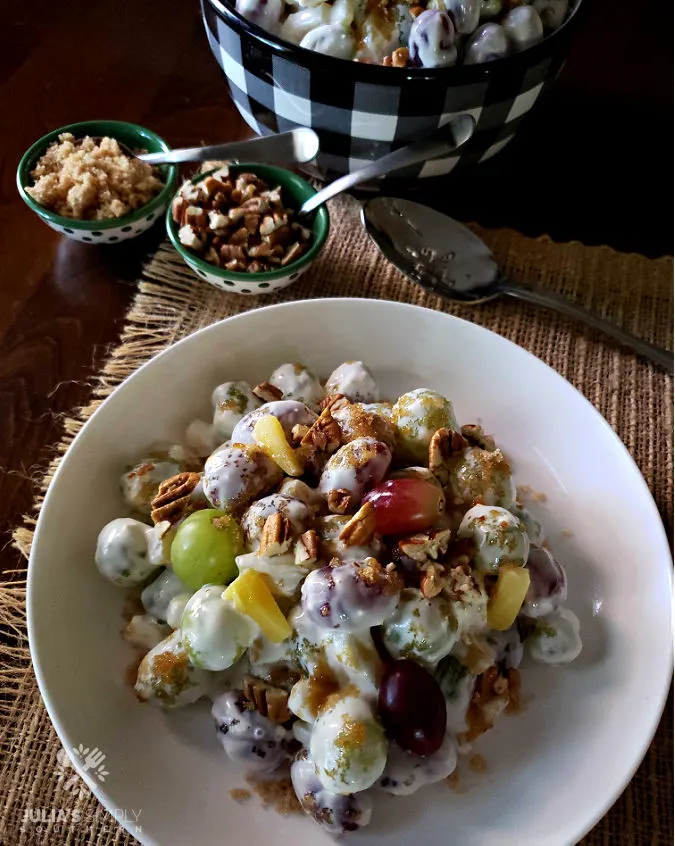 Gently stir the grape salad to redistribute the dressing before transferring to a serving bowl. Garnish with a little of the brown sugar and chopped pecans.
Easy Grape Salad Recipe
Below you will find the printable recipe card with all of the ingredients and instructions to make this grape salad with cream cheese dressing. If you "jumped to recipe", take a moment to scan through the post for more detailed tips and suggestions.
I also shared a couple of the links (Amazon affiliate links) to products that I use in the recipe card.
Yield: 1 Large Dessert Salad
Grape Salad Recipe with Pineapple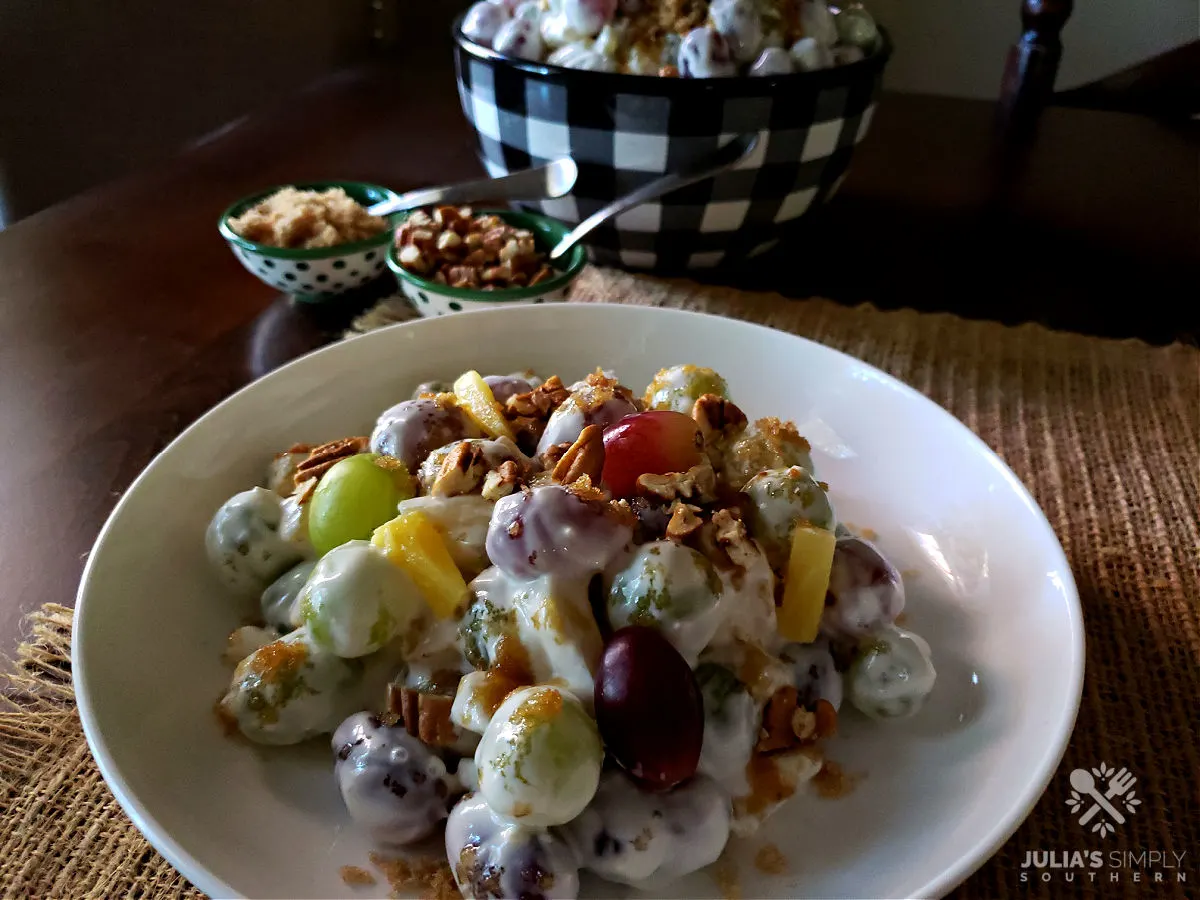 This amazing grape salad recipe with a creamy dressing, pineapple and crunchy pecan brown sugar topping is an amazing sweet side or dessert that is perfect for sharing. Enjoy grape salad for family suppers and holiday gatherings.
Ingredients
2½ pounds Red Seedless Grapes, removed from stems (or up to 3 pounds)
2½ pounds White Seedless Grapes, removed from stems (green grapes or up to 3 pounds)
8 ounces Cream Cheese, softened
8 ounces Sour Cream
⅓ cup Superfine Granulated Sugar (castor sugar)
1½ teaspoon Vanilla Extract
20 ounce Pineapple Tidbits, drained
Topping
¼ cup Light Brown Sugar
½ cup Chopped Pecans
Instructions
Begin by washing the grapes that have been removed from the stems in cold water and place into a colander to drain. Set aside until needed.
In a large mixing bowl; using a hand mixer, cream together the cream cheese, granulated sugar and sour cream until fluffy. Next, add the vanilla extract and continue mixing until combined.
Transfer the grapes to the mixing bowl with the cream cheese mixture and add the pineapple tidbits. Use a spatula to fold the fruit with the creamy dressing until everything is coated. Cover and refrigerate until ready to serve.
When serving; stir to redistribute the dressing and sprinkle a little brown sugar on top of the salad along with some crunchy chopped pecans (see notes).
Notes
Be sure to add the topping when serving or the brown sugar will dissolve and the pecans will soften. I like to add a small bit of topping then serve the rest of the brown sugar and pecans on the side so guests can add more if wanted.
Leftovers may be refrigerated up to 4 days.
Recommended Products
As an Amazon Associate and member of other affiliate programs, I earn from qualifying purchases.
Nutrition Information:
Yield:
24
Serving Size:
1
Amount Per Serving:
Calories:

163
Total Fat:

7g
Saturated Fat:

3g
Trans Fat:

0g
Unsaturated Fat:

3g
Cholesterol:

15mg
Sodium:

35mg
Carbohydrates:

26g
Fiber:

1g
Sugar:

22g
Protein:

2g
More tips for making the Grape Salad Recipe with Pineapple:
Even thought the recipe calls for a variety of grapes you can make is a green grape salad or just a red grape salad if you want to.
I've seen recipes that use a half a cup of sugar or more in the dressing. I don't use quite that much. You only need enough sugar to slightly sweeten the dressing. The fruit are also naturally sweet and the garnish topping is another layer of sweet so don't over do it with the dressing.
If it is your first time enjoying grape salad, stop back by and give me a comment to let me know how you liked it. I love hearing from you.
What to serve with grape salad? Grape salad can be served as a dessert on its own. If you want to take it over the top then you could offer whipped cream for those who want it.
If serving grape salad as a sweet side, just include it in your delicious meal line up. Grape salad will be wonderful with your holiday turkey or ham and all of those rich sides we enjoy for the holiday meals.
How much does it cost to make a grape salad? Making a grape salad to share will cost just under $20.00 depending on current grocery prices.
Popular Recipes on the Blog
Grape Salad Recipe with Pineapple
Thank you so much for stopping by! I am so glad that you did. I know that you're gonna love this Grape Salad Recipe with Pineapple just as much as we do and it will become one of your favorite recipes too. Be sure to share with your best friends, co-workers and family this holiday season.
Be sure to take a moment to subscribe to my email list while you are here. Subscribers receive a weekly newsletter from me with the latest recipes and news here on the blog so that you never miss a thing.
Meet Julia
Author of Julia's Simply Southern
Hey Y'all! I'm Julia, the cook and writer behind the recipes here at Julia's Simply Southern. I began my website so that I could share easy to follow recipes that anyone can use to put a home cooked meal on the dinner table. Thanks so much for stopping by!
Follow me on Facebook | Twitter | Instagram | Pinterest | YouTube