In this post I will be sharing a delicious glazed carrots with pineapple recipe that you are going to love. It is the perfect side dish for baked ham.
Have you ever heard of pineapple carrots? Y'all are gonna love it. I think that most of us are aware of how delicious ham and pineapple are paired together.
So, this delicious side dish makes the ideal accompaniment to your Easter ham dinner. Let's get cooking, y'all!
Carrots and Pineapple Recipe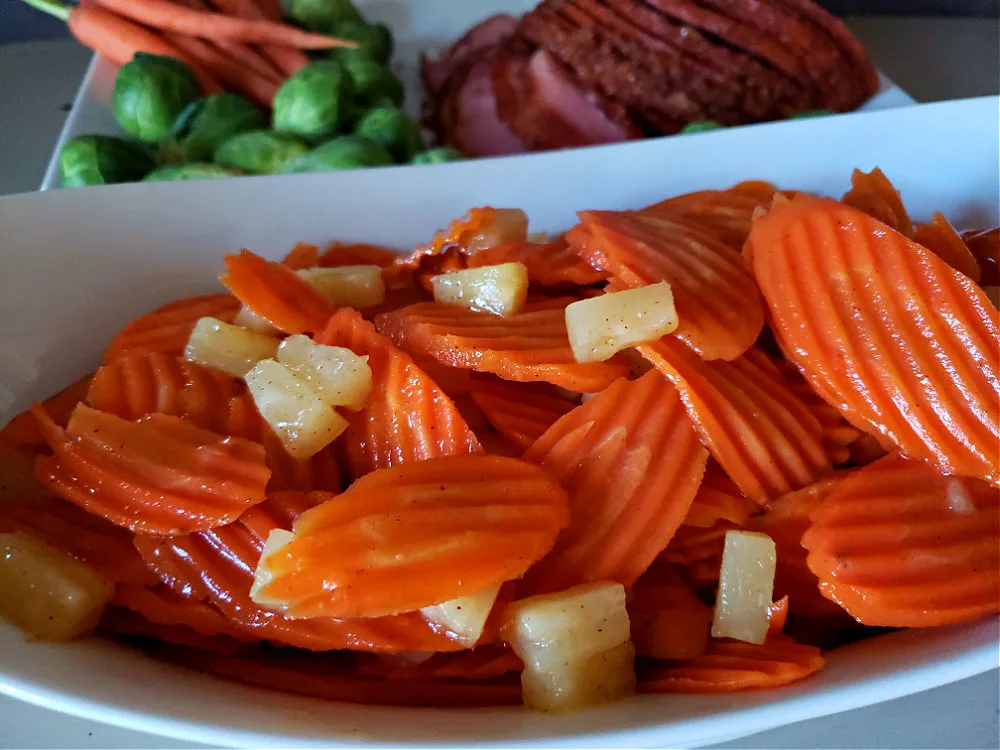 Does that look delicious or what, my friend? So, so good! Tender carrots with those little pineapple chunks in a sweet glaze with a hint of cinnamon spice throughout.
This is one of those super easy recipes that everyone loves and they will be asking you for the recipe.
The pineapple glazed carrots comes together pretty quickly so doesn't take long to make, but you can make it a day ahead of time if you like and re-heat before serving.
What do I need to prepare glazed carrots with pineapple?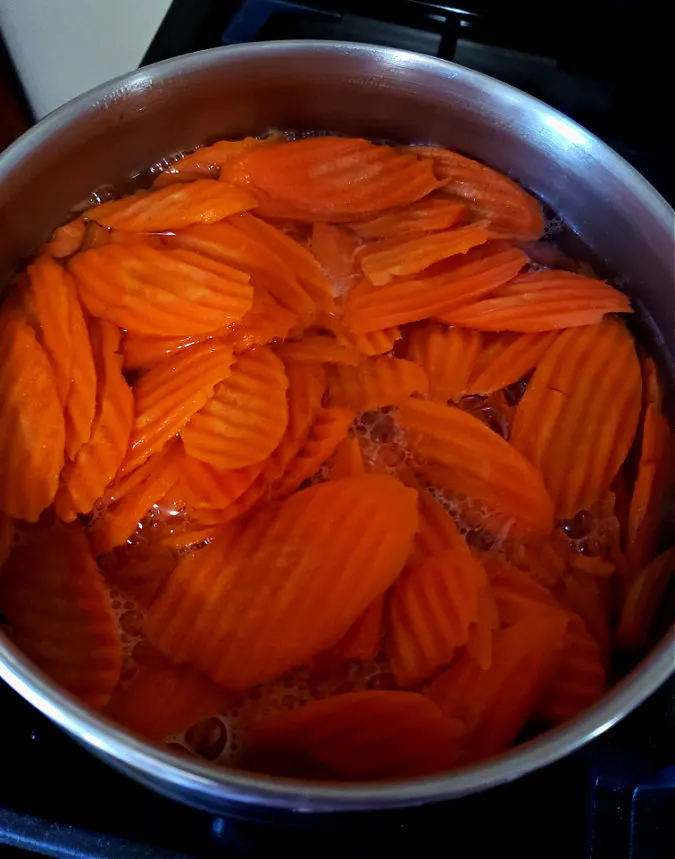 Here's what you will need to prepare these delicious glazed carrots:
Pineapple Tidbits – I find that the tidbits are the perfect size for this dish and give you the perfect amount of juice for preparing the glaze. So drain the pineapple juices into a measuring cup and set aside to use in the glaze. You should get about three quarters cup pineapple juice.
That being said, I am also all about using what you've got on hand. If you have pineapple chunks, just cut them up into smaller pieces. The canned crushed pineapple doesn't give off enough juice, but if that is all that you've got then consider using a bit of orange juice for making the glaze.
Butter
Brown Sugar – to add the perfect sweetness for the carrot glaze. I love the rich flavor that the molasses in the brown sugar adds to the glaze.
Cornstarch – to thicken the glaze.
Ground Cinnamon – adds a wonderful bit of spice to this side dish.
Cooked Carrots – my preference is using sliced carrot chips. I get the 1 pound carrots packaged and grab a couple to make this recipe for convenience. You can slice up your own, of course.
I think that the carrots chips are visually interesting in this side dish. You could use baby carrots if you prefer.
To cook the carrots for the recipe, I just cover the chips with water in a medium saucepan then bring to a simmer and continue to simmer over medium heat for ten minutes, or until they are tender as desired. Drain the cooked carrots and set aside until ready to combine with the glaze mixture.
The carrots can also be steamed if you have a steamer large enough to handle a couple of pounds of carrots.
How to make Glazed Carrots with Pineapple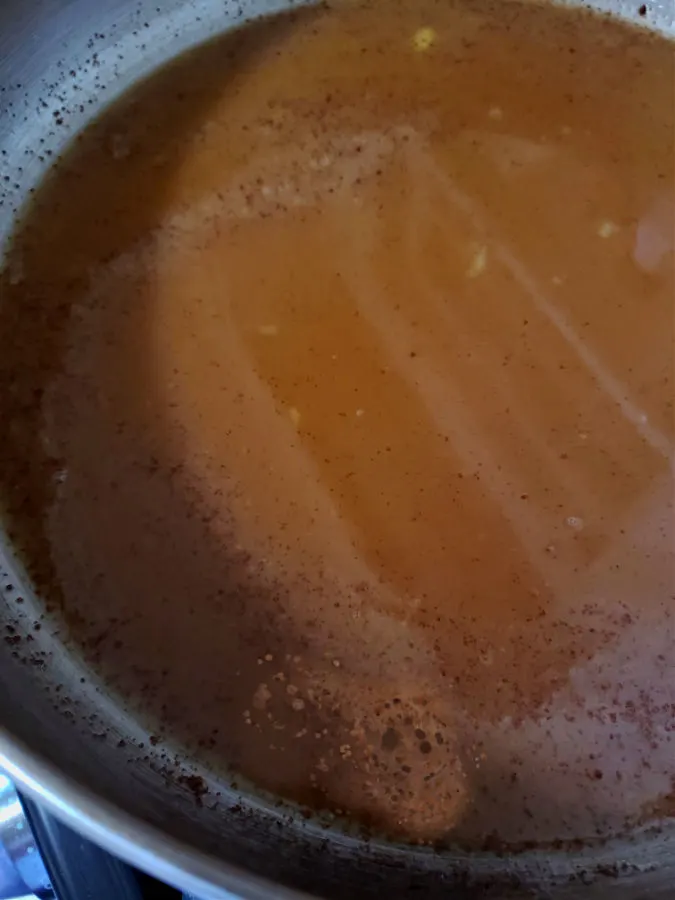 Prepare the glaze for the carrot pineapple side by heating a large skillet over medium-high heat.
While the skillet heats up, add the brown sugar, cinnamon, and cornstarch to the reserved pineapple juice then use a small whisk to combine.
Once the skillet is hot, add the butter and melt butter, then add the pineapple juice mixture to the skillet. Reduce to low heat and allow the mixture to cook until thickened. You'll want to occasionally whisk or use a spatula to stir as it cooks.
The glaze is usually thickened in the 7 to 10 minute range, but that could vary depending on the size of the pan that you're using.
Pineapple-Glazed Carrots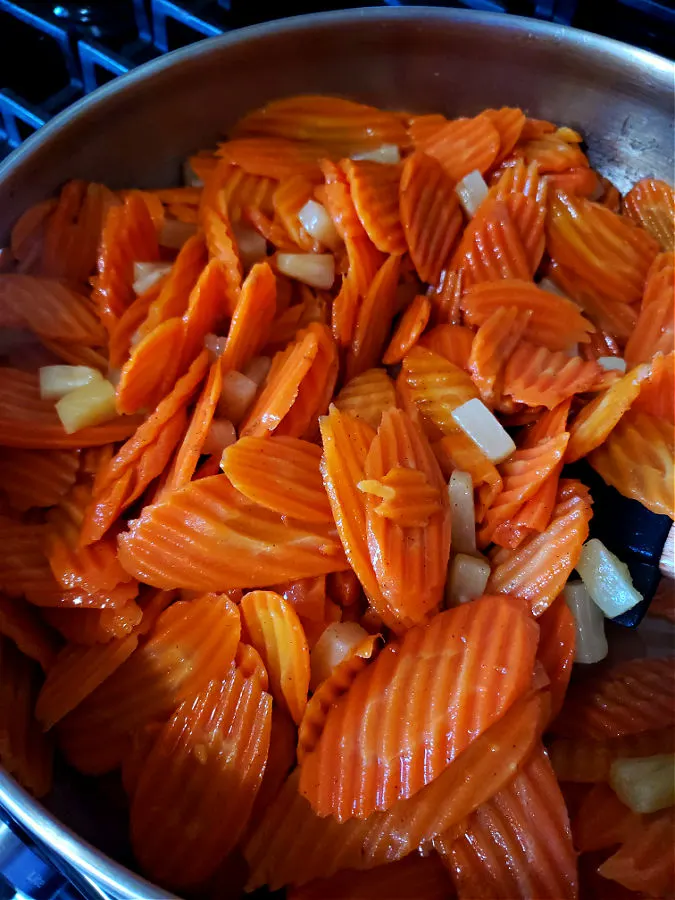 The next step is to add the pineapple tidbits and the tender cooked carrots to the thickened glaze and using a spatula, gently turn to coat.
Once the glaze has been distributed over the carrot mixture, continue to cook until heated through.
Use a slotted spoon to carefully transfer and place carrots with pineapple in your favorite serving dish. Pour any remaining glaze over the glazed carrots with pineapple in the serving bowl.
Glazed Carrots with Pineapple Recipe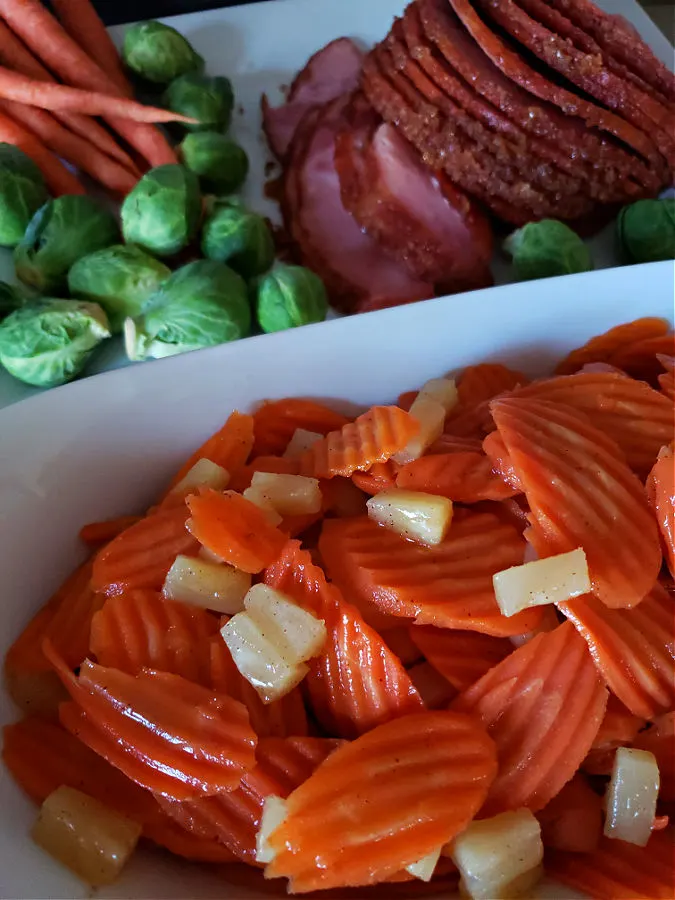 Below, you will find the printable recipe card with all of the details for making this wonderful side dish.
Yield: 3 pounds
Glazed Carrots with Pineapple Recipe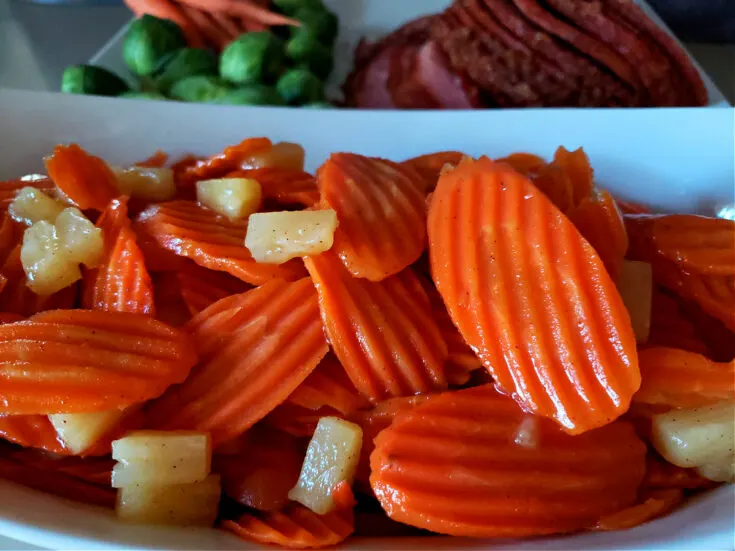 A wonderful side dish of tender carrots and pineapple with a brown sugar and pineapple juice glaze. This glazed carrots side is perfect with a baked ham dinner and takes just minutes to prepare.
Ingredients
2 - 8 ounce can Pineapple Tidbits, drained reserving juices (I used the Dole brand)
2 tablespoons Butter
½ cup Brown Sugar, packed (I used light brown)
¾ cup Reserved Pineapple Juice, or thereabouts
1 tablespoon Cornstarch
½ teaspoon Ground Cinnamon
2 pounds Sliced Carrot Chips, cooked until tender
Instructions
Melt butter in a large skillet over medium-high heat.
In a measuring cup or small bowl, whisk together the pineapple juice, brown sugar, cornstarch, and cinnamon until well combined.
Next, add the brown sugar glaze mixture to the skillet with the melted butter. Whisk to combine the reduce the heat to low.
Cook, stirring or whisking occasionally, until thickened, which should take 8 to 10 minutes. Once the glaze mixture is thick, add the tender cooked carrots and pineapple tidbits to the skillet. Use a spatula to stir and coat everything with the glaze. Continue to cook another minute or two until heated through.
Transfer the glazed carrots with pineapple to a serving bowl and serve. This side dish is great with baked ham.
Notes
See full post for tips for cooking carrots and more details and options for preparing this dish.
This recipe can serve 8 to 12 people depending on portion size.
Recommended Products
As an Amazon Associate and member of other affiliate programs, I earn from qualifying purchases.
Nutrition Information:
Yield:
8
Serving Size:
1
Amount Per Serving:
Calories:

202
Total Fat:

5g
Saturated Fat:

2g
Trans Fat:

0g
Unsaturated Fat:

3g
Cholesterol:

10mg
Sodium:

166mg
Carbohydrates:

39g
Fiber:

5g
Sugar:

27g
Protein:

2g
Glazed Carrots Recipe with Pineapple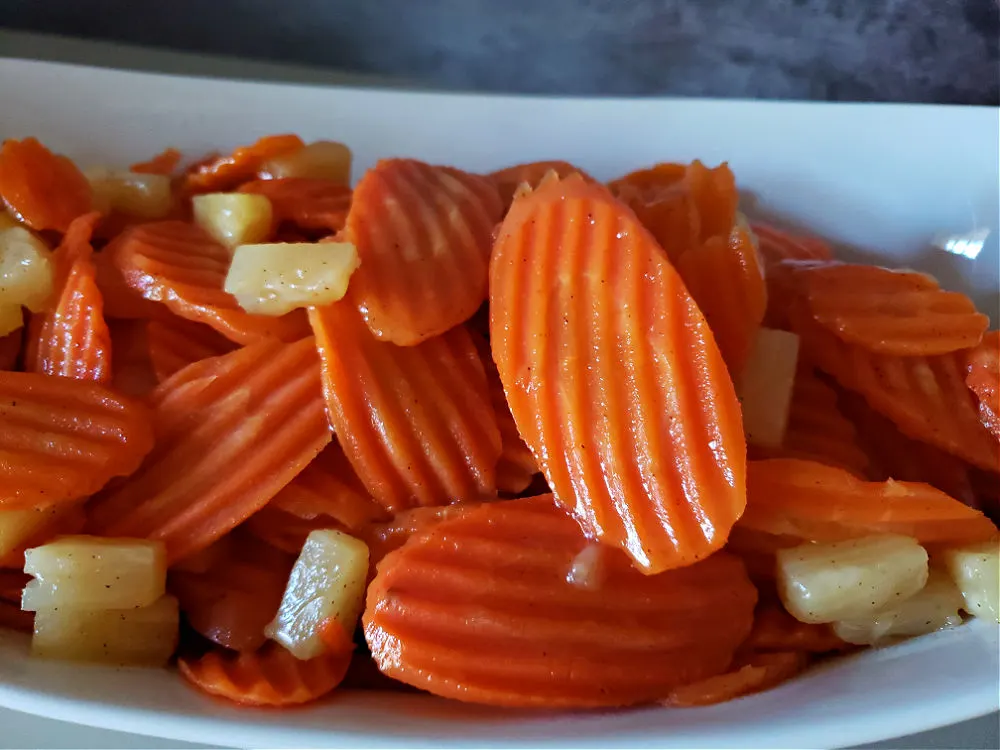 What to serve with Glazed Carrots with Pineapple?
As I mentioned before, baked ham is a great pairing with this tasty sweet and tangy side dish. The pineapple glazed carrots would also be wonderful with beef, chicken or pork chops.
Pineapple glazed carrots are also wonderful to serve along with other favorite side dishes and casseroles.
I think that this wonderful side dish is a wonderful option for your Easter dinner menu plan.
Popular on the Blog
Check out the Latest Recipe Posts
Thank you so much for stopping by, friend! I am so glad that you did! I hope that you will add this easy glazed carrots recipe to your collection of favorite recipes for family meals and Easter dinner options.
While you are here, be sure to subscribe to the e-newsletter. Subscribers receive a weekly email from me with all of the latest recipes and news here on the blog so that you never miss a thing.
Until next time, love and happy cooking!
Meet Julia
Author of Julia's Simply Southern
Hey Y'all! I'm Julia, the cook and writer behind the recipes here at Julia's Simply Southern. I began my website so that I could share easy to follow recipes that anyone can use to put a home cooked meal on the dinner table. Thanks so much for stopping by!
Follow me on Facebook | Twitter | Instagram | Pinterest | YouTube