In this post I'll be sharing an easy crispy baked chicken thighs recipe that you will love!
Well, y'all, if there is one thing I absolutely adore, it's good ole Southern comfort food, and nothing says comfort quite like a plate of crispy oven-baked chicken thighs! They are delicious!
Honey, when those tender, juicy thighs come out of the oven all golden and crispy, you just know you are in for a real treat.
Pssst, I've got a little secret to share with you that makes these bone-in, skin-on chicken thighs so flavorful.
Oh, my friends, when it comes to flavor-packed chicken, Greek seasoned chicken thighs are a culinary masterpiece! And you know what, it is one of the easiest chicken dishes that you can prepare.
So, grab your apron and let us get ready to whip up some of the crispiest, most finger-licking good chicken thighs with the absolute best flavor you've ever tasted.
You won't be able to resist savoring every wonderful bite!
Oven Baked Chicken Thighs with Greek Seasoning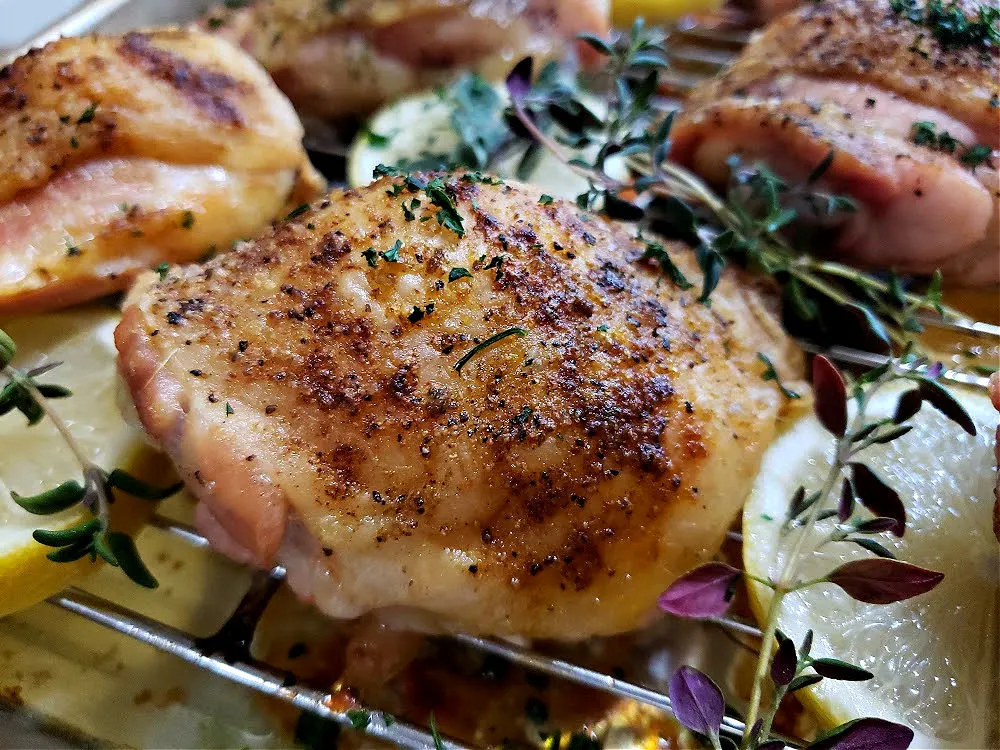 Doesn't that look amazing, my friend? The chicken skin is crispy and full of flavor. The meat is melt in your mouth tender.
That beautifully browned crispy skin makes ya want to sink your teeth into that juicy meat!
What to Serve with Baked Chicken Thighs?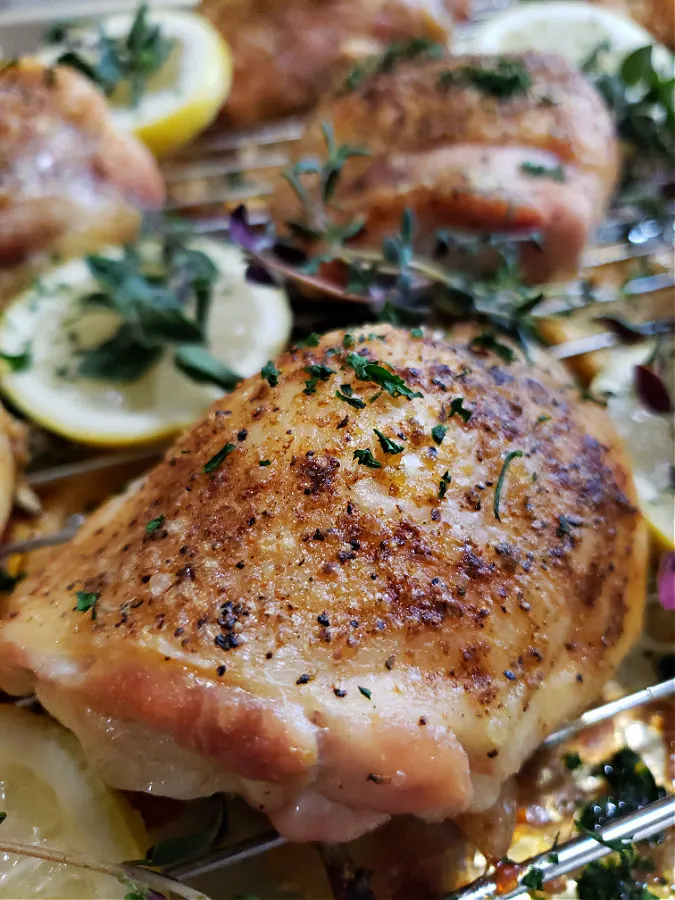 Baked chicken thighs are a versatile main dish that pairs well with a variety of side dishes. Here are some delicious options to consider:
Bread or Dinner Rolls: Serve your chicken thighs with warm dinner rolls, buttermilk biscuits, garlic bread, cornbread, or crusty baguette slices.
Roasted Vegetables: Roasting vegetables like carrots, broccoli, asparagus, or Brussels sprouts alongside the chicken thighs is a popular choice. Toss them with olive oil, salt, and your favorite herbs or spices for added flavor.
Mashed Potatoes: Creamy mashed potatoes are a classic side dish that complements the savory flavors of chicken.
Cooked Rice: white rice or brown rice is a favorite side at our house, usually served with gravy, or baked into a casserole.
Coleslaw: Creamy coleslaw or a vinegar-based slaw can add a refreshing crunch and a touch of sweetness to your meal.
Southern Style Sides: macaroni and cheese, green beans, collard greens, or skillet corn are favorite dishes to serve with chicken.
Pasta: A simple pasta dish, like spaghetti aglio e olio or a creamy Alfredo pasta, can be a comforting accompaniment to baked chicken.
Salad or Fruit: a fresh vegetable salad with tangy dressing or side of fresh fruit are tasty options to enjoy with roasted chicken thighs.
Feel free to mix and match your favorite side dishes to suit your mood for your meal and if you don't feel like a lot of fuss, just enjoy those crispy baked thighs all on their own.
Recipe Baked Chicken Thighs Simple Ingredients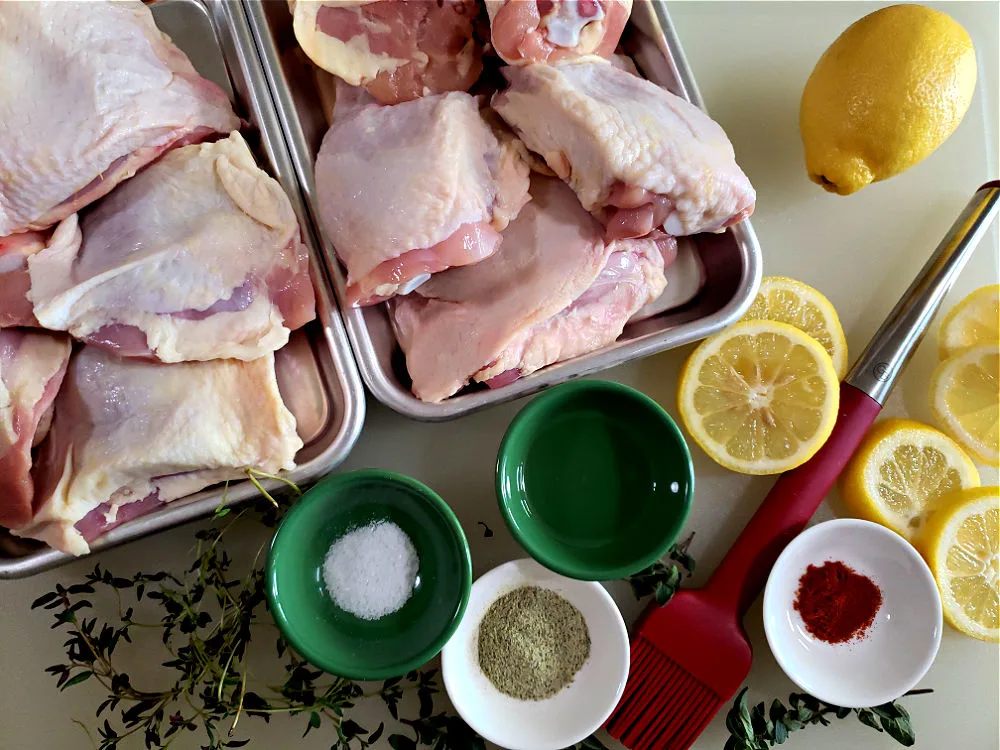 Here's what you'll need to make these delicious baked chicken thighs:
Chicken Thighs – preferably bone-in chicken thighs with the skin. The bone adds depth of flavor to the meat as it cooks and retains moisture so the chicken is juicy. The skin on bone-in chicken thighs can become wonderfully crispy when properly cooked, adding a delightful crunch and an appealing visual element to your dish. Dark meat also tends to stay more moist when baked.
If you'd rather use boneless skinless chicken thighs then you may want to reduce the roasting time of the chicken to ensure that it doesn't dry out during cooking. Boneless chicken thighs with the chicken skin would be a better option to help keep in some of the moisture.
Chicken breasts can also be used if preferred, but tend to dry out if cooked too long, so keep a watch and don't overcook your chicken pieces if using white meat. The end result is to have an internal temperature of 165 degrees F for chicken. Use a quick read meat thermometer if you have any doubts with the doneness of chicken.
you'll also need…
Oil: olive oil, vegetable oil, or peanut oil are all great options for the skin so the seasonings adhere and helps get the skin nice and crispy.
Cavender's Greek Seasoning: adds wonderful flavor to the chicken. I don't add additional black pepper because this seasoning blend has plenty.
Other Seasonings: a bit of salt, to taste, and paprika for color.
Optional: but recommended, lemon slices, fresh thyme, and fresh oregano to add aromatics while cooking and extra for garnish after it comes out of the oven.
Just a few simple ingredients are all it takes to make delicious juicy chicken thighs. If you prefer other seasonings (like Italian seasoning, black pepper, garlic powder, onion powder) or fresh herbs then use those instead.
Prepare the Baking Sheet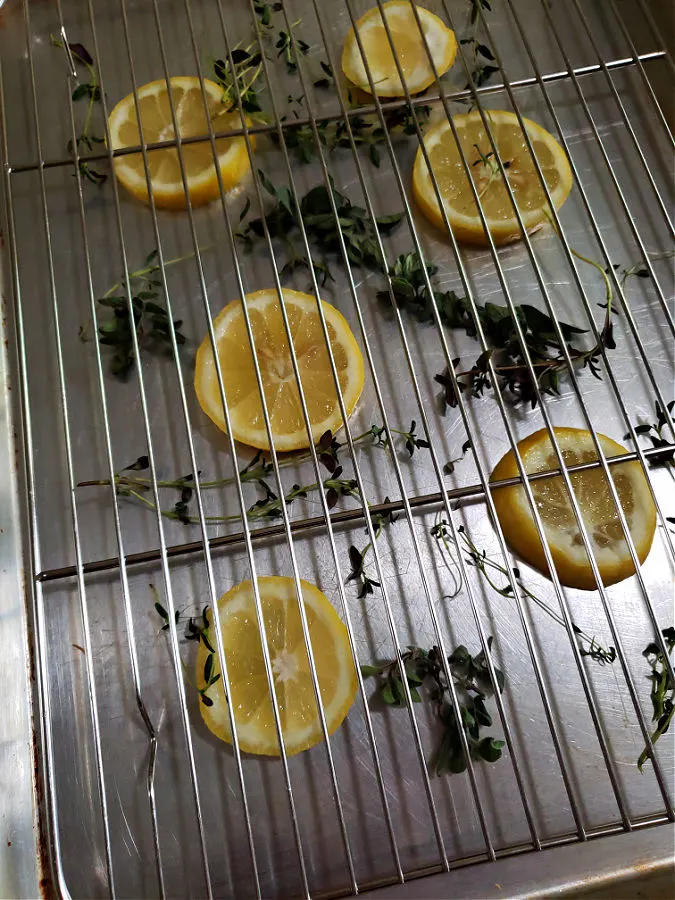 To get things going, pre-heat your oven so that it is nice and hot. Set the oven temperature to 350°F. Then, prep a sheet pan by placing a couple of lemon slices in the pan and a few sprigs of fresh thyme and fresh oregano.
Place a rack in the sheet pan then move it aside until you're ready to place the chicken on it. I like using a baking sheet lined with a rack so that the warm air circulates all around the chicken. You can just use a baking dish if that is what you have to work with.
Y'all, I mentioned this before, but the lemon slices and fresh herbs are optional, but do add nice aromatics while the chicken bakes in the oven. Totally up to you though if you want to use them or not.
The Easiest Greek Chicken Ever!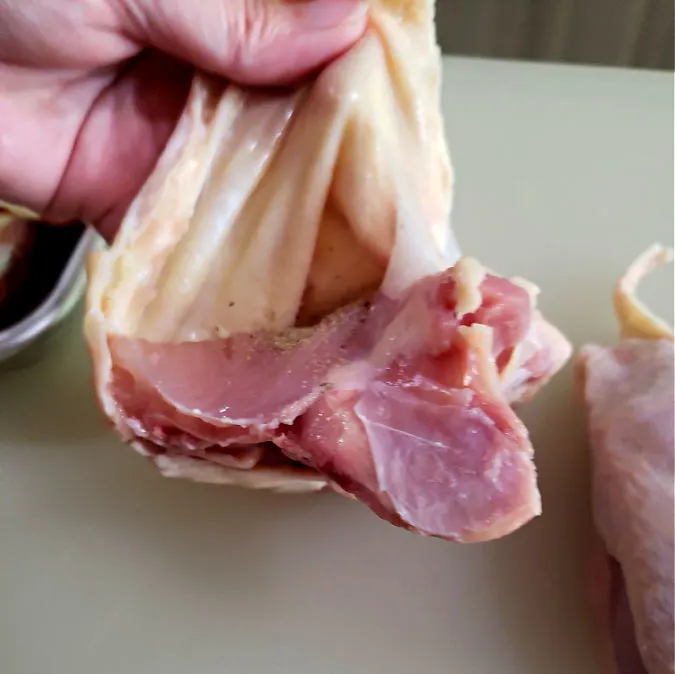 Let's season up that chicken! Pat the chicken dry with paper towels to remove excess moisture.
Gently lift up the skin on the chicken thigh and season the meat on each piece of the chicken.
Season Well to Add the Best Flavor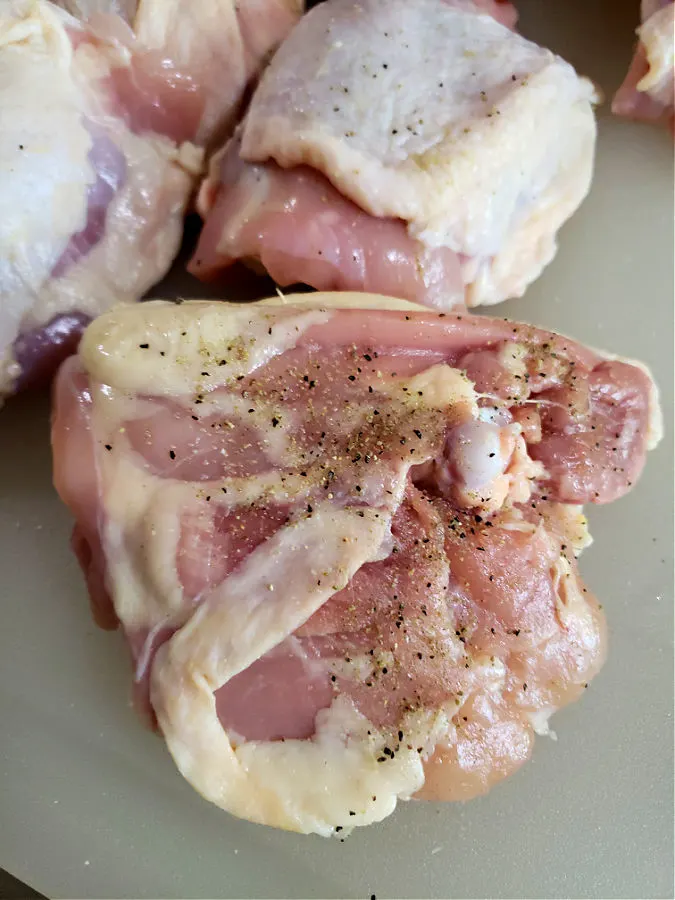 Next, season the bottom side of the thighs and turn them back over so they are skin side up.
Skin-On Chicken Thighs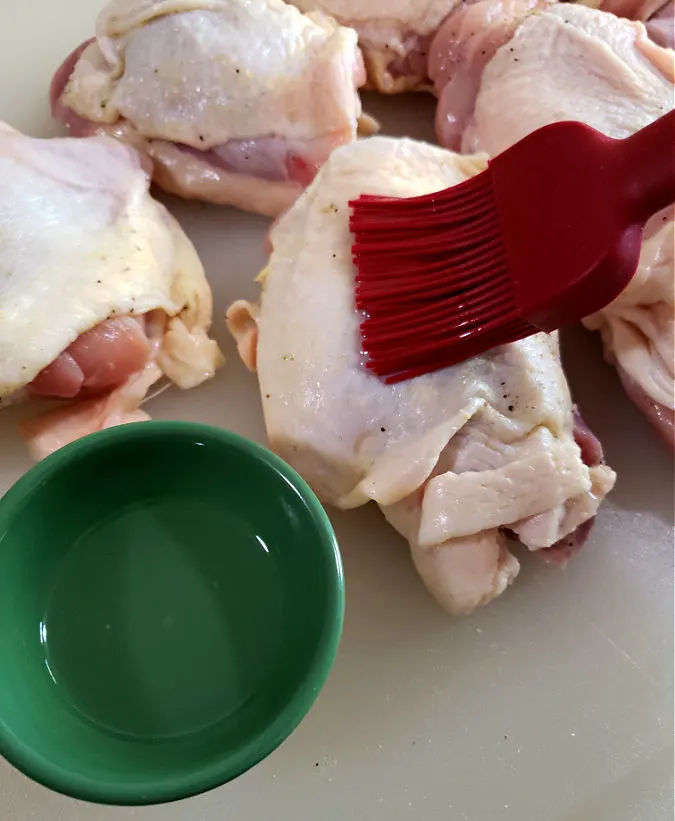 The next step is to brush the skin of the chicken thighs with oil, I'm using peanut oil here, but you can use what you like.
Baked Chicken Thighs Bone In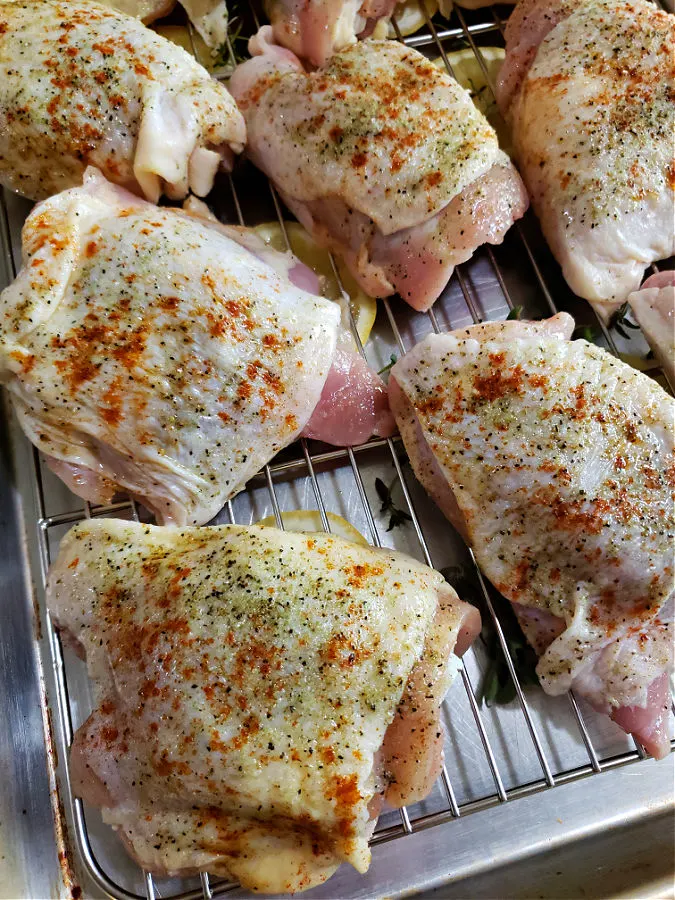 Season the oiled skin of each chicken piece with the seasoning blend and a pinch of salt before placing the pan into the pre-heated oven.
I like to add a pinch or two of paprika to the skins, which also helps to add a nice color to the cooked chicken.
Arrange the chicken pieces on the cooking rack in a single layer then into the hot oven to be roasted to perfection.
How long does it take bone in chicken thighs to bake? Well, it depends. Some folks like to cook the thighs with high heat, and they will cook faster, but I don't think the meat gets as tender as I prefer mine.
For me, the best way, it to slow roast the chicken and the dark meat can handle the longer cooking time and results in tender chicken thighs with perfectly crispy skin that is mouthwatering delicious. So, in my book, about two hours is the time it takes to cook them.
Crispy Baked Chicken Thighs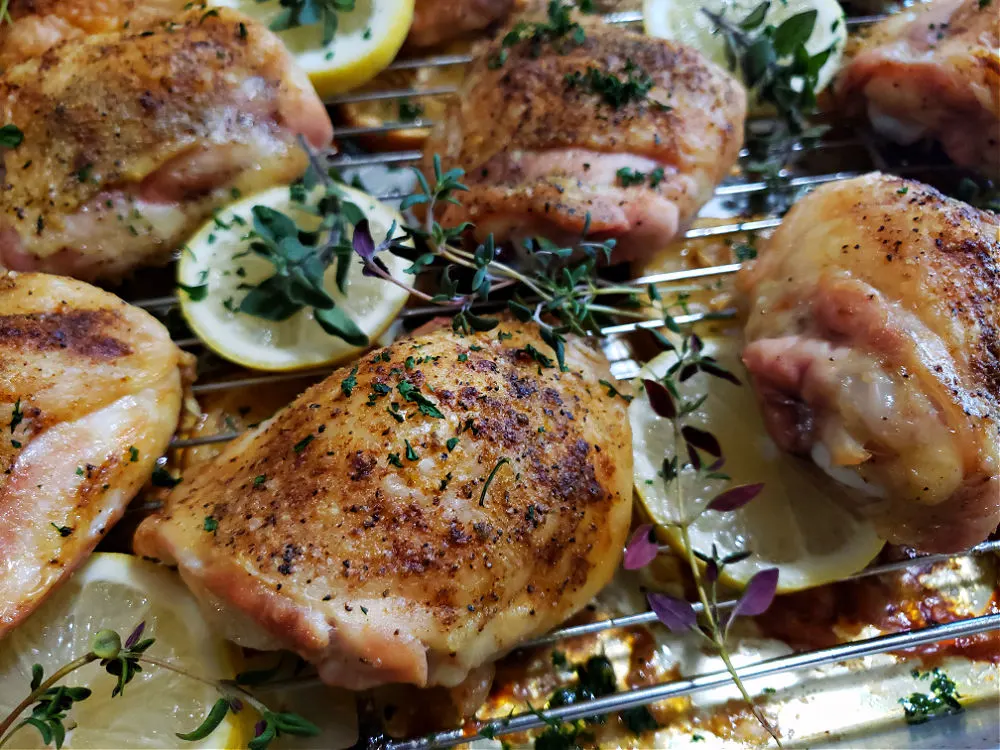 Isn't that easy, my friend? You got to love a simple recipe that gives you something to eat with the best flavor and little effort.
Now, if you find yourself with leftover roasted chicken, store it in an airtight container in the refrigerator. Reheating baked chicken thighs is easy to do while preserving their flavor and moisture.
How to re-heat leftover baked chicken thighs?
Oven Method (Recommended for Crispy Skin) in a few basic steps:
Preheat your oven to around 350°F (175°C).
Place the baked chicken thighs on a baking sheet (you won't need to line with a rack for reheating) or in an oven-safe dish.
Cover them loosely with aluminum foil to prevent them from drying out.
Heat in the preheated oven for about 15-20 minutes or until the internal temperature reaches 165°F (74°C).
Then serve them up for an easy and delicious meal of leftovers. I usually make extra the night before just so I can re-heat the chicken for an easy leftover meal.
Printable Recipe Card for Baked Chicken Thighs
Yield: 10 pieces
The BEST Crispy Baked Chicken Thighs Recipe with Flavorful Greek Seasoning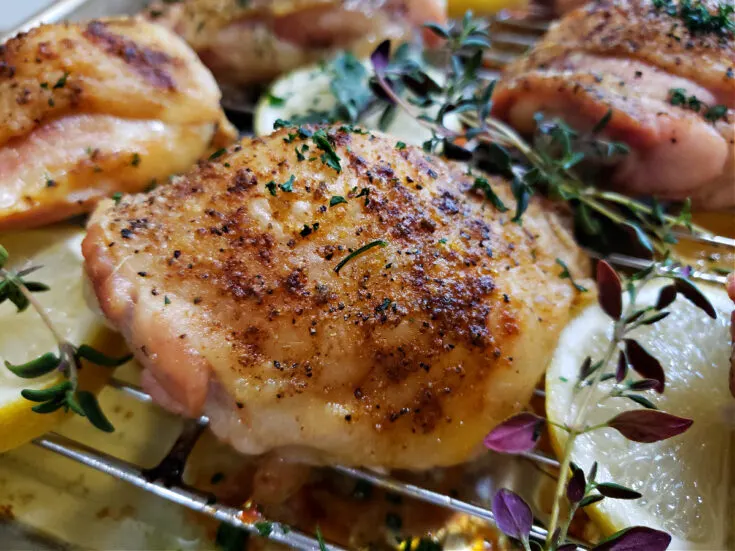 Indulge in the irresistible crunch of these Crispy Baked Chicken Thighs! A simple yet mouthwatering recipe that delivers perfectly crispy skin and tender, juicy meat with every bite. Your taste buds will thank you! I've taken juicy chicken thighs and coated 'em in a mouthwatering blend of Greek seasonings that'll make your taste buds do a happy dance. Then, we bake 'em to golden perfection for that perfect crispy bite without all the frying. It's a Southern twist on a Mediterranean classic that you'll love served along with your favorite sides.
Total Time
2 hours
10 minutes
Ingredients
10 Chicken Thighs, bone in with skin on
2 tablespoons Peanut Oil (or use olive oil or vegetable oil if preferred)
½ tablespoon Cavender's Greek Seasoning
¼ teaspoon Kosher Salt, or to taste
¼ teaspoon Paprika
2 Lemons, sliced (optional)
Fresh Thyme Springs (optional)
Fresh Oregano Sprigs (optional)
Instructions
Preheat oven to 350°F (176°C).
Prepare a baking sheet by placing the slices of one lemon in the pan along with a few sprigs of fresh thyme and oregano. Next, place a baking rack in the pan. Set aside until needed.
Using paper towels, pat the chicken dry to remove any excess moisture.
Gently lift the skin of the chicken thigh and season the meat with a pinch of Greek seasoning; repeat until all pieces are done. Turn the chicken pieces over and season the under side with a pinch of Greek seasoning; repeating until all are done.
Next, brush the skin of each chicken thigh with cooking oil. Then, generously season the skins with the remaining Greek seasoning, salt, and paprika.
Arrange the chicken thighs, skin side up, in a single layer on the rack lined cooking sheet. Transfer the pan with the chicken into a hot oven and bake for 2 hours, until the skins are crispy and the internal temperature of the chicken is 165°F.
Carefully remove the roasted chicken from the oven using an oven mit. Allow the chicken to rest for 5 minutes then transfer the tender chicken thighs to a serving plate, or serve directly from the baking sheet.
Garnish the serving plate with fresh lemon slices and sprigs of the fresh thyme and oregano, if desired.
Notes
Less bone in chicken thigh pieces can be used if you don't need the amount in the recipe.
Leftover baked chicken thighs may be store in an airtight container in the refrigerator.
Re-heat the chicken by placing on a sheet pan the loosely cover with foil and place into a preheated 350°F oven and bake 15-20 minutes until heated through.
Serve crispy skin baked chicken thighs with your favorite sides.
Find more serving tips and recipe suggestions in the post.
Recommended Products
As an Amazon Associate and member of other affiliate programs, I earn from qualifying purchases.
Nutrition Information:
Yield:
5
Serving Size:
2 Thighs
Amount Per Serving:
Calories:

615
Total Fat:

41g
Saturated Fat:

12g
Trans Fat:

0g
Unsaturated Fat:

29g
Cholesterol:

333mg
Sodium:

972mg
Carbohydrates:

4g
Fiber:

1g
Sugar:

1g
Protein:

61g
serving size may vary by person and appetite
Once you have the method for this Easy Crispy Baked Chicken Thighs Recipe mastered then you can switch up seasonings and ingredients to create a multitude of chicken dishes.
Try the chicken with lemon pepper or create honey garlic chicken thighs. Of course, classic baked barbecue chicken is always a favorite meal too.
Popular Recipes on the Blog
In case you missed it, here's the latest recipes on the blog
Easy Crispy Baked Chicken Thighs Recipe with Greek Seasoning
Well, darlin', I hope y'all have enjoyed this finger-licking good journey to crispy oven-baked chicken thigh heaven! There's just something about that golden, crunchy skin and the tender, juicy meat inside that warms my heart and soul.
So, next time you're in the mood for a down-home, comfort-filled meal, remember this Easy Crispy Baked Chicken Thighs Recipe, and whip up a batch of these irresistible chicken thighs. I promise they'll put a smile on your face and bring a taste of Southern charm to your table.
Before you go, I would love it if you subscribe to my email list to receive my weekly e-newsletter. I send it out with all of the latest recipes and news here on the blog so you'll never miss thing.
Y'all take care now, and don't forget to share the love and good food with your loved ones.
Meet Julia
Author of Julia's Simply Southern
Hey Y'all! I'm Julia, the cook and writer behind the recipes here at Julia's Simply Southern. I began my website so that I could share easy to follow recipes that anyone can use to put a home cooked meal on the dinner table. Thanks so much for stopping by!
Follow me on Facebook | Twitter | Instagram | Pinterest | YouTube