In this post I am sharing how to make Easy Oven Roasted Garlic.

Garlic is one of the most popular herbs for cooking. It is delicious raw or cooked. Garlic develops different flavors when cooked that can add so much depth of flavor to dishes.
The chemical makeup of garlic actually changes during cooking. It transforms into a mildly sweet and mellow flavor booster.
Simply put, garlic is just plain amazing! The uses for garlic are so numerous that it's even hard for me to think of all of the ways to use it in cooking. A couple of great options include Herb & Garlic Roasted Pork Roast or Cheesy Garlic Bread.
Roasting garlic is one of the easiest ways to prepare a stash of softened rich cloves for all of your recipes. Since roasting a batch, I've used some for making hummus, making a batch of country style ribs and plan to finish it off today in a pasta dish.
Garlic is also very beneficial to health so adding it to your favorite dishes certainly won't hurt anything.
Healthy Roasted Garlic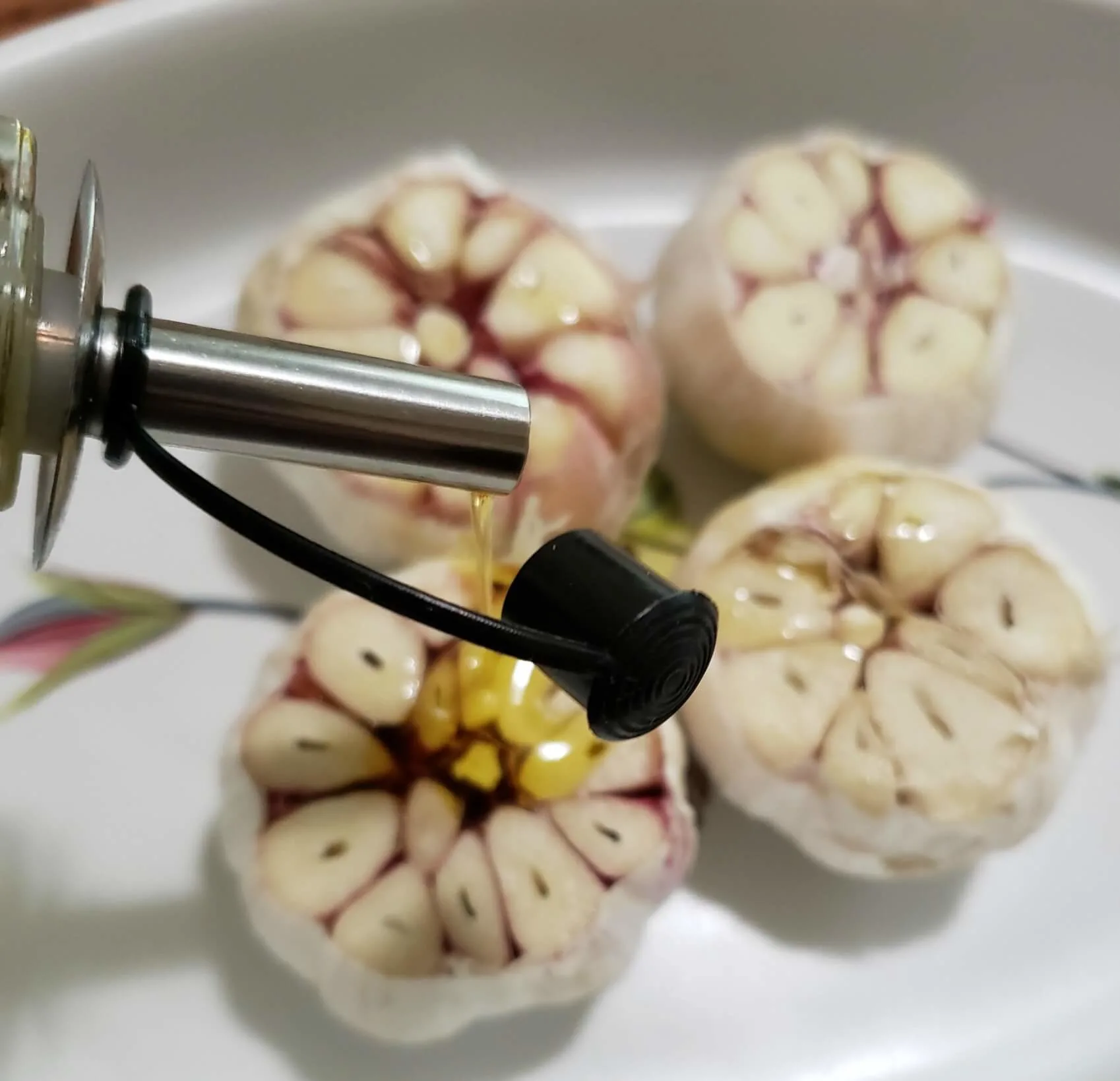 It is very easy to roast garlic and you only need garlic bulbs, olive oil, salt and pepper. I've seen other recipes where folks add thyme and other stuff but you really just need the basics. If you want to season more the go for it.
How long does roasted garlic last? Roasted garlic can be stored in the refrigerator up to three days. To properly store, it is best to cover the roasted garlic in olive oil then refrigerate. Due to the short shelf life, only roast what you can use within that time period. You can also freeze roasted garlic.
How do you peel roasted garlic? Getting the roasted cloves out of the skins is as easy and giving the bulb a squish. The roasted cloves will move out of the cut end and into a container.
Roasted Garlic Recipe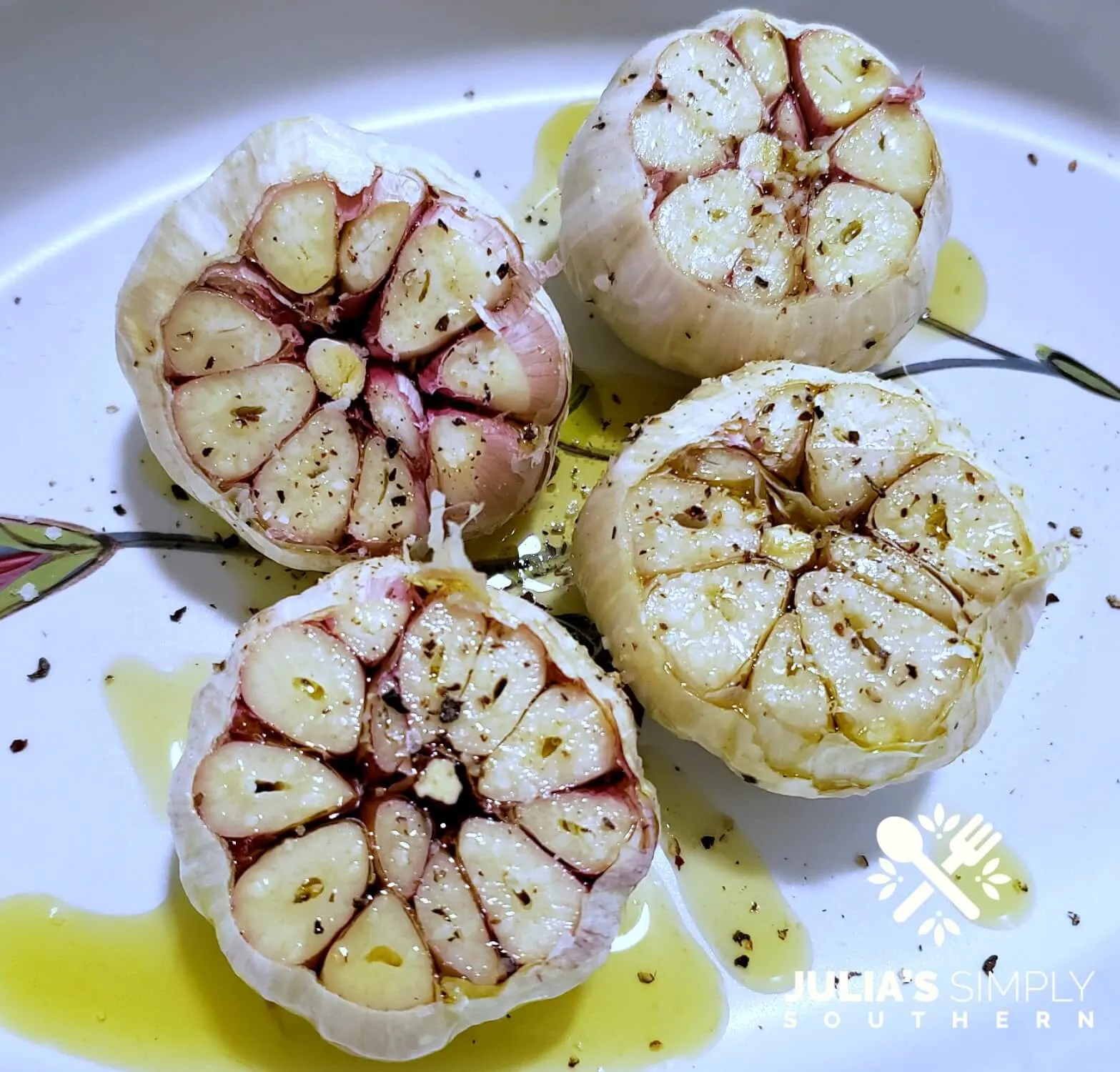 Preheat oven to 375°F (190°C)
Step 1: You want your garlic bulbs to sort of sit flat in a baking dish. They usually will on the root end. If needed shave off some of the root area so they sit flat.
Step 2: Trim off the top portion of the garlic bulb to expose all of the cloves. Next, drizzle olive oil over the bulbs to coat and season.
Step 3: Cover the baking dish with foil and roast the garlic. Allow the roasted garlic to cool enough to handle then squeeze out your delicious roasted garlic.
Yeah, it's really that easy! No chef training needed but certainly a skill any cook should possess.
Printable Instructions for How to Roast Garlic
Let's make our Easy Oven Roasted Garlic!
Yield: 4 Roasted Garlic Bulbs
Easy Oven Roasted Garlic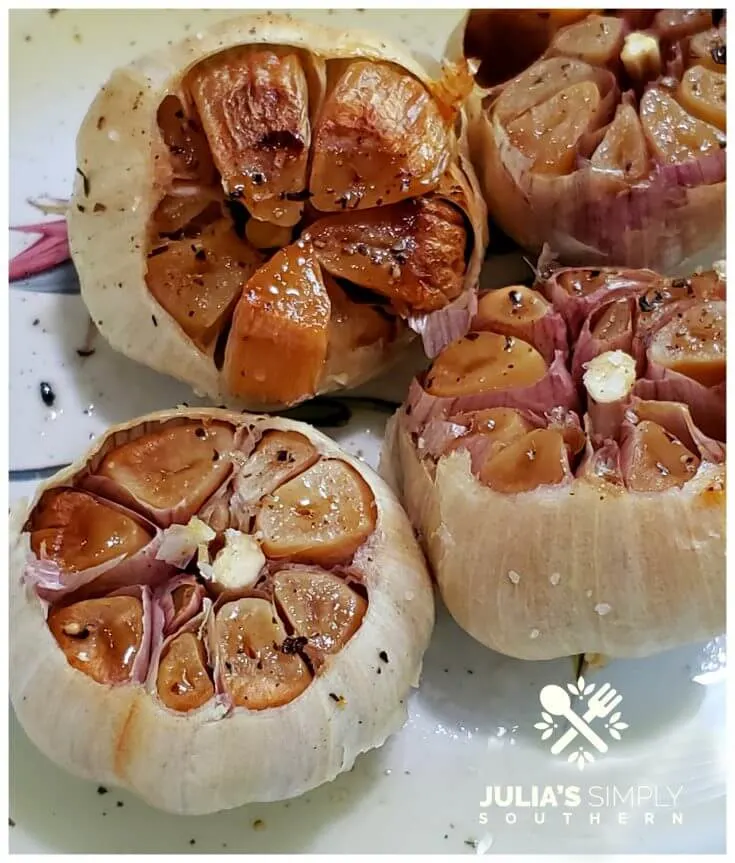 Deep, rich and mellow roasted garlic
Total Time
1 hour
5 minutes
Ingredients
4 Garlic Bulbs
1 tbs Olive Oil, or more if needed
Pinch of Kosher Salt
Cracked Black Pepper
Instructions
Preheat oven to 375°F.
Cut off the top portion of the garlic bulbs to expose all of the cloves.
Place the cloves into a baking dish so they sit flat (root end down) and the cut ends up.
Coat the bulbs with olive oil then season with the Kosher salt and cracked black pepper.
Cover the baking dish tightly with aluminum foil.
Roast for 1 hour.
Remove the garlic and allow to cool enough to handle the squeeze the garlic from the bulbs into a dish for storage.
Refrigerate up to three days.
Notes
May roast 1 bulb at a time if desired.
Nutrition Information:
Yield:
4
Amount Per Serving:
Calories:

36
Total Fat:

3g
Saturated Fat:

0g
Trans Fat:

0g
Unsaturated Fat:

3g
Cholesterol:

0mg
Sodium:

34mg
Carbohydrates:

1g
Fiber:

0g
Sugar:

0g
Protein:

0g
Amazing Roasted Garlic
More Recipes You Might Like
Recipes from Friends: Roasted Garlic and Bacon Mashed Potatoes , Creamy Southern Garlic Cheese Grits
Thank you for stopping by! You can sign up for our email newsletter so you never miss a new recipe. Follow along with us on Facebook, Instagram and Pinterest.
See this recipe shared at Meal Plan Monday, Weekend Potluck and Foodie Friday
Meet Julia
Author of Julia's Simply Southern
Hey Y'all! I'm Julia, the cook and writer behind the recipes here at Julia's Simply Southern. I began my website so that I could share easy to follow recipes that anyone can use to put a home cooked meal on the dinner table. Thanks so much for stopping by!
Follow me on Facebook | Twitter | Instagram | Pinterest | YouTube