In this post I will be sharing a delicious Classic Cream Cheese and Green Olives Spread, or dip, depending on how you serve it.
What is olive spread? Green olive cream cheese spread can be made with as few as two ingredients but typically around four or so. All very simple and easy to prepare.
The olive spread is one of those classic Southern spreads used for making tea sandwiches for gatherings.
Olive lovers not only enjoy this as a sandwich spread, but also as an easy appetizer dip. This olive dip, with all of its briny flavors, is so wonderful served a variety of ways.
You will want to add this easy recipe to your creamy dips collection and serve it at your next gathering with family and friends.
Olive Spread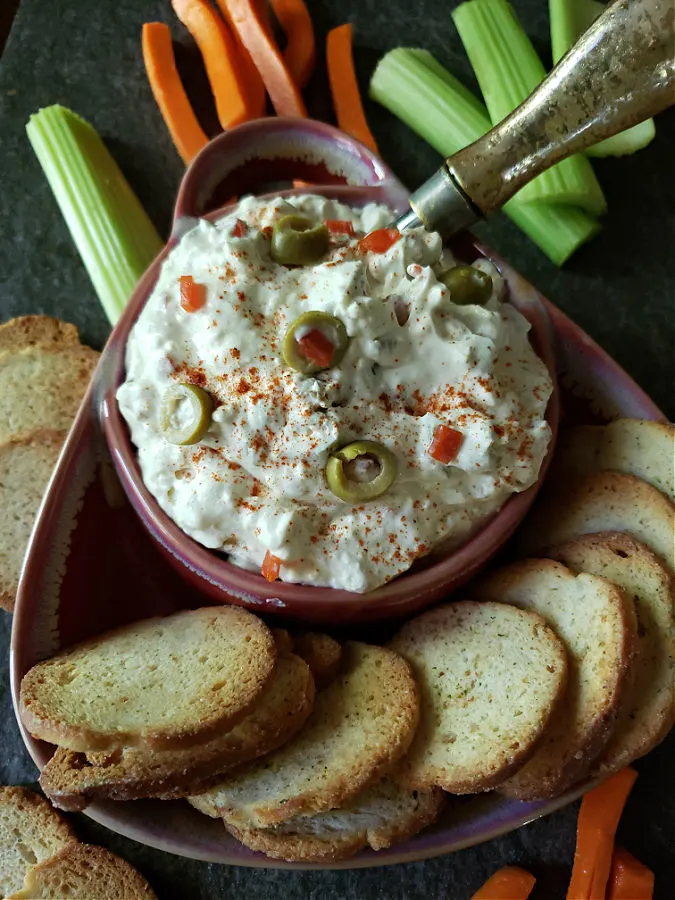 Doesn't that look good? Yum! The green olives really add a burst of flavor to this easy party appetizer.
If you are like I am, then you want to know what you are eating. For that reason, when serving this green olive dip, I like to garnish the top with a few sliced olives so everyone knows what they are getting.
Y'all know that I love simple and it doesn't take much to entertain. A bowl of this green olive dip, stuffed mushrooms, a shrimp cocktail, and some chips and dip and you've got yourself a spread that will please any crowd.
What do I need to make Green Olive Spread?
Here's what you will need to make this creamy olive dip/spread:
Cream Cheese – the delicious creamy base for this spread. Cream cheese is great in so many recipes and that is why I recommend keeping a few blocks on hand at all times. Make sure to sit your cream cheese out so that it perfectly softens to room temperature.
Sour Cream – adds another creamy layer of flavor to this olive spread.
Green Olives – preferable with pimentos are the star ingredients in this dip recipe. The green olives add tangy savory flavor to the creamy spread.
Worcestershire Sauce – just a touch for a bit of added flavor and depth, but completely optional.
Garlic Powder – adds added flavor to the dip, but also optional.
Paprika – completely optional, but I like to add a pinch sprinkled over the dip for presentation.
And, salt. Just kidding…don't use salt please. You will however need something to serve with your cream cheese olive spread and we'll talk about that below in the "what to serve" section. So hang with me, friend.
How to make Classic Olive Spread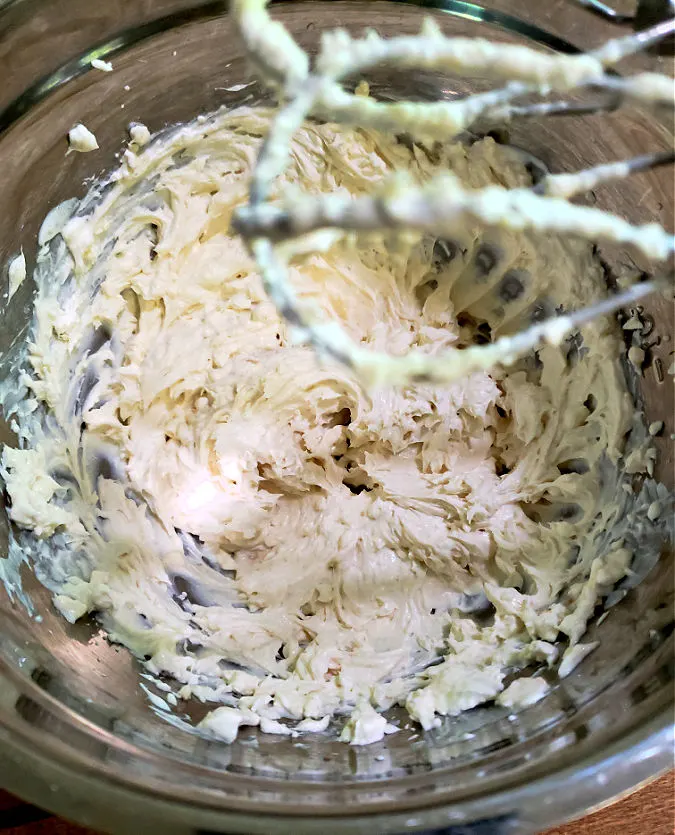 To prepare this classic cream cheese and green olives spread super easy! Grab a mixing bowl and let's get started!
Start by adding your softened cream cheese to your mixing bowl along with the sour cream, garlic powder (if using) and Worcestershire sauce (if using) then use a hand mixer to cream the mixture together until light and fluffy.
To keep things really simple, I like to use the sliced salad olives. If you don't have the sliced olives and are using whole stuffed olives, you'll need to chop them up, either by hand or in a food processor. Be sure to save a teaspoon or so of the olives to use as garnish.
Since I'm using the sliced salad olives, I just add the whole jar with the juices to the cream cheese mixture then use my hand mixer to combine the olives into the creamy mixture. Cover the bowl and refrigerate until ready to serve.
Cooks Note: you can first drain off the olive juices and add in as much as you prefer. We love the tanginess of this green olive cream cheese spread so I just use all of it but that may be overwhelming to some. Adjust as needed and add small amounts of the juice to suit your personal taste preferences.
What to Serve with Olive Spread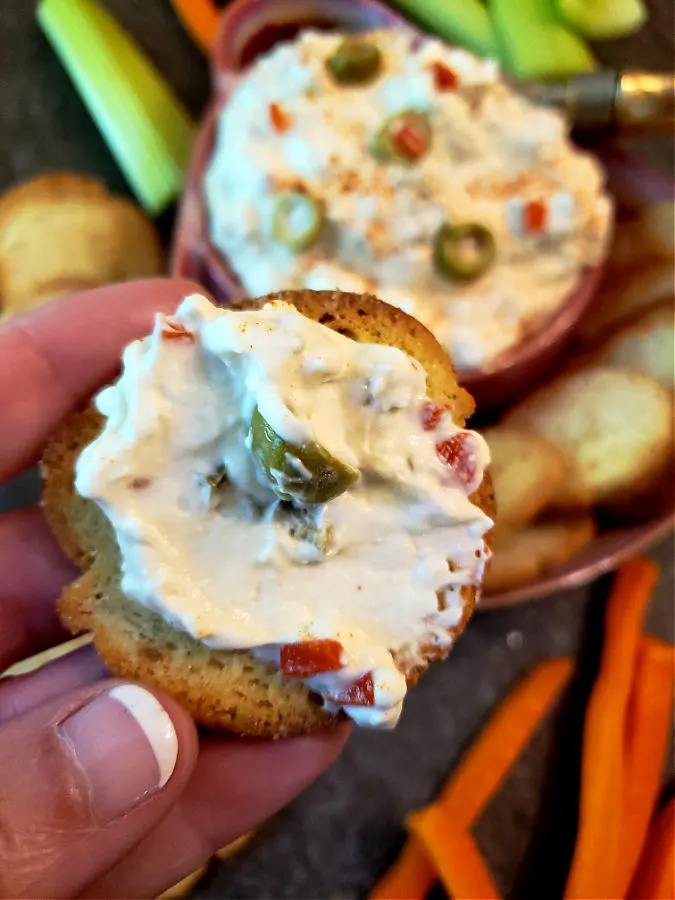 When you're ready to serve your delicious olive spread, remove it from the refrigerator about twenty minutes before you plan to serve and transfer it to a serving bowl. Garnish with reserved olives, if you have them, and sprinkle a pinch of paprika over the dip.
Olive spread for crackers: Serve the classic cream cheese and green olive spread with your favorite party crackers, toast points, pita chips, toasted baguette slices or toasted bagel chips.
Olive dip: Serve the creamy olive dip with fresh veggies, vegetable sticks (crudité). Carrots and celery are great options with this delectable dip.
Olive spread for bread: The most traditional way to serve this spread is on bread as tea sandwiches. Spread a layer of the cream cheese olive spread on a slice of bread the add a top slice, cut off the crust and then cut the sandwich into small squares or triangles before serving.
Serve along with other appetizers and finger foods that your guests might enjoy and don't forget beverage options, like party punch.
Easy Green Olive Dip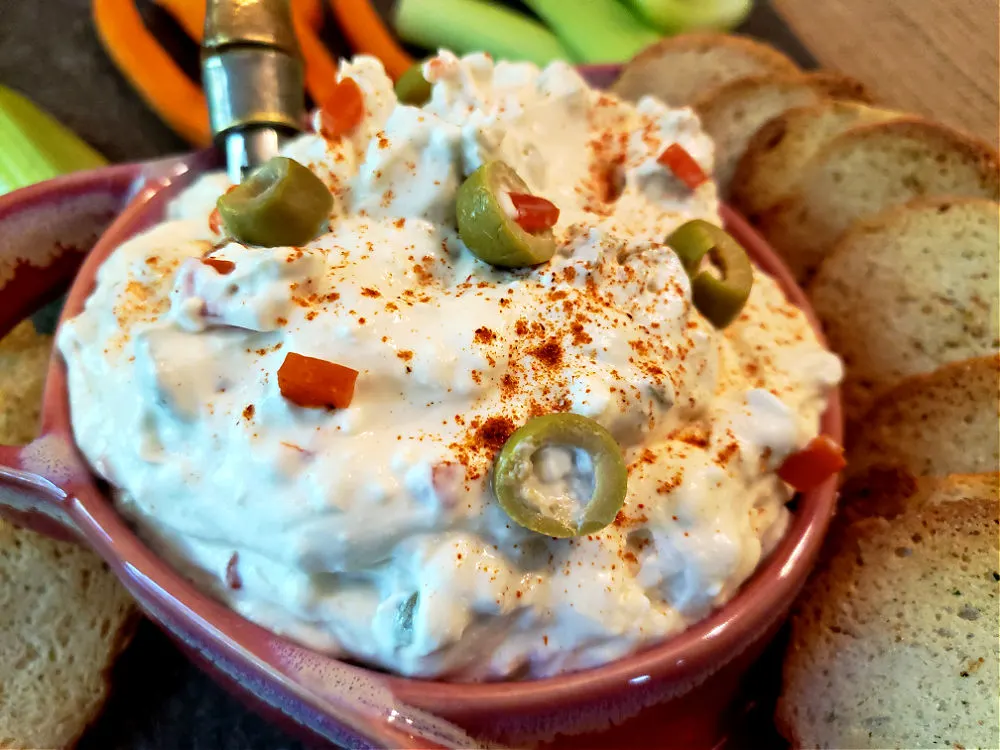 Printable Recipe Card
Yield: 3 cups
Cream Cheese Olive Spread Recipe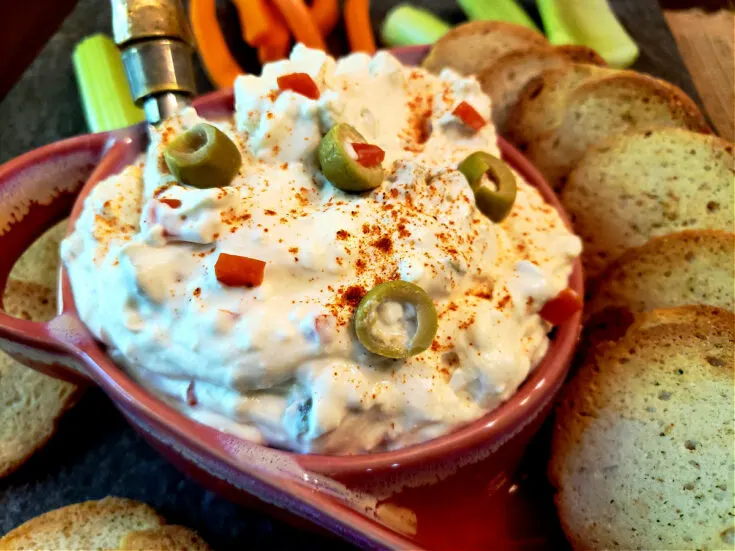 This classic cream cheese and green olives spread is delicious for tea sandwiches or use it as a tangy creamy dip for veggie sticks or with your favorite party crackers and chips.
Ingredients
16 ounces Cream Cheese, softened
¼ cup Sour Cream
5.75 ounce jar Sliced Salad Green Olives with Pimentos, with juices
1½ teaspoon Worcestershire Sauce
1 teaspoon Garlic Powder
Pinch of Paprika, optional for garnish
Instructions
In a mixing bowl: use a hand mixer to cream together the cream cheese, sour cream, Worcestershire sauce and garlic powder until light and fluffy.
Next, add the sliced salad olives with juices (see post for other options) then use hand mixer to incorporate into the creamy mixture. Cover and refrigerate until ready to serve.
To serve: remove the olive spread from the refrigerator and allow to stand 20 minutes before serving. The olive spread may be used to make tea sandwiches or transfer the spread to a serving bowl and serve with vegetable sticks (crudité), crackers, toast points, bagel chips or chips.
Notes
Reserve a few olive slices for garnish so guest know what type of dip is being served.
See full post for other options and serving suggestions.
Recommended Products
As an Amazon Associate and member of other affiliate programs, I earn from qualifying purchases.
Nutrition Information:
Yield:
24
Serving Size:
2 tablespoons
Amount Per Serving:
Calories:

79
Total Fat:

7g
Saturated Fat:

4g
Trans Fat:

0g
Unsaturated Fat:

2g
Cholesterol:

21mg
Sodium:

74mg
Carbohydrates:

3g
Fiber:

0g
Sugar:

2g
Protein:

1g
Popular Recipes on the Blog
The Latest Recipes on the Blog
Thank you so much for stopping by! I know that you will love this delicious old fashioned cream cheese and olive spread just as much as I do.
Be sure to subscribe to the newsletter before you go. Email subscribers receive a weekly newsletter with the latest recipe posts and news here on the blog so that you never miss a thing.
Until next time, love and happy cooking!
Meet Julia
Author of Julia's Simply Southern
Hey Y'all! I'm Julia, the cook and writer behind the recipes here at Julia's Simply Southern. I began my website so that I could share easy to follow recipes that anyone can use to put a home cooked meal on the dinner table. Thanks so much for stopping by!
Follow me on Facebook | Twitter | Instagram | Pinterest | YouTube