Y'all are gonna love this Simple Spaghetti with Olive Oil Recipe for a quick, easy, and delicious home-cooked meal!
Hey y'all! Julia here, and I've got a delightfully simple pasta recipe that'll have your taste buds hollering for more.
It's all about takin' those humble spaghetti noodles and elevating them to a whole new level of deliciousness with a touch of infused olive oil and a generous sprinkle of Parmesan cheese.
Don't let the simplicity of this dish fool you. It is so flavorful and delicious using the most basic ingredients. You might even have everything that you need on hand to make this super easy pasta meal.
This easy home cooked meal is sure to satisfy your cravings without keeping you stuck in the kitchen for hours. So grab your apron and let's get cookin'!
Olive Oil Pasta Recipe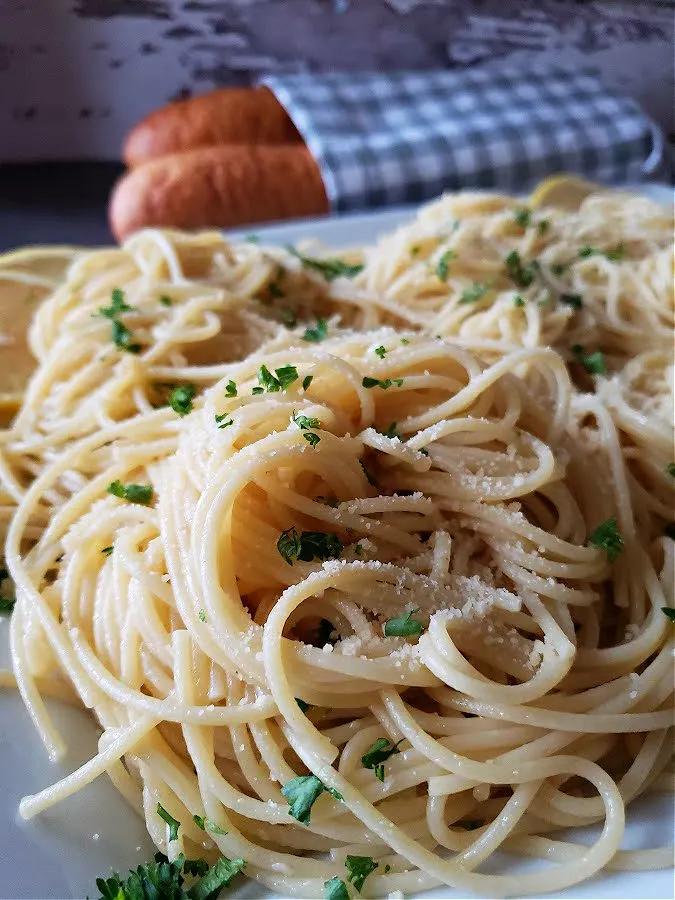 It was actually my husband who used to make this simple pasta dish for his lunch occasionally. That is what he calls it too…"simple pasta dish".
Now I will admit that I wasn't that impressed when he told me about it. But, when I tried it, I couldn't believe how delicious it is. A simple spaghetti pasta that is scrumptious! It is now a regular in our meal rotation!
Did you ever wonder if you can use olive oil instead of a pasta sauce? Come to find out, there is a very simple classic Italian dish that is made this way with a way more fancy title. They call it spaghetti aglio e olio. The Italian cooks often use olive oil (extra virgin) to dress cooked pasta.
This dish is all about the power of garlic and olive oil, infusing your pasta with incredible flavors. Just a few ingredients and a little bit of love are all you need to whip up this easy home cooked meal.
So let's get our spaghetti boiling and our taste buds ready for a plateful of pure culinary delight. It's time to savor the magic of spaghetti aglio e olio (or in this house "simple pasta dish"), y'all!
What do I need to make Olive Oil Pasta?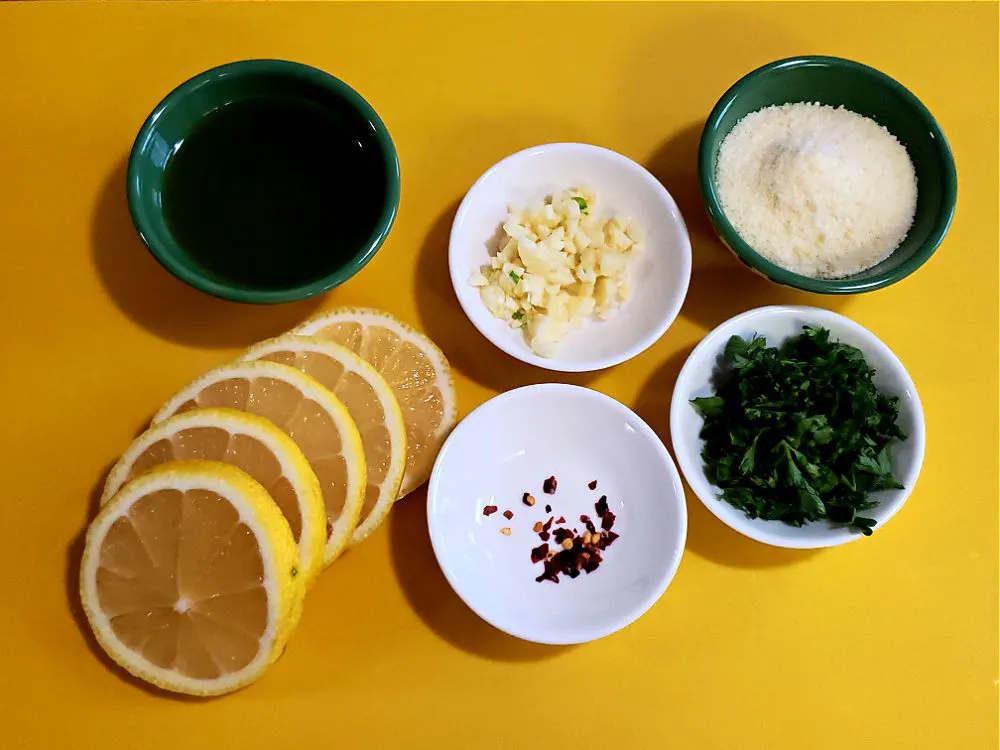 Here's are the simple ingredients that you'll need to make this delicious dinner:
Spaghetti Pasta – we like using spaghetti but you can most certainly use any pasta that you have on hand.
Kosher Salt – a generous pinch of salt to flavor the cooking water for your pasta.
Olive Oil – use a good quality olive oil for your recipes. If you're a Costco shopper, I like the Kirkland Organic Extra Virgin Olive Oil. The price and flavor are great!
Red Pepper Flakes (aka e peperoncino)- a few red pepper flakes infuses a bit of zing into the olive oil. It is optional, so if you don't like that hint of spice then just skip it. If you do enjoy spiciness, don't assume more is better. Just a pinch of the red pepper flakes really adds a lot of flavor to the oil.
Fresh Garlic– chopped garlic adds such nice flavor to the oil for this pasta dish. This is also optional, but I do recommend it. Hubs original version of the simple pasta dish was nothing more than an olive oil dressing and topping of Parmesan cheese…which is delicious, but the infused oil sauce adds so much to deliver the best flavor.
Parmesan Cheese – I absolutely love freshly grated Parmesan Reggiano. If you've visited the blog before then you probably know I am a cheese-aholic. Nothing beats fresh grated cheese. You can use store bought grated if that is what you prefer. Just don't skip the parm!
I like a bit of chopped fresh parsley sprinkled over the pasta dish for a colorful garnish, but also optional. Fresh lemon slices also add a lovely garnish to your serving platter if you like.
Infused Olive Oil Pasta Sauce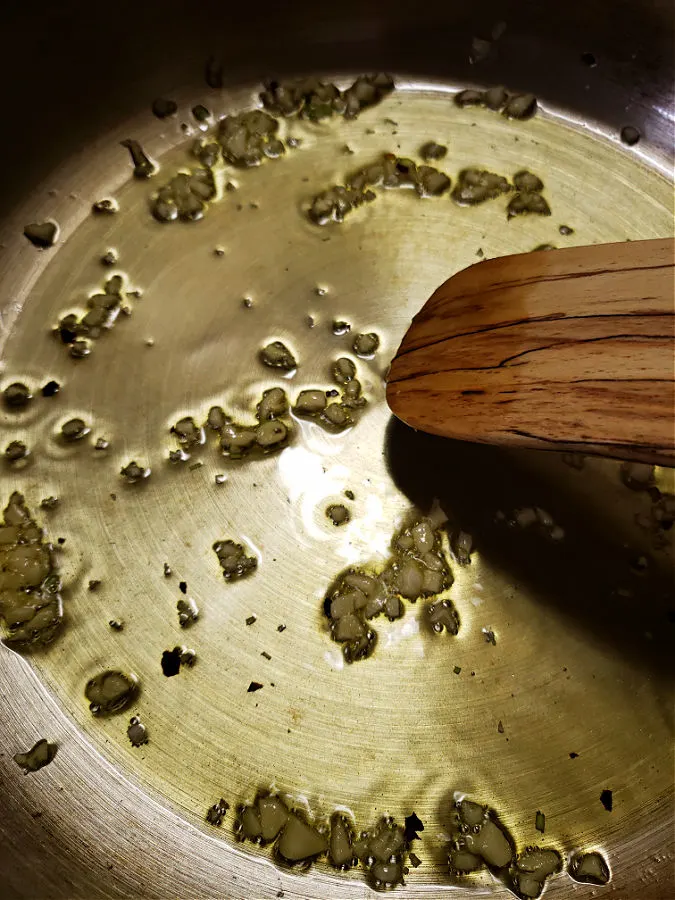 Begin by bringing a pot of water to a boil then season the pasta cooking water with a generous pinch of kosher salt. Add the pasta to the boiling water, give it a stir, and allow to cook until al dente. I find that ten minutes is perfect cooking time for spaghetti.
While the pasta is cooking heat a large skillet over medium heat. Next, add some extra-virgin olive oil to the hot skillet and add a pinch of red pepper flakes.
Adjust your heat if needed because you'll want to avoid too high heat because it can burn your garlic. When the pasta is nearly done, add your chopped garlic to the skillet and allow its flavor to infuse with the red pepper flakes and olive oil.
Spaghetti with Olive Oil, Garlic, and Red Pepper Flakes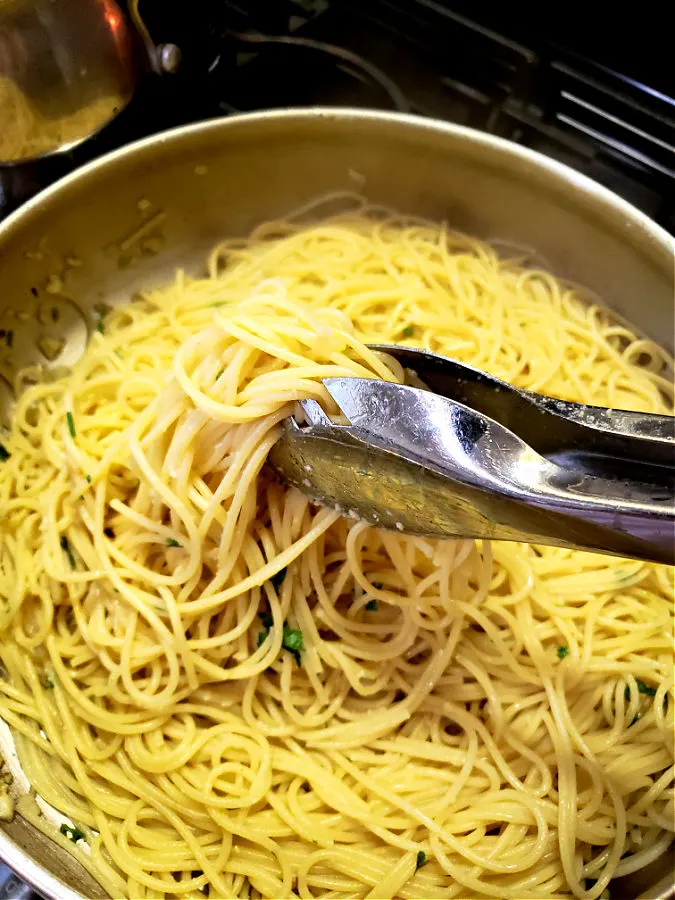 The next step is to add the drained pasta to the skillet with the infused oil and use tongs to toss the pasta with the oil.
Lastly, add some of the freshly grated Parmesan cheese and toss to mix with the olive oil pasta.
Remember, my friend, that if you don't want to fool with infusing the oil then you don't have to. A simple pasta sauce of olive oil was how my husband originally made this quick meal and topped it with the Parmesan cheese.
So feel free to add to this dish with your own creativity or take away stuff to keep it as simple as you like.
Transfer the finished pasta to a serving plate. If you want to dress it up a little bit to make a pretty presentation then arrange a few lemon slices around your platter and sprinkle a bit of fresh parley over the pasta.
Spaghetti Noodles with Olive Oil and Parmesan Cheese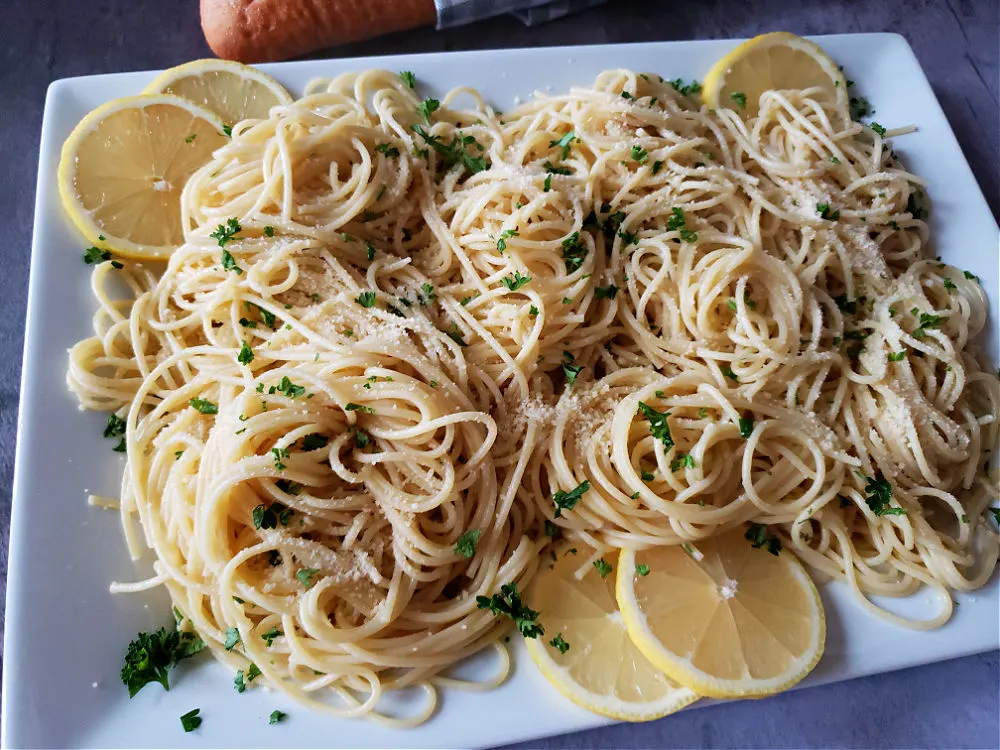 What to serve with Olive Oil Pasta?
Doesn't that look good? When it comes to serving alongside olive oil pasta, the options are as plentiful as they are delicious.
A simple green salad tossed with lemon vinaigrette can provide a refreshing and light contrast to the richness of the pasta.
Roasted or grilled vegetables, such as zucchini, cherry tomatoes (or grape tomatoes), or asparagus, can add a burst of flavor and vibrant colors to your plate.
For those who enjoy a touch of protein, grilled chicken, pan seared pork chops, or shrimp can be the perfect complement to the pasta.
And of course, a sprinkle of grated Parmesan cheese on top never hurts, so have extra on hand for those who want more cheese! I also like to have the peppercorn cracker handy for anyone who wants a bit of fresh cracked black pepper.
With the versatility of olive oil pasta, you have the freedom to explore a variety of sides and create a well-rounded and satisfying meal that is perfect after a long day.
OH, and before I forget, a side of crusty bread is always a great side to enjoy with any easy pasta recipe.
Printable Recipe Card
Below you will find the recipe card that you can print out or hold in place on your mobile device with the full recipe and step-by-step guide for this simple and classic Italian dish. Buon appetito Y'all!
Yield: 1 Pound
Spaghetti with Olive Oil Recipe: the Easiest Must Try Pasta Dish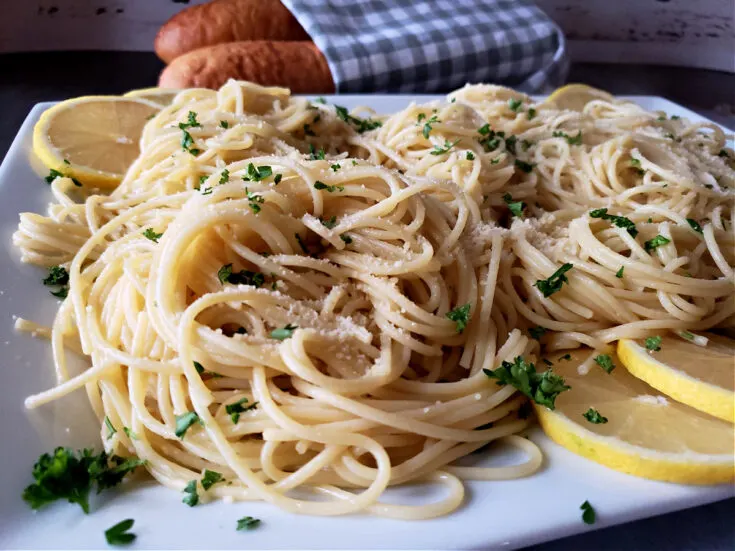 You will love this super easy pasta dish of Spaghetti aglio e olio, which is a fancy sounding name for a simple and delicious pasta meal that you will love! The cooked pasta is tossed with a simple infused olive oil sauce and freshly grated Parmesan cheese. The delicious flavors will surprisingly impress and enjoy this pasta meal on its own, with crusty bread, a side salad, or other side dishes that you might enjoy.
Ingredients
4 Quarts of Water
½ teaspoon Kosher Salt
1 pound Spaghetti Pasta
4 tablespoons Extra Virgin Olive Oil, divided
Pinch of Red Pepper Flakes, or to taste
2 cloves of Garlic, minced
2 tablespoons Parmesan Reggiano Cheese, freshly grated, plus more for serving
2 tablespoons Fresh Parsley, chopped (optional)
1 Lemon, sliced for garnish (optional)
Instructions
Add the water to a large pot, cover with a lid, and bring the water to a boil over medium high heat. Next, add the salt to the boiling water and add the pasta. Give the pasta a stir to prevent sticking. Lower the heat to medium and cook 10 minutes.
The next step is to infuse the olive oil. Heat a large skillet over medium low heat; add 3 tablespoons of olive oil along with the red pepper flakes.
Next, add the minced garlic, continue to gently heat the olive oil to infuse the flavors of the pepper flakes and garlic.
Next, add the cooked drained pasta to the skillet with the infused oil and toss to coat. Add the grated Parmesan and toss to mix then transfer the pasta to a serving platter.
Drizzle a tablespoon of plain extra virgin olive oil over the pasta and sprinkle more grated Parmesan over the pasta.
Garnish the platter with lemon slices, if desired.
A sprinkle of freshly chopped parsley over the pasta makes a beautiful presentation, but is completely optional.
Enjoy this simple pasta dish with your favorite sides. (See the full blog post for more details and serving suggestions).
Notes
See full blog post for more detail and serving suggestions for preparing simple pasta dish.
Recommended Products
As an Amazon Associate and member of other affiliate programs, I earn from qualifying purchases.
Nutrition Information:
Yield:
4
Serving Size:
1
Amount Per Serving:
Calories:

341
Total Fat:

18g
Saturated Fat:

4g
Trans Fat:

0g
Unsaturated Fat:

13g
Cholesterol:

9mg
Sodium:

302mg
Carbohydrates:

38g
Fiber:

3g
Sugar:

2g
Protein:

9g
You might also enjoy this Southern Chicken Spaghetti Recipe with RoTel from Restless Chipotle.
Popular Recipes on the Blog
The Latest Posts on the Blog
Thank you so much for stopping by! I am so glad that you did.
In just a few easy steps, you've created a mouthwatering pasta dish that'll leave your family and friends begging for seconds.
Whether you're lookin' for a quick weeknight dinner or a no-fuss meal to impress your guests, this simple pasta recipe has got you covered. It's a delicious dinner that is ready in less than half an hour.
The beauty of pasta lies in its versatility, so feel free to add your own personal touch with additional ingredients like fresh herbs (fresh basil leaves would be amazing), sautéed veggies, or even a sprinkle of red pepper flakes for a little kick.
So go ahead, enjoy this comforting and satisfying meal that brings joy to your table. Remember, good food doesn't have to be complicated.
Before you head off to the kitchen, be sure to subscribe to my email list. As a subscriber, you'll receive a weekly e-newsletter from me delivered straight to you inbox, so you never miss the latest recipes and news here on the blog.
Keep cookin' with love, y'all!
Meet Julia
Author of Julia's Simply Southern
Hey Y'all! I'm Julia, the cook and writer behind the recipes here at Julia's Simply Southern. I began my website so that I could share easy to follow recipes that anyone can use to put a home cooked meal on the dinner table. Thanks so much for stopping by!
Follow me on Facebook | Twitter | Instagram | Pinterest | YouTube