Well, y'all, gather 'round because we're about to embark on a flavor-packed journey to the heart of the South with my signature Traditional Homemade Southern Coleslaw recipe!
Picture this: a bowl filled to the brim with crisp cabbage, vibrant carrots, and a creamy dressing that'll have you weak in the knees. It is so good and you are gonna love it!
This coleslaw is the real deal, folks—a timeless classic that embodies the essence of Southern comfort food. It's the perfect side dish for backyard barbecues, potlucks, or any occasion that calls for a taste of good ole Southern hospitality.
So, roll up your sleeves, grab that mixing bowl, and get ready to experience a slaw that'll transport you straight to the front porch on a warm summer's day.
I am going to walk you through the whole process with my step-by-step recipe. Let's get to it!
Creamy Southern-Style Coleslaw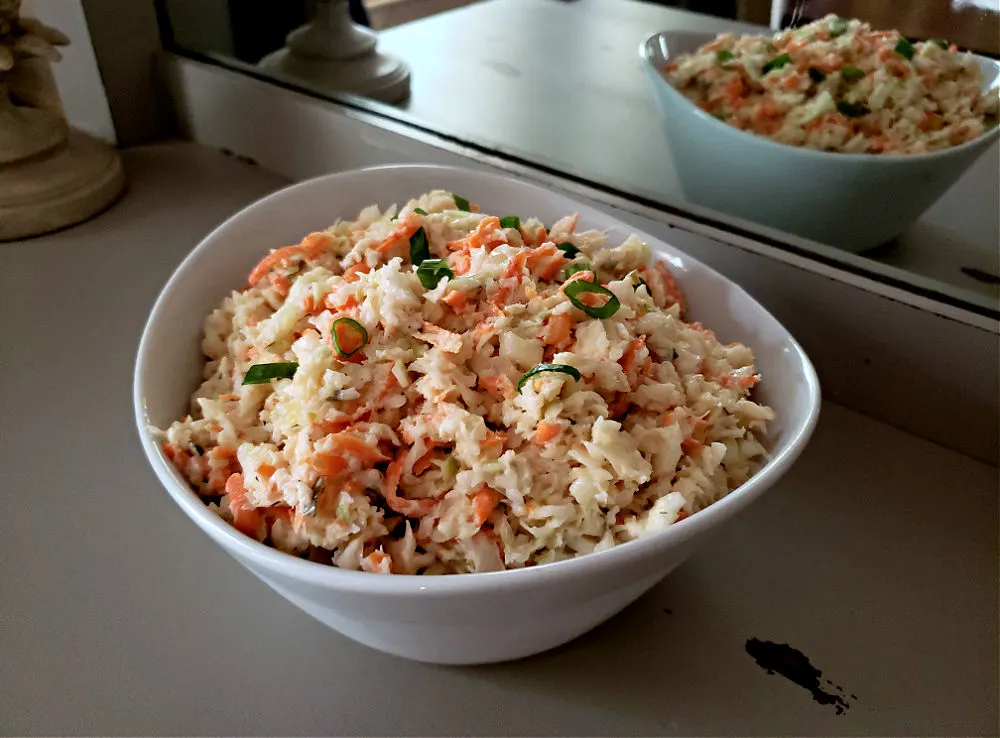 How long does coleslaw last in the fridge?
Properly stored, coleslaw can typically last in the refrigerator for about 3 to 5 days.
The shelf life may vary depending on the ingredients that you used to prepare the slaw and the freshness of the cabbage and other vegetables.
Store your creamy coleslaw in an airtight container in your refrigerator and you should be fine, but if you notice a sour smell or things just don't look right, then it is best to throw it out.
Old Fashioned Southern Coleslaw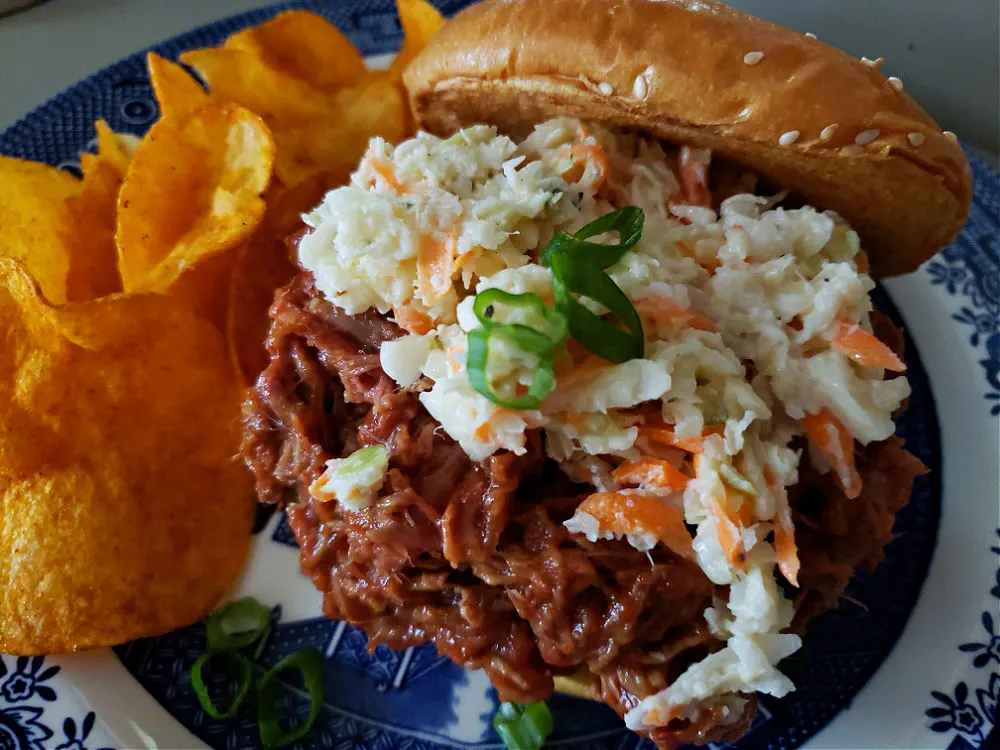 What to serve with Southern coleslaw?
Sweet Southern coleslaw pairs wonderfully with a variety of dishes, adding a refreshing and tangy element to your meal. Here are some classic Southern dishes that complement sweet coleslaw:
Barbecue Ribs: The combination of tender, smoky ribs and the cool crunch of coleslaw creates a mouthwatering contrast of flavors and textures. Delicious soul food coleslaw and barbecue go together like bread and butter!
Fried Chicken: The richness of fried chicken is perfectly balanced by the light and tangy coleslaw. It adds a refreshing element to the meal while providing a nice contrast to the crispy chicken. Baked bbq chicken is also a great option if you are craving the taste of chicken.
Pulled Pork Sandwiches: The sweetness of the coleslaw complements the savory, slow-cooked pulled pork. Layer the coleslaw right on top of the pulled pork sandwich for added texture and flavor. Don't forget to drizzle some of my homemade Carolina gold sauce over the pork. It is knock your socks off delicious! Shredded barbecue chicken is a great option for sandwiches too.
Grilled Burgers: Whether it's a juicy beef patty or a flavorful veggie burger, the creamy sweetness of the homemade coleslaw brings a delightful contrast to the smoky flavors of a grilled burger.
A Carolina style burger is topped with cheese, chili, and coleslaw and is a treat for your taste buds!
wait, there's more…
Fish Tacos: The zesty and crunchy coleslaw provides a perfect accompaniment to the light and flaky fish in a taco. It adds a refreshing bite that balances out the richness of the seafood.
Hot Dogs: Top your hot dog with a generous helping of sweet coleslaw for a Southern twist. The combination of the warm, savory hot dog topped with chili and the cool, tangy slaw is a true delight. Slaw dogs are a family favorite at our house!
Remember, these are just a few suggestions, and you can serve sweet Southern coleslaw alongside many other dishes. Feel free to get creative and enjoy this versatile side with your favorite Southern-inspired meals!
How to Make Southern Coleslaw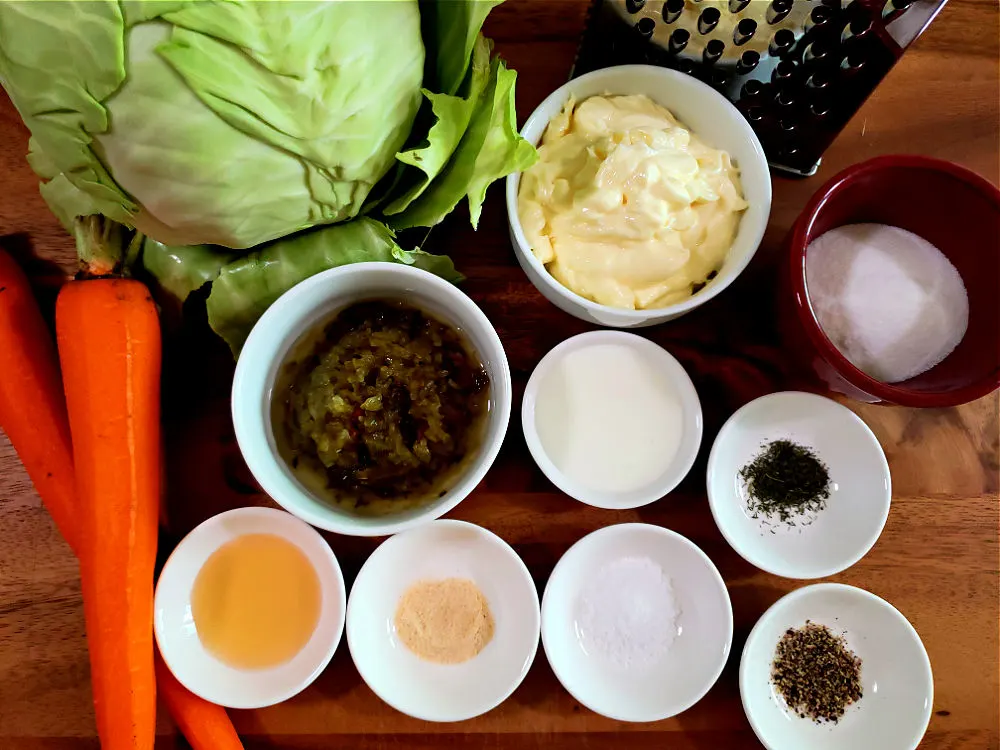 Here's what you'll need to make a the best coleslaw recipe:
Head of Green Cabbage: freshly grated cabbage is the way to go for an authentic homemade coleslaw. You can easily shred your cabbage using an old fashioned box grater, your food processor with the shredding disc, an appliance with a grating attachment, or just chop it up with a chef's knife.
I know that you can buy a shredded cabbage coleslaw mix in stores. To me they are dry and just do not deliver the same texture of an old fashioned homemade slaw. Now understand, my friend, that I have nothing against the store bought bag of slaw mix. I use them occasionally myself. But, if preparing a "homemade" coleslaw, especially if I am sharing it at a gathering, then freshly grated is the only way to go. If you want to add more color to your slaw salad then add a bit of red cabbage to the mixture.
Carrots: shredded carrots lend a bit of sweetness and texture and are commonly found in a classic Southern coleslaw. I love they pop of color that they also offer to this dish.
Sweet Pickle Relish – adds another layer of sweetness, texture, and flavor to our slaw.
Mayonnaise: use a good quality mayo for your creamy dressing. Y'all know that I prefer Duke's mayonnaise, so that is what is in my recipe. Just use your preferred brand of choice to deliver flavor that you enjoy.
Buttermilk: just a touch adds flavor to your tangy dressing as well as creaminess. I keep buttermilk in the fridge at all times for cooking, but if you don't, then use a dollop of sour cream instead.
Apple Cider Vinegar: adds a bit of tanginess to the dressing that balances the other flavors in the coleslaw once everything mingles together. If you don't keep vinegar on hand for recipes, which you should, then try lemon juice instead.
Once you get the hang of things, experiment and make it your own…
Seasonings and Spices: sugar, kosher salt, cracked black pepper, onion powder, and a bit of dried dill weed are combined into the creamy dressing to give this classic side dish its distinct flavor.
Y'all will love this easy Southern coleslaw. A good coleslaw recipe is a treasure for your recipe box. This is how I make my Southern-style coleslaw, as it is generations before me. Do feel free to experiment with other seasonings and ingredients to add your own touch to the recipe.
This is a classic old fashioned Southern coleslaw, but there are many varieties of coleslaw to be enjoyed.
Sweet Southern Coleslaw Recipe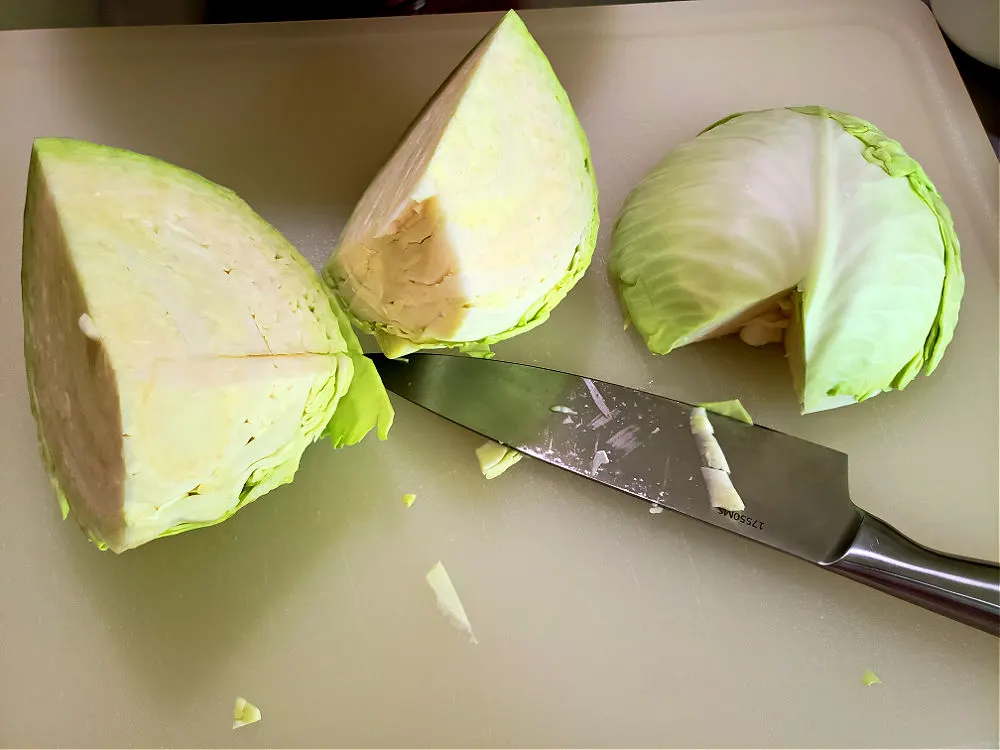 The first step in preparing the Southern classic coleslaw recipe is to prep the head of cabbage. Use a chef knife to cut the head of cabbage in half.
Next, cut a V-shape slit around the core on each half and remove the cabbage core and discard.
The next step is to cut up the head of cabbage as suitable for the tool that you're using to grate it up.
Freshly Grated Cabbage is Best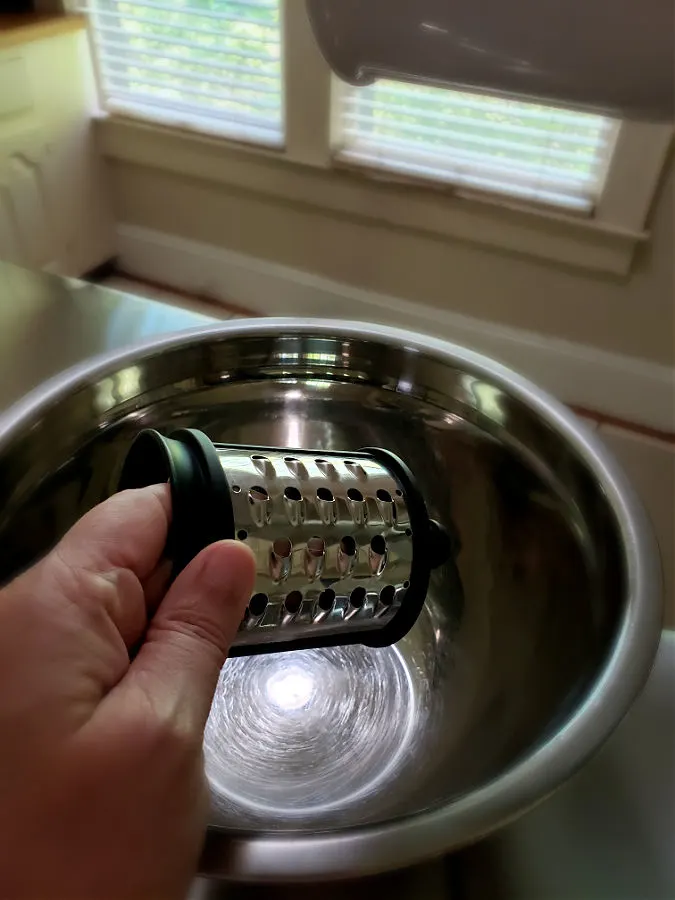 For nearly all of my years as a cook, I've used the large holes of a box grater to shred up my carrots and cabbage.
Recently I've began using my Kitchen Aid stand mixer with an attachment for shredding and have found that less of the veggies go flying across my work area as it does when I'm using my box grater.
Easy Homemade Coleslaw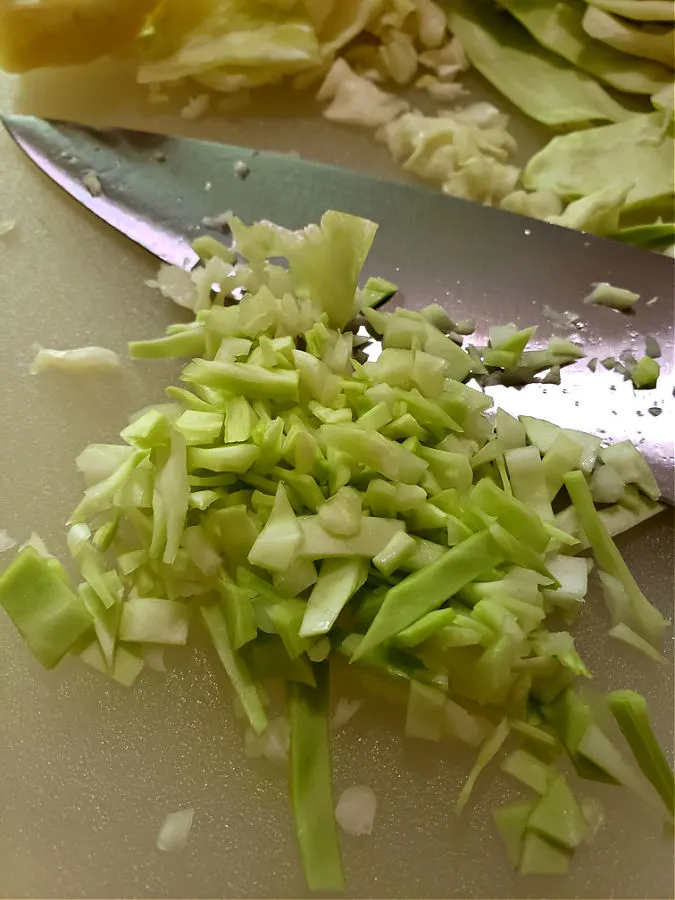 No matter which tool that you use to grate your cabbage, there will be some of the cabbage leaves left in larger pieces.
You don't want the big pieces in your slaw mix, so use a knife and chop them up into small pieces that will blend into the rest of your crunchy cabbage mixture.
Another plus to using my Kitchen Aid with attachment is that the grated cabbage falls directly into a large bowl making the process just a little bit easier.
Creamy Southern Coleslaw with Carrots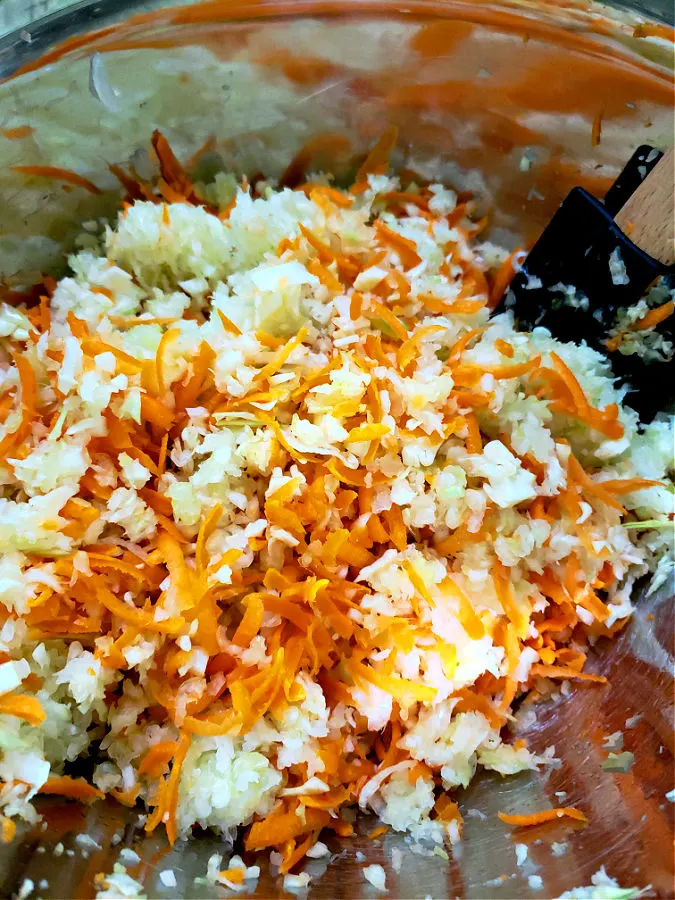 The next step is to grate the peeled carrots into the cabbage mixture and give it a quick stir to combine.
Sweet Pickle Relish Slaw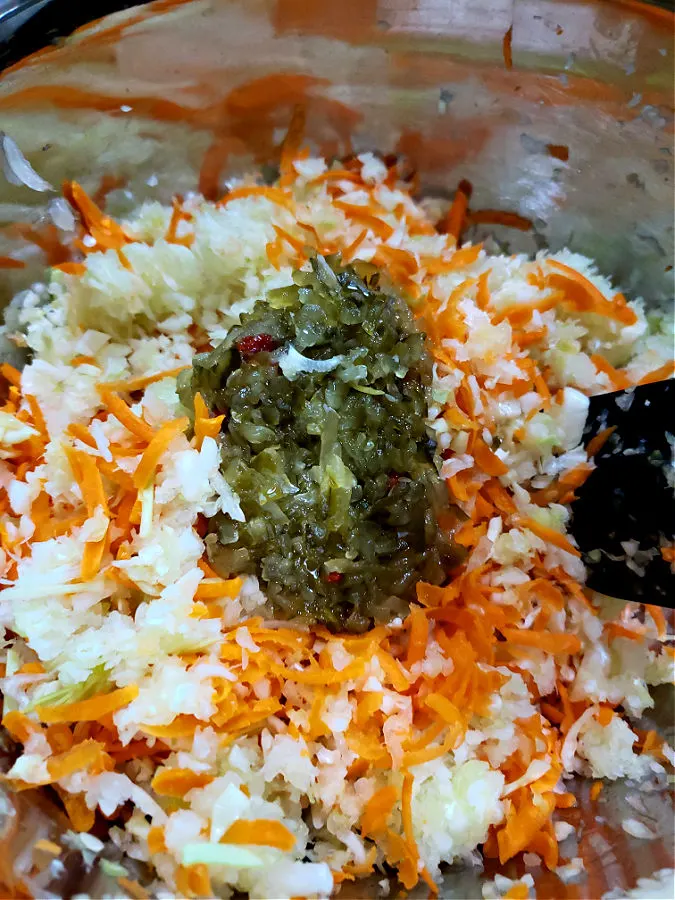 Add the sweet pickle relish and stir to combine in your slaw salad mixture.
The Classic Mayonnaise Dressing for Coleslaw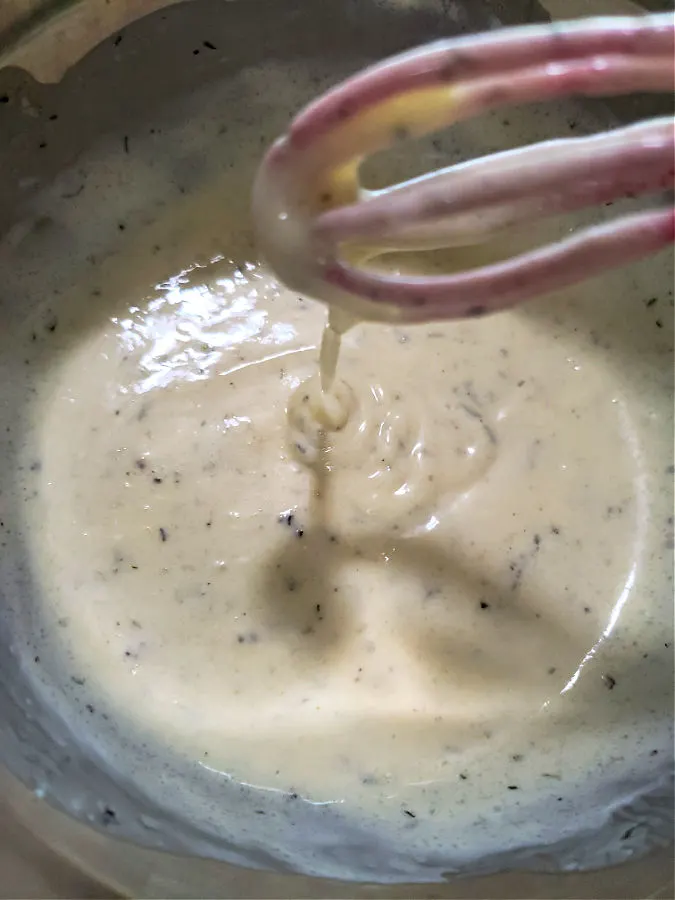 Next, we will make the creamy coleslaw dressing. Grab a small bowl and add the mayonnaise, buttermilk, apple cider vinegar, sugar, salt, black pepper, dried dill weed and onion powder then use a small whisk to combine everything together.
Bringing all of those Flavors Together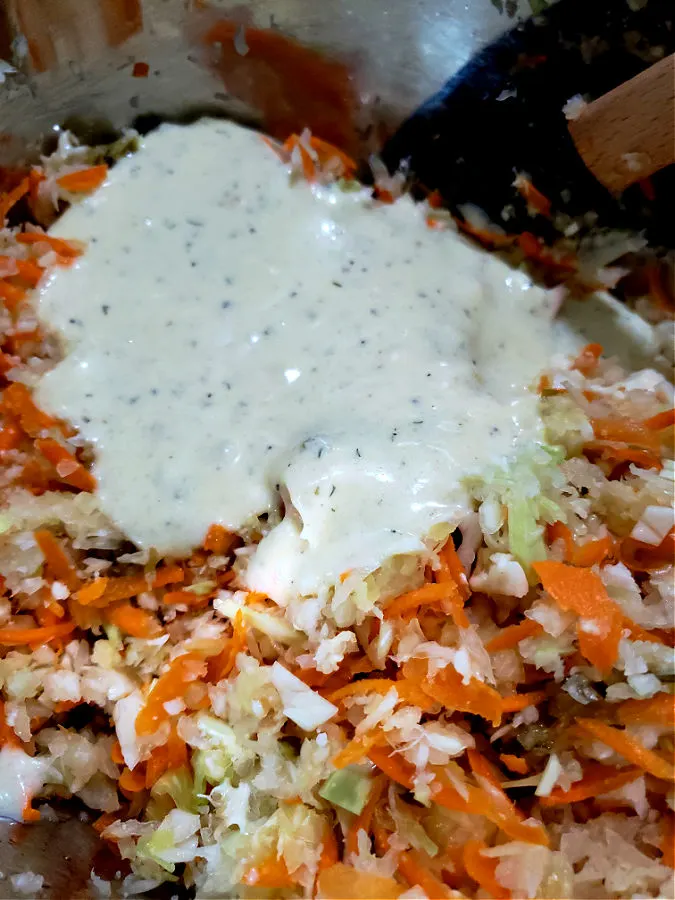 Pour that sweetened tangy dressing into the cabbage mixture.
The Best Homemade Southern Coleslaw Recipe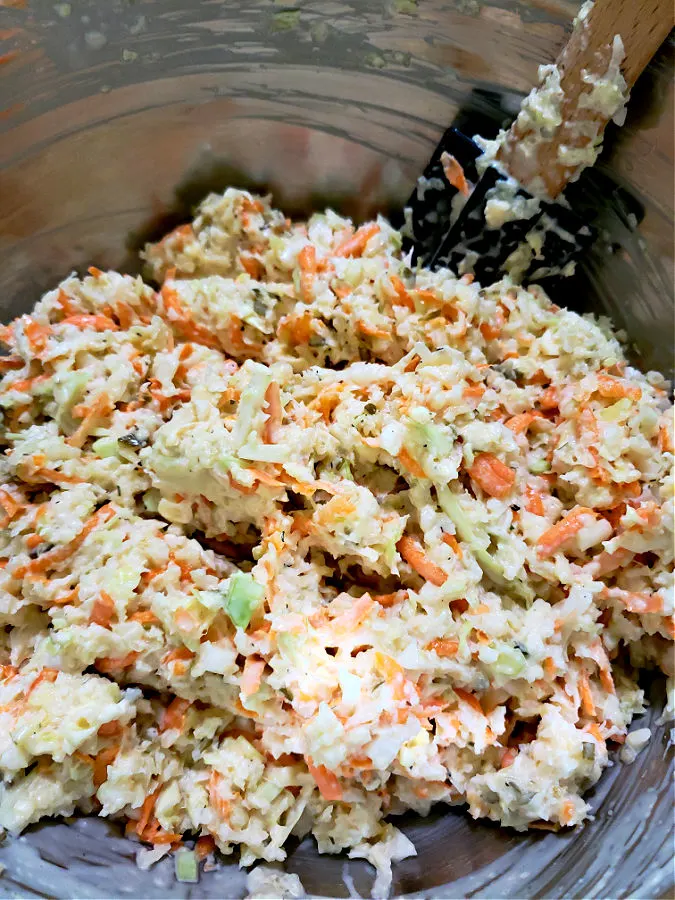 Combine the creamy dressing with the cabbage mixture using a spatula, then cover the bowl with plastic wrap, and refrigerate at least four hours, but overnight is even better.
The best coleslaw flavor comes from allowing all of those ingredients to mingle together.
When Ready to Serve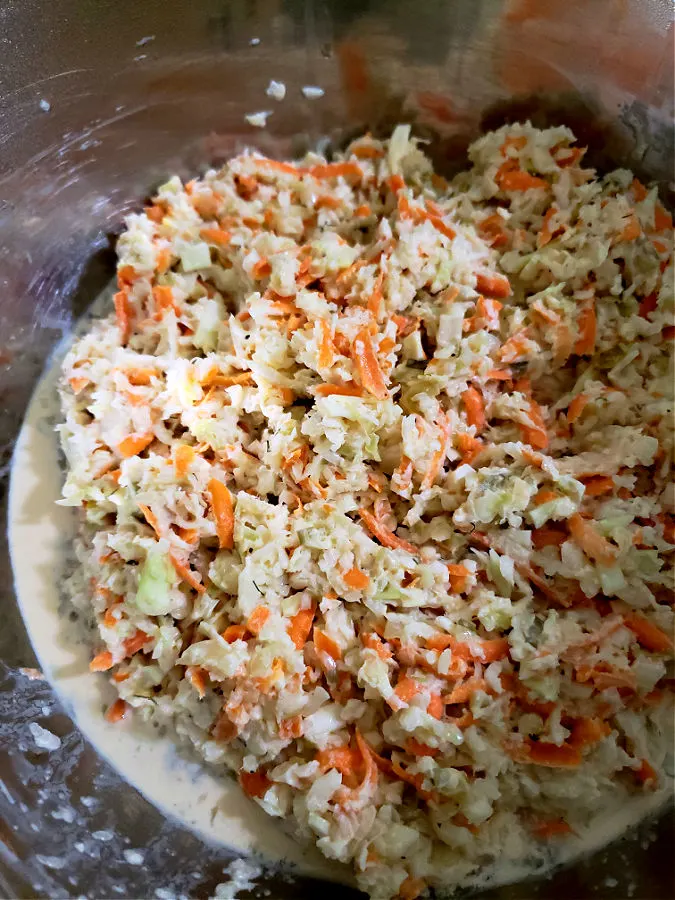 When you remove the bowl of coleslaw from your fridge you will notice that liquid has settled into the bottom of the bowl.
This is water that has been released from the cabbage that has mixed with the dressing. That cabbage water is also an important part of the dressing and it is quite normal to see this.
Use a spatula to give your slaw mix a stir to redistribute that dressing then transfer your creamy coleslaw to a serving bowl.
Traditional Southern Coleslaw Recipe Card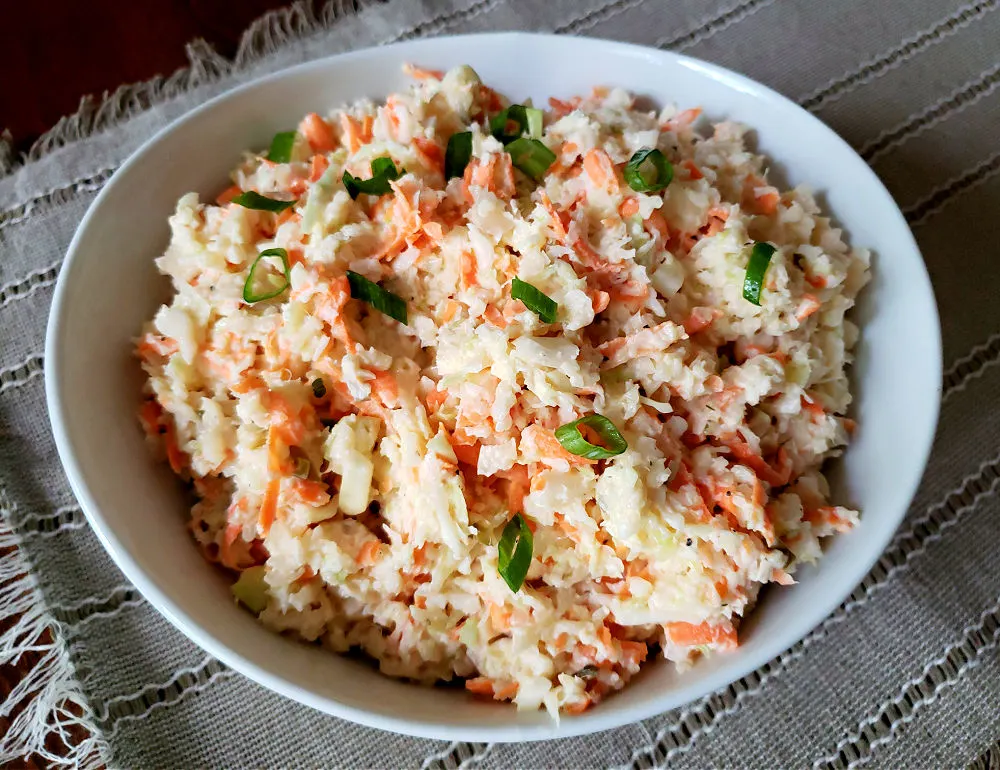 Doesn't that look amazing, my friends? You are ready to enjoy the best Southern coleslaw that you ever put in your mouth!
Below is the printable recipe card for this recipe.
Yield: 12 Servings
The Best Homemade Southern Coleslaw Recipe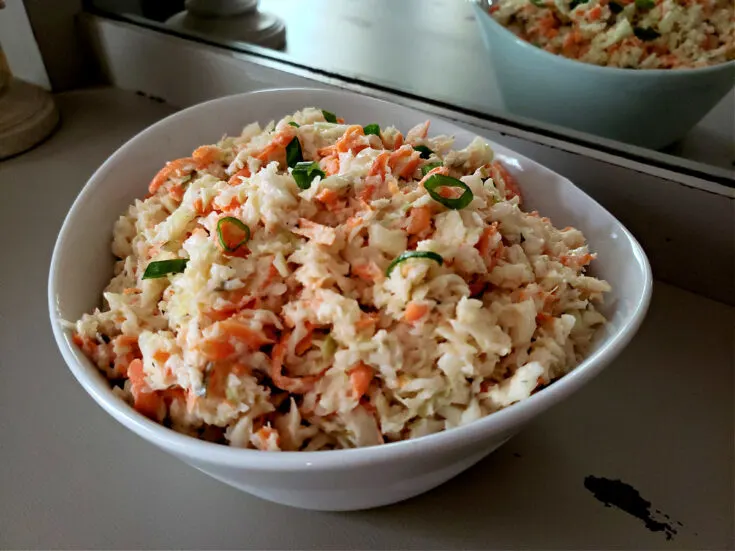 Y'all ready for some down-home goodness? My Homemade Southern Coleslaw is a bowl of pure comfort! Crunchy cabbage, grated carrots, and a touch of sweetness in a classic creamy dressing make this slaw a real delight. Whether you're serving up BBQ or fried chicken, this coleslaw will have your taste buds hollering for more! Mmm, it's just like a warm hug from your favorite grandma. So gather 'round, and let's savor the flavors of the South together! This homemade Southern-style slaw will be the winning side at your next cookout!
Ingredients
3½ pound Head of Green Cabbage, grated (12-15 cups approximately)
2 Large Carrots, grated (or 2 cups)
½ cup Sweet Pickle Relish
1 cup Mayonnaise (I use Dukes)
2 tablespoons Buttermilk
1 tablespoon Apple Cider Vinegar
¼ cup Granulated Sugar (fine grain or castor sugar recommended)
1 teaspoon Kosher Salt, or to taste
½ teaspoon Cracked Black Pepper, or to taste
½ teaspoon Onion Powder
¼ teaspoon Dried Dill Weed (or 1 tbsp. fresh chopped)
Instructions
Use a chef's knife to cut the head of cabbage in half then make V-shaped slits around the core to remove; discard the core. Cut the cabbage into sections and grate into a large mixing bowl.
Next, wash and peel the carrots and grate the carrots into the mixing bowl with the cabbage. Give a quick stir to combine.
Next, add the sweet pickle relish and stir to combine with the cabbage mixture. Set aside.
In a small bowl; whisk together the mayonnaise, buttermilk, apple cider vinegar, sugar, kosher salt, black pepper, onion powder, and dill weed until creamy and combined.
Transfer the tangy dressing to the bowl with the coleslaw mix and use a spatula to combine.
Cover the bowl with plastic wrap and refrigerate, at least 4 hours to overnight (overnight recommended).
When ready to serve: remove the coleslaw from the fridge and stir to re-distribute the dressing. Transfer the Southern coleslaw to a serving bowl and enjoy.
Notes
A mix of water released from the cabbage and dressing will settle into the bottom of the mixing bowl as the slaw salad mingles in the fridge, this is normal, just stir to re-combine with the coleslaw.
Store leftover coleslaw in an airtight container. Leftover coleslaw properly stored lasts 3-5 days in the refrigerator.
See full post for more tips and serving suggestions.
Recommended Products
As an Amazon Associate and member of other affiliate programs, I earn from qualifying purchases.
Nutrition Information:
Yield:
12
Serving Size:
1
Amount Per Serving:
Calories:

189
Total Fat:

14g
Saturated Fat:

2g
Trans Fat:

0g
Unsaturated Fat:

11g
Cholesterol:

8mg
Sodium:

324mg
Carbohydrates:

16g
Fiber:

3g
Sugar:

11g
Protein:

2g
5 Tips for making the best homemade Southern coleslaw:
1. Freshly grated cabbage and carrots are a must for authentic homemade coleslaw. The texture is un-mistakeable in an old fashioned coleslaw side dish recipe.
2. Allow the coleslaw to chill in the fridge at least 4 hours, overnight preferred, to allow the flavors to mingle.
3. Properly stored coleslaw in an airtight container in the refrigerator lasts 3 to 5 days.
4. Enjoy sweet, creamy, and tangy Southern coleslaw with a variety of foods from fried chicken, pulled pork sandwiches, seafood, hot dogs, grilled burgers and more. It's a great side for cookouts with family and friends.
5. Use the best quality ingredients: fresh vegetables, a good quality mayonnaise, and quality seasonings to ensure that your coleslaw has the best flavor.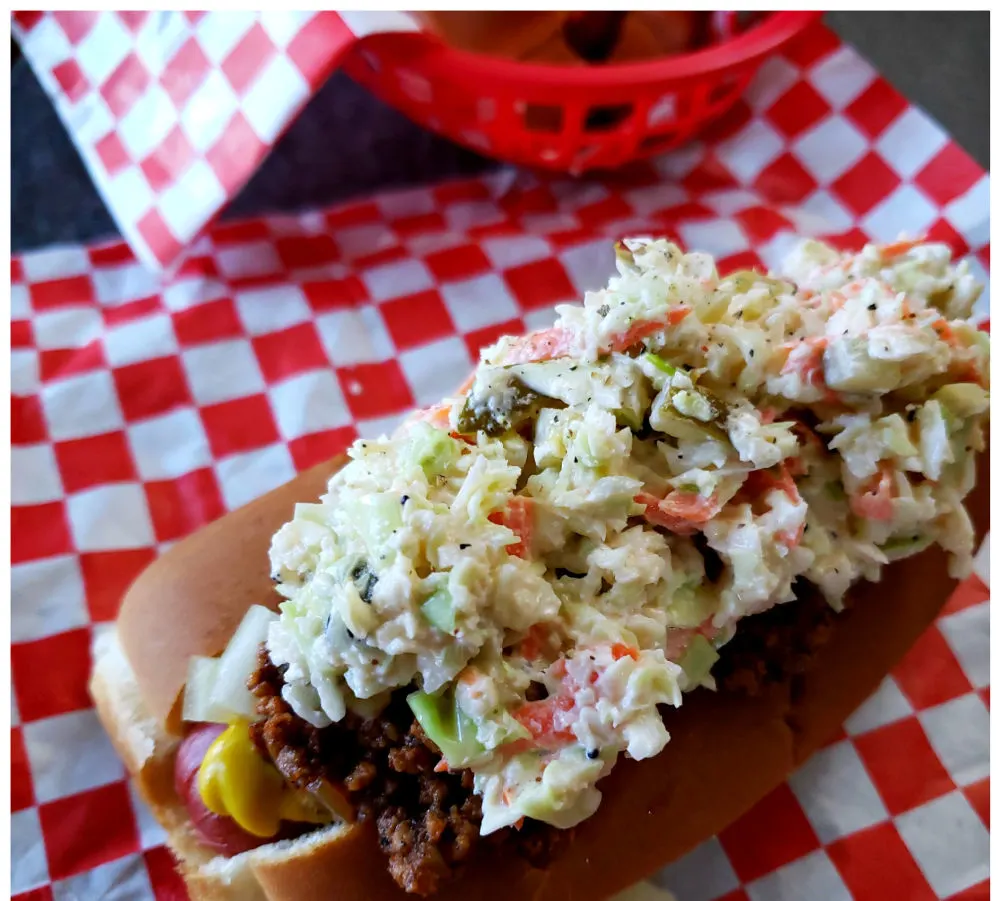 Popular on the blog
The Latest Posts on the Blog
Traditional Homemade Southern Coleslaw Recipe
Thank you so much for stopping by! I am so glad that you did!
In conclusion, my dear friends, Southern coleslaw is a beloved side dish that adds a touch of Southern charm to any meal. With its crisp cabbage, colorful veggies, and a delightful balance of sweet and tangy flavors, it has become an iconic staple of Southern cuisine.
Whether you're enjoying it alongside barbecue, fried chicken, or even as a topping on sandwiches, this classic dish brings a refreshing and satisfying element to the table.
So, next time you're looking to elevate your Southern spread, remember to whip up a batch of homemade coleslaw and savor every bite of its delightful combination of flavors.
It's a true taste of Southern comfort that'll leave you yearning for more.
Before you go, be sure to subscribe to my email list. Subscribers receive a weekly e-newsletter from me with all of the latest recipes and news here on the blog so that you never miss a thing.
Until next time, love and happy cooking!
Meet Julia
Author of Julia's Simply Southern
Hey Y'all! I'm Julia, the cook and writer behind the recipes here at Julia's Simply Southern. I began my website so that I could share easy to follow recipes that anyone can use to put a home cooked meal on the dinner table. Thanks so much for stopping by!
Follow me on Facebook | Twitter | Instagram | Pinterest | YouTube