In this post I'll be sharing my delicious easy homemade Split Pea Soup Recipe.
Classic split pea soup with tender split peas is pure comfort food when cold weather is happening in our area. I like to include some country ham in my recipe and it gives the soup an amazing taste that is full of delicious flavors.
One of the things that most folks enjoy about making a comforting pot of pea soup is that it doesn't take a long cooking time to put a great hearty split pea soup meal on the table.
In case you've never had split pea soup and wondering what it is like, the soup taste so wonderful. It is a hearty soup and a great recipe that is full of nutrients to keep your belly full and body warm on a cold day.
Best Split Pea Soup Recipe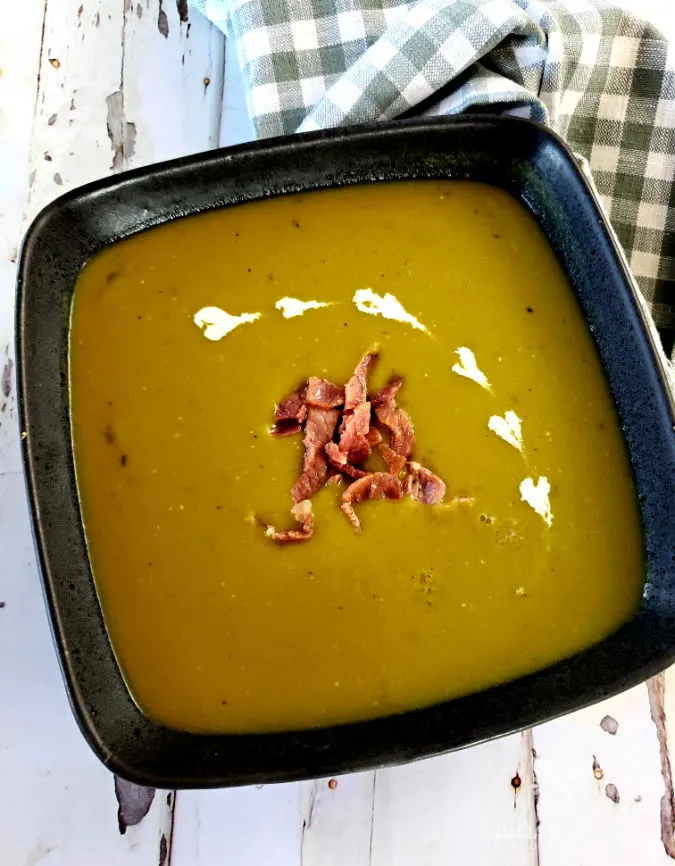 Doesn't that creamy soup look so good, y'all? MMM MMM, it is so yummy! I add a few drops of heavy cream to garnish, which is totally optional, with a topping of crispy country ham bits.
You will love this great recipe for split pea soup with ham. These days when I make split pea soup and we have leftovers, I like to portion them out in freezer bags or freezer containers. The frozen soup portions make for easy meals.
What to Serve with Split Pea Soup?
Like any delicious soup, a side of crusty bread always works well for this type of meal. The soup itself is rather hearty so we usually just enjoy it without anything else.
Other great options to stretch the meal would be to serve the split pea soup with a classic grilled cheese sandwich, crackers, croutons, or a side salad.
What are Split Peas?
Split peas are grown specifically to be split. The green split peas are a type of field peas and are a variety of legume. Sometimes, they are mistakenly called lentils and they are not.
The split dried peas do not have to be soaked overnight like other beans and only require a short cook time on the stove top.
How to make Homemade Split Pea Soup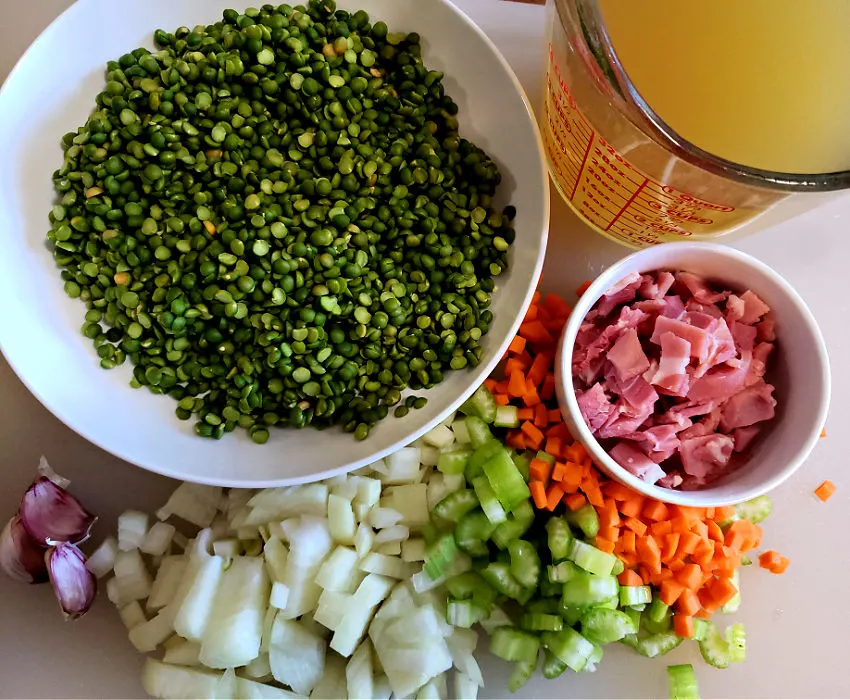 To make a delicious pot of split pea soup, you'll need:
Green Split Peas – the star ingredient of this soup. There are yellow split peas that would also work but I love the classic beautiful green color in this soup. Be sure to sort through the peas to make sure there aren't any stray pebbles or sticks mixed in (or when using any dried beans) then rinse the peas well.
Butter – for sautéing the ham pieces and vegetables. The butter also adds flavor. You could use olive oil if you don't wish to use butter.
Bacon Grease – adds amazing flavor and helps to crisp the chopped ham and sauté the vegetables.
Country Ham – country ham is very flavorful and adds a delicious kick to this soup. This type of ham is salty so keep that in mind when seasoning your soup.
If you prefer, you could use city ham (regular ham), a leftover ham bone, or a smoked ham hock to deliver that savory ham soup flavor most people love in split peas soup.
Vegetables – the classic trio of celery, yellow onion and carrots (mirepoix of cooking) add wonderful depth of flavor to this soup. I also use minced garlic for flavor and it is a wonderful aromatic. Some people like to add diced potatoes to this soup also but I never do.
Chicken Broth – or chicken stock is a very simple way and great way to add another layer of flavor to soups. You could always just use water instead if you don't have any type of broth on hand.
Seasonings and Herbs – a little bit of Kosher salt, freshly ground black pepper, bay leaves or a single bay leaf and thyme sprigs for flavor.
You should be able to easily find everything that you need at most grocery stores.
Split Pea Soup with Ham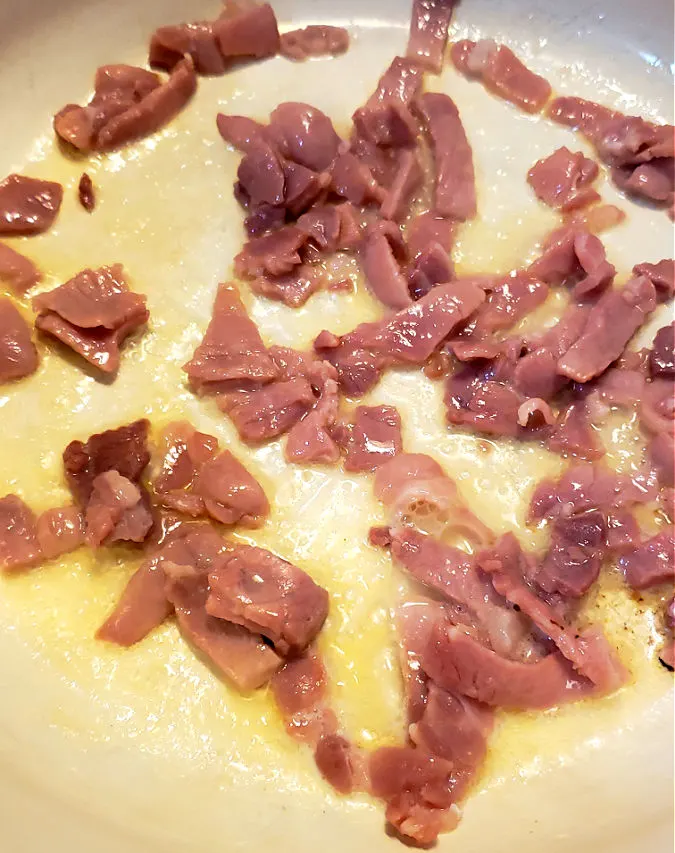 Okay, let's pull out our soup pot and make this soup. I like to use my enamel coated cast iron dutch oven heavy pot for making soup on my stove top.
Place the pot on your stove top burner over medium heat then add the bacon fat and butter to melt.
Once the fats are melted, add the chopped country ham pieces to the pot and let them sizzle for a few minutes to release flavor into the oil and crisp up a bit. You could also crisp up some chopped bacon if you prefer that to using some type of ham.
When the diced ham is as crispy as you like, use a slotted spoon to remove it from the pot and add it to a small bowl then set it aside for later.
Old Fashioned Split Pea Soup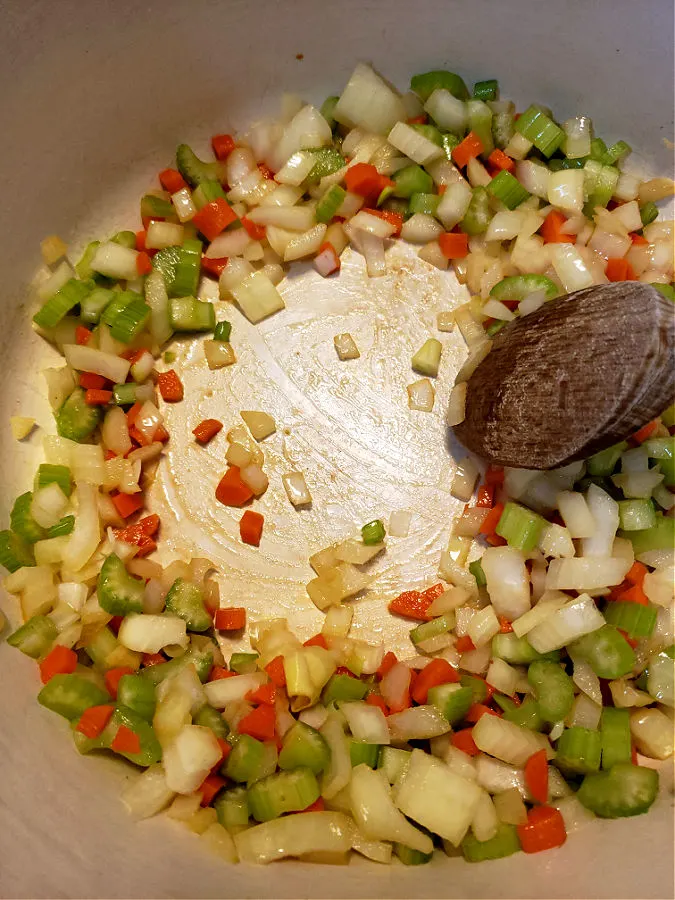 The next step is to add the diced vegetables to the pot and sauté them a few minutes to soften. As the vegetables release water, be sure to use your spoon to deglaze the bottom of the pot and scrape up those brown bits to release their flavor into the soup.
This is the step that I add a bit of seasoning to the pot. Just a little salt and some cracked black pepper. Don't over-do it with the salt because the country ham has plenty to go around.
Go ahead and add in the washed split peas, which are likely to be a giant clump. I don't know why the peas stick together with a great force as they do after washing but just know it is normal if they do.
After you've wrestled those little peas into the pot, add the chicken broth, bay leaf and thyme sprig. Stir to break up the split peas then cover the pot with a lid, reduce the heat to medium-low and simmer the soup until the peas are tender.
Creamy Southern Split Pea Soup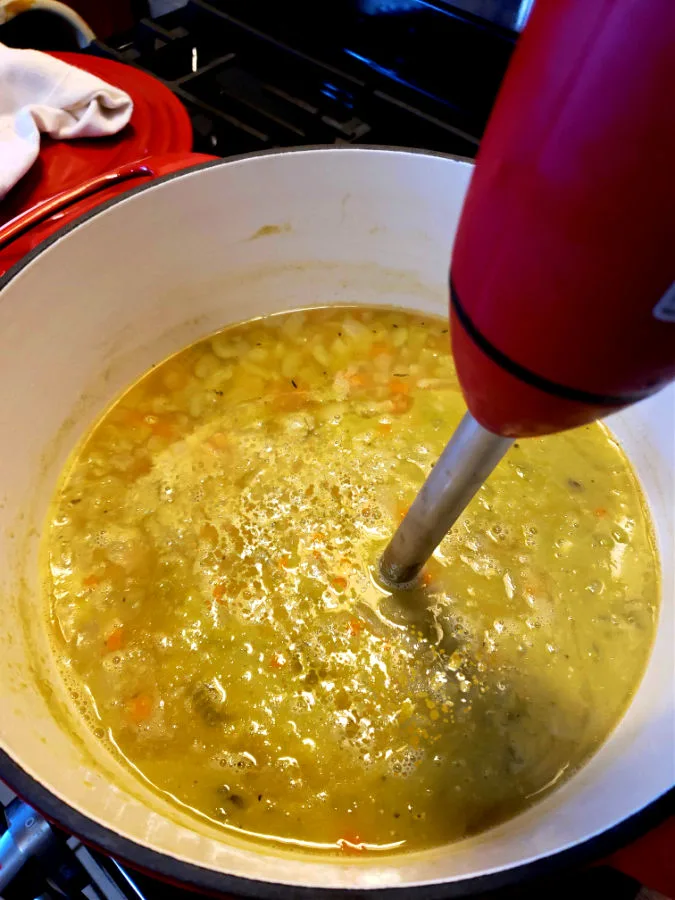 Now we get to use a fun kitchen tool, the handy immersion blender, to puree the soup mixture until it is creamy.
If you prefer a chunky soup then you can skip this step but I love the creamy version better. Oh, and be sure to fish out the bay leaf and thyme stem before blending.
Once your soup has been blended until it is creamy, thickened and beautiful; add some of the diced ham back to the pot.
Reserve the rest of the crispy ham pieces for garnish when serving the soup.
Split Pea Soup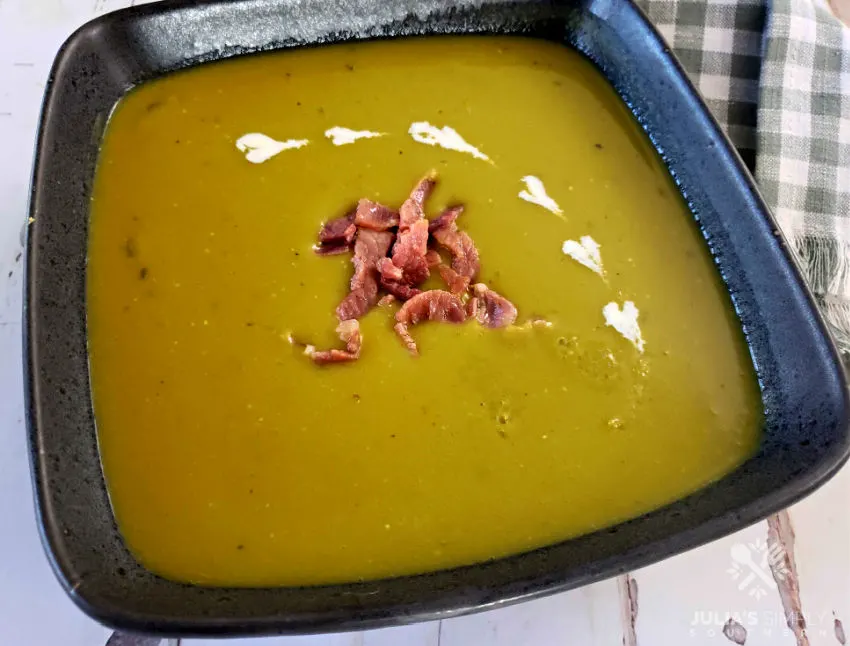 Below you will find the printable recipe card for this delicious homemade split pea soup. Be sure to check out the rest of the post for other cooking options.
Yield: 1 Pot of Soup
Split Pea Soup Recipe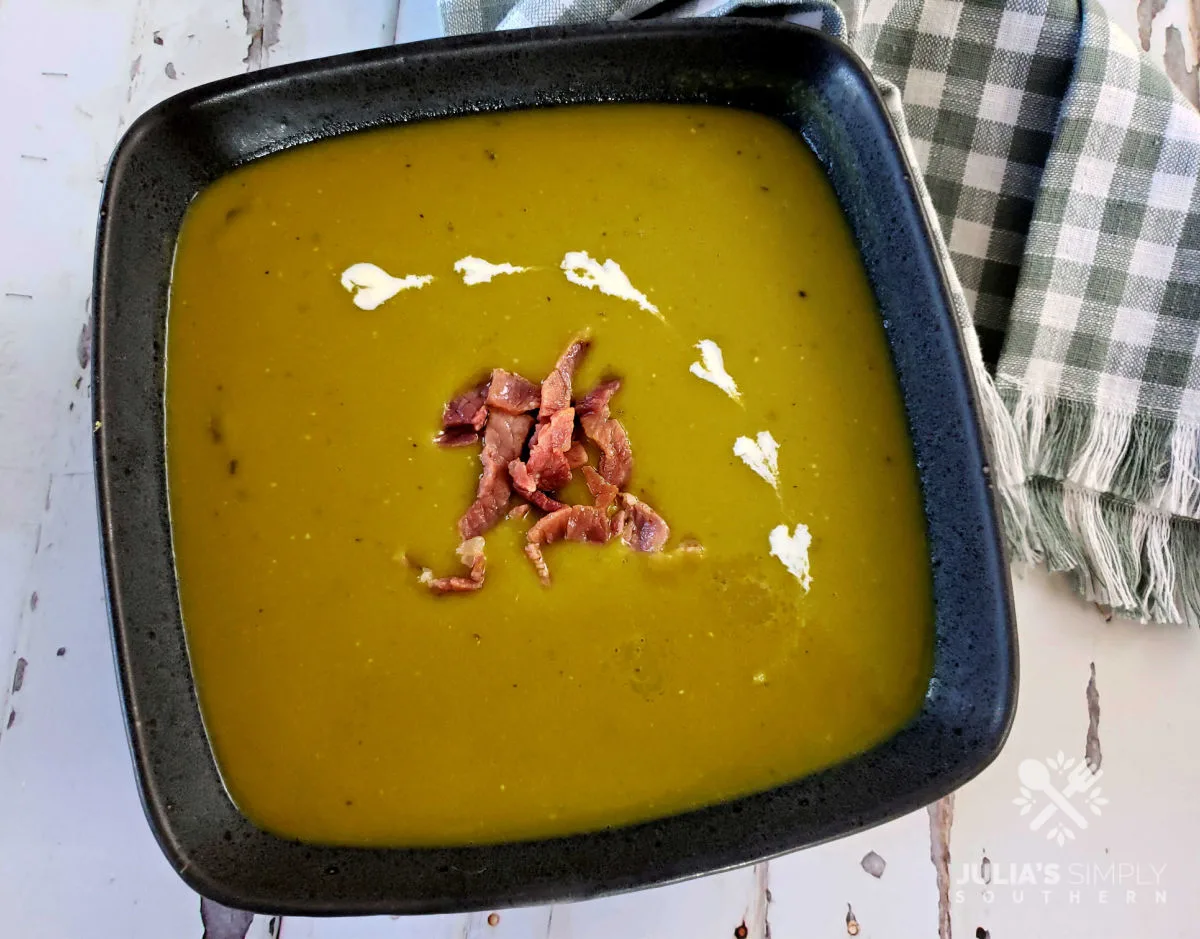 The best split pea soup is a creamy hearty soup with nutritious vegetables and country ham that your family will love. Make it on the stove top, Crock Pot or Instant Pot.
Cook Time
1 hour
15 minutes
Total Time
1 hour
35 minutes
Ingredients
1 pound Green Split Peas, sorted and washed
1 tablespoon Butter
2 teaspoons Bacon Grease
3 ounces Country Ham, diced (about a cup)
1 cup Celery, diced (2 stalks)
½ cup Carrots, finely diced (2 small carrots)
1 Yellow Onion, diced
1 Clove of Garlic, minced
8 cups Chicken Stock or Broth (64 ounces)
½ teaspoon Kosher Salt, or to taste
Cracked Black Pepper, to taste
1 Bay Leaf
1 Sprig of Fresh Thyme
Instructions
Heat a dutch oven on the stove top over medium heat. Add the butter and bacon fat to the pot and allow it to melt. Once the fats are melted; add the diced ham and sauté to release flavor and crisp up, about 5 minutes. Use a slotted spoon to remove the ham pieces transferring them to a small bowl then set aside for later use.
Next, add the diced onion, celery and carrots to the pot; sauté until tender, about 5 minutes. Be sure to use a wooden spoon to deglaze the bottom of the pot as the vegetables release their juices.
For the next step, add the minced garlic and stir to combine with the vegetables and allow the mixture to sauté about 1 minute more. Season the vegetables with salt and black pepper.
Next, add the split peas (which may be clumped together after washing), the chicken stock, bay leaf and sprig of thyme to the pot. Cover the pot with a lid and simmer over a medium low heat for 1 hour, or until the peas are tender.
Carefully use an immersion blender to puree the soup mixture until creamy.
Add half of the reserved country ham pieces back to the soup and heat through for a minute or two. Use the remaining ham pieces for garnish when serving.
Serve hot.
Notes
Soup may be frozen and re-heated for easy meals.
Optional: garnish with a few drops of heavy cream to visual interest.
Recommended Products
As an Amazon Associate and member of other affiliate programs, I earn from qualifying purchases.
Nutrition Information:
Yield:
8
Serving Size:
1
Amount Per Serving:
Calories:

213
Total Fat:

7g
Saturated Fat:

2g
Trans Fat:

0g
Unsaturated Fat:

4g
Cholesterol:

20mg
Sodium:

599mg
Carbohydrates:

24g
Fiber:

5g
Sugar:

7g
Protein:

14g
Instant Pot, Crock Pot and Vegan/Vegetarian Options
Other options for preparing this split pea soup recipe:
Split pea soup vegan/vegetarian option: Omit the bacon fat and butter; use olive oil instead. Use vegetable stock or vegetable broth instead of chicken. Omit the ham. Diced potatoes may be added to the vegetarian split pea soup version to make it a bit heartier if desired.
Crock Pot split pea soup option: preheat the slow cooker crock on the high cook setting and covered with the lid while prepping the ingredients. Follow the steps of preparing the soup in the crockery and cook on the low setting 2.5 to 3 hours.
Split pea soup Instant Pot option: if using a pressure cooker, use the sauté setting to follow preparation steps through sautéing the vegetables. When the peas, stock and herbs are added; use the manual setting and cook on high pressure 20 minutes then allow the pressure cooker to release naturally.
Popular Recipes on the Blog
See the Latest Recipes
Thank you for stopping by! I am so happy that you did. I know that you will love this incredible split pea soup recipe just as much as my family does.
Be sure to subscribe to my email list while you're here. Subscribers receive a weekly email newsletter with the latest recipes and news here on the blog so that you never miss a thing.
Meet Julia
Author of Julia's Simply Southern
Hey Y'all! I'm Julia, the cook and writer behind the recipes here at Julia's Simply Southern. I began my website so that I could share easy to follow recipes that anyone can use to put a home cooked meal on the dinner table. Thanks so much for stopping by!
Follow me on Facebook | Twitter | Instagram | Pinterest | YouTube