In this post I'll be sharing a delicious Turkey Tenderloin Air Fryer recipe. This skinless portion of the turkey breast is delicious! And, like the name suggests, it is so tender.
A lot of folks, myself included, have an air fryer in their home kitchen for easy cooking. My particular brand model is a Cuisinart multi cooker.
To be honest, I mostly use the toaster setting. Since I do get requests for air fryer recipes, I make it a point to use that setting too.
I can't think of a better reason than the holidays to make good use of that handy kitchen appliance and to free up valuable oven space when preparing a holiday meal.
So, my friend, if you don't need a whole turkey, then this air fryer turkey breast tenderloin recipe is for you.
Not only is it great for your Thanksgiving dinner, it is perfect for an easy weeknight meal. This will become one of your favorite turkey recipes for its easy preparation and the delicious tender meat.
Turkey Breast Tenderloin Air Fryer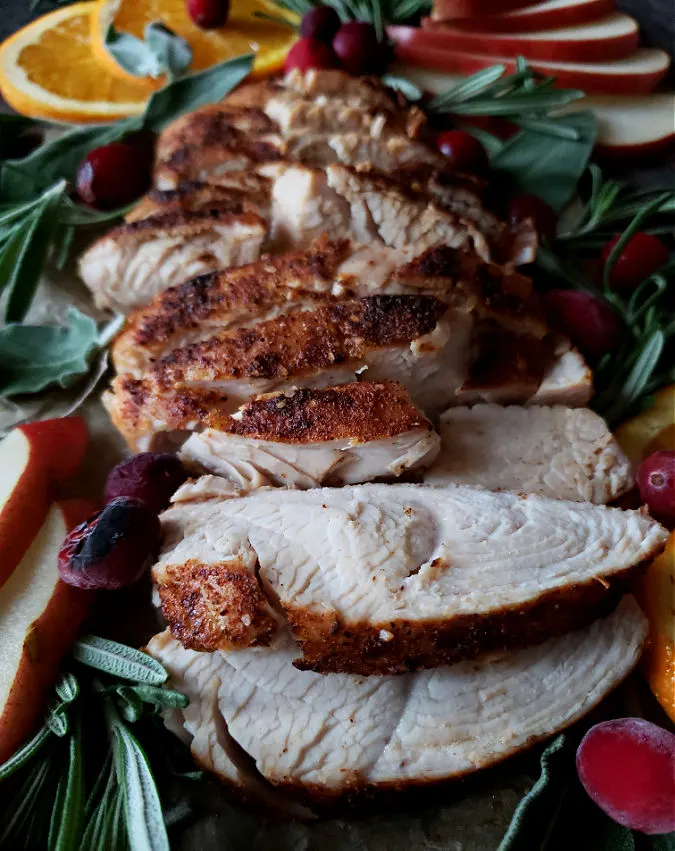 Doesn't that look delicious? If you are not hosting a large gathering this holiday season, enjoy an air fryer turkey tenderloin.
Just like you usually find with pork tenderloin that you get at your local grocery store, there are two turkey tenderloins per package.
With 5-10 minutes or prep, and some simple ingredients to make a seasoning mixture, you will have a delicious meal on the table in a fraction of the time it takes to wrestle a whole bird into the oven for roasting.
The lean turkey tenderloin is a great option for two or, very small groups. Just serve it up with all of your favorite side dishes.
Is Turkey Breast Tenderloin the same as Turkey Breast?
The TBT (turkey breast tenderloin) is a cut from between the breast of the turkey. It is a boneless and skinless cut of meat and so tender. The tenderloin of the turkey is also considered white meat, just like the breast meat.
Easy Air Fryer Turkey Tenderloin Recipe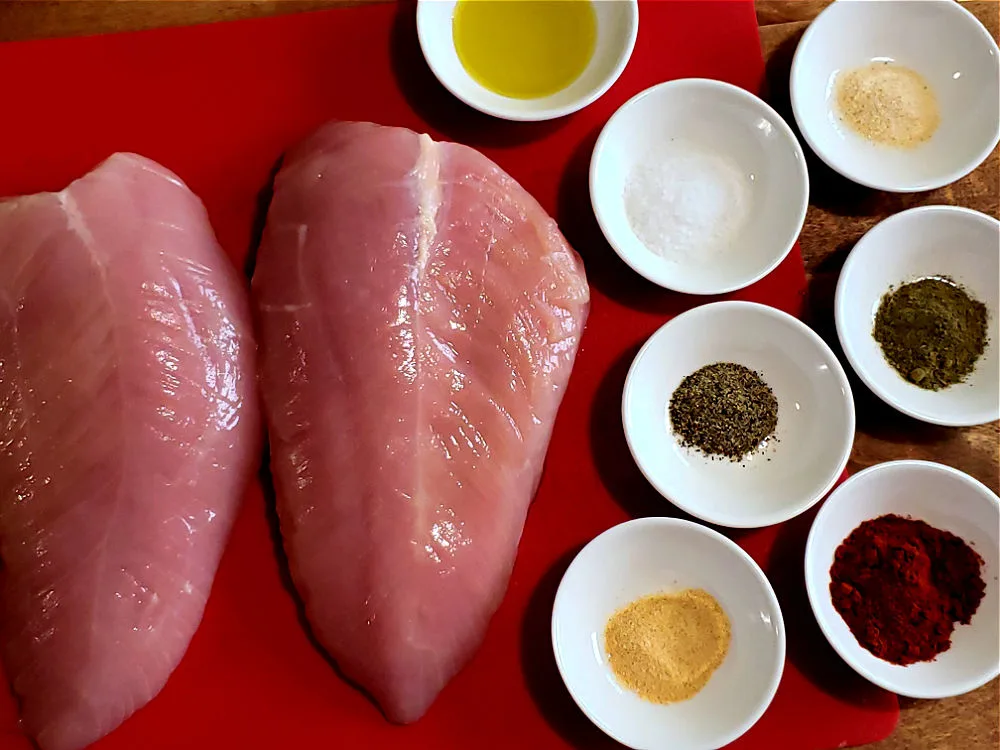 What do I need to make air fryer turkey tenderloin?
The turkey breast tenderloins – I used the Butterball brand because that is what my local food store had. Occasionally they have tenderloins of turkey that the butcher has separated in the meat section.
Other popular brand names that sell turkey tenderloins include: Honeysuckle, Jennie-O, Perdue, and Shady Brook Farms. I'm sure there are more brands out there that may be available in your particular area.
Olive Oil – to prepare the meat and help the seasoning rub adhere to the turkey.
Spice Rub – Kosher salt, freshly ground black pepper, onion powder, garlic powder, poultry seasoning, and paprika. My husband declared my simple seasoning mix to be perfect for this delicious recipe and made a very flavorful turkey.
The paprika helps to give this tender cut of meat a nice color as it cooks in the hot air fryer.
I wanted to mention the poultry seasoning because I didn't realize that it might not be something that you see in all parts of the country. I had no idea until my good friend and fellow blogger, Norine, who lives in Utah asked me about it.
Perhaps the poultry seasoning blend (a mix of ground thyme, sage, marjoram, rosemary, black pepper, and nutmeg) is more prevalent in the South, where it is often found used in recipes, like Southern cornbread dressing or just season a chicken breast before cooking.
So, if you are not used to seeing that product in your area, that is what it is. I use the McCormick brand if you're interested to know. I'll add a link to my affiliate links section of the recipe card below.
Other Options
Of course, as with any recipe that you are using as a guide, feel free to use other seasonings and spices that you might enjoy. Fresh herbs are always nice. For a spicy kick, try a bit of Cayenne. Or perhaps you like a hint of sweet and would like a bit of brown sugar in your spice rub.
Personally, I don't like using brown sugar in a recipe like this because it is too easy to burn while it cooks. Just keep that in mind if you choose to use it and keep an eye on things.
The meat could also be wrapped in slices of bacon for air fryer cooking.
How to Cook a Turkey Tenderloin in an Air Fryer?
To begin, give the turkey tenderloins a quick rinse under cold water then place on a cutting mat and dry well with paper towels.
Next, use a silicone brush to apply a thin layer of the olive oil over all sides of the turkey tenderloins. If you have olive oil spray on hand then you could also give the entire turkey meat surfaces a light spray with that.
Delicious Juicy Turkey Breast Tenderloin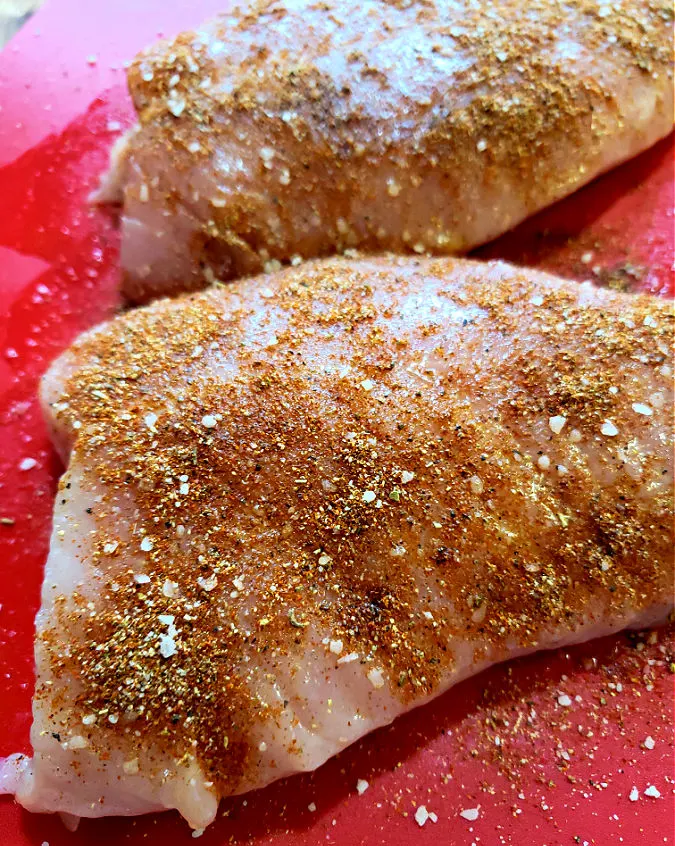 The next step is to combine all of your seasonings together in a small bowl then liberally apply it to the prepped turkey tenderloins.
Quick and Easy Thanksgiving Turkey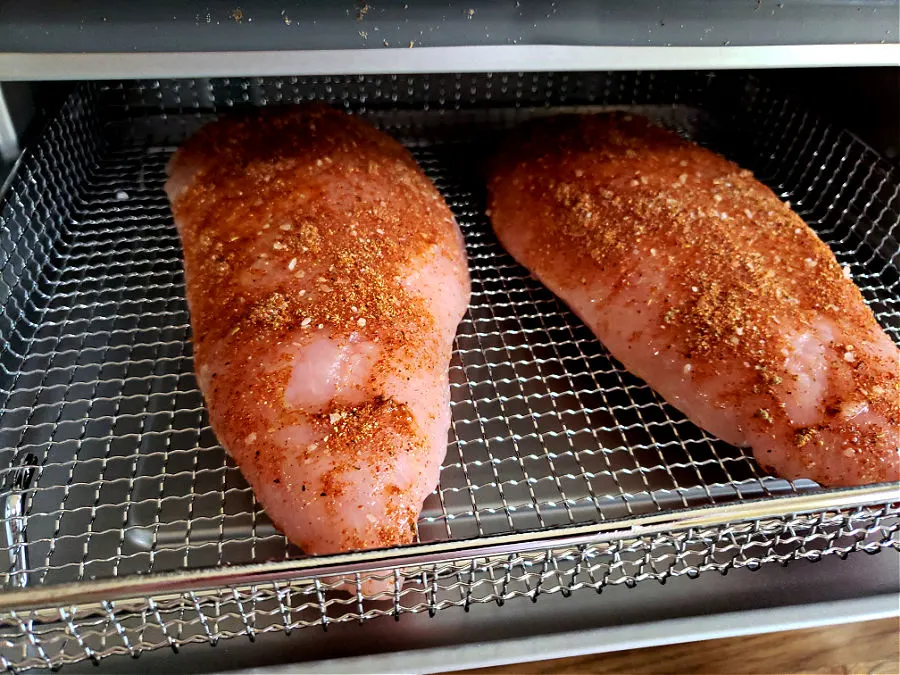 Lightly spray the air fryer basket or air fryer tray, depending on your appliance model, with cooking spray, then use tongs to transfer the seasoned turkey in a single layer for cooking.
How long to cook a turkey tenderloin in air fryer? This recipe takes 30 minutes in the air fryer. Be sure to check the particular brand of turkey tenderloin that you are using in case they mention specific cook times for their product.
Air fryer turkey tenderloin temperature: 400°F.
The turkey breast tenderloin should be cooked to an internal temperature of 165 degrees f. Check for doneness using a meat thermometer or instant read thermometer if you are unsure.
The cooking time could vary depending on air fryer wattage or the amount of turkey meat. Not all brands mention cook time for the air fryer but double check the package in case it does give specific instructions.
If you have leftover turkey, it will last 3-4 days stored in an airtight container in your refrigerator.
This is a great recipe for air fryer turkey breast tenderloin and gives the best results for a delicious turkey dinner so I doubt your leftovers will last that long.
What to serve with Turkey Breast Tenderloin?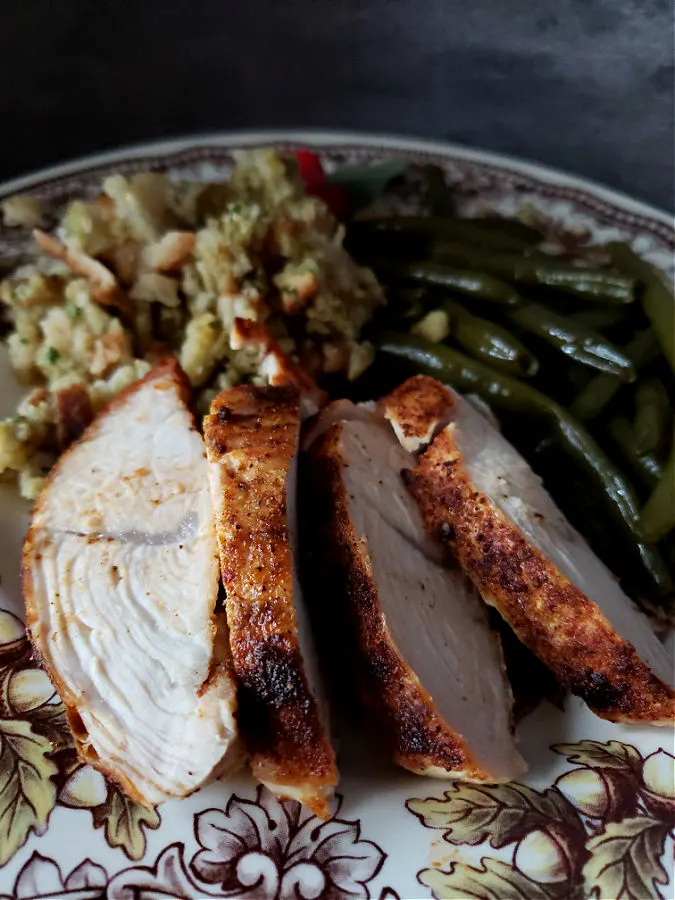 Enjoy your deliciously seasoned skinless turkey tenderloin slices as a lean protein on top of salads, on a sandwich, or with your favorite sides.
We love turkey tenderloin with our favorite holiday side options like green beans, dressing or stuffing, macaroni and cheese and deviled eggs. Oh, and don't forget the cranberry sauce and gravy.
Turkey Tenderloin Air Fryer Recipe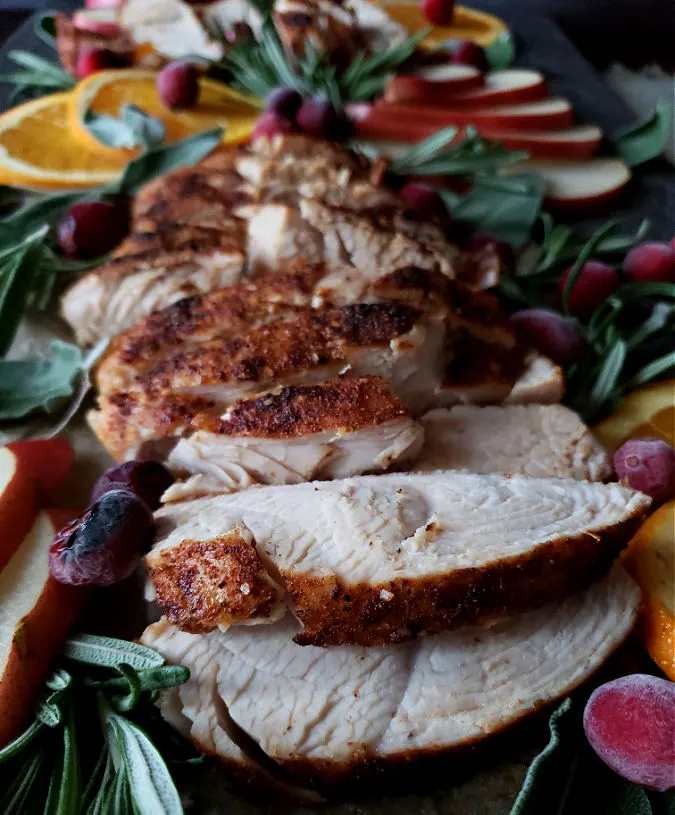 Below you will find all of the details for making this recipe.
Printable Recipe Card
Yield: 1.5 pounds
Turkey Tenderloin Air Fryer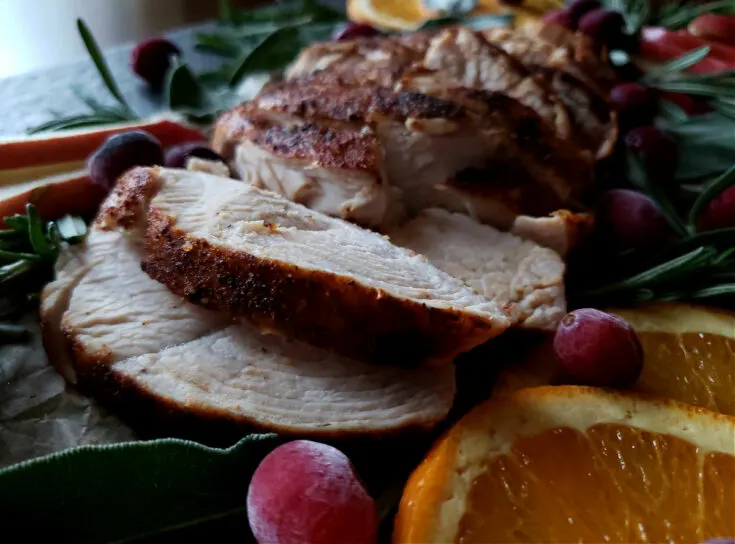 A delicious turkey breast tenderloin recipe that takes just a few minutes of prep and a simple seasoning mix before cooking in the air fryer in a fraction of the time that it takes to prepare a whole turkey. This tender cut of turkey is perfect for Thanksgiving or everyday meals and great for smaller crowds.
Ingredients
1.5 pound Turkey Breast Tenderloin (I used Butterball all natural)
1 teaspoon Olive Oil
1 teaspoon Kosher Salt
½ teaspoon Ground Black Pepper
½ teaspoon Onion Powder
½ teaspoon Garlic Powder
½ teaspoon Poultry Seasoning (I use McCormick - see post for more detail)
1½ teaspoon Paprika
Instructions
Begin by preparing the turkey breast tenderloins: give the tenderloins a quick rinse with cold water and pat dry with paper towels.
Next, brush all sides of the tenderloins with olive oil.
In a small bowl; combine the salt, pepper, onion powder, garlic powder, poultry seasoning and paprika together until well blended. Liberally sprinkle the seasoning mix all over the turkey breast tenderloins.
Lightly spray the air fryer basket (or tray) with cooking spray to prevent sticking then transfer the seasoned turkey meal to the basket arranging in a single layer.
Set the air fryer temperature to 400°F (204°C) and air fry cook for 30 minutes.
The turkey breast tenderloins should be cooked to an internal temperature of 165°F for safe consumption.
Allow the meat to rest for 5 minutes before slicing. Serve with your favorite side dishes.
Notes
Cook times may vary depending on your particular air fryer model wattage and the size of the turkey breast tenderloins.
Not all brands list instructions for air fry cooking but check the package for specific instruction if given.
Check the turkey for doneness if unsure with a meat thermometer.
Leftover turkey can be stored in an airtight container 3-4 days in the refrigerator.
Recommended Products
As an Amazon Associate and member of other affiliate programs, I earn from qualifying purchases.
Nutrition Information:
Yield:
6
Serving Size:
4 ounces
Amount Per Serving:
Calories:

223
Total Fat:

7g
Saturated Fat:

2g
Trans Fat:

0g
Unsaturated Fat:

4g
Cholesterol:

103mg
Sodium:

331mg
Carbohydrates:

1g
Fiber:

0g
Sugar:

0g
Protein:

38g
Southern Thanksgiving Recipes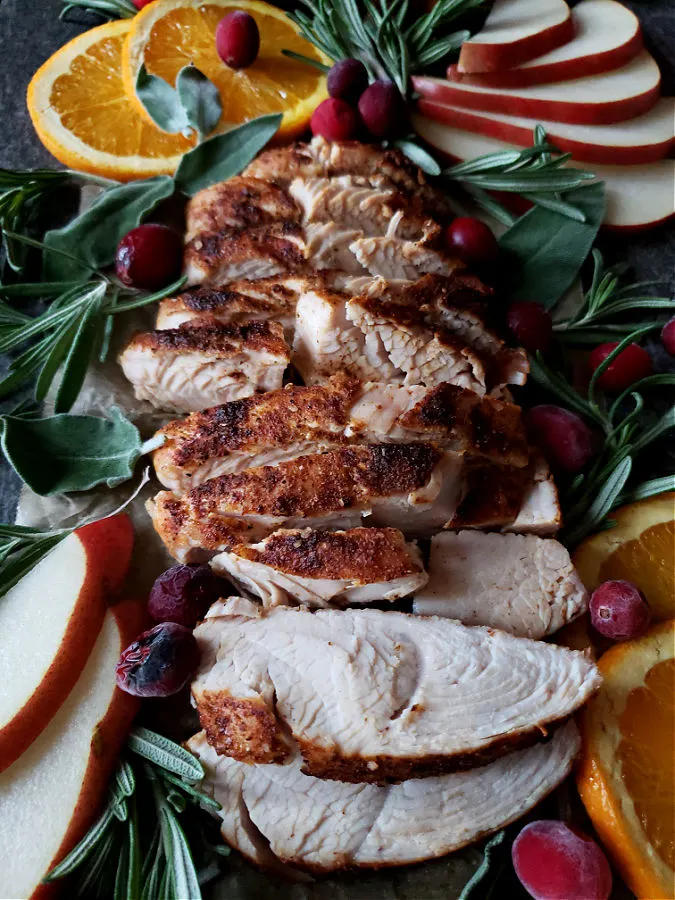 Popular Recipes
I saw this yummy looking recipe and thought that you might like it too.
The Latest Recipes
Turkey Breast Tenderloin Air Fryer
Thank you so much for stopping by! I am so glad that you did. Please try this air fryer turkey recipe soon. I know that you and your family will love it just as much as we do.
While you are here, be sure to subscribe to my email list. Subscribers receive a weekly e-newsletter from me with all of the latest recipes and news here on the blog so that you never miss a thing.
Meet Julia
Author of Julia's Simply Southern
Hey Y'all! I'm Julia, the cook and writer behind the recipes here at Julia's Simply Southern. I began my website so that I could share easy to follow recipes that anyone can use to put a home cooked meal on the dinner table. Thanks so much for stopping by!
Follow me on Facebook | Twitter | Instagram | Pinterest | YouTube