In this post I'll be sharing Thanksgiving Stuffing Recipe with Sausage.
This is the best stuffing recipe with all of the great flavors of autumn in a perfect side dish to enjoy with a roasted chicken or turkey for your Thanksgiving dinner. It's like a savory bread pudding for your holiday meal.
Y'all, can you believe that here we are in the week of Thanksgiving. I Suwannee the years just fly by!
Thanksgiving happens to be my favorite meal of the year. I really enjoy doing the cooking for this dinner. And, I am most thankful for having my loved ones filled into our dining room and enjoying a delicious meal together.
That makes my heart so happy to spend this time together on Thanksgiving day.
Thanksgiving Stuffing Recipe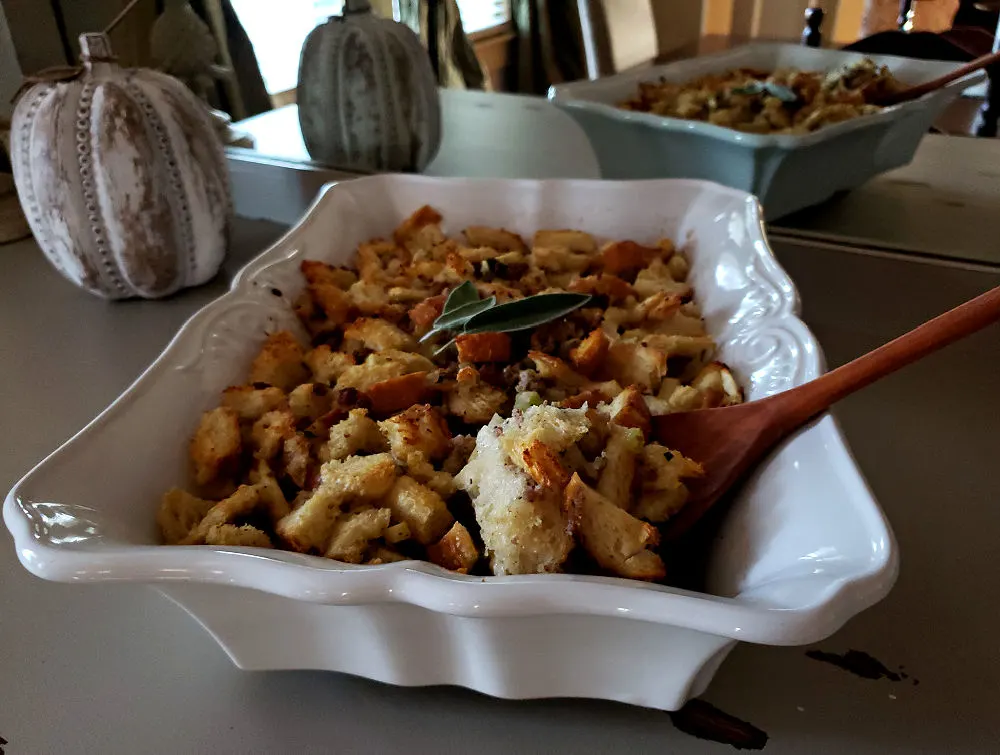 What do y'all think? Doesn't that look delicious? We enjoyed this sausage, herb, and apple stuffing for our supper after I finished up taking the photos for this post.
It is such a delicious side dish! You are gonna love it! Can you imagine how delicious this would be alongside a serving of smoked turkey?
Now I know that some of y'all might be thinking "why is this Southern gal making stuffing". Ha!
While it is true that we enjoy cornbread dressing for our Thanksgiving dinner, I do enjoy other versions of dressing and stuffing recipes throughout the year.
I also try to add a "new to the blog" dressing recipe or stuffing recipe each year, since y'all come to visit from all over the world, so there is something to suit everyone's taste.
Don't think that I didn't consult an expert for a tip or two when it comes to making stuffing. I consider myself a pretty good cook but I did have a couple of questions when it came to preparing stuffing.
So, I consulted my good friend Mary. Mary is from the New England area and is a fellow blogger now living in South Carolina. She was one of my first friends in the world of blogging.
Anyways, when it came to stuffing, I wasn't sure if there should be eggs. I checked with Mary and it turns out that with or without are both okay. Good to know since I put eggs in a stuffing recipe that I shared a few years back.
Y'all know us Southerners will put eggs in everything. I resisted however and did not put eggs in this stuffing recipe.
What do I need to make Thanksgiving Stuffing?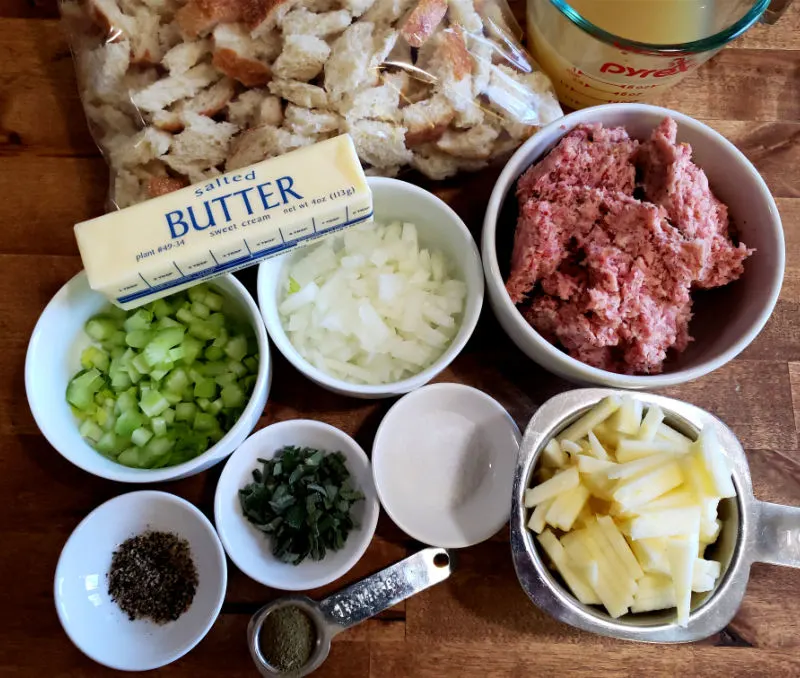 Here's what you'll need to make this easy sausage stuffing recipe:
Bread – I love sourdough bread for this sausage and herb stuffing. The flavor of the sourdough really add delicious flavor to this homemade stuffing.
You can use any kind of bread that you like. French bread, white bread, homemade bread, or other bakery loaf of stale bread from the grocery store will work.
Butter – a stick of butter butter for sautéing will also add flavor to the savory stuffing. Many ask if I use salted or unsalted butter in recipes.
Pro bakers will likely grimace, but I use salted butter for everything. If you would rather not use butter then use olive oil. I do recommend the butter however because it is an easy way to add tons of flavor.
Aromatics – celery, onion and an apple. Sweet apples balance and add nice flavor to the stuffing. I used a honey crisp, which is one of my personal favorites.
Sausage – use the best sausage that you enjoy in your recipe. We prefer a breakfast kind of sausage because we enjoy the savory sausage flavor.
Any bulk sausage that you like will work. Some great options include sage sausage, sweet Italian sausage (or spicy), turkey sausage, chicken sausage, boudin or chorizo.
Herbs and Seasonings – I use a mix of fresh herbs and dry herb seasoning mix (McCormick Poultry Seasoning) in the stuffing recipe. I also include a bit of Kosher salt and freshly ground black pepper for seasoning.
Liquid – to moisten the dry bread cubes. Since we want to add flavor in every way possible, use chicken broth or chicken stock to moisten the stuffing. Turkey stock would also be a great option.
How to make Thanksgiving Stuffing?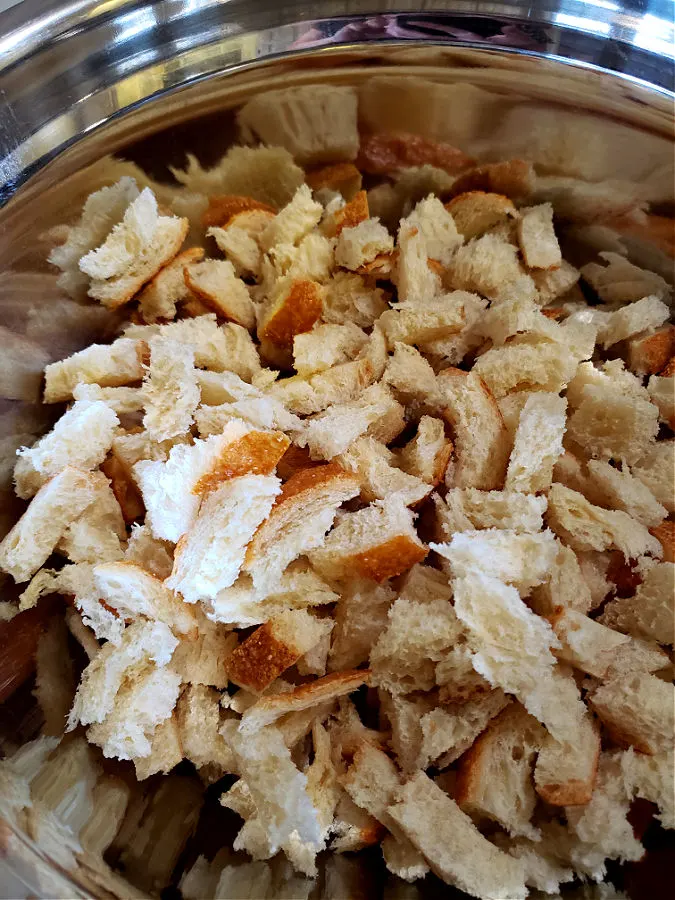 The first thing to do is to prep the bread the day before.
Prepare your own bread cubes by slicing your sourdough loaf into cubes or tearing into pieces. Line a baking sheet with aluminum foil or parchment paper.
Arrange the bread cubes in a single layer then allow the bread to sit out on your countertop overnight at room temperature to dry out.
Pet owners, listen up! If you have a cat or mischievous dog, do not leave your bread sitting out overnight. The best option would be for you to dry the bread in your oven on a low heat setting. You just want to dry it out a little bit or lightly toast it.
Sausage Dressing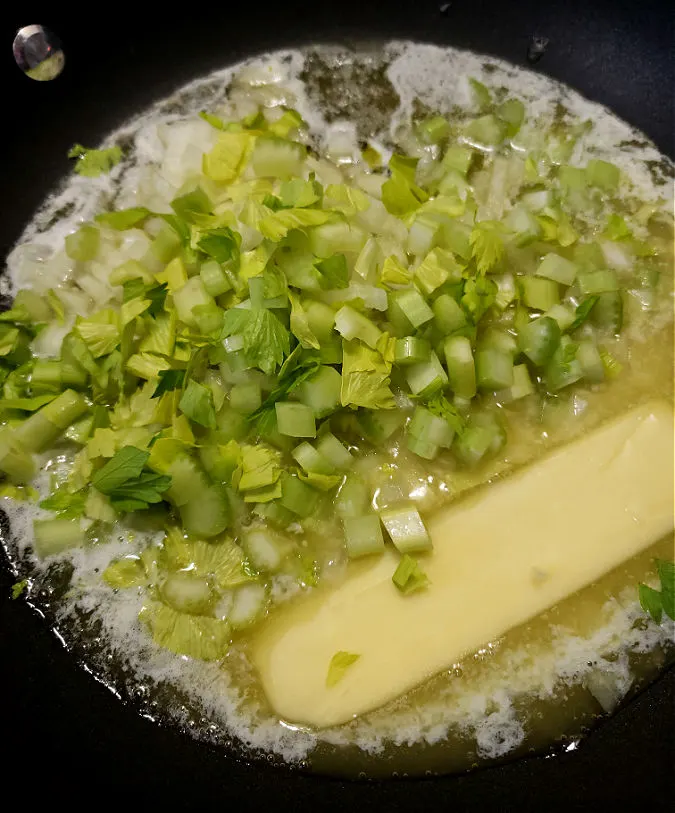 When you are ready to prepare one of your new favorite Thanksgiving stuffing recipes, preheat your oven temperature to 350 degrees Fahrenheit.
Have all of your ingredients prepped and ready to go. Transfer the dried bread to a large bowl and set aside.
Place a large pan for sautéing over medium-high heat for 2 to 3 minutes. Once the pan is hot, reduce the stove top temperature to medium heat and place a stick of butter in the pan to melt.
We don't want brown butter so make sure that the pan isn't too hot and adjust the cooking temperature if needed.
Next, add the diced celery and onion to the pan and sauté until tender.
Easy Sausage Stuffing with Apple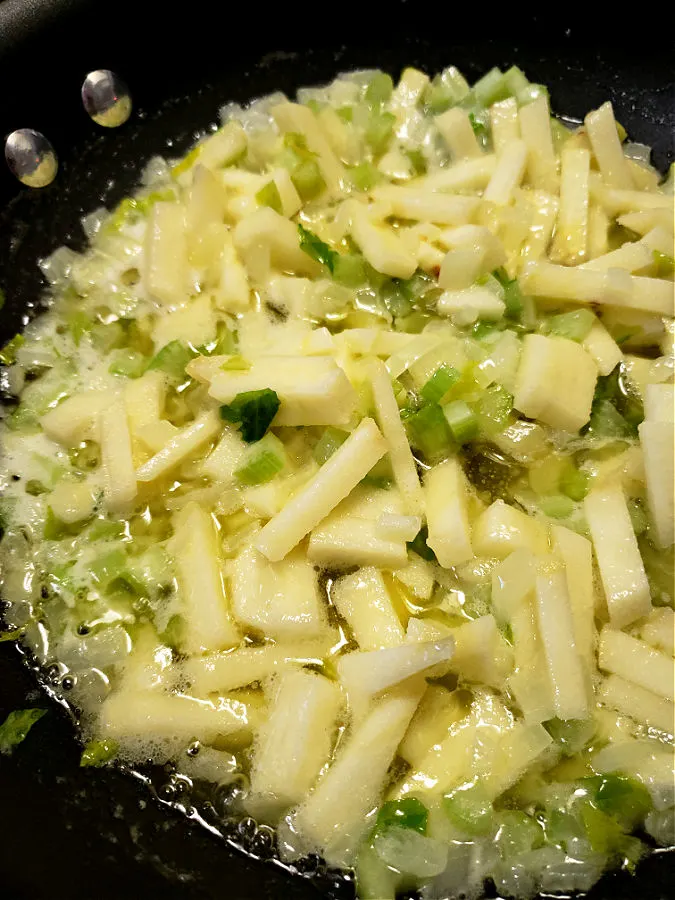 Then add the diced apple to the pan and sauté a couple of minutes longer.
Old Fashioned Sausage Stuffing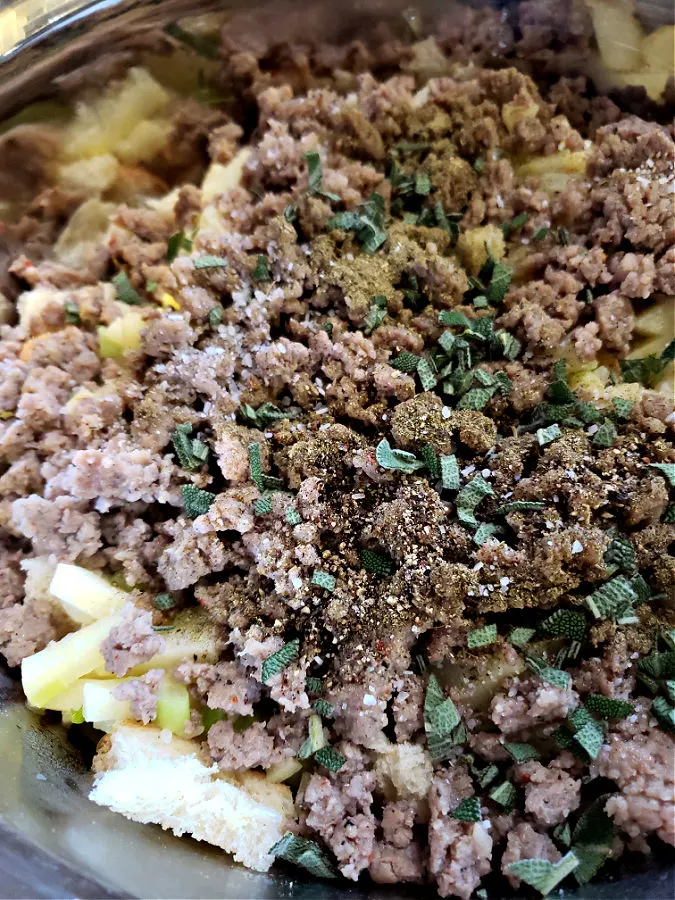 Grab the large mixing bowl holding your bread and pour the softened celery, onion, and apple with all of the melted butter over the bread.
Sit the bowl aside and continue on with the next step cooking the sausage. My preference these days is to use an all natural breakfast sausage that I get from local farms or grocery stores.
Place the pan back on the stove top burner and add the sausage to the pan and cook until browned while breaking it apart as it cooks.
Once done, remove any excess pan drippings then transfer the browned sausage to the mixing bowl with the bread stuffing mixture.
Next, add the fresh chopped sage, Kosher salt, ground black pepper and poultry seasoning to the bowl. Use a wooden spoon to lightly toss everything together.
Slowly drizzle the chicken stock (or broth if using) over the bread mixture then lightly turn the bread mixture until everything seems combined.
Some of the old school cooks will tell you that the best way to combine the stuffing is with clean hands.
The stuffing mixture shouldn't be soggy but perfectly moistened so that the bread still holds its shape.
Sausage Stuffing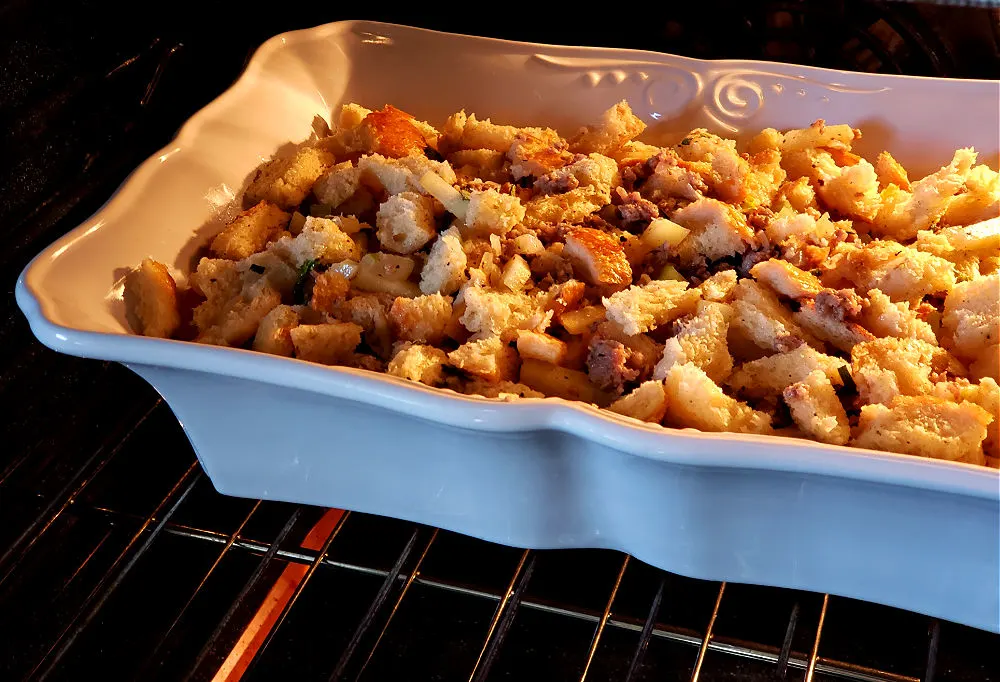 Lightly coat the bottom and sides of a 13×9 rectangle casserole dish with a little butter or a cooking spray.
Transfer the stuffing mixture to the prepared baking dish and place into the hot oven to bake until golden brown.
The stuffing should have a slightly crispy top with a moist soft lower layer and is a family favorite with its wonderful flavors of the cooked sausage, herbs and hint of sweetness from the apple.
The stuffing should also be cooked to an internal temperature of 165 degrees F, so if you are unsure, use an instant-read thermometer to check the center.
Best Sausage Stuffing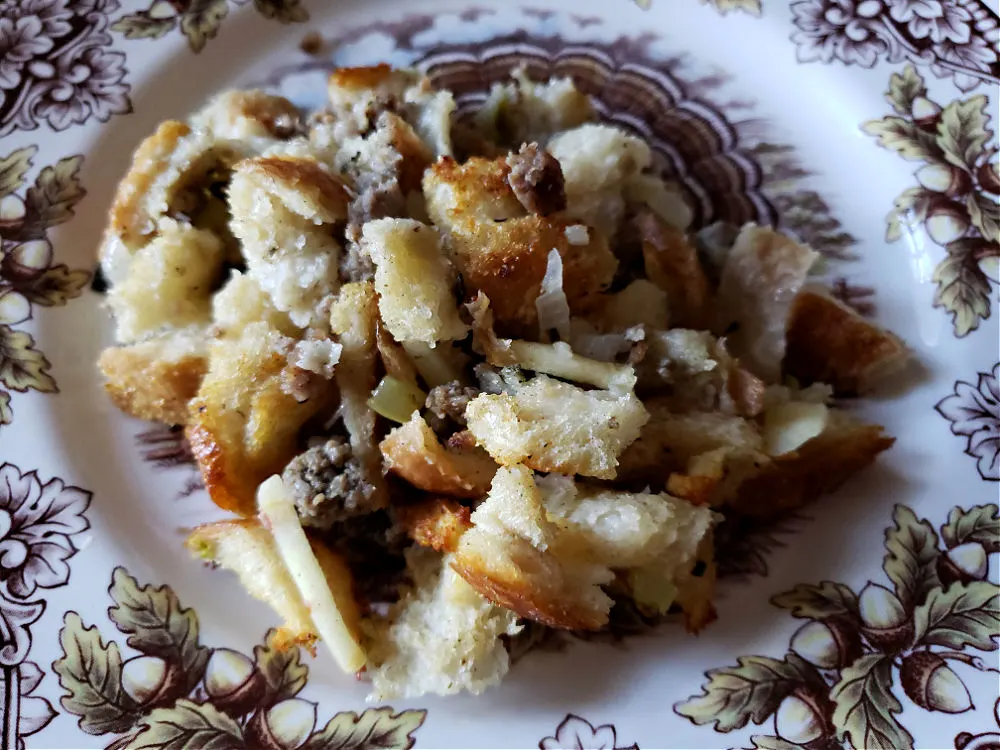 What to serve with Thanksgiving stuffing?
Enjoy this delicious sausage apple stuffing with your favorite recipe for turkey or roasted chicken. A slow cooker turkey breast is simple and frees up oven space.
A classic whole roasted turkey is always delicious with a side of stuffing. Turkey wings, roasted turkey tenderloin or an air fryer turkey tenderloin are all great options too.
Don't forget about all of the delicious recipes for those amazing Thanksgiving sides to enjoy along with your holiday stuffing and turkey.
I love cranberry sauce, holiday macaroni and cheese, my ultimate green bean casserole, and sweet potatoes casserole. YUM!
As soon as this year's Thanksgiving dinner is over I will already be looking forward to next year. I wasn't kidding when I said it is my most favorite meal of the entire year.
Thanksgiving Stuffing Recipe Sausage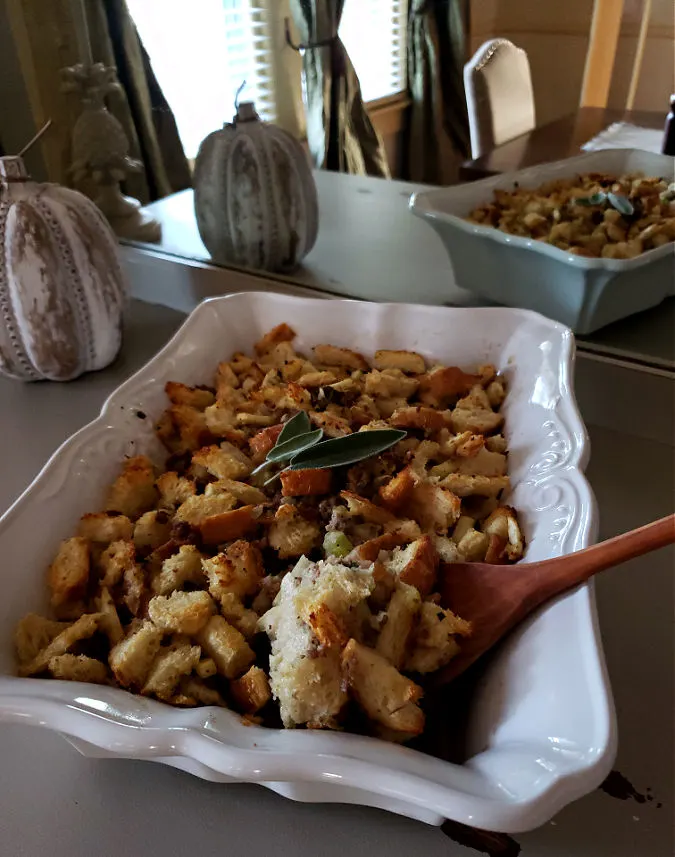 Leftover stuffing can be covered in the baking dish or transferred to an airtight container and stored in the refrigerator up to four days.
The stuffing reheats well in the microwave with a bit of gravy, turkey and other sides to enjoy a delicious plate of leftovers.
Below you will find the printable recipe card for making this delicious Thanksgiving stuffing recipe. I will also include a couple of affiliate links in the card for products that I love in case you're looking for something.
Yield: 1 casserole
Easy Thanksgiving Stuffing Recipe with Sausage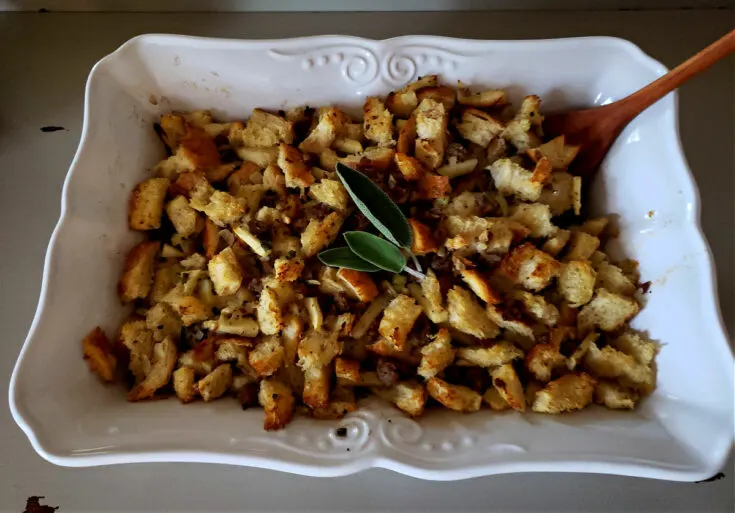 A family favorite easy recipe for Thanksgiving stuffing with sausage and added flavor from fresh herbs, flavorful stock and bits of sweet apple. This is the perfect side dish to enjoy with your Thanksgiving turkey or with roasted chicken.
Total Time
1 hour
5 minutes
Ingredients
16 ounce Loaf Sourdough Bread, sliced or torn into pieces and slightly dried (see post)
1 Stick of Butter (I use salted)
½ cup Celery, diced
½ cup Yellow Onion, diced
1 Apple, peeled, cored, and diced
16 ounce Sausage ( I use a breakfast sausage)
1 tablespoon Fresh Sage, chopped
1 teaspoon Kosher Salt
1 teaspoon Freshly Ground Black Pepper
1 teaspoon McCormick Poultry Seasoning
1½ cups Organic Chicken Stock
1 tablespoon Butter, for greasing the baking dish or use cooking spray
Instructions
Slice the bread into cubes or tear into small pieces and arrange on a lined sheet pan. Allow the bread to sit out overnight to dry a bit or toast in the oven on a low temperature. Place the slightly dried bread cubes in a large mixing bowl and set aside until needed.
Preheat oven to 350°F (177°C).
Place a medium skillet or large pan for sautéing on the stove top and heat over medium-high, for 2 to 3 minutes until the pan is hot. Reduce cooking temperature to medium and place a stick of butter in the pan to melt.
Next, add the diced celery and onion to the pan and sauté 3 minutes. Add the diced apple and sauté for 2 minutes more.
Transfer the softened celery, onion and apple mixture with the melted butter over the bread in the mixing bowl; set aside and cook the sausage until brown breaking apart as it cooks.
Remove any excess pan drippings and transfer the cooked sausage to the bowl with the bread mixture.
Next, add the fresh chopped sage, salt, pepper, and poultry seasoning to the stuffing mixture and use a wooden spoon to gently toss and combine.
Then, slowly add the chicken stock while turning the bread mixture. The stuffing mixture should be moist but not soggy.
Grease a 13x9 baking dish with a pat of butter or with cooking spray then transfer the stuffing mixture to the prepared baking dish.
Bake 45 minutes or until the top is golden brown.
Serve the Thanksgiving stuffing with turkey or chicken and your favorite holiday sides.
Recommended Products
As an Amazon Associate and member of other affiliate programs, I earn from qualifying purchases.
Nutrition Information:
Yield:
8
Serving Size:
1
Amount Per Serving:
Calories:

480
Total Fat:

31g
Saturated Fat:

14g
Trans Fat:

1g
Unsaturated Fat:

13g
Cholesterol:

70mg
Sodium:

1140mg
Carbohydrates:

37g
Fiber:

2g
Sugar:

7g
Protein:

15g
Popular on the Blog
See the Latest Posts
Thanksgiving Stuffing Recipe Sausage
Thank you so much for stopping by! I am so glad that you did. I know that you will enjoy this wonderful Thanksgiving stuffing just as much as we do.
Be sure to sign up for my emails while you are here. Email subscribers receive a weekly email with all of the latest recipes and news here on the blog so that you never miss a thing.
Have a happy Thanksgiving!
Until next time, love and happy cooking!
Meet Julia
Author of Julia's Simply Southern
Hey Y'all! I'm Julia, the cook and writer behind the recipes here at Julia's Simply Southern. I began my website so that I could share easy to follow recipes that anyone can use to put a home cooked meal on the dinner table. Thanks so much for stopping by!
Follow me on Facebook | Twitter | Instagram | Pinterest | YouTube