Hey y'all, get ready for a delightful treat with my Easy Strawberry Pretzel Salad Recipe! This classic layered dessert will have your heart swooning with Southern sweetness! It is so delicious.
You've heard of strawberry pretzel salad haven't you? Well, if you haven't then you may be wondering what the heck it is.
Picture this: a buttery pretzel crust, a creamy layer of sweetened cream cheese, and a luscious topping of fresh, juicy strawberries suspended in a wobbly sea of strawberry gelatin.
A strawberry pretzel salad is a heavenly concoction delicious layers that you're gonna love. The crunchy pretzel crust with its bit of saltiness works so well with the sweetness of the other two layers.
It's a symphony of textures and tastes that'll have you begging for seconds, y'all!
Let's head into the kitchen and get ready to whip up this sensational Southern strawberry dessert. Oops, y'all, I meant "salad"!
I'm gonna take you step by step through the process for making this sweet treat.
Strawberry Pretzel Salad Recipe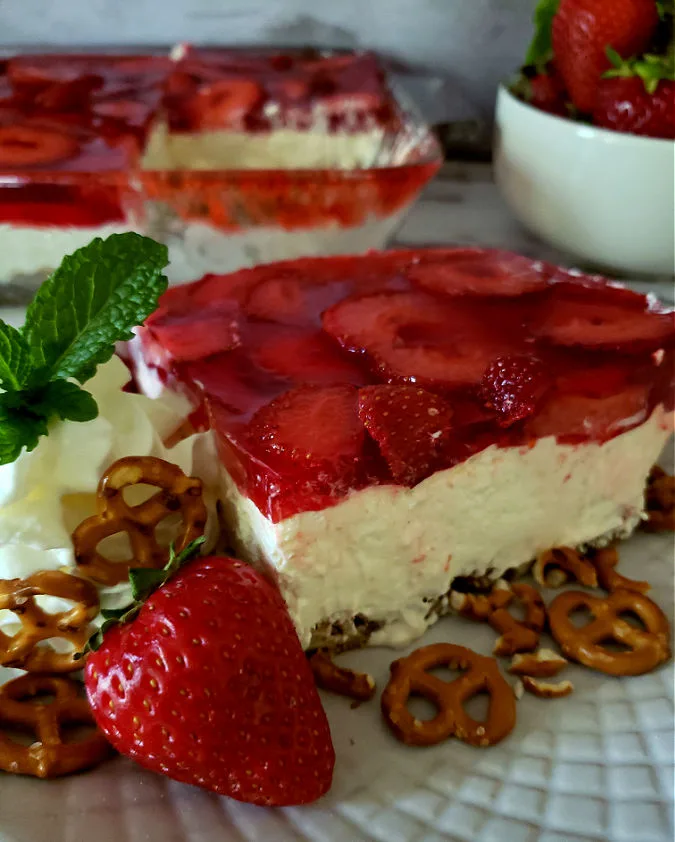 Why do Southerners refer to so many desserts as a salad? Well, it's a bit of a head-scratcher, ain't it? You see, around these parts, we've got a knack for mixing things up and putting our own spin on 'em.
When it comes to desserts, calling them salads might sound peculiar, but it's our way of adding a touch of charm and keeping folks guessing.
Really though, my best guess on this strawberry pretzel salad recipe, is that was what they called it way back in the 1960's cookbook that Jell-O published. Lots of stuff made with gelatin that contain fresh fruit is referred to as a salad. Do you like congealed jello salads?
Layered Strawberry Pretzel Dessert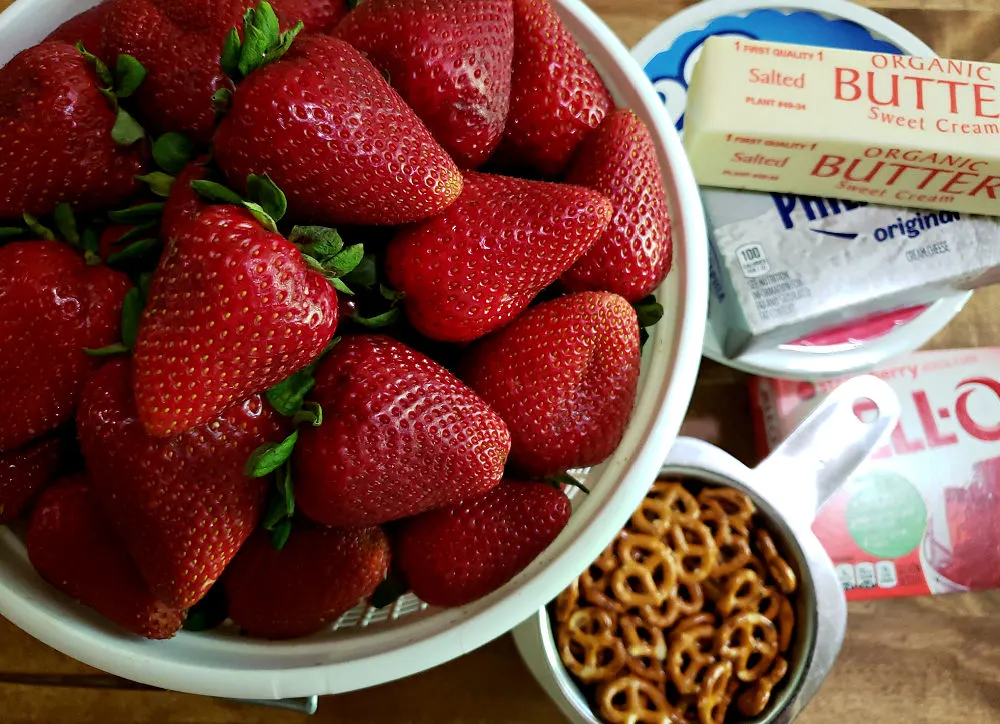 What do you need to make a strawberry pretzel salad dessert? It doesn't take much, y'all, here's a list of what you'll need:
Salted Pretzels – to form that crunchy bottom layer crust.
Butter
Granulated White Sugar – a tiny bit for the crust layer and 1 cup sugar for the creamy middle layer.
Cream Cheese – you want the cream cheese to be nice and softened to room temperature. If you forget to set it out, remove the cream cheese from the wrapper and put it on a microwave safe dish and microwave for 10 seconds to soften it.
Cool Whip – I like to use the extra creamy in all my desserts that call for this whipped topping.
Strawberry Jell-O – I'm going to go ahead and mention this – you will not follow the instructions on the box of strawberry gelatin.
Boiling Water
Fresh Strawberries – I love preparing this dessert during fresh local strawberry season. Those fresh strawberries are so wonderful. If it is not that time of the year where you live then you can use frozen strawberries if needed.
How to make Strawberry Pretzel Dessert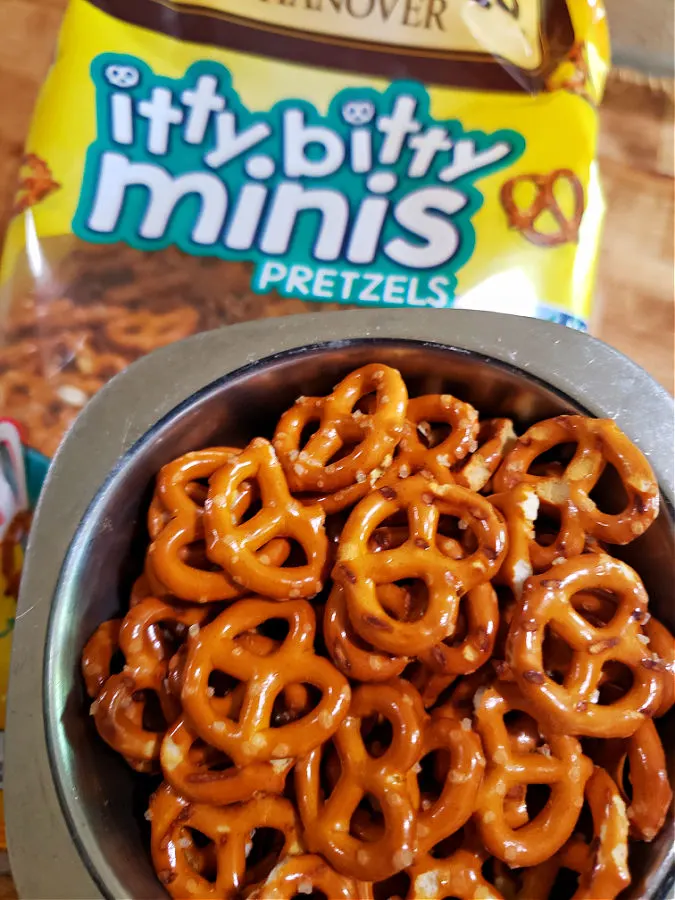 Measuring out pretzels in a measuring cup may cause a bit of confusion since there are numerous sizes, shapes and types of pretzels out there.
I wanted to show you exactly what I use and how I measure it so that it explains this step of the recipe as well as possible.
I prefer the itty bitty mini pretzels and those are measured whole in a measuring cup. They fit really nicely, as you can see in the photo above.
Those teeny little pretzels are also cute as a button if you want to use a couple for garnish when you get ready to serve your strawberry pretzel jello salad.
After you've measured out the pretzels that you need for the recipe, place them in a large plastic food storage bag, seal it up, then use your rolling pin to break the pretzels up.
You could use a food processor, but I think that is a bit much and you want to see the pieces of pretzel.
The Crunchy Pretzel Crust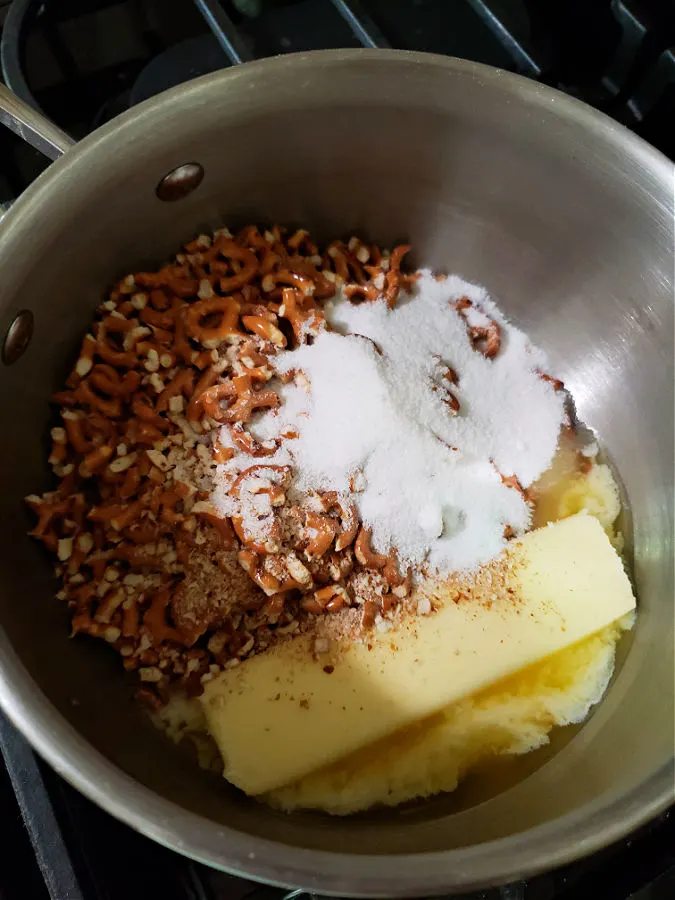 Now, let's make that salty-sweet pretzel crust. Transfer the crushed pretzels into a medium pot along with a stick of butter and three tablespoons of sugar.
Heat the pot over medium low heat until the butter melts completely and stir melted butter, sugar, and pretzel pieces together until combined.
The Buttery Pretzel Crust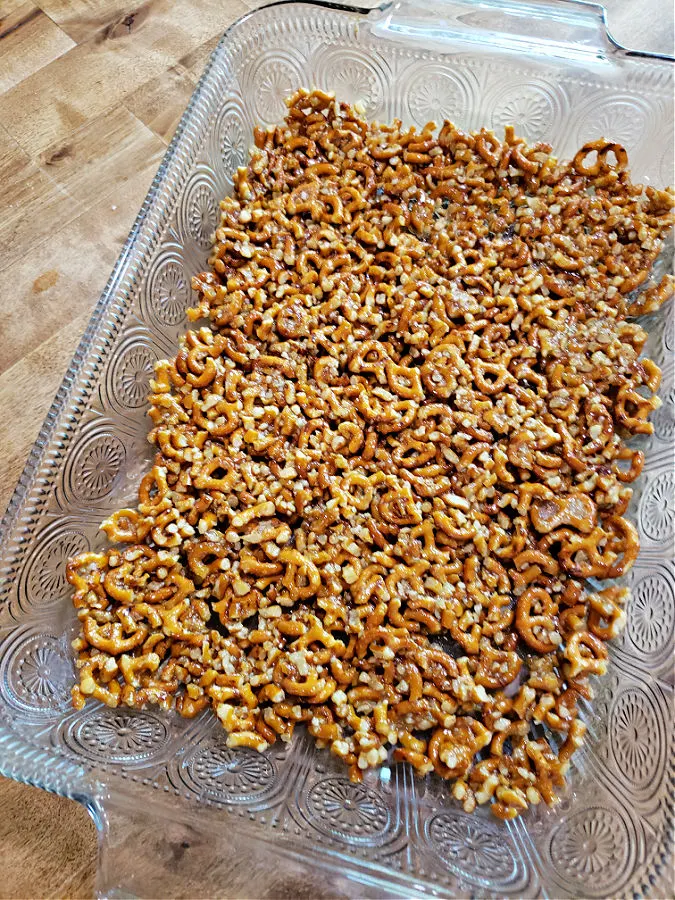 Next, transfer the salty pretzel crust mixture to a rectangle baking dish and use a spatula to spread it out evenly to form the bottom pretzel layer for the dessert. Then, it goes into a 325°F oven for ten minutes.
When it comes out of the oven, you'll want to allow this first layer to cool completely to room temperature, so set the baking dish aside until needed.
The final layer, the top strawberry layer, will also need to be cooled so we will move on to that step next.
Strawberry Jello Pretzel Salad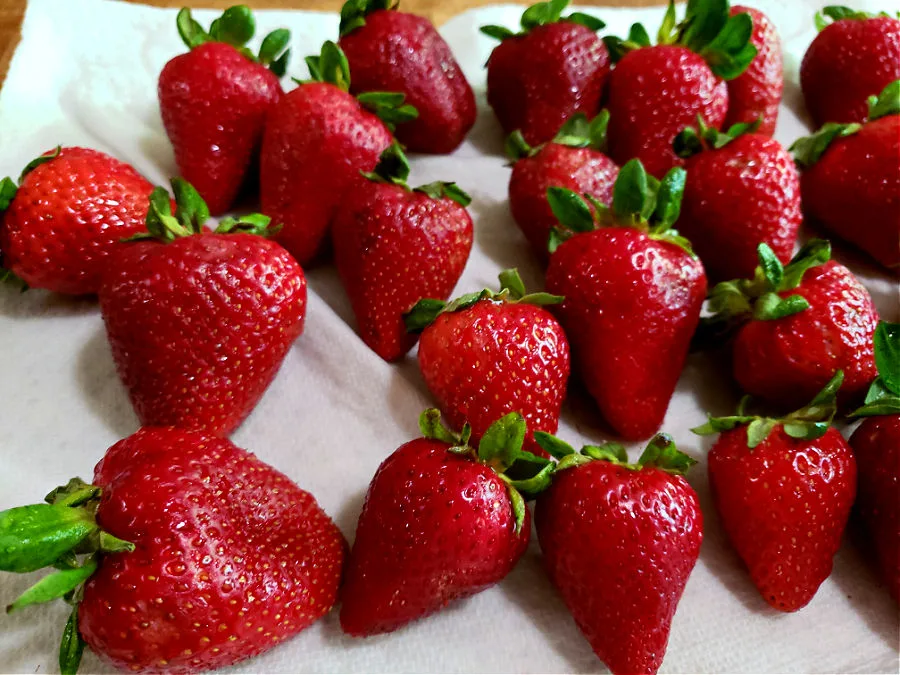 Friend, aren't those fresh strawberries beautiful? They came from a local farm and were so sweet and delicious.
I washed my strawberries and laid them out on a paper towel lined cutting board to allow them to dry ahead of time.
Only wash the amount of strawberries that you think you'll need for the recipe, or plan to eat, so that the rest of your fresh strawberries last longer.
Beautiful Fresh Strawberries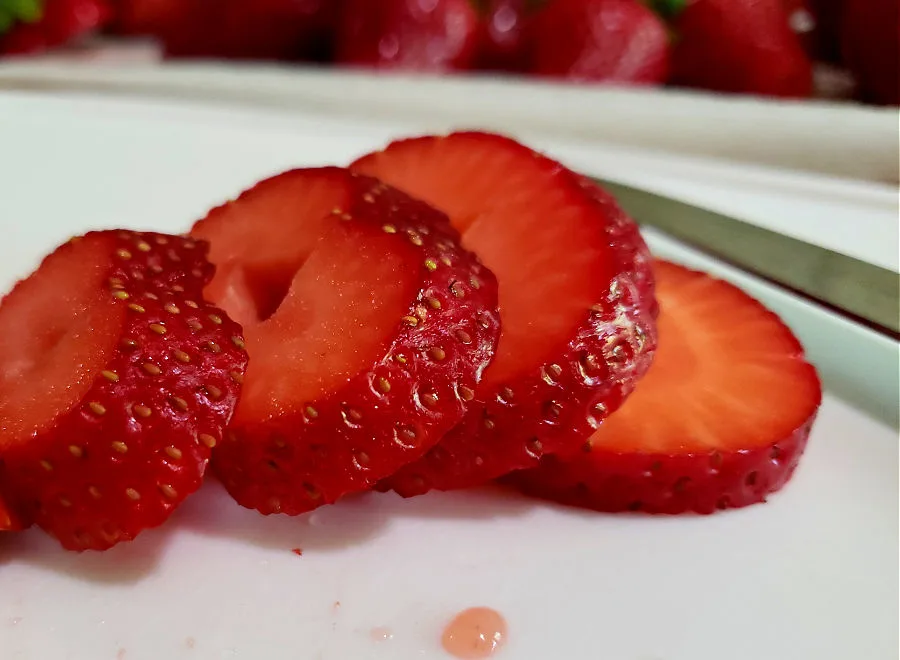 The next step was to slice up the strawberries. The recipe calls for a pound of sliced berries, give or take, so I placed a large four cup measuring cup on my food scale and added the sliced berries to the cup until I had what was needed.
Place the container of sliced strawberries in the refrigerator and allow them to chill while you work on the next step.
Now, it is time to make prepare the strawberry gelatin. I'm gonna repeat myself by mentioning that you are not going to follow the instructions on the Jell-O box.
Bring two cups of water to a boil in a small pot then dissolve the strawberry gelatin into the boiling water. Carefully transfer the hot strawberry mixture to a medium bowl. I like to use one of my metal mixing bowls for this.
Grab your fresh strawberries that have been chilling in the fridge and transfer the berry slices to the gelatin mixture.
The cold sliced berries will help to chill the Jell-O mixture. After the sliced berries have been added, I like to place the mixing bowl with the jello mixture into the refrigerator for about 30 minutes.
This will allow the strawberries and gelatin to chill enough so that it doesn't melt the creamy layer.
Prepare the Cream Layer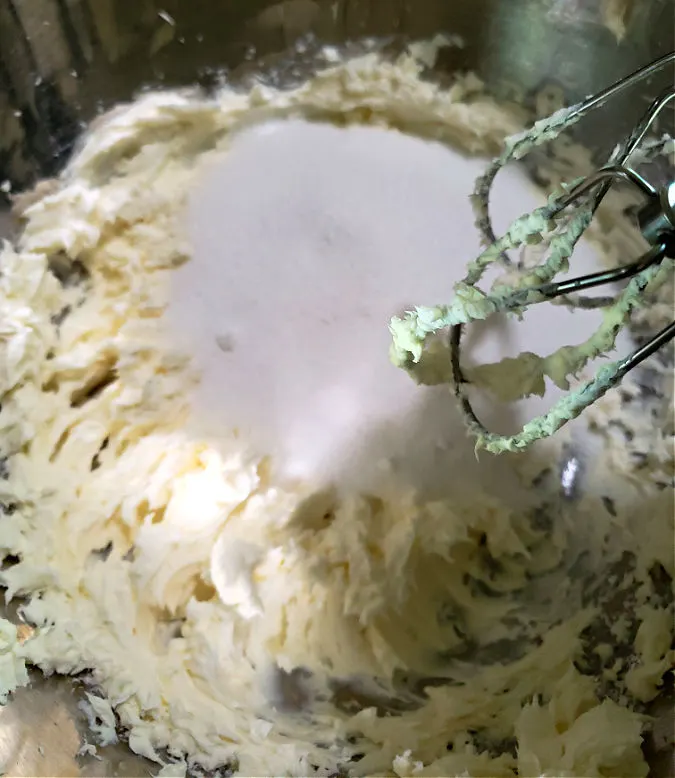 The next step is to make the delicious creamy layer. Add the softened cream cheese to a large bowl then use an electric mixer (hand mixer) on medium speed to beat until light and fluffy.
Next, add a cup of sugar to the mixing bowl and continue to beat until well combined and creamed together.
Old Fashioned Layered Dessert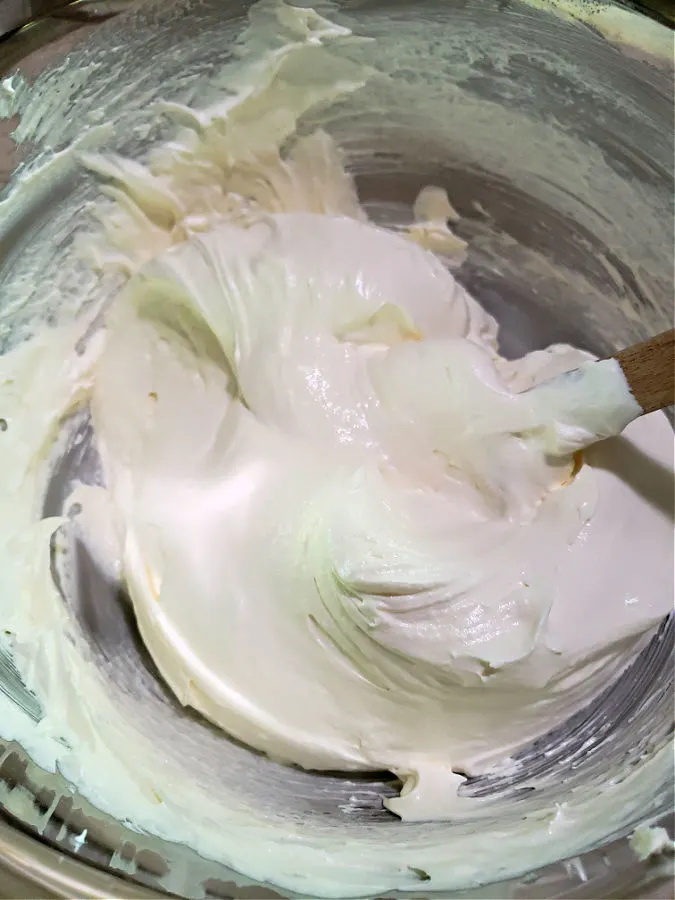 The next step is to add the shipped topping to the cream cheese mixture. Use a spatula to fold the Cool Whip into the sweetened cream cheese mixture until well combined and you have a creamy filling.
Tip to Maintain Distinct Layers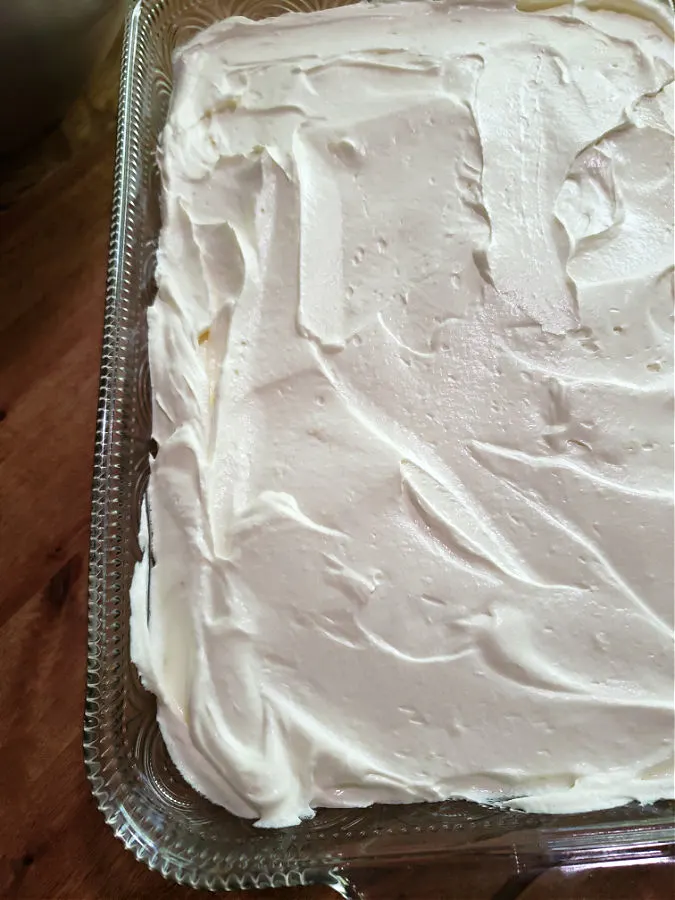 Use the spatula to portion out the cream mixture over the cooled pretzel crust. Portioning out the creamy filling helps spreading an even layer easier.
Spread the cream cheese layer all the way to the edges of the pan and seal off all corners well. If you don't then the top strawberry mixture will seep down and moisten the pretzel crust and make the layers not look as pretty for your delicious dessert.
Nobody like a soggy crust, so just take your time and make sure that middle layer is just right.
The Strawberry Jello Layer with Sliced Strawberries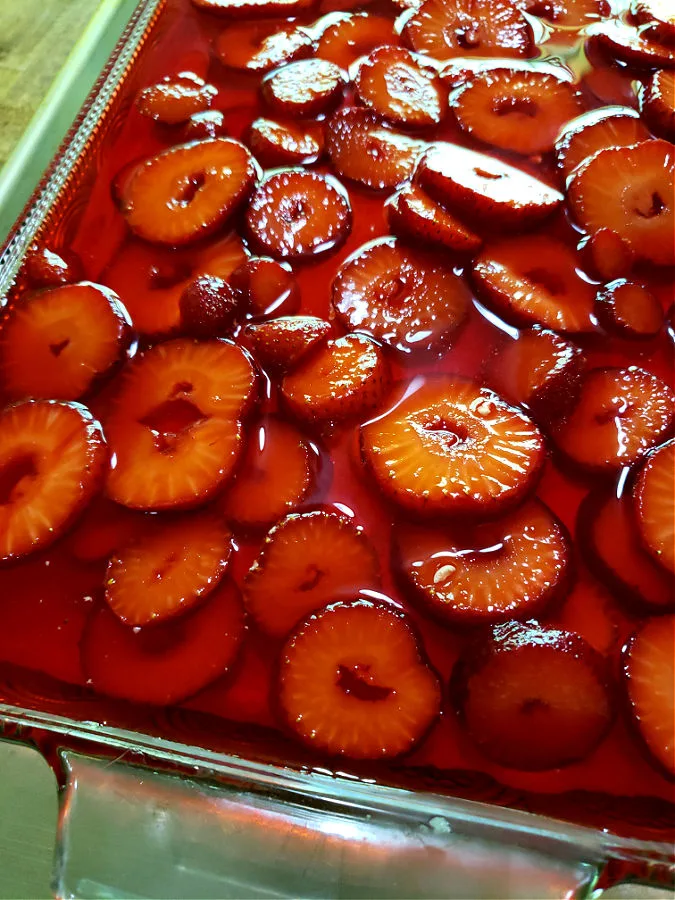 We're ready for the final step, y'all! Are you excited? The beautiful sweet strawberry Jell-O topping is the last and top layer for this nostalgic recipe.
Use a large spoon or ladle to carefully transfer the strawberry mixture spreading it over the cream cheese layer.
TIP: Place the baking dish on a sheet pan so that you can transfer it more easily to the refrigerator. When you get near the top of the dish with the strawberry layer, go ahead and place the sheet pan with the dessert on a shelf in the fridge and finish the top layer there to avoid spills.
All the dessert to chill in the refrigerator until that top layer is set, which will take about four hours. After the strawberry pretzel dessert is set well, you can cover it carefully with plastic wrap and keep it chilled until ready to serve.
When ready to serve, remove the baking dish from the refrigerator and allow it to set out for 15 to 20 minutes. This will make it easier to remove the slices from the pan so that the slightly sticky crust doesn't catch on the pan.
You can also run some hot water over a baking sheet and set the dessert on the warm pan for a couple of minutes, which will also make removing the slices of strawberry pretzel salad a bit easier.
Printable Recipe Card Strawberry Pretzel Salad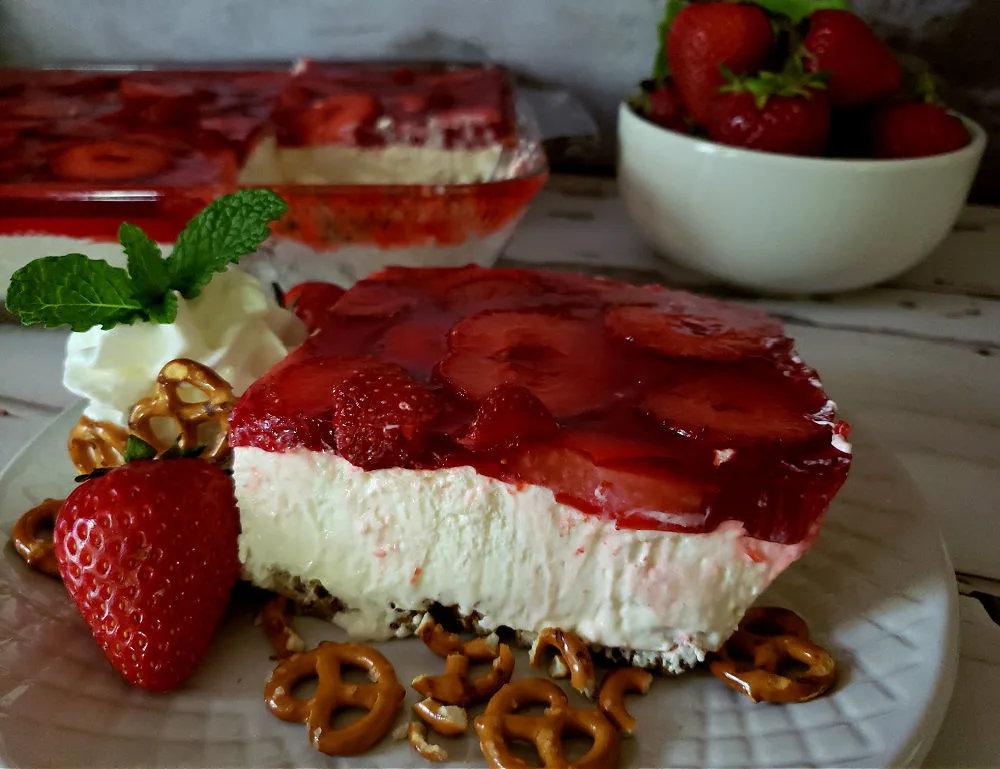 What to serve with Strawberry Pretzel Salad? Y'all, this is gonna become a favorite dessert for you just as it is for me and my family. It is so, so good! Enjoy a slice on its own or serve with whipped cream, homemade or store bought, with a garnish of fresh strawberry and maybe a few mini pretzels. A sprig of mint makes everything pretty if you're serving guests. Totally optional, of course.
You might also with to enjoy this dessert with a bit of ice cream or alongside other sweets. Don't forget the party punch if enjoying with family and friends.
Below you'll find the printable recipe card and I hope that you'll be in your kitchen soon whipping up this delicious dessert.
Yield: 1 Dessert
How to make the Best Strawberry Pretzel Salad Recipe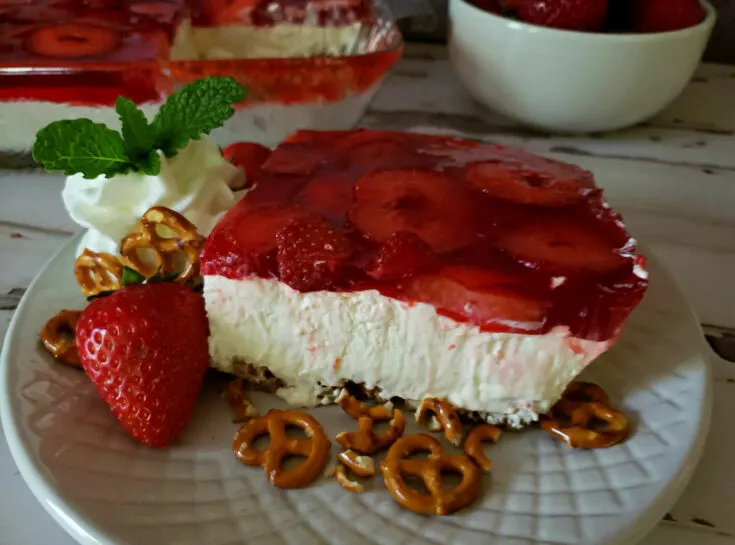 A classic strawberry pretzel salad recipe using fresh strawberries in a beautiful layered dessert consisting of a buttery pretzel crust, a creamy middle layer and a top strawberry Jell-O layer that everyone is sure to enjoy. Serve with whipped cream and a garnish of fresh strawberry for a real Southern treat!
Total Time
4 hours
30 minutes
Ingredients
Layer 1: the bottom layer
2½ cups Salted Pretzels, crushed (measure before crushing, see post for tips)
1 Stick Butter (8 tablespoons)
3 tablespoons Granulated Sugar
Layer 2: the middle layer
8 ounce Cream Cheese, softened to room temperature
16 ounce Cool Whip Extra Creamy Whipped Topping, thawed (this is the large tub or use two of the smaller)
1 cup Granulated Sugar
Layer 3: the top layer
6 ounce Strawberry Jell-O (do not follow package directions)
2 cups Boiling Water
1 pound Fresh Sliced Strawberries
Instructions
The Bottom Crust: Layer 1
Preheat oven to 325°F
Add the crushed pretzels to a medium pot with a stick of butter and 3 tablespoons of sugar. Heat the pot over medium low heat, stirring occasionally, until the butter is completely melted.
Next, transfer the buttery pretzel mixture to a rectangle baking dish (like a 9x13) and use a spatula to spread into an even layer to cover the bottom of the baking dish.
Place into a hot oven and bake for 10 minutes then remove from the oven and allow to cool completely.
Creamy Middle: Layer 2
This step can be completed and chilled until needed or prepare after the 3rd layer has been prepared.
Add the softened cream cheese to a large mixing bowl then use an electric hand mixer on medium speed to beat the cream cheese until fluffy.
Next, add a cup of sugar then use the hand mixer to beat to combine with the cream cheese until creamed together and fluffy.
The next step is to fold in the Cool Whip with the cream cheese mixture.
The pretzel crust layer must be cool before adding the creamy layer. Portion the creamy layer over the pretzel crust and use a spatula to spread the layer evenly over the crust making sure to seal the creamy layer to the edges of the pan to prevent seeping of the top layer, which will make the crust soggy.
Top Strawberry Gelatin: Layer 3
Please note: do not follow the instructions on the box of gelatin.
Bring 2 cups of water to a boil then add the strawberry Jell-O and stir until the gelatin is dissolved. Then, carefully pour the hot Jell-O mixture into a mixing bowl and add the prepared sliced fresh strawberries to the gelatin. Place the bowl into the refrigerator and chill for 30 minutes.
Once chilled, use a large spoon or ladle to add the strawberry and Jell-O mixture on the top of the creamy middle layer. TIP: Place the baking dish on a sheet pan to making transferring it to the fridge easier.
Place the baking dish in the refrigerator and chill for 4 hours, or until the Jell-O has set.
Serving the Strawberry Pretzel Salad
When ready to serve, remove the dessert from the refrigerator and allow to stand at room temperature for 15 minutes. This will help make it easier to remove each portion of the dessert without the crust sticking to the bottom of the dish.
Serve with whipped cream and fresh strawberry for garnish, if desired.
Notes
Please see full post for helpful tips when preparing a Strawberry Pretzel Salad Dessert.
Cover the dessert with plastic wrap once set and keep refrigerated.
Nutrition Information:
Yield:
8
Serving Size:
1
Amount Per Serving:
Calories:

538
Total Fat:

36g
Saturated Fat:

26g
Trans Fat:

0g
Unsaturated Fat:

8g
Cholesterol:

59mg
Sodium:

242mg
Carbohydrates:

53g
Fiber:

2g
Sugar:

48g
Protein:

3g
Popular on the blog
In case you missed it, here are the latest posts
Easy Strawberry Pretzel Salad Recipe
Thank you for stopping by! I am so happy that you did.
Y'all, this Strawberry Pretzel Dessert has been an absolute delight to share with y'all today! The sweet combination of fresh strawberries, creamy goodness, and crunchy pretzel crust in this easy recipe is sure to satisfy any sweet tooth.
So, next time you're in need of a show-stopping dessert that'll have folks hollering for seconds, don't forget to whip up this classic old-fashioned treat.
Before you go, be sure to subscribe to my email list. Subscribers receive a weekly e-newsletter with all of the latest recipes and news here on the blog so that you never miss a thing.
Until next time, love and happy cooking!
Meet Julia
Author of Julia's Simply Southern
Hey Y'all! I'm Julia, the cook and writer behind the recipes here at Julia's Simply Southern. I began my website so that I could share easy to follow recipes that anyone can use to put a home cooked meal on the dinner table. Thanks so much for stopping by!
Follow me on Facebook | Twitter | Instagram | Pinterest | YouTube