In this post I'll be sharing an Easy Strawberry Cobbler Recipe made with locally grown fresh strawberries. It is so delicious and you're gonna love this easy strawberry cobbler!
Y'all know that I love easy dessert recipes and I could not resist sharing one more, made with fresh strawberries, since we are near the end of our local growing season.
This is a great recipe for simple fruit desserts, just switch out the fresh fruit that you are using. For this delicious recipe, however, those perfectly ripe juicy strawberries are the star of the show.
This might just be the best cobbler ever. Just so you know, I say that about all fruit cobblers. I can't help myself.
Strawberry Cobbler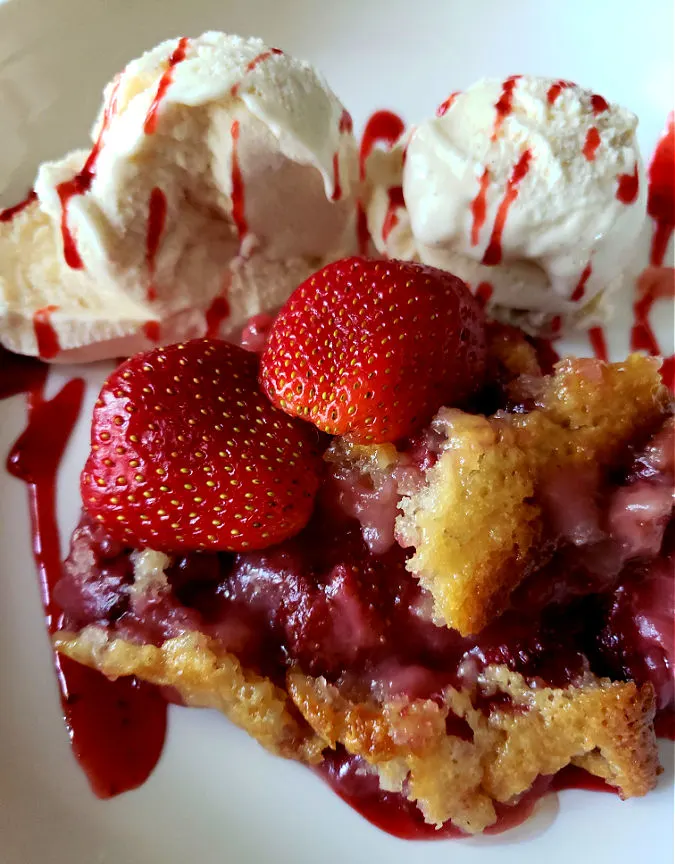 Does that look amazing, or what? Warm strawberry cobbler garnished with a couple of fresh berries served with a big scoop of vanilla ice cream (let's make that two scoops) and drizzled with a little strawberry sundae syrup. Totally amazing!
I enjoyed every single bite of the fresh strawberry cobbler, as did hubs. I packed up the leftovers and sent them over to Daddy's house so they could enjoy some too….and to keep me from eating all of it myself.
What do I need to make Strawberry Cobbler?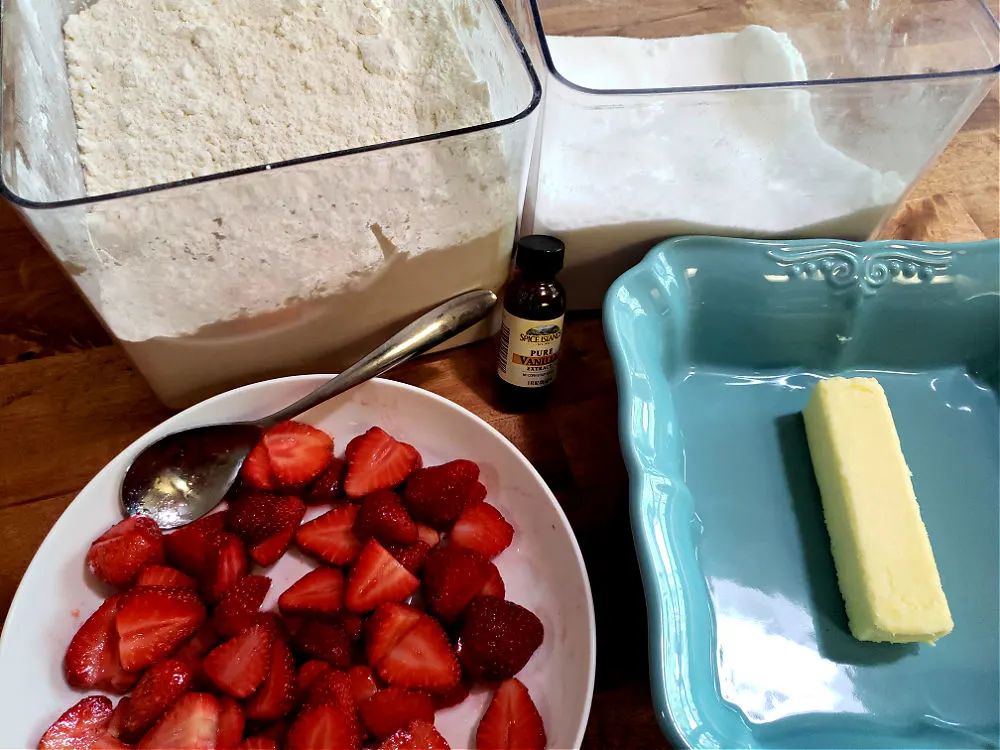 Here's what you'll need to make this delicious dessert:
Fresh Strawberries – in my book there is nothing like fresh locally grown strawberries for this cobbler. Local strawberries are picked when they are the ripest and ready to enjoy. If local berries are not an option for you, however, use frozen from the grocery store.
Butter – a stick of butter always makes a dessert delicious, right? The butter adds wonderful rich flavor to the cobbler.
Sugar – you'll need some white granulated sugar to sweeten the batter as well as adding extra sweetness to the strawberries.
Flour – helps make the batter that bakes up into that cake like cobbler that we all love. I prefer using self-rising flour in this recipe. If you only have all purpose flour on hand then you'll need to add the leavening agents, like baking powder to your dry ingredients.
Milk – for making the batter for the fruit cobbler. I do prefer whole milk for this recipe but you can use what you have on hand.
Pure Vanilla Extract – for flavor.
Optional Ingredient List:
Ice Cream, Sundae Syrup, Extra Fresh Berries (for garnish), Sprinkles, Whipped Cream, and any other toppings you might enjoy with cobbler.
How to make this Easy Cobbler Recipe?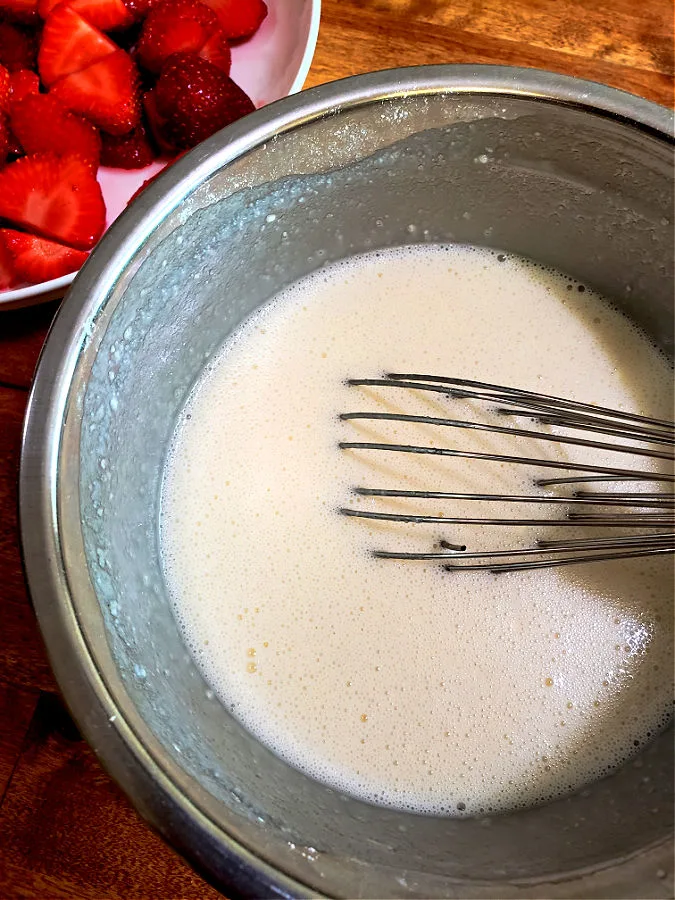 The first step for making a delicious strawberry cobbler is to prepare the strawberries by cleaning them, removing the stems and slicing them up.
Next, place the sliced strawberries into a small bowl and sprinkle with a tablespoon of sugar. Cover the bowl with plastic wrap and refrigerate for at least one hour. The sugar will add extra sweetness to the berries and draw out some of the juices to make a natural syrup for the cobbler.
When you are ready to prepare the cobbler, place a stick of room temperature butter into a square baking dish then pop it into the oven while it preheats.
Prepare the batter while the oven pre-heats by adding the cup of flour, cup of sugar and cup of milk to a large bowl and whisk them together to combine. Next, add the vanilla and give the batter a stir to combine.
Easy Steps for Fruit Cobbler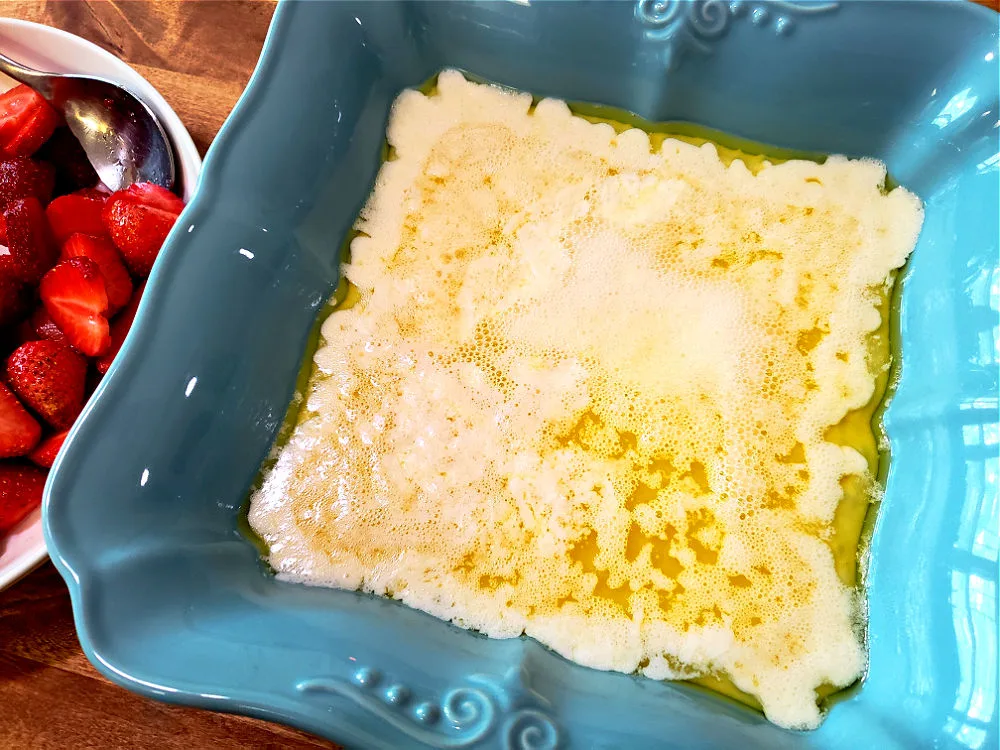 Use oven mitts to carefully remove the hot baking dish from the oven. The butter should be perfectly melted.
Pour the batter into the baking dish with the melted butter. Do not stir.
If this is your first time making a cobbler, it may be tempting to stir the batter and butter together, but you do not want to do that.
The Sweet Strawberries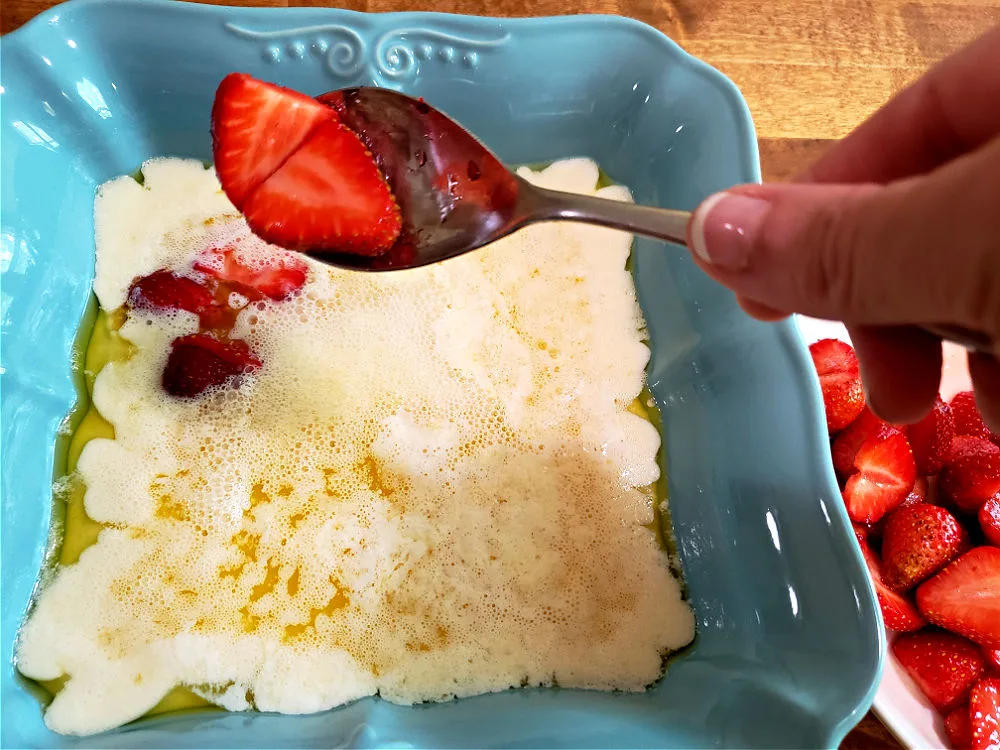 Now, it is time for the strawberry layer. Use a spoon to transfer the macerated (strawberries brined with a small amount of sugar) strawberry mixture into the baking dish on top of the batter. Drizzle any juices released from the berries into the batter too.
Once again, as tempting as it may be, do not stir everything together. Place your cobbler into the hot preheated oven.
Bake until Golden Brown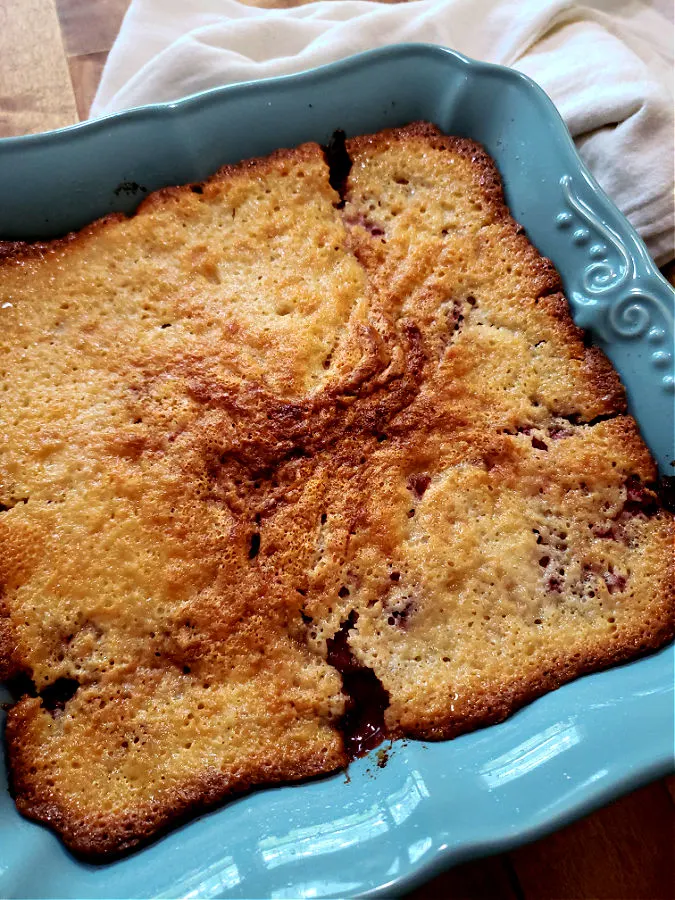 Bake the strawberry cobbler until golden brown, which takes about forty five minutes. The cobbler will bake up and around the strawberries.
Allow the cobbler to cool down a bit before serving and get ready to enjoy one of your favorite summer desserts. Do y'all just want all the strawberry things during strawberry season like I do?
The Best Homemade Strawberry Cobbler Recipe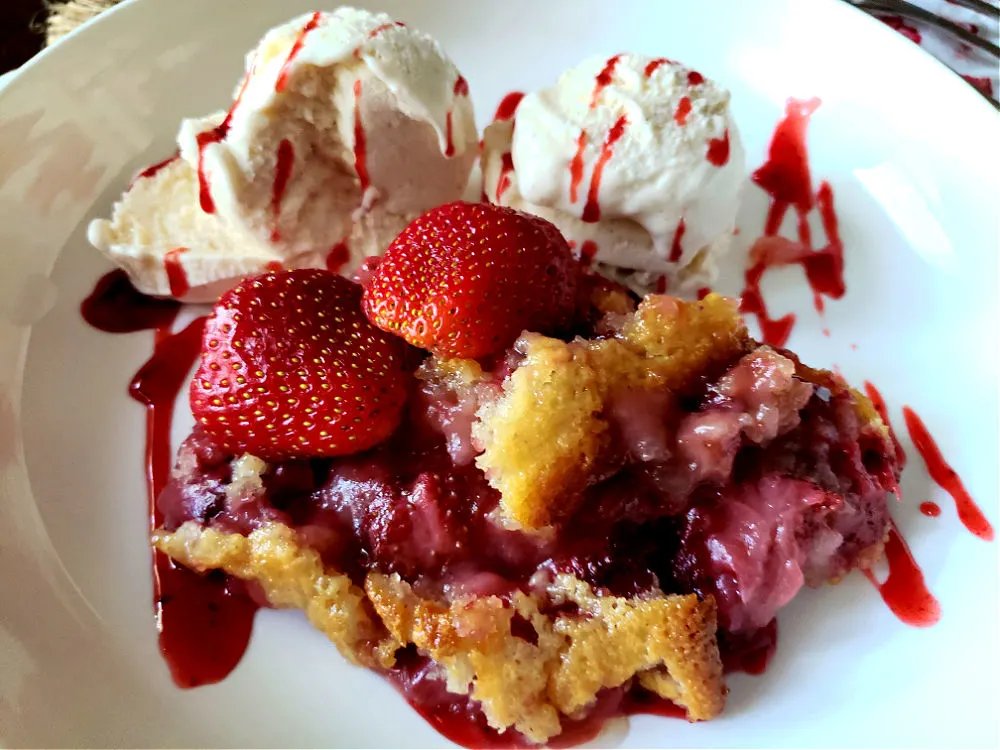 What to serve with Strawberry Cobbler?
This is one of my favorite strawberry recipes! Let me tell you how I like to serve it.
First, add a drizzle of some strawberry sundae syrup to the bottom of a serving bowl. I bet chocolate syrup would be good too but I haven't tried that yet.
Next, add a helping of your strawberry cobbler. I love a little vanilla ice cream with a sweet cobbler, but that is optional of course.
After I add the ice cream to the bowl, I add a little bit more of the sundae syrup over the ice cream.
If you have any leftover strawberries that you didn't use in the cobbler, add one to garnish your wonderful home baked dessert and enjoy!
If you'd like whipped cream or sprinkles then go ahead and add those too. This easy strawberry cobbler recipe is great served with a glass of cold milk, ice cold water or a fresh cup of coffee too.
Printable Recipe Card
Yield: 1 Baked Dessert
Easy Strawberry Cobbler Recipe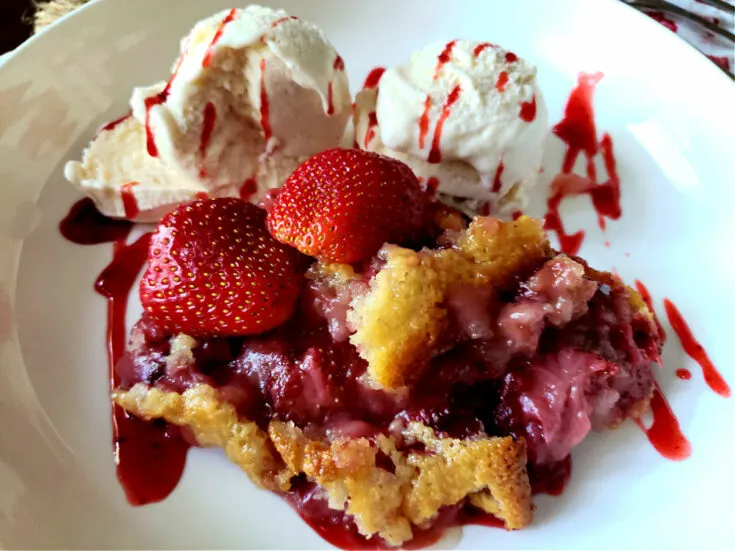 You'll love this easy strawberry cobbler made with the freshest strawberries of the growing season. This amazing recipe is so delicious on its own or enjoy with a little vanilla ice cream for an extra special treat.
Total Time
1 hour
55 minutes
Ingredients
1 pound Fresh Strawberries, sliced
8 tablespoons of Butter (1 stick, I used salted)
1 cup plus 1 tablespoon Granulated Sugar, divided
1 cup Self-Rising Flour
1 cup Whole Milk
1 teaspoon Vanilla Extract
Instructions
Place the prepared strawberries in a small bowl and sprinkle with a tablespoon of sugar, stir, and cover with plastic wrap and refrigerate for 1 hour.
Preheat oven to 350°F (180°C)
Place a stick of butter into a square baking dish then place it into the oven while the oven preheats to melt the butter.
Prepare the batter: use a mixing bowl; add a cup of sugar, with the flour and milk and whisk to combine. Next, add the vanilla and stir to combine.
Use oven mitts to carefully remove the hot baking dish with melted butter from the oven.
Pour the batter mixture into the melted butter; Do Not Stir.
Spoon the sweetened strawberries and any juices released on top of the batter evenly. Do not stir.
Carefully place the hot baking dish back into the oven and bake the cobbler 45 to 55 minutes or until golden brown.
Allow the cobbler to cool slightly before serving (may also be served cold). Serve with vanilla ice cream, strawberry sundae syrup, whipped cream and other favorite toppings, if desired.
Notes
Refrigerate leftovers.
See full post for additional details and alternative suggestions.
Recommended Products
As an Amazon Associate and member of other affiliate programs, I earn from qualifying purchases.
Nutrition Information:
Yield:
8
Serving Size:
1
Amount Per Serving:
Calories:

201
Total Fat:

13g
Saturated Fat:

8g
Trans Fat:

0g
Unsaturated Fat:

4g
Cholesterol:

34mg
Sodium:

291mg
Carbohydrates:

19g
Fiber:

2g
Sugar:

6g
Protein:

3g
Popular Recipes
Thank you so much for stopping by! I am so glad that you did. I hope that you get a chance to enjoy this easy strawberry cobbler recipe while your local fresh strawberries are in season.
Be sure to subscribe to my email newsletter while you are here. Subscribers receive a weekly newsletter via email with the latest recipe and news here on the blog so that you never miss a thing.
Until next time, love and happy cooking!
Meet Julia
Author of Julia's Simply Southern
Hey Y'all! I'm Julia, the cook and writer behind the recipes here at Julia's Simply Southern. I began my website so that I could share easy to follow recipes that anyone can use to put a home cooked meal on the dinner table. Thanks so much for stopping by!
Follow me on Facebook | Twitter | Instagram | Pinterest | YouTube