In this post I'll be sharing the Best Turkey Sandwich Recipe with Pear.
Y'all know that I love good food just like you do and that's why I've got to tell you about this incredibly good turkey sandwich. A great sandwich!
It is absolutely amazing and has lots of flavor happening in every delicious bite. I'd say that this is the ultimate turkey sandwich for fall!
Just to be clear we're not talking about the classic leftover turkey sandwich with Thanksgiving leftovers, although that one is a must have for your turkey sandwich recipe collection.
The Thanksgiving turkey sandwich uses hot turkey, white bread, leftover stuffing, cranberry sauce and maybe some gravy to create a wonderful sandwich.
The sandwich that I'm sharing with y'all, however, can be easily enjoyed any day of the year and is so easy to make at home. An easy recipe for your own homemade gourmet turkey sandwich just like you might find in the sandwich delis, like Panera, that we all love but better and a whole lot less expensive.
Autumn Turkey Sandwich with Pear and Cranberry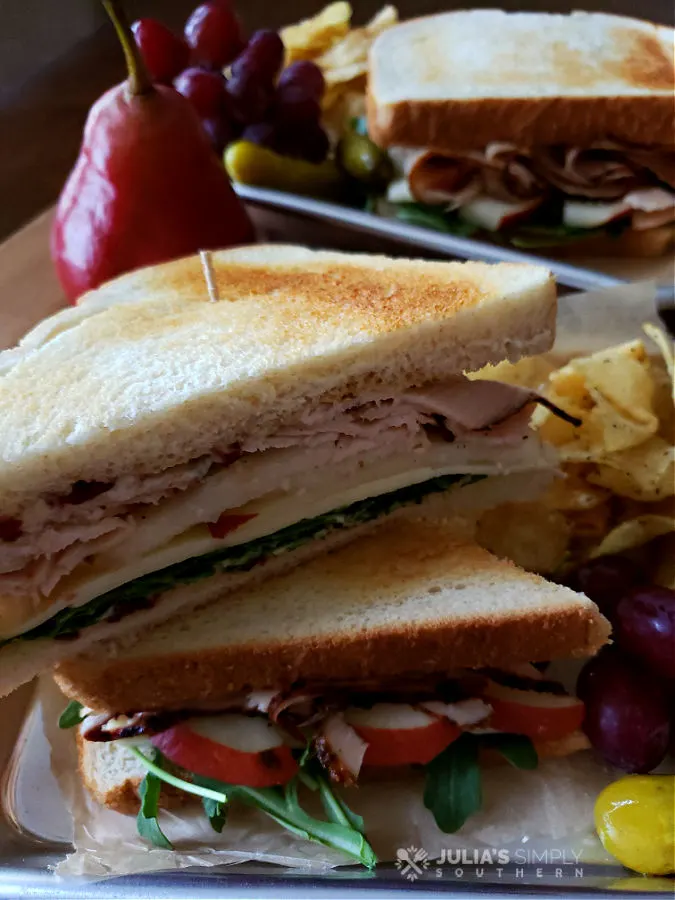 Doesn't that turkey sandwich look amazing? I'm smacking my lips thinking about how amazing the flavors are in this sandwich. It will not be long before I'm serving these up for lunch again!
The turkey, spicy arugula, sweet pear slices and white cheddar work so well together on this sandwich with the tasty homemade spread.
The hubs (Sparky) told me that he would have never ordered that sandwich while eating out to try but ended up finding it totally delicious.
I'll confess that this is a hearty sandwich too. We could each only eat a half so it is perfect for sharing unless you're really hungry.
I packed up the leftover sandwich halves and put them in Sparky's work lunch cooler the next day so he could enjoy them for lunch.
Turkey Sandwich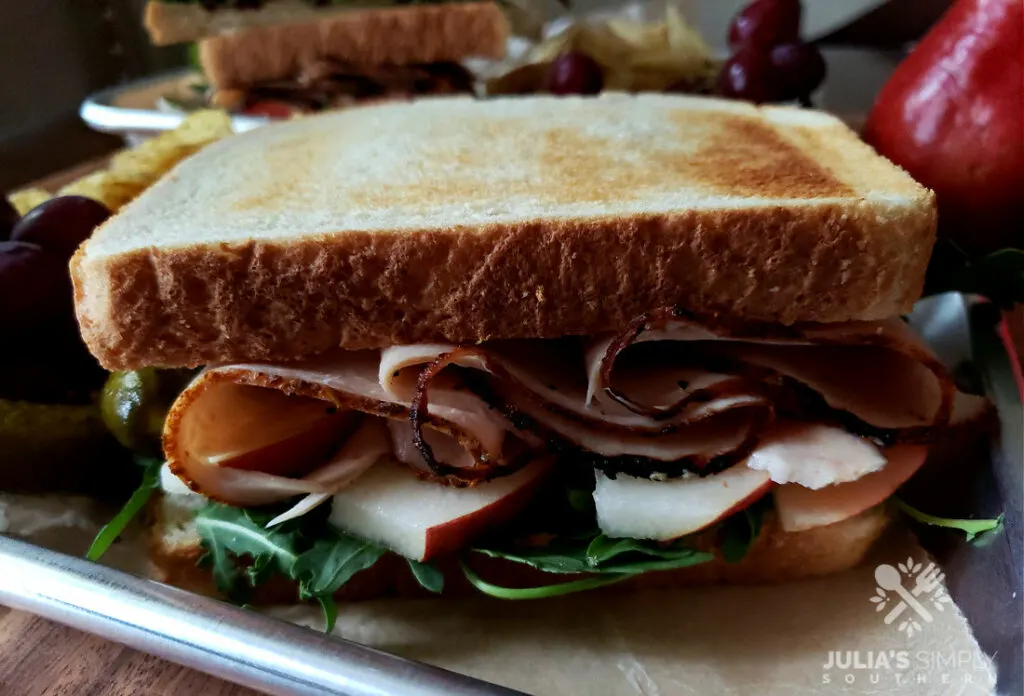 Just by the looks of it, that this is the perfect way to prepare an autumn inspired turkey sandwich. I love that pop of seasonal color from the red pear slices.
What are some of your favorite turkey sandwich recipes? Leave me a comment, I'd love to hear about them.
Best Turkey Sandwich Recipe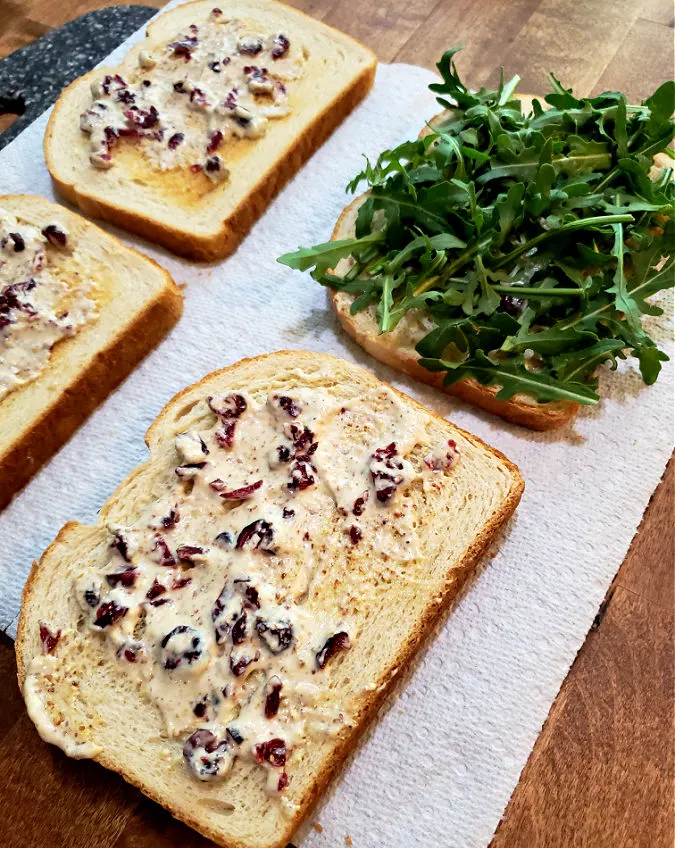 What you'll need to make this amazing autumn turkey sandwich:
Slices of Bread (2 per sandwich) – the best bread for a turkey sandwich is the one that you like the best. I had a loaf of sourdough on hand and that is what was used for our sandwiches. Toasted golden brown, of course. Plain white bread works too if that is what you have on hand as well as whole wheat bread or a multi grain bread.
Deli Turkey – I love turkey breast for sandwiches and the Boar's Head blackened turkey breast happens to be my all time favorite. It is not only delicious but seems to stay fresher once you bring it home from the grocery store deli longer. So, the blackened turkey is what I recommend because that kick of heat works so well with the sweeter elements of this sandwich to create the most amazing flavors.
Arugula – I really love the peppery taste of arugula and it is so good for you. Feel free to use lettuce leaves if preferred.
Cheese – what cheese goes with turkey? Well, just about any of them really. I went for slices of sharp white cheddar cheese because it pairs perfectly with the flavors of the thins slices of ripe pear. Other popular options to consider would be pepper jack, swiss, gouda, or provolone.
Pear – beautiful sweet ripe pear slices add the perfect addition of fall inspired flavor to this turkey sandwich. Apple slices would also work if you prefer the apple over pear.
The Cranberry Spread – you could call it a cranberry aioli if you wanna be fancy pants about it but I'll stick with spread. The spread is an easy mix of mayonnaise, Dijon mustard and chopped dried cranberries. The cranberries add another element if autumn flavor tot he sandwich. The cranberries also add sweetness to balance the spicy flavors of the turkey and arugula.
Why you'll love this sandwich? Besides the amazing flavors in this homemade gourmet sandwich, you can totally customize it to suit your own tastes.
Classic Turkey Sandwich with Fall Flavors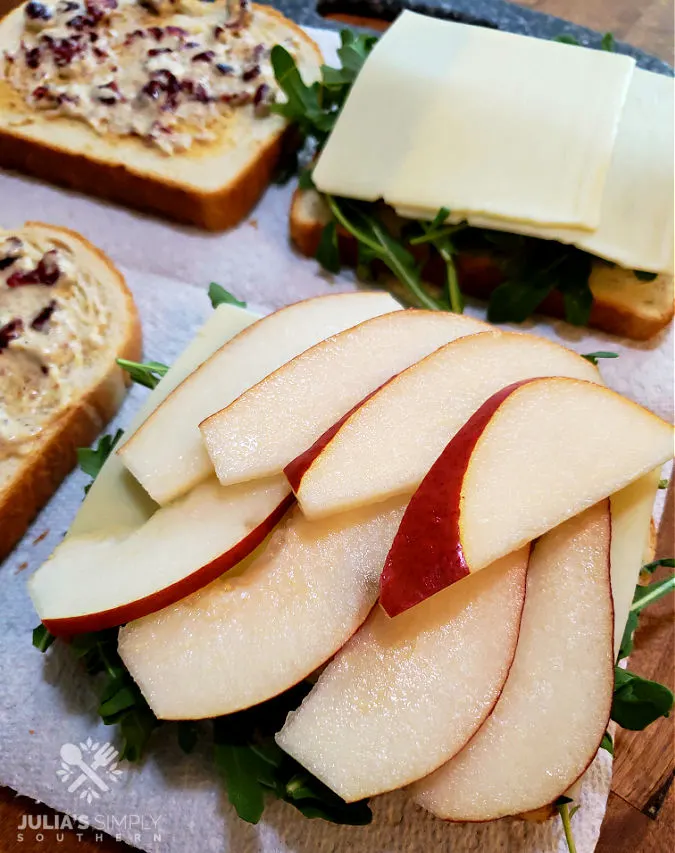 What condiments do you put on a turkey sandwich? It depends on the sandwich. The homemade spread for this particular recipe. Other options would include mayonnaise, any type of mustard, a cream cheese spread or avocado spread.
Let's build our sandwich, shall we?
Arrange the toasted sourdough slices on your work area. Begin by dividing the cranberry spread to the inner side of each slice of bread then spread it to cover the bread slice.
Next, add some of the peppery arugula greens to what will be the bottom half of the sandwich then top the greens with the slices of white cheddar cheese.
The next layer of flavor are the slices of red pear. Arrange the pear slices on top of the cheese layer. By the way, I used one pear to make both sandwiches. If you plan to make more than two sandwiches, plan on a half of a pear per sandwich in your recipe planning.
Easy Gourmet Sandwich at Home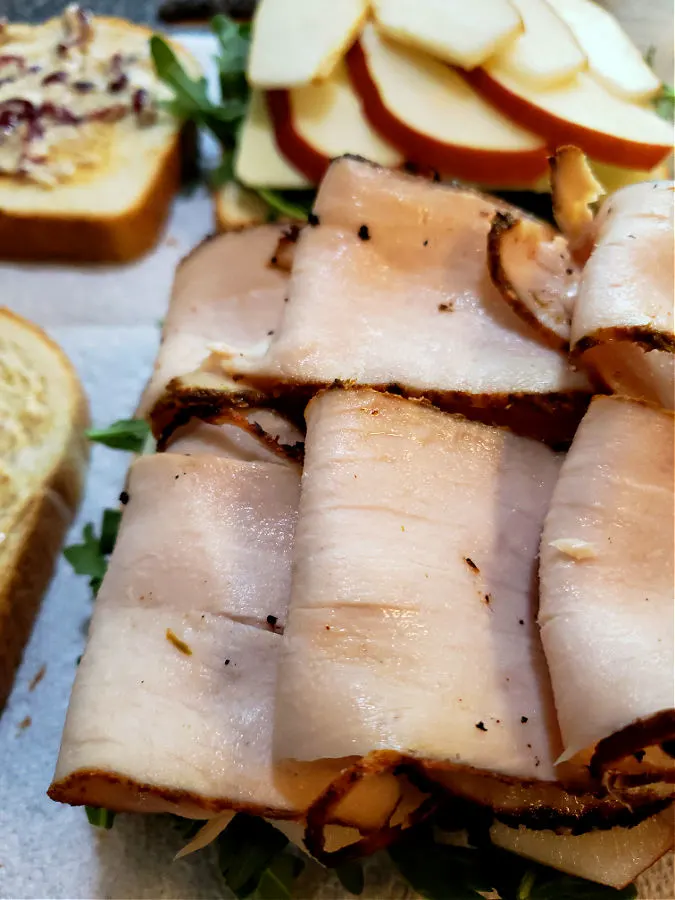 Next we'll add a layer of those perfectly seasoned blackened turkey slices (oh man, oh man are they good). The blackened turkey has a nice kick to it but if you consider yourself to be sensitive to spicy foods then just use roasted turkey slices instead.
If you don't mind the kick of heat and have never tried the blackened deli turkey then I highly recommend it. You'll love it!
Delicious Autumn Brunch Recipes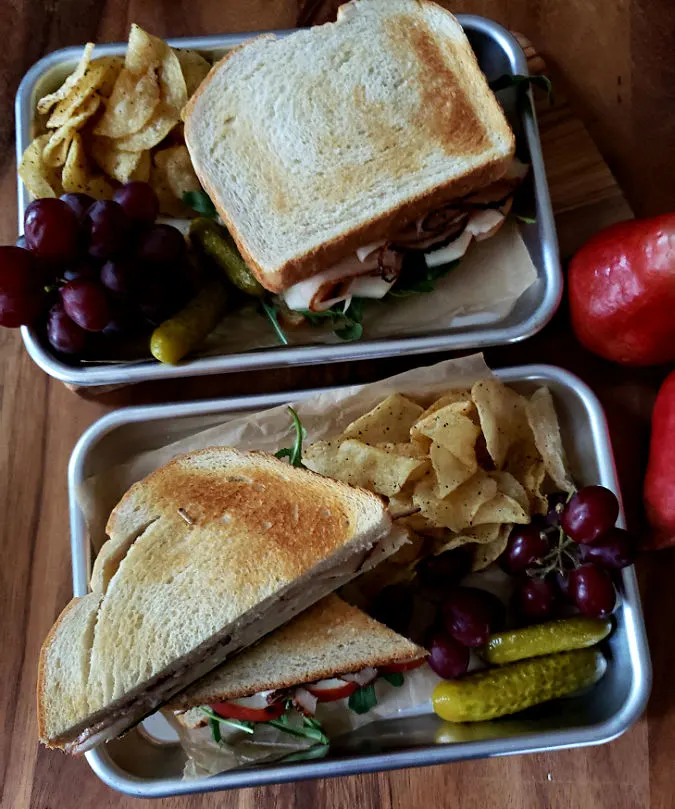 Finally, place the top half of the bread on the sandwich. Cut the sandwich in half and transfer it to your serving plate along with your favorite sides.
Let's talk about the right way to cut a sandwich in half. At our house it must be diagonally. Anything other than sandwich triangles and I'm giving you the stink eye (followed by a smile).
I'm teasing of course. You can cut your sandwich however you like….just as long as it is diagonally in triangles.
Simple Turkey Sandwich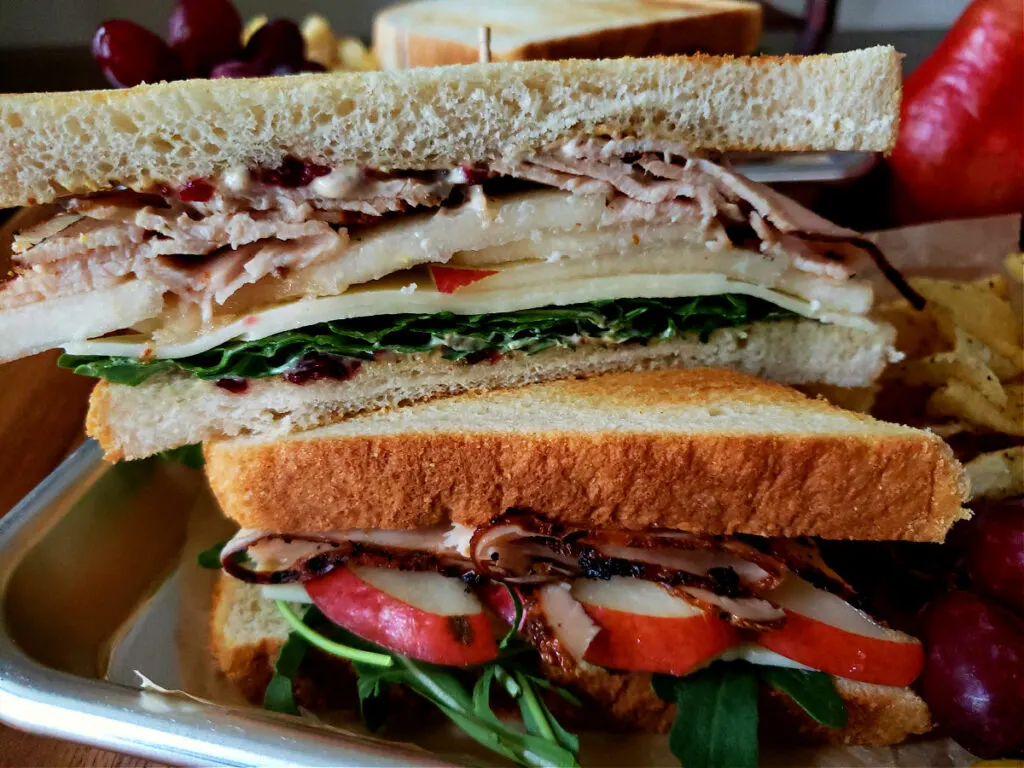 What to Serve with a Turkey Sandwich?
Let me tell you, friend, that this sandwich is plenty of food all on its own but I like to have a few sides to enjoy with it. I served up our autumn turkey sandwiches with some chips, a few grapes and a couple of mini dill snack pickles.
Other sides that are great to serve with your sandwiches include fries, coleslaw or a salad, deli style pasta salads or potato salad, other fruits or a hot cup of soup.
Soup and half of a tasty sandwich is my favorite lunch during cooler months.
Best Turkey Sandwich Recipe with Pear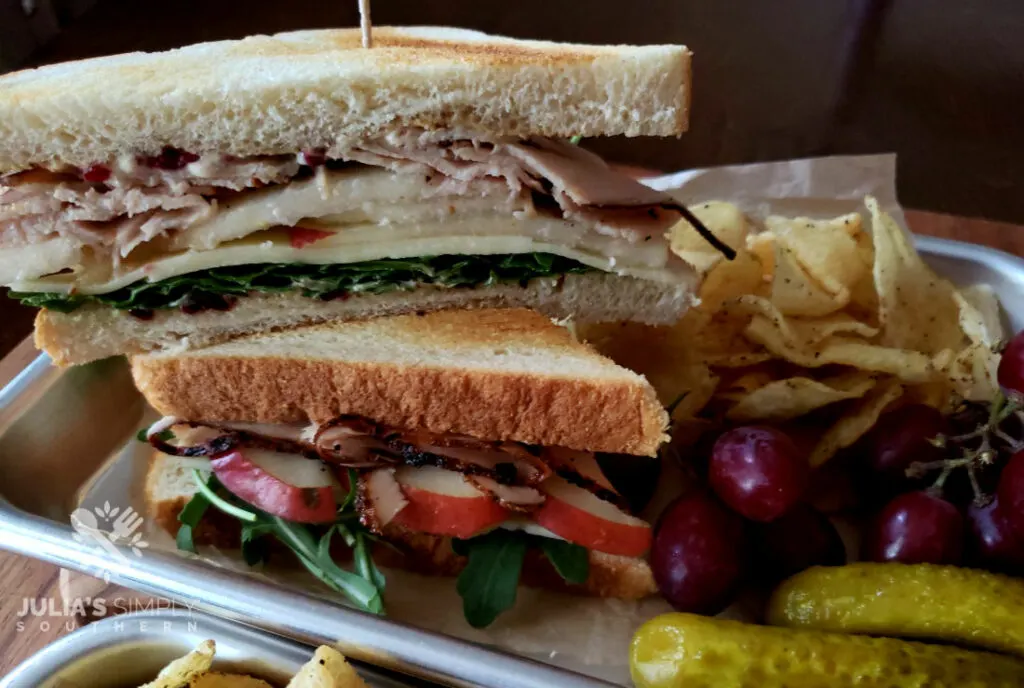 Below you will find a printable recipe card with the simple ingredients needed to create the best turkey sandwich with pear. You'll also find the turkey sandwich calories in the nutritional information guide.
Yield: 2 Sandwiches
Autumn Turkey Pear Sandwich Recipe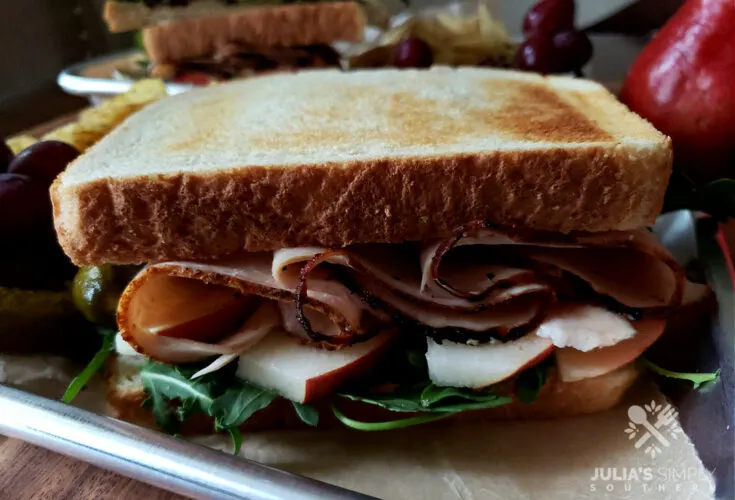 Get ready to experience the BEST turkey sandwich with all of the flavors of fall with cranberry and fresh pear. This sweet and spicy sandwich is so delicious and makes it easy to enjoy a gourmet sandwich at home.
Ingredients
Turkey Sandwiches
4 Slices of Sourdough Bread, toasted
¼ cup of Cranberry Sandwich Spread
8 ounces Arugula Greens
4 Slices of White Cheddar Cheese
1 Red Bartlett Pear (cut in half, cored and sliced thin)
8 ounces Sliced Blackened Deli Turkey (I used Boar's Head)
Cranberry Sandwich Spread
2 tablespoons Mayonnaise (I used Duke's)
1 tablespoon Stone Ground Dijon Mustard
¼ cup Dried Cranberries, chopped
Instructions
In a small bowl, combine the mayonnaise, Dijon mustard and chopped dried cranberries to make the spread then divide the spread among the 4 toasted slices of bread. Use a dinner knife to spread the cranberry sandwich spread over the bread slices.
Next, add some of the arugula greens to the bottom half bread slice of each sandwich followed by the cheese slices, thinly sliced pear and a final layer of the blackened deli turkey.
Top the sandwich with the other half of toasted bread, cut on the diagonal, and transfer to a serving plate.
Serve with your favorite sides.
Notes
See full post for more detailed suggestions on alternative ingredients and side choices.
Recommended Products
As an Amazon Associate and member of other affiliate programs, I earn from qualifying purchases.
Nutrition Information:
Yield:
2
Serving Size:
1 sandwich
Amount Per Serving:
Calories:

630
Total Fat:

34g
Saturated Fat:

13g
Trans Fat:

1g
Unsaturated Fat:

17g
Cholesterol:

124mg
Sodium:

164mg
Carbohydrates:

52g
Fiber:

11g
Sugar:

31g
Protein:

34g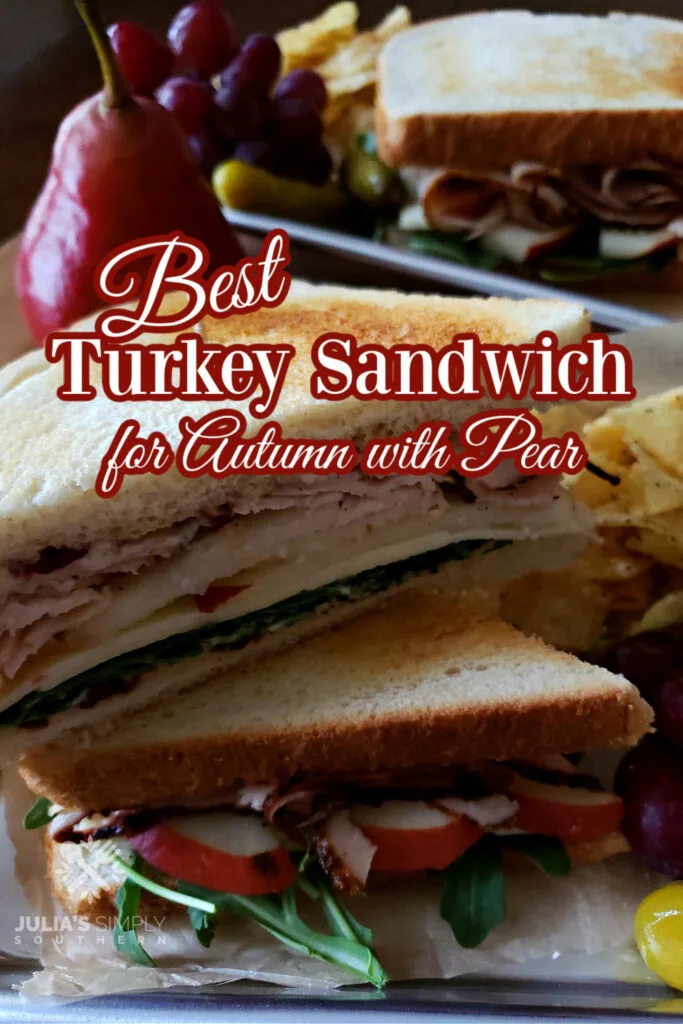 If you like this Best Turkey Sandwich Recipe with Pear…
More Sandwich Ideas
Thank you so much for stopping by! I am so glad that you did. I know that you'll love this amazing turkey sandwich with the wonderful flavors of autumn just as much as we do.
Be sure to subscribe to my email list while you're here so that you never miss the latest recipes. As a subscriber, you will receive a weekly newsletter via email from me with the latest recipes and news here on the blog.
Meet Julia
Author of Julia's Simply Southern
Hey Y'all! I'm Julia, the cook and writer behind the recipes here at Julia's Simply Southern. I began my website so that I could share easy to follow recipes that anyone can use to put a home cooked meal on the dinner table. Thanks so much for stopping by!
Follow me on Facebook | Twitter | Instagram | Pinterest | YouTube