In this post I will be sharing and easy canned turkey stuffing casserole Thanksgiving dinner recipe. You could of course have it anytime of the year too.
Well, y'all, can you believe it's that time of year again? Thanksgiving is just around the corner, and I can already smell the wonderful aromas of a traditional feast filling my kitchen.
But you know what, darlin'? Sometimes life gets a little crazy, and we don't always have the time or energy to cook up a big ole turkey with all the fixins.
Perhaps it is just you, two, or a few mouths to feed this year. Or, maybe the budget is really tight right now. I've got you friend!
That is where my canned turkey, gravy, and stuffing Thanksgiving dinner casserole comes to the rescue!
It is a down-home, comforting dish that will have your family and friends raving, and you won't believe how easy it is to put together.
So, grab your apron, and let's whip up a taste of Thanksgiving goodness that'll have you saying, "Bless your heart, Julia!"
Easy Thanksgiving Dinner for Two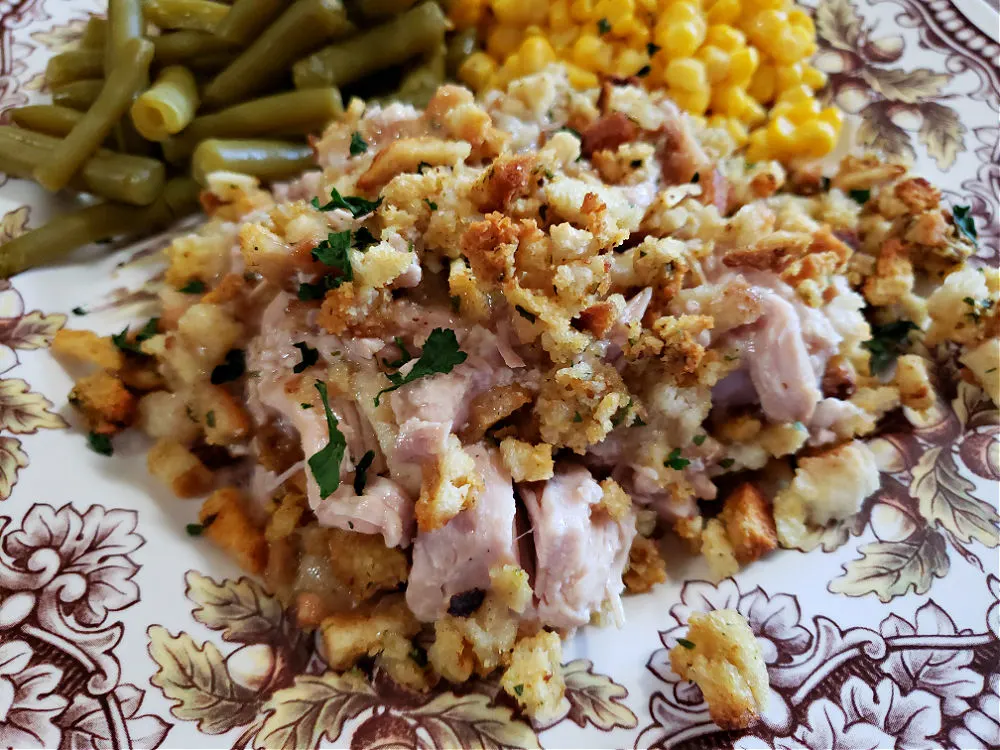 What to Serve with Canned Turkey Stuffing Casserole?
Oh, honey, I've got some budget-friendly and fuss-free side options that'll pair perfectly with your turkey and stuffing casserole! Let's keep it simple and delicious (cost friendly too):
And don't overlook the humble and delicious boxed macaroni and cheese as an option.
These sides are not only budget-friendly but also easy to prepare, leaving you with more time to enjoy the company of your loved ones and savor that delicious turkey and stuffing casserole.
Alternative Thanksgiving Meals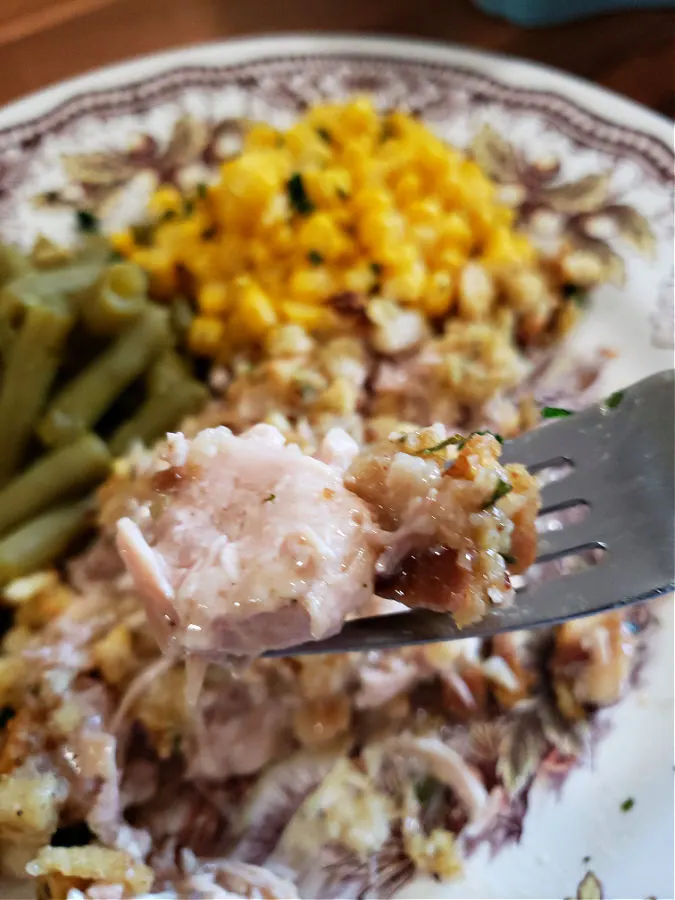 The moist turkey with the gravy and stuffing topping deliver the perfect bite for a taste of Thanksgiving on turkey day or any day throughout the year.
This is seriously so simple that is sure to become a favorite when you're craving a taste of the holidays and the whole family will love it.
Cheap and Easy Thanksgiving Dinner in Under 1 Hour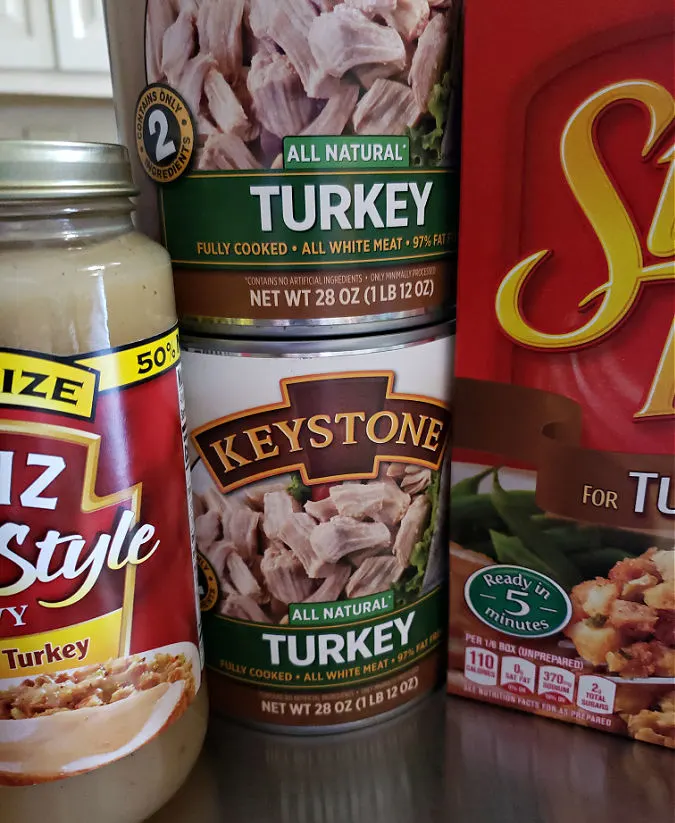 Here are the simple ingredients that you'll need to prepare this delicious turkey stuffing casserole:
Canned Turkey: I used the Keystone brand, all natural canned turkey breast because that is what was available at my local grocery store. There are other brands that may be available depending on where you live. You could also easily use canned chicken if you don't have turkey meat on hand.
Salt and Black Pepper: seasoning, to taste.
Jar of Roasted Turkey Gravy: adds flavor and keep the turkey meat moist.
Stove Top Stuffing: any flavor that you want. I went with "turkey". The stuffing provides the topping for the casserole and keeps the meal super easy. If you prefer, you could certainly make your own cornbread stuffing, either to top the casserole, or serve on the side with the turkey served on top.
Melted Butter: to moisten the stuffing mix and add flavor.
Chicken Stock: to moisten the stuffing mix.
Keystone All Natural Canned Turkey Breast Meat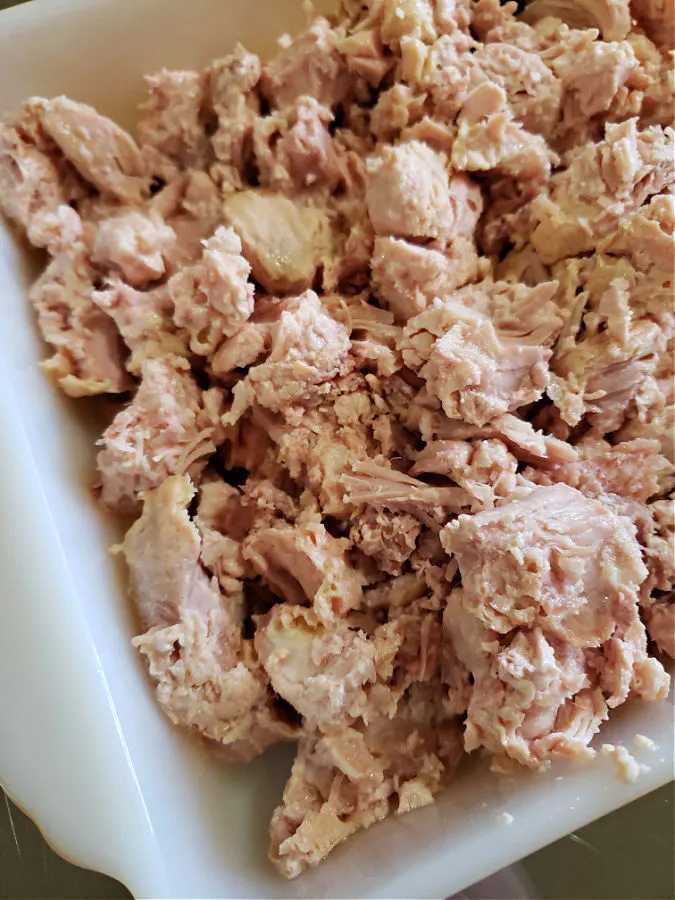 The first thing to do is preheat your oven. Next, drain the canned turkey meat and add it to a casserole dish. I used a square baking dish.
Use a fork or spoon and break up the turkey breast meat so that it is evenly spread over the bottom of the casserole dish.
Easy Turkey Casserole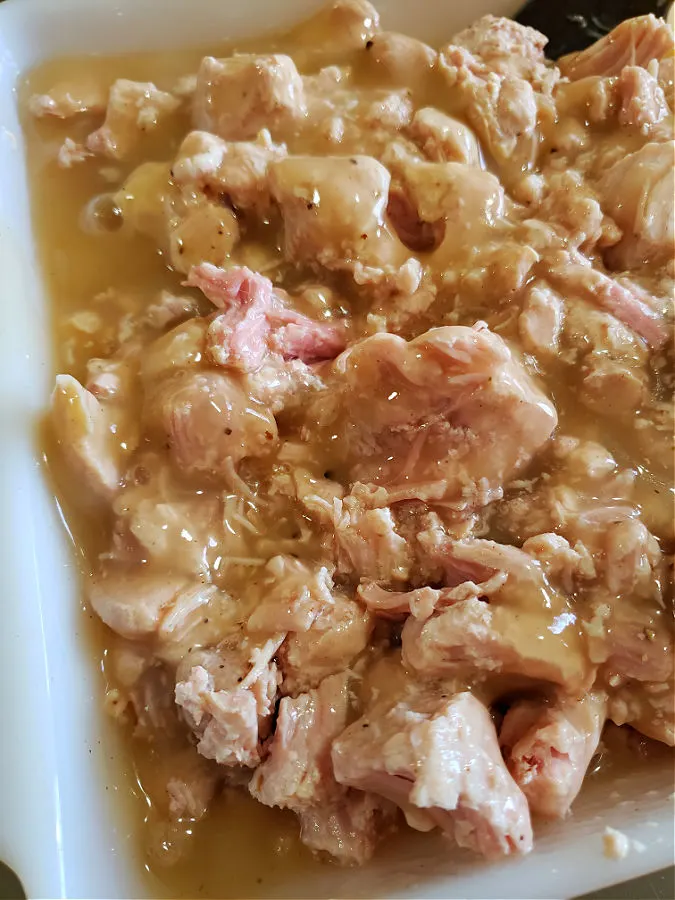 Next, pour the jar of turkey gravy over the meat. Gently stir to ensure that all of the turkey is coated with some of the gravy.
Stuffing Casserole Recipe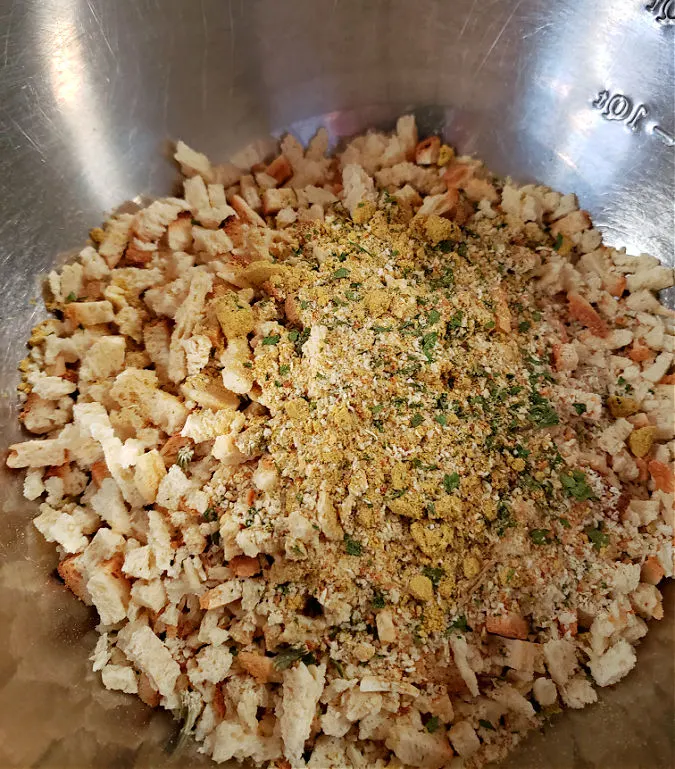 The next step is to add the package contents of the Stove Top stuffing to a small mixing bowl. Do not prepare the stuffing mix according to the package directions.
All the Flavors of Thanksgiving Dinner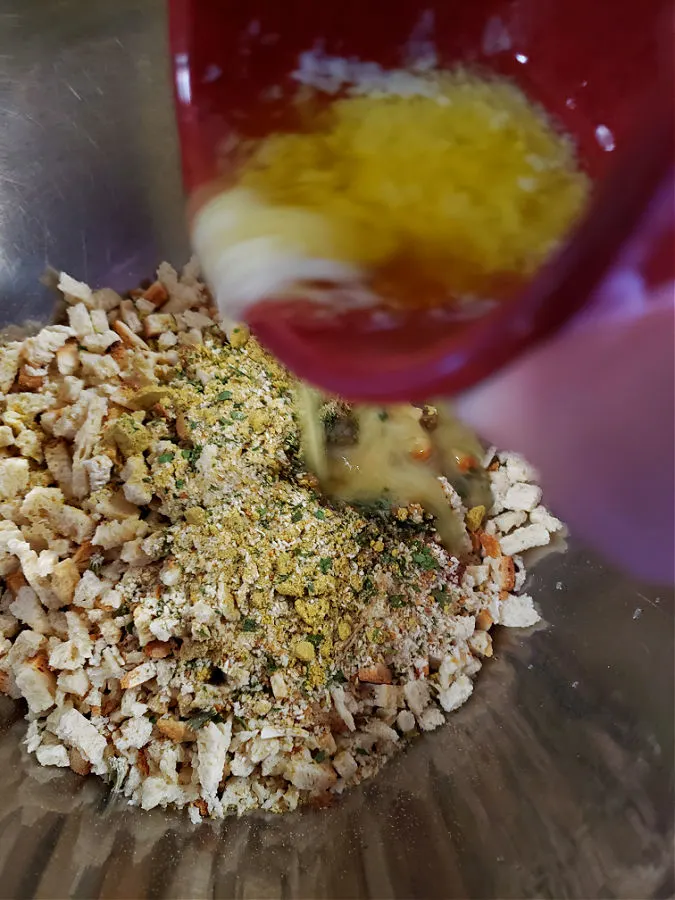 Pour some melted butter over the stuffing mix and gently stir.
New Favorite Casserole for Super Easy Thanksgiving Dinner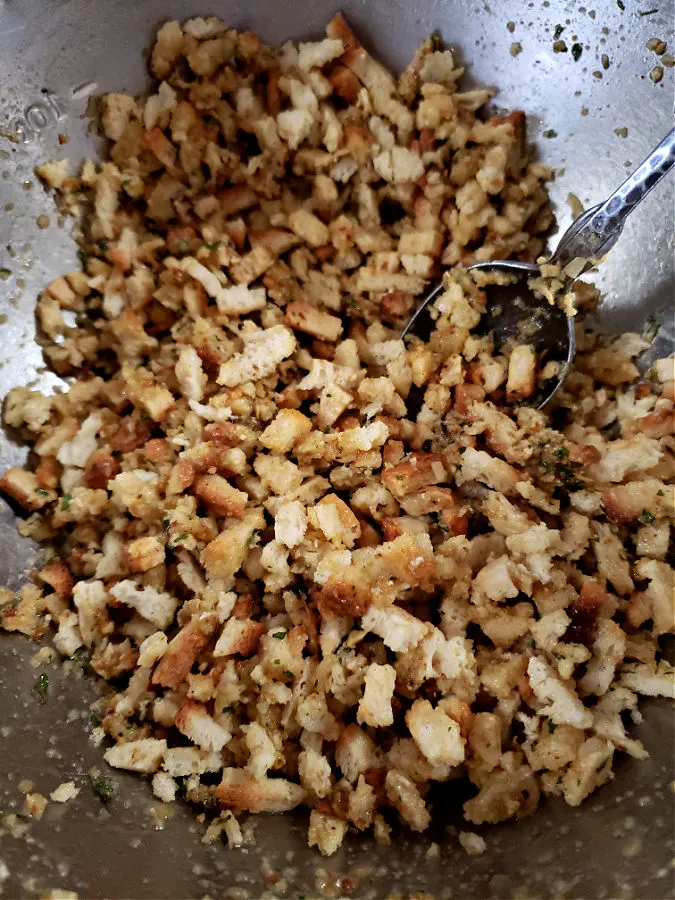 Next, add some chicken stock, or broth, and stir until the stuffing mixture is moistened.
Turkey and Gravy Casserole with Crunchy Stuffing Topping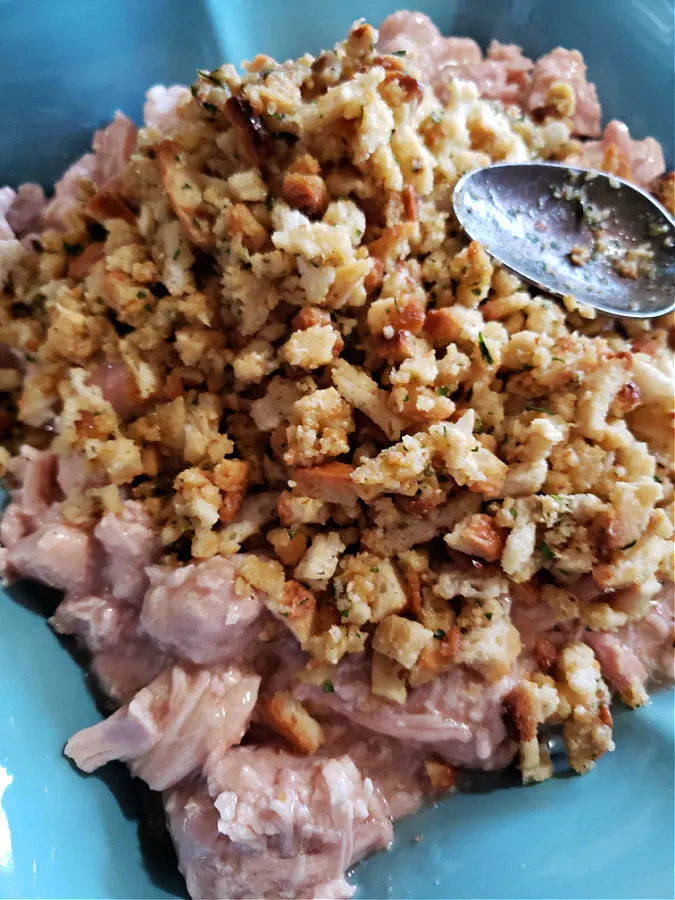 Transfer the Stove Top mixture into the casserole dish on top of the turkey and gravy layer and spread evenly over top.
Then it is into the hot oven to bake until golden brown and the casserole is hot and bubbly.
Into the Oven to Bake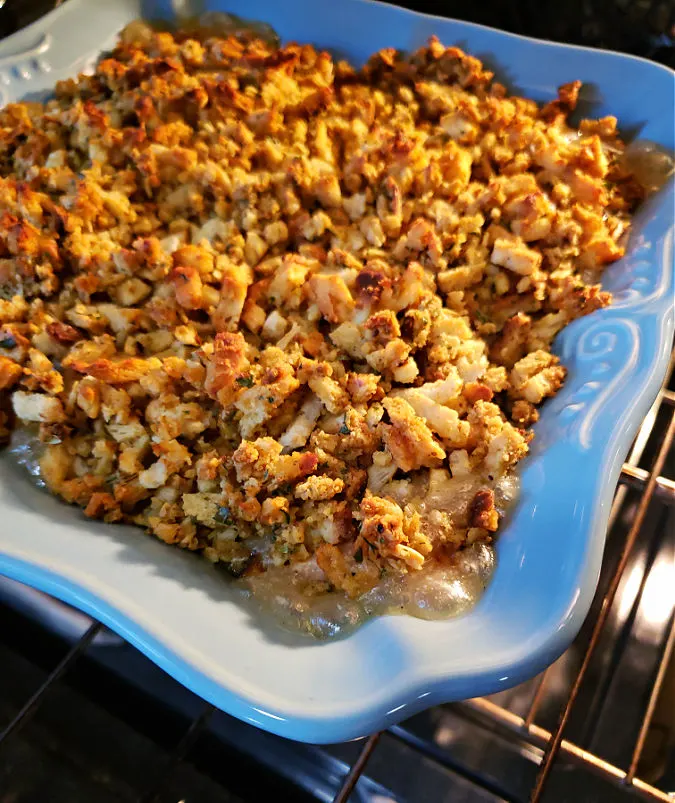 Below you will find the printable recipe card for this canned turkey stuffing Thanksgiving dinner recipe.
One last thought, friend, is that I've seen plenty of recipes on the web to create a casserole out of Thanksgiving leftovers. You can certainly do that.
This recipe however is to create a meal that is not expensive and is easy to accommodate an intimate group of people for Thanksgiving dinner.
It is an easy meal that is absolutely delicious and leftover can easily be re-heated and enjoyed the next day too.
Yield: 1 Casserole
Easy Canned Turkey Stuffing Casserole Recipe for Thanksgiving Dinner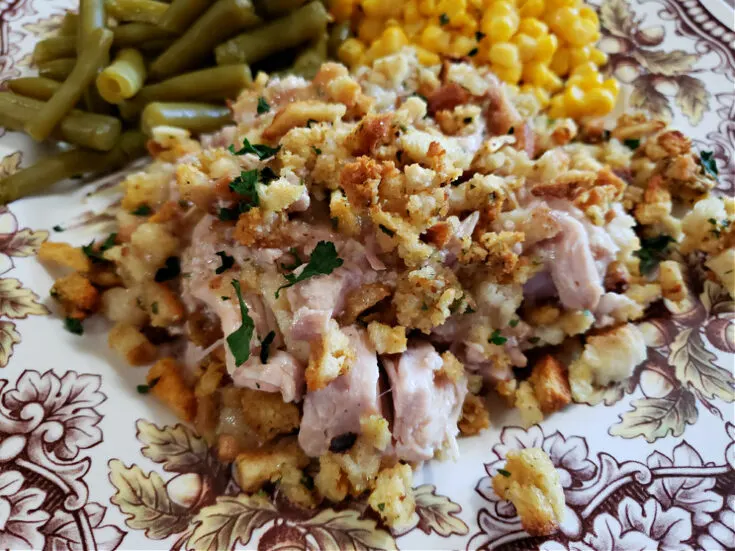 Get ready to savor the flavors of the holidays with this super easy turkey and stuffing casserole that is made with canned turkey meat. This simple Thanksgiving dinner recipe is perfect for one, two, three, or four people. It is also budget friendly giving you a holiday dinner for less than $20.00. Perhaps, best of all, it is ready in under an hour. Serve this tasty casserole with a side or two and you've got yourself a delicious dinner.
Ingredients
2 - 28 ounce Canned Turkey Meat (I used Keystone brand)
Salt and Black Pepper, to taste
18 ounce Jar Roasted Turkey Gravy
6 ounce Package Stove Top Stuffing (do not follow package directions)
4 tablespoons Butter, melted
½ cup Chicken Stock, or broth
Instructions
Preheat oven to 350°F (177°C)
Drain the canned turkey meat and transfer the turkey to a deep square baking dish, or smaller rectangle casserole dish.
Use a fork or spoon to gently break apart the turkey breast.
Next, add the jar of roasted turkey gravy, pouring it over the turkey meat. Gently stir to combine. Season with salt and pepper, if desired to suit personal tastes.
Add the Stove Top stuffing mix to a small mixing bowl then pour the melted butter over the mix and gently stir. Next, add the chicken stock and stir until the stuffing mix is moistened. Transfer the stuffing mixture into the casserole dish and spread to top the turkey layer.
Place the casserole into the pre-heated oven and bake for 45 minutes until golden brown and hot and bubbly.
Notes
If preferred, canned chicken may be used instead of the canned turkey meat.
If preparing for one, use one can of the turkey meat and follow the rest of the recipe.
See full post for side suggestions for this easy Thanksgiving dinner casserole.
Recommended Products
As an Amazon Associate and member of other affiliate programs, I earn from qualifying purchases.
Nutrition Information:
Yield:
8
Serving Size:
1
Amount Per Serving:
Calories:

549
Total Fat:

21g
Saturated Fat:

8g
Trans Fat:

1g
Unsaturated Fat:

12g
Cholesterol:

287mg
Sodium:

578mg
Carbohydrates:

6g
Fiber:

0g
Sugar:

1g
Protein:

78g
Number of servings depend on appetize and portion size, so may vary.
Popular Recipes on the Blog
The Latest Recipe Posts
Canned Turkey Stuffing Casserole Thanksgiving Dinner Recipe
Well, there you have it, y'all! With these simple and wallet-friendly side options, your Thanksgiving feast is sure to be a hit, even if you're serving up that canned turkey, gravy, and stuffing casserole.
Remember, Thanksgiving is all about coming together with loved ones and giving thanks for the blessings in our lives, and you can do that with a delicious meal, no matter how simple.
So, gather around the table, share stories, and savor every bite of this special holiday.
Before you take off, be sure to sign up for my e-newsletter. Subscribers get a weekly email from me with all of the latest recipes and news here on the blog so you never miss a thing.
From my holiday kitchen to yours, I wish you a very happy Thanksgiving!
Meet Julia
Author of Julia's Simply Southern
Hey Y'all! I'm Julia, the cook and writer behind the recipes here at Julia's Simply Southern. I began my website so that I could share easy to follow recipes that anyone can use to put a home cooked meal on the dinner table. Thanks so much for stopping by!
Follow me on Facebook | Twitter | Instagram | Pinterest | YouTube