In this post I'll be sharing how to make baked Ham and Cheese Pinwheels.
Friends, I'll be the first one to say that entertaining does not have to be complicated at all. I would also add to that, to be sure to always have a couple of blocks of cream cheese on hand as well as some refrigerated puff pastry dough.
There are so many easy appetizer recipes that you can quickly throw together with those two ingredients along with other simple ingredients that you may have on hand.
Can we all also agree that ham and cheese are a great combination? I can't even recall the number of ham and cheese sandwiches that I had for school lunches or an after school snack.
I would have much rather had pinwheels instead. Y'all don't tell mama that I said that.
Pinwheel appetizers are one of the most popular recipes for game day, holidays and other gatherings. Best of all, they are so easy to make, so let's get started.
Puff Pastry Ham and Cheese Pinwheels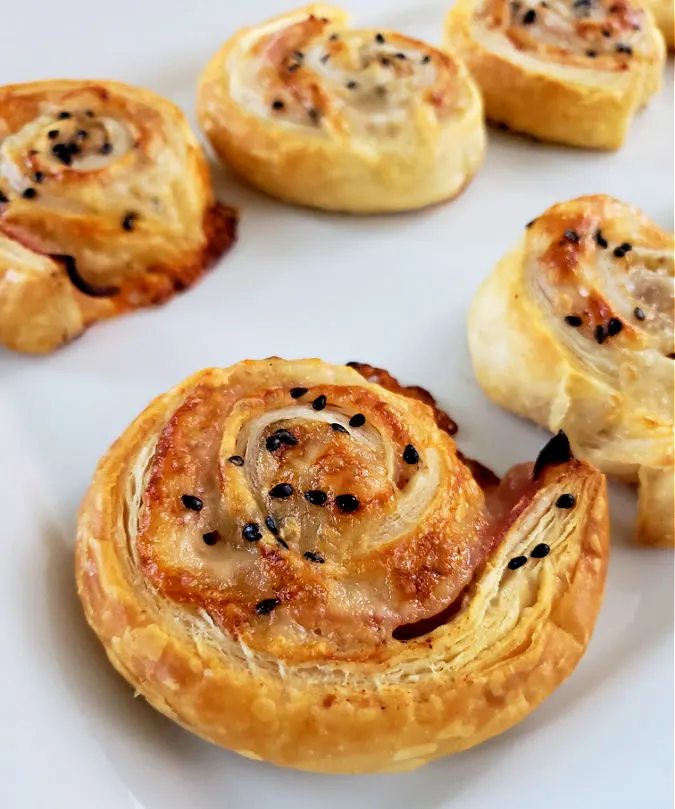 Doesn't that look delicious? Ham and cheese is one of my personal favorite pinwheel recipes.
When it comes to making puff pastry pinwheels, you can really make them however you like with flavors that you and your guests will enjoy. Pinwheels can be either sweet or savory.
Some folks like to use crescent dough (crescent rolls) or pizza dough but I just love the flakiness of the puff pastry and think it delivers the best results for party food.
Perhaps it is just me, but the puff pastry just seems a little more special for sharing with friends and family at social gatherings.
What do I need to make Pinwheel Appetizers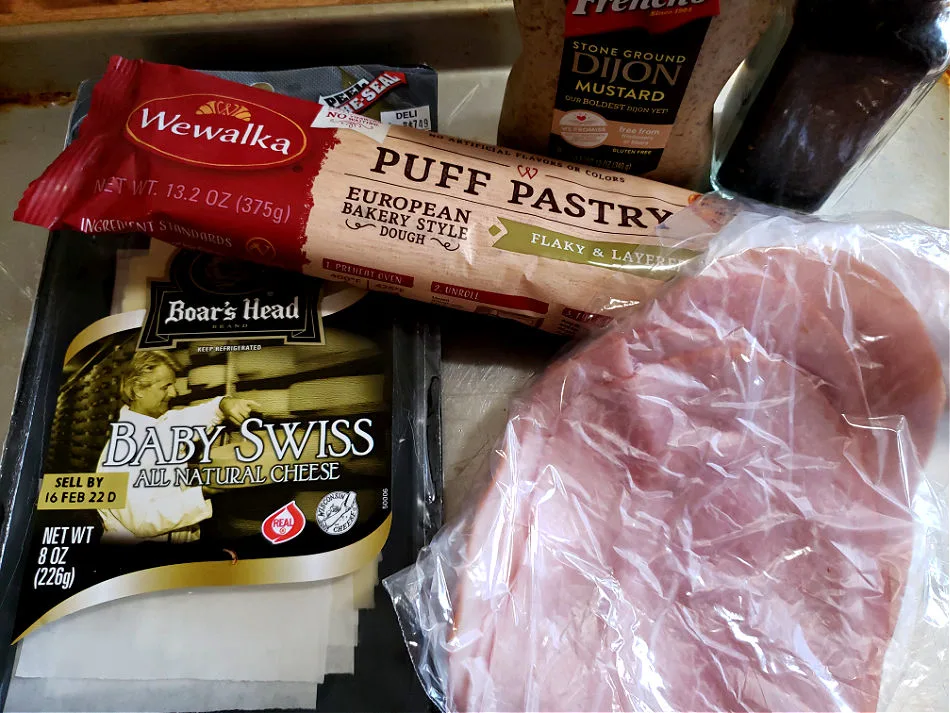 To make the ham and cheese pinwheels, you will need:
Puff Pastry – I prefer the refrigerated puff pastry sheets that you can usually find where the canned biscuits and other types of refrigerated dough are located at your local grocery store.
The brand that my store carries is Wewalka (soon to be called Jus-Rol). I'm really not fond of using the frozen puff pastry but you certainly can if that is what you have or prefer to work with.
Dijon Mustard – adds a layer of flavor to the pinwheel ham roll ups.
Deli Ham Slices – I really like the Boar's Head Tavern Ham and think it is the perfect ham for its flavor, but you can use whatever you favorite deli ham is.
A lot of folks prefer black forest ham, leftover baked ham or a sweet honey ham. Any of those would be delicious. Heck, you could switch things up and use roast beef, if you wanted, or make sausage pinwheels.
This is seriously one of the easiest type of appetizer to customize however you like and get delicious results that will be a favorite party appetizer at your next holiday party or special occasion gathering.
Swiss Cheese – a delicious ham compliment or use whatever slices of cheese that you prefer. Cheddar cheese would be my next favorite choice. A cream cheese spread is also a great option.
Melted Butter – to brush the pinwheels before baking.
Optional – black sesame seeds or poppy seeds to sprinkle over top of the ham and cheese pinwheels before baking. This is optional but makes the pinwheels look really nice.
Pinwheel Appetizers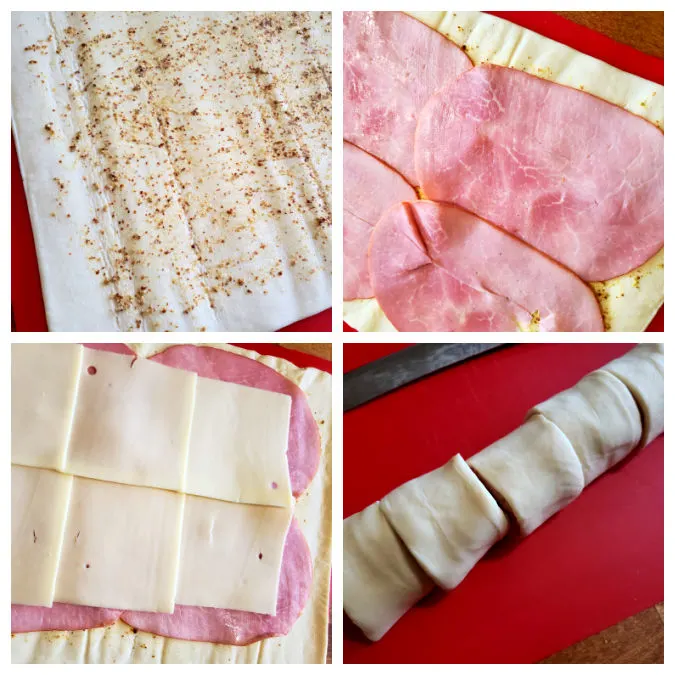 The first step in making the ham and cheese puff pastry pinwheels is to unroll the puff pastry onto your work surface. I lay out a cutting mat for this to keep my work table tidy.
Next, spread a layer of the Dijon mustard over the pastry, as little or as much as you like. I find a thin layer works best to give that hint of flavor but not over-power the pinwheels or prohibiting the dough from baking up nice and flaky.
Next, add a single layer of the slices of ham and top that with a layer of the cheese slices, then carefully roll it up.
Use a serated knife to evenly slice the pinwheels. I do this by first slices in the middle making two halves then slice the halves in the middle and so on until you have all of the slices fairly uniform.
Lastly, before baking, I slice off the edges to make all of the pinwheels look nice with a straight edge.
Hot Ham and Cheese Roll Ups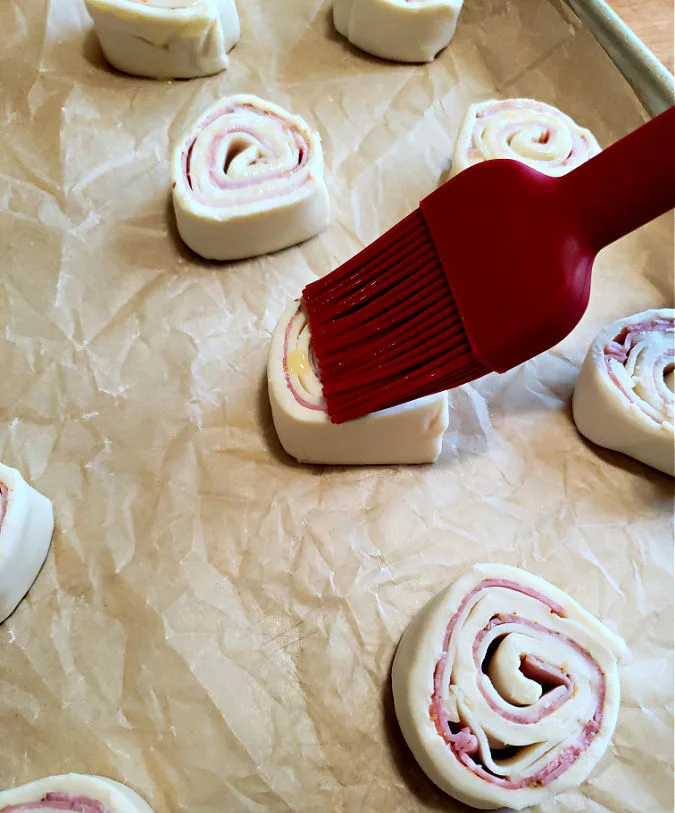 Transfer the ham and cheese pinwheels to a baking sheet lined with parchment paper. Brush the tops of the yummy pinwheels with melted butter and sprinkle with black sesame seeds (if using).
Ham, Cheese & Black Sesame Seed Pinwheels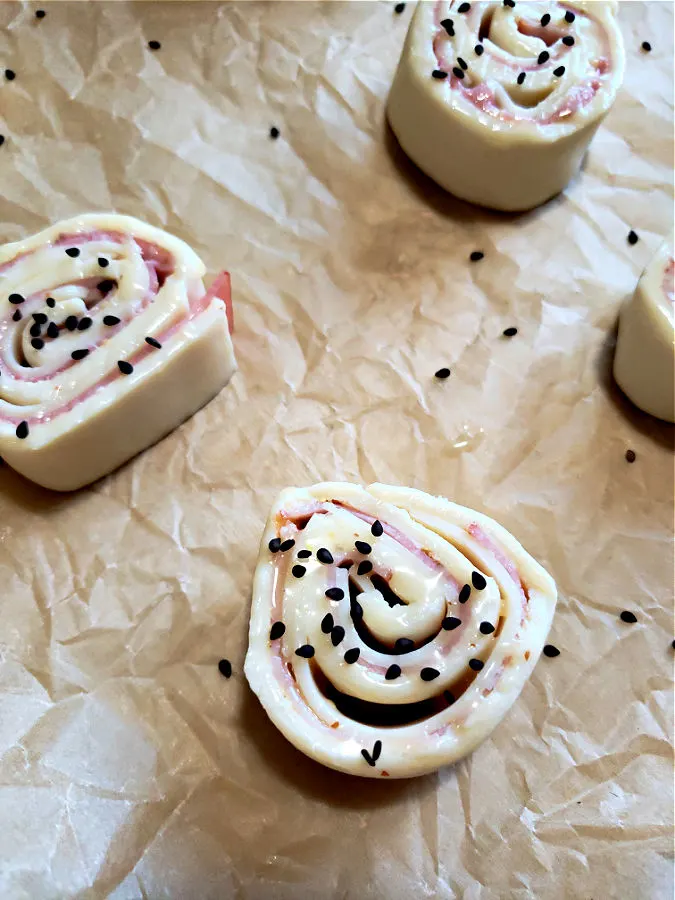 If you are making the easy recipe pinwheels ahead of time you can cover them with plastic wrap at this point and refrigerate until ready to bake.
Otherwise, place the pan into a pre-heated oven and bake until golden brown.
Ham and Cheese Pinwheels Recipe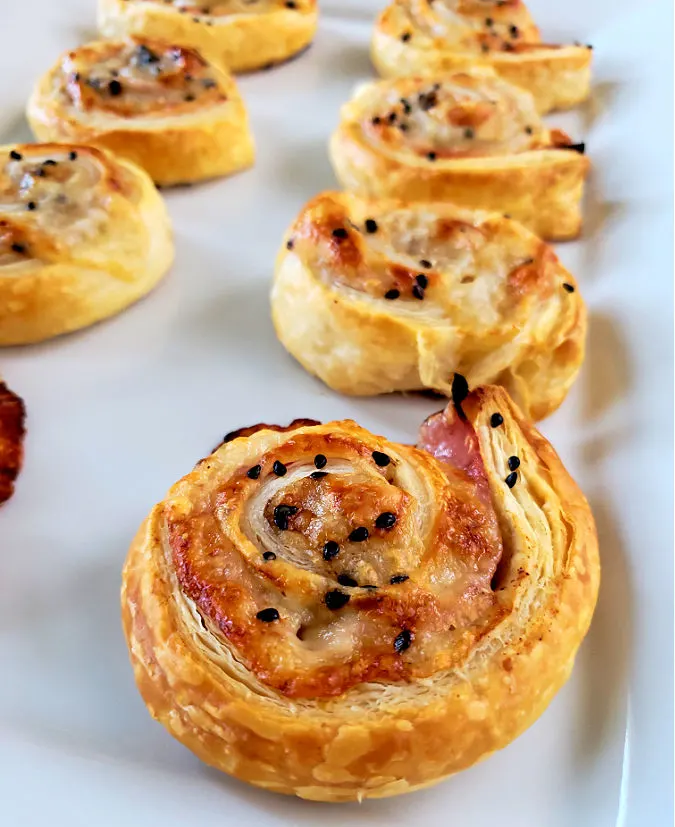 You'll want to serve the pinwheels at room temperature. They can be baked, allowed to cook and stored on the countertop in an airtight container until ready to serve if needed.
The ham pinwheels are great on their own or serve with sweet spread, mustard selection, or sauce options for guests to choose from.
Printable Recipe Card
Yield: 14 Pinwheels
Ham and Cheese Pinwheels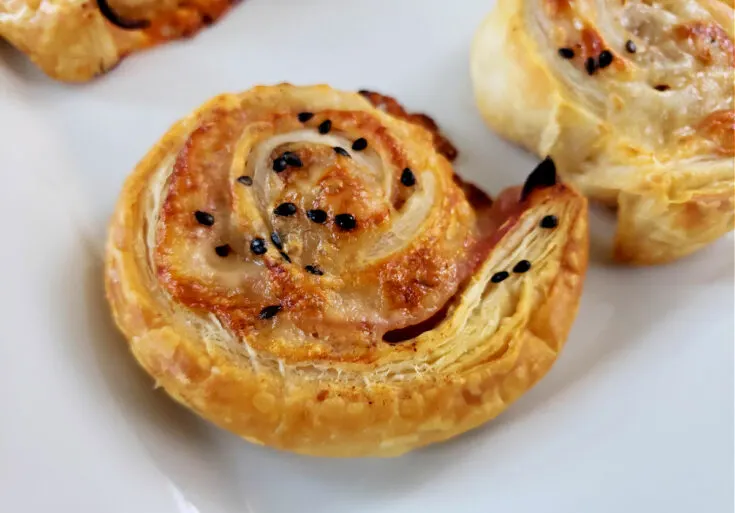 An easy recipe to create a delicious ham and cheese roll up appetizer with flaky puff pastry. Ham and cheese pinwheels are always a hit at gatherings making it a great recipe addition to your collection of party foods.
Ingredients
13.2 ounce Refrigerated Puff Pastry (like Wewalka Jus-Rol)
1 tablespoon Dijon Mustard
4 Slices of Boar's Head Tavern Ham (about ¼ pound, or your ham of choice)
6 Slices of Swiss Cheese (or cheese of choice)
1 tablespoon Melted Butter
1½ teaspoons Black Sesame Seeds (or poppy seeds)
Instructions
Preheat oven to 400°F (204°C)
Line a baking sheet with parchment paper and set aside
Unroll the puff pastry sheet onto a clean work surface; brush a think layer of the Dijon mustard over the inside of the pastry dough.
Next, add a single layer of the ham slices topped with the cheese slices. Roll the dough then slice into equal portions. (See post for tips slicing the pinwheels).
Transfer the pinwheels to a lined baking sheet, brush tops with melted butter and sprinkle with black sesame seeds (or poppy seeds).
Bake 20 to 25 minutes until golden brown and hot and bubbly.
Allow to cool to room temperature then serve.
Recommended Products
As an Amazon Associate and member of other affiliate programs, I earn from qualifying purchases.
Nutrition Information:
Yield:
14
Serving Size:
1 pinwheel
Amount Per Serving:
Calories:

213
Total Fat:

15g
Saturated Fat:

4g
Trans Fat:

0g
Unsaturated Fat:

10g
Cholesterol:

16mg
Sodium:

173mg
Carbohydrates:

13g
Fiber:

0g
Sugar:

0g
Protein:

6g
Popular Recipes
Check out the Latest Recipes
Thank you so much for stopping by! I am so glad that you did! I know that you will love how easy this appetizer is to put together and your guests will love how great they taste.
Be sure to subscribe to my email newsletter while you are here. Subscribers get the first look at newly published recipes and receive weekly emails, from yours truly, with all news here on the blog.
Meet Julia
Author of Julia's Simply Southern
Hey Y'all! I'm Julia, the cook and writer behind the recipes here at Julia's Simply Southern. I began my website so that I could share easy to follow recipes that anyone can use to put a home cooked meal on the dinner table. Thanks so much for stopping by!
Follow me on Facebook | Twitter | Instagram | Pinterest | YouTube