In this post I'll be sharing my easy asparagus casserole recipe. This is one of the best recipes using fresh asparagus in a delicious casserole.
Y'all are gonna love this classic style easy casserole. I have to give a shout out to Miss Allie for her request that I make an asparagus casserole recipe to share.
I'm just sorry that it took me so long to get this recipe shared on the blog with all of you. It is here now and you are gonna want to make this and give it a try. I know that you'll add this to your favorite casserole recipes collection.
This is the Best Asparagus Casserole recipe!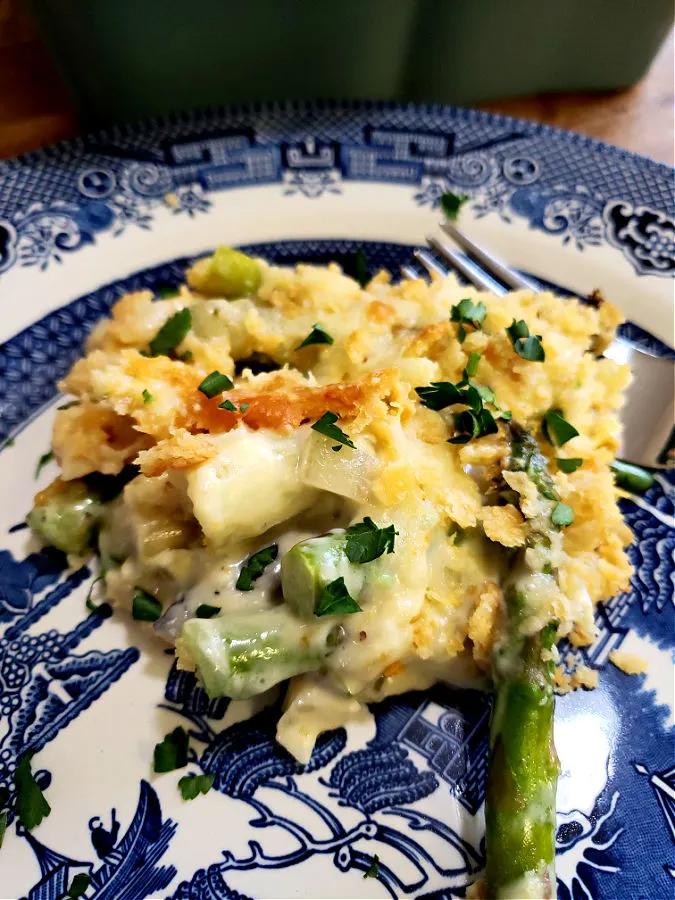 Doesn't that look delicious? This simple casserole can be served as a side dish or as the complete meal.
The day that I prepared this asparagus casserole, I enjoyed it for my lunch. I was also lucky enough to have someone doing some work in the house painting inside of some closets to share some of the casserole with.
She had never had asparagus before and she loved my asparagus casserole recipe. It always makes my heart smile when folks enjoy the food I've prepared.
When she finished up her project that she was working on for me that day, I sent her home with some of the leftover casserole for her and her husband to enjoy.
Ingredients for this Creamy Asparagus Casserole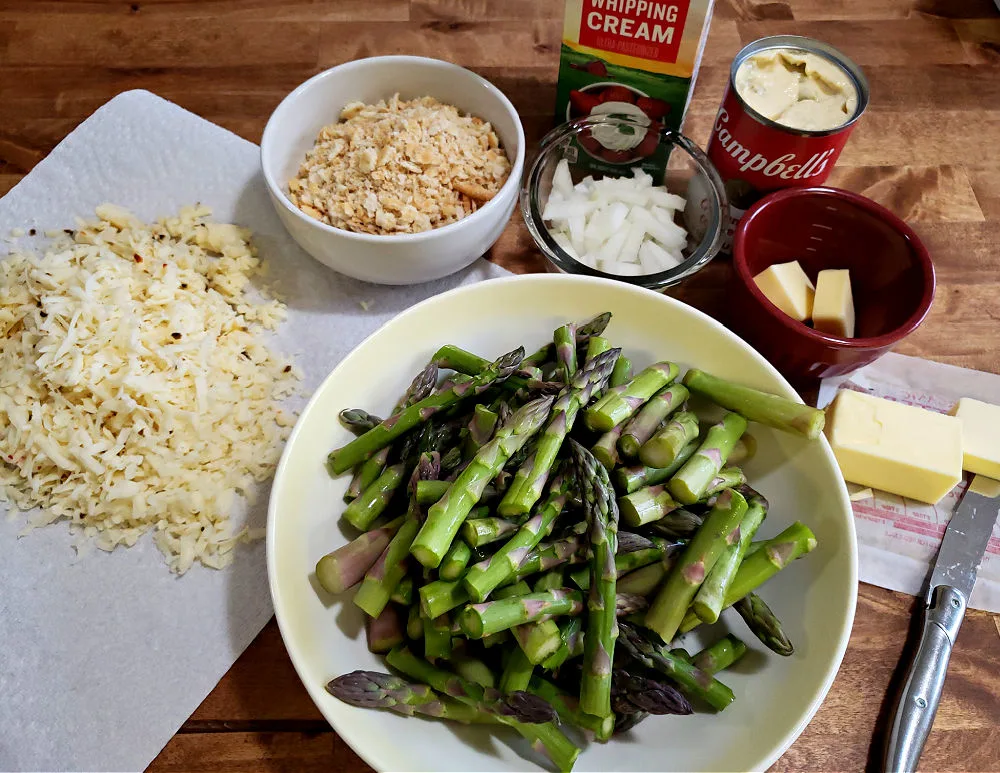 What do I need to make asparagus casserole? This easy recipe takes just a few common ingredients that you can find at your local grocery store.
Asparagus – old-fashioned asparagus casserole recipes called for canned asparagus, which I am not a fan of and find it mushy. If that is what you like then use it. I prefer fresh asparagus.
Should I use thin asparagus or thick asparagus? The thick asparagus spears are preferable as they are the more tender asparagus option. The thinner spears can be more fibrous.
Onion – diced onion adds a lot of flavor and aromatics to this dish. Diced onion is often found in casseroles. If you do not care for onion then just leave it out.
Butter – for sautéing and for the buttery cracker topping.
Seasonings – I used a little bit of Kosher salt and freshly ground black pepper. If you want to add additional seasonings that you enjoy, please do. Garlic powder, onion powder or a bit of Italian seasoning would be a great option for casseroles.
Cheese – freshly grated pepper jack cheese is my choice for this asparagus casserole or use the shredded cheese of your choice. As much as I love a good sharp cheese, I think something more mild works best for asparagus casserole, such as the pepper jack, swiss, Monterrey jack or Colby jack.
Cream of Celery Soup – a can of cream of mushroom soup or cream of onion would also work.
Heavy Cream
Ritz Crackers – adds crunchy texture and flavor. Bread crumbs, panko breadcrumbs, french fried onions or potato chips can also be used as a topping.
Other Options you may enjoy:
I can hear some of y'all complaining already about the cream of something soup. Well, they are delicious in casseroles and you don't have to eat them all of the time. You can substitute a cup of sour cream instead if you wish.
I mentioned that my preference is a milder cheese for this dish but you could use a cheddar cheese if you prefer. Also, softened cream cheese would make a nice addition.
If you are trying to keep things low carb in your diet plan then you might like crushed pork skins or nuts in place of the cracker topping.
Cheesy Asparagus Casserole with Pepper Jack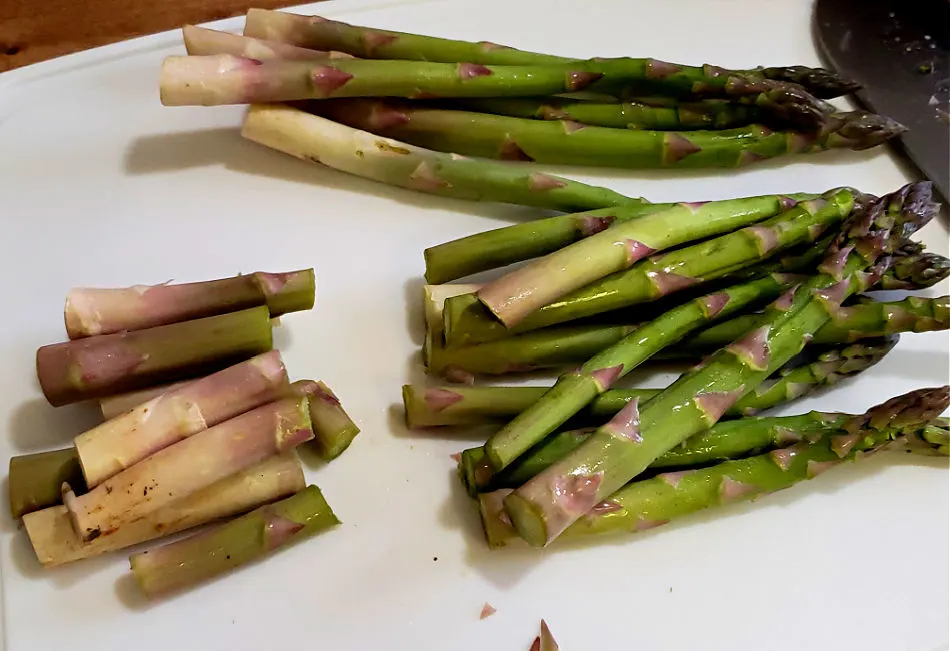 It takes just a few easy steps to create this wonderful casserole. The first step is to prep the asparagus spears by trimming off the bottom stalks that may be too tough for chewing.
Removing the end pieces can be done by slicing them off with a knife or using a simply snap technique.
Some home cooks, as well as restaurants, also peel the asparagus for a more elegant presentation. Personally, I don't bother with the peeling.
How to make a Fresh Asparagus Casserole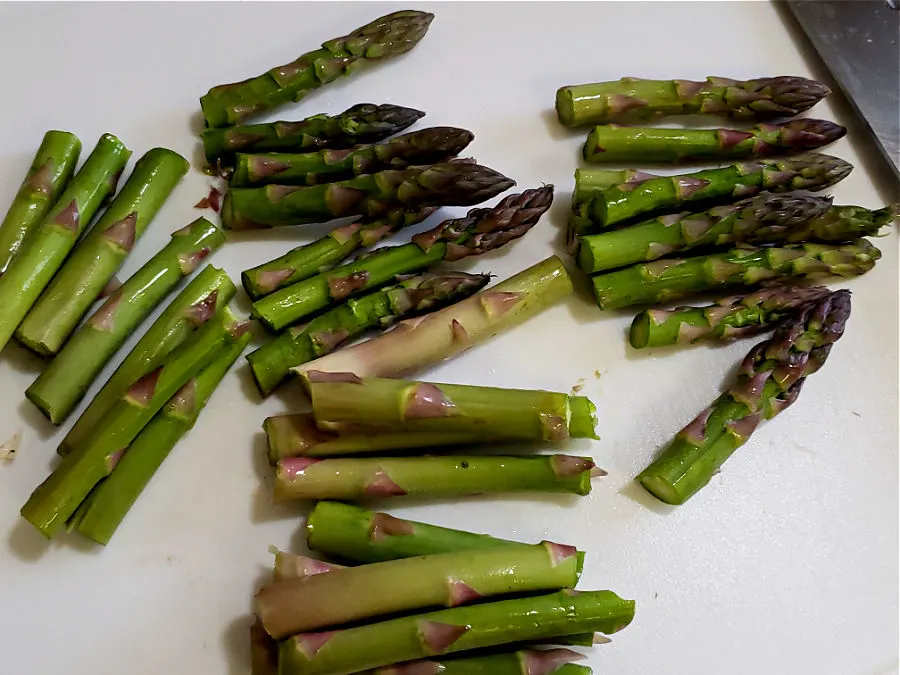 The next step is to chop up the prepared asparagus spears. This is optional. I've seen recipes where the cook adds the entire asparagus spear whole.
I find them much more manageable to cut into pieces. As you can see, I don't even chop them into very small pieces.
Be sure to pre-heat your oven before continuing on with the prep work for the casserole.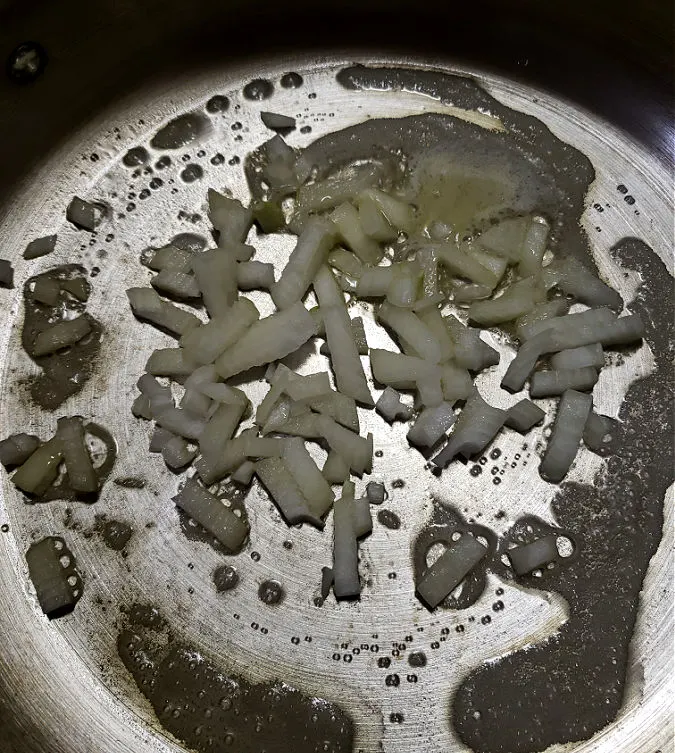 Place a large skillet or a large saucepan on a stove top burner set at medium heat. Next, add some butter and the diced onions and sauté a minute or two.
Old-Fashioned Asparagus Casserole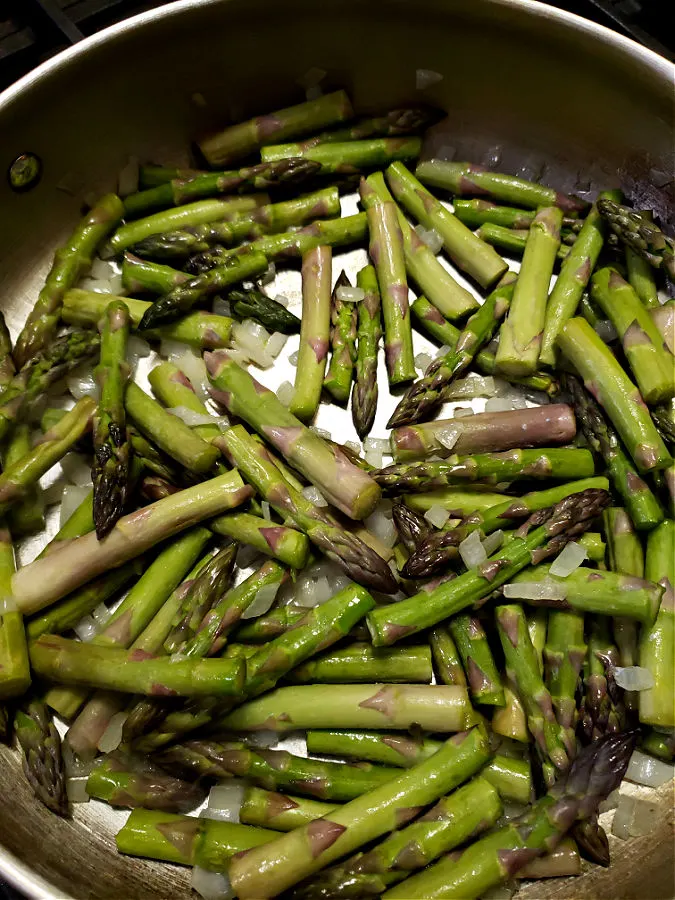 Then I like to add the asparagus to the skillet and sauté for another 3 minutes. This gives the thicker asparagus a head start to tenderize it a bit.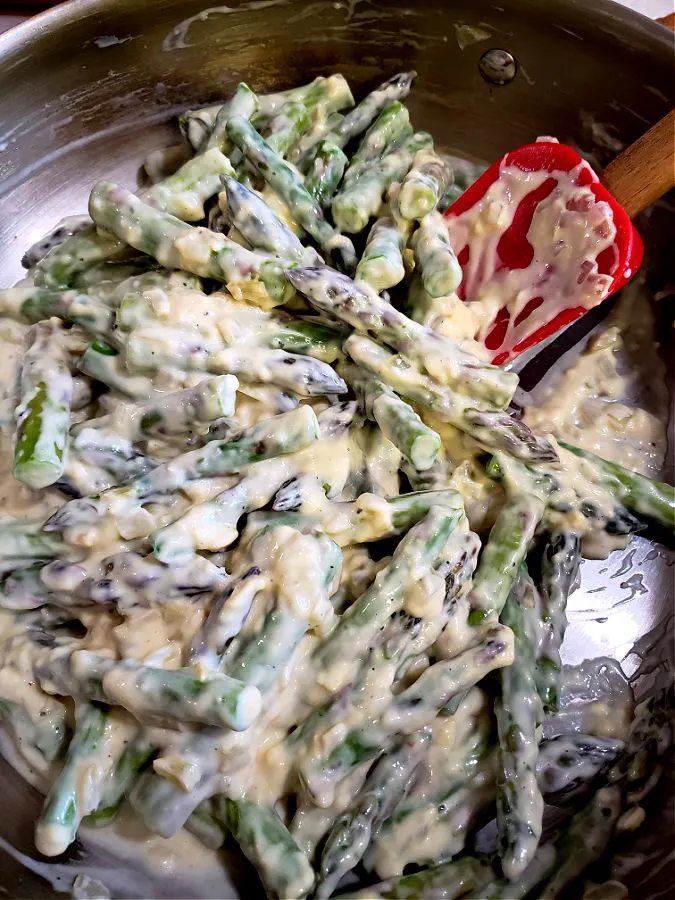 You can prepare the creamy sauce with the asparagus and onion right in the skillet by adding the creamed soup and heavy cream and combining everything together.
Cheesy Asparagus Casserole Recipe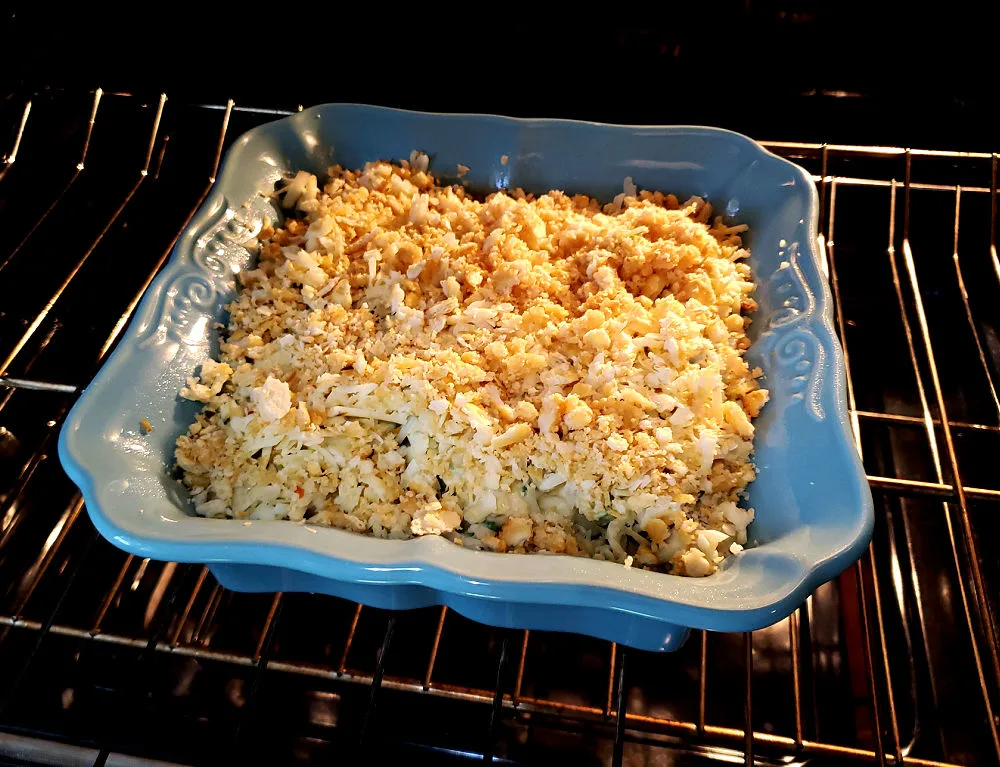 Prepare an 8 by 8 inch casserole dish with a light spray of cooking spray.
Next, melt butter to combine with the cracker crumbs by adding two tablespoons of butter (preferably room temperature butter) to a small bowl and microwave a few seconds until melted.
Pour the melted butter over the crushed Ritz and use a spoon to combine. Add half of the buttery cracker crumbs to the bottom of the baking dish.
The next step is to layer the filling with half of the creamy asparagus mixture then cheese and repeat. Top the casserole with the remaining crushed buttery cracker crumbs all over the top of the casserole.
Then, place the casserole into a hot oven to bake. I find that thirty to forty five minutes is perfect for us but if you like the asparagus softer then you can bake a little longer.
The cream sauce should be hot and bubbly, the cheese all melty and the crumb topping golden brown.
Printable Recipe Card
Yield: 1 Casserole
Easy Asparagus Casserole Recipe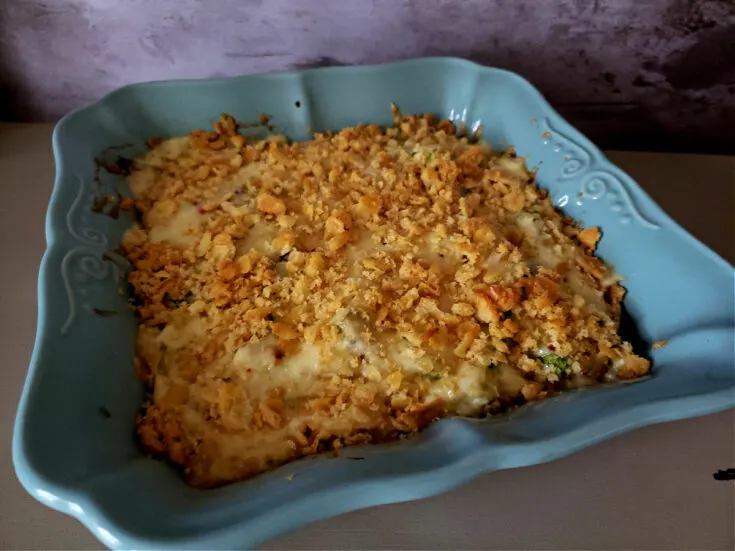 A delicious asparagus casserole made with fresh asparagus in a creamy cheese sauce with crumb topping. This casserole is a perfect dish for a meal or as a delicious side dish.
Ingredients
2 pounds Fresh Asparagus, washed and trimmed
½ cup Diced Onion
3 tablespoons Butter, divided
½ Kosher Salt, or to taste
Cracked Black Pepper, to taste
8 ounces Pepper Jack Cheese, grated
10.5 ounce Can Condensed Cream of Celery Soup
½ cup Heavy Cream
2 Fresh Stack Sleeves Ritz Crackers, crushed (or 1 full regular sleeve)
Instructions
Preheat oven to 350°F (177°C)
Heat a large skillet over medium heat the add a tablespoon of butter and melt.
Next, add the diced onion and sauté for 1 minute the add the prepared asparagus and sauté 3 minutes more.
Next, add the cream of celery condensed soup and heavy cream to the skillet and combine with the onion and asparagus. Remove from heat and set aside.
Add the crushed crackers to a small bowl. Melt 2 tablespoons of butter in the microwave then pour the melted butter over the cracker crumbs and use a spoon to stir to combine.
Lightly spray a square (I used an 8x8) baking dish with cooking spray.
Next, layer the ingredients into the preparing casserole dish starting with half of the buttery cracker crumbs, then a layer of the asparagus mixture, and finally a layer of shredded cheese. Repeat layering with asparagus mixture and cheese then top the casserole with the remaining cracker crumbs.
Place the asparagus casserole into the pre-heated oven and bake for 45 minutes.
Allow the casserole to cool for ten minutes before serving.
Notes
Can use whole milk or half and half if needed in place of heavy cream.
See full post for details on preparing the asparagus as well as other options.
Recommended Products
As an Amazon Associate and member of other affiliate programs, I earn from qualifying purchases.
Nutrition Information:
Yield:
8
Serving Size:
1 cup
Amount Per Serving:
Calories:

255
Total Fat:

20g
Saturated Fat:

12g
Trans Fat:

0g
Unsaturated Fat:

7g
Cholesterol:

58mg
Sodium:

440mg
Carbohydrates:

10g
Fiber:

3g
Sugar:

3g
Protein:

11g
Easy Asparagus Casserole Recipe
What to serve with asparagus casserole? The asparagus casserole is a perfect dish to enjoy as a meal on its own or as a delicious side dish to your meal.
An asparagus casserole is great for weeknight meals or holiday meals (Easter brunch, Thanksgiving dinner or Christmas dinner). Casseroles are always a great contribution for potlucks too.
Asparagus casserole can be serve with beef, chicken, pork or seafood. This casserole is also delicious served along with other tasty sides, such as green beans, potatoes, rice, corn, carrots or pasta dishes.
If you have leftover asparagus casserole: cover the dish with plastic wrap or transfer the leftovers to an airtight container and refrigerate. The leftover asparagus casserole will last up to 3 days. Enjoy it cold or microwave to warm it up.
A better way than some old fashioned asparagus casserole recipes…
Using fresh asparagus to make an asparagus casserole makes it so much better! In my humble opinion, anyways.
Allow me share an old timey version: 1 can celery soup (or any cream soup), 1 can asparagus – drained, 1 box crackers, grated cheese for topping. Garnish with sliced hard-boiled eggs.
That is it, that was the recipe. Not very appetizing to me, but we all have different taste in foods. What do you think….asparagus casserole using canned or fresh asparagus?
I do hope that you enjoy what I consider to be the best asparagus casserole with my delicious recipe.
Did you know?
Asparagus is highly nutritious and a source of vitamin c, vitamin k and folate.
Asparagus is a perennial meaning that you get an annual harvest after the initial planting. The first harvest however takes 3 years.
Asparagus can affect the smell of urine in some people.
Asparagus can be found in three colors: green, purple or white.
Popular Recipes at Julia's Simply Southern
The Latest Posts
Thank you so much for stopping by! I am so glad that you did. I know that you will love this asparagus casserole just as much as I do. Give it a try and stop by to let me know how you enjoyed it by leaving a comment below.
Be sure to subscribe to my email while you are here. Email subscribers get a weekly update from me with the latest recipes and news here on the blog so that you never miss a thing.
Until next time, love and happy cooking!
Meet Julia
Author of Julia's Simply Southern
Hey Y'all! I'm Julia, the cook and writer behind the recipes here at Julia's Simply Southern. I began my website so that I could share easy to follow recipes that anyone can use to put a home cooked meal on the dinner table. Thanks so much for stopping by!
Follow me on Facebook | Twitter | Instagram | Pinterest | YouTube