In this post I will be sharing a Scrambled Duck Eggs Recipe with Ricotta and Chives.
Well, y'all, let me tell you, there ain't nothing quite like starting your morning with a hearty Southern breakfast. Breakfast happens to be my favorite meal of the day.
Today, I've got a real treat for y'all with a delicious recipe for Scrambled Duck Eggs with Ricotta and Chives.
Now, I know what you're thinking, "Duck eggs, Julia? Ain't that kind of fancy?"
But let me tell you my friend, these golden beauties add a touch of luxury to your plate without breaking the bank.
Paired with creamy ricotta and a sprinkle of fresh chives, this dish is going to have you waking up with a hankering for the creamiest scrambled eggs you've ever tasted.
Are duck eggs good for scrambled eggs? Duck eggs are rich in flavor and perfect for scrambling or making the best omelets with all your favorite fillings.
So, grab your apron, honey, and let's get cooking up a farm to table feast!
The Creamiest Scrambled Duck Eggs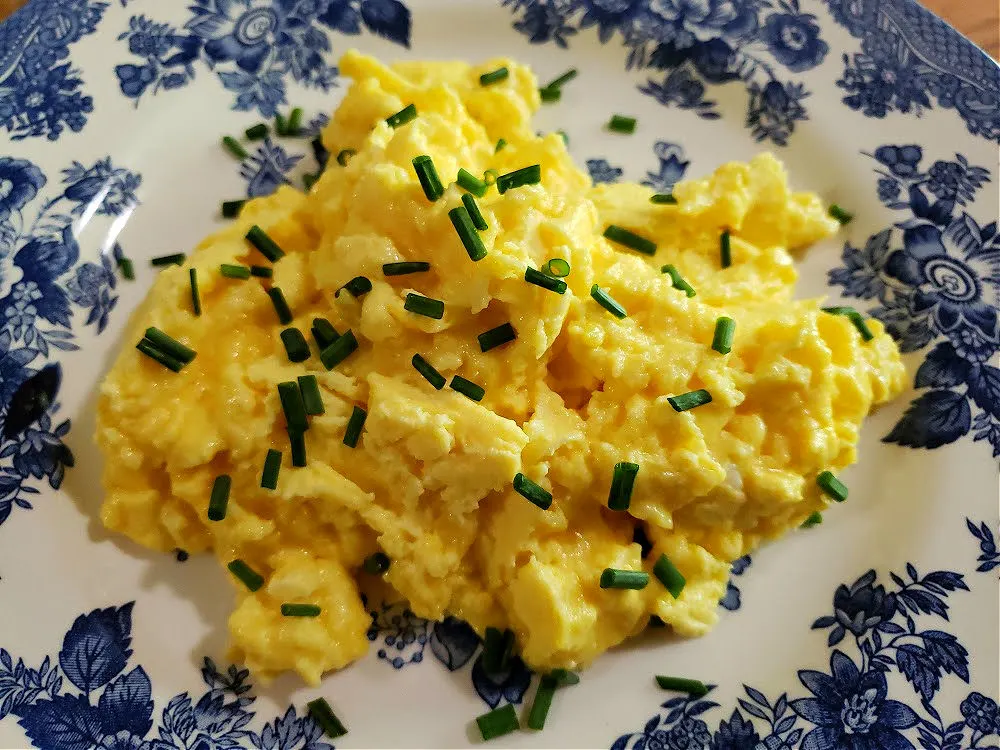 Y'all, this is the best scrambled egg recipe using duck eggs, but you can use chicken eggs too if you like. Now, let me tell you what you will need to make these creamy eggs with ricotta cheese.
Butter: I love the added flavor that a pat of butter adds to scrambled eggs. The butter is to coat your heavy medium nonstick skillet. Feel free to use other cooking fats (duck fat is amazing) that you may prefer.
Duck Eggs: rich in flavor and have a wonderful creamy texture.
Heavy Cream: just a touch is my favorite addition to all of my scrambled egg recipes.
Ricotta Cheese: creates a creamy and velvety consistency. The ricotta also adds mild flavor and keeps the eggs from drying out as they cook.
Salt and Cracked Black Pepper: to add and enhance flavor. I always add pepper to my eggs, but chose not to here so that my photos looked better for y'all.
Fresh Chives: add flavor, fresh herb interest, and a pop of color to the scrambled duck eggs. Sliced spring onions are also nice if you don't have chives.
Kitchen Equipment and Tools Needed to Prepare Scrambled Eggs
To prepare scrambled duck eggs (or chicken eggs), you don't need a lot of specialized equipment. Here's a basic list of what you'll need:
Heat Source: your cooktop.
Heavy Medium Nonstick Skillet: the non-stick skillet is preferable for making scrambled eggs so that they do not stick to the pan.
Mixing Bowl: to combine the eggs and ingredients together.
Whisk or Fork: to beat the eggs and incorporate air so they are light and fluffy.
Spatula: a rubber spatula or heatproof silicone spatula to gently push the eggs around as they cook and also prevents damage to cookware.
You will also need a couple of plates to serve your perfectly cooked soft-scrambled eggs (but cooked through) for a delicious breakfast.
In addition to scrambling, duck eggs are also delicious fried over-medium with done egg whites and rich runny yolk, or baked into a wonderful duck egg quiche.
Scrambled Eggs with Ricotta and Chives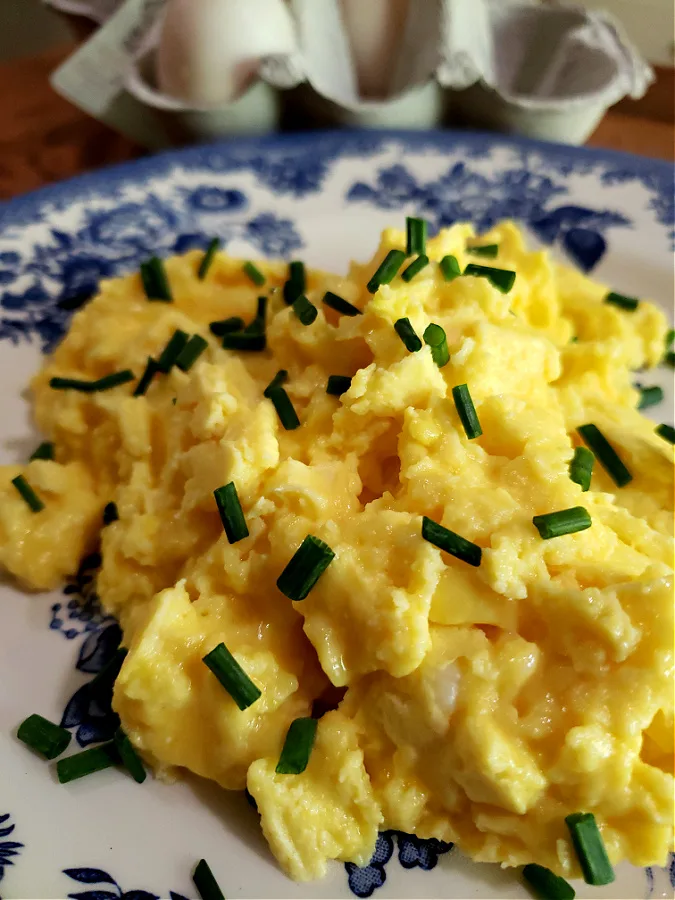 Cooking with duck eggs can add a unique twist to your meals and elevate your culinary experiences. We are lucky these days to find duck eggs at the local grocery store, local farms, and local farmer's markets, so it is fairly easy to get your hands on some… at least in my area of South Carolina.
I happen to know my local farmer, whose chicken and duck flock are loving mountain life by a picturesque little river. We love knowing where our food comes from.
You may be wonderfing why choose duck eggs rather than chicken eggs. Cooking duck eggs can be a delightful choice for a variety of reasons.
Duck eggs are larger, so they are more filling, and have rich flavor and a naturally creamy texture. If you enjoy baking, duck eggs are prized for their benefits in baked goods since they have larger egg yolks and higher fat content.
How to Make Scrambled Eggs?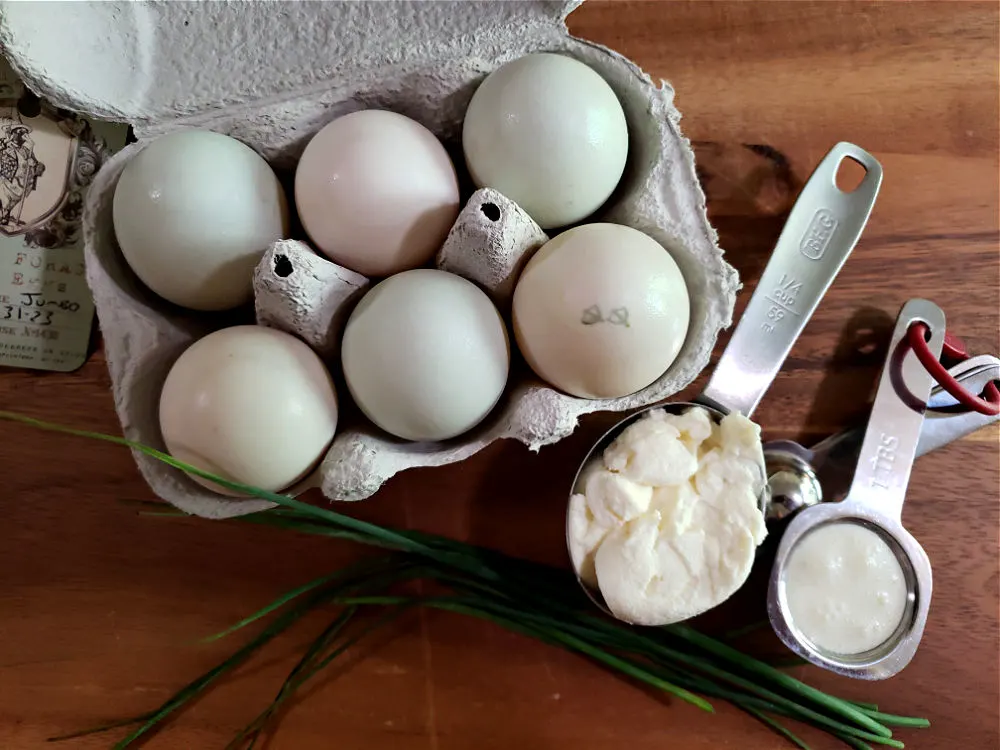 The first step is to gather your ingredients for this easy recipe.
Eggs with Ricotta Cheese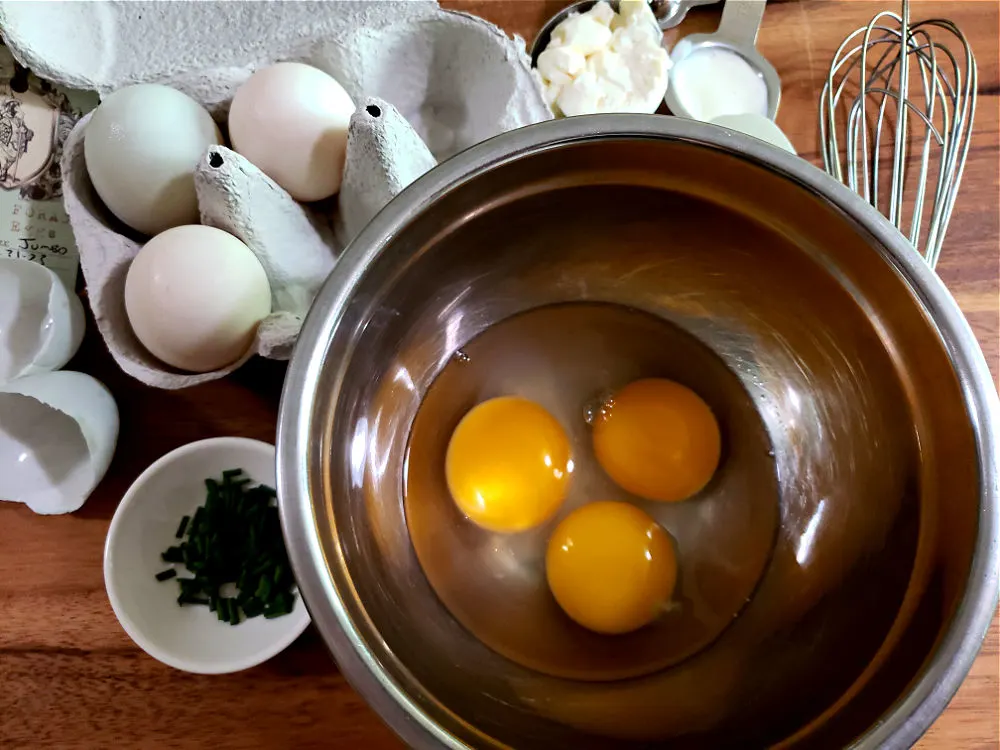 Grab a mixing bowl and crack the duck eggs into the bowl. A medium bowl size is perfect for this simple egg recipe.
Time to Mix Things Up…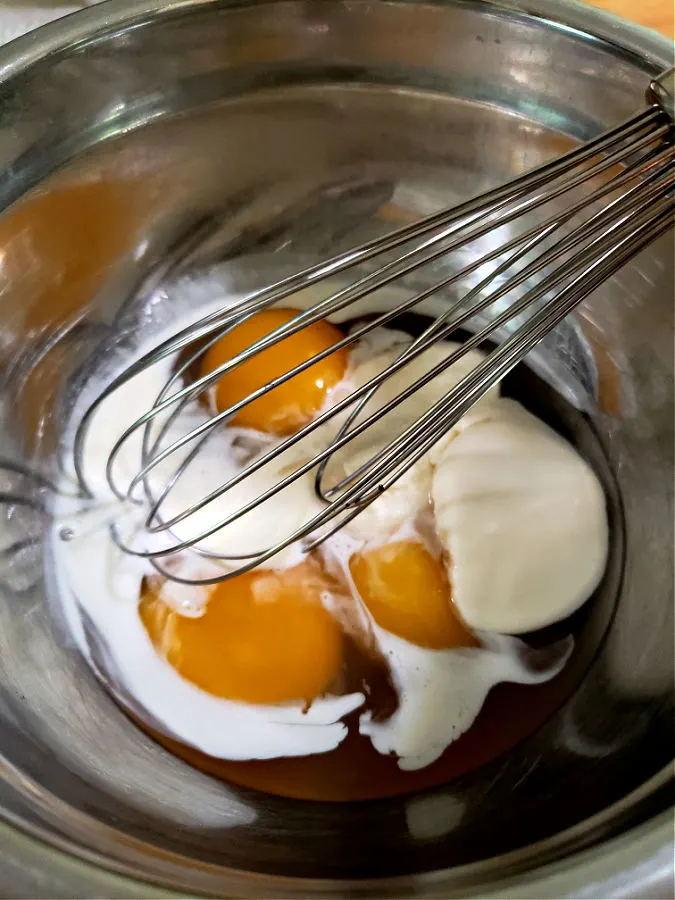 The next step is to add the ricotta cheese and heavy cream into the mixing bowl with the eggs.
Scrambled Duck Eggs Recipe with Ricotta and Chives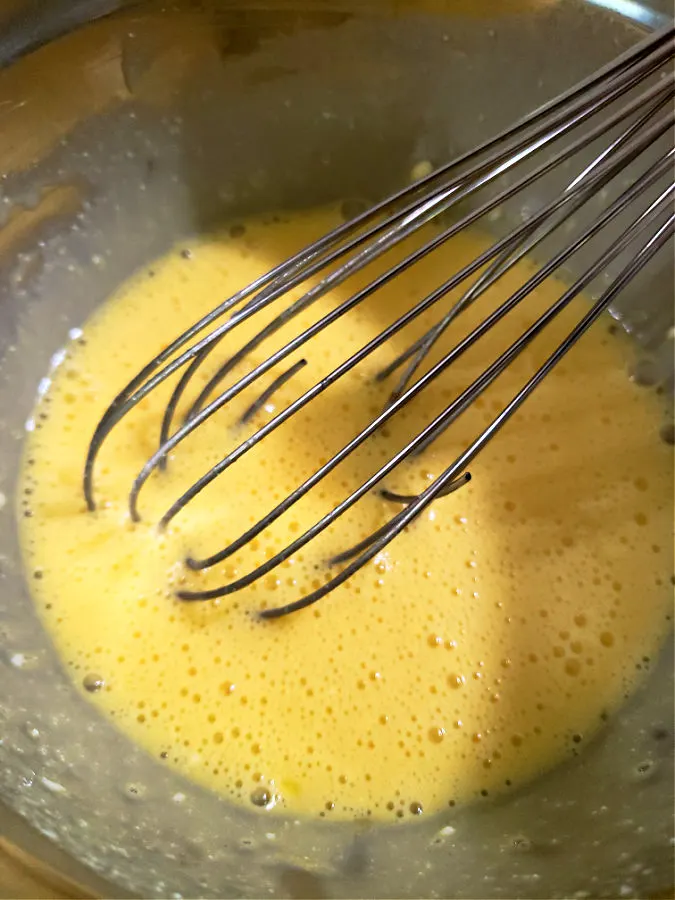 Now, let's whisk eggs and everything together until it is well combined. Now, set your egg mixture aside and melt butter in your skillet over medium heat.
If this happens to be your first time preparing scrambled duck eggs, or scrambled any kind of eggs, then you should know that you don't want a pan that is too hot because scrambling eggs shouldn't be rushed.
The cooking time doesn't take that long but if you rush it then you will end up with dry crumbly eggs. Our goal are eggs that are cooked through while still being moist and creamy.
It is time to get cooking!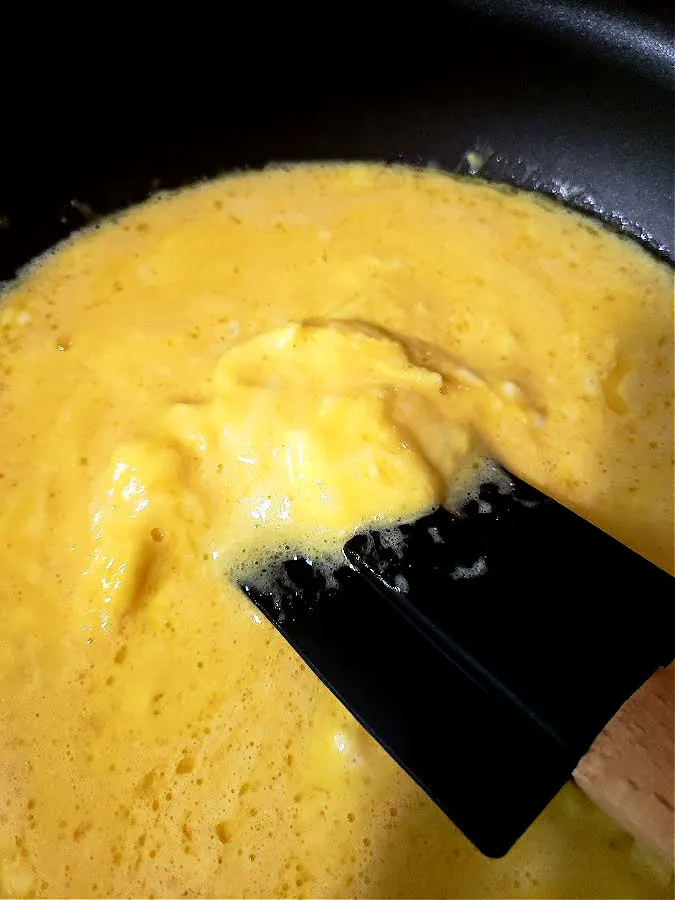 Once your pan is heated, it is time to add your egg mixture to the melted butter. Just let the eggs be for a moment until they begin to set up.
Use your spatula to gently push the egg curds from the outside of the pan towards the center. Continue this process until your eggs are nearly cooked through.
This is a great time to season your scrambled duck eggs with a pinch of salt, and black pepper if you desire.
Fresh Scrambled Duck Eggs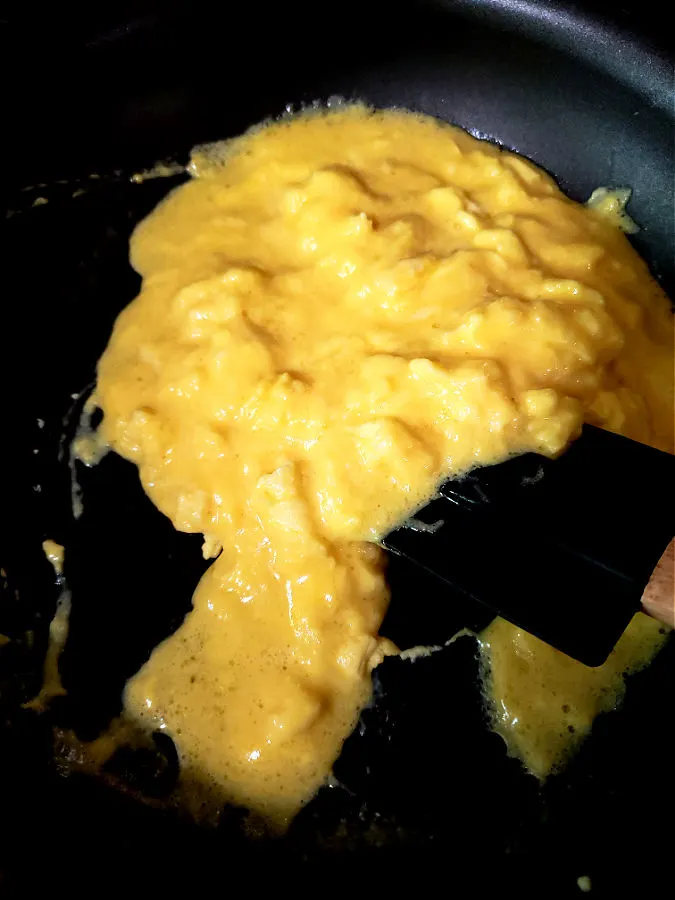 Continue to use your spatula to gently push and fold the eggs until they are cooked through to your desired doneness. The eggs should be set but not dry and crumbly when done.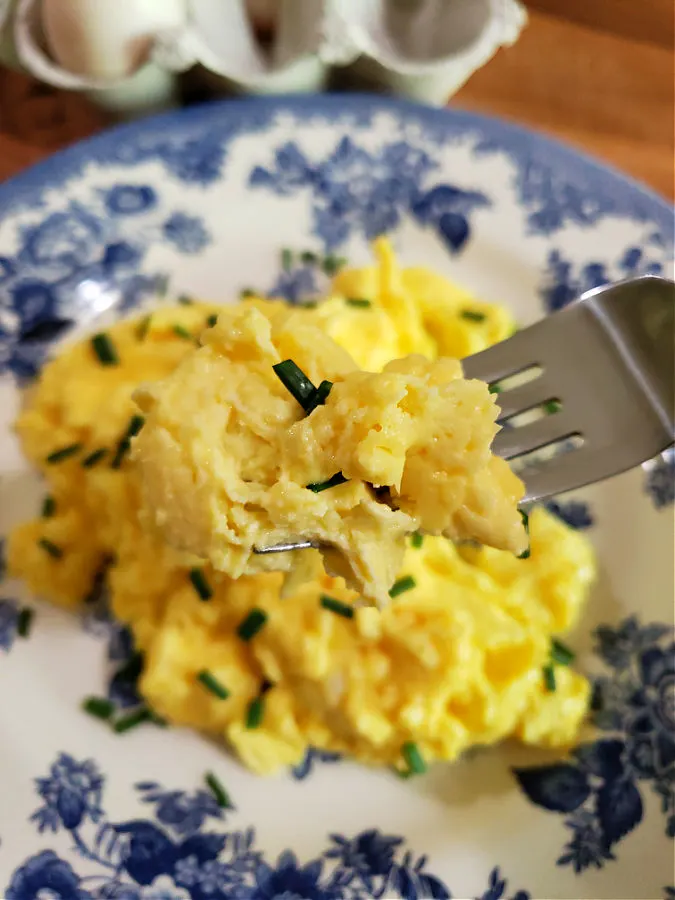 Transfer your perfectly cooked scrambled duck eggs to your serving plates and sprinkle some freshly chopped chives over each serving. It's time to eat Y'all!
What to serve with Scrambled Duck Eggs with Ricotta and Chives?
Scrambled duck eggs, with their rich and creamy texture, can be paired with a variety of side dishes to create a delicious and well-balanced meal. Here are some ideas for what to serve with scrambled duck eggs:
Toast, Croissants, English Muffins, or Biscuits: Serve your scrambled duck eggs with toasted slices of bread, croissants, a toasted muffin, or fluffy Southern buttermilk biscuits. You can add butter or jam for extra flavor.
Breakfast Potatoes: Crispy hash browns or home fries make a great accompaniment to scrambled duck eggs. Season them with herbs and spices for added flavor.
Fresh Fruit: A side of fresh fruit, such as sliced oranges, berries, or a fruit salad, can provide a refreshing addition to a breakfast plate.
Bacon, Sausage or Smoked Salmon: For a heartier breakfast, add some crispy bacon, savory sausage links or patties, or smoked salmon to your plate.
Other great options to serve along with scrambled duck eggs include sliced avocado, tomato slices, a small salad, or asparagus casserole.
Don't forget about cheese and condiments that you might enjoy for added flavor. Ketchup, hot sauce, salsa, or even a drizzle of hollandaise sauce can be used to enhance the flavor of your scrambled duck eggs. Although, these creamy scrambled duck eggs with ricotta and chives are absolutely delicious on its own.
Remember that the choice of side dishes can vary depending on your personal preferences and the overall theme of your meal.
Printable Recipe Card
Yield: 2 Servings
Creamy Scrambled Duck Eggs with Ricotta Cheese and Fresh Chives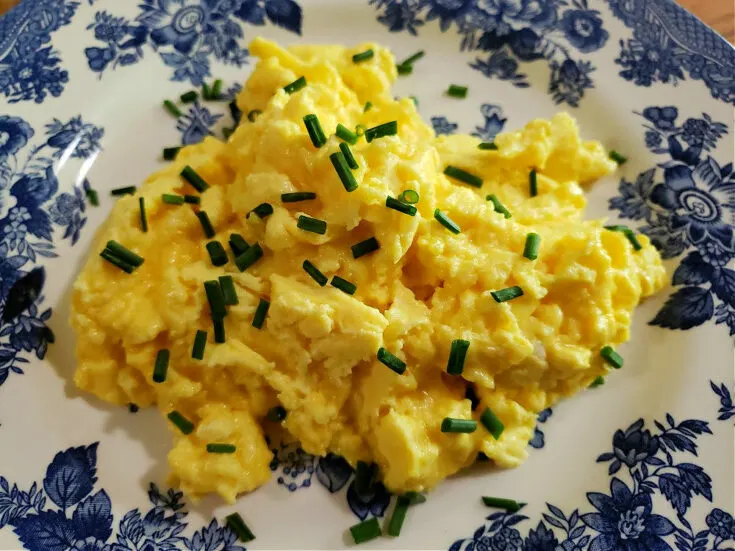 Indulge in a gourmet breakfast experience with our Scrambled Duck Eggs with Ricotta and Chives. These rich and creamy duck eggs are expertly scrambled with velvety ricotta cheese and a hint of salt and pepper, resulting in a dish that's both luxurious and bursting with flavor. Served hot and garnished with fresh chives, it's a delectable twist on traditional scrambled eggs that will elevate your morning routine to a whole new level of deliciousness.
Ingredients
1 Tablespoon of Butter
3 Duck Eggs
1 Tablespoon Heavy Cream (or Milk)
¼ cup Ricotta Cheese
Pinch of Salt, or to taste (see full post for tips on seasoning duck eggs)
Cracked Black Pepper, to taste (optional)
1 Teaspoon Fresh Chives, chopped
Instructions
Heat the pan by placing a non-stick skillet over medium-low heat and add the butter. Allow it to melt and coat the bottom of the pan evenly.
While the pan heats up, crack the duck eggs into a mixing bowl. Next, add the ricotta cheese to the eggs and whisk them together until well combined.
Once the butter is sizzling (but not browned), pour in the egg mixture.
Use a spatula to gently stir and scramble the eggs as they cook. Continue stirring occasionally to ensure even cooking. When the eggs are nearly cooked through, season with salt and pepper.
Cook the eggs to your desired level of doneness. For creamy scrambled eggs, it will take about 4 minutes. If you prefer them more well-done, cook for an additional 1-2 minutes.
Transfer the scrambled duck eggs to serving plates and garnish with fresh chopped chives.
Enjoy the scrambled duck eggs hot, either as a stand-alone breakfast dish or with toast, a side salad, or some sautéed vegetables for a complete meal. (see more serving options in full post)
Notes
Check out the full post for tips cooking with ducks eggs, serving suggestions, and other helpful information for creating wonderful scrambled eggs with ricotta and chives.
Recommended Products
As an Amazon Associate and member of other affiliate programs, I earn from qualifying purchases.
Nutrition Information:
Yield:
2
Serving Size:
1
Amount Per Serving:
Calories:

316
Total Fat:

25g
Saturated Fat:

11g
Trans Fat:

0g
Unsaturated Fat:

11g
Cholesterol:

961mg
Sodium:

298mg
Carbohydrates:

4g
Fiber:

0g
Sugar:

1g
Protein:

17g
More Helpful Tips for Cooking Duck Eggs
Cooking duck eggs can be a delightful experience, but they do require some special considerations compared to chicken eggs due to their larger size and slightly different composition. Here are some important tips for cooking duck eggs:
Handle duck eggs with care, as their shells are more delicate than those of chicken eggs. Store duck eggs in the refrigerator, just like chicken eggs, and use them within a reasonable time frame.

Duck eggshells are thicker than a chicken egg, so you may need to use a bit more force when cracking them open. You can tap them against a flat surface. You will feel the noticible difference of the shell of a duck egg in comparison to chicken eggs.

Keep in mind that duck eggs are larger than chicken eggs, which can affect cooking times. Adjust your recipes accordingly. When frying, scrambling, or boiling duck eggs, be patient and cook them on a slightly lower heat to prevent overcooking.
Duck eggs can be slightly saltier than chicken eggs, so be mindful of your salt usage when cooking with them. Taste your dishes as you go to ensure the right seasoning.
So, enjoy experimenting with duck eggs in your home cooked dishes to perfect the flavors that you will enjoy in these delicious eggs.
Popular Recipes on the Blog
The Latest Recipes
Thank you for stopping by! I am so glad that you did!
In closing, cooking with duck eggs can add a touch of luxury and culinary adventure to your kitchen.
Whether you are savoring them in a hearty breakfast, elevating your baking creations, or exploring their rich flavors in various dishes, duck eggs offer a unique dining experience.
Remember the tips we have shared to make the most of these wonderful eggs in your cooking endeavors. So, whether you are a seasoned chef or an aspiring home cook, don't hesitate to crack open some duck eggs and let your culinary imagination take flight.
Before you go, friend, be sure to subribe to my e-newsletter! You'll receive a weekly email from me with the latest recipes and news here on the blog, so that you never miss a thing.
Happy cooking, and may your dishes always be filled with flavor and delight!
Meet Julia
Author of Julia's Simply Southern
Hey Y'all! I'm Julia, the cook and writer behind the recipes here at Julia's Simply Southern. I began my website so that I could share easy to follow recipes that anyone can use to put a home cooked meal on the dinner table. Thanks so much for stopping by!
Follow me on Facebook | Twitter | Instagram | Pinterest | YouTube