In this post I'm sharing some of the Best Labor Day Snack Ideas to Celebrate the End of Summer.
Hey y'all, it's that splendid time again when the sweet smell of barbecue fills the air and the whole family gathers 'round for some good old fashioned cooking!
I tell ya, there's nothing quite like Labor Day – a day to celebrate hard work and kick back with some mouthwatering treats. Hopefully you'll be enjoying a long weekend!
So, grab your aprons and fire up those grills, 'cause we're fixing to whip up a feast that'll make your taste buds do a little happy dance.
I've got a whole heap of Labor Day snack ideas to celebrate the end of summer that'll make your shindig a real hootenanny!
Grab your apron and fire up the grill because we're about to have us a Labor Day foodie fest celebration!
Labor Day Eats that will be the Hit of the Party
How about starting off with some deviled eggs that'll disappear faster than a firecracker on the Fourth of July?
And if you're lookin' for a bit of crunch, whip up a batch of Southern Fire Crackers seasoned with a sprinkle of love and a dash of your favorite spices. Everyone loves the fiery snack crackers with plenty of red pepper flakes that give them their signature kick.
Southern Labor Day Recipes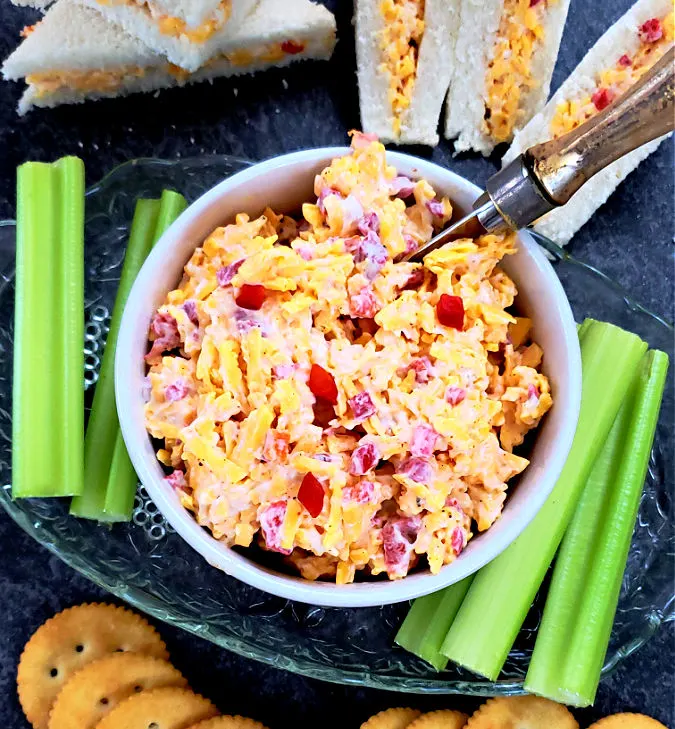 Now, ain't no Labor Day bash complete without a bowl of creamy pimento cheese dip served up with a mess of crisp veggie dippers and buttery crackers.
Or, spread the pimento cheese on some light bread and cut into small triangles to serve as tea sandwiches.
With a bit of puff pastry and pimento cheese, you can create the most delicious baked pimento cheese pinwheels that everyone is sure to love.
My Favorite Labor Day Appetizers and Snack Ideas
Labor Day Menu Favorites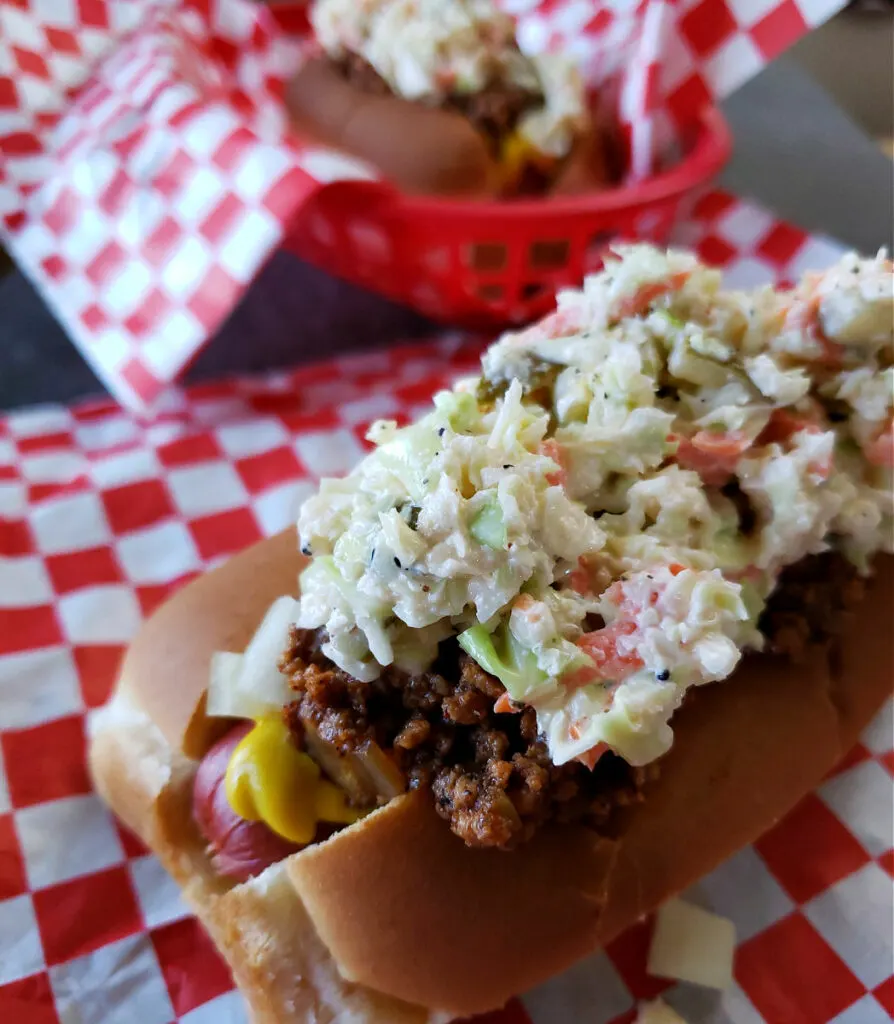 But the real star of the show might just be a platter of hot dogs with a topping of chili and creamy, tangy coleslaw.
The sweetness of the slaw just balances every delicious bite with the smokey hot dog and savory spice of the chili sauce.
And let's not forget to make a big batch of potato salad. I don't know a summer get-together that doesn't include some down home potato salad.
More Delicious Labor Day Menu Ideas
Let me share some more of my favorite down-home Southern-inspired grub ideas to make your Labor Day feast one to remember!
Country Style BBQ Ribs: Ain't nothing like sinking your teeth into tender, smoky ribs slathered in a finger-lickin' barbecue sauce. Slow-cook 'em to perfection, and watch 'em disappear faster than a lightning bug at dusk.
Burgers with all the Fixin's: Build your own burger bar, y'all! Juicy patties topped with melted cheese, crispy bacon, fresh lettuce, juicy tomatoes, and pickles – all served on fluffy buns.
Corn on the Cob: Grilled or boiled, corn on the cob is a summer staple. Roll it in butter, sprinkle it with salt, and maybe even give it a dash of paprika for a lil' kick.
Southern Fried Chicken: Get that cast-iron skillet ready for some good ol' Southern fried chicken. Crispy on the outside, tender on the inside – just like Granny used to make. Serve it with a side of creamy mashed taters and gravy for extra comfort.
I'm getting hungry, Y'all!
Potato Salad: Creamy, tangy, and packed with flavor thanks to pickle juice, a hearty potato salad is a must-have. Load it up with hard-boiled eggs and a sprinkle of paprika for a touch of color.
Watermelon Slices: Keep it cool and refreshing with slices of juicy watermelon. It's like a sweet, red oasis on a scorchin' hot day.
Peach Cobbler: End the feast on a sweet note with a bubblin' peach cobbler. Fresh peaches, a buttery crust, and a hint of cinnamon – it's like a warm hug for your taste buds.
Grilled Cornbread: Take that cornbread up a notch by grillin' it to golden perfection. Slather it with butter and honey for a real Southern treat.
Lemonade: Quench your thirst with ice-cold lemonade served in mason jars. You can even kick it up a notch with some fresh mint or a splash of fruity goodness.
Fruit Salad: Mix up a colorful fruit salad with a medley of berries, melons, and citrus fruits. It's like a burst of sunshine in every bite.
Grilled Shrimp Skewers – for the seafood lovers! Perhaps with a side of andouille hush puppies.
Labor Day Weekend Snacks, Appetizers, Desserts and Tasty Bites
Hey y'all, it's that time of year again – Labor Day is just around the corner, and you know what that means: good food, good company, and good times! I've got some lip-smacking recipes that'll make your Labor Day cookout the talk of the town. You'll find everything that you need in this collection of amazing ideas for snacks, appetizers, desserts, and the main course. So, fire up that grill, gather your loved ones, and let's celebrate Labor Day with a heaping helping of Southern comfort and flavor! Y'all enjoy now!
Popular Recipes on the Blog
In case you missed them, here are the latest recipe posts…
So, there you have it, my dear friends, a whole mess of Labor Day snack ideas that'll have your taste buds singing and your belly happy as a clam at high tide.
Remember, whether you're lounging by the pool, gathering around the picnic table, or just taking it easy on the porch swing, these treats will add a little extra Southern charm to your festivities.
So go on, whip up these finger-licking goodies, share a laugh or two, and make memories that'll warm your heart faster than a hot skillet of cornbread.
I am so happy that you stopped by to check out the Best Labor Day Snack Ideas to Celebrate the End of Summer. Before you go, be sure to subscribe to my email list and you'll get my weekly e-newsletter so you never miss the latest recipes.
Wishing y'all a Labor Day filled with love, laughter, and the joy of good eatin'.
Until next time, love and happy cooking!
Meet Julia
Author of Julia's Simply Southern
Hey Y'all! I'm Julia, the cook and writer behind the recipes here at Julia's Simply Southern. I began my website so that I could share easy to follow recipes that anyone can use to put a home cooked meal on the dinner table. Thanks so much for stopping by!
Follow me on Facebook | Twitter | Instagram | Pinterest | YouTube