In this post I'll be sharing Southern Christmas Dinner Recipes and Menu Ideas.
The holidays! They all happen so fast. By the time we've finished Thanksgiving dinner it is time to start planning the Christmas dinner menu.
It's not so tough though since our Southern holiday dinners are almost the same. Maybe a change here or there, but it is pretty much the same.
I love Christmas and all the traditions that come with it. Spending time with family and friends, good cheer, and the happiness and warmth that fills the air.
So let's talk about the food y'all!
"Authentic Southern cooking is as diverse and multicultural as the regions in the South and the families who live there."

– Sheri Castle
Holiday Starters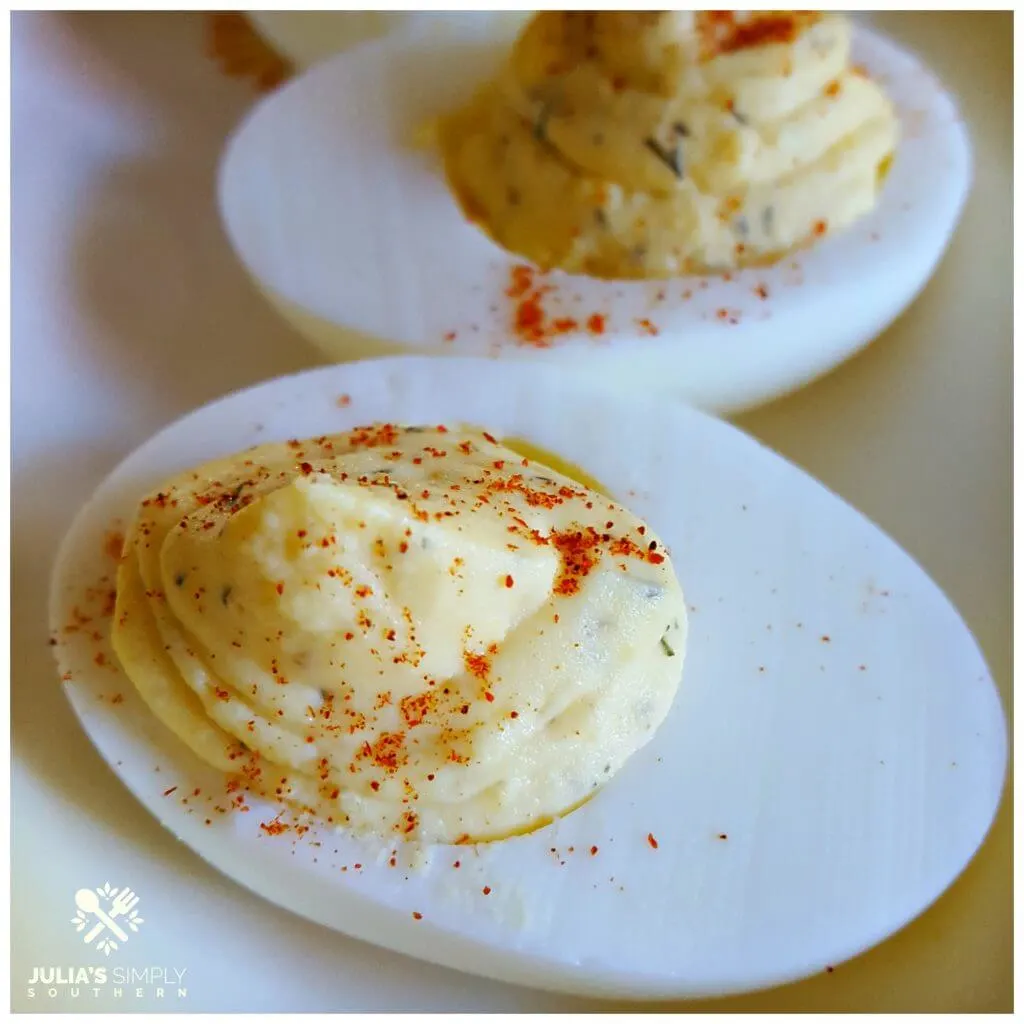 Southern Deviled Eggs – The staple for any Southern party or holiday meal. I think it might even be a law y'all that you Must Have Them! Just kidding, but it should be.
Another great starter to consider is a Relish Tray, this old fashioned platter with an assortment of pickles and olives is a guest favorite at my holiday gatherings.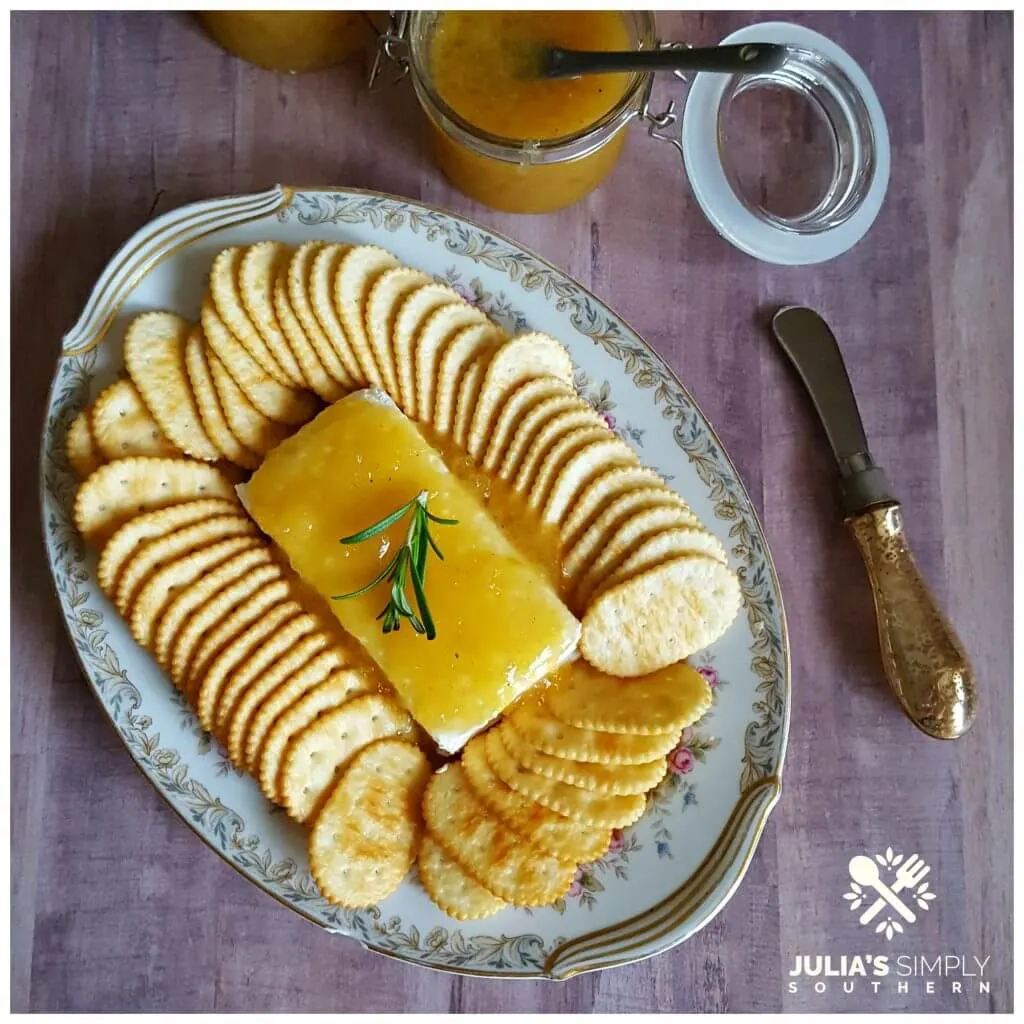 Southern Jezebel Sauce over Cream Cheese served with crackers
Old Fashioned Southern Grape Jelly Meatballs
Holiday Brie en Croute with Cranberry
Easy Cream Cheese Sausage Balls
Christmas Main Course Options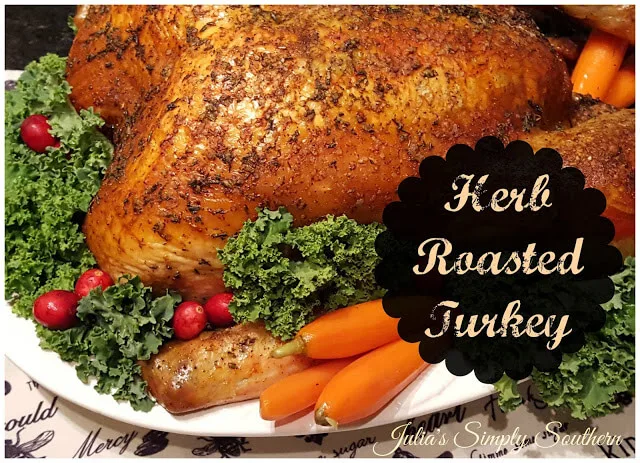 Herb Roasted Turkey – Sure to be a favorite!
Smoked Turkey – Are you looking for an easy Christmas dinner menu? I have to admit that I use this as a time saver and it still takes me two or three days to cook holiday dinners. Turkeys take up a lot of oven space and take a while to cook. A few years ago I ordered a smoked turkey. It's delivered to me, it's not frozen, and all I have to do is heat it up for 45 minutes to an hour and we're done. Seriously it's so good that the first time I had it, I decided right then and there that this was my turkey from now on. Don't get me wrong, I love the traditional turkey too. If you're going traditional turkey I recommend you brine your bird. Here's some more Turkey Talk & Tips for you.
Baked Ham – It's not unusual to have turkey and ham for holiday dinners in the South, sometimes even more than that depending on how large the crowd is that you're cooking for. The ham will be either a country ham, or a regular (city) ham that is baked. The regular hams often get a glaze of some sort. Here's some recipes to use up some of that leftover ham Ham Salad – 3 Ways
Crown Roast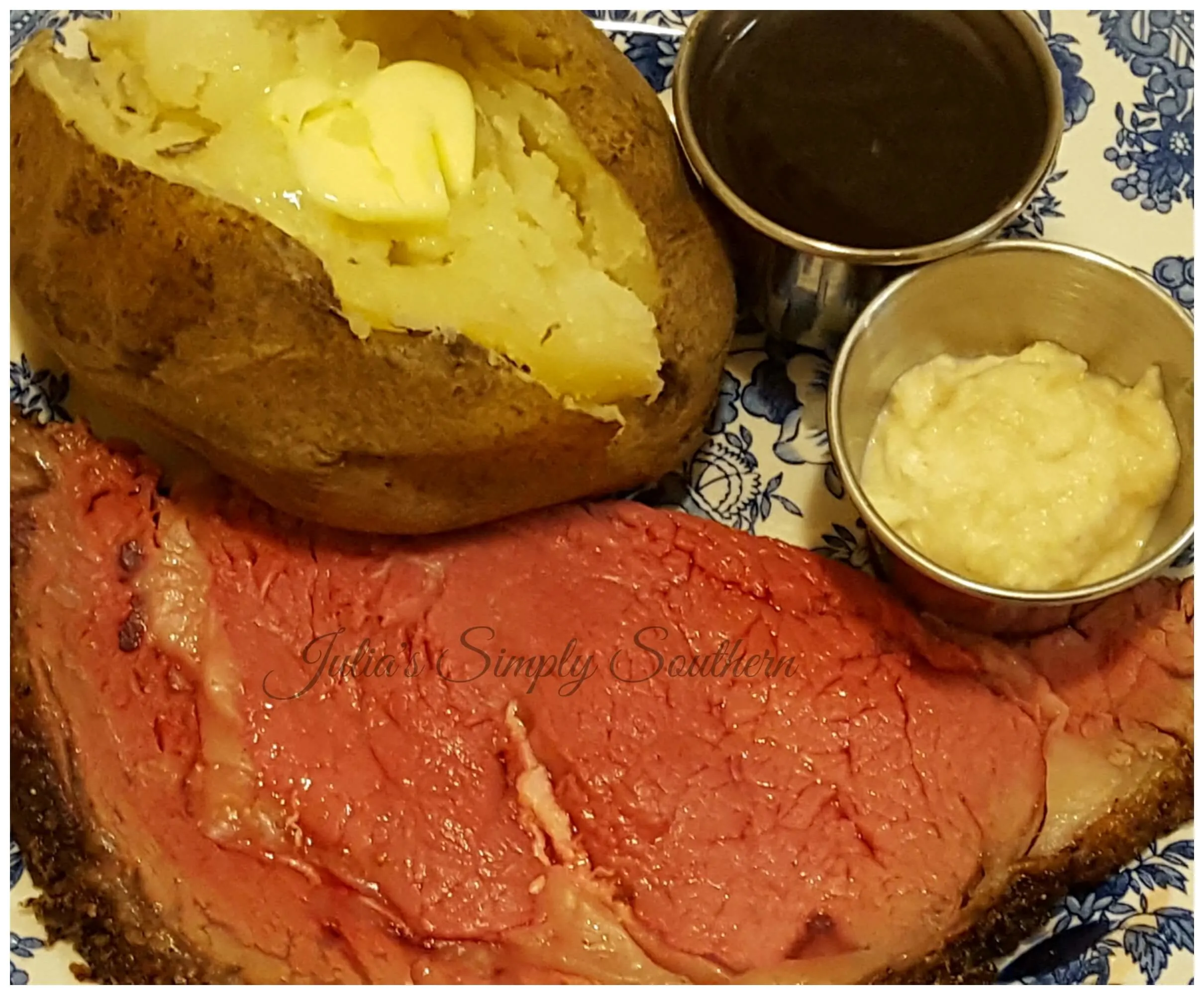 Christmas Side Dish Recipes
Southern Cornbread Dressing – It's our comforting, traditional side dish in the South. I saw a poll that asks people which holiday side dish was their favorite – most people picked the dressing. So it's really the star of the dinner. Maybe we should call it dressing with turkey instead?!? HaHa, no, just no – Turkey & Dressing sounds much better.
* Time Saving Tip – Make your Southern Cornbread 1-2 days ahead and store until ready to use in your dressing recipe.
If you don't have a crowd to feed and making a dish of dressing is just too much, make these Stuffin Muffins instead. They are easy to make and only require a few simple ingredients.
More dressing recipes you might enjoy: Aunt Betty's Famous Ham Dressing and Sausage & Pear Stuffing
Bread – You get your choice of Rolls, Southern Buttermilk Biscuits , or Angel Biscuits . You can even make up some Homemade Butter the day before.
Green Beans – Traditional Southern style Country Green Beans , Green Beans with Mushrooms or Green Bean Casserole will do just fine. My family prefers the country green beans at holidays so I usually make the "flavored up" green bean casserole occasionally during the year. Both are delicious so you can't go wrong no matter which you choose.
Cranberry – It is so easy to make your own Basic Cranberry Sauce but there are a lot, I mean a LOT of people who prefer the canned jelly stuff. That's okay. I like either one myself just as long as you have it for the dinner.
Southern Baked Macaroni & Cheese – Cheesy, wonderful, comfort food goodness!
Southern Potato Salad – This is a favorite all year for any get together. It's not unusual in my house to have more than one potato dish at holiday meals to accommodate everyone's wish list for dinner – so you may see Mashed Potatoes, Hash Brown Casserole or New Potatoes with Parsley Butter Sauce served too. Potato salad is my favorite so it's definitely on the menu.
Southern Christmas Dinner Recipes and Menu Ideas
Choices for other side dishes can vary so just pick your favorites. I try to do a few different choices and I like for the meal to have some "color" so try to pick a variety that is festive for the occasion.
Sweet Potatoes – Typically in a casserole/souffle or classic candied yams for the holidays.
Tasty Brussels Sprouts with Bacon & Garden Veggies – This dish is delicious and colorful with the peppers. Plus it's got bacon!
Small Batch Short Cut Potato Salad
Loaded Mashed Potato Casserole
Cooked Cabbage

Simple Pea Salad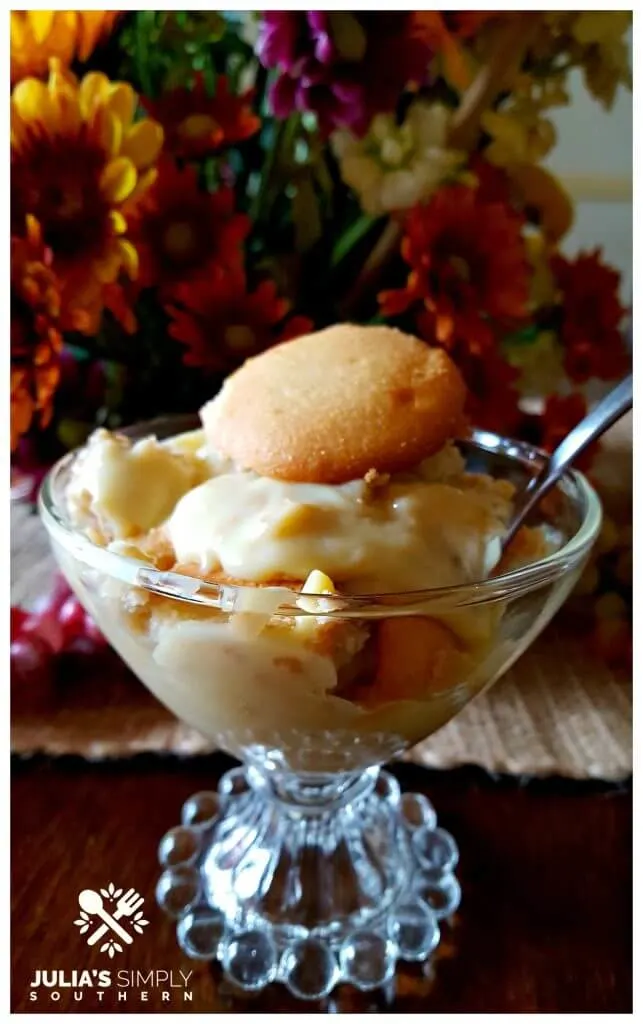 Christmas Dinner Desserts and Drinks
Old Fashioned Banana Pudding – YUM! I love 'Naner Puddin' or try this Pineapple Pudding
Sweet Tea – House wine of the South!
Desserts: Coconut Cake, Hummingbird Cake, Old Fashioned Applesauce Cake or Sweet Potato Pie
Don't forget to have a sweet treat or two for gifting: Easy Peanut Butter Fudge Bars , Oatmeal Raisin Cookies, Easy Coconut Macaroons or Crock Pot Chocolate Peanut Butter Candy
More Christmas Recipe Round Ups
Here are some links to Southern Christmas Dinner Recipes from some of my favorite food bloggers along with one of my post:
Deep South Dish – Southern Christmas Dinner Menu & Recipe Ideas – Y'all if you haven't discovered Mary's recipes on Deep South Dish you're just missing out! She has everything Christmas here – food gifts, cookies & candies, the holiday breakfast, appetizers, beverages, main courses, sides, desserts, and more!

South Your Mouth – Southern Christmas Dinner Recipes Mandy at South Your Mouth has wonderful recipes and great humor. I bet she has you smiling by the time you're done reading some of her posts!

Julia's Simply Southern – Holiday Recipe Collection I put this collection together for Thanksgiving but since the Christmas meal is so similar you'll find great recipe ideas here for Christmas dinner too. It includes recipes from favorite food bloggers, cookbook authors, and tv food personalities.


Traditional Southern Christmas Dinner Recipes
Wishing you all a very Merry Christmas!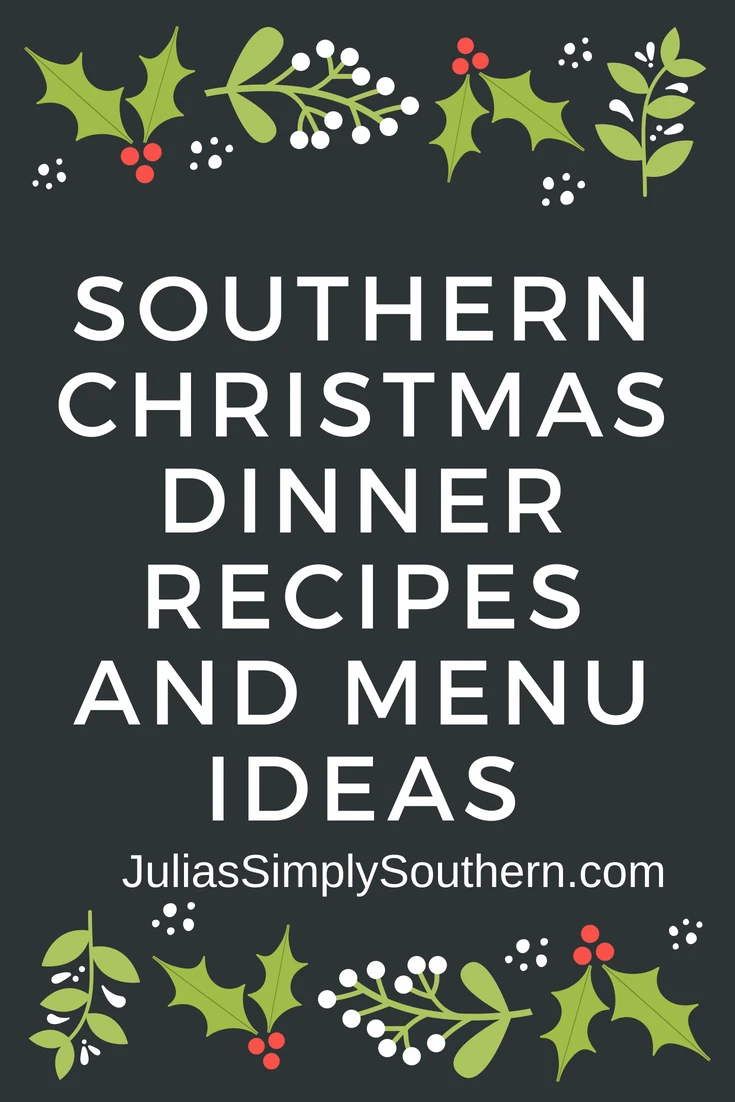 Southern Christmas Dinner Recipes and Menu Ideas
Meet Julia
Author of Julia's Simply Southern
Hey Y'all! I'm Julia, the cook and writer behind the recipes here at Julia's Simply Southern. I began my website so that I could share easy to follow recipes that anyone can use to put a home cooked meal on the dinner table. Thanks so much for stopping by!
Follow me on Facebook | Twitter | Instagram | Pinterest | YouTube